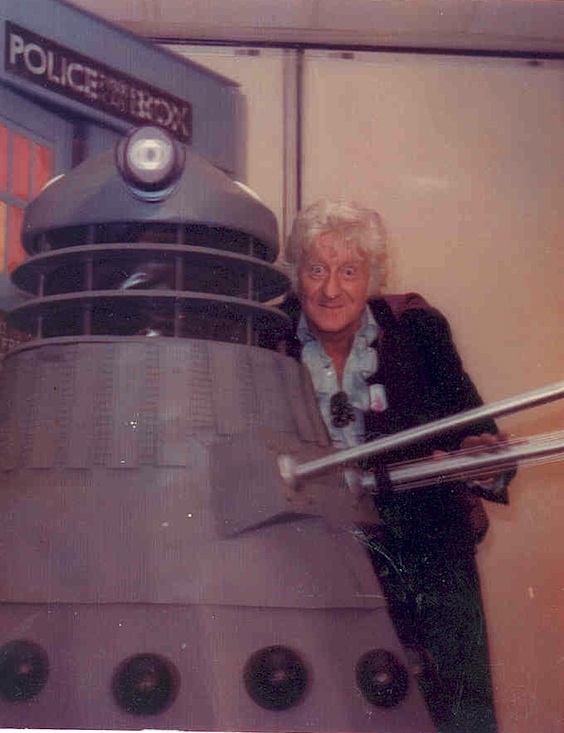 In the 1980s, AICN reader Beamus built his own Dalek. It eventually challenged third Doctor Jon Pertwee in Ft. Lauderdale, Florida. The Dalek is now dormant in Beamus' garage, and autographed by Dalek creator Terry Nation. The image above is a scan of 3D source material, hence its slightly blurred appearance.
Merrick here...
...celebrating the return of DOCTOR WHO Season/Series Six with "Let's Kill Hitler," the eight installment of the current series.
This is traditionally where I'd offer a bit of first-hand, spoiler-free perspective/preview about a coming weekend's episode. Alas, my screening capability of "Let's Kill Hitler" never materialized and...at the time of this posting...e-mails about the matter have remained unanswered. Given that the episode has already been screened publicly and has already been the subject of multiple reviews elsewhere, and given that I've pre-screened all previous DWs this Season/Series to date, it's hard not to wonder if...perhaps...I've done something to evoke the ire of BBC or The Powers That Be. To be very clear here, in no way am I suggesting that I'm somehow "entitled" - or that I am by any measure unappreciative. I'm just noting these highly odd circumstance, and venting a bit of aggravation.
Regardless of how this matter is ultimately sorts out , the Friday Docbacks/Reader Reactions will move stoically, and eternally, onward.
AN IMPORTANT WARNING ABOUT SPOILERS
The AICN DOCTOR WHO Talkback - aka "Docback" - below is comprised of, and warmly welcomes, participants from across the globe.
Alas, please remember that DOCTOR WHO airs in the U.K. a few hours before it's seen on BBC America here in the States, for example.
While the Docback Code of Conduct (posted below) strongly encourages SPOILER SENSITIVITY at all times, it is quite likely that this Docback will become a SPOILER INTENSIVE ZONE late tomorrow morning U.S. time (Saturday August 27) - when "Let's Kill Hitler" airs in the U.K.
If you wish to remain free and clear of "Let's Kill Hitler" spoilers until after you've seen the show for yourself, please tread cautiously if visiting this page after late tomorrow morning U.S. time.
U.S. VIEWERS (AND VIEWERS FROM OTHER REGIONS): please consider this ample notice and fair warning.
A QUICK NOTE NEW AND RETURNING VISITORS / PARTICIPANTS
WELCOME to a very special, incredibly fascinating, and all-around-cool community of WHOvians. It is a pleasure to "meet" you. If you've any interest in DOCTOR WHO at all, you will almost certainly learn something here. I do...every day...and I love it.
Please take a moment to familiarize yourself with the Code of Conduct posted below. Before you ask, YES, we're serious and YES it works pretty well. Please don't hesitate to join in, and have fun!
PREVIOUS DOCBACKS
[S6 (1) DOCBACKS]

"The Impossible Astronaut"

"Day of the Moon"
"The Curse of the Black Spot"

"The Doctor's Wife"

"The Rebel Flesh"

"The Almost People"
[RETRO-WHO DOCBACKS]

"Time and the Rani"

"Merrick's Personal Journey With The Doctor / "Frontios"

"An Unearthly Child"
DOCTOR WHO Title Sequences & DW At Comic-Con 2011
"The Daleks," "The Awakening," "The Crash of the Elysium"

"The Gunfighters" / "The Edge Of Destruction"
Why Eccleston Left, Here Comes Caroline Skinner, And Season/Series Six Part 1 on Blu-Ray And DVD

"Paradise Towers" / New WHOvian Documentary / Newsbits

New Trailer For Season/Series Six Part 2
"Marco Polo" and "The Sun Makers"
"Day of the Daleks" (+ Preview Of DotD Special Edition)
WATCH EPISODES FROM THE CURRENT SEASON/SERIES
See DOCTOR WHO Season/Series Six Episode 1 - "The Impossible Astronaut" - in HD HERE and standard def HERE.
See "Day of The Moon" - the second installment of the season premiere linked above - in HD HERE and standard def HERE.
Episode 3 - "The Curse Of The Black Spot" - can be found in HD HERE or standard def HERE.
Episode 4 - "The Doctor's Wife" - is available HERE in HD, while standard def is availabe HERE.
Episode 5 - "The Rebel Flesh" - can be seen HERE in HD, or viewed in standard def HERE.
Episode 6 - "The Almost People" - can be found HERE in HD and HERE in standard def.
Episode 7 - "A Good Man Goes To War" is HERE in HD and is in standard def HERE.
Episode 8 - "Let's Kill Hitler" - in HD HERE and standard def HERE.
AICN's Friday DOCTOR WHO Talkbacks - aka "Docbacks" - operate on a different set of standards than other AICN Talkbacks. These standards developed quickly and naturally, and we intend to preserve them. Accordingly, please take a moment to note a few guidelines which should help proceedings move along smoothly and pleasantly:
1) a Docback should be about completely open and free discourse regarding all things WHO (with, obviously, some variation on subject matter from time to time - the real world intervenes, discussions of other shows are inevitable, etc.)...

2) matters of SPOILAGE should be handled with thoughtful consideration and sensitivity.

Posts containing SPOILERS should clearly state that a SPOILER exists in its topic/headline and should never state the spoiler itself . "** SPOILER ** Regarding Rory" is OK, for example. "** SPOILER ** Battle of Zarathustra" is fine as well. "**SPOILER** Why did everyone die?" Is NOT good.

And, above all...

3) converse, agree, disagree, and question as much as you want - but the freedom to do so is NOT a license to be rude, crass, disrespectful, or uncivilized in any way. Not remaining courteous and civil, as well as TROLLING or undertaking sensational efforts to ignite controversy, will result in banning. Lack of courtesy may receive one (1) warning before a ban is instigated. Obvious Trolling or Spamming will result in summary banning with no warning.
In short, it's easy. Be excellent to each other. Now party on...