Merrick again...
With some quick, stream-of-consciousness, SPOILER-FREE thoughts on "A Good Man Goes To War."
Brilliantly scripted by Steven Moffat and propulsively directed by Peter Hoar, this episode is the best of the show's Sixth Series/Season and arguably (please note my emphasis of that word) the finest of the Moffat / Matt Smith era. "A Good Man Goes To War'" isn't about "What the fuck!?" moments. It is, instead, a tour of...and a refresher course in...the heart, soul, and spirit of recent DOCTOR WHO (Seasons/Series 5 and 6 in particular).
It is rollicking and nasty, stirring and wrenching, passionate and coy - deftly wrapping all of these contrary qualities into a breezy package whose ultimate significance is the personal/emotional consequence of the episode's events more than the (seemingly meaningful) events themselves.
Matt Smith is transcendent here - his range perfectly matching, and pivoting with, the episode's persistent tonal shifts. Rory haters might find more to like about the character in this installment. He's strong, driven, and relentless - moreso than I recall having seen evidenced in the character previously. I'd argue that River Song's appearance and utilization here is, perhaps, a bit too abbreviated and expository - although I do see why this particular storyline would've been more difficult to convey if her part in it had been more integral.
This is a very strong outro for the first half of this Season/Series, complete with a closing teaser card that is likely to incite as much scuttlebutt and speculation as the entirety of this installment. Go to the bathroom in advance, turn off your phones, pull your curtains/blinds, clear your head, and follow "A God Man..." into war. It's a helluva ride.
- original article follows -
_____________________________________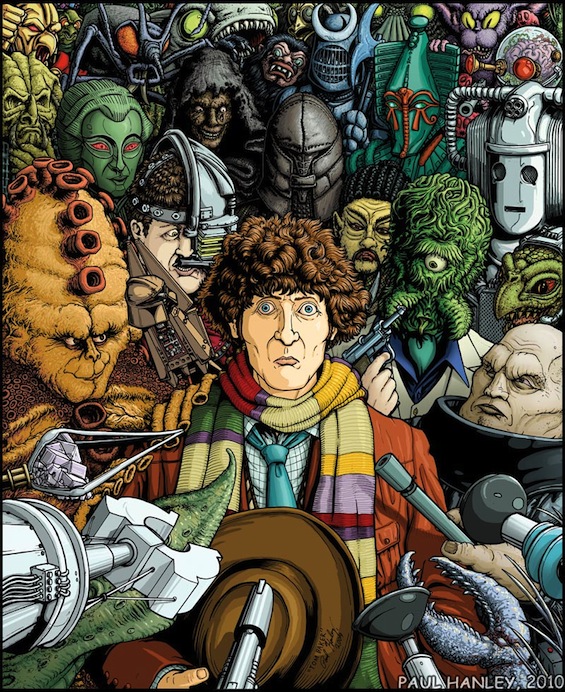 more by Paul Hanley

Merrick here...
Saturday brings U.K. viewers "A Good Man Goes To War" - the seventh episode in this Series/Season of DOCTOR WHO, and our last installment before the show's much-lamented mid-Series/Season cliffhanger and hiatus.
This prequelish mini-episode sets up some of what we'll see...
PROGRAMING AND TALKBACK NOTES

"A Good Man Goes To War" airs in the U.K. Saturday June 4.
BBC AMERICA will broadcast the episode one week from now - on Saturday June 11 - at 9/8c. THIS TALKBACK WILL AGAIN BE MADE AVAILABLE TO NORTH AMERICAN VIEWERS when the episode is shown here in the U.S. Check next week's DOCTOR WHO Talkback - which will launch Friday morning U.S time (June 10) - for a link back to this "Good Man Goes To War" Talkback.
BBC AMERICA will broadcast "The Almost People" - which aired in the U.K. last weekend - this weekend (Saturday June 4 at 9/8c) here in the U.S. NORTH AMERICAN VIEWERS: you can still participate in last week's "Almost People" Talkback - which was gloriously gargantuan (over 1,000 posts).
"The Almost People" Talkback Is Still HERE!!
U.K. VIEWERS/TALKBACKERS: please feel free to revisit the "Almost People" Talkback after the episode airs in North America on Saturday. There may well be some good discussion waiting to be had, and fresh insight still to be found, once North America gets a look at the show. NOTE: It is completely feasible for both "Good Man" and "Almost People" Talkbacks to not only run parallel with each other over this weekend, but mutually place on the Top Talkbacks sidebar.
I know juggling two Talkbacks during these delayed airings is a little awkward and frustrating - for which I apologize. 'Tis the best way I could conjure to make these DOCTOR WHO Talkbacks available to everyone in both the U.K. and North America given a currently non-conformed broadcast schedule. If anyone has better ideas, I'm all ears...
BBC America has delayed broadcast of "A Good Man Goes To War" by one week to accommodate an anticipated drop in viewership during the recent Memorial Day holiday here in The States. The episode will, however, air in the U.K. Saturday June 4 as anticipated.
As such, and quite naturally, this Talkback will become a SPOILER ZONE when the episode airs in the U.K. tomorrow evening (late tomorrow morning U.S. time). U.S. viewers should tread very carefully 'round/after tomorrow (Saturday June 4) morning as SPOILERS will be afoot.
BBCA airs "A Good Man Goes To War" next Saturday (June 11) - 9/8c. As stated above, when the episode broadcasts in the U.S., this Talkback will once more be made available to North American viewers. Check next week's DOCTOR WHO Talkback for a direct link.
--- follow Merrick on Twitter ! ---
coming next week:
Weekly DOCTOR WHO Talkbacks continue with a look at the forthcoming "Time and the Rani" and "Frontios" DVD releases (although "Frontios" may be held until the following week's TB), some thumbnail musings on my efforts to catch up with 'classic' WHO (this week I watched "Genesis of the Daleks," "The Talons Of Weng-Chiang," and am now entering the "City of Death" - thanks to everyone for their recommendations), and more...
S6 (1)
See DOCTOR WHO Season/Series Six Episode 1 - "The Impossible Astronaut" - in HD HERE and standard def HERE.
See "Day of The Moon" - the second installment of the season premiere linked above - in HD HERE and standard def HERE.
Episode 3 - "The Curse Of The Black Spot" - can be found in HD HERE or standard def HERE.
Episode 4 - "The Doctor's Wife" - is available HERE in HD, while standard def is availabe HERE.
Episode 5 - "The Rebel Flesh" - can be seen HERE in HD, or viewed in standard def HERE.
Episode 6 - "The Almost People" - can be found HERE in HD and HERE in standard def.
Episode 7 - "A Good Man Goes To War" is HERE in HD and is in standard def HERE.