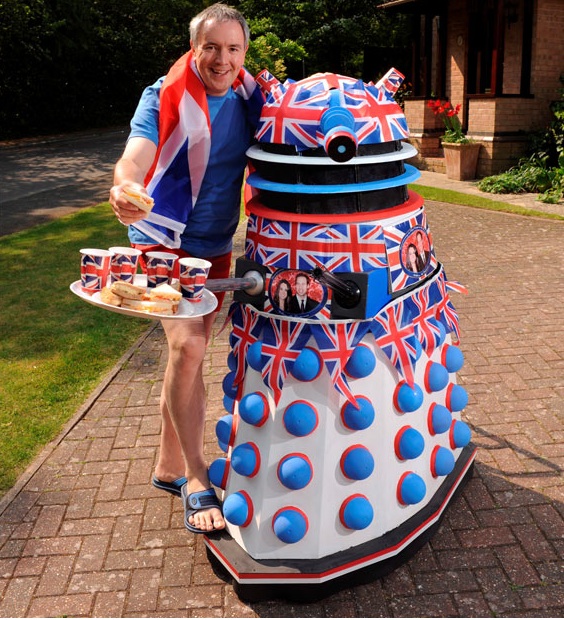 Merrick here...(and no, that's not me in the pic...)
Saturday April 30 reveals "Day of the Moon" - the second installment of DOCTOR WHO's two part season/series opener.
All in all, this episode advances a considerably different tone than Part 1 ("The Impossible Astronaut") and, in several regards, sets the new season/series into motion much more than last week's show did.
In fact, I really, really wish they'd run both installments on the same night - I think some people's criticism of the "The Impossible Astronaut" ('not enough happens!'...'we've seen most of this episode in previews!'...etc.) might possibly have been negated. These two installments work very well together in-concert.
NOTE ABOUT SPOILERS:
U.S. READERS: Pease remember that the U.K. broadcast of DOCTOR WHO transpires a number of hours before BBC America's U.S. airing. As such, you can expect SPOILERS for this new episode to begin appearing in the Talkbacks below 'round late morning U.S. time tomorrow (Saturday)...i.e. when the show broadcasts in U.K...perhaps even earlier (some Talkbackers have seen it already).
However, U.K. readers should feel free to consider this a SPOILER INTENSIVE ZONE as soon as the episode debuts in the U.K.
Enjoy!
--- follow Merrick on Twitter ! —
coming next week:
Season/Series 6, Episode 3: "The Curse of the Black Spot"
Season/Series 6 Episode 1, "The Impossible Astronaut"
can be found HERE in HD, and HERE in standard def.