CROSSED LINES
So this next short is in an oddball park of its own. Seriously, at first glance it's easy to miss the true comedic skill getting tossed in your direction from director Ross Wood, but rest assured the guy's funny and by the end of the video I think you'll agree.
"Scott tries to convince his mother and estranged father to allow him to hang out with Owen."
So take that Eddie Murphy! Wood's proven that you can play all the characters in a scene and still actually be funny (Though who doesn't like NORBIT?). Seriously, the wit on this guy is rediculous. Check out another short of his, with slightly more action, here.
CRASH BANG WALLOW
So after that last star stunted short, let's hop on to something with a big of action and say... a stunt man. Directors Jon Dunleavy and Keith Wilson-Singer created a fun little view into the life of the world's greatest stuntman.
"Crash Bang Wallow is the bittersweet comic tale of ex stuntman Larry LeTan's rise and fall from Hollywood infamy. Featuring the voice of David Soul as Larry."
Hell yeah, this is one absolutely screamed out at me the first time I got to see it. Seriously, Dunleavy and Singer were able to make me nostolgic for early 90's action flicks all with a rhyming voiceover as the guy is trying to commit suicide. Damn good short. Check out Dunleavy's vimeo here or his website here or follow him on Twitter: Jonorono.
ELEVEN
That last short put me in such a bizarre mood and there's only one real fix when I'm feeling like that, watching an incredibly well made CG animated short that takes place on another world full of robot aliens. Fortunately we have Raf Anzovin to the rescue with his short, ELEVEN.
"Operative 4511 is a space marine on his own and outnumbered by killer robots. His desperate call for backup brings a response that's only slightly less deadly."

Eleven is an animated short done as an internal project at Anzovin Studio, a small animation house in Florence, Massachusetts.
My word, that is a clean looking short. So, take that Pixar (So joking...). Seriously though that was close to three minutes of badass spaceman fun. I hope the guys over at Anzovin Studios have a featuer planned, or more shorts - I'll take whatever I can get.
So after watching these fun shorts are you sitting there like "Hey, I've got a damn awesome short!" If so:
Shoot me an email at "Mike@aintitcool.com"

In the subject line include:

"SHORTS" + "Your film's name" + "The film's genre"

Then, in the body of the email, please include a synopsis of the film and any contact information you might think I need [EX: the film's website or a funny story involved with getting the film made…]
So that's all folks. As you exit the theater, please pick up whatever trash you might have dropped up and make sure to come see us again next week, same time, same place.
-Mike McCutchen
"Muldoon"
Mike@aintitcool.com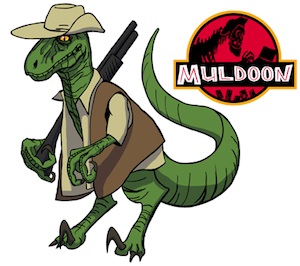 Care for more badass shorts? Check out older columns below!