Merrick here...
...returning to my exploration of retro-WHO with a look at "The Keys of Marinus."
This is the fifth DOCTOR WHO story broadcast, and features William Hartnell as The Doctor in a six part saga by Terry Nation (creator of the Daleks). The episode aired between April and May back in 1964.
This week we also have a look a clip from the making of the "Day of the Daleks" Special Edition!
"THE KEYS OF MARINUS"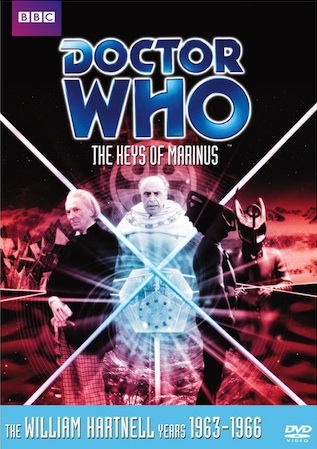 Long ago on planet Marinus, a machine called The Conscience of Marinus was developed. It had the ability to influence the thoughts of the world's populous, thus pesky imperfections like hatred and crime could be be essentially programmed out of the public's psyche.
Seven centuries later, the villainous Yartek managed to circumvent the device's effects. Along with his followers, The Voord, he easily pillaged Marinus - whose people were defenseless, knowing nothing of hatred or violence or fear.
To prevent Yartek from seizing control of the Conscience, and in the hopes that it may someday be modified and made "irresistible" by Yartek and The Voord, the device's five primary circuits ("keys") were hidden in distinct locations across Marinus.
Now, The Voord are on the move once more - and Conscience keeper Arbitan (George Coulouris) needs to retrieve those circuit "keys." He's ready to bring The Conscience online again in an effort to brainwash The Voord before all hope is lost, and forces The Doctor and companions Ian (William Russell), Barbara (Jacqueline Hill) and Susan (Carole Ann Ford) to undertake the dangerous quest.
'Tis happenstantial but appropriate that this week's Docback also discusses the "Day of the Daleks" Special Edition - because "Keys of Marinus" is a story that would benefit greatly from similar TLC and updating.

Terry Nation's story is bold, grand, and memorable - but the show's production values simply don't support his enormous and admirable vision. This tale spans multiple environments - jungles, cities, snowscapes, a monastery-like fortress, beaches of glass rimmed by oceans of acid - none of which are as fully realized as intended...or as they deserve to be. This isn't a direct criticism of the show in general as much as an exaltation of what Nation was going for, and an acknowledgement that many of the elements which might distract viewers from the storytelling here could easily (and somewhat inexpensively) be addressed even now. "Keys of Marinus" is very much deserving of the same posthumous tweaking which made the recent revisitation of "Day of the Daleks" such a success.

At one point in the first episode, a stagehand or technician of some sort can clearly be seen lurking behind a revolving door on-set. Later, a foot steps into frame...as if a character is entering the scene...but is notably missing when the angle changes. This is followed by the shadow of what appears to be a boom mike hovering over Jacqueline Hill's head. The list goes on. Before anyone hammers me for being unappreciative of early WHO, I totally get what the show was and understand the resources it had to work with back in the day. All I'm saying is that: even for sometimes delightfully dodgy early WHO, a vast majority of which I've enjoyed immensely by the way, some of the boo-boos here were a tad shameful and excessive.
(l - Voord from "Keys of Marinus", r - Slayer from KRULL)
This said, "Keys of Marinus" does knock some moments out of the park. The structure of the story is quite interesting. Each of its six parts takes on a unique tone, appearance, and style as the search for the "keys" moves us to distinctive and varied locations, and introduces us to a number
of different characters. In essence, this is six individual stories (possibly five, depending on how you break them down), each of very different flavor and setting, all addressing an umbrella arc in different ways. Brilliantly conceived, and on the whole it's quite well handled.
One wonderfully directed moment finds Barbara attempting to convince her cohorts that their current location is not what it appears to be - it's shot in first person. Later, Barbara is imperiled by a scummy old trapper named Vasor (Francis de Wolff) - this sequence is unsettling and surprisingly edgy for what purports to be a "show for kids."
Notably, in "Keys" there appears to be an undercurrent of hostility towards women on the whole: a young girl's early failure to accomplish a task results in a death sentence. The above-mentioned Barbara -vs- the trapper plotline. A character named Aydan (Martin Cort) is notably bastardly towards Barbara and Susan - later he apparently strikes his wife off camera. I'm assuming this quality exists in support of the episode's backstory - addressing the paradox that The Conscience's abolishment of the populous' baser impulses not only left people vulnerable to exploitation, but unskilled in curbing their own dark instincts. Or, maybe Terry Nation was simply having a tough patch with a woman in his life. I don't know. Just sayin'.
The final moments of "Keys of Marinus" bring us back to where the adventure began, with one last adventure which doesn't offer the tension, cohesion, or strength-of-concept carried by the episodes which preceded it. A soft conclusion for a compelling and daringly imagined story, which, like the people of Marinus, somehow emerges as successful despite being occasionally let down by a few of its elements.
"The Keys of Marinus" is available HERE in the U.S. and HERE in the U.K.
A CLIP ABOUT THE MAKING OF THE RECENT "DAY OF THE DALEKS" SPECIAL EDITION
Regular readers may recall the unbridled enthusiasm with which I greeted the recent Special Edition of "Day of the Daleks" (Pertwee, Story #60). You can find my previous posts about it HERE and HERE.
The DOTD SE appears on the second disc of a two disc set (the first disc offers the original version of the episode), and features a number of editorial tweaks, some newly reworked visual effects, fresh sound work, and incorporated new footage to embiggen the story's originally lackluster finale (more Daleks were added, more action shots created, etc.) Care was taken to match the film shot in present day to the original '70s film stock, etc.
The result is a brilliantly accessibly piece which nicely re-decorates the original version's clunkier moments, creating a smoother storytelling and larger vibe for the tale without ever feeling anachronistic, disingenuous, or distracting.
BBC graciously provided a clip from the SE's "Making Of..." segment, which illustrates the painstaking effort and care that went into realizing this challenging undertaking.
NOTE: every once in a while an embed that is displayed on AICN does something funky, or won't quite play right, etc. If you have any problems seeing this video, drop me a line - or post in the Docback below - and I can change a few settings rather easily.
The two-disc "Day of the Daleks" are now available on DVD in the U.S., and can be found HERE in the U.K.
LONDON'S DOCTOR WHO EXPERIENCE TO STAY AROUND A BIT LONGER
It's looking like The Doctor Who Experience will be sticking around London a few months longer than planned before relocating to its new and permanent Cardiff home.
The exhibit was originally scheduled to end its London presence in late November (next month), now it's looking like it'll stick around to February 2012. Per a statement on the DOCTOR WHO EXPERIENCE site...
BBC Worldwide is delighted to announce that the critically acclaimed Doctor Who Experience will be extending its run at London's Olympia Two until February 22nd 2012 due to huge public demand. Since opening the Tardis doors in February this year and becoming one of the capital's premiere tourist attractions, over 155,000 excited visitors have had the chance to star in their very own Doctor Who adventure as the Doctor's companion.
This is uber-mega-super-awesome-fantastically joy-joy news for me, as my initial plans to travel to London for the exhibit in November have most likely been scuttled by a number of factors - but this February extension now gives me a fighting chance to get there.
It's calling me... It's calling me...
--- follow Merrick on Twitter ! ---
AICN's Friday DOCTOR WHO Talkbacks - aka "Docbacks" - operate on a different set of standards than other AICN Talkbacks. These standards developed quickly and naturally, and we intend to preserve them. Accordingly, please take a moment to note a few guidelines which should help proceedings move along smoothly and pleasantly:
1) a Docback should be about completely open and free discourse regarding all things WHO (with, obviously, some variation on subject matter from time to time - the real world intervenes, discussions of other shows are inevitable, etc.)...

2) matters of SPOILAGE should be handled with thoughtful consideration and sensitivity.

Posts containing SPOILERS should clearly state that a SPOILER exists in its topic/headline and should never state the spoiler itself . "** SPOILER ** Regarding Rory" is OK, for example. "** SPOILER ** Battle of Zarathustra" is fine as well. "**SPOILER** Why did everyone die?" Is NOT good.

And, above all...

3) converse, agree, disagree, and question as much as you want - but the freedom to do so is NOT a license to be rude, crass, disrespectful, or uncivilized in any way. Not remaining courteous and civil, as well as TROLLING or undertaking sensational efforts to ignite controversy, will result in banning. Lack of courtesy may receive one (1) warning before a ban is instigated. Obvious Trolling or Spamming will result in summary banning with no warning.
In short, it's easy. Be excellent to each other. Now party on...