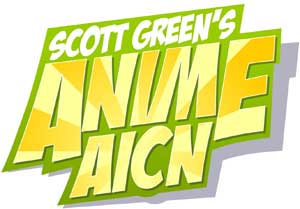 Logo handmade by
Bannister
Column by
Scott Green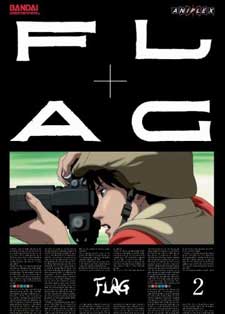 Anime Spotlight: Flag Volume 1 Released by Bandai Entertainment
Flag is the type of work that can only be done once. Once you see an anime presented as a documentary about war journalism, that idea is going to have to sit fallow at least a decade before it is re-used. The series opens with recreated images of 20th century war photography, juxtiposed against evocative but mundane photographs of a child growing up with her family. The threads of a personal story and the backdrop of history are the framework for the tale of an international peace keeping mission, sent to pacify the civil war raging in a fictional central Asian state. That story is captured through the lens of photojournalism. In the midst of Uddiyana's factional turmoil, young Japanese photographer Saeko Shirasu took the picture of the "Flag" being raised, and that iconic image became a unifying inspiration. However, conflict flairs up again once the flag has been stolen by an insurgent group. With time tables ticking down, the UN sends a Special Developmental Command unit to retrieve the flag, with Shirasu as the embedded chronicler. Rather than have this character simply offer an outsider's point of view, Flag uses the camera's lens, as well as the motif of recorded video to capture the events as a documentary. The results are a work of anime dedicated to speculative observation. It's using the establish truthfulness of media that are only filtered by the composition of the person taking the record, and uses that implied veracity to project a study of people, places and events that are of the anime creators' informed imagination. In moments such as stolen glances of returning soldiers, affected by a combat engagement, Flag's manufactures a notion of verite that breaks away from routine anime action.

If you were to map anime to metaphorical roles based on the landscape of American TV, Gundam could be thought of as a network show. Maybe the Witchblade anime is Spike. Flag is Bravo. Which is to say, that the anime is classifiable as high-mid brow. The significance of every movement is evident, so while the series asks for attentive viewing, it is not subtle. But it is not so obvious that the camera lens view turns into a gimmick. Furthermore, it serves as an example of how anime is bound by its trappings. Flag features humanoid robot mecha. The UN force sent to retrieve the titular flag is deployed with High Agility Versatile Weapon Carrier (HAVWC). Since the subject is broached, the anime does its best to determine how to fit robots into real situations without breaking the illusion of reality. These unglamorous, Kazutaka Miyatake (Macross, Gunbuster, Dirty Pair, Raxephon) designed machines are marked by technical and physical limitations. They do seem proofed and ready, but they also definitely fall into the "real robot" school of thought. in that there is a grounded, reality to their design. Flag was created and helmed by Ryousuke Takahashi. He developed the concept and is credited as "chief director". Kazuoh Terada, from Disney's Gargoyles is director, while Toru Nozaki, who did concept work on Witch Hunter Robin, performed script and composition duties. Takahashi left his mark on mecha anime with Armored Trooper VOTOMS. Coming four years after Mobile Suit Gundam, the Sunrise anime pushed the idea fighting robots as non-heroic war machines. The anime was a rough, ground war take on the sci-fi epic and the Armored Trooper of VOTOMS was a mass produced, boxy, utilitarian machine. A tank, rather than a totemic action figure. In the 80's he followed up VOTOMS with Fang of the Sun Dougram and Kikokai Galient. Other looks at war included the adaptations of Leiji Matsumoto's The Cockpit and Kaiji Kawaguchi's Silent Service. And he's done works that you wouldn't expect for the creator of VOTOMS: he wrote super robot tribute GaoGaiGar, the magic girl meets Little Red Riding Hood girl's anime Akazukin Chacha, samurai send-up Carried by the Wind: Tsukikage Ran, and he directed the 2004 adaptation of Osamu Tezuka's Phoenix. When Takahashi revisited the realm of VOTOMS and developed his own mecha series in the late 90's, the results were mixed. Gasaraki incorporated combat mecha into a modern hot zone warfare, tying in family, corperate, and international politics. At first, it was dry, intellectual and fascinating. Later, as elements of Japanese culture, such as Noh performance, became more prominent, the series became impenetrable to a western audience. Blue Gender started off as a strikingly blunt man versus bug post apocalyptic war, but quickly became an aggravatingly broad take on environmentalism. Flag is not a return to form, or another, VOTOMS. While Gasaraki and Blue Gender could challenge the faith one might have in Takahashi's anime, Flag is a tight 13 episode series that is focused on delivering this specific story through its unique mode of visualization. Maybe you can interpret that there is some ambivalence to the inclusion of robots chaffing below the surface, like Mamuro Oshii: progressive politics mixed with a fascination with military might and trappings, but, the anime feels satisfied with the limited role that it has allowed its mecha. It does offer a look at strategy, real world application of sci-fi conceits. Though Shirasu, the anime offers both high level lectures on the armament and strategy, such as glowing appraisal of how the mecha is an extension of humanity more than a plane or tank, as well as a fly on the wall view of detail oriented planning meetings.

Beyond unique the photojournalism metaphor and the technical details of capturing that look, Flag excels at depicting people in pursuit of an objective, what that pursuit does to those people, and how that endeavor looks to others. As a character points out, the journalist flock to trouble spots like moths to flame. Or, to hear the recalled anger of an African member of the UN team, they sound more like flies. Flag does not just approach this through Shirasu reconciling her experiences embedded in the mission. A second narrative follows her mentor. His visits to the bar that serves as a home away from home away from home to the journalists in Uddiyana is particularly illuminating. Their intension mix idealism, artistry and desire to do what artists do. Without making a joke of it, it is almost bitterly humorous to watch the photographers taking pictures of each other for lack of better, immediate subjects. This attention to people actively pursuing a real occupation contributes to Flag's significance. The military operatives receive a similarly layered treatment, which is epitomized by their progression from formal optimism to post-mission decompression. Shirasu meets them and they are smiling professionals. She doesn't see them on-mission, but the anime does view the operation from the cockpit of their mecha. The grainy night vision looks real, but at the same time, it looks virtual. Digital ammunition meters heighten that sense that the the is onlyy being viewed through a system read-out, but the sound of gunfire and the damage being done drives home the reality. One of the most unforgettable scenes of the anime is Shirasu simply watching these returning soldiers and trying to figure out how to approach what she is seeing

Flag is not entirely forward thinking. Though the anime premiered in 2006 and deals with embedded journalists, its view of military action feels a decade old. The concerns look like Clinton era global policing, and the degree to which it does not seem informed by Bush era conflicts suggest an older script that had been waiting for production. Similarly, this isn't Indiana Jones and the Temple of Doom, but there is a degree of exoticism that comes close to straining the work. At its least problematic, it paints a colorful National Geographic image of Uddiyana. At its worst, its evoking assassin cults and presenting trouble makers who look physiologically villainous. The people of Uddiyana are the backdrop for the journalists and military. They are a humanized backdrop, but they are still not part of the subject of the anime. These backward looking elements raise the concern as to whether Flag is provocative and whether it is intended to be provocative. The fact that that concern does exist might be part of the meta discussion presented by the series. Flag's recursiveness here is pretty amazing. It's an anime that recreates the process of chronicling a process. The point in which the voice of the anime inserts itself and tries to make a point is still undetermined, but that statement might be about what journalism can say about conflicts. In which case, it would be anime about making a statement about the statement that can be made in another medium. Within its context, the series is dealing with how a photograph influenced the course of a conflict, as well as the further search for a picture that will change the world. Yet, the series presents itself as an object of fascination. Studying the detailed reactions being presented is a passive, observational exercise. It is doubtful that a thoughtful person will gleam something new from this scenario. It is doubtful that a thoughtless person would be interested. Rather than making a statement about modern conflict, Flag might be developing a statement about what photographs and media say about war.
Lack on Ghibli Details
According to Nausicaa.net, Studio Ghibli's Toshio Suzuki has commented on why the animators have been slow to release details and promotional material on Hayao Myazaki's upcoming "Ponyo on a Cliff." In most of there recent releases, Ghibli has released a trailer a year before their movies hit Japanese theatres, but little has been seen of Ponyo. According to Suzuki, after "Ponyo" was announced, and especially after NHK's "Professional" series featured Miyazaki, Studio Ghibli received a lot of flak along the lines of, "Why do you announce the contents of the film so early?" Suzuki says, "I think that it is advertising to think about the feeling of the audience. However, because it is not a service to announce nothing, I'm thinking of advertising that uses sound. So, we released the theme song early." The anime is scheduled to be released in Japan theatres during summer 2008. It's watercolor based look was inspired by time that Miyazaki spent on a rental house by sea cliff. The story a five year old boy's relationship with a gold fish who wants to become a human is in part inspired by Hayao Miyazaki's son Goro Miyazaki, the director of Ghibli's Tales of Earthsea.
New Anime Distributor to Release Tezuka Title
CEO Katherine Hennessy has announced the formation of New Galaxy Anime, a Humboldt-based licensing company that will specialize in family-friendly fare, particularly of the shoujo genre. Releasing rare, vintage titles with high nostalgic value will also be a priority. Hennessy also states that "anime is a form of entertainment, but it is also a form of art," and for this reason New Galaxy will avoid altering original dialogue or editing scenes out in their U.S. releases. The distributor's site reveals that will be releasing The Fantastic Adventures of Unico, an anime movie directed by Osamu Tezuka (Sanrio Co., Ltd. / Tezuka Productions Co., Ltd., 1981)
Murakami to Direct
a geek by any other name notes that Takashi Murakami, founder of the Superflat movement, will direct his first anime. A ten minute episode of kaikai & kiki is set to premiere at the Los Angeles Museum of Contemporary Art on Monday as part of is "© Murakami" show.
Event News
The New York Anime Fest has announced that the following additions to their list of guests: Michael Sinterniklaas - The Voice of Dean Venture, voice actor, dubbing director, and founder of NYAV Post, a dubbing studio in New York City. Sean Schemmel - The Voice of Goku, ADR Director for NYAV Post Katsushi Ota - Editor of Kodansha's Faust; Mr. Ota is sponsored at the NY Anime Festival by Del Rey Manga. Elena Dorfman - Internationally known photographer now concentrating on coplay Yasuhiro Koshi - Military advisor on Battle Royale, The Last Samurai, and Casshern Josh Elder - Creator of TOKYOPOP's Mail Order Ninja Vertical will be previewing Cute Dolls and Fun Dolls , the new entries in their Aranzi Machine Guns craft book series at The Maker Faire, Austin, TX 10.20-10.21 The official release for the titles is November 20th. Exclusive Aranzi Aronzo merchandise—sewing kits, mascots kits, and stationary sets will be available. Programming for the ICv2 Conference on Anime and Manga at New York Anime Festival can be seen here Florida's Naruto Trek announced the following guests: MAILE FLANAGAN American voice of Naruto JAMES CAWLEY is the Senior Executive Producer of the Star Trek fan series "New Voyages" AARON PABONE is a stand-up comic who'll be giving us his take on Naruto and Star Trek THE PUNKTUATIONS A South Florida rock band The Society for the Promotion of Japanese Animation (SPJA), the overseeing body of Anime Expo, has named five new addition to its Board of Directors. Mr. Lionel Lum, with degrees in Electrical Engineering from the University of California Los Angeles and Computer Engineering from San Jose State University, has been with the organization since 1992 with various volunteer and management positions. Mr. Lum states that his intentions are "to get things done with as little paperwork as possible and make sure set policies and rules adhere to common sense." Mr. Craige Howlett, an A.S., Computer Science recipient from Harbor Junior College, is also the current Chief Financial Officer for the Anime Resources Group (owners of FanimeCon). Mr. Howlett has "over 35 years of experience in Science Fiction, Horror, Fantasy and Anime conference planning". Mr. H. Roderic Onodera joins the Board as a veteran volunteer on staff for 15 years and has been an integral contributor to the Guest Relations Department of Anime Expo. Chairman-elect Mr. Marc Perez is a University Graduate and a Systems Analyst for the defense industry and has been part of the Anime Expo family as a volunteer since 2004. His skills stem from retail sales management, computer service and support, customer service and management. Mr. Perez applied for a position on the SPJA Board of Directors for the betterment of Industry, Staff & Fandom. Mr. Paul Wilson, hails from Penn State and is one of the most visible faces at the convention, has been with Anime Expo extensively as a volunteer since 1992 (two (2) of the years Mr. Wilson served as co-Chairman for the convention as well). "I feel I have visibly demonstrated my commitment and dedication to Anime Expo and the SPJA by the years of devoting personal time and resources to the betterment of AX", states Mr. Wilson. The five new additional members join existing Board of Directors, Josh Ritter and Ross Johnson, effective immediately and will be charged with the responsibility of guiding the activities of the Society for the Promotion of Japanese Animation and its existing and future projects. The 7th annual Waterloo Festival for Animated Cinema, held in Kitchener, Canada, from November 15 - 18 will feature Aachi and Ssipak Anna and the Moods Black Ceiling Film Noir Five Centimeters Per Second Flatland Free Jimmy The Killer of Montmartre One Night In The City The Pixar Story RH+ Rocky and Hudson SOS Metro Tokyo Explorers The Ugly Duckling and Me The Vampires of Seville Wood & Stock: Sex, Oregano and Rock 'n Roll Stonebridge Press notes that Astro Boy Essays be attending a meet-the-author event and signing at the Japan Society of Northern California in San Fransico November 14,
Pop Japan Tour to Feature Meeting With Vampire Hunter D Creator
Pop Japan has announced it's Cold Steel Tour trip will feature a tour of Studio Pierrot, makers of the Naruto, Bleach, Blue Dragon, Yu Yu Hakusho, and Urusei Yatsura anime, and Hideyuki Kikuchi, the creator of Vampire Hunter D ( also "Demon City Shinjuku," "Darkside Blues," "Wicked City" and "A Wind Called Amnesia"), and Saiko Takaki, who's drawing the new Vampire Hunter D manga. The Cold Steel Tour (January 28-Wednesday, February 6) features four days in Tokyo, a day in Kamakura and two days in Sapporo, Hokkaido for the opening of the Sapporo Snow Festival. The tour costs $2,500 plus a $200 fuel surcharge.
Contests, Competitions and Promotions
dot-anime.us has teamed up with Broccoli Gear to bring North American anime fans a GUNBUSTER T-shirt Design Contest Fans residing in the US and Canada can submit their own Gunbuster t-shirt design for a chance to get their design used for sale and win five (5) t-shirts of their design. Studio GAINAX will be judging all the entries to select an officially licensed Gunbuster t-shirt. For more information, see here To promote its new mail order catalogue Club Otakie, Digital Manga, Inc. is offering a contest for all signups where Digital Manga will be giving out prizes each week until December 17, 2007. For more information, see here Dream Shoppe, 801 Media Inc., Digital Manga Publishing and Pop Japan Travel have teamed to run a bishonen (cute guy) action at Yaoi Con. The winner with recieve time with the company's employee Ben, a Wa-Lolita outfit in a floral pattern a $100 gift certificate for Pop Japan Travel's upcoming Fujoshi Paradise Tour.
Figures News
Organic Hobby, Inc will introducing the "Ghost in the Shell Tachikoma Collection Figure Set" to North America. "Tachikoma Collection Figure Set" is a seven piece assortment of 2 ½" scale trading figures and includes one secret item. Each assortment/set comes in window box. It will be available in December'07 with a SRP of $48.00.

Organic Hobby, Inc in conjunction with Happinet will be introducing T.O.P Collection No.1 "Mazinkaiser" and T.O.P Collection No.2 "Shin Getter 1" to the North American market this November for $88.00 and $82.00 respectively. Both has based on mecha from the works of Go Nagai. The PVC figures will be packaged in a window box. The 8" Mazinkaiser is based on the power replacement to the Mazinger Z (known as Tranzor Z in North America). The Mazinkaizer OVA was released in North America by ADV Films.

The 6 ½" Shin Getter is based on the 1998 OVA. The Shin Getter Robo was released in North America by ADV as Getter Robo: Armageddon) and the New Getter Robo OVA was released by Geneon. The earlier Getter Robo G TV series aired in North America under the name Starvengers.

Organic Hobby, Inc will be re-releasing limited quantities of Kaiyodo's Revoltech Series, "Revoltech #003-Dante," "Revoltech #016-Mazinkaiser" & "Revoltech #020-Griffon" All are scheduled for December 22 for $22.00 each. Revoltech #003-Dante (Devil May Cry III) is originated from the very famous video game, "Devil May Cry."

Revoltech #016-Mazinkaiser based on the famous anime series "Mazinger Z."

Revoltech #020-Griffon based on the famous Anime action series "Patlabor, Mobile Police."

New December Revoltech releases include "Revoltech Danboard," "Revoltech Helldiver" & "Revoltech Brocken." Revoltech Danboard is a fictional character from the ongoing comedy manga series "Yotsuba&!," by Kiyohiko Azuma, the creator of Azumanga Daioh. (SRP: $23.00)

Revoltech Helldiver (or ARL-99 Helldiver) piloted by Noa Izumi is based on the famous Anime action TV series "Patlabor, Mobile Police" directed by Naoyuki Yoshinaga. (SRP: $22.00)

Revoltech Brocken (or Type-7B/2B Brocken), is also based on the famous Anime action TV series "Patlabor, Mobile Police" directed by Naoyuki Yoshinaga. (SRP: $22.00)

The figures stand five and half inches tall and have fourteen articulation points or more. Each character comes equipped with "Replaceable" parts and accessories. Upcoming Yamato USA figures include TANDEM TWIN collection of animal girls' Dog - Alma and Leopard Girl - Momo and CREATORS' LABO #012: Non-Non, Inspired By The Works Of Shunya Yamashita TANDEM TWIN ANIMAL GIRLS: Dog - Alma PVC Statue From sculptor Kouichi Yamazaki (TANDEM TWIN). Standing over 11.5", window boxed with display. Scheduled for Early 2008

TANDEM TWIN ANIMAL GIRLS: Leopard Girl - Momo PVC Statue From sculptor Kouichi Yamazaki (TANDEM TWIN). Standing over 10.50", window boxed with display. Scheduled for Early 2008

CREATORS' LABO #012: Non-Non Based upon the illustrated works of Shunya Yamashita and sculpted by Mitsumasa Yoshizawa (REFLECT) 9" scale PVC statue.

Through the end of the October, Art of War will be offering a "Repainting Object" edition of their Guts & Zodd"Desperate Attack" statue, based on a color from Kentaro Miura's working on the Berserk manga in Young Animal vol.20 . The run has been limited to 20 items For more, see here

Figures.Com/Cool Japanese Toys reviewed Art of War's Guts & Zodd "Desperate Attack" Statue Figures.com has a preview of the Hot Toys 1/6th scale Appleseed EX MACHINA Figures of Briareos and Duena here Speaking of Appleseed, if you never had a chance to sample the 80's OVA, check out Fast Karate for the Gentlemen's podcast on the subject.
Anime on NA TV
Death Note recently started on Adult Swim. It starts on Canadian YTV on October 26th at 10:00pm. Anime News Network and Zannen Canada report that G4techTV Canada will be airing Requiem from the Darkness starting October 20th, and Black Lagoon starting on October 26th. Starz Edge will be launching a new "Animidnight" anime block 12:00Am Wednesdays starting November 6th. Upcoming anime include Ghost in the Shell: Stand Alone Complex: Solid State Society, Fullmetal Alchemist: The Movi and Desert Punk. Anime Network's Video on Demand service will be adding Venus Versus Virus on November 16. The DVD will be released November 13th. Synopsis Sumire is your average everyday schoolgirl. That is, if your average everyday schoolgirl can not only sense ghosts and demons, but can also dispose of them accordingly. So, when she finally meets Lucia, a specter-fighting, eye-patch-wearing power-girl from the Venus Vanguard, it's a match made in heaven. Or rather - Hell, as it were. Together, these two will work to rid the world of the dark forces called Virus that lurk amongst us - trying to add innocent souls to their masses. They will learn from each other why a life is worth saving. They will learn from their enemies that they each have their own potential for evil. And they will hunt down the Virus and give it the beating it truly deserves. Get ready…it's time for your vaccination. Toon Zone has interviewed Cartoon Network's Sr. VP of Programming & Scheduling Jennifer Davidson. Among the noteworthy questions and answers: TZN: One thing that seems to be growing on all networks is anime. What are your plans as far as Japanese and other foreign animation goes? Are you going to reorganize into theme blocks? DAVIDSON: The second part of your question, absolutely -- the flow of the network is a priority for us and how we build audience through the day. For me, it's not about Japanese animation or anime or live-action or animated -- it's about the content and the entertainment that's going to serve our core audience, which is kids 6-11. So if there's an anime show that's going to work, I'm going to look at it and talk about it with the team. That's the mission right now: finding the shows that are going to work to serve our core audiences. Anime is part of that. I can't say specifically right now the specific shows that are going to be part of that. TZN: There's been a lot of controversy among our fans about the increasing amount of live-action on the network. Is that something that you're able to comment on or talk about if you're going to be changing that from a scheduling perspective? DAVIDSON: Again, our core audience is kids 6-11, and the feedback we get from our research with kids is that they love live-action, they love animation -- they just love good entertainment. Our history is clearly in animation and we have no plans to abandon that history. It's going to incorporate into our sensibility moving forward with animation and with live-action. You can see with Out of Jimmy's Head that it's about kids and it's for kids, but it has our sensibility in it with the brain of an animator. We've had a lot of discussions at the network about how we'll move forward with it.
Shot of Live Action Blood
Twitch points out that FilmsActu.com has still of Jun Ji-Hyun (My Sassy Girl) as Saya from the live action Blood: The Last Vampire a href="http://www.filmsactu.com/news-cine-blood-the-last-vampire-photo-exclusive-161.htm">here
February CMX Releases
CRAYON SHINCHAN VOL. 1 Written and illustrated by Yoshito Usui Everyone's favorite precociously vulgar kindergarten boy on sale February 27 o 5" x 7.375" o 128 pg, B&W, $7.99 US Marked for Mature Readers

DOKKOIDA?! VOL. 1 Written by Taro Achi Art by Yu Yagami Super hero/sentai parody meets domestic comedy on sale February 13 o 5" x 7.375" o 194 pg, B&W, $9.99 US o TEEN+

APOTHECARIUS ARGENTUM VOL. 4 Written and illustrated by Tomomi Yamashita on sale February 20 o 5" x 7.375" 200 pg, B&W, $9.99 US o TEEN

KEY TO THE KINGDOM VOL. 3 Written and illustrated by Kyoko Shitou on sale February 27 o 5" x 7.375" 176 pg, B&W, $9.99 US o TEEN+

KING OF CARDS VOL. 3 Written and illustrated by Makoto Tateno on sale February 6 o 5" x 7.375" 192 pg, B&W, $9.99 US o TEEN

ORFINA VOL. 2 Written and illustrated by Kitsune Tennouji on sale February 27 o 5.5" x 8" 170 pg, B&W, $12.99 US o MATURE READERS THE PALETTE OF 12 SECRET COLORS VOL. 2 Written and illustrated by Nari Kusakawa on sale February 20 o 5" x 7.375" 192 pg, B&W, $9.99 US o EVERYONE

SWAN VOL. 12 Written and illustrated by Kyoko Ariyoshi on sale February 6 o 5" x 7.375" 200 pg, B&W, $9.99 US o everyone

VENUS IN LOVE VOL. 2 Written and illustrated by Yuki Nakaji on sale February 13 o 5" x 7.375" 200 pg, B&W, $9.99 US o TEEN
Upcoming From FUNimation
FUNimation will be releasing the first volumes of Shuffle and Black Blood Brothers on February 12th. Upcoming t collections include 1/15 Fullmetal Alchemist Set 3 ($49.98) 2/5 Negima $89.98 Slayers Try $39.98 2/12 Dragon Ball Movies 2-4 $19.98 2/19 Dragon Ball Z Season 4 $49.98 One Piece Movie 08: Episode of Alabaster Also of note, FUNimation will be calling their re-priced re-releases the "Viridian Collection".
Game News
Majori's News notes that screen shots of the upcoming Sakura Taisen: Kimi Aru Tameni DS game are online here. The Tokyo Game Show trailer for Super Robot Wars Original Generations Gaiden can be seen here
Upcoming in Japan
A second season of Sayonara Zetsubou Sensei (Goodbye Mr Despair) is scheduled for early 2008. The ensemble comedy follows the classroom antics of suicidal teacher and his students. From Gunota, Keroro-Movie.net now offers previews of the third Sgt Frog movie, scheduled Spring 2008. Mycom Journal covered a promo event for the film in Akihabara, featuring Kumiko Watanabe (Keroro), Teruyuki Tsuchida & Kanako Yanagihara (comedians), and Tomoko Kawakami (Fuyuki Hinata). From AnimeNation The next Lupin III will be the OVA Green vs Red, scheduled for Spring 2008. A new Rockman (Megaman) will start on Japanese TV November 3rd. Ryusei no Rockman: Tribe will serve as a follow-up to the original Ryusei no Rockman. Screenshots of the CG OVA .hack//G.U. TRILOGY are online here. The release is scheduled for January 25th. From Anime News Network Afro Samurai creator Takashi Okazaki has Takashi Okazakiconfirmed that a second Afro Samurai is in the works. The new TV series will follow the conclusion of the events of the first five, with main character Afro finally accepting his destiny of becoming the world's best warrior, and it will feature a new, female opponent for Afro. Trailers for Production I.G's OVA Tokyo Marble Chocolate is online here. The feature is scheduled to be screened October 27 at the Tokyo International Film Festival, with a DVD release to follow on December 19. A second season has been confirmed for supernatural comedy Code-E A live action movie based on Someday's Dreamers is in the works. The anime is was released in North America by Geneon, and the manga by TOKYOPOP. According to the Yomiuri Sports Hochi, 15-year-old model and actress Rio Yamashita will star as the protagonist and Shun Nakahara will direct. Studio Deen will be adapting Shinobu Takayama's fantasy manga Amatsuki. Kazuhiro Furuhashi (Rurouni Kenshin, Le Chevalier D'Eon, GetBackers) will direct. The live action adaptation of Welcome to the NHK creator Tatsuhiko Takimoto's novel Negative Happy Chain Saw Edge debuted at TIFF. A manga is scheduled to run on Monthly Shonen Ace starting in December.
Aurora Starting Josei Line
Aurora Publishing has announced the introduction of their Luv Luv josei (manga for adult women) imprint, which they are describing as "passionate manga for women." "Describing real issues and feelings that modern women have in general, Ladies Comics have become very popular in Japan" says Mr. Nobuo Kitawaki, president of Aurora Publishing and its parent company Ohzora Publishing. "We are very thrilled with introducing the genre to American market, and confident that American ladies would find these manga titles attractive and enjoyable as well." The initial launch title from Luv Luv is VOICES OF LOVE by Kanae Hazuki, a collection of five short stories scheduled for January 2008. REAL LOVE by Mitsuki Oda is scheduled for March 2008. LOVE FOR DESSERT by Hana Aoi is scheduled for May. These titles will retail for $10.95.
Japanese Blu-ray Plans
According to Gunota, Bandai Visual is set to release Gundam's F91 and Char's Counter Attack movies on Blu-ray formay on February 22 for 7800 yen Anime on DVD notes that the Escaflowne and Cowboy Bebop movies are scheduled for 1/25/08
FUNimation Buisness News
FUNimation announced that their release of Witchblade volume one has been 2007's best release to date. According to analysis of Nielsen VideoScan data after its September 25th release date, Witchblade volume 1 is the #1 best selling anime series launch of the year based on first week sales. Nielsen VideoScan collects sell-through POS (consumer purchase) sales data weekly from traditional channels of video distribution including mass merchants, audio/video and video specialty retailers, electronics outlets, grocery stores, drug stores, and some Internet sites. Nielsen VideoScan maintains this weekly POS data in one of the largest databases of VHS and DVD products in the country. Variety reports that FUNimation is partnering with AccessIT group member the Bigger Picture to digitally distribute four Japanese pics in the U.S. market, the Bigger Picture has announced. These include periodic live action "Love and Honor" and "The Blue Wolf: To the Ends of the Earth and Sea" and anime Vexille and One Piece. AccessIT's technology will be used to distribute the features to theatres. According to ICV2 FUNimation's COO Ward Thomas left the companies to return to the software industry. Thomas came to FUNimation in 2005 from its parent, the Navarre Corporation. Thomas' departure is the second to hit the upper echelon of FUNimation management in recent months. Senior Vice President Debra Kennedy also recently left the company.
The Third Volume 4 Scheduled
Anime producer and distributor Right Stuf, Inc./Nozomi Entertainment and Kadokawa Pictures USA announced that THE THIRD: THE GIRL WITH THE BLUE EYE, DVD VOL. 4: DESERT PHANTOM is scheduled for release January 29, 2008. Something's wrong with Millie. While she maintains her normally bouncy outward appearance, her friends can tell it's merely a façade hiding the sadness she feels deep in her heart. In an attempt to raise her spirits, Honoka decides it's time for a short vacation! What could be more fun than exploring the strange, unexplained legends of the desert? But some myths are all too real, and Honoka's group soon finds themselves in a life-and-death struggle between three mysterious creatures! Vol. 4 contains episodes 13-16. The 24-episode anime, also known as "The Third - Aoi Hitomi no Shoujo," is based upon a popular series of novels and short stories written by Ryou Hoshino and illustrated by Nao Goto. Spanning more than 16 volumes, the original fiction has appeared in Japan's Dragon Magazine since 1999, alongside the serialized novels that inspired the hit Full Metal Panic! and Slayers anime series. Additionally, a manga adaptation of The Third - which is scheduled for a 2008 North American release by TOKYOPOP - ran in Dragon Age magazine, home to the Full Metal Panic!, Slayers and Chrono Crusade manga. XEBEC (D.N.Angel, Negima!, Fafner, Elemental Gelade) produced the animation for the TV series, which ran on Japan's WOWOW satellite channel - known for original anime programming such as Cowboy Bebop, Ergo Proxy, The Big O and Paranoia Agent - from April through October of 2006. Volumes 1 and 2 of the series are now available, with Vol. 3: Gravestone due to street on November 27, 2007 in two variations: a standard, disc-only edition and a limited edition that includes two, exclusive puzzles - featuring artwork from the series - plus an art box, designed to house the entire six-volume North American DVD release.
Madhouse Opening US Office
Variety and Anime News Network report that Madhouse, the studio behind Paprika, The Girl Who Leapt Through Time and the Highlander anime will be working with Nikkatsu, Japan's oldest movie studio, to launch a joint office in the United States. The office will be set up to market the studios' films outside Japan. Both studios are part of Index Holdings.
Japan Asks America to Stop Illegal Net Releases of Anime
Anime News Network and animeanime.jp, as part of a regulatory reform and market competition policy document, the Japanese government issued a formal request to the government of the United States to aid the prevention of unauthorized reproduction and distribution of Japanese animation online (popularly referred to as fansubs). Specifically, the formal statement mentions the spread of Japanese animation and other materials on video-sharing sites and peer-to-peer file-sharing networks. The Japan's Ministry of Foreign Affairs site damages down to Japan's creative industry and the high legal costs and complex procedures of copyright infringement cases against peer-to-peer file-sharing are issues.
Japanese Animators Form Union
According to AnimeNation and Canned Dogs, Ashida Toyoo, chairman of Studio Live, has organized the Japan Animation Creators Association (JAniCA) in order to petition for improved working conditions for Japanese animators and combat the ongoing decline of Japanese artists working in anime production. The JAniCA site reveals facts including: An anime storyboard artist may earn up to 3.36 million yen ($28,541 USD) annually if the artist works every day of the year. A key animator may work 10-15 hours a day and earn only 2.16 million yen ($18,354 USD) annually if the artist works every day of the year. An estimated 20% to 30% of Japan's animators earn roughly 1 million yen ($8,500) annually. Typical anime artists receive no vacation pay, health insurance, retirement plan, or other similar benefits. Leaked internal documents from Anime International Company Inc. (AIC) including this budget for the current 26 episode Bamboo Blade television series put the production cost of an average anime episode at around ten million yen. The budgeted production cost for the Bamboo Blade television series is 9,554,000 yen ($81,750 USD) per episode.
Upcoming ADV Releases
12/11/07 Air - The Movie

Kurau Phantom Memory: Twin Destinies (5 of 6)

Megazone 23 Complete Collection ( $29.98)

Pumpkin Scissors: The Enemy Within (2 of 6), also available with Collectors Box for $39.98

Tokyo Majin, Dark Arts: Dragon Stream (1 of 6)

12/18/07 Le Chevalier D'Eon: Bête Noire (6 of 6)

Innocent Venus: The End Of A New Beginning (3 of 3)

Sorcerer Hunters Perfect Collection ($59.98) The Wallflower - Lesson 1: My Fair Bishonen (1 of 6)

Megazone 23 Megazone 23 is a classic example of 80s action-adventure and a must-have for any serious mecha fan. Teenager Shougo and his friends just want to have fun, but one day one of Shougo's older friends show up with what looks like a motorcycle but turns out to be much more. Now ruthless men will stop at nothing to retrieve the strange machine. Sucked into a secret world of danger and mystery, Shougo must fight for his survival - and his sanity. DVD extras include production sketches and a commentary track by Matt Greenfield, David Williams, and Janice Williams. Tokyo Majin A 26 episode series produced by AIC Spirits (Tokko) and Bestack (The World of Narue) Synopsis: Tokyo. A wave of mysterious deaths ripples throughout the city. Corpses of the un-dead, controlled by monstrous creatures, scour the urban underworld at the bidding of their dark master, seeking a power that could bring about the final apocalypse. With the police helpless in the face of these unnamable horrors, the fate of the world hangs on five unlikely saviors- the students of Tokyo Majin! Armed with their own incredible powers, they must battle an unholy swarm of evil beings, against everything from Alchemists through Zombies! It's a deadly war fought in shadows, and they're completely outmatched except for one thing: they never learned when to say die! The back alleys of Japan's largest city are the site of the biggest supernatural rumble ever in Tokyo Majin! The Wallflower The Wallflower is based on the long-running manga series by Tomoko Hayakawa, 13 volumes of which have already been published in North America by Del Rey Manga. The hit manga was adapted by Shinichi Watanabe a.k.a. "Nabeshin," of Excel Saga and Nerima Daikon Brothers. Synopsis: After years of sponging off a fabulously wealthy older woman, four ridiculously beautiful boys are confronted with the most horrifying challenge ever: use their bishi skills to turn their benefactor's socially challenged niece into a beautiful young lady or start paying rent! And this isn't just any ugly duckling they're facing; she's a psycho, paranoid, neurotic horror movie obsessed goth chick with a fetish for anatomical dummies, bad skin and a total ignorance of all things feminine! (And those are her BETTER points!) But hey, rent's expensive and job openings for pretty boys are scarce, so our poor heroes are going to have to suck it up and attempt the ultimate combined exorcism/spa/makeover from hell! It's a Queer Eye FTSG of doom as the infamous Nabeshin unleashes The Wallflower! Anime on DVD notes that Diamond Comics lists the following ADV titles for tentative January releases: Comic Party Revolution Complete Collection Thinpak $44.99 Get Backers Season 1 & 2 Complete Collection Thinpak $89.99 Ghost Stories Complete Collection Box Set $49.99 Jinki Extend Complete Collection Thinpak $59.99 Kanon Vol. #1 $29.99 Martian Succssor Nadesico Complete Collection Thinpak $49.99 Serganet Frog Vol. #1 $39.99
Media Blasters to Release Online Card Game
Media Blasters and DEX Entertainment have announced the creation of an American version of Alteil, Japan's number one online fantasy card game. The initiative will be bringing over four years worth of game content. The RPG style fantasy game plays within a browser. After signing up, a user can customer a free start set, then buy additional cards to expand your capabilities. Card art feature work by artists including designer Katsuya Terada (the Hellboy film, Tekken 5), and illustrators Hitoshi Yoneda (Phantasy Star, Xanadu II), Rei (the Code Geass manga) and Yuji Kaida (Godzilla and Gundam models). Media Blaster will be known to North American anime fans through their AnimeWorks label, which released Rurouni Kenshin, Berserk and Voltron: Defender of the Universe on DVD. Dex Entertainment, founded in 2003, specializes in film and DVD acquisition and distribution (including Suspiria, Night of the Living Dead and The Crow), and the online card game, Alteil. Dex's major shareholder is Index Holdings, a world leader in mobile contents solutions. Dex partners are Mad House, Japan's leading animation studio, and Interchannel-holon Inc., a PC game software production company. For more, see www.alteil.com
TOKYOPOP Working on a Ikki Tousen Live Action
Anime News Network reports that TOKYOPOP announced plans to adapt Yuji Shiozaki's Ikki Tousen (localized as Battle Vixens) at TIFFCOM. The fight manga/anime that focuses busty teenage girls features reincarnations of heroes from the Romance of the Three Kingdoms. A second draft of the project's story treatment has been completed. Tokyopop's synopsis of the proposed remake described it as an adolescent comedy set on American college campuses, with the possibility of casting an Asian female in the lead role.
Upcoming Non-Anime
In non-anime news, a trailer for the upcoming Dragon Lance has been YouTube'd From the official site We're happy to (finally) be able to present the first trailer, shown at GenCon and DragonCon earlier this year. This has been designated a "rough cut" -- the final trailer should be available in the next month or so. Paramount says "Dragonlance fans -- We're sorry that it has taken this long to get a trailer out. We had been waiting in hopes that we could show you the final trailer but unfortunately, due to unforeseen circumstances (i.e. key talent issues etc) we have not been able to cut the final trailer together and get 100% approval. Ever since we showed this piece at GenCon and DragonCon there has been a huge demand to see the trailer so we figured it'd be best to show you the rough version instead of having everyone wait even longer. We appreciate your patience. Enjoy!" Thanks to James sending this along this along. From Joystiq, the upcoming Turok, schedule for a DVD release in early 2008.
Worth Checking Out
From Wired's new issue, Japan, Ink: Inside the Manga Industrial Complex. Jason Thompson's history of manga in North America Thompson compares shonen manga to super-hero manga here Studio Tavikat has a new site at tavicat.com Production I.G has posted an English language statement from Shirow Masamune on his new series Ghost Hound here Variety looks at the direction of anime here Via Newsarama's Blog, Variety has profiled Stu Levy and looked at TOKYOPOP's plans USA Today describes what looks like a five year declines in Japanese manga sales. Matt Thorn calls it a problem with lack of originality. Simon Jones at Icarus sees it as a format evolution. The Wallstreet Journal on transcreating animated properties from on market to another. Business Week looks at Imagi, producer of the upcoming Astro Boy and Gatchaman CGI movies. ComiPress looks at the "incredibly strange" work of Fukushima Masami: King of Fleshbomb here Matt Alt's Otaku USA Michael Arias interview, and Matt Alt has an excerpt from his interview with Appleseed Ex Machina's Shinji Aramaki in which the conversation turns to "Beetras" aka Deluxe Insectacons. PopCultureShock & A!PoN interviews live action Death Note director Shusuke Kaneko here ComiPress has an interview with Kinoko Nasu on the Theatrical Version of Kara no Kyoukai here and here. Japan Times interview Junko Mizuno here Newsarama interview Avatar's Michael Dante Dimartino here. Talks to Animation World Bryan Konietzko' Music 4 Games interviews composer Kenji Kawai David Welsh talks to Dylan Acres of Rumiko Takahashi fan site Rumic World here The Boston Phoenix on Christian manga Viz has launched a blog here Patrick Macias on Manga: The Complete Guide The results of Ru Igarashi's annual anime survey are online Matching classic anime characters to their seiyuu (voice actor) ComiPress has begun translating Udagawa Takeo's outsider manga book Manga Zombie Publisher's Weekly looks at DrMaster and specifically cooking manga Iron Walk Jan. Also, Anne Ishii, formerly of Vertical writes on the meaning of "Tekkon Kinkreet". Bandai Entertainment Zegapain and The Melancholy of Haruhi Suzumiya episode 12 Peter Cullen talks Optimus Prime Death Notes does Christmas From Major Spoilers, the latest issue of the American comic Nova has this amusing panel Geek in Name Only points out the Otaku Trivia Test Same Hat! Same Hat looks at Chip Kidd's work on the covers of Vertical's manga releases, including the upcoming Dororo here Congratulations to Gundam news blog Gunota Headlines on its fourth year online.