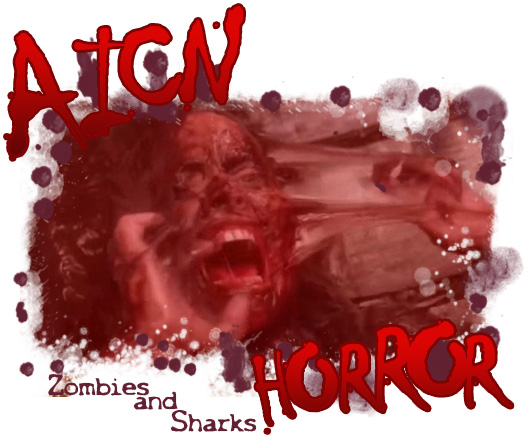 Logo by Kristian Horn
What the &#$% is ZOMBIES & SHARKS?
---
Welcome to the darker side of AICN! Mark L. Miller aka Ambush Bug here with another AICN HORROR: ZOMBIES & SHARKS column. I've got some truly unique horror films this week to share with you, but first, here are a few items worth checking out…
---
First off, I have a trailer for a new film called LAST OF THE MANSON GIRLS from director Lonnie Martin. The film is currently in post production and being a fan of Manson style films, I'm looking forward to seeing this one when it finally hits next year. Here's the official synopsis:
January, 1972. Convinced there's more to the Manson murders than meets the public eye, counterculture journalist Paul Krassner embarks on an LSD tinged investigation of the last of Manson's disciples: Brenda McCann, Sandra Good, and Lynette "Squeaky" Fromme. What he finds could change how the world sees the 60s... if he lives long enough to tell the story.
And here's the trailer.
---
Next we have a Kickstarter for a film called THE INQUISITOR. The film is described as;
Gypsies Alfred Pallino and his two daughters, Gina and Maria, with friend Teresa Dalini travel from camp to the next town to hear the church sermon of the Archbishop Francesco, during the Napoleonic war. As Alfred Pallino leaves the three girls in charge of the cart and in selling their wares, they are kidnapped and taken to the cell of the church. Once in the cell, they become aware of a female prisoner in the cell next to them. This prisoner escapes by killing a guard and frees them all. The three girls run through dark corridors to find a way of escaping the church and avoid Helene. Helene kills many more in a blood thirsty rampage through the church and the Archbishop Francesco orders the guards to find her. As the girls try to escape both Helene and the guards, what will happen when all three parties catch up with each other and the body count rises?
The film is to be made in Spain with director Richard Kelly at the helm.
Check out the pitch video below, and if it's something you find interesting, toss a few of your hard earned dollars its way by clicking this link
!
---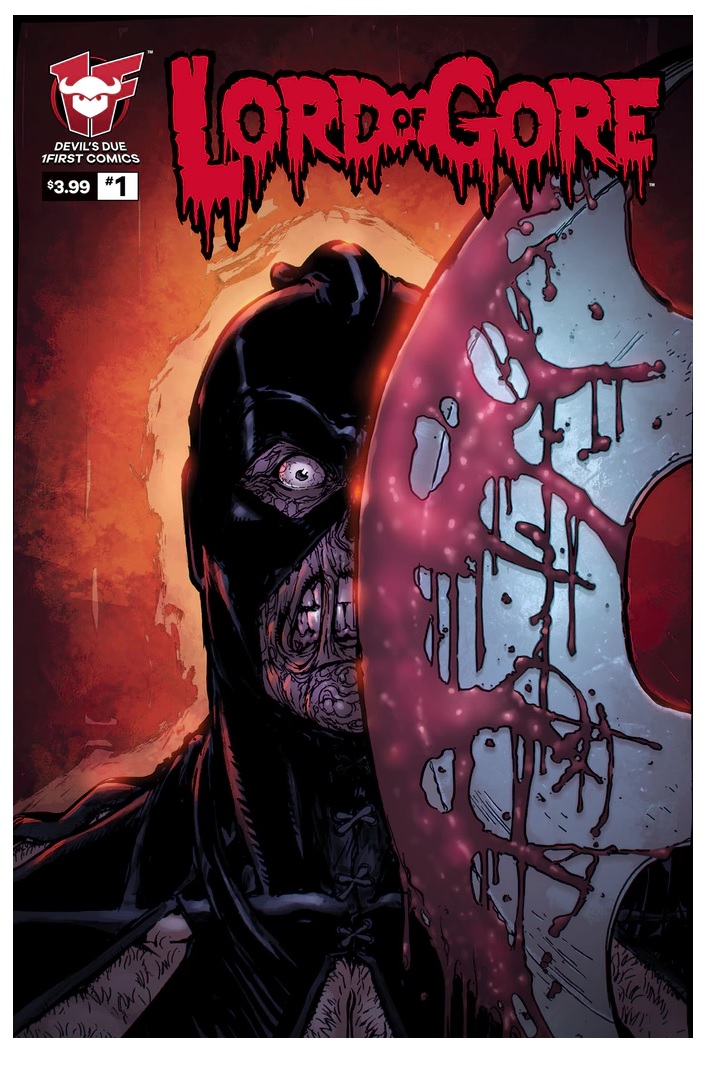 And speaking of Kickstarters, I ran into artist Dan Leister at last week's WizardWorld and got a chance to chat with him about his upcoming comic LORD OF GORE. I was immediately drawn to the cover of course due to the splatterific nature of it and I think lovers of horror will be too. Here's the official synopsis of LORD OF GORE;
LORD OF GORE is the story behind a scandal that propelled the 'Lord of Gore' B-movie franchise to mainstream success. In 1989 the film's costumed slasher actor murdered a young actress in ways worse than his on-screen character, creating a media frenzy. Now on the cusp of a modern reboot, a struggling screenwriter learns that the deranged star wasn't the only guilty party that night, but before he can share the information, the film's slasher - The Headsman - seems to have stepped from the screen into real life to stop him.
And below is the pitch trailer for the book, which will be produced by Devil's Due Publishing. If you like what you see, click this link and give 'em some fundage!
---
AICN HORROR has a new sponsor: Things From Another World—also known as TFAW!
TFAW carries everything from comics to toys and any kind of collectible in between. Show your support for AICN HORROR and TFAW and click the pic above. You just might find something you can't live without such as Cullen Bunn's excellent Southern Gothic Horror Tale from Dark Horse Comics!
On with the horror reviews!
Today on AICN HORROR

(Click title to go directly to the feature)
Retro-review: THE BLOODSTAINED BUTTERFLY (1971)
Retro-review: PSYCHO IV: THE BEGINNING (1990)
WHAT'S EATING TODD? (2016)
DARK COVE (2016)
HELL TOWN (2015)
FEED THE DEVIL (2015)
CLOWN (2014)
Advance Review: ENCLOSURE (2016)
Advance Review: THE GREASY STRANGLER (2016)
And finally…LIGHT'S OUT: THE UGLIEST MAN IN THE WORLD!
---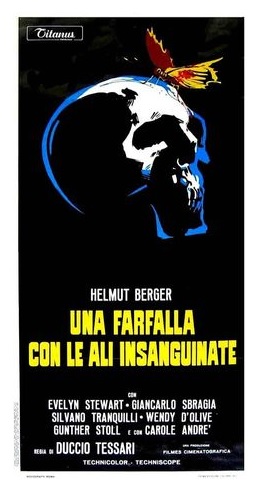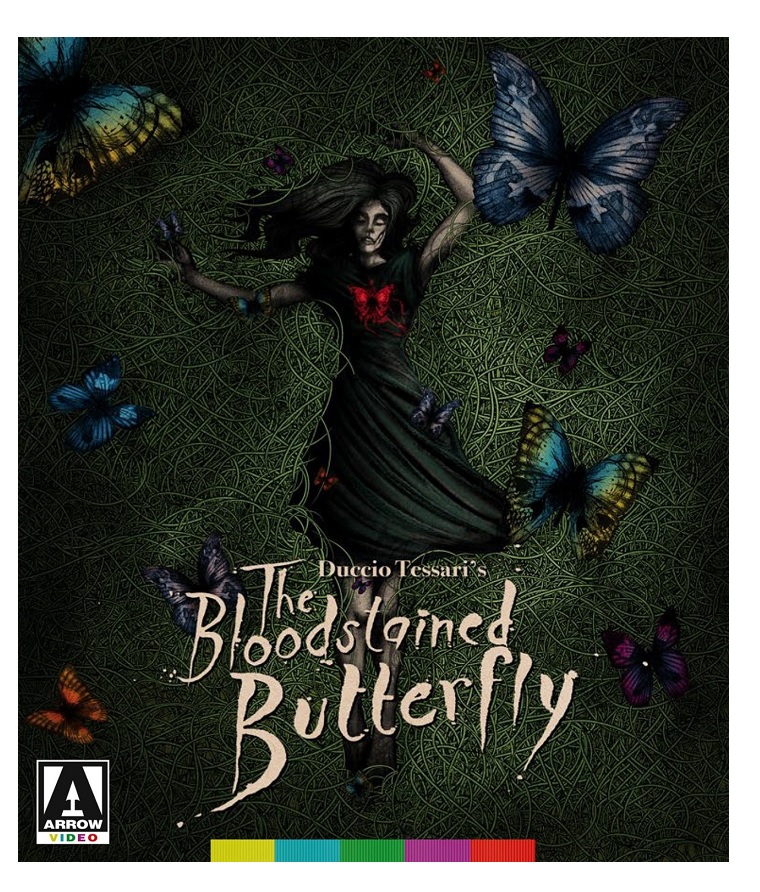 Retro-review: New this week on a Special Edition BluRay/DVD from Arrow Films/MVD Visual!
THE BLOODSTAINED BUTTERFLY (1971)
Directed by Duccio Tessari
Written by Duccio Tessari, Gianfranco Clerici
Starring Helmut Berger, Giancarlo Sbragia, Ida Galli, Silvano Tranquilli, Wendy D'Olive, Günther Stoll, Carole André, Anna Zinnemann, Lorella De Luca
Retro-reviewed by Mark L. Miller aka Ambush Bug
More murder investigation procedural than an actual Giallo, THE BLOODSTAINED BUTTERFLY still manages to entertain without copious amounts of bright red blood.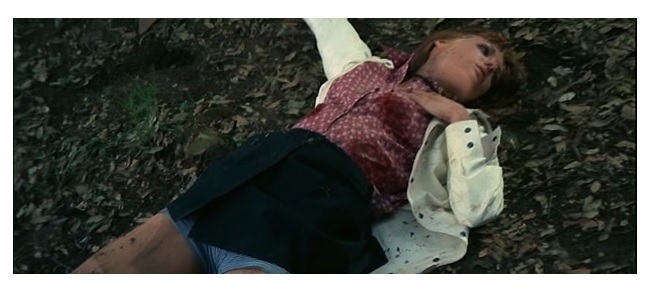 When a woman is found murdered in the park, accusations fly all over the place, but once the killer is caught, tried, and convicted of the murder, the murders continue. Did they arrest the wrong man, even though the evidence was stacked against him? Or is there more than one killer and more than one reason people are dying? That's the true mystery at the heard of this one.
Aspects that sort of move this film out of the genre of Giallo is the focus on the trial and the piecing together of the evidence by the cops. Sure in most Giallo's there's a lengthy PSYCHO-like explanation of the over-complicated plot, but here, there really is no need for that because much of the crime is pieced together as part of the story. This takes the focus on this film away from the usual sex and violence and more about the art of investigation, prosecution, and the legalities involving both, making THE BLOODSTAINED BUTTERFLY more akin to an episode of LAW & ORDER than anything else.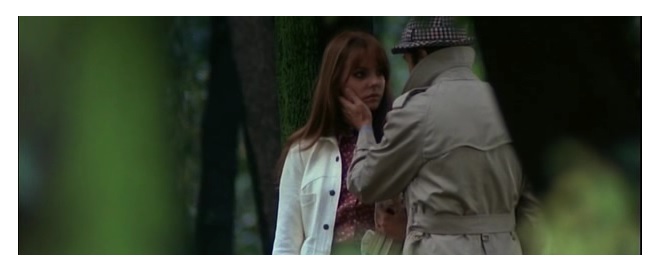 The nonlinear method the story is told, as it flips from the murder itself to the courtroom to the investigation and back to the murder makes this a film you really have to pay attention to in order to fully understand. While there is a sort of lengthy discourse by two people involved with the murdered girl, the film redeems itself from the knotty storyline by wrapping things up pretty nicely and comeuppance served in spades.
THE BLOODSTAINED BUTTERFLY may not fit nicely into the Giallo mold, but it was almost refreshing to see something outside of the norm from Italian cinema of this era. Special features in this special edition BluRay include a new English translation of the film, new English subtitles, a new audio commentary with critics Alan Jones and Kim Newman, a new career retrospective on director Duccio Tessari, plus a new visual essay on the film entitled Murder in B-Flat Minor featuring the film's cast and crew by author Troy Howarth, and the usual trailer and stills!
---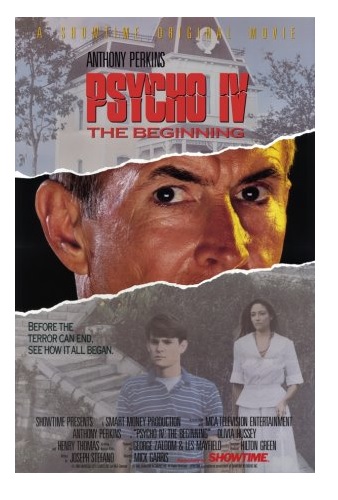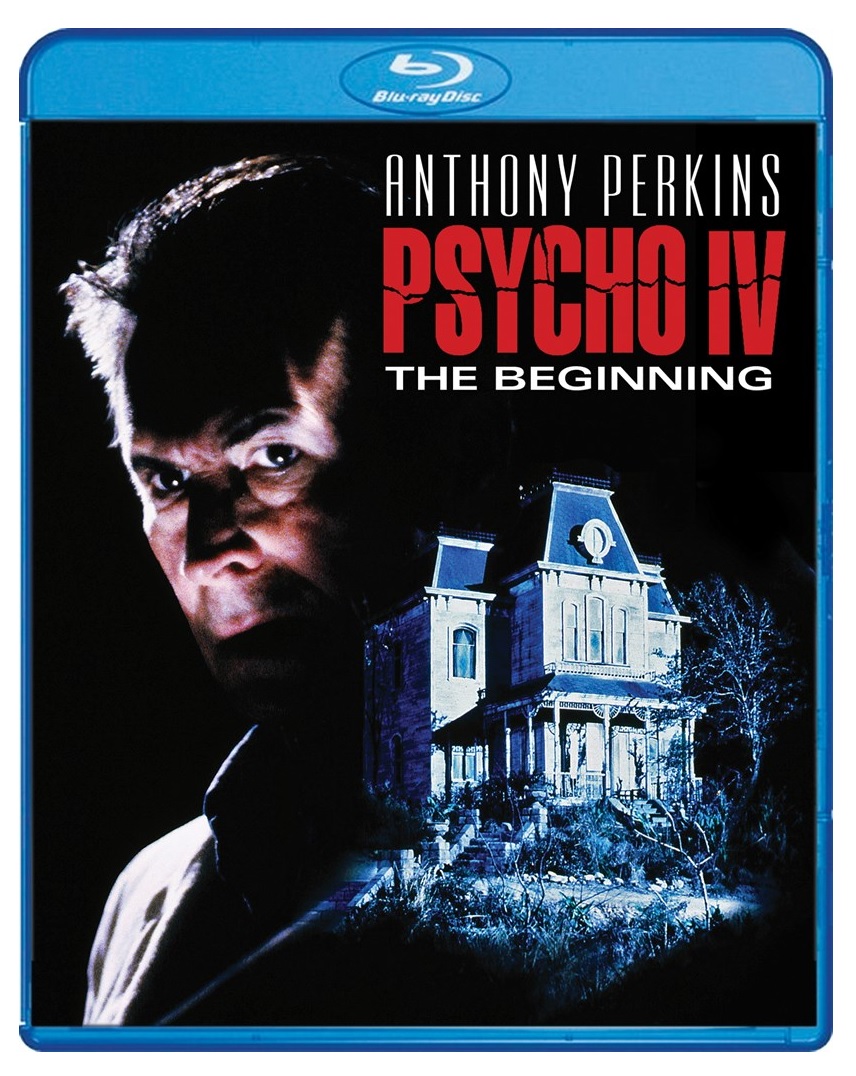 Retro-review: New this week on BluRay from The Shout Factory!
PSYCHO IV: THE BEGINNING (1990)
Directed by Mick Garris
Written by Joseph Stefano, based on characters created by Robert Bloch
Starring Anthony Perkins, CCH Pounder, Henry Thomas, Olivia Hussey, Warren Frost, Donna Mitchell, Tom Schuster, Sharen Camille, Bobbi Evors, John Landis, Kurt Paul, Louis Crume, Cynthia Garris, Doreen Chalmers, Alice Hirson, Ryan Finnegan
Retro-reviewed by Mark L. Miller aka Ambush Bug
While the sequels to PSYCHO were hit and miss, but still of pretty high quality (see my reviews of
PSYCHO 2 here
and
PSYCHO 3 here
), PSYCHO IV: THE BEGINNING was a pretty good indicator that the old hotel and it's cursed owner didn't have much more steam left in the engines.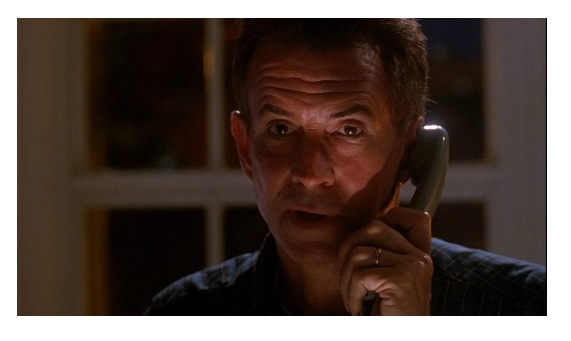 PSYCHO IV: THE BEGINNING centers around a radio talk show focusing on mother-killers. Hosted by Fran Ambrose (CCH Pounder), the radio who has a guest psychologist who focuses on matricide and a convicted and paroled mother-killer on the air, but the real treat is that a called named "Ed" phones in to offer up his life story. Recognizing the story, the psychologist insists the caller is really the infamous Norman Bates (Anthony Perkins) and that his threats that he will kill again are real. Fran must try to keep Norman on the line so they can track him down or convince him not to commit murder again, all the while, Norman is recounting his early years (in which he is played by E.T.'s Elliot, Henry Thomas) with Mother (played by the all-too sultry Olivia Hussey).
The set up is pretty by the numbers here as is the script. No real revelations are given, other than the fact that Mother was actually a hot little number rather than the elderly matron Norman dresses up to be. For the most part, the story sets up uncomfortably incestual situations for Norman to find himself in as his overprotective mother refuses to acknowledge Norman's budding manhood and emasculates him by throwing a dress on him and telling him that his pecker is an unholy thing. These flashbacks are told in a pretty straightforward manner with very little left to the imagination. Mick Garris, who is responsible for defanging many, many Stephen King properties, is the culprit for putting this pretty bland film together and while the setting itself is always ominous, it is because so much has happened at the old house and hotel in previous films, not because of what Garris adds to it.
Hussey is amazing as always. She is sexy as hell and equally crazy—switching back and forth in a heartbeat. Thomas is actually quite good as the sexually repressed Norman, though he looks less scary and more ridiculous in the wig and dress. Bates himself, Anthony Perkins, is simply walking through his role this time. In the previous installment, Perkins was allowed to direct and he gave one of his more nuanced performances in that film. Here he shakes and quivers on the phone and narrates rather blandly (and makes threats even more blandly). CCH Pounder is ok here as well, delivering her usual no-bullshit persona. It's just too bad the script is so bland and the directing is equally milquetoast.
The bombastic ending where the whole house goes up in flames is an attempt to put the nail in the coffin of this franchise. The way the story ends up kind of goes against the revelation in PSYCHO 2 that Norma is not actually his mother, but it just didn't seem like this was a detail many hang on. Of course, it wasn't the end of Norman, his mother, and the hotel as NBC's failed pilot BATES MOTEL starring Bud Cort plopped upon delivery and more recently A&E has a successful film, again casting Vera Farmiga as a more MILF-y Norma Bates and Freddie Hughmore as Norman. Unfortunately, PSYCHO IV: THE BEGINNING, aside from some decent moments of acting excellence, fails on a narrative and cinematographic level. This BluRay contains a new commentary track by Mick Garris and an effects featurette with FX man Tony Gardner. All in all, for the completists, this is one you should seek out. But the low quality scares and story will dissatisfy most.
---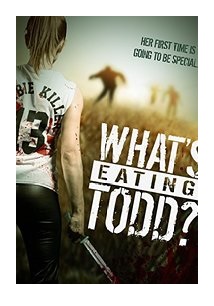 New On Demand and digital download from Indican Pictures!
WHAT'S EATING TODD? (2016)
Directed by Renata Green-Gaber
Written by Brandi Centeno
Starring Madison Lawlor, Adam Michael Gold, Phil Biedron, Scott Alin, Jacob Peacock, Renata Green-Gaber
Find out more about this film on Facebook!
Reviewed by Mark L. Miller aka Ambush Bug
While low budget doesn't always mean low quality to me, whenever things are played safe, I definitely have issue with it. WHAT'S EATING TODD? is not necessarily a bad film—it's just extremely by the books and seemingly afraid to go into anything but territory charted by tons of other films, which in the end, despite the best of efforts, results in the film not being very memorable.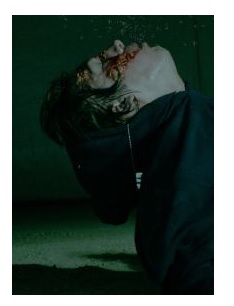 Stop me if you've heard this one. A group of kids go out for a weekend party in the middle of the woods. Soon after arriving, they decide it's a great idea to investigate a fabled haunted factory which was shut down long ago. After boozing it up, one of them (the titular Todd) inhales a few bugs which were trapped in one of the vats in the old factory and turns into a cannibalistic maniac that wants to devour and kill the rest of his friends.
While the beginning is familiar, I do give this tame infected flick points for having the cause of the outbreak to be inhaling infected gnats. Not the most frightening of scenarios, but still, having inhaled my fair share of gnats, it is a tactile and disgusting experience. Witnessing Todd inhale a whole cloud of them succeeded in skeeving me out. Too bad the rest of the movie is predictable and bland as all get out; from the horribly staged "natural" found footage aspect of Todd's birthday party as seen through a video camera to the horrifically clichéd ending where the survivor becomes an eye-shadow wearing emo punk because of all that was endured. There's not a sense of character in any of these non-actor kids and the story simply exists rather than thrills and chills. I love indie horror, but when it is done in such a lazy fashion, I just can't support it and WHAT'S EATING TODD?'s biggest fault is that it simply fails to stand out in any way, shape, or form.
---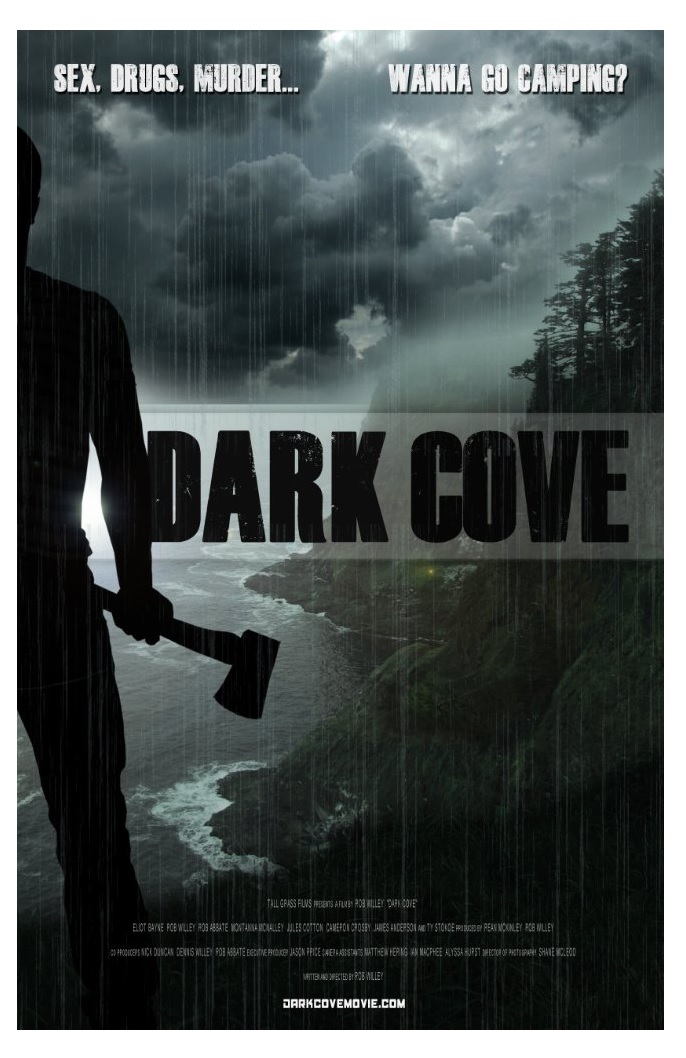 Available on iTunes and other digital platforms as well as On Demand!
DARK COVE (2016)
Directed by Rob Willey
Written by Rob Willey, Dennis Willey
Starring Montanna McNalley, Rob Willey, Cameron Crosby, Rob Abbate, Ty Stokoe, Jules Cotton, James Anderson, Eliot Bayne, Alexandra Brown, Ken Hunt
Find out more about this film here and on Facebook here
Reviewed by Mark L. Miller aka Ambush Bug
Canada has had a rich history with horror with films like MY BLOODY VALENTINE, HAPPY BIRTHDAY TO ME, PROM NIGHT, BLACK CHRISTMAS, TERROR TRAIN, NIGHT EYES…the list goes on and on of fantastic films from America's neighbors up north. Unfortunately, the new Canadian horror film DARK COVE won't be joining that grouping of great films.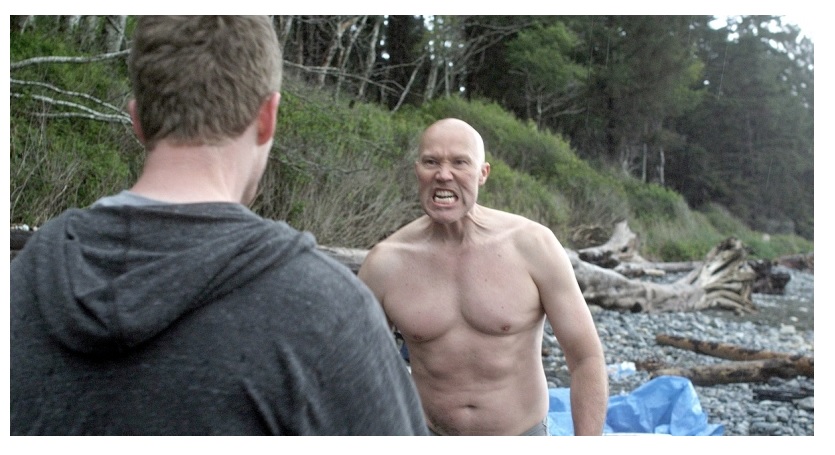 Stop me if you heard this before in the last review or even last week's review. A group of kids go out for a weekend party in the middle of the woods. After an extended gettin' to know you segment, the kids run into a group of Australian surfers out to party hard as well. But when one of the Australians gets too rough with one of the girls in the Canadian camp, a series of violent events make the whole weekend trip a bloody one.
While there's a lot bad about this film, I'll start off with a compliment. From a simple story and directing standpoint, this film shows that the filmmakers at least have some promise. There are some decent shots which establish an ominous mood and predict bad things a coming. The problem with this film rests solely on the amateur acting from pretty much the entire cast. Sure the Australians are scary with their shaved heads and accents, but this film makes a mistake of focusing on emotions and insights that are just too steep for the cast to accomplish. So you get endlessly tedious scenes of wooden actors trying to wax philosophically around a campfire about their future, who the best tippers are, and of course, lots of lame sex jokes. This film tries its damndest to be relevant and impactful, but the actors just aren't up to snuff to accomplish such a feat. In the end, it just feels like the filmmakers should have taken a little more time picking their cast. This one just didn't do the promising story any justice.
---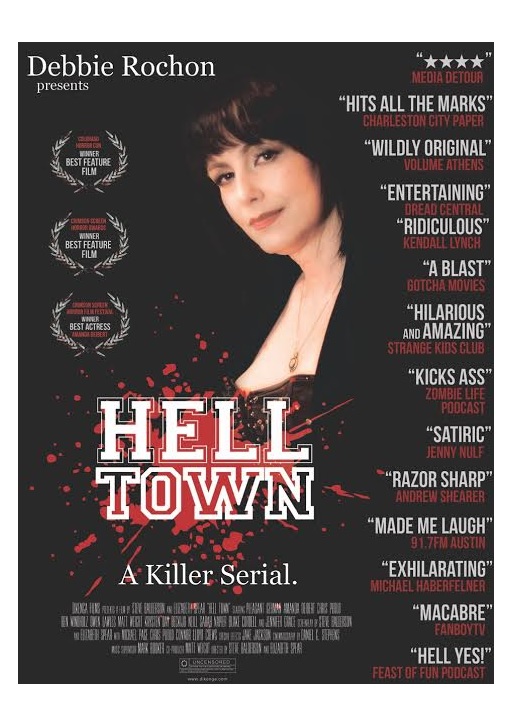 Available on iTunes and other digital platforms!
HELL TOWN (2016)
Directed by Steve Balderson, Elizabeth Spear
Written by Steve Balderson, Elizabeth Spear, Chris Pudlo, Michael Page
Starring Debbie Rochon, Jennifer Grace, Pleasant Gehman, Casey Chapman, Chris Pudlo, Amanda Deibert, Matt Weight, Kyle Eno, Owen Lawless, BeckiJo Neill, Ben Windholz, Blake Cordell, Sarah Napier, Krysten Day, Betti O
Find out more about this film here and on Facebook here
Reviewed by Mark L. Miller aka Ambush Bug
HELL TOWN is a clever schmelding of soap opera and horror. But instead of going the supernatural and melodramatic DARK SHADOWS route, this farcical whodunit comes off more like a lighthearted spoof of TV serials
SCREAM
and
SLASHER
.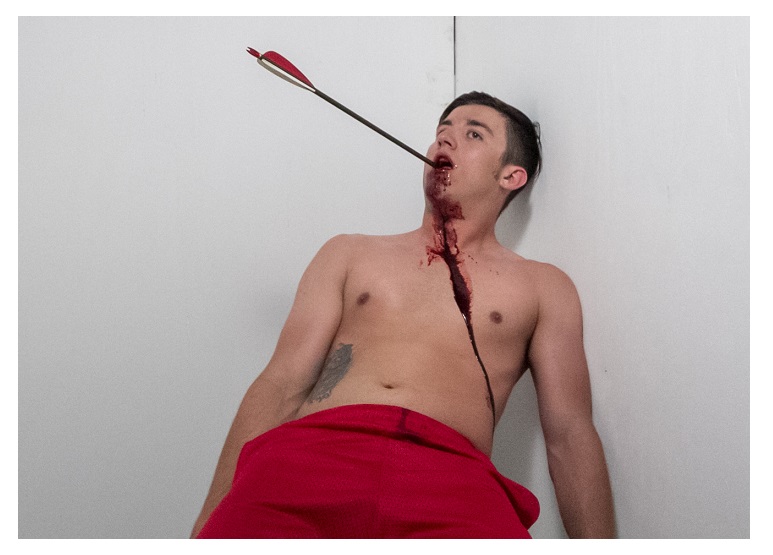 HELL TOWN follows two dysfunctional families who occupy the small city of Old Town (dubbed Hell Town by those who are forced to live in it). This is a city of industry, where inheritances to old money is fought over by millionaire's children before the patriarch has stopped breathing. The film follows a handful of these bratty kids as they bicker and betray one another when they aren't busy sleeping with or lusting after one another. But just as the matriarch of the richest family in town goes into a coma, a series of murders begin and fingers begin pointing to everyone as the bodies keep falling. Oh, and the whole thing is hosted by Screen Queen Debbie Rochon.
While this is a pretty low budgeter, there is a nice amount of comedic moments packed into HELL TOWN. Most of these laughs occur during the murder sequences, such as a man getting shot through the throat when he attempts to embrace his homosexuality by trying out the glory hole in the men's locker room. The kills are cartoonish, but still, fitting to the tone which amps up the melodrama to ape the style often seen in soap operas. The overly-complex plots are another wink to the lengthy plots that go on in these daytime dramas. The acting is over the top, but again, feels right in this kind of setting. Split into three episodes of HELL TOWN, this is a fun and boppy film that is worth checking out if you're a fan of horror and still have time to be wrapped up in the soaps.
---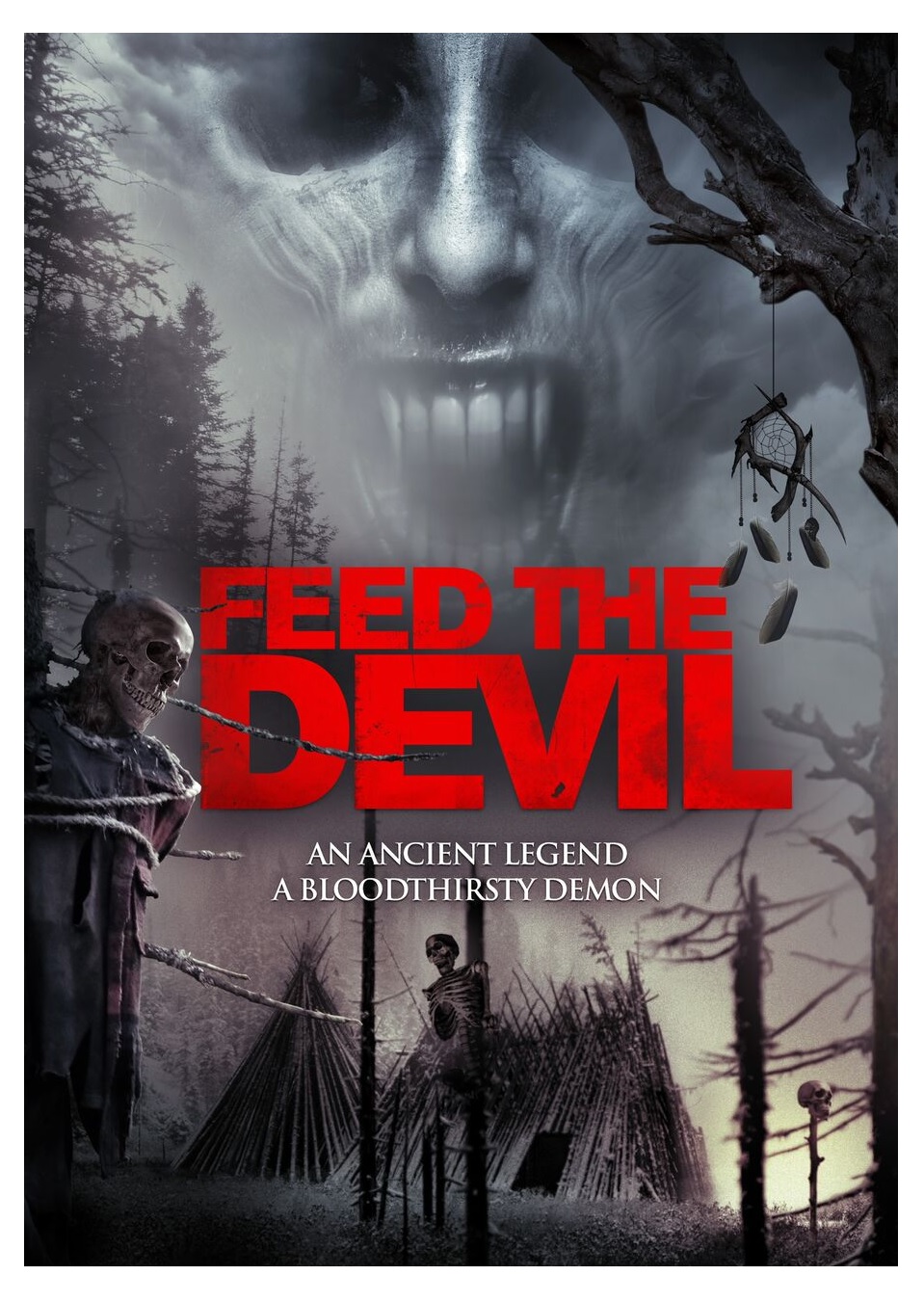 New On Demand from Unckork'd Entertainment!
FEED THE DEVIL (2015)
Directed by Max Perrier
Written by Matthew Altman, Max Perrier
Starring Jared Cohn, Ardis Barrow, Victoria Curtain, Nahka Bertrand, Tyson Houseman, Marco Collin, Nicholas B. York, Astrida Auza, Alan Harrington, Jean Drolet, & Brandon Perrault as the man-monster in the woods!
Find out more about this film here
Reviewed by Mark L. Miller aka Ambush Bug
Films about city folks getting stranded in the middle of the wilderness appeal to me. Partially because I am one of those city folk who would most likely be one of the first to go if stranded in the woods by myself. Partially because this "man vs. nature" story never gets old for me. Spicing things up with some strong acting turns and a brutality that is reminiscent of Iñárritu and DiCaprio's THE REVENANT and DELIVERANCE, FEED THE DEVIL packs a powerful cinematic punch fill of thrills and chills.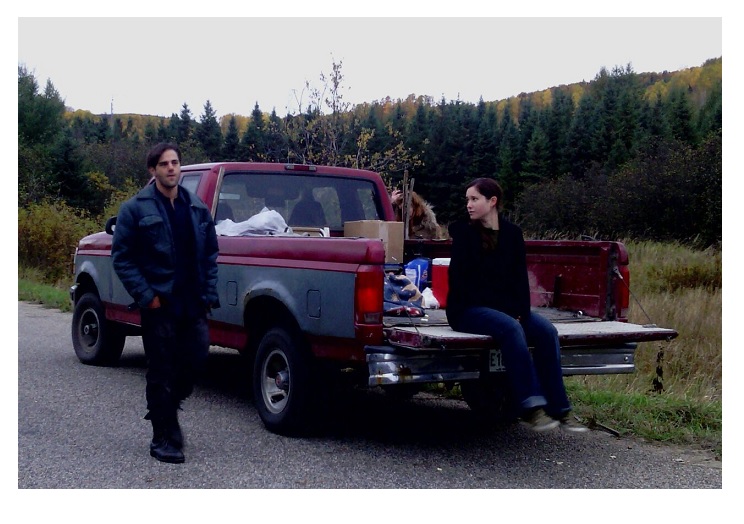 Getting wind of a field of primo marijuana, street-wise and hardheaded tough guy Marcus (Jared Cohn) and his girlfriend Stella (Victoria Curtain) take off unprepared for a quick trip to the wilderness, not knowing Stella's little sister Lydia (Ardis Barrow) has snuck into the back of their pickup truck. After Lydia is discovered, the three take off to score big on sweet leaf, but find themselves lost in the middle of a Native American holy ground with a giant demonic woodsman with a stone club ready to bash their skulls in and ghosts of past victims ready to drag them screaming into the woods.
FEED THE DEVIL is a fantastic fish out of water scenario where the odds are stacked so high that it would take a miracle for these three to survive. The environment itself is nicely accentuated for all of its dangers even before the giant man-monster and his ghost children appear. FEED THE DEVIL does a fantastic job of capturing the treacherous aspects of the Northern environment using very little color, yet highlighting the vast depth of the forest surrounding these city folk. As the story goes on and as the odds are steepened, this environment becomes even more nightmarish and is realized in a manner that makes the familiar look like some kind of alien landscape our heroes must escape. I haven't seen this type of detail to the environment as sufficiently realized as I have in FEED THE DEVIL. Those who loved the dank and dirty realism of THE REVENANT will appreciate this film all the more.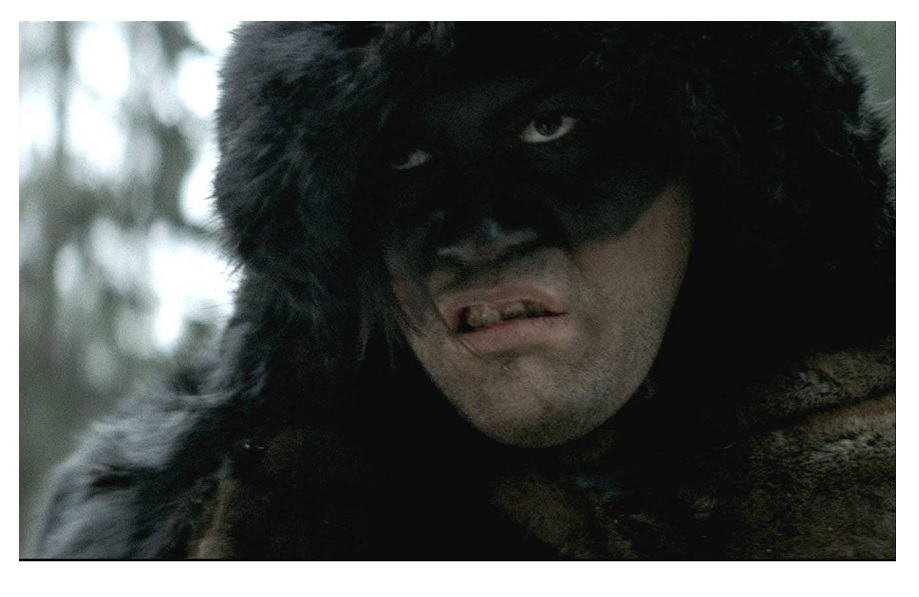 The acting is pretty great as well. Jared Cohn is going for a Brando-esque A STREETCAR NAMED DESIRE street tough character here. For the most part, he surprisingly nails it, but occasionally, especially when he is screaming for his girlfriend Stella over and over, it's a bit on the nose. Still, Cohn delivers a really grueling performance as he sludges through the muck of this wet and treacherous land in order to find those he has lost. Curtain and Barrow do great jobs as well here, though, against normal horror film tradition, they have less heavy character lifting to do compared to what Cohn is put through. But seeing these street wise youngsters facing the horror of the foreign territory they get lost in is a juxtaposition of culture that simply works.
There are some nauseatingly great effects in FEED THE DEVIL as well as bodies are skinned, faces are flayed, and tongues are gouged out. There's even a late in the game crucifixion that makes it all the more terrifying. I wasn't expecting much when I went into FEED THE DEVIL, but I ended up being impressed quite a bit with the mood, the acting, the effects, and the simple, but hard-hitting story this film had to tell.
---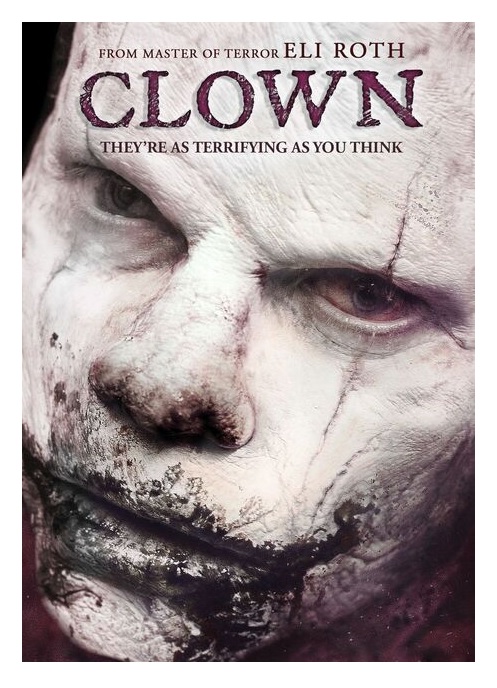 New this week on DVD/BluRay from Dimension/Anchor Bay Entertainment!
CLOWN (2014)
Directed by Jon Watts
Written by Christopher Ford (screenplay), Jon Watts (screenplay)
Starring Andy Powers, Laura Allen, Peter Stormare, Christian Distefano, Chuck Shamata, Elizabeth Whitmere, Victor Cornfoot, Lucas Kelly, Emily Burley, Matthew Stefiuk, Michael Riendeau, Miller Timlin, Robert Reynolds
Find out more about this film on Facebook here
Reviewed by Mark L. Miller aka Ambush Bug
John Watts somehow got the gig to direct the upcoming SPIDER-MAN: HOMECOMING film. I say somehow because despite it being a somewhat effective little horror movie, there really isn't anything present in CLOWN that indicates that he has the chops to take on such a large project. I know most of these superhero movies are made by committee, but there's nothing present here to indicate why Watts was chosen for the gig.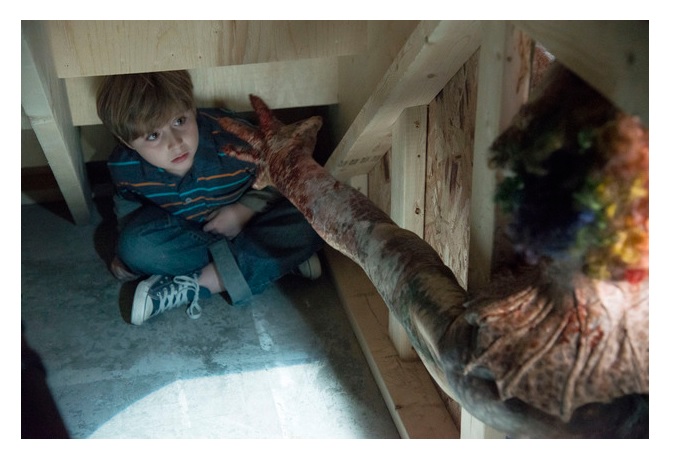 But we're here to talk about CLOWN, a film that is being released rather quietly on pay per view this week. I don't want to be a conspiracist, but it feels like the powers that be don't want this one to be seen. And that's kind of too bad because it's not a bad film at all. CLOWN tells the story of Kent (Andy Powers) a nice guy and good father who scampers to find a replacement when the clown he hires for his son's birthday party cancels. Kent is a realtor and happens to remember a crate of costumes in the basement of one of his homes. Finding an old clown suit, Kent puts it on and entertains his son and his friends, but after the party, he finds that he cannot take the suit off. Both the wig and nose are stuck on him too and Kent begins to have a hunger that he hasn't felt before. Calling the former owner of the house (played awesomely by the always good Peter Stormare), he finds out that the suit is not a suit at all, but the skin of an ancient demon which possesses those who dare put on the suit. Kent struggles with an insatiable hunger for young kids while Karlsson (Stormare) and his wife Meg (Laura Allen) try to find a way to stop him and save him from becoming a demon.
There's a lot of this film that I love. Like STITCHES (
reviewed here
), the film attempts to give a devious backstory to the clown, a seemingly harmless jokester with a horrific curse. Stormare sells this backstory with his usual eccentric charm and for the most part, the horrors in this film are actually quite effective. There's quite a lot of blood, the acting is actually decent throughout, and the situation is quite dire as Kent is running around trying to lure kids to him so that he can devour them, regurgitating the bones afterwards. It's quite the gruesome tale and I was surprised at how dark this film actually goes.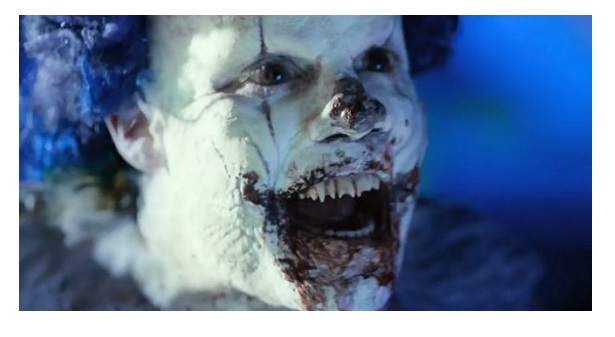 And I think that darkness is what is going to be off-putting for a lot of folks. Those who don't like to see kids die in films (and frankly, no one is rooting for them unless you're watching a HOME ALONE film) are really going to be put off by Kent's rampage. It's just one of those taboo subjects that many folks don't like to see. On top of that, this isn't a vivid film that utilizes the clown color palette. It's a washed out and bland looking film. Even the massacre at a Chuck E Cheese feels as if most of the color has been taken out. This just isn't a brightly colored film and I think that is another reason why this film felt like a downer of a movie, rather than an entertaining one. Yet another reason is the odd devotion Meg has for Kent even though she witnesses the horrors he is doing. I understand the power of love can make you put up with a lot, but I just didn't believe Meg would actually think about stealing a child in order to feed her cursed husband. Again, this is dark stuff that will definitely leave a bad taste in your mouth after watching. It did for me.
CLOWN is effective in that it is quite horrifying. It deals with uncomfortable subject matter and does so through a lens that isn't rosy colored, but grimy and rather bland. It really is a rather downer of the a film, but it does contain some rather graphic deaths and the transformation sequences are rather impressive. Again, I don't know what Watts has planned for the upcoming SPIDER-MAN: HOMECOMING, but I hope it doesn't have the same dour feel to it that this film did. CLOWN will cause unease, like any good horror film should, but it sort of lacks the humanity in it for me to really recommend it.
---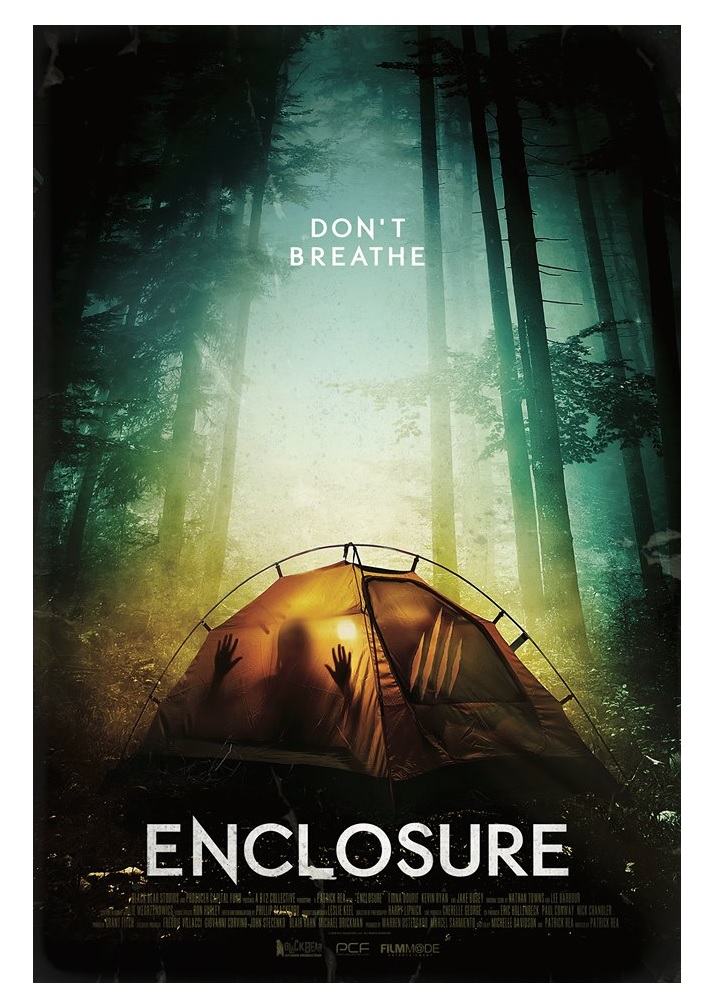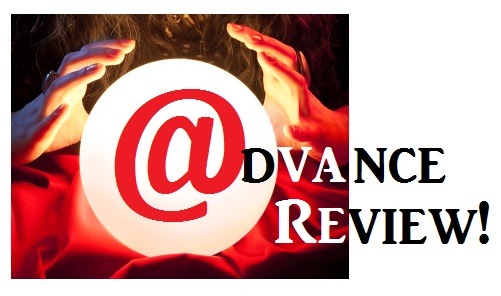 Coming soon: Recently played at Fright Fest 2016!
ENCLOSURE (2016)
Directed by Patrick Rea
Written by Michelle Davidson, Patrick Rea
Starring Fiona Dourif, Kevin Ryan, Jake Busey, Michelle Mills, Rob Bouton, Bruce Williamson as the Creature in the Woods!
Find out more about this film on Facebook here
Reviewed by Mark L. Miller aka Ambush Bug
Setting a couple in the woods where they encounter an unknown force is not entirely original, but add some great performances and a few creative twists and ENCLOSURE turns out to be something special.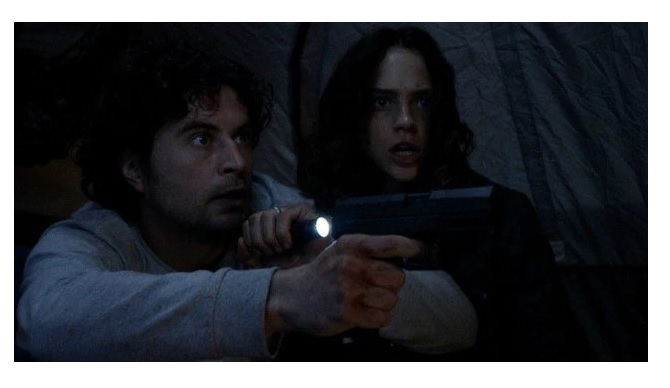 Dana (Fiona Dourif from CURSE OF CHUCKY and daughter of Brad) and her husband Charles (Kevin Ryan) are an adventurous couple who pursue their desires to get the most out of life and don't really have room for children in their lives. But when Dana finds out she is pregnant, she keeps it from Charles and goes on a weekend hike in the wilderness with him as planned. But the deeper into the woods they get, they begin to hear bizarre noises and it seems those making these noises have a special interest in Dana's motherly state. Dana and Charles find themselves trapped in a small fabric tent with some kind of forest creatures swarming outside.
First and foremost, this is a fantastically acted film. Dourif is a fantastic actress and deserves to be in more films (hopefully more genre films, as she is great as a powerful, yet sympathetic lead). As Dana, she offers up a complexity and likability that other actresses couldn't pull off. This is basically a situation where she is lying to her husband, but never do we not sympathize with her and it takes a good actress to make that work like Dourif does. The rest of the cast is solid as well. Kevin Ryan is another role that could easily be written as a selfish person, but his honesty is an admirable trait making him likable. Jake Busey, who is the scumbag in this film, is even given a nice arc showing a little vulnerability that he normally doesn't get to play with in his usual sneering jerk roles. Seeing these three working with their characters in this small tent is a fun dance to see play out.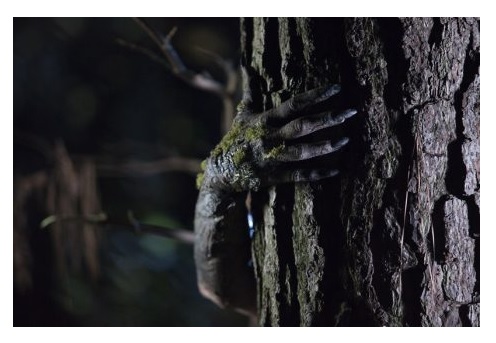 The other strong aspect of ENCLOSURE is the sound. Everything from the fantastically unusual whoops and screams from the creatures to the score of this film which incorporates chanting and tribal music, this is an utterly unique film in terms of sound. These sounds make for an unsettling experience through most of the film. On top of that, the practical effects are equal parts creative and effective as the monsters are something you haven't seen before this side of Mordor. The bark and moss covered creatures are something that seems more comfortable in a fantasy film, but by putting them in this horror film, it feels surprisingly fresh.
ENCLOSURE may seem familiar on the surface, but once you delve into this film, you realize it is something completely new. Patrick Rea has often been featured here in AICN HORROR as he seems to constantly be making short films in between his feature films, such as the impressive tornado monster flick
NAILBITER
. Each film (short or feature length) seems to be better than the last. ENCLOSURE makes you care about these trapped people and offers up a unique threat you haven't seen before, making it a hugely successful little horror film worth seeing.
Sorry, no trailer yet!
---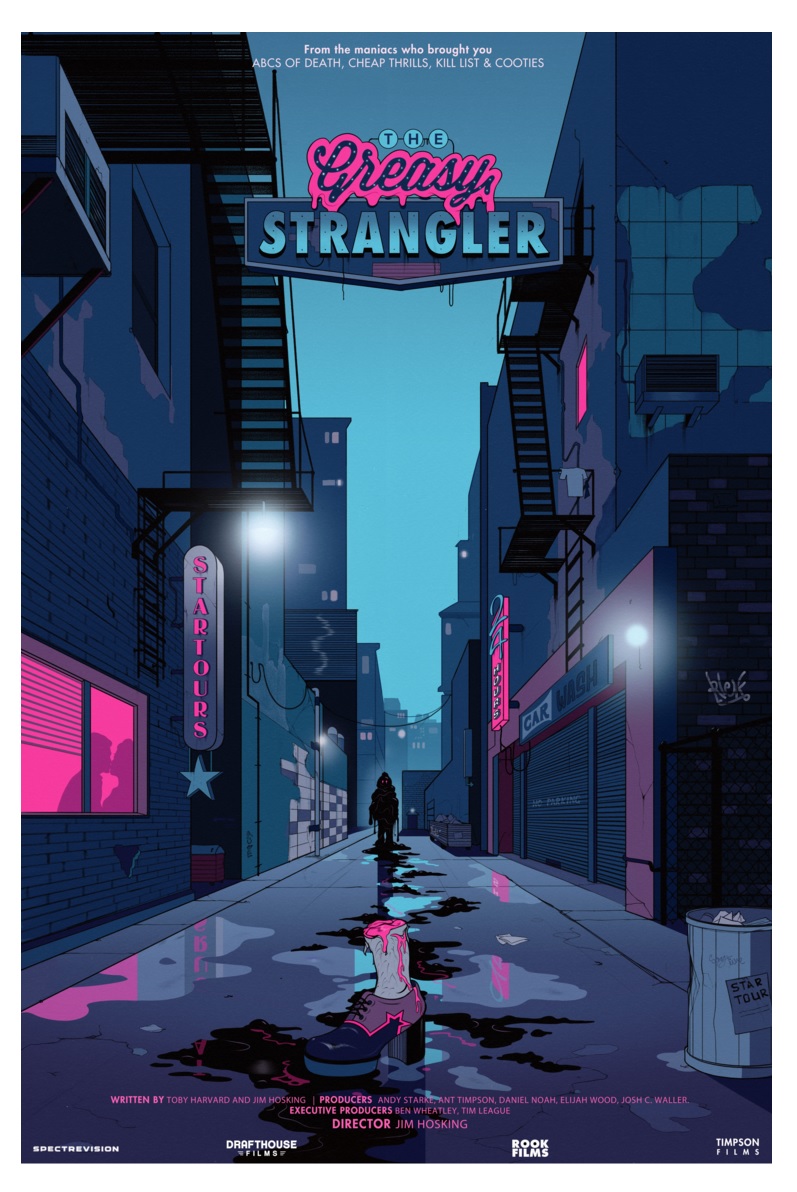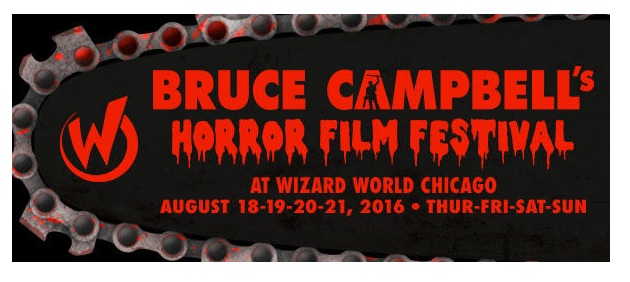 Advance Review: Recently shown at the Chicago WizardWorld's Bruce Campbell Horror Film Festival!
THE GREASY STRANGLER (2016)
Directed by Jim Hosking
Written by Toby Harvard, Jim Hosking
Starring Michael St. Michaels, Sky Elobar, Elizabeth De Razzo, Gil Gex, Abdoulaye NGom, Holland MacFallister, Sam Dissanayake, Joe David Walters, John Yuan, Matt Yuan, Sal Koussa, Jesse Keen, Carl Solomon, Dana Haas
Find out more about this film on Facebook here
Reviewed by Mark L. Miller aka Ambush Bug
You're probably going to characterize your life as; what I had going on before watching THE GREASY STRANGLER and how to put my mind back together after watching THE GREASY STRANGLER. I know I am.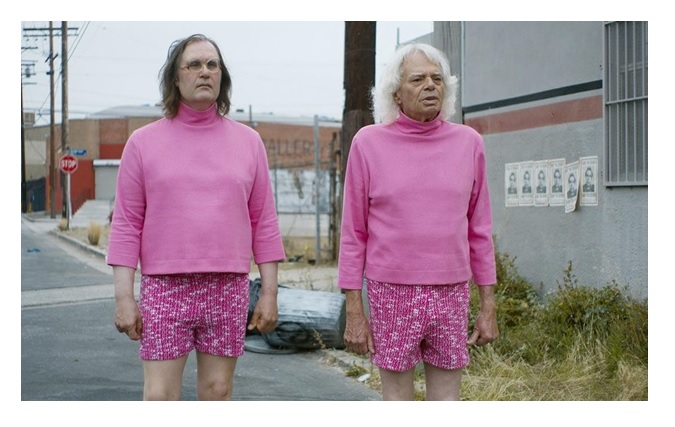 There is not an easy way to describe THE GREASY STRANGLER, but I'll try. The story revolves around a father (Big Ron played by Michael St. Michaels) and son (Big Braden played by Sky Elobar) who live together and work together on a walking disco tour that attracts gullible foreign clientele. On one of these walks, Braden meets Janet (Elizabeth De Razzo) on one of these tours and the two immediately fall for one another, which causes Big Ron to don a layer of grease from head to toe and go out strangling people. Things get complicated after that.
This is not a movie for those who live a conventional, logical life. It's a film for folks who are willing to take a leap into the insanity pool and try to touch the bottom even though there may not be one. It's the kind of leap of faith film that you just kind of go with, despite the fact that no one in the film seems to be from this planet and the world they live in certainly isn't our own. If you have difficulty disconnecting from the reality we all live in, I'm sure you're going to be one to check out of this film early.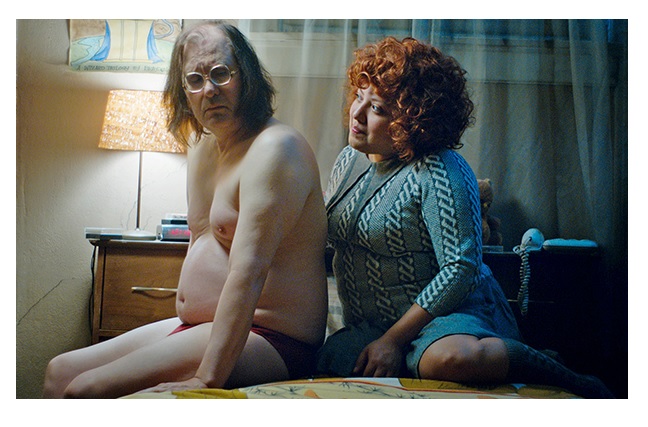 Even if you sit with this film and wallow around in all of its grease, it still will try its damndest to annoy the shit out of you or nauseate you or both. The cast repeats lines over and over. There are long uncomfortable pauses between characters in scenes that should cut to another scene, but instead forces us to uncomfortably sit there with these people you wouldn't want to share space in on in an elevator. And just in case those qualities don't repel you, THE GREASY STRANGLER bathes itself in every kind of body fluid and greasy substance you can and can't imagine. Things are tasted. Things are spat forth. Things are lathered around on all of the nethers and this film shows it all in graphic and gross detail. I winced more than once at this film and even joined in the crowd and cried out "Nooooo!" and I consider myself to have an iron constitution.
All of that said, this is probably the most memorable, most quotable, and most entertaining film I saw recently. I can't get it out of my head. I can't stop repeating lines to my friends I saw it with. This is a film that, like it or not, burrows into your brain and nestles its greasy buttocks in and refuses to get out. All of the gratuitous nudity (Big Ron likes to walk around naked to show the world his enormous and misshapen schlong), the cartoonish kills, the uncomfortable family relationship interactions, and just plain goofy bits and pieces are undeniably creative, unique, and hard to forget.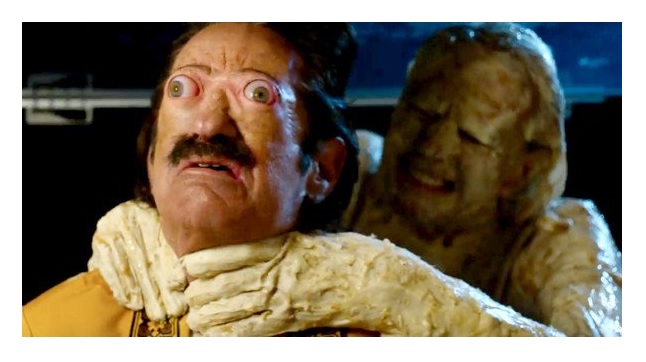 Michael St. Michaels (who most will not remember from
THE VIDEO DEAD
, I sure didn't) is the epitome of the creepy old man as Big Ron. Blatantly flaunting his large penis around Janet, he tries his best to be the disco superstar he used to be without much regard for his son's feelings. Both St. Michaels and Sky Elobar offer up star making performances here and I hope to see their offbeat style and humor again soon. Elizabeth De Razzo is also pretty brave in this film, baring all, despite being not your Hollywood ideal when it comes to body shape. The three of these stars are going to be seen again, I guarantee. They are just too infectious not to.
In the end, THE GREASY STRANGLER manages to be rather sweet within all of its absurdity. Big Ron is obviously lashing out as the Strangler and hitting on Janet because he is frustrated and scared that his son is leaving him with no one to make him greasy meals. It's a story of a father and son, getting to know one anther at a late stage in their lives after simply functioning for all these years. It's a tale of love…and grease. So despite all of the disgusting things going on, those who look through their fingers and choke down their own lunch will find some redeeming and even heart-warming qualities about it.
You're going to want to have repeated trips to the car wash sans car after watching THE GREASY STRANGLER. It's an unforgettable movie experience that feels like a flash forward sequel of NAPOLEON DYNAMITE at times and embraces its absurdity much like Quentin Bupieux's RUBBER did. THE GREASY STRANGLER is the film equivalent of an inappropriately tight and uncomfortably long low hug and I love every second of this film for that very reason.
WARNING: This trailer is not safe for anyone to view anywhere! You've been warned!
---
And finally…here's another episode of the LIGHT'S OUT radio plays from yesteryear when radio was the only form of nightly entertainment. This week's episode is called THE UGLIEST MAN IN THE WORLD and it's another good one. Enjoy!
---
See ya next week, folks!

Ambush Bug is Mark L. Miller, original @$$Hole/wordslinger/writer of wrongs/reviewer/interviewer/editor of AICN COMICS for over 15 years & AICN HORROR for 5. Follow Mark on the Twitters @Mark_L_Miller and on his new website collecting posts for AICN HORROR as well as all of the most recent updates on his various comic book projects on MLMillerWrites.com.



---
AICN HORROR has a brand new sponsor: Things From Another World—also known as TFAW!


Please support AICN HORROR by clicking the Things From Another World banner and checking out all of their amazing collectibles! TFAW carries everything from comics to toys and any kind of collectible in between. You just might find something you can't live without!


---
Look for our bi-weekly rambling about random horror films on Poptards and Ain't It Cool on AICN HORROR's CANNIBAL HORRORCAST Podcast every other Thursday!
---
Find more AICN HORROR including an archive of previous columns on AICN HORROR's Facebook page!