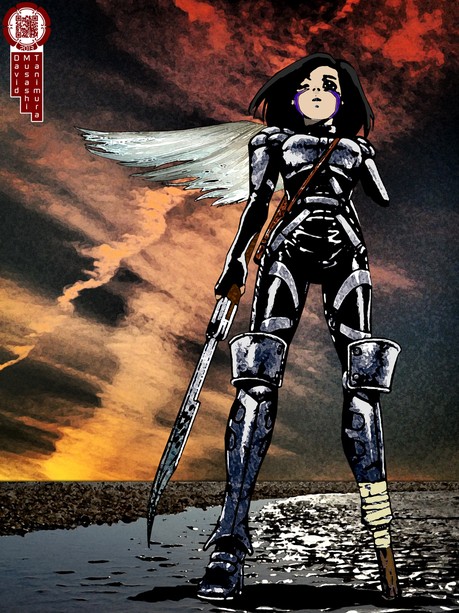 Ahoy, squirts! Quint here. THR is reporting that the long-time-coming BATTLE ANGEL adaptation might finally be honing in on its Alita.
James Cameron tried for years to get a film going and now it looks like this one might finally be underway, but with Cameron and his producing partner Jon Landau producing for Robert Rodriguez to direct.
The center of the story is an ass-kicking bounty hunter cyborg lady and THR says that three interesting names have tested for that role, which Fox views as a star-maker.
Maika Monroe (of The Guest and It Follows fame), Rosa Salazar (Maze Runner: Scorch Trials) and Zendaya (who was recently cast in the upcoming Spider-Man: Homecoming) are the three we know who are in the running. I notice they're looking at an assortment of ethnicities for the role, but oddly no Asian names, at least on this cast list.
I don't have a dog in this fight one way or the other. I've never been heavily into anime or Manga so all I'm after is a good, fun movie.
The THR article also mentions that Fox hasn't quite greenlighted this movie yet because the budget is currently too high (in the $175-$200m region). From what little I know about this property (I watched the cartoon back in the day and saw some of the old Weta art for the Cameron-directed version that never happened) it needs a significant budget to be done right.
I also gotta say that I'd be excited to see Rodriguez helm a big flick under the guidance of someone like Cameron. The man is a workhorse and is constantly putting out material, but I miss the more restrained Rodriguez who was forced to slow down and methodically go through the process of telling a story. Desperado/From Dusk Till Dawn era Rodriguez was a force to be reckoned with when it came to visual storytelling and I'd love it if he got back into that mode for one big flick.
What do you folks think?
-Eric Vespe
"Quint"
quint@aintitcool.com
Follow Me On Twitter