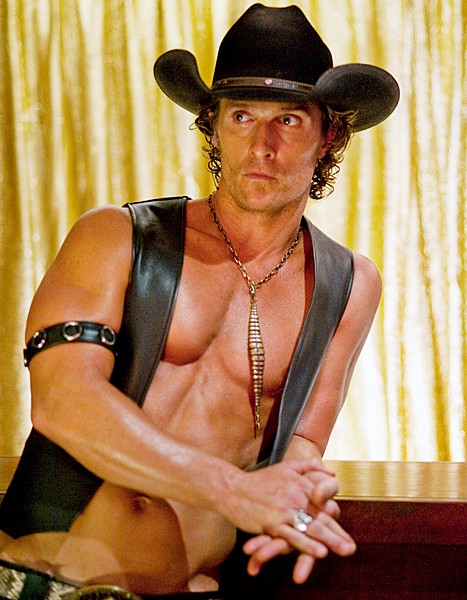 He may not get to play Randall Flag, but it's possible Matthew McConaughey will be playing another major Stephen King character.
Jeff Sneider at The Wrap broke the news that McConaughey is Ron Howard and Brian Grazer's top choice to play Roland Deschain in the Nikolaj Arcel-directed DARK TOWER adaptation they're producing. Things are early on, but they've apparently already had talks for the Oscar-winner to take the role that Javier Bardem and Russell Crowe were once up for.
They are still intending on doing a TV series in tandem with the film, but now it's unclear whether it'll actually focus on Deschain or tiptoe around him like AGENTS OF S.H.I.E.L.D. does with the AVENGERS. Either way, TRUE DETECTIVE proved that not only is McConaughey willing to do TV, provided the material is worthy, but he can make it his bitch if given the opportunity. Maybe this could score him the awards he surprisingly missed out on last time.
THE GUNSLINGER is set to open in January 2017, so they can't twiddle their thumbs with the casting anymore; they need to lock down a lead, particularly if whoever he has to sign on for multiple movies and possibly a TV show. But McConaughey, aside from being able to straddle that line between darkness and light that would be crucial for this series, is a massively popular, bankable name, which, as we watch the era of the movie star die rapidly, is an increasingly rare thing. Him as a badass cowboy fighting supernatural forces will get folks interested singlehandedly, even before the names STEPHEN KING and RON HOWARD enter the picture.
I, for one, hope this works out, so we get to see McConaughey playing the intense central character on a massive canvas for multiple films. How do you Tower-heads feel about Dave Wooderson/Killer Joe/Ron Woodruff/Rust Cohle as Roland Deschain?
DARK TOWER: THE GUNSLINGER will finally be a movie on January 13th, 2017.