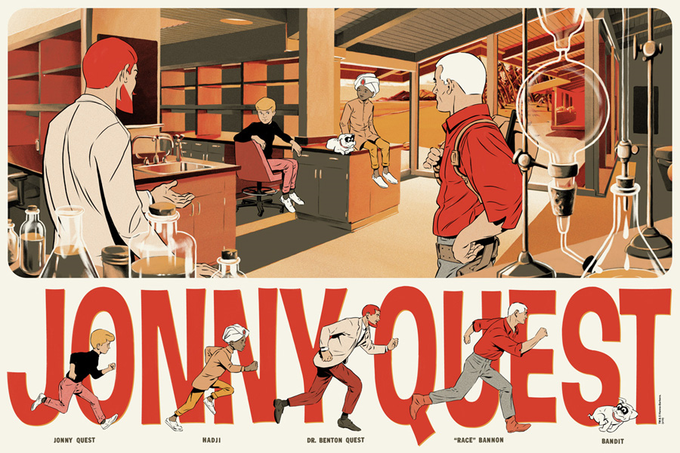 Hey folks, Harry here... I've known Robert Rodriguez as a friend for about 18 years now. Met him nearly 21 years ago when he was a Newspaper Strip artist for the Daily Texan - and well... we chat and geek out a lot. Recently, our conversations have been about the phenomenal fucking awesome that is George Miller's MAD MAX FURY ROAD! And we've geeked out hardcore on that sucker! What a friggin film!
But from the first time we hung out and painted Kali model from GOLDEN VOYAGE OF SINBAD, I've known Robert Rodriguez as being a hardcore JOHNNY QUEST geek. He's raised his children on the classic Alex Toth designed show and we've had many many conversations about how friggin cool this INDIANA JONES for kids show was.
It got announced today that he and Terry Rossio are co-writing a new draft of JOHNNY QUEST for Warners - and that Robert Rodriguez is on target to direct the film. Upon seeing this news spread across the web... it was time to geek out with Robert. Sounds like he's wanting to do it absolutely on target! It's still to early for any details, he and Terry are at work on their draft - and nothing real will be known until they finish. GodSpeed!
That said - I did get Robert to give me his Top 6 Original JOHNNY QUEST episodes in no particular order...
1. MYSTERY OF THE LIZARD MEN
2. SEA HAUNT
3. DRAGONS OF ASHIDA
4. ROBOT SPY
5. TREASURE OF THE TEMPLE
6. INVISIBLE MONSTER
Now - if you've been reading AICN for the past 19 years we've been around, you know that JOHNNY QUEST has been something that Warners has been hotly developing the ENTIRE time. I remember in 1996 when they relaunched the cartoon, there was going to be a Richard (SUPERMAN/LETHAL WEAPON) Donner directed JOHNNY QUEST project, but it fell to the wayside.
All I know - is at this exact moment, I must rewatch the Stop Motion recreation of the original Opening Titles of JOHNNY QUEST about a dozen times, because it is that cool!
Keep it cool,
Harry