Ahoy, squirts! Quint here. There are maybe three filmmakers currently on this planet that could fully adapt Ernie Cline's Ready Player One. You need a sharp visual style, a deep understanding of geek culture and be a master at studio politics to actually bring in the references that are crucial to the central concept of this story. One of those directors is now attached and if you don't think Steven Spielberg would be interested in this particular story, steeped in geek mythology and video game imagery, then I direct you to the below photo: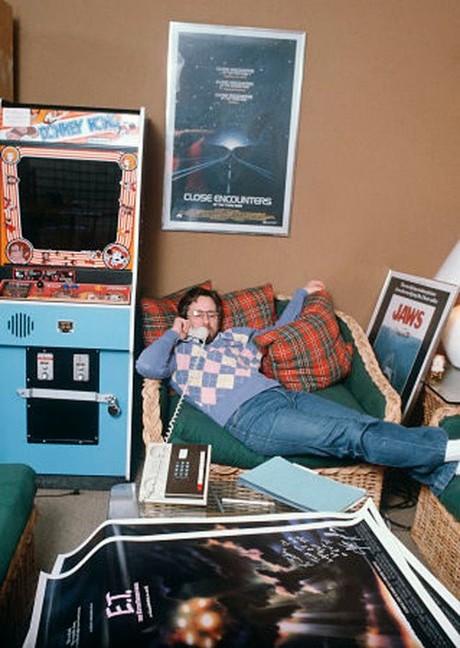 Spielberg is not only king of the nerds, he was a gamer before gamers knew to call themselves gamers.
Deadline broke the news that Spielberg is set to direct, which means there's a fifty-fifty chance that we'll see this movie directed by Spielberg (he signs on to a lot of stuff), but an even greater chance we'll see this story brought about the way it needs to be. Even in the past when he's dropped out of directing projects he still shepherds them as producer.
The basic concept of this book is that a Willy Wonka type character creates a new virtual world that everybody uses. Think of it like the Internet. Everybody uses it in some way or another. Mr. Wonka can't run his chocolate factory forever and neither can James Halliday. He grew up when most of you folks reading this did, during the rise of geek culture of the '70s and '80s, so instead of sending out Golden Tickets, Mr. Halliday instead makes a game out of it. He hides multiple keys in this expansive world (seriously, this would be like if Skyrim was as big as a planet and there was a whole galaxy of other planets you could travel to just as big) and uses his most loved memories as clues and hints. Lots of movie geek nostalgia, video game references and other nerdy has to be mastered to win the ultimate prize: control of OASIS, which pretty much means control of the world.
Considering that Mr. Spielberg produced half the references in the book and he was the man behind the scenes on Roger Rabbit that was able to somehow get Mickey Mouse and Bugs Bunny in the same frame at the same time, it seems only fitting that he'd be eager to helm this one.
Deadline claims Spielberg is readying this to follow up The BFG. Don't know what that means for Robopocalypse, but I can say I'm beyond stoked that this is in the works. It's a hell of a fit and if pulled off could be next level amazing. Thoughts?
-Eric Vespe
"Quint"
quint@aintitcool.com
Follow Me On Twitter