Hello ladies and gentlemen, Muldoon here with something I think is too cool for school. We all hear the same funny anecdotes from Directors and Movie Stars when they're on a press tour. This site, that site, that TV show, the newspaper... it's arguably all the same stuff from folks who've had to say the same things over and over while trying to spread the word about their most recent project, whatever it may be. That's cool and all, but as a film lover myself, I'm curious to hear the stories from the folks who aren't on the cover of magazines. I've got a burning curiosity about how films are made and it sure as hell isn't one man or woman creating a film all by themselves (Rarely is a single person putting their camera on a tripod, then acting in front of it until they have a film). Despite how many times a director might claim "I wrote, designed, shot, cut, DPed, etc... this $60 million dollar film" the reality is there's always a team - sometimes the ego of the most vocal is heard and that person is unintentionally ignoring the hard work of his or her crew.
There's talent and creativity at all levels, so with MEET THE CREW I'm hoping to shine some light on those who are typically left in the dark come Award Season. MEET THE CREW is essentially a master class with individuals who's work I respect and are willing to show me/us a glimpse of what it takes to do what they do. I know there are filmmakers out there who read AICN, so guys/gals - this new column is for you.
I'm both privileged and honored to kick this column off with Director of Photography/Cinematographer Robby Baumgartner. Even just browsing his IMDB page you'll see the guy's worked on quite a few amazing films in a handful of positions. ARGO, BABEL, THERE WILL BE BLOOD, 21 GRAMS... You don't get offered jobs like that unless you are a force to be reckoned with and have a proven track record of delivering. It's a real honor to kick this little column off with such a seasoned pro. I'm thankful Robby took the time to give me (us, really) a little insight into what it means to be a Director of Photography/Cinematographer.
His latest film, THE GUEST, is something that's been blowing up the festival world and actually hits theaters nation wide September 17. It's a thriller directed by Adam Wingard from a script penned by Simon Barrett. (It's the same gang of talent who rocked our worlds a few years back with YOU'RE NEXT.) I've yet to see the film, but like the trailer, am a fan of all involved, and think the premise is right up my alley.
At any rate, let's hop on into the world of Director of Photography / Cinematographer Robby Baumgartner!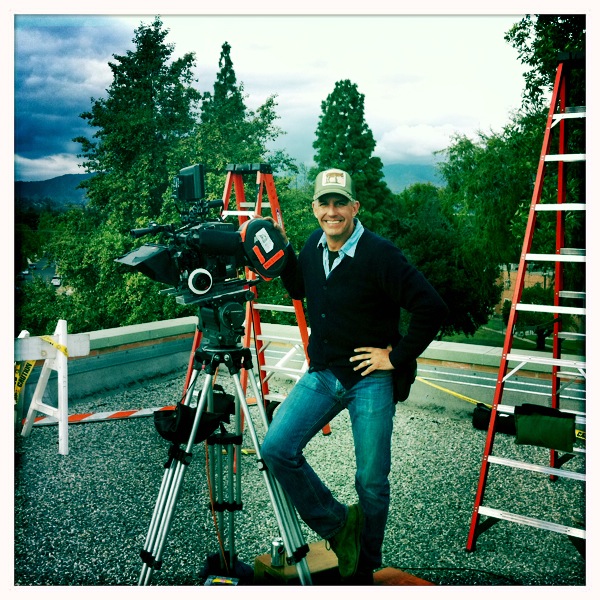 What are your notable credits from all aspects of your career?
As a 1st unit DP I have to say that "The Guest" is the most notable and the working relationships I developed with the director, Adam Wingard, is one of the best I've encountered in my career. As a 2nd unit DP probably "Argo" was the most notable and rewarding, other standouts are "Hunger Games l and ll".
What the hell do you do? What is your position and what are the responsibilities involved?
Well as a DP I pretty much run the set, (not from a scheduling point, that's the AD's job) but once the rehearsals are finished I have to quickly gather my Grip, Electric and Camera crew and set the camera (or cameras), light and prepare to shoot the scene. It is a major pressure cooker and how I manage the time between rehearsal and the call to shoot either makes or breaks the day of shooting. The more efficient my crew and my choices are the more time the director and the actors have on camera.
What's the most enjoyable part of your job? What would you consider to be your most mundane, but crucial responsibility?
I love the adrenaline I get being on set in that pressure cooker. Working with all the different crafts, all of us usually tight spaces all vying to get different shit done. It can be a beautiful symphony of personalities, hard work, and creativity. There is really nothing like it. I also love to have my eye on the eyepiece during a scene and be closest eye on the culmination of everyone's hard work. It's truly wonderful to have that front row seat. The most mundane part, which is often like beating your head against a brick wall is dealing with the Line Producer and the constant drone that there is not enough money. It doesn't matter whether its a big budget or low budget it's the same routine, the same hoops that you have to jump through, but that being said their job is to hold the line on the money being spent. That is an incredibly difficult and often thankless job (I would not wish it on my worst enemy) and it is very important to respect them. I do need to justify my choices and the cost involved so everyone involved can know that the money being spent well and is going onto the screen.
How'd you come to that position? Rarely is someone handed a position straight off the street, you clearly worked your way to where you are – I'm just curious what that path was.
I started as a PA on a low budget film in NY and had wanted to get into the camera dept. No opportunity in camera came my way, but a year later I was asked if I wanted to work as an Electrician and I jump at the chance to work on another film. I quickly realized that the DP spent huge part of his day lighting, so I thought that maybe working my way up through the electric dept. might be a good path to becoming a DP. I spent the most of my career as a Gaffer and worked on some pretty incredible films during that time, but I was constantly keeping my eye on the camera and working as DP whenever I could. 6 years ago I decided to stop Gaffing and make the move to DP permanent. So far so good, I love it!
Did you have anyone in particular in your life that helped give you that "first break?" Are there any mentors who helped show you the ropes?
A gaffer named David Lee gave me my first non PA opportunity as an Electrician and that was instrumental in my career. I don't know if I'd be in the business if it were not for him. I had just about given up hope that I would ever work on another film, when he called. He is also an amazing Gaffer and I learned a lot about lighting from him. Another big mentor was Rodrigo Prieto. We had a very special working relationship. I gaffed 5 films for him and it was some of the most rewarding experiences of my career.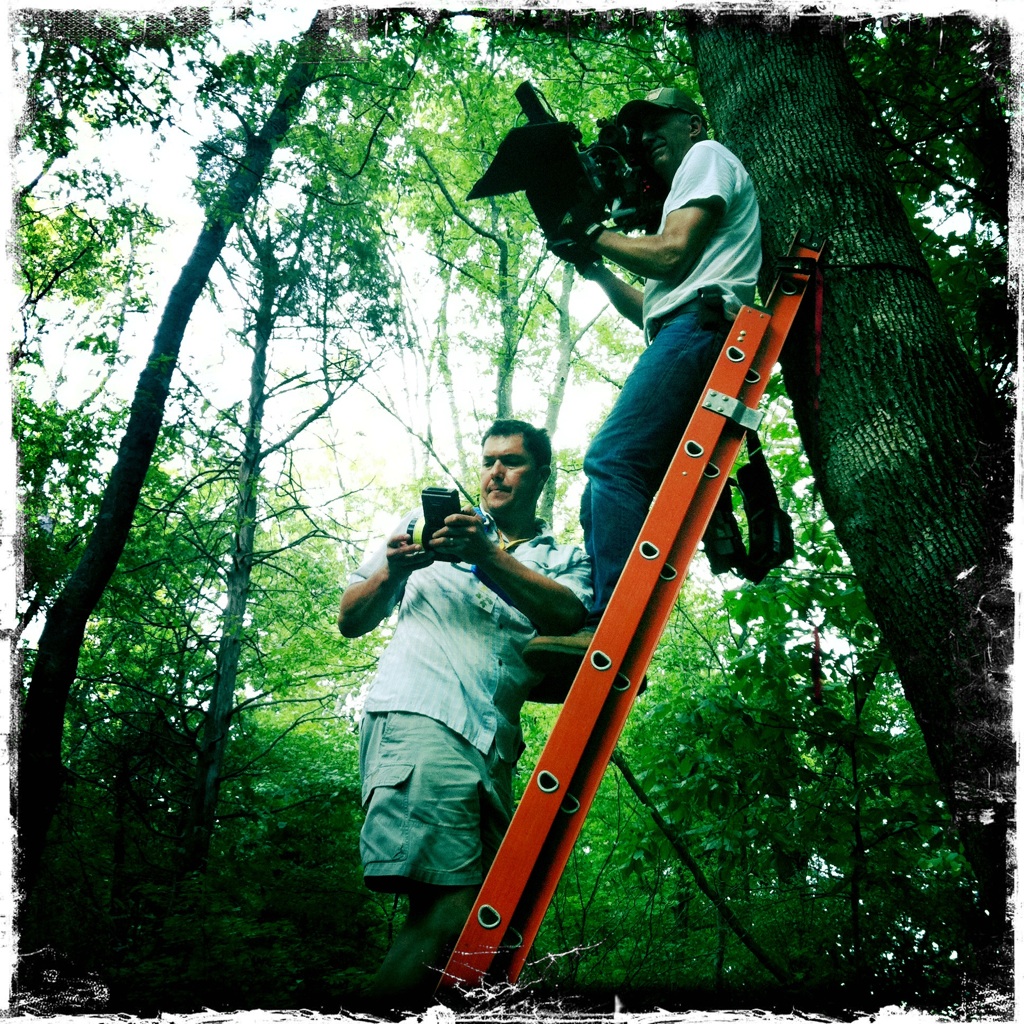 Is there any project in particular you are proud of? If you had to pick, what three films would you say you're the most proud of and why?
"There Will Be Blood" was incredibly rewarding to work on. I was hired by the director Paul Thomas Anderson to gaff the film (which in itself is quite unusual). Just being a part of an epic film like that, watching almost every scene and every take live was truly amazing. It was after that film won an Oscar for Cinematography that I decided to stop Gaffing and concentrate solely on shooting.

Other films that stand out are "Three Burials of Melquiades Estrada", "Babel" and "Argo"

"3 Burials" because I was working with one of the Masters, Chris Menges (for the 2nd time) and he gave me a lot room to explore the craft of lighting.

"Babel" because Rodrigo's work on it and the way we both understood each other.

"Argo" because I was the 2nd unit DP on a great film still working with Rodrigo!
Is there a shot/sequence/set that you can point to and say, "It's that way because I was there and had it of been anyone else, it would have been different." Not necessarily good or bad, but possibly something a lot of us movie fans would have seen and can find a little more appreciation out of.
There is scene in "The Guest" in the climatic end sequence and we're shooting in the high school gym. We needed more coverage for a part of the scene and were running out of time. Every time we had turn around we lost too much time so we were constantly looking to cheat angles. In between shots as everyone was trying figure out what else we needed to finish the scene. The Actor Dan Stevens was standing in-between these 2 yellow lights that framed him in a perfect rectangle. I quickly grabbed Adam, the director, and said I was ready to shoot a turn around on David. I showed him the shot and he nearly wet his pants with joy! The shot made the film, the trailer and is an iconic image of the film. You always have to keep your eye open for opportunities, and sometimes you just get lucky.
As you're part of a giant team, what are things that help your department/position run more smoothly? Meaning, while staying on the positive, what are things you rely on in terms of making sure you're covered and able to do your best?
I'd say that being a good guy doesn't hurt. If you try your best to give concise instruction and not make people do a lot of double work. I also find that working hard yourself is a good motivator. You have to be really prepared and try hard to think of all the possible scenarios of each choice you make… and choose wisely!
What's your all time best experience working on a film? And did it deliver a great film?
Probably "TWBB"... just watching the performances was truly an amazing experience. I felt very privilege to be there on set. I'd love to work with PTA again in the future.
What's your best war story from the filmmaking trenches?
Sorry too many to name and don't want to speak out of school. Though on HGll I did have a horrible day in the jungles of Hawaii. Shooting stunts on an IMAX camera in the pouring rain, on a cable rig from hell. It was a complete bust, and I got blamed even though there was nothing I could do to save the day. Goes to show you that you just can't win sometimes.
If you didn't have the position you do now and you did not work in film, what could you see yourself doing for a living?
I don't want to do anything else so I don't really know?
There we have it folks, a pretty interesting Q&A with a pretty interesting guy. I'd like to thank Robby once more for taking the time to answer a few questions, even entertaining a few that I wouldn't know how to answer myself. It's pretty cool of him to share a few specific stories like that and hopefully it gives a few aspiring DoPs out there something to look to - some advice from a bonafide pro on how he got to be where he's at and the hardships that come with achieving your dream job!
If you work in production, in any aspect (truly!) and would be cool enough to give us film fans a glimpse into the innerworkings of your world, please shoot me an email at Mike@aintitcool with the subject line: "MTC - (Your Name) - (Your Position)"
This column is new and while I'd love it to be an "every Sunday" kind of thing, I have to wait and see first if it should only remain a "first Sunday of every month" kind of thing, so I have no idea if I'll be back next Sunday with another - or if I'll be back early next month with one. Regardless, hopefully you ladies and gents got a kick out of today's chat. I'll see you fine folks later.
- Mike McCutchen
"Muldoon"
Mike@aintitcool.com