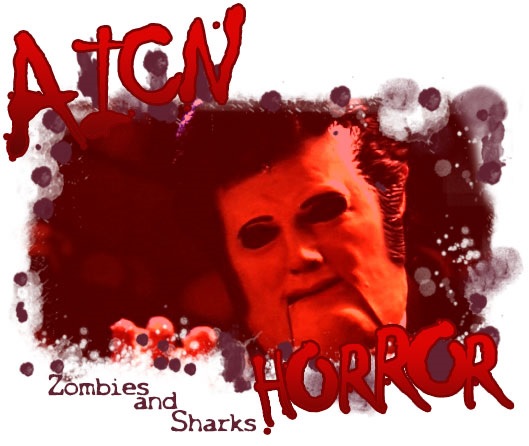 Logo by Kristian Horn
What the &#$% is ZOMBIES & SHARKS?
---
Greetings, all. Ambush Bug here with another AICN HORROR: ZOMBIES & SHARKS column. This time around we gaze into the future through the scope of Fantasia International Film Festival which has been going on all week while I was away at the San Diego Comic Con. So for those looking for my regular review column for readily available films, I'll be back next week for that one. This here column serves to give you some films you will want to look out for. But don't worry, when the films are available, I'll definitely be reposting the reviews as a reminder.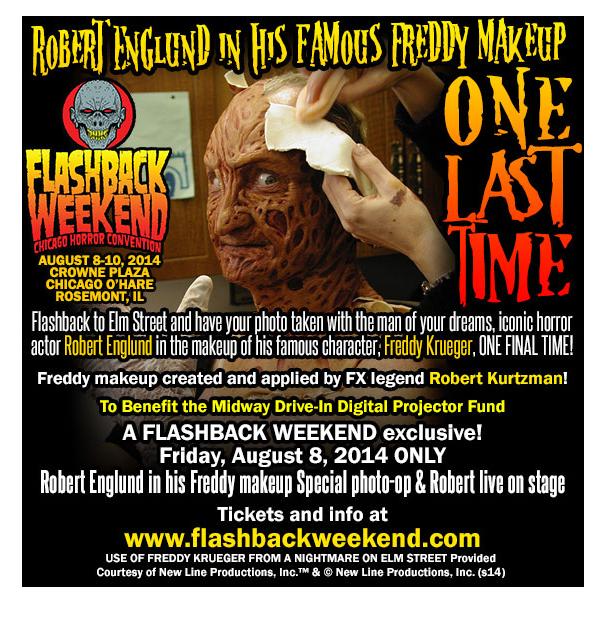 Before we dive into the reviews, I wanted to post a reminder for those in the Chicago area to be sure to check head out to Flashback Weekend, next weekend (August 8-10th for Chicago's premiere horror convention. No self respecting horror fan should miss this amazing gathering of horror celebrities, dealers, and fans. You can check out the full schedule here, but the one thing no one will want to miss is Robert Englund donning his full Freddy Krueger makeup for one last time. The whole thing is happening at the usual spot; Crowne Plaza Chicago O'Hare, 5440 N River Road, Chicago IL. I'll be tooling about the festival all weekend. Hope to see you there!

I'll be back next week with my regular column. Until then, here're some choice films that played or will be playing at the Fantasia International Film Festival!
Today on AICN HORROR

(Click title to go directly to the feature)
Advance Fantasia Film Fest Review: THE MIDNIGHT SWIM (2014)
Advance Fantasia Film Fest Review: ANIMOSITY (2013)
Advance Fantasia Film Fest Review: HONEYMOON (2014)
Advance Fantasia Film Fest Review: THE MAN IN THE ORANGE JACKET (2014)
Advance Fantasia Film Fest Review: CREEP (2014)
Advance Fantasia Film Fest Review: AT THE DEVIL'S DOOR (2014)
Advance Fantasia Film Fest Review: BLACK MOUNTAIN SIDE (2014)
Advance Fantasia Film Fest Review: WOLFCOP (2014)
Advance Fantasia Film Fest Review: THE DESERT (2013)
Advance Fantasia Film Fest Review: PRESERVATION (2014)
---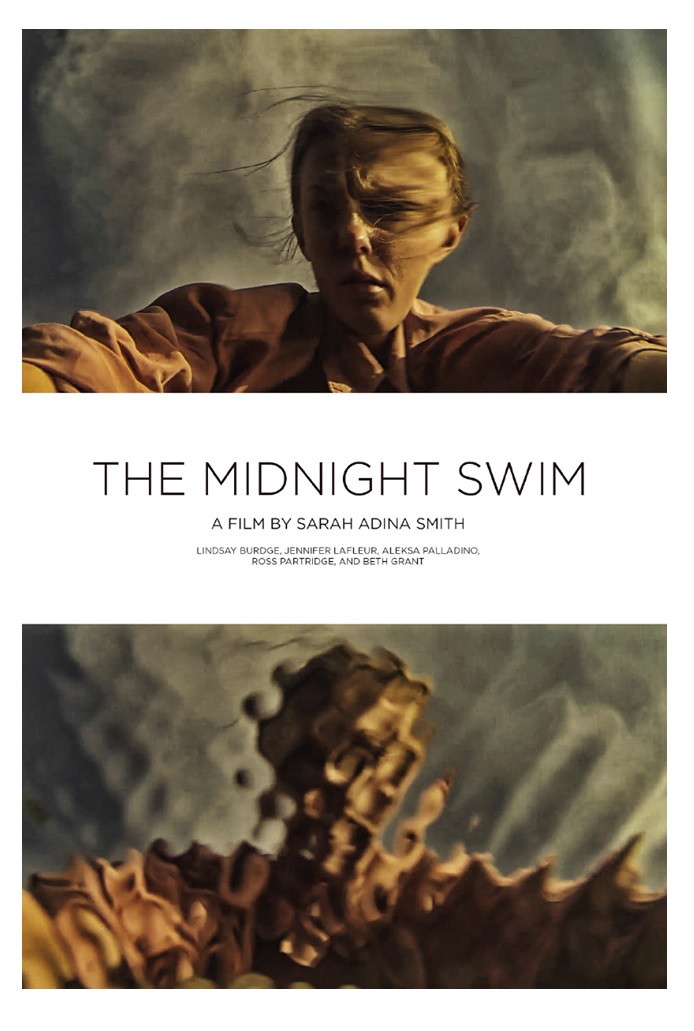 Advance Review: Played at Fantasia Film Fest on July 27th!
THE MIDNIGHT SWIM (2014)
Directed by Sarah Adina Smith
Written by Sarah Adina Smith
Starring Lindsay Burdge, Jennifer Lafleur, Aleksa Palladino, Ross Partridge
Find out more about this film here and on Facebook here
Reviewed by Ambush Bug
Not all horror films have to have copious amounts of blood and gore. THE MIDNIGHT SWIM is practically bloodless and focuses mainly on the relationships between three sisters as they reconnect to honor their recently deceased mother (DONNIE DARKO's Sparkle Motion Mom Beth Grant). While this might be the making for a soppy melodrama, instead it turns into an effective little ghost story.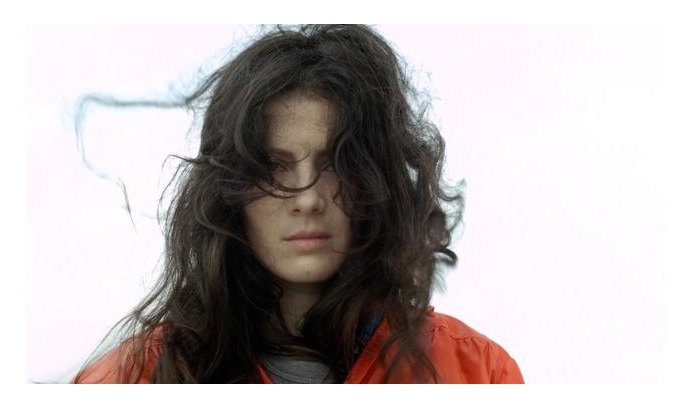 The three sisters are made up of; June—played by Lindsay Burdge, the youngest of the three and most introverted who is filming a documentary to commemorate this meeting and supplies the first person POV by holding the camera most of the time, Annie—the eldest daughter who moved away from home played by Jennifer Lafleur, and Isa—the middle and most outgoing sibling, played by BOARDWALK EMPIRE's Aleksa Palladino. The highlight of this film is seeing these three sisters play off of one another in an effortless and all too believable manner. While each deal with death in their own way, the three sisters also come to terms with losing someone they sometimes loved and sometimes hated as she often times was more preoccupied with Wiccan rituals surrounding a particular lake. The entire film takes place in the lake house they grew up in which serves as a reminder for all of the good and bad memories the three sisters have survived.
What impressed me the most is that while this film isn't your typical film one sees reviewed here in AICN HORROR, I was wrapped up in the story from beginning to end; mostly because of the nuanced and complex performances by the actresses playing the three sisters. Even without the bizarre elements which I'll get into in a bit, this is a ghost story where someone who had just past haunts the living through their memories and shared experiences. The mother is ever present here; either through video tapes, photographs, through stories or reenactments the girls take part in. And while things do get good and scary by the end, the real thrill comes from the push and pull relationships these three sisters have with one another.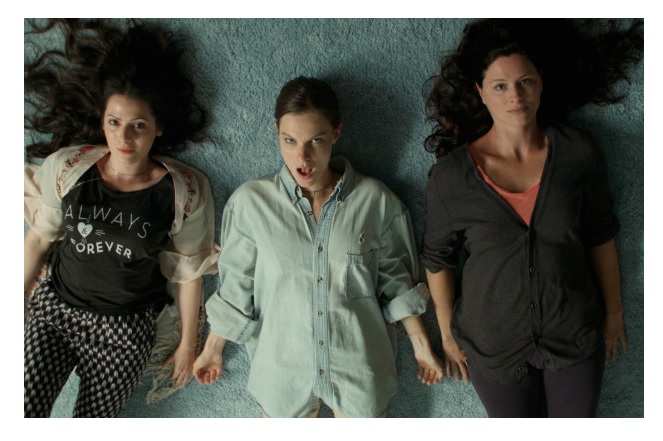 There is a mystical element to this film, but it's never really made clear whether this is something from the other side or something manipulated by those overcome with grief. Part of the acceptance of death is to overcome the irrational elements that the spirit may still be around watching and manipulating things from the other side. From the beginning, when one of the sisters asks if they think their mother has been reincarnated, the metaphysics of death and how little we understand it is delved into here. When dead birds start slamming into windows, the camera is turned on by itself and filming things on its own, and when mysterious articles of clothing are found in the lake where their mother died, there is a mysterious charge to the film and an effective one at that.
But all of this is secondary to me as this is one of the more intimate and more effective found footage films I've ever seen in the subtle and nuanced way it works in the mystical elements into a story of these three sisters. While I should hate this film as it does involve a lot of girl talk over lattes and the usual "We girls are doin' it for ourselves" air about it (there's even a lip synched song number that isn't annoying), I couldn't find the rancor for it because of the overwhelming sense of dread hovering over each frame of this film and the gargantuan talents of Burge, Lafleur, and Palladino as the three sisters. THE MIDNIGHT SWIM is not going to be for hardcore horror fans, but for me, this after hours dip felt refreshing as it caused unease and terror effectively in a real world relationship sense as well as an otherworldly one.
---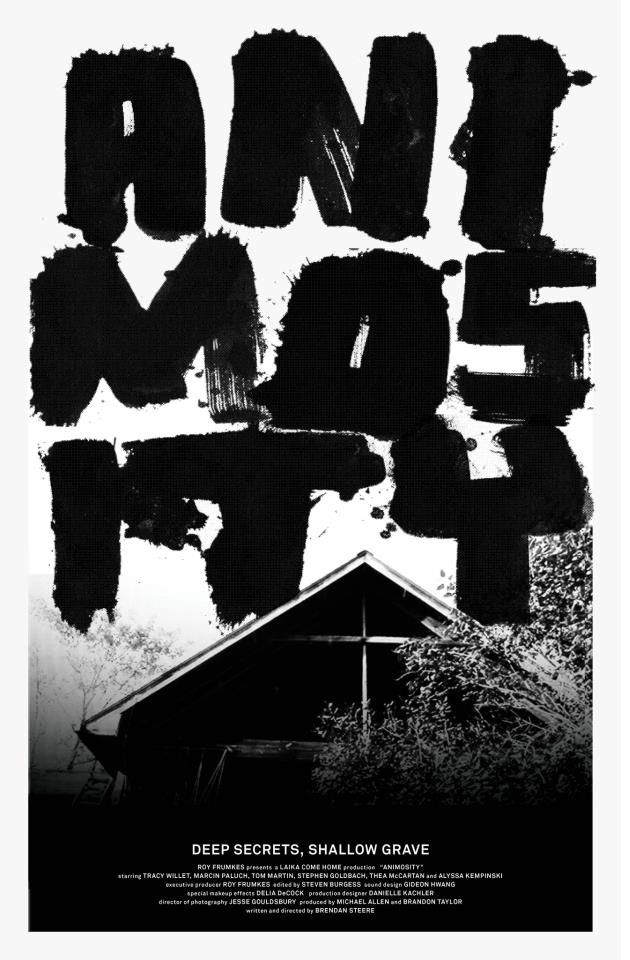 Advance Review: Played at Fantasia Film Fest on July 18th and available on DVD from Bloody Earth Films on September 9th!
ANIMOSITY (2013)
Directed by Brendan Steere
Written by Brendan Steere
Starring Tracy Willet, Marcin Paluch, Tom Martin, Stephan Goldbach, Thea McCartan, Alyssa Kempinski
Find out more about this film on Facebook here
Reviewed by Ambush Bug
After the opening minutes, featuring a woman running for her life through a woods with another woman after her, I really wasn't sure what to expect with ANIMOSITY. As the film proceeded, I wasn't very impressed with the acting, which was not terrible, but also not terribly engaging. But as the film went on, I couldn't believe the way filmmaker Brendan Steere plays with emotions, expectations, and perceptions; resulting in an unpredictable and unforgettable low budget film.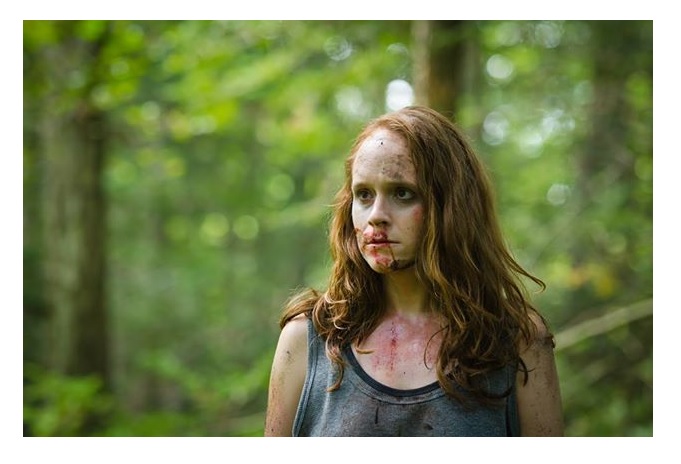 The story focuses on a newlywed couple who are staying in a cabin in the woods (a locale that is always a bad sign). Mike (Marcin Paluch) often goes into town on business, leaving his wife Carrie (Tracy Willet) at home to work on editing horror films. But left alone, Carrie begins to notice things that are slightly off. Strange people wander on and off her property and her husband seems to know who they are, but isn't letting on that he knows them. She is experiencing bizarre headaches and feelings. And then there's the weird boy she finds lurking in the attic.
Everything is very suspicious in a ROSEMARY'S BABY sort of conspiracy style way, which only grows in intensity as the film goes on. It's this palpable sense of paranoia that permeates every scene of ANIMOSITY. I want to try to keep the spoilers to this film pretty close to the vest, but it's a movie that definitely doles out the information with a very conservative hand. In doing so, just when you think you know what's happening and who to trust, some kind of twist occurs to flip everything sideways.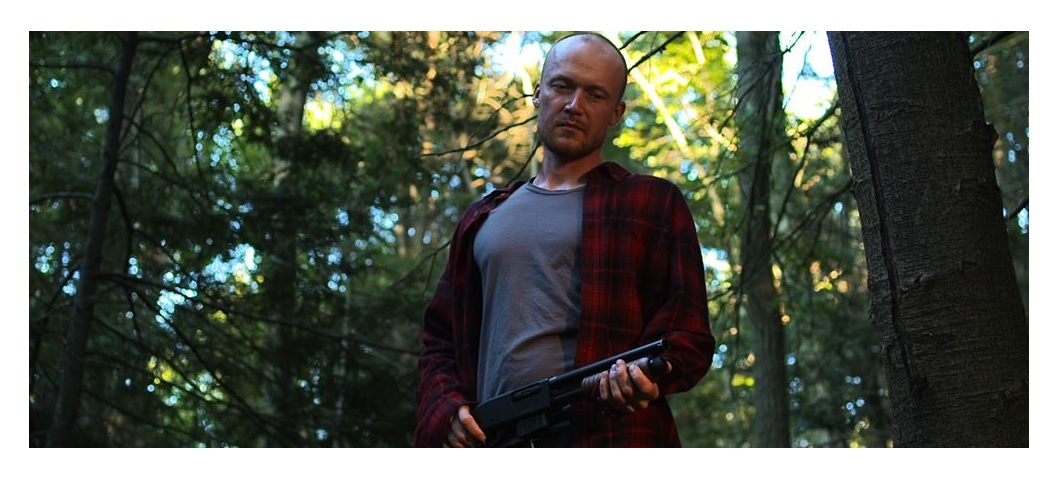 While I mentioned the acting before, Willet is actually pretty convincing as the woman in the center of this whirlwind who is filled with questions but not prepared for the answers. While none of the acting is poor, despite Willet, the rest of the cast feels subpar by comparison. Then again, these people are acting out parts in the story as well, so this level of disconcertion might come from the fact that the actors are playing people who aren't really what they seem to be.
All in all, I enjoyed every little twist and turn that happens in this pretzel-like rollercoaster. It definitely ranks high on the cinematic paranoia scale and reminded me of Polanski's best horror works (ROSEMARY'S BABY and REPULSION) in many ways. If you're patient and don't judge this film from its slow start, by the end, I think you'll find yourself happy you stuck with ANIMOSITY.
---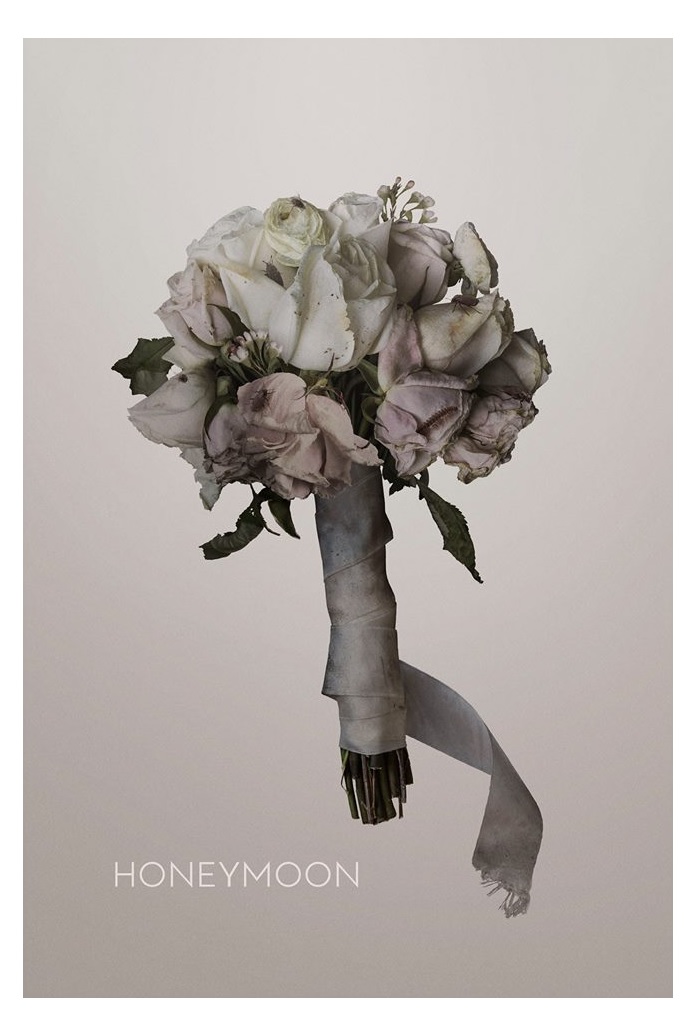 Advance Review: Played at Fantasia Film Fest on July 22nd and on iTunes/On Demand and in theaters September 12 from Magnet Releasing!
HONEYMOON (2014)
Directed by Leigh Janiak
Written by Leigh Janiak & Phil Graziadei
Starring Rose Leslie, Harry Treadaway, Ben Huber, Hanna Brown
Find out more about this film here and on Facebook here
Reviewed by Ambush Bug
They say that once you get married, things change. And I'm sure that's true (maybe I'll find out one of these days), but here's to hoping that things don't change as drastically and as horrifically as they do in Leigh Janiak's fascinating and engrossing new horror film HONEYMOON.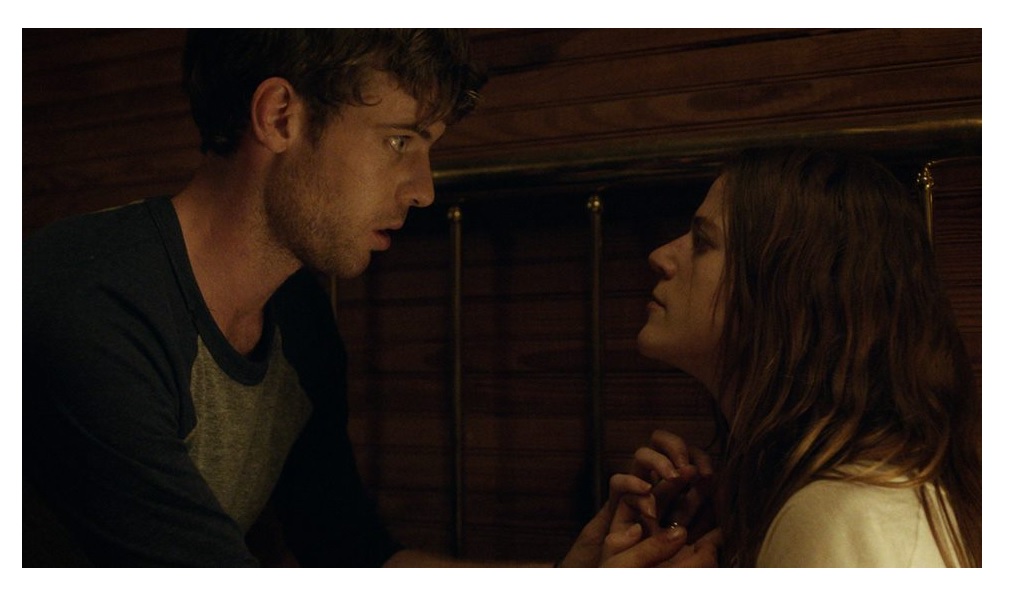 GAME OF THRONES' Rose Leslie and Harry Treadaway play Bea and Paul, respectively--honeymooners returning to Bea's childhood cabin home after a long time living into the city. Upon their arrival, Bea and Paul can't keep their hands off of one another, impulsively making love in every room in the house and never leaving each other's sight, but after Bea runs into an old boyfriend at a local restaurant, she disappears from the cabin and is found naked and shivering in the woods. Not knowing what happened, Paul becomes increasingly concerned as Bea's attitude and temperament changes.
I'm hesitant to reveal much more of this film, as not knowing what type of film this is going in is what makes it all the more effective. This is a slow, slow burn of a movie, but the sizzle definitely sets in as things get direr in such a short span of time for Paul and Bea. The film really taps into the fears and turmoil suffered by many in relationships when you realize you really don't know much about your significant other. It's that feeling of fear when you wonder if jumping into that big lake of love is worth it or if it was a mistake to trust someone with the whole of you. Janiak and co-writer Phil Graziadei really take their time doling out the scares, but there's an ever-increasing stream of paranoia that begins at about the twenty minute mark and never lets up.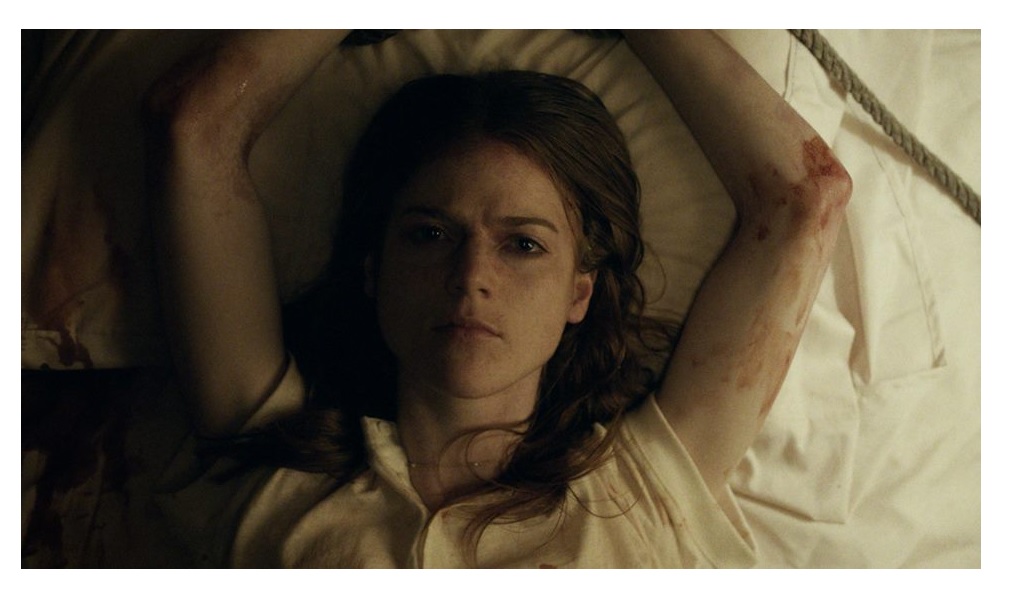 Stars Leslie and Treadaway are definitely ones to look out for. Rose Leslie has a spunkiness that isn't common; it's the kind of rough tomboy-ishness quality, but never losing that appealing femininity. Treadaway plays his character in a nuanced fashion, suspicious, yet wanting so much to take his wife at her word, even when everything else tells him otherwise.
In the latter half of this film, there are some really gory moments sure to cause a wince or two. But the nighttime scenes where dark unknowns are lurking about are the scenes that'll really creep under your skin. Reminiscent of ROSEMARY'S BABY and INVASION OF THE BODY SNATCHERS, HONEYMOON is a film that will make you look over your shoulder or wonder if that person you're sitting next to and holding hands with is who they think they are. This is an excellent bit of filmmaking with some performances that hit all the right notes to make one creepy little horror thriller.
---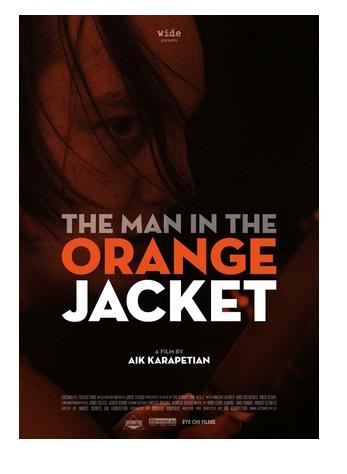 Advance Review: Played at Fantasia Film Fest on Sunday July 27th!
THE MAN IN THE ORANGE JACKET (2014)
aka M.O.K.
Directed by Aik Karapetian
Written by Aik Karapetian
Starring Maxim Lazarev, Aris Rozentals, Anta Aizupe
Find out more about this film on Facebook here
Reviewed by Ambush Bug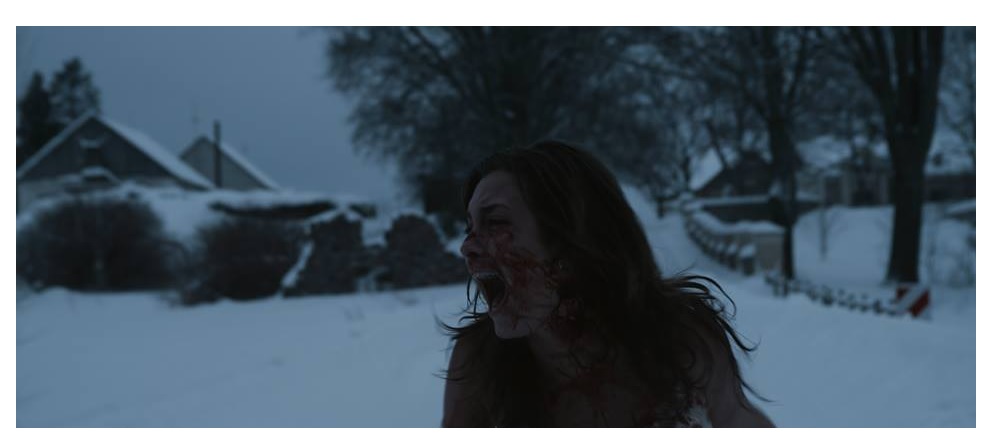 While at its core, this is a simple home invasion film. The fact that the movie goes on after the home has been successfully invaded is what sets THE MAN IN THE ORANGE JACKET or M.O.K. apart from the rest. The story does involve a horrendous crime as a man goes on ship leave and immediately invades the home of a wealthy man and his wife, killing them, and then taking residence in their home; enjoying the finer things they have accumulated. As the man (known as Dan and played by Maxim Lazarev) tools about the mansion, he finds himself haunted by his murderous deeds.
The initial kills in the opening moments of the film are quite shocking; full of brutality and lots of blood. Dan murders with no sign of emotion whatsoever; simply arriving and taking them out with a hammer while they sleep. And it's the long periods of silence that really make this all the more horrific. There are extended scenes without any dialog whatsoever that speak volumes about Dan's lack of remorse for the deeds he has done. Dan cleans up the bloody mess he made efficiently, wears the clothes of the wealthy man, dines on his food, swims in his pool, and attempts to be him by going out and dining in a nice restaurant. But the longer he assumes this role, the more blatant it is that he is nothing like the man he killed and that's where the real horrors start creeping in.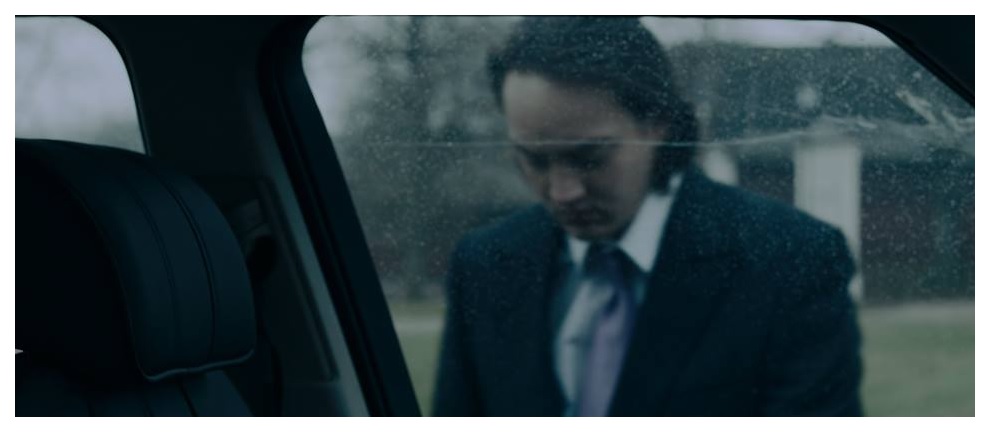 Plagued by visions of men in orange jackets and specters that linger in the periphery, Dan's sanity begins to fray at the ends. The real horror is the way Dan's heinous acts creep back to haunt him and make for some very scary scenes. Actor Maxim Lazarevdoes a fantastic job of playing the man-child Dan who selfishly covets what the wealthy man owns, but has no idea what to do with it once he takes it. Trapped in a prison of his own making, Dan's biggest struggle is with the inner demons that seem to be increasing the longer he stays in the house.
Adding to the tension is the Kubrickian music that occurs throughout. Much like the music in Brian Glazer's sublime UNDER THE SKIN, the unique musical score plays a big part in unnerving the viewer. The music that sounds like cats in a bag mixed with an alien's stomach growl makes for an intensely terrifying experience. THE MAN IN THE ORANGE JACKET culminates operatically. With gorgeous classical music accompanies horrific imagery, the film really does a great job of making something as simplistic as a home invasion film into much more of a dive into the darkest crevices of the human soul. Latvian director Aik Karapetian does a fantastic job of handling terror both internal and external, making the entire film feel like an extended TWILIGHT ZONE episode with his pitch tension and dark places to venture into. THE MAN IN THE ORANGE JACKET is a film that will haunt you long after the credits, both for the brutality of the home invasion and the perfect way it exemplifies how guilt can weigh upon the human soul.
---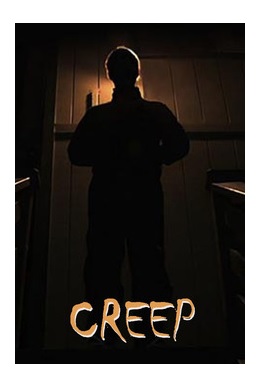 Advance Review: Played at Fantasia Film Fest on July 28th!
CREEP (2014)
Directed by Patrick Brice
Written by Patrick Brice, Mark Duplass
Starring Patrick Brice, Mark Duplass
Reviewed by Ambush Bug
I can't say enough good things about CREEP. It's one of those films that is brilliant in its simplicity, but by saying that it isn't giving the film the credit it deserves. This film is the polar opposite of all of the big budget, wham-bang horror films we are used to seeing in that it focuses mainly on strong performances and a rock solid story in order to convey a film that is unlike any you're bound to see.
CREEP follows a struggling young filmmaker named Aaron (played by director/co-writer Patrick Brice) who answers a Craig's List ad which leads him to a secluded house in the hills. There he meets Josef (THE LEAGUE's Mark Duplass who also co-wrote this demented gem), an eccentric who tells Aaron that he is dying of a brain tumor and wants him to film a day in the life, "kind of like the beautiful film MY LIFE with Michael Keaton" as Josef explains. To tell you more would be a disservice to the film but trust me, as the title of the film indicates, Josef's story is not on the up and up and things get a whole lot creepier.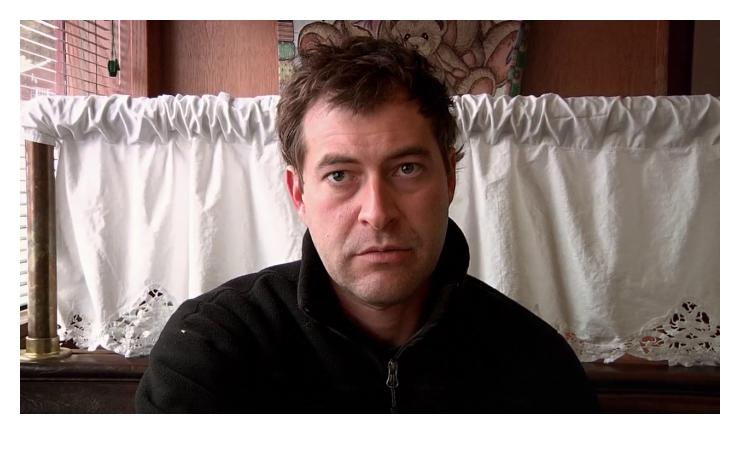 CREEP plays with our expectations from the beginning. Aaron has no idea what this job entails and hypothesizes to the camera as to what he will encounter once he arrives at the place. Once there, Josef changes his story over and over as a means to get Aaron to stay with him longer. Simply casting Duplass; who most know as one of the knuckleheads from THE LEAGUE and immediately will make those who know him from the show smile, is misleading as the more we get to know this friendly character, the more bizarre and frightening he becomes. Those expecting bromance antics here when they see Duplass' name are going to have their world flipped at what he does in this film.
Still, the whole thing plays out perfectly as Aaron, who is good natured and sympathetic to Josef from the get go, is lead into Josef's twisted web. Duplass plays Josef a little too uncomfortably real; a manipulative and dangerous character that many may recognize from real life who looks harmless on the outside, but is able to bend and twist situations to drain whomever he is focused on simply to fill a need inside of him that cannot be filled. This is a perfect example of a person who is too gullible and kind hearted getting pulled into the life of someone too selfish and manipulative. The dark places CREEP goes is enough to unsettle and disturb just about anyone and while you want to laugh at how weird Josef is, you can't help but just stand back and wonder what new kind of craziness is going to happen.
Both Duplass and Brice are amazing in their roles, making this no budget film engrossing simply through their performances alone. For the most part, this film feels like it cost nothing to make as it seems only a camcorder, a mountain home, a pancake lunch, and a weird werewolf mask is the extent of costs necessary to make it all work. But though the budget is small, the talent of the two men behind this film is priceless. Told in the oft scoffed at found footage format of first person handheld POV, CREEP is a deeply disturbing film that is going to get under your skin, camp out, and won't leave—no matter how hard you try to get it to do so.
Sorry no trailer yet, but when CREEP is available for all to see, you'd better believe I'll be letting you know.
---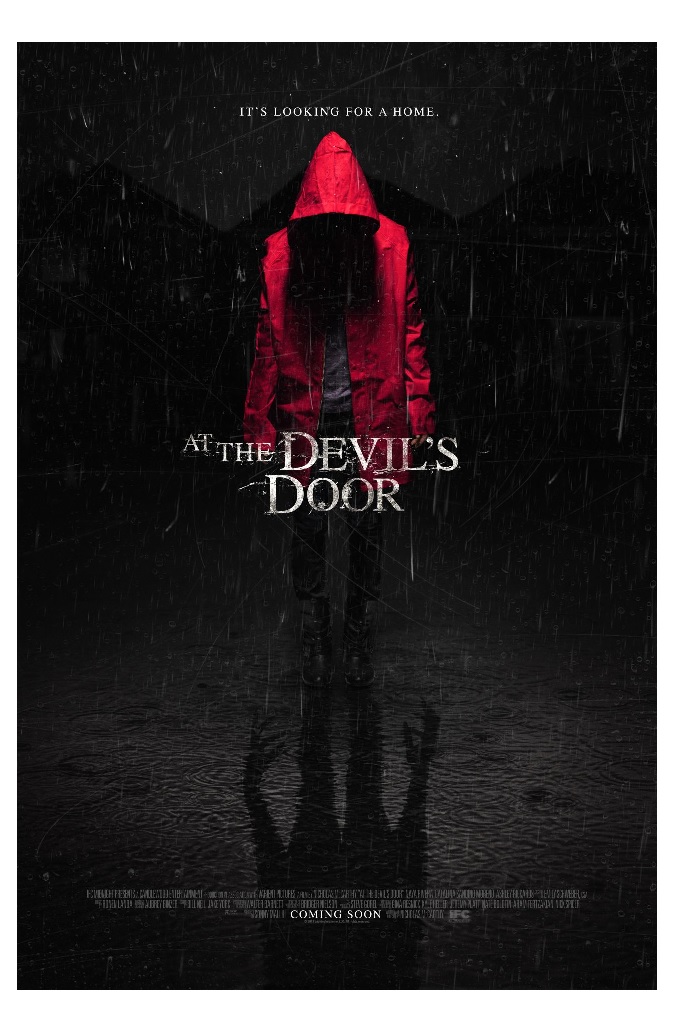 Advance Review: Played at Fantasia Film Fest on July 29th and available On Demand and in select theaters from IFC Midnight on August 8th!
AT THE DEVIL'S DOOR (2014)
aka HOME
Directed by Nicholas McCarthy
Written by Nicholas McCarthy
Starring Naya Rivera, Catalina Sandino Moreno, Ashley Rickards, Wyatt Russell, Arshad Aslam, Rob Brownstein, Tara Buck, Laura Kai Chen, Assaf Cohen, Nick Eversman, Kent Faulcon, Ava Acres,
Reviewed by Ambush Bug
Filmmaker Nicholas McCarthy caught my attention last year with his horrific ghost story of indescribable terror, THE PACT (
reviewed here
). He returns with his sophomore effort, AT THE DEVIL'S DOOR, I'm happy to say he's got another winner of a horror film on his hands.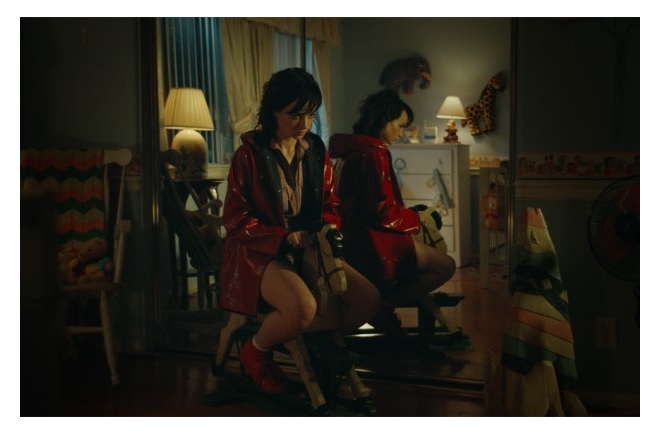 Playing with both timeline and narrative structure, McCarthy offers up a somewhat complex tale of ghosts and demons with a little bit of witchcraft tossed in for good measure. The story is an unconventional one, but tells the tale of a demon with a singular purpose; find the one body that is right for him to take over completely. Throughout the story, this demon tales residence in a few people and as the tale spans to different locales and times, the demon's goal is the one thing tying it all together.
Three women are tragically linked to the demon's designs. The opening scene has a young girl talked into selling her soul to a witch doctor by her boyfriend. We then trip forward in time to meet a pair of sisters Vera and Leigh (GLEE's Naya Rivera &, Catalina Sandino Moreno, respectively). Leigh is a real estate agent, trying to sell a house with a dark past and Vera is a aimless artist who fears being alone all her life. When Leigh starts seeing the girl from the beginning of the film (Ashley Rickards from MTV's AWKWARD) wandering around the empty house, she is lead face to face with the demon. But Leigh is not who the demon wants.
The story is much more complex that your typical demon possession yarn. The demon possession is the common touchpoint of the film, and it's established well and early, so no matter when or where the story goes, it's easy to understand by following the demon's burned footprints. McCarthy does a great job of making the leaps in time and place easy to follow, allowing the strength of the female leads to carry us along the way wherever they take us.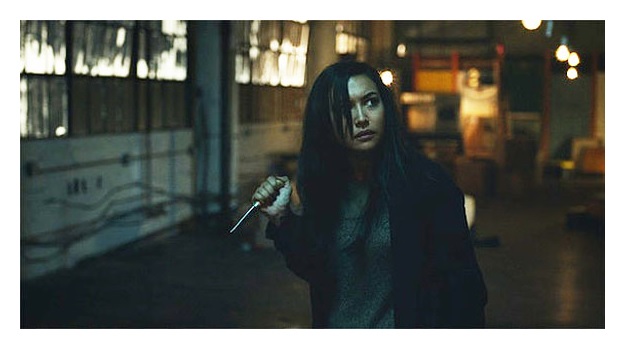 Lately, there seems to be a substitution of scares for Don Music head slams onto a keyboard. These sudden sharts of music are effective in unnerving the viewer, but these are empty scares filling space left for actual scary things to occur. There are plenty of music whammies in AT THE DEVIL'S DOOR, but what separates this film from the usual vacant fodder is that the musical punches are accompanied by equally frightening visuals. There are no false scares in AT THE DEVIL'S DOOR, just creepily set up scenes and visuals (accompanied by the music bump) that are the stuff of pure, uncut nightmare.
AT THE DEVIL'S DOOR is an unconventionally told version of a common tale, but with some fantastic performances by the female leads, some absolutely horrific shocks, one scary ass demon, and a handling of suspense that is more potent than any I've seen in recent horror films, this is one horror film that is anything but common.
---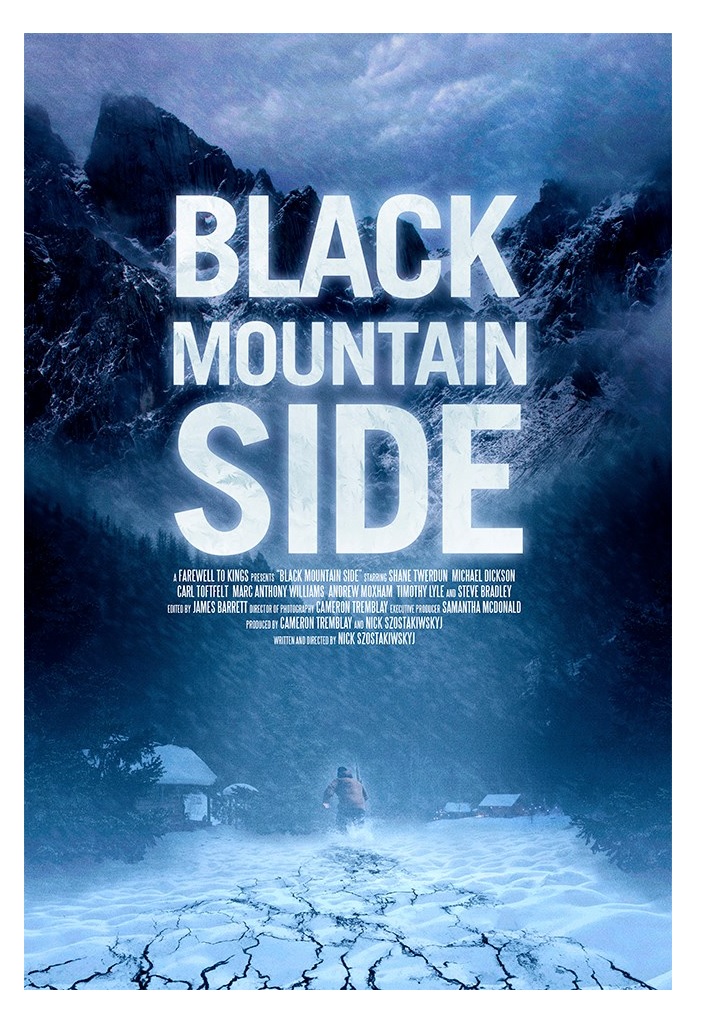 Advance Review: Played at Fantasia Film Fest on July 30th!
BLACK MOUNTAIN SIDE (2014)
Directed by Nick Szostakiwskyj
Written by Nick Szostakiwskyj
Starring Shane Twerdun, Carl Toftfelt, Michael Dickson, Marc Anthony Williams, Andrew Moxham, Timothy Lyle, Steve Bradley, Bryce McLaughlin, Kelvin Bonneau, Nathaniel Gordon, Cameron Tremblay
Find out more about this film here and on Facebook here
Reviewed by Ambush Bug
I couldn't help but think of two of my favorite horror films of all time JOHN CARPENTER'S THE THING and THE SHINING while watching BLACK MOUNTAIN SIDE, but it didn't remind me enough of those films that I didn't enjoy watching it. Like the aforementioned films, BLACK MOUNTAIN SIDE is set in a snowy terrain and that terrain plays such a major part to the story it becomes a character in and of itself.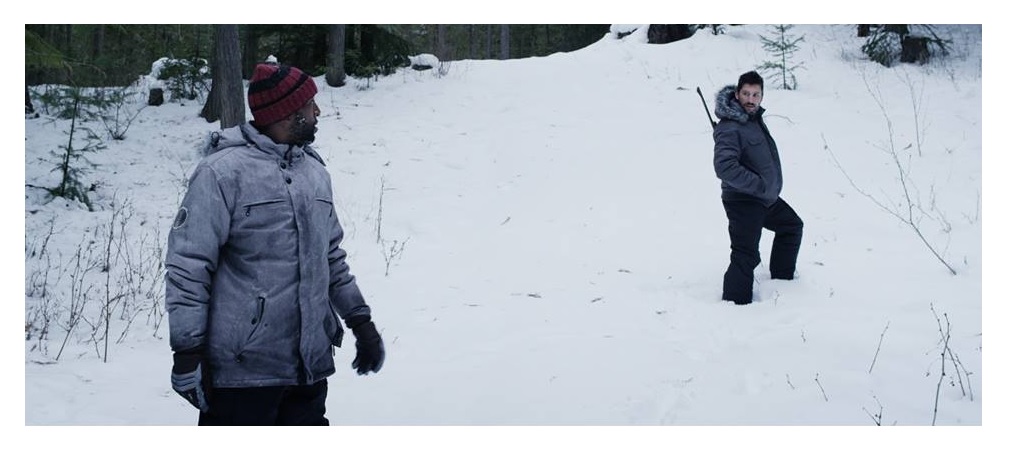 Structurally, the story reads like a basic synopsis of THE THING as a bizarre structure is uncovered from the ice at a scientific research facility in Northern Canada and no one there knows what to make of it. A call goes out to a renowned researcher Peter Olsen (Michael Dickson) to investigate the structure which bares markings of an ancient civilization and doesn't seem to belong in this area of the world. Leading this lonely group of souls is Myles Jensen (Shane Twerdun) who is this film's MacReady, a fallible hero who spills coffee and breaks things right and left, but has strong enough shoulders to carry the responsibility to these men who are bored out of their minds with little to do but drink in this blank landscape. Soon after Olsen arrives, strange things begin happening around the structure. People start acting weird, moving around in a trancelike state, which turns to violence when left unattended. It's clear that the structure is bad news, but no one understands what's going on and the bizarre shit starts happening so fast, Olsen and Jensen have a hard time keeping up with it before it overwhelms the entire facility.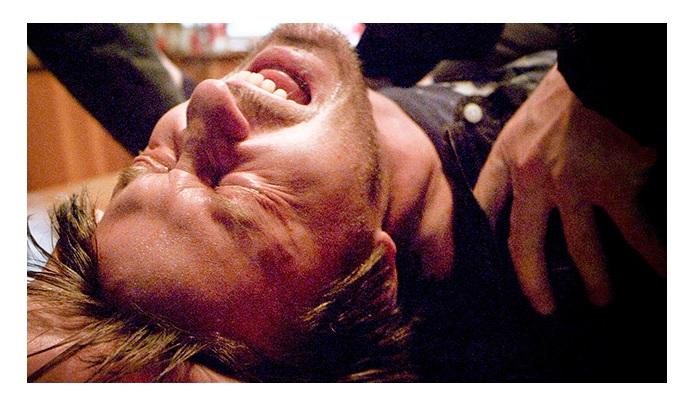 But while everything starts out like THE THING, BLACK MOUNTAIN SIDE becomes much more cerebral than that. Sure it looks like there's a weird biological organism crawling under the skin of one of them, but for the most part, the evil out there is exploiting the paranoia, loneliness, and evils within the souls of these men. More like the effects of an extended stay at the Overlook Hotel from THE SHINING, this buried structure seems to twist the minds of the people in the camp, making them turn on one another with murder in mind.
But in terms of hybrid filmmaking, combining these two films turns out to be a great one. Nick Szostakiwskyj highlights threats both physical and psychological with an even hand. Sure this is about a bunch of guys turning on one another in a barren landscape, but Szostakiwskyj fills the movie with long silent shots absorbing the bleak landscape and capturing far away shots filled with quiet, but violent action rather than zooming in too close. In this sense, we as the viewer see the action and the space around it, as if the filmmaker was making a point of isolating the events of this film and viewing it from a safe distance; as if it's too dangerous to get any closer.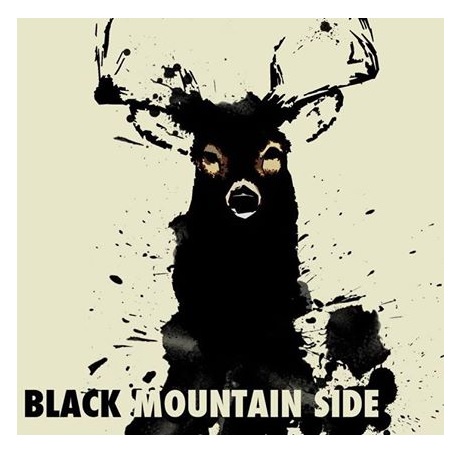 That said, there are some bizarre transitions that occur. After one man freaks out about the aforementioned organism crawling under his skin, his arm is lopped off. Right after that, we cut to a scene where people are rather calm and don't seem to be alarmed that a) they cut the arm off of one of their friends, and b) there was a creepy monster crawling the fuck around under this guy's skin. Numerous times, these transitions occur, as if the researchers aren't completely aware of the strange happenings that are occurring with intensity. This could possibly be attributed to the waning sanity of the group, but it isn't made completely clear.
BLACK MOUNTAIN SIDE is an unsettlingly bleak and horrific film, made more so by the lack of a soundtrack. The white lonesome landscapes are utterly and eerily silent throughout and while the action in the film is noisy, the ending fades back to silence as if man were never there in this untamed and mysterious land. Sure the evil entity talking in a gravelly voice that looks like an elk standing on its hind legs is creepy as all get out, but the fact that it walks around in a silent landscape makes it all the more terrifying. Despite its similarity to a few other snowbound horror flicks, BLACK MOUNTAIN SIDE is expertly made and gorgeous to look at, but more importantly, it encapsulates the feeling of being alone in the cold and dark; a feeling no one wants to be in and one this film is excellent at achieving.
---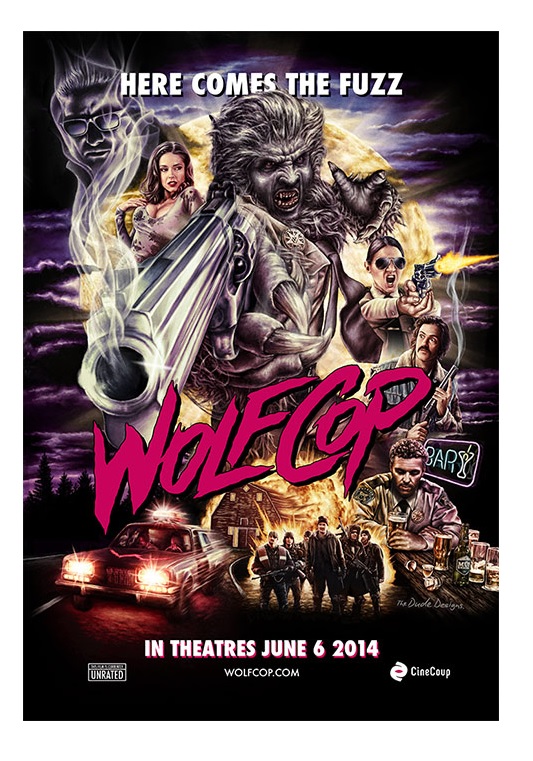 Advance Review: Currently playing at Fantasia Film Fest today from Cine Coup and Raven Banner!
WOLFCOP (2014)
Directed by Lowell Dean
Written by Lowell Dean
Starring Leo Fafard, Amy Matysio, Jonathan Cherry, Sarah Lind, Aidan Devine, Corinne Conley, Jesse Moss, James Whittingham, Ryland Alexander
Find out more about this film here and on Facebook here
Reviewed by Ambush Bug
Much has been said by myself and others at this site leading up to the release of WOLFCOP. For me, every pic and clip I saw from the film looked altogether fun and cool. But you never know. Having not seen the film, I could have been the victim of a coolly edited trailer and precise pics and it wouldn't be the first time I was fooled by an ad campaign that a movie was better than it actually was. When I had a chance to see WOLFCOP over the weekend, I approached with caution, having been burned before, but with hope that it would be as cool as it seemed.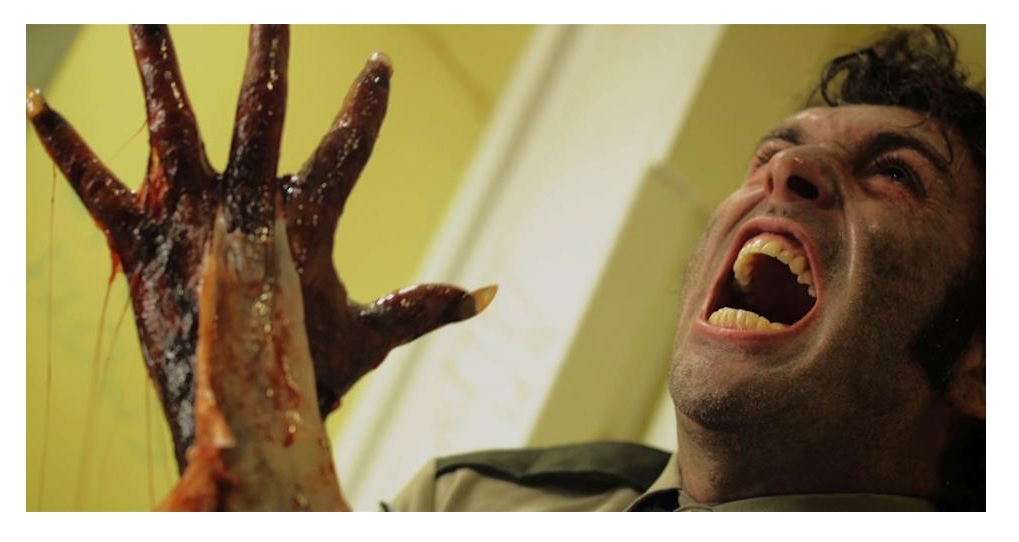 I'm so happy to report that I wasn't disappointed. WOLFCOP is not the scariest of films. It's not the best acted or best directed, though those are pretty strong and evidence that writer/director Lowell Dean knows how to work within budgetary parameters as well as stretch the dollar in areas worth stretching. But what WOLFCOP is is fun, through and through.
Reminiscent of HOBO WITH A SHOTGUN, which has a title that is not only fun but a film that delivers that fun, WOLFCOP backs the fun truck up and unloads. Beginning with a likable loser of a star in Lou (Leo Fafard), a down and out police deputy drunk more than he is sober and barely clinging to his job, the story follows Lou as he discovers the existence of a cult and falls victim to their witchy rituals, finding himself cursed with the mark of the beast and forced to get all wolfy as the moon grows full (which in this film seems to happen around 10:01PM). But though Lou's wolfy state is monstrous, it's only the tip of the iceberg in seedy and evil behavior that is spreading in his small town. It's up to Wolfcop and his plucky fellow officer Tina (the beautiful Amy Matysio, who recently was seen in space with Christian Slater in the sci fi snoozer
STRANDED
) to take on the scores of baddies.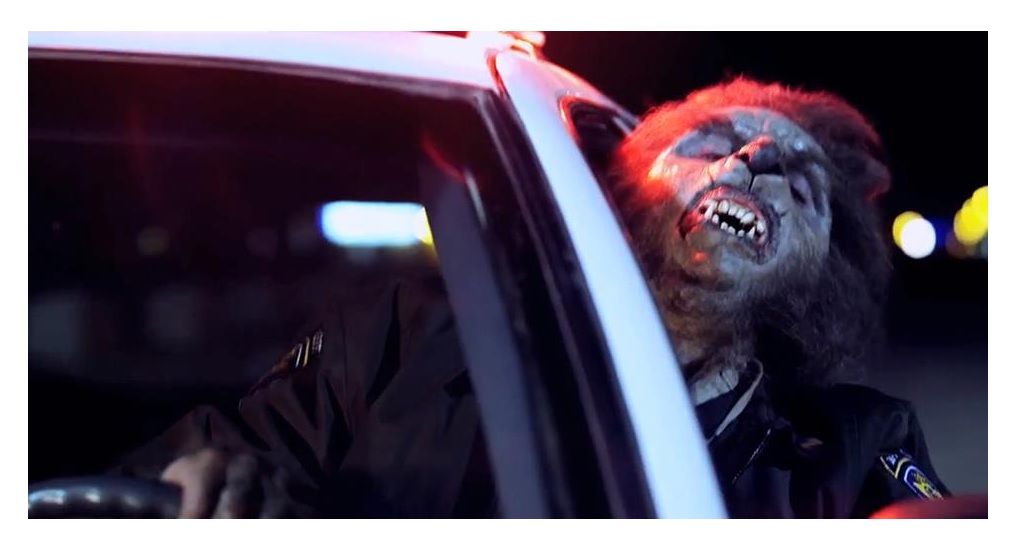 The cast of WOLFCOP, though made of relative unknowns, is solid. Leo Fafard is great as the drunken cop who seems to be fueled by alcohol. His sunken eyes and lackadaisical posture suggests a cop on his last leg. While not a lot of explanation went into why Lou has staggered down this path bathed in booze, his immediate reaction and sudden acceptance of the curse is pretty fun to see. Stronger here is Matysio as Tina, Lou's fellow police officer. She is the brains and experience on the unit, picking up the slack often left by Lou and surprised at his new lease on life once the curse takes hold.
But with this being a werewolf movie, let's get down to what's important—the effects. And the effects in WOLFCOP are spectacular. The spectacle of the transformation is always an important factor in every werewolf film. Here, they choose to go the route where Lou actually tears through his skin in order to transform. It's a gory mess with lots of tearing flesh, oozing, pussing, and gore everywhere. The furry appendages actually burst through the skin as it melts away in clumps. It's no AMERICAN WEREWOLF IN LONDON, but it is memorable and somewhat different (especially with the shit CG werewolves we've been getting lately). The carnage Wolfcop lets loose is also impressive and limps are lopped off, claws slice through flesh like tissue paper, and in the most memorable scene, a man's face is ripped off and he runs around as a screaming skull until he bleeds out. All of these effects appear to be pretty practical and well done.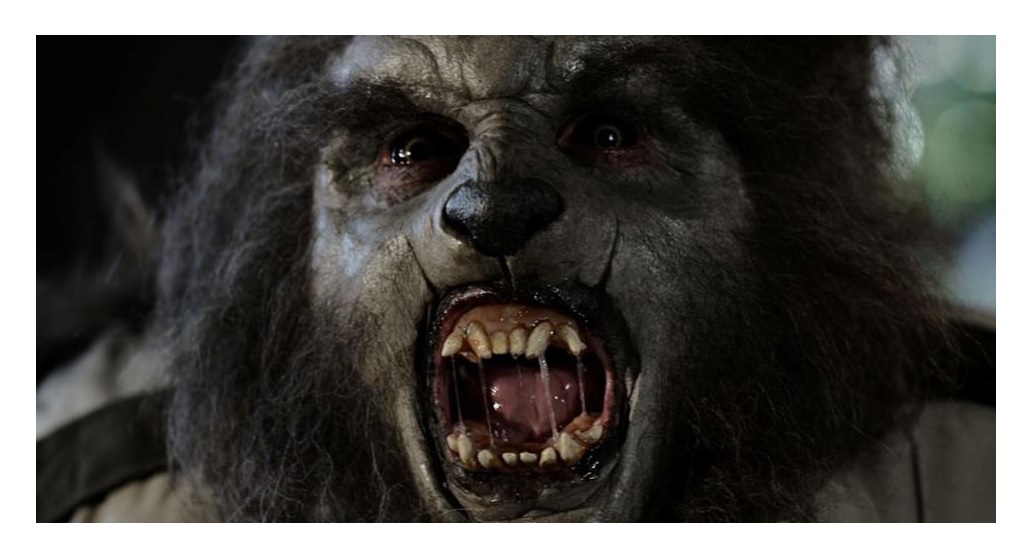 If there's a silver bullet weakening WOLFCOP it's the rather generic villains who end up getting more interesting towards the end, but so much time is spent having Wolfcop getting used to his transformation (and then more time is dedicated to a gratuitous and hilarious lovemaking scene) that the villains feel rather cardboard in the end. I also think more time could have been dedicated to Wolfcop's initial crawl into the bottle and why that is. But as I said before, the real focus here is the transformation into the wolf, so there's not a lot of time left for these details.
But what we get is a whole lot of fun. From the goofy yet cool Wolfcopmobile to the outstanding effects to some pretty fancy character work from the leads, WOLFCOP is a film too fun to miss and should please folks who like a little humor injected into their classic horror tropes.
---
Advance Review: Playing at Fantasia Film Fest on Tuesday August 5th!
THE DESERT (2013)
aka EL DESIERTO
Directed by Christoph Behl
Written by Christoph Behl
Starring Victoria Almeida, Lautaro Delgado, Lucas Lagré, William Prociuk
Find out more about this film here and on Facebook here
Reviewed by Ambush Bug
When is a zombie movie refreshing in this day and age where zombie movies are a dime a dozen?
Why, when a zombie movie isn't really about zombies at all. That's when.
EL DESIERTO (or THE DESERT to us gringos) is an Argentine film set in a post-apocalyptic world where society has fallen, the world is a mess, and zombies roam free. Though this is not something that told to the viewer, it's safe to assume this is all happening outside of the small compound three survivors have holed themselves up in. The entire film takes place inside this small hovel the trio call home, but through some clever sound and visual techniques, it's pretty evident the world has gone pear-shaped outside of the secure walls.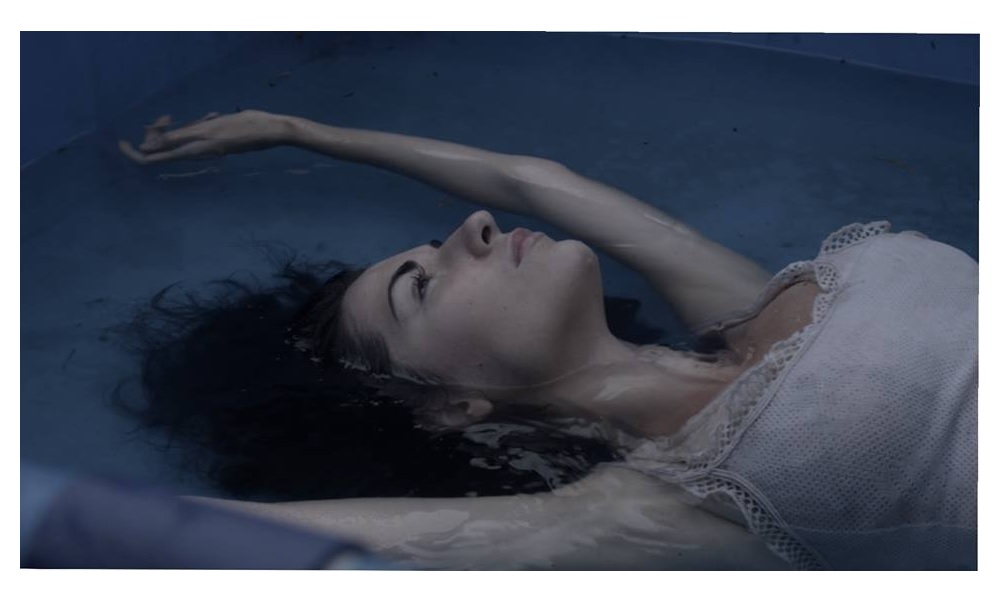 The fact that only one zombie makes an appearance in this film is a true testament to the restraint writer/director Christoph Behl uses here. This zombie doesn't really come into play until the halfway point in the film, though. Until then, the only indication of some kind of hell going on outside is a speaker system the survivors have set up outside to hear whoever gets close to their small fortress. Utilizing sounds and never really showing what's going on out there is a clever way to a) keep the budget low and b) hint at the danger and leaving the viewer's imagination to fill in the horrors (which in my opinion is always more interesting than seeing them). Because of this deft use of sound and restraint in terms of tried and true horror tropes, THE DESERT becomes all the more effective in terms of scares and shivers.
But THE DESERT isn't really about any of that. It's about a love triangle between these three survivors. Ana (played by the infectiously adorable Victoria Almeida) is the central point in this triangle, with her boyfriend Jonathan (William Prociuk) having the best of both worlds by spending his days and nights with his girl and his best friend Axel (Lautaro Delgado). But things get complicated when Ana finds out Axel has been pining for her since she arrived at the compound. This is where THE DESERT becomes much more about the dangers of seclusion and living in close quarters with others. Though a very beautiful woman, Ana often behaves like a child, not really understanding why Axel distances himself from the two lovers. She insists on the three of them to bare their souls in video taped confessionals, but doesn't know that Axel watches Ana's private tapes and longs to be with her. Scarring his body with tattoos, Axel seems to be punishing himself for falling in love with Ana, who at first is oblivious to his unrequited love, but upon realization of his feelings, she finds herself feeling something as well.
Like most stories about love triangles, someone is bound to get hurt. And that does happen here in the most tragic of ways. But the drama isn't played out at melodramatic levels here. Behl's smart story doesn't allow the tone to get schmaltzy. In fact, things get extremely sweet and endearing before everything goes horribly, horribly wrong, making THE DESERT feel all the more real in the complexities of its characters.
Christoph Behl is definitely a talent to watch as he smartly makes a movie that takes place in an extremely small place, but never feels cramped or as if corners were cut. There are some scenes (most of them focusing on the lovely Victoria Almeida) that are absolutely gorgeous to behold and make you forget this is a horror film. The restraint Behl practices with his horrors in this film make them all the more potent when they do show up. Make no mistake, THE DESERT is without a doubt a horror movie, it just that the multi-dimensional characters and the way they pull the viewer into this complex relationship make it all the more horrific when the bad stuff finally does occur.
THE DESERT is an emotionally powerful and complex film that just happens to have zombies in it.
---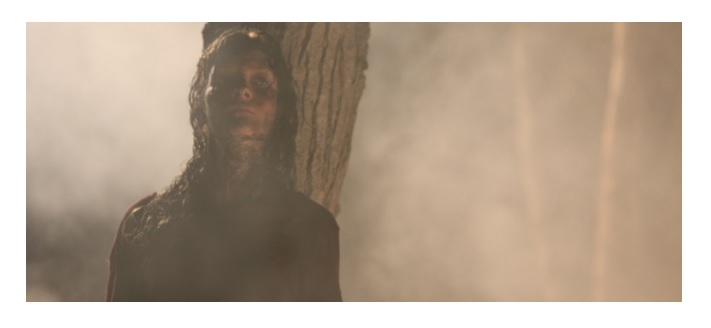 Advance Review: Currently playing at Fantasia Film Fest playing Tuesday August 5th & 6th!
PRESERVATION (2014)
Directed by Christopher Denham
Written by Christopher Denham
Starring Wrenn Schmidt, Aaron Staton, Pablo Schreiber, Cody Saintgnue, Nick Saso, Michael Chacon
Reviewed by Ambush Bug
Actor Christopher Denham, who made a huge impression on me in the subtly terrifying FORGETTING THE GIRL (
reviewed here
), steps behind the camera to offer up PRESERVATION, a survival horror film set in an abandoned national park. I didn't put this together until researching this film, but Denham also directed the terrifying HOME MOVIE, about a pair of kids who turn on their parents by inches all caught on home videos. Denham once again ventures into the dark realm of kids gone bad in PRESERVATION.
Like many killer in the woods films, this one begins with a trio of would-be hunters making their way through the backroads of America in order to find a secluded spot away from civilization. In this case, Mike and Wit Neary (MAD MEN's Aaron Staton and BOARDWALK EMPIRE's Wrenn Schmidt) play a young modern couple accompanied by Mike's brother Sean (ORANGE IS THE NEW BLACK's Pablo Schreiber), a troubled vet and loner survivalist. The brothers aim to teach Mike's new wife how to hunt and head out to uncharted territory in order to bag a prize buck. Jealousy, neglect due to cell phone addiction, and sibling rivalry are the dark themes that are percolating just below the surface in the relationship between these three individuals, and when they find themselves lost in the woods and targeted by having their clothes, tents, and supplies stolen in the night, these problems bubble over pretty quickly. But just when the brothers are about to tear themselves apart, they realize that they are being hunted by a trio of dirt bike riding miscreants with an arsenal of weapons and no respect for human life.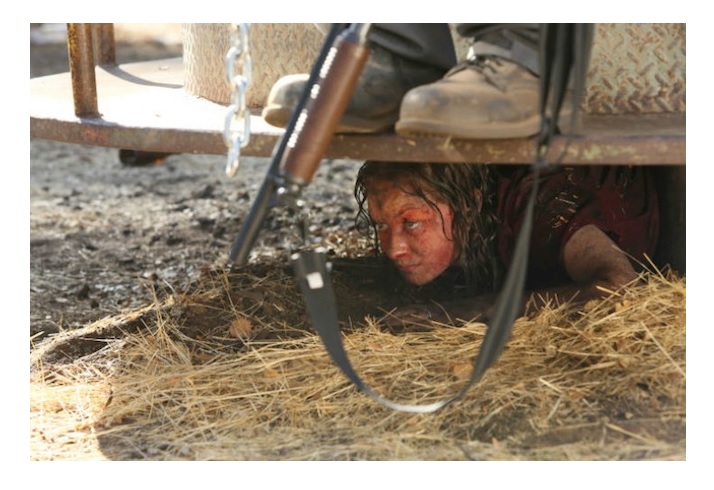 Denham develops the complex relationship between the three characters well here. Wit has discovered she is pregnant, but has doubts that her work-addicted husband isn't ready for kids. Mike can't keep off his cell phone even on this vacation, and harbors both pity and jealousy over his more macho, yet more troubled older brother. And Sean is a mess, having just returned from war and not fitting into society very well. It doesn't help that he can't keep his eyes off of his brother's wife, not matter how hard he tries. What Denham has done here is set up a situation with three talented actors that is enough trouble for a movie itself which takes you out of the fact that you're in a horror film. So it's almost a shock when these sadistic hunter kids show up.
Reminiscent more of the brutal EDEN LAKE than VILLAGE OF THE DAMNED, these silent children in PRESERVATION are much like the oddly quiet kids from HOME MOVIE. They communicate via text even when they are right next to each other and spend their down time playing first person shooter games on their cells. The emotionless way they stalk and kill, like weaponed out little Jason Voorheeses is definitely a comment on how callused kids have become today in terms of the value of life. Faced against these evil children, the struggle of Wit and co. (Wit especially) becomes a metaphor for her own decision whether or not to keep the child inside of her, making this a more nuanced film than most killer kids yarns.
PRESERVATION is an excellently acted and smartly written film full of scenes of desperate survival pitting man (and woman) against nature and against man (or in this case pre-men—more commonly known as children). The desperate fight main trio have to endure in order to survive is a difficult one and director Denham, who shows as much promise behind the camera as he does in front of it, details it all with an unblinking and almost too close to home eye.
Sorry, no trailer for this one yet.
See ya next week with my regular column, folks!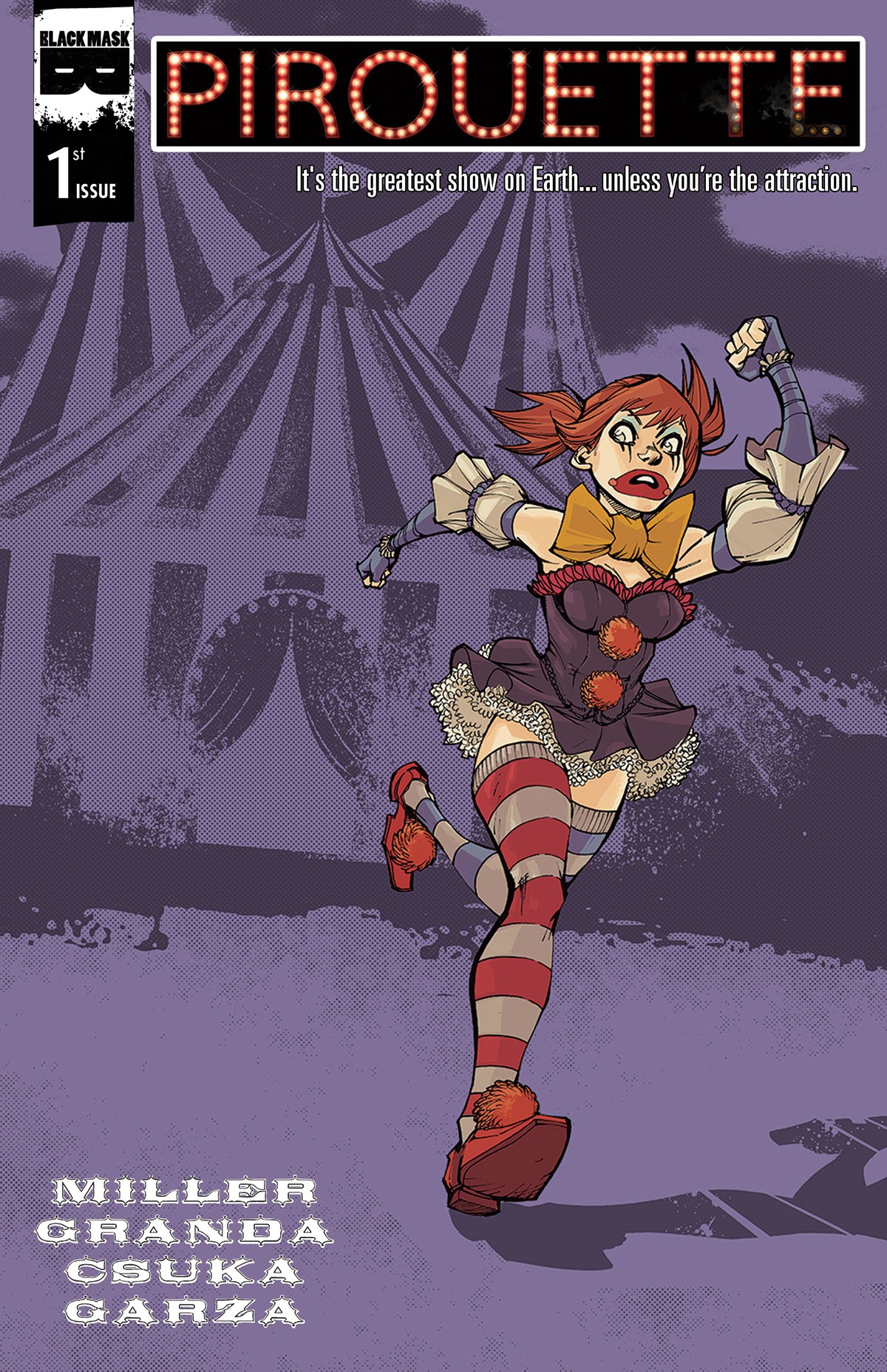 Ambush Bug is Mark L. Miller, original @$$Hole/wordslinger/writer of wrongs/reviewer/interviewer/editor of AICN COMICS for over 13 years & AICN HORROR for 4. Follow Ambush Bug on the Twitters @Mark_L_Miller.

Be sure to tell your comic shop to order his new comic PIROUETTE from July's Diamond Previews (item code JUL14 0937) today!
---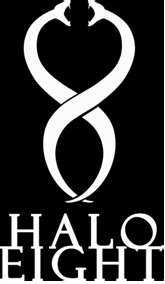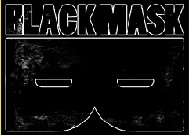 Find out what are BLACK MASK STUDIOS and OCCUPY COMICS here and on Facebook here!


Interested in illustrated films, fringe cinema, and other oddities?
Check out Halo-8 and challenge everything!
---
Find more AICN HORROR including an archive of previous columns on AICN HORROR's Facebook page!