Papa Vinyard here, now here's a little somethin' for ya...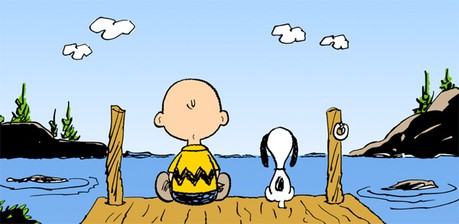 They've brought back THE MUPPETS, they've brought back ALVIN & THE CHIPMUNKS, they've even brought back friggin' MARMADUKE, but where has Charlie Brown been? Well, according to Deadline, Paul Feig and 20th Century Fox Animation have got it covered. Feig will be producing an animated (thank god) update of Charles Schulz's classic characters for the studio, to be released in November 2015. No word on the story yet, but the script is being co-written by Schulz family members Craig (Charles' son) and Bryan (his grandson), with help from freshman writer Cornelius Uliano. It was cool to see pros like Stoller and Segel getting a crack at THE MUPPETS, but it's even cooler to have the original creator's bloodline directly handling the property, IMO. The film will be directed by Steve Martino, who's made a hearty helping of loot for the company with HORTON HEARS A WHO! and ICE AGE: CONTINENTAL DRIFT.
Feig (who's making his first foray into the realm of animation) is quoted thusly:
"Growing up, PEANUTS was my STAR WARS. Charles Schulz's characters influenced everything in my career, especially FREAKS AND GEEKS. I'm thrilled I finally get to be pals with Charlie Brown and Snoopy."
Do I believe that Feig has the energy and enthusiasm to get a solid PEANUTS update off the ground? Yes. Am I super-stoked that Schulz' own blood is personally crafting the script? Absolutely. Are my fingers crossed that they'll go the high road and do the film in 2D rather than computer animation? *sniffle* It'd be amazing, but I'm thinking I have to do what Linus was never able to do with his blanket, and let go of the familiar.
Ah, well, we'll always have Paris. And Christmas. And Halloween. And Thanksgiving. And Easter. And Valentine's Day. And Arbor Day…
PEANUTS goes clear to the Moon on November 6th, 2015.
-Vincent Zahedi
"Papa Vinyard"
vincentzahedi@gmail.com
Follow Me On Twitter