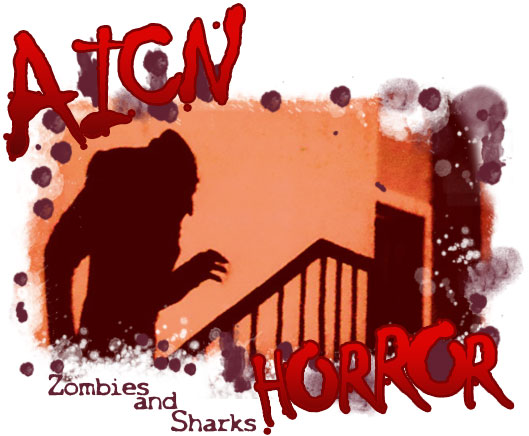 Logo by Kristian Horn
What the &#$% is ZOMBIES & SHARKS?
---
Greetings, all. Ambush Bug here with another AICN HORROR: ZOMBIES & SHARKS column. This time around, I had a chance to catch up with director Matthew Arnold on his new film SHADOW PEOPLE which is available today on DVD, BluRay, and Digital. The film stars THE WALKING DEAD's Dallas Roberts and delves into…you guessed it, the phenomenon of Shadow People. What are shadow people and why make a movie about it? Venture down to find these answers and more…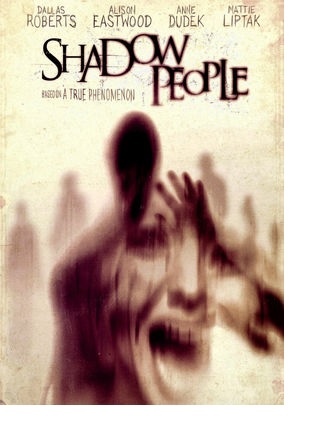 AMBUSH BUG (BUG): Hi Matthew, congratulations on a really unique and interesting film. Can you tell those unfamiliar with SHADOW PEOPLE what it is all about?
MATTHEW ARNOLD (MA): The movie explores a common but rarely discussed true phenomenon where people wake up at night, with their body still asleep but mind awake, to find a shadowy figure in the room with them. Sightings of these beings, known as Shadow People, occur in every major culture in the world and are remarkably similar. The appearance of shadow beings have been tied to a mysterious and fatal illness known as SUNDS (Sudden Unexplained Nocturnal Death Syndrome). Charlie Crowe, a late night radio host, begins taking calls from people who have experienced the sightings and delves deeper into the mystery with the help of CDC investigator, Dr. Sophie Lacombe. The film combines real archival footage and interviews with actual participants in the event so you can judge the phenomenon for yourself.
BUG: Paranormal phenomenon is pretty big these days. What initially attracted you to this project and where did you hear about this case first?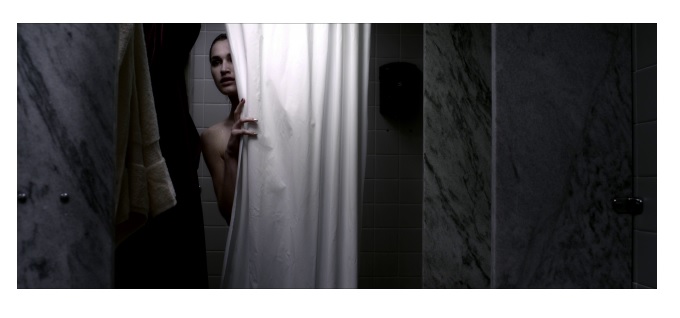 MA: I myself experienced the phenomenon one night, when I awoke to see a shadow being standing beside my bed looking at me. When I yelled at it, it shot through the wall and vanished. I soon became obsessed with trying to discover what I had encountered, and fell upon a wellspring of information about similar encounters people were having all over the world.
BUG: The fact that actual footage and interviews were used in the making of this film definitely makes it stand out as a unique one. Was it difficult to get the actual people involved in this event to talk about it on film?
MA: Some people refused to go on record, but many were surprisingly open to talk about something which frightened and shocked them. I think everyone is really just looking for answers and speaking about it is a way to get to the truth. Other information we licensed from documentaries or from TV and radio stations.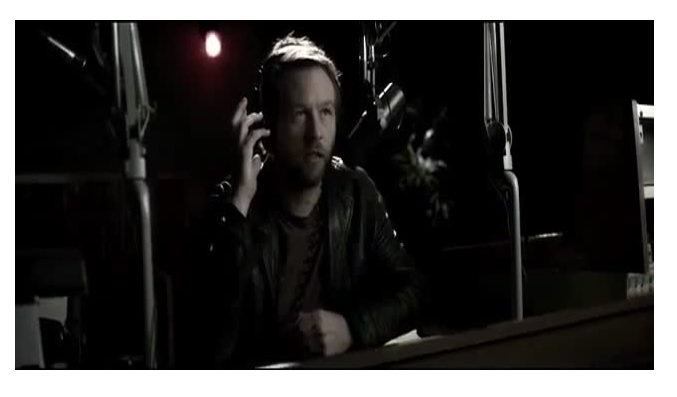 BUG: After making a film about shadow people, what are your thoughts on it? Are you a believer?
MA: I believe something very strange and real is going on. The movie presents two cases for explanation - a supernatural and a scientific. I tried to give them equal weight to let the viewer decide what they believe.
BUG: WALKING DEAD actor Dallas Roberts seems to be an interesting guy. How did he become a part of this project and what was he like to work with?
MA: I had seen Dallas in the movie SHRINK and thought he was fascinating to watch on screen. I sought him out and sent him the script. After we spoke on the phone I knew instantly that he understood who Charlie was and could give the man a just portrayal. Movie characters are black and white, but real people are often more murky. And because Charlie has this somewhat dubious reputation and a troubled personal life, I needed an actor who could be real and show those less glamorous sides of himself but that the audience would still rally behind. Dallas has this authentic quality which is incredibly endearing and approachable. And he was the finest actor I've had the pleasure to work with. He is amazingly prepared and thorough and understands every beat of the story. You can really feel him start to spiral out of control as the movie progresses in a real and believable way. I was very fortunate to have him onboard.

BUG: Did Dallas slip and reveal anything about THE WALKING DEAD that you are allowed to share with us on set?
MA: No, Dallas had not been cast in THE WALKING DEAD when we made SHADOW PEOPLE.
BUG: Did any paranormal phenomenon happen to your or any of the cast or crew while filming this movie?
MA: Yes, actually. Several crew members reported similar sightings (non-fatal thankfully). This phenomenon is so frightening because it spreads the more people think and talk about it. It's as if you invite them into your life when you start thinking about them. So the crew was working on the movie for 12 hours a day and "infecting" themselves, and starting to become believers in this psychosomatic effect just like Charlie Crowe. And most everybody that I pitch the film to comes back to me with some story of themselves or someone they know that experiences these sightings. It's more common than you know.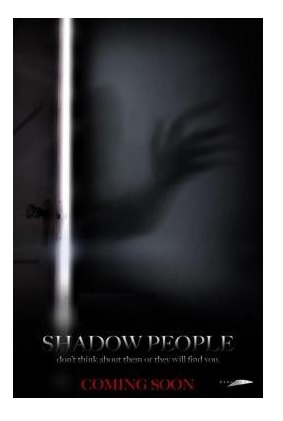 BUG: What else do you have coming up? Are you interested in making more horror films?
MA: I'm currently filming 13 episodes of a one hour supernatural drama I created for Infinity Films and producer Michael Ohoven. I have a couple other horror/thriller films in the works and may even do a SHADOW PEOPLE sequel.
BUG: Very cool. Well, last chance, why should folks check out SHADOW PEOPLE?
MA: This might be the only movie you see that actually scares you more after you leave the theatre.
BUG: Thanks, Matthew. Check out the trailer for SHADOW PEOPLE below and further down is my review of the film!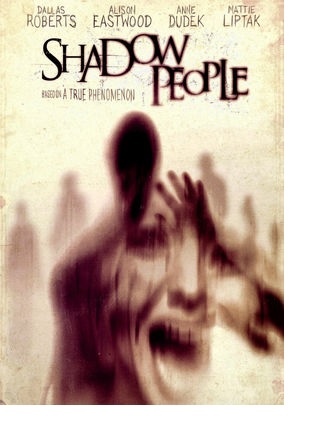 Available today on DVD/BluRay/Digital (on Netflix here)!
SHADOW PEOPLE (2012)
aka THE DOOR
Directed by Matthew Arnold
Written by Matthew Arnold
Starring Dallas Roberts, Alison Eastwood, Anne Dudek, Mariah Bonner, Mattie Liptak, Christopher Berry, Jonathan Baron
Find out more about this film on Facebook here
Reviewed by Ambush Bug
Films like THE MOTHMAN PROPHESIES and especially THE FOURTH KIND came to mind as I watched SHADOW PEOPLE, a new film laced with conspiracy and the paranormal. Like those other films I mentioned, this film definitely gives you that creepy feeling—that urge to look over your shoulder and make sure nothing is creeping up behind you. While those films were not a fright a minute, they were effective in that it almost infects you with the belief that what the characters believe to be real may actually, in fact, be real.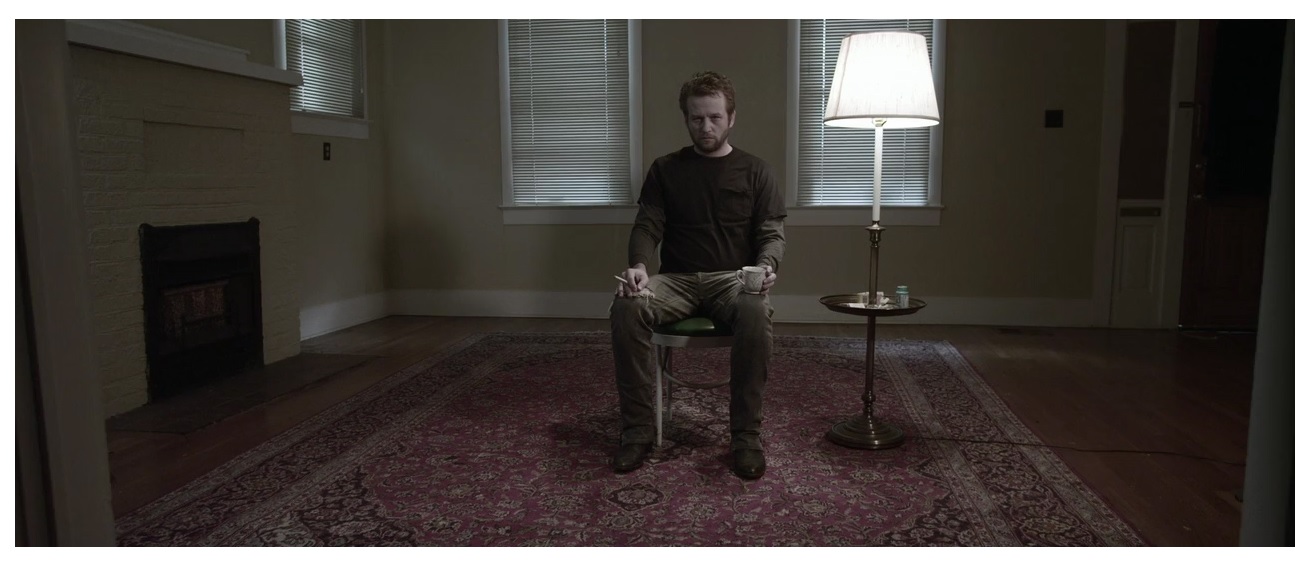 THE WALKING DEAD's Dallas Roberts plays real life radio host turned conspiracy believer Charlie Crowe who receives a call one night from a man claiming that the very shadows themselves are coming alive as he sleeps and are threatening to kill him. Soon after the caller hangs up, Charlie finds out that the caller did in fact die in his sleep from a phenomenon known as Sudden Unexplained Nocturnal Death Syndrome or SUNDS, as it is usually called. The victims literally died in their sleep. They were perfectly healthy aside from the fact that they were seeing moving shadows before they passed away.
What makes this film fascinating is Roberts' performance as Charlie Crowe. Roberts looks a lot like Val Kilmer back when Kilmer actually gave a shit about acting and serves up a fantastic performance as a man who becomes obsessed with this phenomenon. Worse yet, Charlie realizes that the more he covers this phenomenon on his show, the more people seem to be experiencing it. This occurs so much that he feels like while he wants to spread the word about the phenomenon to raise awareness of it, he may actually be spreading this thing through the power of suggestion.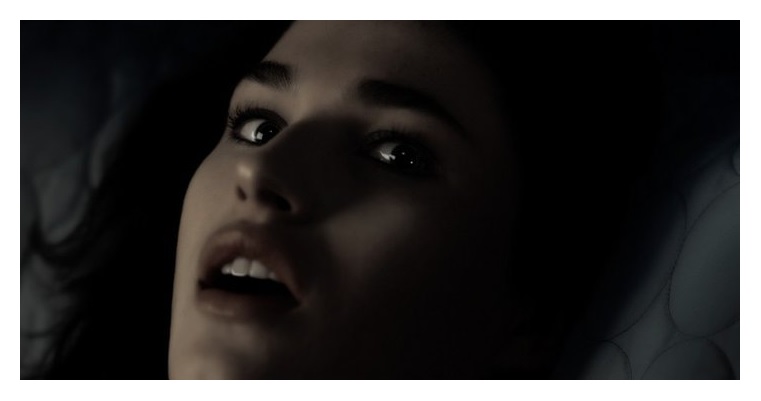 This is a fascinating crisis of conscience at play in SHODOW PEOPLE. In between Roberts' breakdown, we get some truly creepy scenes of people experiencing this phenomenon, utilizing the pitchest of blacks to their full extent, and coming up with some really unsettling scenes of night terror.
Whether you believe in this phenomenon or not, it is undeniable that others do as this film is interspersed with actual video footage of the real life Charlie, the callers in his radio show, and other actual footage, much like the aforementioned THE FOURTH KIND. This film, though, incorporates this footage much more seamlessly. I was rattled while watching SHADOW PEOPLE and it made me think twice about turning out the light as I went to bed. Any film that does that to me is a winner in my book and with a strong lead performance by Dallas Roberts and some really tense scenes of night shadow play, SHADOW PEOPLE just might scare you too.
See ya Friday for our regular AICN HORROR column, folks!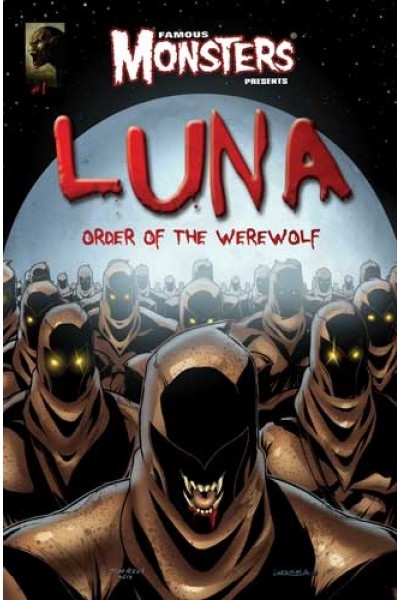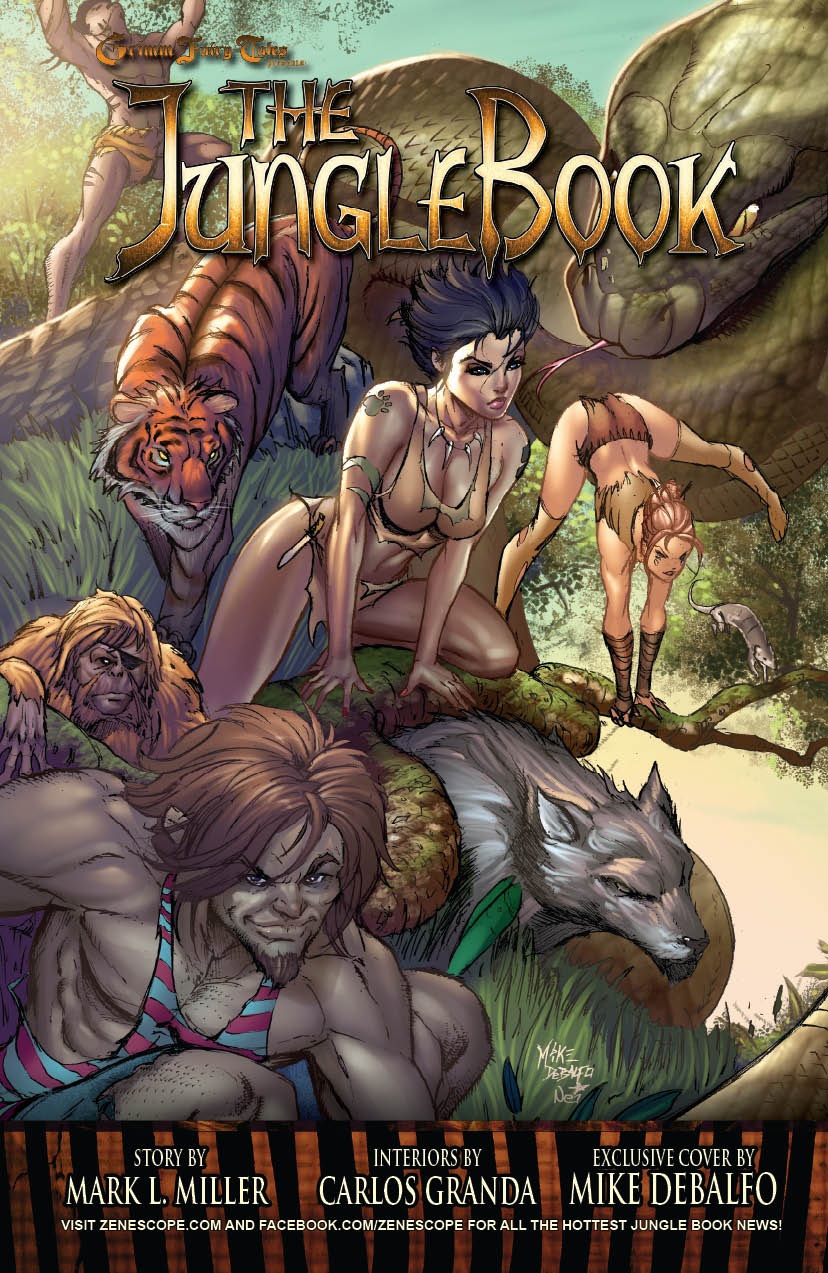 Ambush Bug is Mark L. Miller, original @$$Hole/wordslinger/writer of wrongs/reviewer/interviewer/editor of AICN COMICS for over eleven years & AICN HORROR for two. He has written comics such as VINCENT PRICE PRESENTS THE TINGLERS & WITCHFINDER GENERAL, THE DEATHSPORT GAMES, & NANNY & HANK (soon to be available on iTunes and soon to be made into a feature film from Uptown 6 Films). He has co-written FAMOUS MONSTERS OF FILMLAND's first ever comic book LUNA: ORDER OF THE WEREWOLF (to be released in 2013 as a 100-pg original graphic novel). Mark wrote the critically acclaimed GRIMM FAIRY TALES PRESENTS THE JUNGLE BOOK last year from Zenescope Entertainment & look for his exciting arc on GRIMM FAIRY TALES #76-81 released August-December 2012. Mark will be writing GRIMM FAIRY TALES PRESENTS THE JUNGLE BOOK: LAST OF THE SPECIES to be released in February-June 2013. Follow Ambush Bug on the Twitter @Mark_L_Miller.
---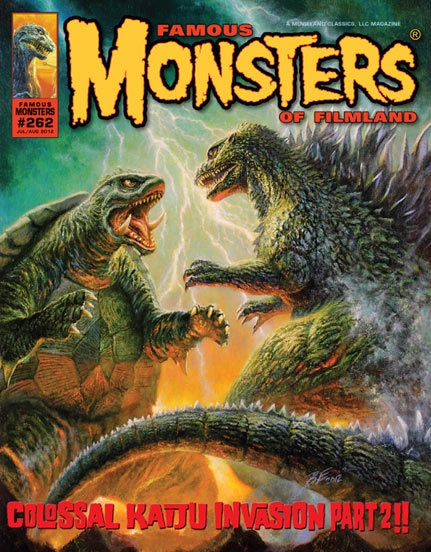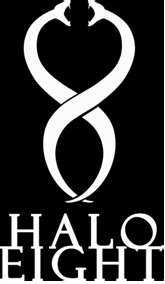 Check out the FAMOUS MONSTERS OF FILMLAND Website for all things horror!


Interested in illustrated films, fringe cinema, and other oddities?
Check out Halo-8 and challenge everything!



---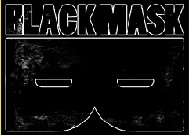 Find out what are BLACK MASK STUDIOS and OCCUPY COMICS here and on Facebook here!





---
Find more AICN HORROR including an archive of previous columns on AICN HORROR's Facebook page!