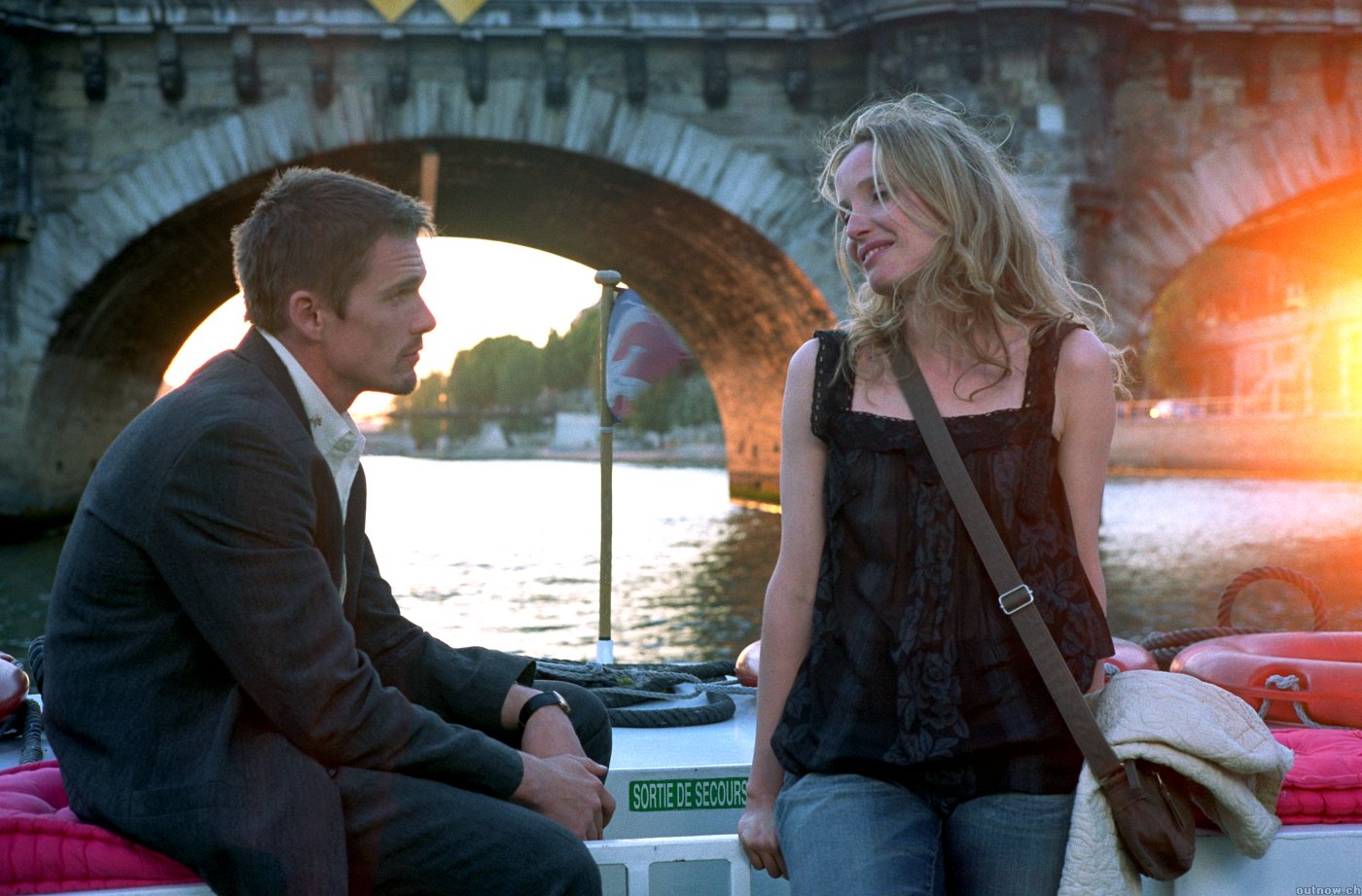 Nordling here.
"Baby, you're gonna miss that plane."
And with that, BEFORE SUNSET ended, with Jesse (Ethan Hawke) sitting in Celine's (Julie Delpy) aparrtment, swooning (yeah, I said swooning) with love and adoration after hearing her sing. For those of us who love this series of romantic films by Richard Linklater, that final line was a kick to the gut - will Jesse stay with Celine after all? What of his marriage? And what of Celine's relationship with her photographer? And what does it all mean?
Generationally, Linklater's BEFORE SUNRISE/BEFORE SUNSET are beautiful love stories for the Generation X set, and yet they aren't simple meet cute stories, either. These are thematically rich movies, showing the many faces of love and how life can complicate something as pure as two soulmates meeting again. These are complex people with issues, and while the first one is about young love, unfettered (yet) by life, and full of relative innocence, BEFORE SUNSET is about those complications and how these two deal with them even as their love for each other blooms again. It's hard to believe 9 years have passed already.
Today Ethan Hawke confirmed, via Indiewire, "We're also doing a follow-up to BEFORE SUNRISE and BEFORE SUNSET, so that will be fun. We're going to shoot that this summer." He also stated that it's a different world in regard to these movies now: "The biggest change between this one and the last one is the Internet. The first time we did it, we didn't have any pressure; nobody gave a shit." So I'd imagine that everyone involved is keeping plot points close to the chest.
I think these films are wonderful and I'm excited to see the continuation? conclusion? to this series.