'Quark' is a longtime friend of the site who would never intentionally steer us wrong:
The new fall shows have been announced and people are already complaining there's nothing new. It's the same old concepts: Cops, lawyers, doctors, mismatched roomies. A few weeks ago I saw a screening of the first episode of a series that didn't adhere to any formula and seemed to exist in its own deranged universe. It's called "Bullet in the Face" and is a half hour unlike anything I've seen.

The series is set in a city called Bruteville which calls itself "a melting pot of crime" where we meet a hood named Gunner Vogler. We don't find out much about him, just that he's a hired killer and sort of a male "Nikita" who works for a weirdo crime boss played by Eddie Izzard, who's great in this. Vogler has been banging Izzard's girlfriend and knocked her up, making things extra complicated when Izzard's character orders Vogler to kill her for being unfaithful. That's just the first few minutes, so no spoilers.

Despite being a half hour, they pack a lot into this. There seemed to be new plot twists every few minutes and the ultimate one happened at the end involving Eric Roberts, who plays another mobster. The show is unpredictable and lives up to its name. There's major gunplay in this. Despite being mostly a comedy, the violence is very real and a shootout with the Mossad looked like a scene from "Scarface". The crowd I saw it with loved it.

IFC is supposed to show "Bullet in the Face" here in the US come August, but there's nothing about it on their website yet. I hope they don't chicken out or bury it. This is not safe TV and I'm curious where the series is going because it's so different. I wondered who thought up such a bizarre and unique show and it turns out to be the same dude that created the eighties classic "Sledgehammer" Alan Spencer. This will definitely be another cult show.

Quark
The original press release for the show:
IFC'S ORIGINAL SCRIPTED COMEDY, BULLET IN THE FACE, BEGINS PRODUCTION IN MONTREAL

Actors Eddie Izzard and Eric Roberts Guest Star in the Original Series

Set to Debut in Summer 2012

NEW YORK, NY – October 6, 2011 – Production begins this week in Montreal, Canada on IFC's newest original scripted series, Bullet in the Face, a six-part, half-hour comedic action thriller. Creator and executive producer Alan Spencer (Sledge Hammer!) developed the series with producers and executive producers Jesse Prupas and Evi Regev of Muse Entertainment and Just For Laughs Television. The cast includes Max Williams as Gunter Vogler, Neil Napier as Lieutenant Karl Hagerman, Jessica Steen as Commissioner Eva Braden, and Kate Kelton as Martine Mahler, alongside guest stars Eddie Izzard (Valkyrie, Ocean's Thirteen) and Eric Roberts (The Dark Knight, The Expendables) as notorious crime lords. The series is directed and co-executive produced by Erik Canuel (Barrymore, Bon Cop, Bad Cop) and will debut on IFC in summer 2012.

"Bullet in the Face melds the best of the action/thriller genre with IFC's comedic sensibility," said Debbie DeMontreux, senior vice president of original programming, IFC. "This is television like viewers have never seen before and Alan Spencer is the perfect 'slightly off' talent to help us bring this new format to audiences."

"Just for Laughs and Muse Entertainment have long been searching for a unique and edgy comedy to produce together and we were thrilled to find a fantastic and supportive broadcast partner in IFC. We are proud to say that Bullet in the Face is unlike anything else out there, combining hilarity, thrills and non-stop action," say Executive Producers Michael Prupas (Muse Entertainment) and Bruce Hills (Just for Laughs).

"I am very happy to be doing this show for a network that is 'slightly off' as I have been off my whole life," commented Alan Spencer.

Following a botched jewel heist, sociopath criminal Gunter Vogler awakens in a hospital, surrounded by cops, his head wrapped in bandages. When the bandages come off Gunter's new face is revealed and police force him to work undercover to take down the city's crime lords.

Bullet in the Face is produced by Montreal's Muse Entertainment Enterprises and Just For Laughs Television. Executive producers for IFC are Debbie DeMontreux, Dan Pasternack, Jennifer Caserta and Evan Shapiro.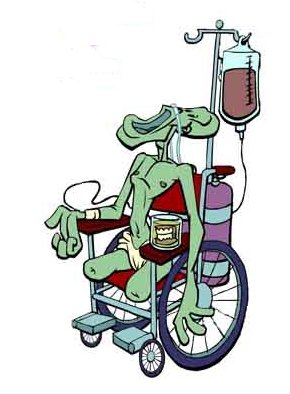 CHEAPEST BLU ROCKY EVER!!
$5 Per Blu Movie This Week Only!!