Ahoy, squirts! Quint here. Anthony Hopkins is playing Hitch in an upcoming movie about the making of Psycho. Fox has released a photo of Hopkins in the makeup. And that photo is below (via People).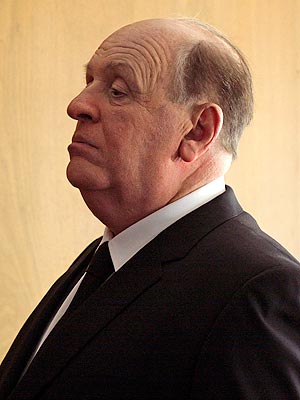 That's… weird. Looks kinda like a Hitchcock impersonator at an off-off-off-strip casino somewhere in the desert outside Vegas. Or like Don Rickles as Hitchcock.
Then again, when Hopkins played Nixon he didn't really look a whole helluva lot like Nixon, but damn did he bring the fire. Can't wait to see some of Hopkins' performance here. Hitchcock's speech, presence and dry humor is legendary and it'll be fascinating to see Hopkins delve into that.
What do you folks think?
-Eric Vespe
"Quint"
quint@aintitcool.com
Follow Me On Twitter