Ahoy, squirts! Quint here. Well, this is some welcome news, especially after getting a glimpse at what Frank Darabont was up to with The Walking Dead just a couple days ago.
TNT just sent out a press release announcing the greenlighting of a pilot for LA Noir, a passion project from Darabont. He'll direct the pilot from his script, which has nothing to do with the video game. Instead it's based on John Buntin's book LA Noir: The Struggle for the Soul of America's Most Seductive City and will focus on the LAPD's battle with the West Coast Mob in the '40s.
It feels to me like it could be an answer to HBO's Boardwalk Empire, but a harder bent to the noir genre, which can only be good news. Could they possibly shoot it in black and white? How awesome would that be?
So, Darabont returns with producers Michael De Luca and Elliot Webb to give us some old school gritty detective stories in '40s LA.
Who would make a good noir character? If I were a betting man, I'd say we could see a reunion between Darabont and his Mist star Thomas Jane. He'd look great chainsmoking in a nice suit.
Here's the most noiry image I could find. Come on TNT, please let them shoot this whole thing in high contrast black and white! You know it's the right thing to do!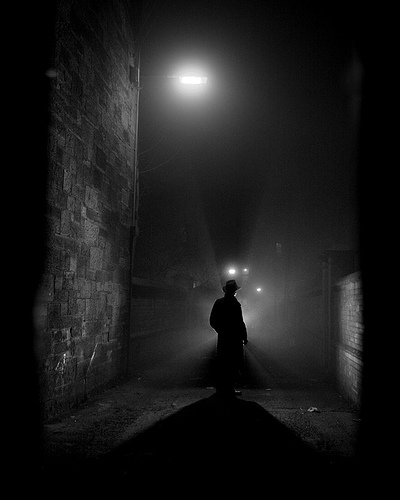 Now here's the full press release:
TNT has ordered a pilot for L.A. Noir, a new drama series from executive producers Frank Darabont (The Walking Dead, The Shawshank Redemption), Michael De Luca (The Social Network, Moneyball) and Elliot Webb (Tall Time Tales). The project from TNT Original Productions is based on John Buntin's critically acclaimed book L.A. Noir: The Struggle for the Soul of America's Most Seductive City, which chronicles the epic battle between Los Angeles Police Chief William Parker and mobster Mickey Cohen. Alissa Phillips (Moneyball) of Michael De Luca Productions serves as co-executive producer. Darabont is set to write and direct the pilot.

"The story of L.A. Noir is inspired by an incredibly dramatic period in the history of Los Angeles," said Michael Wright, executive vice president, head of programming for TNT, TBS and Turner Classic Movies (TCM). "This project is a sweeping tale of the battle for the soul of the city that was waged between the forces of the LAPD and the West Coast mob. We're thrilled to be working with Frank Darabont and Michael De Luca, two award-winning storytellers behind some of the most entertaining films of the past two decades, as they to bring this intense and exciting crime-drama to TNT."

"Noir is a passion of mine, so I feel blessed to delve into a project that speaks in the hardboiled vernacular," said Darabont. "John Buntin's superb book, though non-fiction, is our touchstone and inspiration for the stories we'll be telling, weaving fiction throughout the facts and facts throughout the fiction. The book provides elements that are irresistible, a big canvas with endless possibilities. The goal is to deliver on the tone that the title L.A. Noir promises: a smart, gritty, authentic, period noir drama. Also a blessing is the warm welcome we've gotten from Michael Wright and TNT, a great bunch of folks with huge enthusiasm for the source material. The best bonus of all is getting to work with my friend Mike De Luca. He's terrific, a tremendously smart and talented producer, a gem. Partnering with him on this marvelous project after knowing him for so many years is an absolute treat for me."

"It has been a personal dream of mine to work with Frank Darabont since he was kind of enough to become my friend when we met in the late 1980s," said De Luca. "He's been an inspiration to me ever since. There is no one working at his level today who puts more integrity and humanity into their efforts to create lasting and original entertainment. This rich source material is a perfect fit for his talents, and we're grateful to Michael Wright and TNT for this amazing opportunity."

L.A. Noir is the true story of a decades-long conflict between the Los Angeles Police Department, under the determined leadership of Police Chief William Parker, and ruthless criminal elements led by Mickey Cohen, a one-time boxer who rose to the top of L.A.'s criminal world. The series is a fast-paced crime drama set in Los Angeles during the 1940s and '50s. It's a world of glamorous movie stars, powerful studio heads, returning war heroes, a powerful and corrupt police force and an even more dangerous criminal network determined to make L.A. its West Coast base.

Darabont's extraordinary career includes three Oscar nominations – one for writing the sleeper hit The Shawshank Redemption and two for writing and producing The Green Mile. Darabont also has the distinction of being one of only six directors in the history of the Oscars to have his first two movies each receive Best Picture nominations. He recently earned his third Directors Guild of America Award nomination for directing the pilot of the series The Walking Dead, for which he also served as executive producer.

De Luca's extensive big-screen credits as executive producer include such high-profile films as Boogie Nights, Wag the Dog, Dark City, Pleasantville, American History X, Austin Powers: The Spy Who Shagged Me, Magnolia and Hedwig and the Angry Inch. As a producer, he earned an Oscar nomination for The Social Network and produced the acclaimed 2011 film Moneyball.

L.A. Noir is the latest project to join TNT's rapidly expanding development slate. The network recently ordered a pilot for Chelsea General (working title), a new medical drama series from award-winning producer David E. Kelley and practicing neurosurgeon and CNN chief medical correspondent Dr. Sanjay Gupta, M.D. The project is based on Gupta's upcoming novel Monday Mornings.

In September, TNT ordered a pilot for Scent of the Missing from CBS Television Studios. Based on Susannah Charleson's book about an adrenaline junkie who leads a canine search-and-rescue team, the pilot stars Tricia Helfer, Gerald McRaney, Eric Winter and Summer Glau. And in August, TNT ordered a pilot for Gateway from Warner Horizon Television. The Western saga involves three brothers who step in to save their town when their father, the town sheriff, is murdered. The brothers are pitted against a corrupt cattle baron who is determined to make the town his own. The cast includes Cam Gigandet, Keir O'Donnell, David Denman, Karen Allen, Ana De La Reguera, Keith Carradine, Donal Logue, Shanno Lucio, Eric Lang, Anthony Lapaglia and Bill Sadler.
Good luck to Frank and the rest of his team. I hope they have a better experience this time out. Can't wait to see how this one shapes up.
-Eric Vespe
"Quint"
quint@aintitcool.com
Follow Me On Twitter