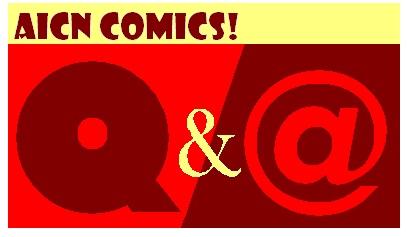 @@@ What the &#$% is AICN COMICS Q&@? @@@
---
Q's by Matt Adler!

@'s by SUPERGIRL Writers
Mike Johnson & Mike Green!!!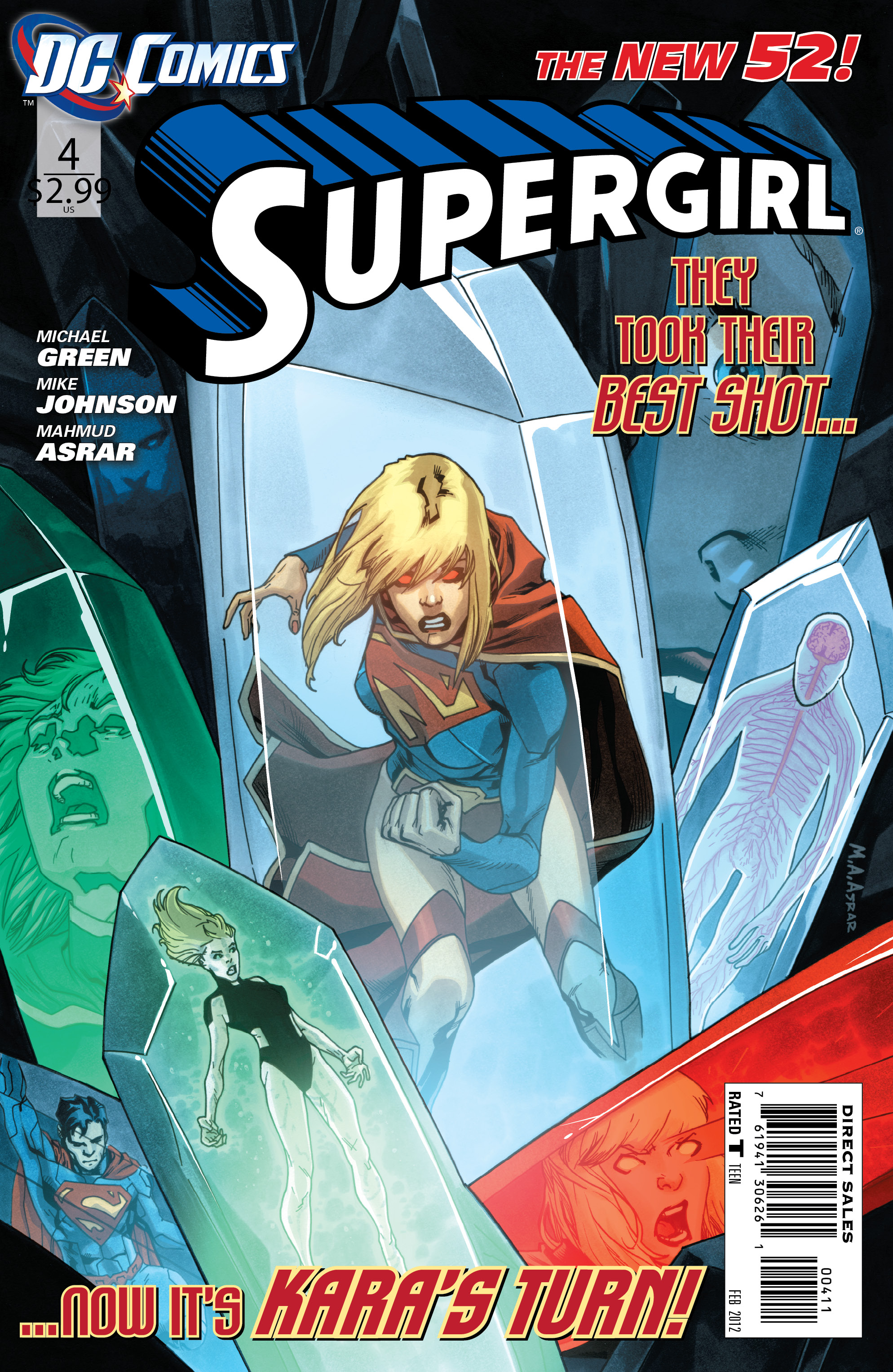 Hey folks, Matt Adler here. Comics fans know the writing team of Michael Green and Mike Johnson from their 2008-2009 run on SUPERMAN/BATMAN, and the wider world knows them from their work on such television shows as SMALLVILLE, HEROES, KINGS, and TRANSFORMERS: PRIME. As part of DC's New 52 relaunch, they've reunited to this time take on the Maid of Might, AKA Supergirl. The cousin of Superman escaped the destruction of their home planet of Krypton under very different circumstances, and the relaunch has given Green and Johnson the opportunity to tell Supergirl's story their way. I had the opportunity to speak with the duo recently, and they were ready to share with us their thoughts about working with such an iconic character and how it might be just a bit different this time around. Enjoy!
MATT ADLER (MA): How did you guys come to write this series?
MICHAEL GREEN (MG): We had a ball on our run on the SUPERMAN/BATMAN book...so when our editor on Supes/Bats, Eddie Berganza, invited us to pitch a take on SUPERGIRL...we jumped!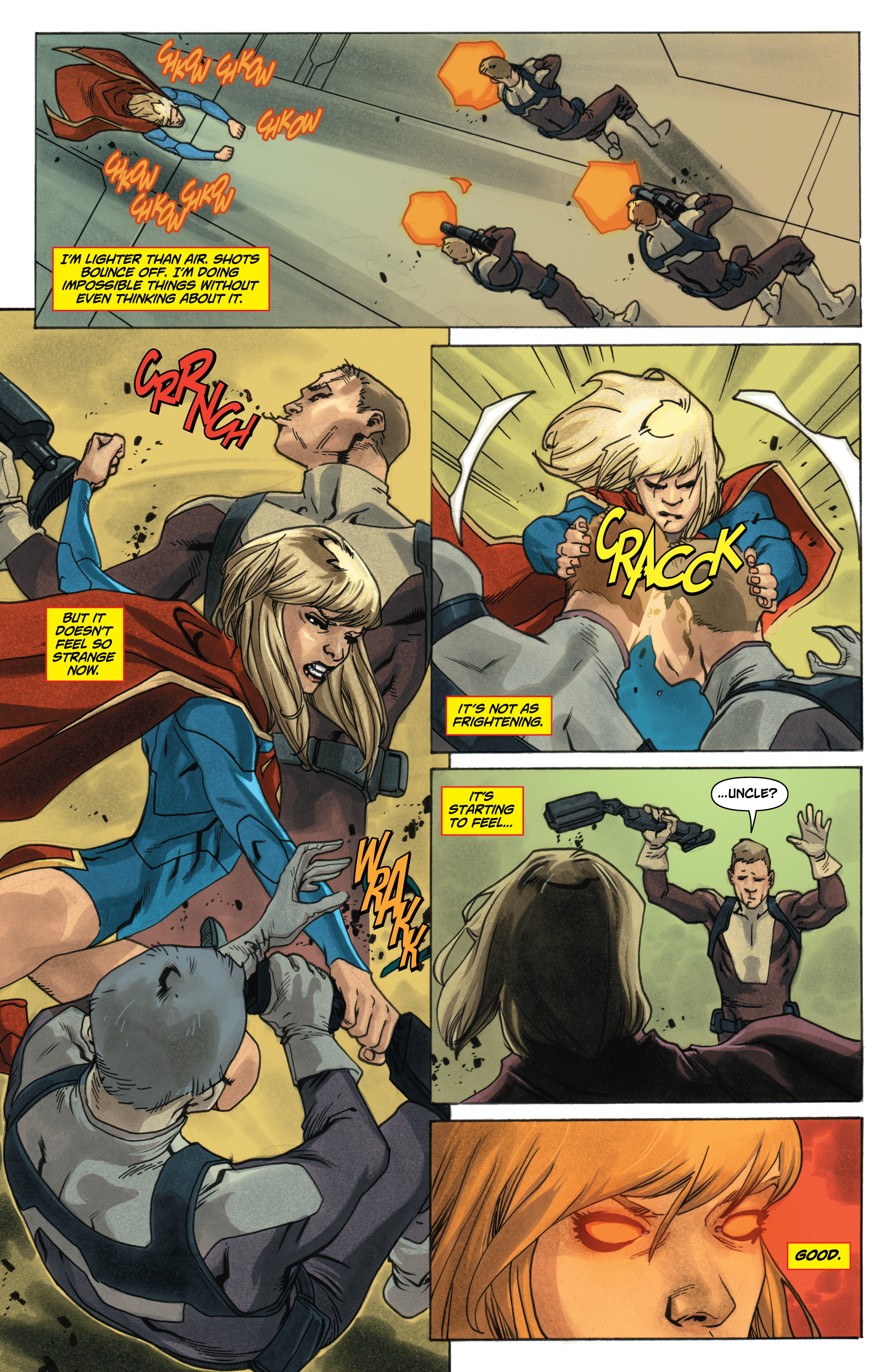 MIKE JOHNSON (MJ): We didn't know anything about the New 52 at that point. When they liked our pitch we got the full scoop and the anxiety dreams about screwing up the re-launch of a beloved character started.
MA: How long have you been interested in Supergirl? What about her appeals to you?
MJ: She first made an impact on both of us thanks to the cover to CRISIS ON INFINITE EARTHS #7. Luckily that wasn't her last story. She's a blast to write because she's got the power of Superman without having been raised by the best parents ever on a Kansas farm. Supergirl doesn't have Supes' attachment to Earth. Her home planet just blew up and now she's supposed to protect a planet full of people who seem more interested in slaughtering than saving each other.
MA: How does this version of Supergirl differ from her pre-New 52 incarnation?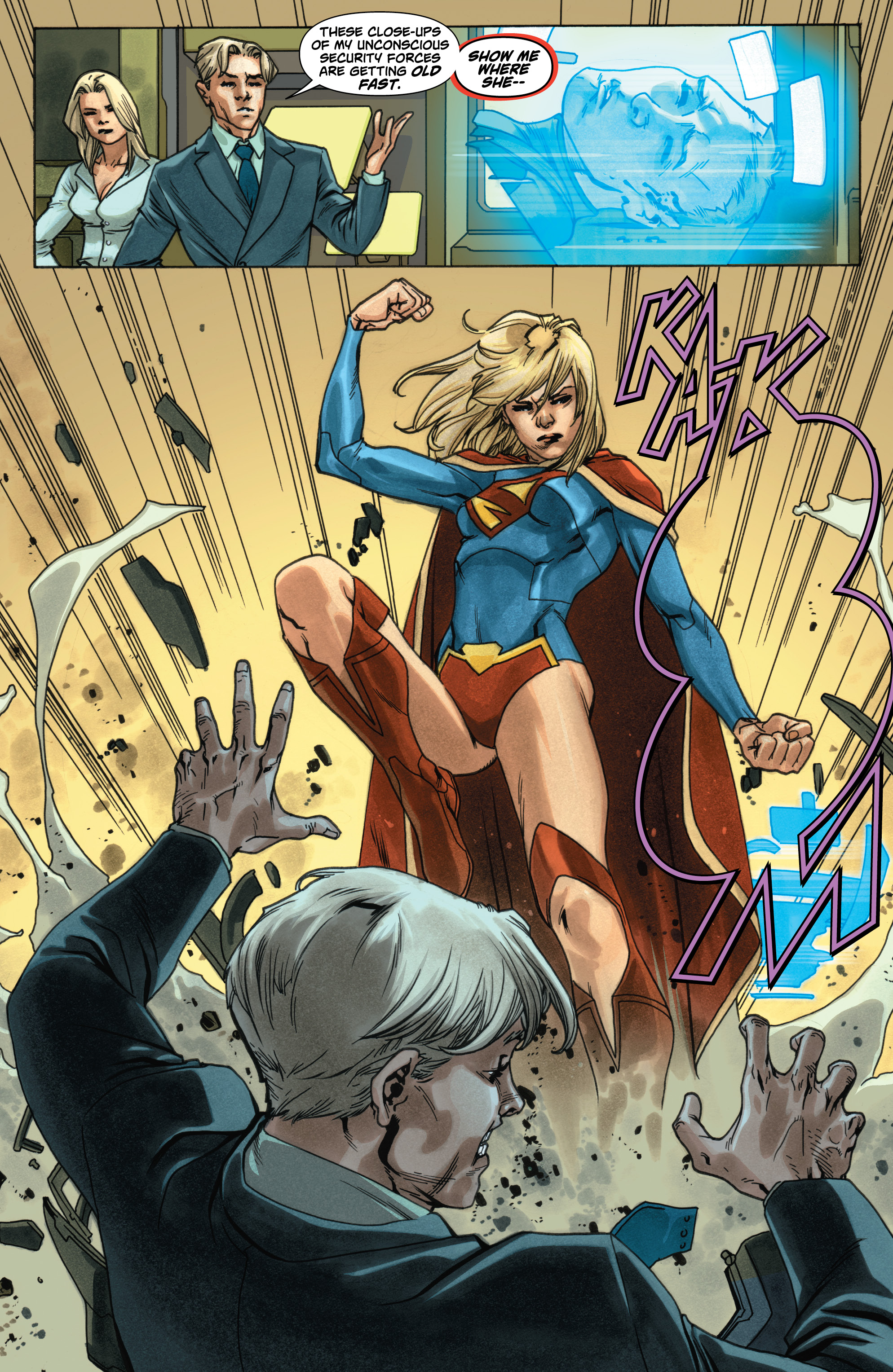 MJ: Since the series starts with her just arriving on Earth, she's not a superhero in the traditional sense yet. She's a smart, vulnerable, brave, kind, headstrong, terrified teenager who just discovered that she can juggle aircraft carriers. It would mess with anyone's head.
MG: We're playing up that while she could pass by you on the street and you wouldn't notice, she's truly is an alien from outer space that could throw you into the sun if she was in the mood. She's learning how to control her powers – she's learning she HAS powers, and that there is plenty of collateral damage when you use them, which makes for fun comics.
MA: Do you communicate with the other Superman family writers at all to coordinate?
MJ: We do, thanks to epic email chains and conference calls. We've got a great roster of talent on the Super-family of books, and our editor Wil Moss does a great job making sure our book stays in sync with what's going on in the others. She'll be guest-starring in SUPERMAN and SUPERBOY coming up.
MA: What do you think will appeal about this series to new and old readers, respectively?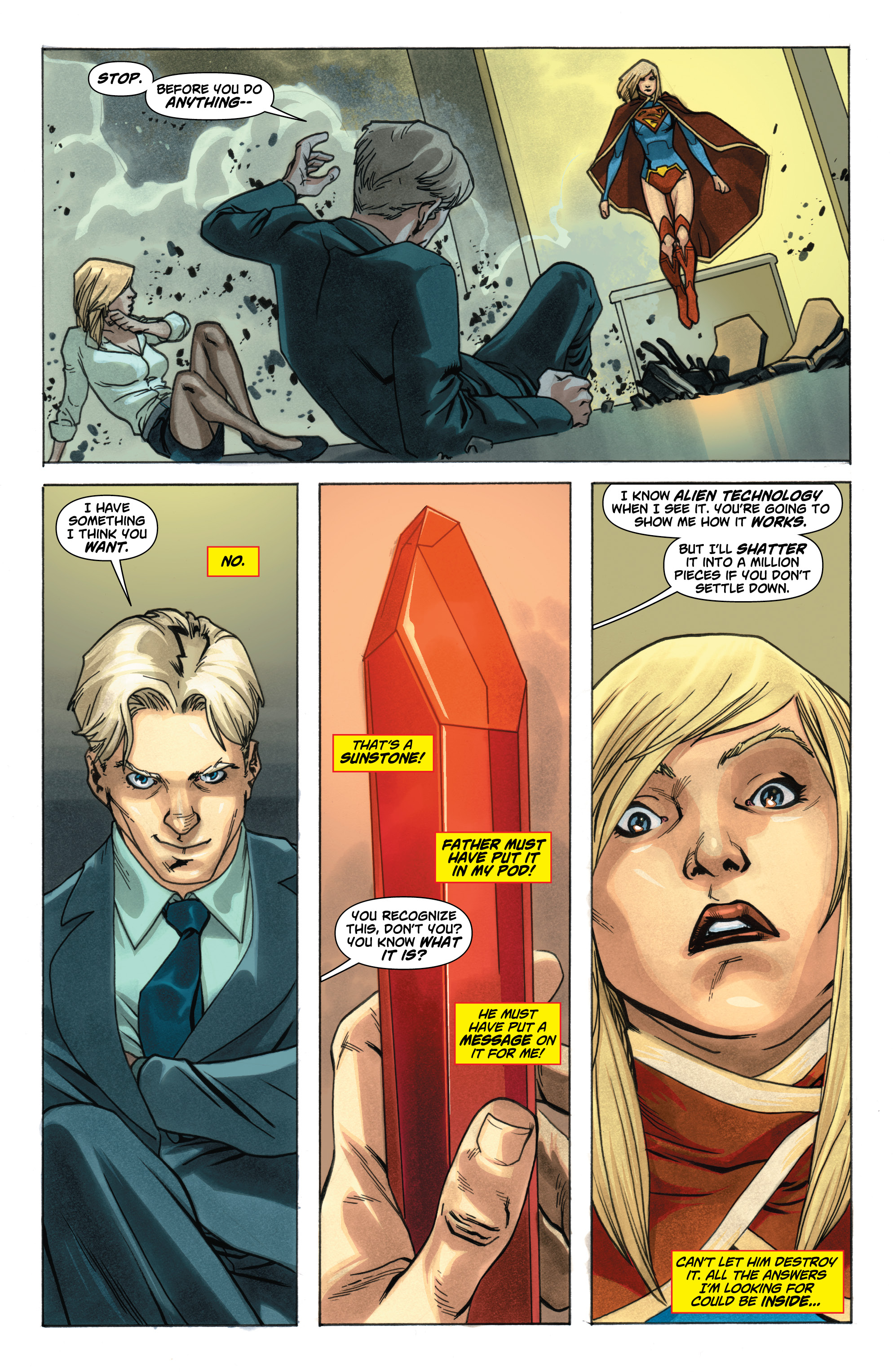 MG: She's as new to the New 52 as we all are. If you've never read her before, you don't need to know anything about her backstory to follow along. And if you've read every Supergirl story in every incarnation that comes before, we hope you'll enjoy seeing a new take that still honors what we all love about character.
MA: Your artist is Mahmud Asrar; what's it like working with him?
MG: He's our MVP. He's a gift. Most comic teams are arranged marriages, and we got the prettiest girl in town. Who happens to be a grown man in Ankara, Turkey. He's one of the rare ones who's as good at drawing giant mechs being shredded as he is at drawing the look on a girl's face when she's just been told that everyone she has ever loved is dead.
MJ: One of the best things about writing comics is that you regularly wake up in the morning to find beautiful original art in your inbox. We send Mahmud monosyllabic descriptions, he sends back Sistine Chapels. Best of all he's a great collaborator who makes it as fun as creating comics should be. And his English is better than our Turkish.
MA: Any teases about what's coming up in the book?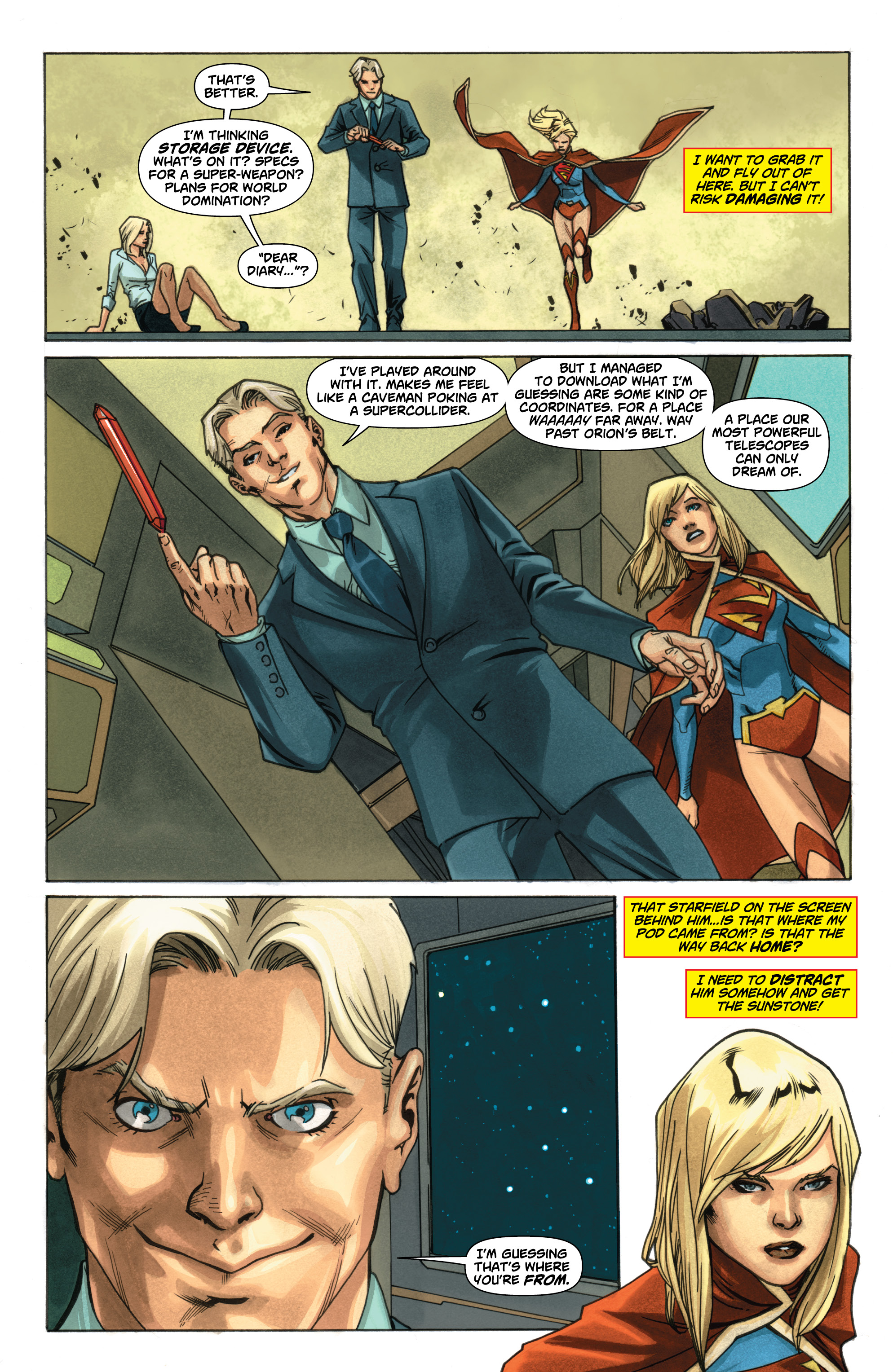 MG: At the end of issue #4, Kara makes a decision that leads her back to explore her home city of Argo in issue #5. We dig into the mystery of how Argo survived and drop hints about who sent her to Earth, which is part of her ongoing mystery. And we introduce a new villain with ties to Krypton. Issues #6 and #7 introduce the Worldkillers, who were first mentioned by Superman in ominous tones back in issue #2.
MJ: In issue #8, Mahmud gets a well-earned break to play with his brand-new baby boy. When we went looking for an artist who could pinch-hit in Mahmud's absence, we needed someone who could do justice to the look of the book Mahmud's created. So we found an up-and-coming artist named George Perez who will step in to draw #8. We've seen some of his samples. He's got a lot of promise. He drew something called CRISIS ON INFINITE EARTHS #7.
Issue #8 also introduces the first important member of Supergirl's new supporting cast, Siobhan Smythe, an Irish teenager who – like Kara – is a recent immigrant. She's the first real friend Kara makes. Which sucks, because Siobhan's alter ego is a big scary demon called Silver Banshee. Sterling Gates did a great job in the previous SUPERGIRL run establishing Banshee as an arch-foe for Kara. In our book we'll see Siobhan's first steps down a very dark road.
MA: Any other projects you're working on these days?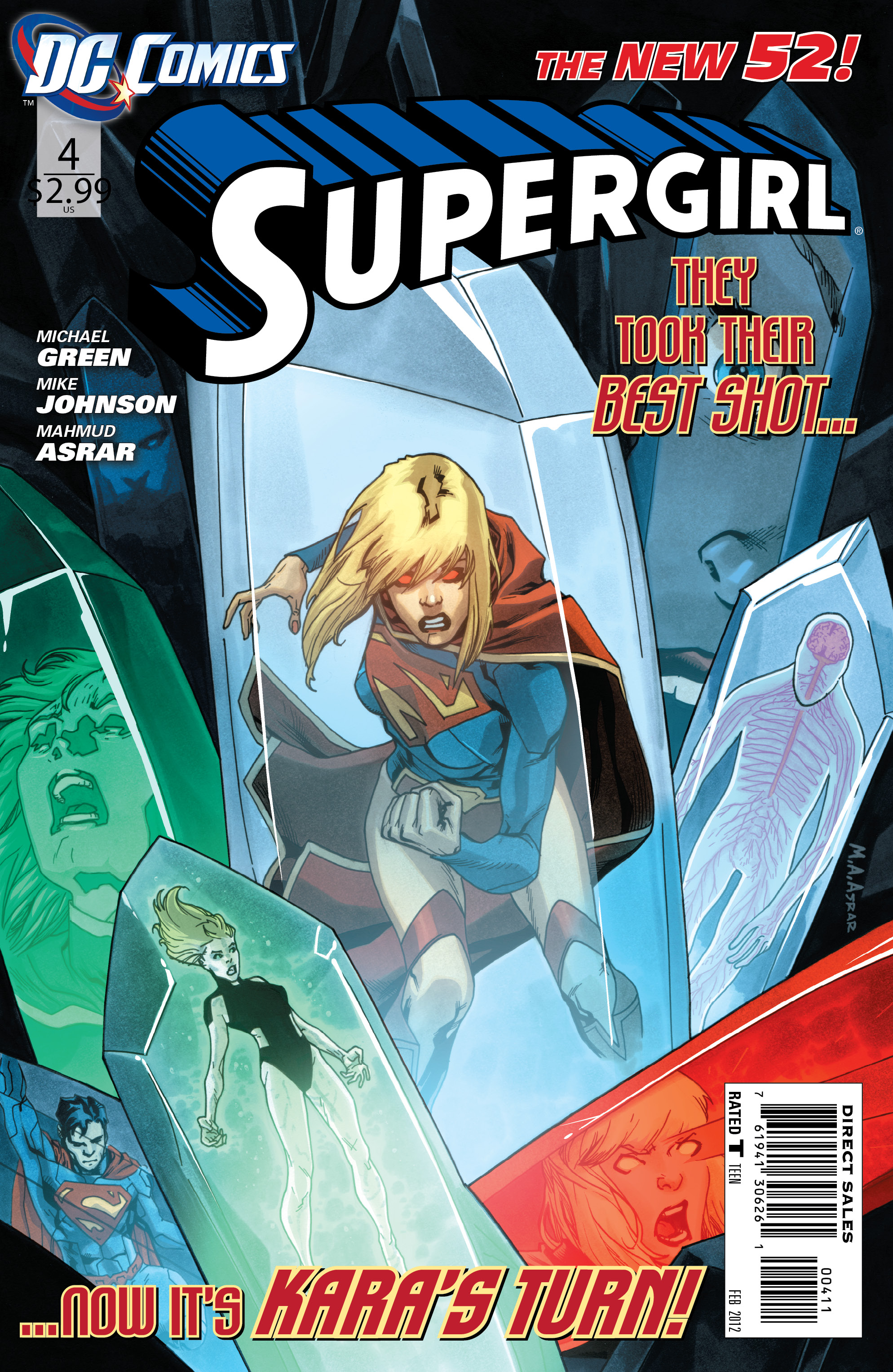 MJ: I'm writing an ongoing STAR TREK series for IDW Publishing set in the new timeline established by the 2009 movie. We're showing what happens between that movie and the upcoming sequel, and the comic will dovetail into the sequel story in the same way that the "Countdown" comic did in '09.
MG: I'm working on a new show for ABC called "The River". It premieres February 7. It's a big genre horror/thriller show – and it's been way more fun than working in TV should be. Please watch it so networks will support more risky fun genre shows instead of making you eat more cops and lawyers!
MA: Look for the latest issue of SUPERGIRL, #4 to be exact, available this Wednesday from DC Comics!
Matt Adler is a writer/journalist, currently writing for AICN among other outlets. He's been reading comics for 20 years, writing about them for 7, and spends way, way, too much time thinking about them, which means he really has no choice but to figure out how to make a living out of them. He welcomes all feedback.
---
Editing, compiling, imaging, coding, logos & cat-wrangling by Ambush Bug
Proofs, co-edits & common sense provided by Sleazy G
Check out AICN COMICS on Facebook and Comixpedia.org!