Ahoy, squirts! Quint here with today's Behind the Scenes Pic!
I must admit this photo threw me for a loop. I knew it featured matte artist Michael Pangrazio and was from a Star Wars film, but Pangrazio joined ILM for The Empire Strikes Back. I thought for sure that matte painting he's working on was from Star Wars, with the Falcon in the Death Star hanger bay.
Then I stopped being a dumbass and took a closer look. That's from Return of the Jedi and the Falcon is parked in a Rebel ship with the Imperial Shuttle being the one Han, Chewie, Luke and Leia use to get to Endor.
The art of painting on glass is something that humbles me. It truly does. I've had the pleasure of examining many matte paintings up close at ILM (including Endor, Die Hard 2 and Hook mattes) as well as a few others, including one from Wizard of Oz that literally took my breath away it was so detailed and beautiful.
Digital mattes are fine, I accept they are the evolution of technology, but I think there's a different kind of artistry that goes into the hand-painted mattes and one that I'm sad about going the way of the Dodo.
Here's the image of Mr. Michael Pangrazio making a real piece of art. That exists somewhere. Wonder who has it? Pangrazio? Lucas? A rich Star Wars collector? If you know, drop me a line. I'd love to know it's still safe and sound.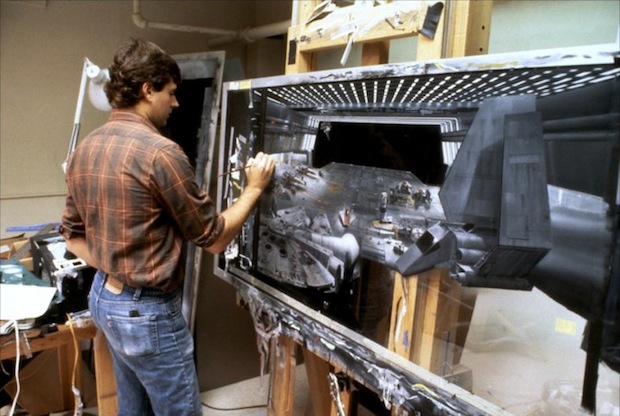 If you have a behind the scenes shot you'd like to submit to this column, you can email me at quint@aintitcool.com.
Tomorrow's behind the scenes pic features a towering achievement in model work!
-Eric Vespe
"Quint"
quint@aintitcool.com
Follow Me On Twitter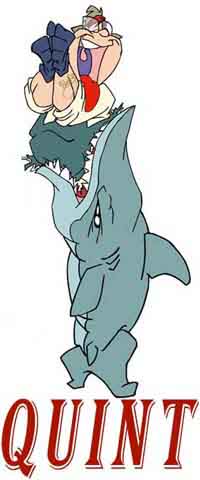 Click here to visit the complete compilation of previous Behind the Scenes images, Page One
Click here to visit the complete compilation of previous Behind the Scenes images, Page Two