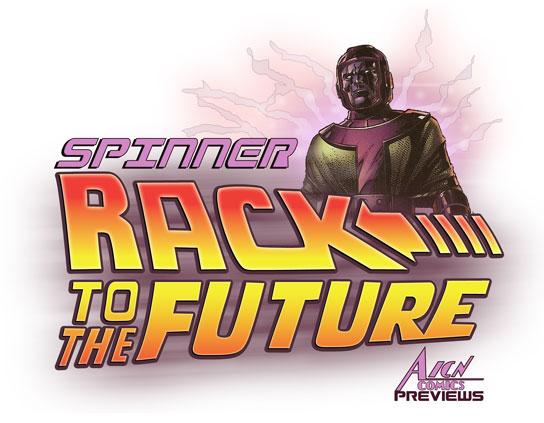 @@@@ What the #$%! is AICN COMICS: SPINNER RACK PREVIEWS? @@@@
AICN COMICS: SPINNER RACK PREVIEWS is our new weekly one-stop shop for previews of comics coming out in the upcoming week. Click on the pics below to gaze into the near future to read these extra special previews of comics varying from the heart of the mainstream to the tip of the edge of the fringe.
Be sure to look for more AICN COMICS as the rest of your favorite @$$Holes lend their opinions on their weekly pull every Wednesday with AICN COMICS REVIEWS and then more @$$y goodness can be found in our semi-regular interview column AICN COMICS: Q&@ now on Fridays!
Hey all, Ambush Bug here. Before we get it on with the previews, we have an extra special announcement to do first.
This year, MODESTY BLAISE creator Peter O'Donnell is celebrating his 90th birthday and Titan Books has set up a dedicated email address, where fans and well-wishers can send over greetings to the popular writer.
Be sure to send Peter well wishes and happy b-days!
And now, on with the previews!
---
Today on the Spinner Rack!
---
MADMAN ATOMIC COMICS, VOL. 3: ELECTRIC ALLEGORIES! TP Story & art: Michael Allred Publisher: Image Comics In stores this week!
---
HAWKS OF OURTREMER #1 Writer: Michael Alan Nelson Art: Karl Richardson Publisher: BOOM! Studios In stores in June!
---
FRAGGLE ROCK #1 Writers: Heather White, Jeffrey Brown and Katie Cook Artists: Jeff Stokely, Jeffrey Brown and Katie Cook Publisher: Archaia In stores now!
---
ORC STAIN #3 Story & art: James Stokoe Publisher: Image Comics In stores this week!
---
DARKWING DUCK #1 Writer: Ian Brill Art: James Silvani Publisher: BOOM! Studios In stores in June!
---
SHRAPNEL: HUBRIS #1 Writers: Nick Sagan & Clinnette Minnis Art: Concept Art House Publisher: Radical Comics In stores late May/early June!
---
SHADOWHAWK #1 Story: Dan Wickline Art & cover: Tone Rodriguez Publisher: Image Comics In stores this week!
---
OKKO: THE CYCLE OF AIR #1 Writer: Hub Artist: Hub Publisher: Archaia In stores now!
---
TWINKLING OF AN EYE OGN By Mark Brayer Publisher: Lightspeed Studios Available through Indie Planet very soon!
---
THE WALKING DEAD BOOK 5 HC Story: Robert Kirkman Art: Charlie Adlard & Cliff Rathburn Publisher: Image Comics In stores this week!
---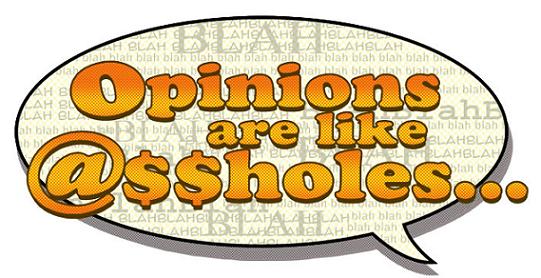 Ambush Bug talks about his upcoming comic
VINCENT PRICE PRESENTS #21 WITCHFINDER GENERAL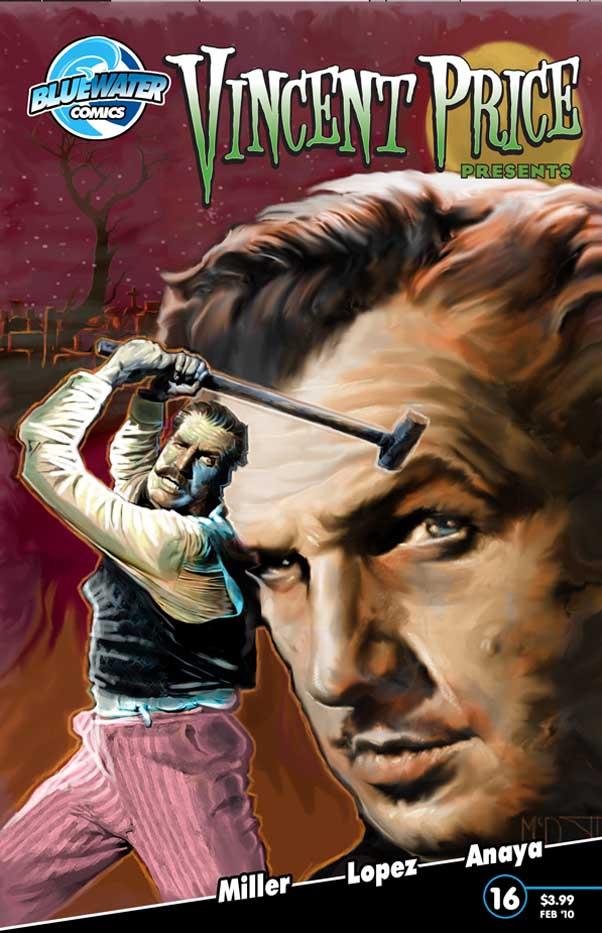 Ambush Bug back again. Sometimes things get fucked up.
About a year and a half ago, I had an opportunity to write a comic book script for a property I hold near and dear to my heart. I remember seeing WITCHFINDER GENERAL aka THE CONQUEROR WORM many years ago for the first time and it blew my socks off. It wasn't your typical Vincent Price scene-chewing performance with madcap science or hokey twists of terror or puffy sleeved shirts. I remember seeing Vincent Price's mesmerizing portrayal of real-life Witchfinder Matthew Hopkins and realizing that this was Price on his A-game. Filmed like a major motion picture, taking place in real old timey settings and lush English countrysides rather than the gloomy stages of most other films of its kind, the film also sported an extremely talented cast. But the real star of the film was the violence depicted in the story and how Price portrayed it in his role as Hopkins. Hopkins was said to be hired by the church to rid the countryside of witches. He would ride into town, attain payment from those in authority, and accuse, torture, and force confessions from anyone those who hired him pointed out as a witch. Price was fierce in the role, portraying a charlatan who had the world at his whim. Chock full of ego, with the strength of hearsay at his back, Price made Hopkins a classic cinema villain. It was one of his finest performances. Check out the somewhat dated but still cool trailer:






I had recently written VINCENT PRICE PRESENTS THE TINGLERS, a direct sequel to another Price classic, THE TINGLER, and was talking with Darren G. Davis of Bluewater Comics about doing something else for his line of Vincent Price comics. Darren mentioned that upon announcing that some of Price's classic films will be given new life in VINCENT PRICE PRESENTS, folks had been asking about WITCHFINDER GENERAL. Seems it wasn't just me who was taken with the film. Darren asked if I was interested in doing something with the story, and after giving it some thought, I said I'd give it a go.
Like many of you, I'm a fan. And when I read someone is doing "their version" of a classic story, I roll my eyes just like you. With the number of remakes being tossed out these days, it seems that you can't find an original concept to save your life these days. But I thought that this VINCENT PRICE PRESENTS comic gives us fans an opportunity to read elaborations, direct sequels to films with no barriers such as budget, a panel of studio execs, and actors who had long passed away to get in the way. Through comics, your favorite characters could live again and the stories could continue. Not a remake, not a reimagining but an elaboration on a story that came to an end long ago.
When approaching this project, I rewatched WITCHFINDER GENERAL and found the character of Matthew Hopkins to be full of potential. The events depicted in the film take place towards the end of Hopkins life. I found myself asking, what of Hopkins' early years? What would have to happen to make a man capable of doing these horrific acts of torture and bloodshed? Surely not one incident would be the cause of it all, but what was the straw that broke the camel's back and made Everyman Matthew Hopkins into Matthew Hopkins Witchfinder General?
That was the story that wasn't told in the film. And being a fan of the film, it was a story I wanted to hear. So after approaching Darren with an idea for a single issue prequel to the film and getting a go ahead, I set out to perform the ominous task of filling in the holes of the secret origin of Matthew Hopkins. VINCENT PRICE PRESENTS: WITCHFINDER GENERAL was to be released in March and those of you who've been around AICN Comics know that I did my fair share of pimping. But like many products of an independent nature, occasionally something happens and while I was promoting the book via interviews on Fanboy Radio and while pretty positive reviews were showing up at Cosmic Book News and Bloody Disgusting as well as a sweet write-up in the March issue of Rue Morgue Magazine, I soon found out that the book was to be delayed until July. Frustrating? Hellz yes. But it happens. And the wait was to be extended a bit longer before folks would be able to read my comic.
So here it is. The May Previews is out now and in it, you can order VINCENT PRICE PRESENTS #21 WITCHFINDER GENERAL ( order # MAY10 0828) from Bluewater Comics by me, Mark L. Miller. If you're a fan of the movie as I am, you should check it out because I wrote it with you in mind. If you haven't seen the film, do yourself a favor and seek it out, then order the book. I had a blast writing it and hopefully you'll enjoy it too when it hits the stands in July.
VINCENT PRICE PRESENTS #21 Writer: Mark L. Miller Art: Manoel Magalhães Publisher: Bluewater Comics In stores in July!!!!
---
Editing, compiling, imaging, coding, logos & cat-wrangling by Ambush Bug Proofs, co-edits & common sense provided by Sleazy G
---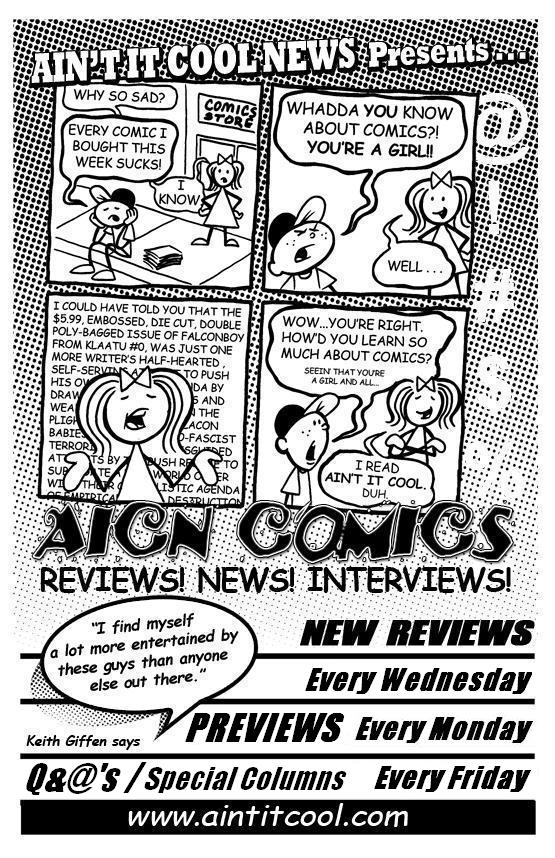 Ad by Prof. Challenger