@@@@ What the #$%! is AICN COMICS: Q&@? @@@@
AICN COMICS: Q&@ is our new semi-weekly interview column where some of your favorite @$$Holes interview comic bookdom's biggest, brightest, newest, and oldest stars. Enjoy this latest in-depth interview filled with @$$y goodness and be sure to look for more AICN COMICS as we gaze into the future of comics every week with AICN COMICS: SPINNER RACK PREVIEWS every Monday and then join the rest of your favorite @$$Holes for their opinions on the weekly pull every Wednesday with AICN COMICS REVIEWS!
---
Q's by Ambush Bug
@'s by C2E2 Vice President & Show Director Lance Fensterman!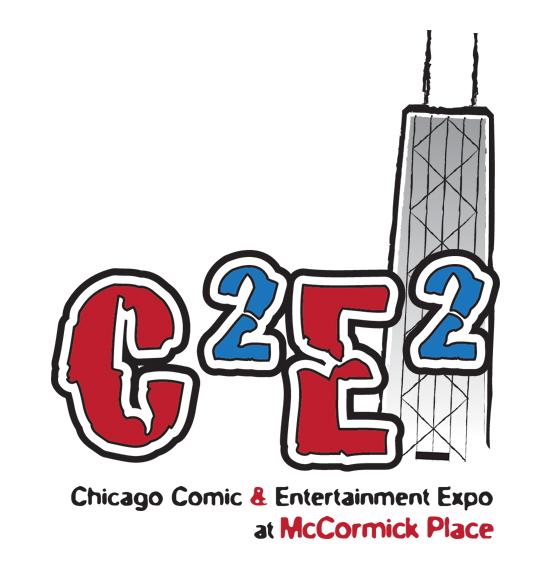 Hey folks, Ambush Bug here. Are you going to the First Annual Chicago Comics & Entertainment Expo AKA C2E2 this year? Well, I am! And so are fellow @$$Holes Professor Challenger and Sleazy G. Chicago is going to be the place to be for all forms of entertainment next weekend. In one week, the three of us will be snapping pics, talking with talent, and experiencing all things con related, so be prepared to hear a lot about this big, big event here on AICN Comics. But before all of that, I had a chance to talk with Lance Fansterman, Vice President and Show Director of the event. He's basically the guy who is running the show and he had a lot to say about why C2E2 is going to be for Chicago what SDCC is for San Diego. Enjoy the interview!
AMBUSH BUG (BUG): I've been hearing about C2E2 coming to Chicago for a while. Why did you choose this location for the new convention?
LANCE FENSTERMAN (LF):
Our customers asked us to bring a massive pop culture event to downtown Chicago, plain and simple. The big players in the space had been asking us for some time to launch a show in Chicago and we usually do what our customers tell us to!
BUG: You've run some very successful entertainment conventions in New York and other places. What did you learn from those shows and how are you going to apply that knowledge to Chicago's C2E2 con?
LF:
It's a simple formula really. If you listen to what the community tells you they want (and by community it's the exhibitors, the fans and the professionals that work in the biz) and then deliver it, you have a high chance for success. So we have done a ton of meet up's in Chicago for fans and professionals and spent a lot of time with our exhibiting customers and we've been working for a year now to deliver the show to them they want. We've found that when we put the fans first we tend to create pretty cool events that they will get excited about.
BUG: In recent years, a lot of the shows I've attended have been declining in quality both in star-quality attendees and major entertainment company-presence (comics and otherwise). For example, at last year's WizardWorld Chicago, Marvel, Image, DC, and Dark Horse all pulled out of that show. What are you doing to tempt the big guns to show up to this event?
LF:
Honestly, we've got most of them already. It's about giving them what they ask for, investing in the show, being responsive, being professional and listening. When you do those things, they tend to support you. So yeah, we've got all the big guys in the comic space at C2E2 and most of them in pretty massive booths.
BUG: Some attributed WWChicago's decline to poor scheduling what with Lollapalooza scheduled on the same weekend in Chicago and the proximity of this con to San Diego's just two weeks prior. With C2E2's appearance in the schedule earlier in the year, you seem to be combating this, but that means two cons in one year for Chicago. What steps are being made to prevent the dilution of the con market in Chicago?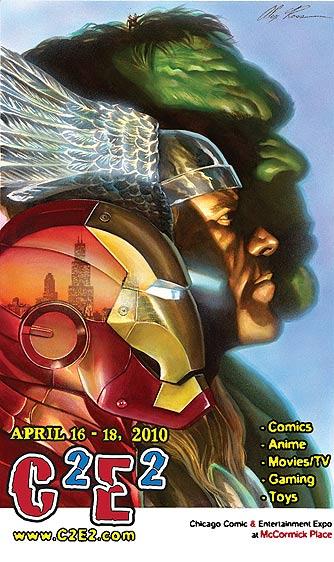 LF:
We listened to our customer on when they wanted a show like C2E2 in Chicago. We heard loud and clear they wanted 3 big events spread out across the country and across the calendar and we've tried to do our part to give them that. Chicago opens the year, our friends in San Diego are right in the middle of the year and New York Comic Con closes the year with our permanent October dates. This allows a time for these companies to refresh in between, reload, and then make more announcements. While it is premature to put C2E2 in the league of NYCC or certainly San Diego, we really feel this is what our customers asked of us we are confident they show will become.
BUG: With comic book movies and video games continuing to rise in popularity, what are you doing to make sure comics don't get lost in the shuffle at these huge entertainment conventions?
LF:
New York Comic Con is a great example of our strategy on this. We embrace the fact that we want our shows to include all aspects of pop culture from manga to video games to TV and film; however, comics are at the center of all of that, they are the foundation our shows are built on. Simply look at our Guests of Honor and you will always see the highest percentage, far and away are comic creators.
BUG: How is C2E2 different from all of the other cons out there?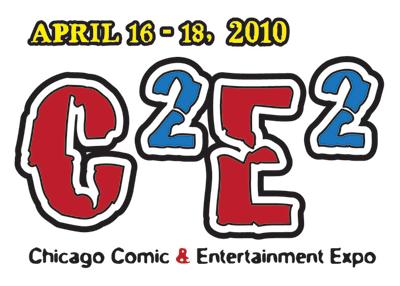 LF:
Size, scale, professionalism and a healthy dose of business. If you look at NYCC we really invested in that show to make it great and build it up and we are doing the same thing with C2E2. We've also put a lot of effort into helping to grow the business by including retailers, rights professionals, licensing agents, librarians, etc. We want our exhibiting customer to come and wow the fans, but also grow new business. I think that's a unique angle. For the fans, you know when you attend one of our shows, its going to be well run and massive.
BUG: I'm sure putting this whole thing together is a massive undertaking. How long have you been planning this event?
LF:
We've been talking about it forever, but believe it or not, we finally decided to do it just a few weeks before NYCC 2009 (which took place in February). We literally announced NYCC's new permanent October dates weeks before the show and at the same time rolled out C2E2. So it's been an insane 13 months!
BUG: Were there any specific challenges you faced putting this one together?
LF:
No different from any huge show, really. Each event of this scale has its unique challenges, but we are pretty good at plowing through them and creating something seamless for the fans. I think the biggest challenge is just being new. Most of our customers and fans get it, but ultimately this is a brand new event in a brand new market so some companies are taking a wait and see approach, but we'll win em over.
BUG: What's the biggest mistake you've made putting together one of these cons and how did you learn from it?
LF:
NYCC#1, without a doubt. We were totally unprepared for the crowds that descended upon us. We were hoping 10,000 or 15,000 people would come. When 30,000 showed up and the police shut the show down, we really knew we both blew it, but were on to something big. We did our very best to make it right to all the fans who had a bad experience by giving refunds, sending out gift bags, personal apologies and they rewarded us by giving us another shot the following year and when we doubled in size and were ready for it! My advice to the Chicago fans – don't walk up and by your ticket at the show, buy them in advance through our web site or any comic retailer in Chicago. We expect massive crowds just like NYCC#1 so do not wait til the show to get your ticket.
BUG: I know plans are still being made, but what kind of events can the fans expect to see at C2E2; film, comics or other wise? Do you have a list of talent you have lined up yet?
LF:
We have a huge list of talent on our web site
and we are adding to it almost daily. I can share that we'll be screening the first 2 episodes of Dr. Who. That should provide for a nice sneak peak, but there will be more to come!
BUG: What are you looking forward to the most at this year's con?
LF:
I don't want to play favorites, but I'm pretty excited that Chris Ware will be at the con. He does not do many shows and I am massive fan. But besides that, my favorite moment is when the doors open for the first time and the fans come streaming in. That is when you see the culmination of a lot of hard work and the fans excitement makes it very much worth the long days the entire team has put in.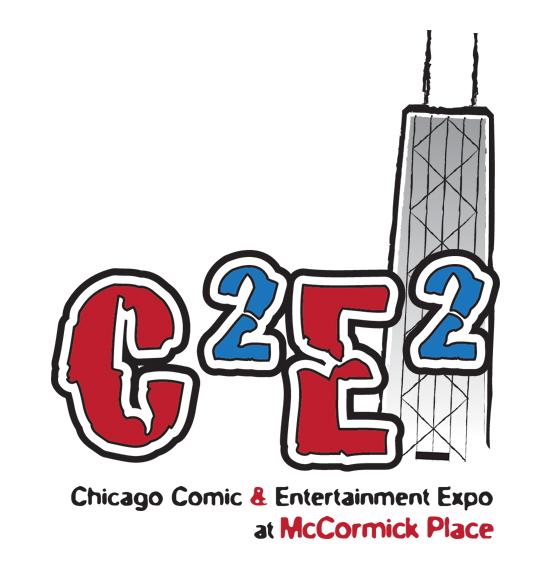 BUG: So is C2E2 going to make this a yearly thing; will you be back next year?
LF:
Oh for sure man! Are you kidding me? This will be a new Chicago institution!
BUG: Last chance, why should everyone make their way by plane, train, or spaceship as fast as they can to C2E2 this April 16th-18th?
LF:
Because they are going to see something that downtown Chicago has never seen – a massive pop culture extravaganza that will blow there minds!
BUG: Thanks so much for taking the time to answer these questions. So there you have it folks. Make your way to Chicago by Landspeeder, Batmobile, or Fantasticar to C2E2 next weekend at the McCormick Place in Chicago, Illinois. Whatever your ride, it looks like this con will blow the wheels off it. Find more information here about the con.
We'll be reminding you guys all next week about this event, but if you want Prof, Sleazy or myself to stop by your booth or check out what you have to offer at the con, send us an email and we'll try to stop by.
Ambush Bug is Mark L. Miller, reviewer and co-editor of AICN Comics for over eight years and one of the original @$$holes. Check out his comic book shorts from Cream City Comics' MUSCLES & FIGHTS VOL.3 and MUSCLES & FRIGHTS VOL.1 on his ComicSpace page. Bug was interviewed here and here at Cream City Comics and here and here about his comic from Bluewater Comics, VINCENT PRICE PRESENTS: THE TINGLER #1-2. Look for more comics from Bug in 2010, including ROGER CORMAN PRESENTS DEATHSPORT in July, and the just announced vampire miniseries NANNY & HANK in August (and check out Jazma Online's new interview with Bug about NANNY & HANK here). Bug's latest comic is VINCENT PRICE PRESENTS #16: WITCHFINDER GENERAL on sale July 2010. Fanboy Radio recently interviewed Bug about it here.
---
Editing, compiling, imaging, coding, logos & cat-wrangling by Ambush Bug Proofs, co-edits & common sense provided by Sleazy G
---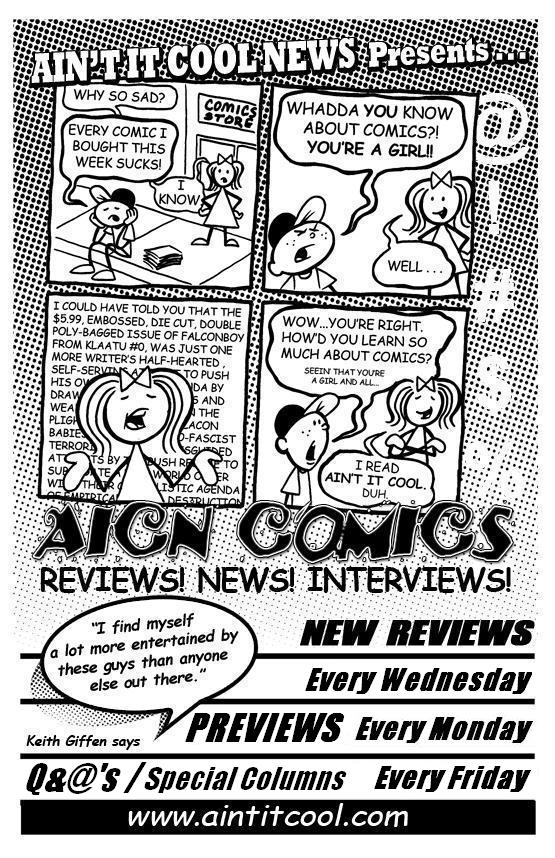 Ad by Prof. Challenger