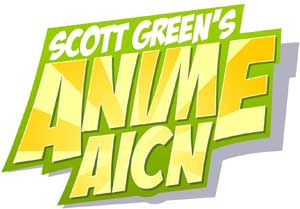 Logo handmade by
Bannister
Column by
Scott Green
A Survey of Print Resources II
re: AICN Anime - A Survey of Print Resources It's been over a year since this column first surveyed anime print resources. I'd have to call the span "tempestuous." To Steal a Headline from Geek Magazine - 2008 "The Worse Year Ever" If you follow anime, you're doubtlessly familiar with a narrative that relates; while North American interest in anime is as healthy as it's ever been, the commercial side of the equation has been suffering. Market and economic forces have hit packaged media hard, they've hit anime production hard, and they've pushed anime off many televised outlets. As a consequence, the number of advertising space buyers in anime print magazines has shrunk. Geneon USA has left the anime distribution/marketing business in favor of limiting the scope of their operations to licensing to other distributors. ADV Films is still in business, but since their break from Sojitz, many have envisioned buzzards circling the distributor. They've made statements to the effect that their 16 years of business will be followed by at least another sixteen, but they haven't sent out a press listing of releases since the Sojitz separation. (Did you know that one of their live action releases, "Attack Girls' Swim Team Versus the Undead," was out this week?) As such, ad purchasing does not look like its something on their horizon. It's impossible to imagine a scenario in which this shrinking of the distributor base would not put adverse pressure on printed anime magazines. However, the chatter about the field's major periodical cancellation points to other culprits. In November 2002, ADV Films began publishing an American version of the big, glossy, popular billboard of anime periodicals, NewType. In retrospect, I'm not too proud of the assessment, but at the time, I thought that NewType USA's direct channel to Japanese news and views would put all the other anime commentators/reporters out of business. It's NewType's approach to promoting anime rather than the magazine's ultimate cancellation that has lead me to think badly of my naive forecast. The magazine did have a respectable contingent of ace contributors (there's a Gundam joke in there, like the magazine's title, but I'm pointing that out, so it couldn't have been terribly good), but the impression suggested was often more visual than critical. While the connection to ADV Films lead to persistent accusations of a pro-ADV bias, which was brought to a head early with a Manga Entertainment representative denouncing a review of the Neon Genesis Evangelion movies, the voice of the writing was more pro-industry than pro-ADV. A sampling of reviews for the last print resources survey found that nearly every one was summarized as a recommendation. In February 2008, the last issue of NewType USA was released. Some reports suggest that the cancellation was due to Kadokawa Shoten pulling the NewType license, but these reports have also been vehemently refuted. (For example, this exchange between former NewType USA editor Chris Johnston and ADV stalwart David Williams here). ADV quickly replaced NewType USA with a general, enthusiast media magazine called PiQ. We will be launching a new magazine that will be on sale in mid-March. Titled PiQ, the magazine will cover anime, manga, video games and other aspects of pop culture of keen interests to you. All existing subscribers will have their remaining issues fulfilled at a two-to-one ratio, meaning you will get double the number of magazines delivered straight to your doorstep! We hope you stick with us and give the new magazine a shot. We're sure you'll love it! My personal view of PiQ is limited to the opinion that it was not promoted. I never went looking for it, and as such never held an issue. PiQ only lasted four issues before it too was cancelled. Subscribers, particularly those whose NewType USA subscriptions were rolled into PiQ subscriptions were left with unanswered questions concerning their outstanding balance with the publications. Though a number of prominent commentators have raised the issue Mecha Mecha Media Comics Worth Reading Manga Blog Level Orange ADV has not responded to questions on the subject from those sources or from Ain't It Cool News. Anime in North America is a very opaque industry. Apart from FUNimation, the companies are not public. While many have historically maintained an image of open communication with the fans, that candidness has rarely extended to a candid discussion of the business. As such, divining how much of NewType USA's cancellation could be attributed to macro business conditions, how much was due to the state of ADV and how much was due to ADV's relationships with other enterprises is left to speculation. Opinions can be formed about the ancillary occurrences, such as the handling of the subscriptions, but what NewType USA's woes indicate of the condition of anime magazines in North America is unreadable by outsiders. By all appearances, the surviving magazines are taking the steps necessary to weather the tempestuous market conditions. Otaku USA has recently informed subscribers that it will eliminate its packaged DVDs. Instead, subscribers will be able to watch content online by entering a printed code at www.webotakuusa.com Newsstand prices will be reduced from $9.99 to $5.99, and subscribers will have the remaining balance of issues on their subscription multiplied by 1.5. Protoculture Addicts is actively pursuing a plan to contend with the finance draining effects of newsstand returns and a reduced advertising base. According to publisher Christopher Macdonald, shipping issue 98 is unfeasible under the magazine's current distribution model. Instead, the magazine will take the step of removing itself from most newsstands. Macdonald believes that this will lower circulation figures without affecting the number of actual readers. As a smaller publisher, the unrecouped print costs of the returns from newstands were not mitigated by the added circulation. Macdonald adds "there are other changes that we plan on making in 2009 that I think will offset the newsstand reduction, and result in a higher number of readers in 09 than 08." What Magazines Offer... North American anime magazines are actively adapting to the changing market, but there are identifiable characteristics and commonalities in the general offering. Preview chapters of upcoming manga have become standard. All operate on the assumption that a fan of anime and manga is likely to be interested in ancillary topics, such as video games, figures/merchandise, Japanese pop music and pop film. They mix an examination of what is hot in North America, what is about to be released imminently, and what's noteworthy in Japan. We've lost some great online anime commentators over the years. EX, Anime Fringe and Anime Jump to name a few. However, I'd argue that online anime commentary has never been better. You can get your RSS feed reader up and get buried by good commentary. And, beyond the "good," you can find great commentary on nearly a daily basis. The online discourse on anime has developed to a point where it is no longer a categorical distinction. Any feature in an anime magazine has its like online. You can find people who approach the subject with a depth of knowledge, great writers, people who investigate, crunch numbers and perform interviews. Even in an ideal fiscal landscape, this begs the question "what do I get from a paid print magazine that I don't get cheaper and faster online?" Essentially, there are differences between online and print in quality and experience. With the highly limited number of outlets, anime print publication guarantees a certain baseline in writing. Online space is an infinite canvas. You can present as much as you want and see what sticks. Print is limited by the economics of finance, the economics of space on a page, and the strictures of professionalism. As such, print selects for more precise, less wasteful work. And, there's the matter of payment. Commerce is a great motivator and I'd speculate that there are people who can't afford to take the time to maintain or write for an online outlet who can put together something brilliant for a print magazine. Especially now that all the major anime publications are printed in full color, glossy, they're all graphically in a different sphere than the web. As great as hyperlinks and embedded media are, most web designers have long given up turning themselves inside out trying to accomplish the sort of layouts that can be accomplished with a bit of InDesign expertise. If you flip onto an arbitrary page with character descriptions, matched with design illustrations and screen captures, put on a background image from the subject anime, you're seeing something that is not going to appear online, especially not these days. And, while not every image is going to be captured in crystal beauty, it can far exceed that of online. The writing and the presentation point to the possibility that reading a print magazine can be a pleasure distinct from that of reading an online source. I can't recall who I'm paraphrasing, but someone was speaking about the migration of readers from print to digital. What they said is that digital reporting is attractive for its speed and agility. A news item or an opinion can be made available for the world to see in minutes. Referring to newspapers, this person made the point that print offers a sense of completeness. If you trust the source, you can sit down with a physical object, view it, and feel that you've gotten a handle on what's essential. Otherwise, you can find yourself infinitely cycling through RSS feeds trying to determine what you've missed. A subscription to any print magazine covered here costs as much as a couple of graphic novels or about half the cost of a new, current-gen video game. I'll stop before I start sounding like I'm collecting for a charity. As an online columnist, as someone with countless feed subscriptions in his Google Reader, as someone who wouldn't pay a nickel to see an earthquake, I'd say that you're missing out if you aren't reading any anime magazines. Before Proceeding... After writing this column for years, I have developed entrenched ideas about what is essential to know about many given works of anime and manga. I think that a discussion of Yotsuba is not complete without talking about its origins in Dengeki Daioh and how it was written to speak to a teenage male audience. I think that a column on Kurosagi Corpse Delivery Service should look at the significance of writer Eiji Otsuka. That's before I get into pet theories (xxxHoLiC visually emphasizes the ghostly qualities of its protagonists). Consequently, in detailing my thoughts on the currently available anime magazines, I had to rein in my inclination to nit pick their commentary (for the most part).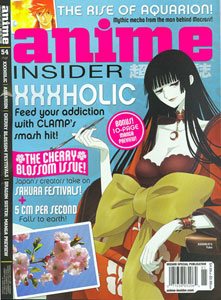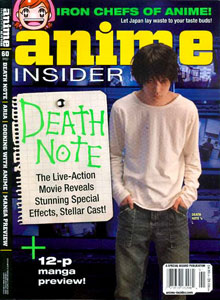 Anime Insider Subscription price $28.00 Issue Price $4.99 Issues Examined 54-59
Anime Insider is the anime magazine that is least tailored to my tastes. Yet, I've learned to appreciate what it does. I look at Anime Insider, and I look at what gets a reaction online, and I think AI really hit on something. It's all what you expect to see Digged. It's all very organized and quickly graspable. Whether it's a chart or a list of figures or a concept, it's all very eye to mind. You can access what to read and what to skip in an instant. Unlike other magazines, Anime Insider does not review anime. You can call a piece like "5 Reasons You'll Love 5 Centimeters Per Second" an endorsement, but it more often addresses anime with a positive tone than it explicitly recommends. It offers a lot of concocted forum thread style content, such as "Death of the Month," versus pair offs, fantasy movie casting and so on. However, this should not be confused with a narrow or ignorant view. Its writers clearly do know the subject. They offer commentary that is as informed and illuminating as any. A piece like "Returning Champions" addresses new incarnations of five classic franchises with insight into both the new and historic versions of titles like Hakaba Kitaro, Yatterman and Space Adventurer Cobra. Side bars on subjects like the "real robot" works of Ryosuke Takahashi (VOTOMS, Flag, Gasaraki) point to the fact that Anime Insider is not simply chasing what's hot. A characteristic of Anime Insider that I've never cared for is the word balloon humor that it adds to a selection of images throughout. For example, recent anime It girl Haruhi Suzumiya is holding up her palm in one of her hand gestures while the quote reads "five fingers - it's my discount!" Or, in "Hair Apparent - The 7 Wildest 'Dos in Anime," Solty of Solty Rei is thinking "This feature is a real sausage party... except for that lady on the last page." It's the at a glance approach again. The comments are speaking as if the images were stripped of any significance beyond their context within the magazine, as if looking at the depicted characters on the page of Anime Insider was the first time you saw them. You see Kimba/Leo next to Coco /Pauley Cracker and it's a lion next to a parrot rather than Kimba next to Pauley. While I am a fan of the absurd and the irreverent, the notion of applying jokes in this manner grates on my info junkie hang-ups. Yet, I'm not quite sure if Anime Insider has begun using these balloons more sparingly, I've become inured to them, or if they're better than they used to be, but in going through a stack of issues to prepare for this piece, for the first time, they didn't really bother me. I don't think I'm going to keep a stack of Anime Insider in a box next to my complete set of Pulp. I don't think I'll be referring back to it too often either. However, it is a great anime magazine to leave laying around for the odd flip-through. With the right mix punchiness and informed perspective, it's a worth while complement to my coffee table.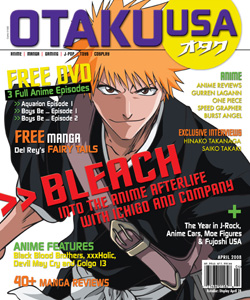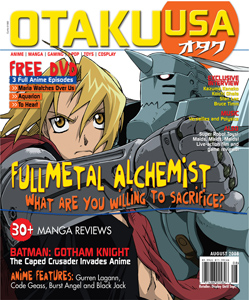 Otaku USA Subscription Price One year (6 issues ) $19.95 Issue Price $5.99 Issues examined Issue 4 (February 2008) - Issue 9 (December 2008)
(Information on recent changes to the price can be found here) Of the three magazines covered here, Otaku USA has the loosest, writer driven style. To my mind, it's a sort of Legion of Superfans. While I'm terrible with matching names to faces, I do have some memory for bylines. Patrick Macias (Pulp, Japanese Schoolgirl Inferno), Matt Alt (Yokai Attack!), Brian Ashcraft (Kotaku), Ed Chavez (MangaCast), Tim Eldred (Grease Monkey, definitive work on Star Blazers), Erin Finnegan (Ninja Consultants), Clarissa Graffeo (Anime World Order), Steve Harrison (online commentary), Dave Riley (Fast Karate for the Gentleman). Daryl Surat (Anime World Order), Jason Thompson (Manga: The Complete Guide), Mike Toole (Anime Jump). Before reading Otaku USA, these were people that I knew of, whose talent I was jealous of. There are other crowns in the elite of anime knowledge. There are the academics. There are the forerunners (Frederik Schodt, Fred Patten). There are the captains of industry. In terms of enthusiast expertise and repartee, I'd label this crowd royalty. There are plenty of contributors to other anime magazines for whom I have no shortage of respect or admiration. However, if I listed anime/manga commentators that I read enthusiastically, that I'd pay money to read, I'd find that a considerable subset of that list was writing for Otaku USA. My favorite example of what Otaku USA can offer is Mike Toole's review of Bleach Movie I: Memories of Nobody. Anyone who's half smart can think of something reasonably interesting to say about a distinctive movie like the Girl Who Leapt Through Time. Here, Toole is addressing an iterative product of a popular franchise. In identifying the movie's hooks (such as the one time inclusion of a popular voice actress), the appeal of the franchise, specific failings of the movie, and what could be worth while to a viewer, Toole smoothly deconstructs the subject. It's crisp, fun to read, and even if you know your stuff, it still offers a few points to consider. Otaku USA approaches pop Japanese media with irreverence, but also appreciation. There is an implicit recognition that not everything is a gem, but even incredulously considering something like Mahou Sensei Negima! Spring and Summer Special, there are still interesting ideas, or at least topics of conversation, to be gleamed from the inspection. All of the anime magazines addressed here are evidently put together by anime fans. At least at the implementation level, I don't get the sense that they are cynically engineered products. As such, none are simply chasing the latest hot property, and I don't want to say that Otaku USA is strictly distinguished by its willingness to give its contributors the space to express an idea or introduce an overlooked treasure. Yet, its willingness to run with a thesis or area of interest is impressive and ultimately rewarding. The Fullmetal Alchemist cover story is as much a discussion of how the once boys-only shonen platform has evolved as it is a tribute to the lucrative franchise. That same issue features pieces on recent masked bug-men motorcyclists live action Kamen Rider THE NEXT, "true niche game" Umihara Kawase Portable and an interview with mecha designer Hiroaki Tanaka. Talk of these people and works aren't exactly ubiquitous on or offline, but Otaku USA speaks to them so enthusiastically that you'll wonder why they aren't. In quantity and in bluntness, Otaku USA is absolutely not metered in its opinions. For example, when a look at the new anime airing on Japanese TV arrives at Blade of the Immortal, Daryl Surat has no reservations in introducing his dissatisfaction with the anime series' production house Bee Train. "If there is a studio with a worse track record than Gonzo for action, then Bee Train is it having helmed such lackluster and sanitized titles as Noir and all those .hack shows." Conversely, Otaku USA is able to use it's spirited expertise to sell you on its recommendations. Personally, I know the anime, but I keep a check list application on hand when it talks live action, because I'm invariably going to have to add a few of the films or TV series that it has addressed. I've never been sure of what the average reader of Otaku USA gleams from its references and sense of humor. A guy I know often repeats the anecdote that while Netflix is fairly proud of its movie recommendation algorithm; the system regularly fails on Napoleon Dynamite. It simply can't forecast who'll love it and who'll hate it. As a one time employee of a Clerks style video store, I feel that my clerk-sense can reasonably zero in on who'll like what. However, I have no clue whether a reader picking up Otaku USA will be amused, turned off, or bewildered by the references in Otaku USA. From Bruce Lee to Star Wars to 8bit Nintendo, there is a certain accepted vocabulary of references that most geeks, especially geeks with an appreciation of Japanese pop media will understand. A reference to the Simpson's episode where a fight between the mafia and the yakuza breaks out in the family's front lawn is a basic phrase in nerd Esperanto. Otaku USA makes a colonizing raid on that discussion and brings in its own smattered language. There's a manga subsection called "Fujoshi USA". While I think that "fujoshi" is becoming better known, I also think that this is the only magazine that would include it in the name of a regular feature. It's one thing to write a GoLion piece with the assumption that the reader has seen Voltron. The narrative is enough that one can use assumptions to fill gaps in familiarity. But quick jabs comparing contributors to Wesley Willis, checking Garo (a tokusatsu show that never officially made it to North America) in a Super Robot Red Baron piece, parallels between bawdy delayed adulthood wanderlust comedy Golden Boy and Iron Circle, these aren't employing established building blocks of anime talk. I'm going to chicken out and say that I can only speak for myself in this regard, but a reference to "Kill 'em All" Tomino's boasts for Brainpowerd in the wake of Neon Genesis Evangelion or a phrase like "moe/fujoshi parademons" is always good for a jolt of mirth. Often, these seem there to amuse the writer and or other people in the know, but I wouldn't exactly call them "in jokes." My admiration for this humor stems from the same reason that I'm not fond of the world balloon humor in Anime Insider. As an info pack rat, Otaku USA's style of discourse speaks to me.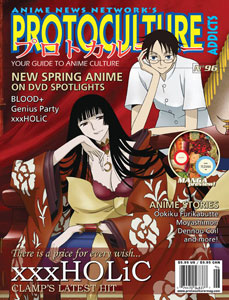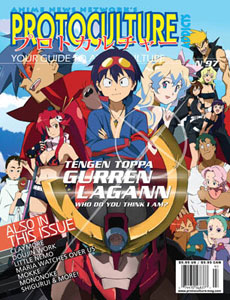 Protoculture Addicts Subscription Price $30.00 (six issues) Issue Price (post 88) $5.95 Issues examined 94 - 97 eBook version available here
Having marked its 20th anniversary with issue 94, Protoculture Addicts has the benefit of seniority in the field of North American anime and manga publications. "Benefit," because contributors like Claude J. Pelletier and Miyako Matsuda are eminent veterans in the field. They set a tone for the magazine that is smart, informed and even keeled. In eloquently describing a concept like Dennou Coil's mix of old fashion nostalgia and ghost stories with modern concern and information technology, Protoculture Addicts speaks with its own unique voice. It's neither excitable nor jaded. At the same time, Protoculture Addicts' approach to covering anime has never become hidebound. The magazine joined with the largest English language anime site, Anime News Network as of issue 82 in 2005. It's gone full color/glossy. And, its content is constantly evolving. As much as I value Protoculture Addicts, my impression of the magazine is that it needs to move further distinguish itself from the internet. This isn't because of it's association with Anime News Network. It's because the return on investment (time reading, money spent) versus online content has been muddied. A key feature of Protoculture Addicts has been its examinations of anime series. Typically, these run three pages, focus on anime that has not been released in North America and comprise the middle of the magazine. What I've historically appreciated about Protoculture Addicts has been how these pieces introduced me to new anime. Often written by Pelletier and Matsuda, these articles encapsulate the essential qualities of the subject anime with a thoroughness that had lead me to keep issues of the magazine on my shelf as a reference. In terms of writing and graphic material, you don't find their like on the 'net. Yet, if I'm reading about fantasy action Claymore, I don't want to read as much plot description as I end up reading in PA. Especially in light of the direction of many anime bloggers, my patience for these pieces has shortened. Where I used to read every word, my eyes quickly start scanning for where the magazine asserts its own perspective and range of knowledge. Of the magazines, Protoculture Addicts makes the most notable attempt to follow the North American anime industry. After opening editorials, issues start with a few pages dedicated to a record of significant events. For example, issue 97 speaks to the push into digitally distributed media (at the time, Slam Dunk and Fist of the North Star's introduction to Direct2Drive), the end of Inuyasha, Bandai Visual being merged into Bandai Entertainment, the end of PiQ and the Islamic condemnation of Jojo's Bizarre Adventure. In a similar time sensitive sense, the magazine features forward looking summaries, including a page of "New Anime in Production," and a schedule of upcoming, North American anime/manga releases. No one does a better job of covering anime in North America than Anime News Network. Protoculture Addicts fits that news into its essential context, and, when the subject warrants, these pieces can be quite thorough. Last year's changes at Geneon received a full page with explanations of the finances of Geneon and parent company Densu. With this background included, these snap shots are worthwhile, even when revisited at a later date. The covered information often has long running significance, and the writing speaks to events in a way that describes that relevance long after the information has aged from "news" to "history." Yet, I have not noticed news coverage in Protoculture Addicts that features original reporting, not offered on Anime News Network. There are many questions that a fan might have regarding the mechanics and particulars of changes in the anime industry. While it is evident that Protoculture Addicts asks the relevant questions to the relevant people, the role of the magazine in this regard seems to be collating and contextualizing rather than investigating. Given the nature of the industry, ascertaining the hard details is frequently an unrewarding mission. In at least cataloging the issues, Protoculture Addicts is providing a valuable service not found in other magazines. I'm not convinced that it's a realistic expectation, but, reading the news, I've often found myself questioning "couldn't they cast their net wider and find someone else who would comment on record?" (answer: probably not) That said, an example of Protoculture Addicts' unique niche in the field is issue 96's feature "How Not To Run An Anime Convention?" After a "brief history of anime conventions," the piece offers four case studies of anime event disasters. Each contains a time line of how the problem arose, as well as a diagnosis of the cause and effect. Following the investigation, there are quotes from the attached parties, and advice from people in the know. Other features in the examined issues included in-depth looks at major anime titles, including Gurren Lagann, Appleseed Ex Machina and Blood+ These pieces explain the stories depicted in the anime, as well as the background behind their creation in a deeper regard than the three page inspections referred to above. The 20th anniversary issue offered a history of the anime that gave Protoculture Addicts its name, Robotech (protoculture is a sci-fi concept for Robotech, referring to a pre-human extraterrestrial civilization). Protoculture Addicts expresses a sense of craft and care. Going back to the notion of print ecomony, you can pick up the effort expended in packing the images and information while ensuring that its pages are not distractingly crowded. To its credit, Protoculture Addicts maintains this as it flexibly moves, or even improvises, from one feature to the next. An issue might have an investigation like the anime convention piece or it might present an argument like Brian Hanson's Drawing a Preference: An Essay on Anime versus Manga. While there are some tonal variations (Hanson's piece on Genius Party is slightly fierier than I generally think of PA ), the features also have the marks of PA's "smart, informed and even keeled" mindset. If anime is here to stay in North America, it needs the sort of coverage that Protoculture Culture Addicts provides. In how it introduces anime, in how it approaches it critically and how it reports on the industry, it offers a needed clarity to the discourse. A feature like the history of Robotech are as definitive as you're going to get in a magazine, but many pieces of reporting or criticism feel like the beginning of a conversation. A great thing that could happen for anime in North America would be if PA could continue to pursue the avenues that it is developing.
Mind Game Gets English Release (in Australia)
Kaiju Shakedown includes the important notice that Mind Game is out on DVD Australia's Madman Entertainment will be releasing a 2 DVD set of Studio 4C's gem Mind Game, marking the first time the movie has been released in English region (the Japanese DVD featured English subtitles) Begin again in a wild and bizarre ride! Nishi has been in love with Myon since he was 9 years old. They both had feelings for each other, but due to Nishi's cowardice their relationship never became more than friendship. Now, in the present, Nishi is 20 years old and aims to be a great manga artist; but he still loves Myon. After years of being apart they meet again, but she tells him that she's thinking of marrying her boyfriend. Nishi is still a coward so he accepts it and wishes her luck. While they're talking at her older sister's restaurant a pair of yakuza walk in looking for their father. One of the yakuza starts harassing Myon and out of anger Nishi chooses to finally take a stand -- but he is shot and dies. Now, in limbo, he chooses to live again; but will he really live any differently than before?

DVD Special Features Animatic Storyboard Special Interview Final Sequence Director Commentary Events and Talks CG Works Production Art Gallery Mindgame Theme Live Performance Mindgame Music Video
Digital Distribution
Anime News Network has begun ad supported streaming of full length anime through its Video Player portal starting with Kite Liberator Created by anime powerhouse Yasuomi Umetsu, Kite Liberator follows the life of teenager assassin Monaka, who's a clumsy and shy girl by day and a mysterious, stealth-like killer by night. When her father, an astronaut on the International Space Station is the victim of a bizarre form of radiation poisoning, he becomes a hideous monster with lethal destructive powers. Filled with edge-of-your-seat action and tongue-in-cheek parody of established anime tropes, Kite Liberator was released on DVD in Japan and North America in March of 2008. Kite Liberator will be available for free, with limited commercial interruption starting December 9, 2008 in both English dubbed and Japanese-with-subtitles formats. "We're extremely excited to launch our new licensed anime content with Kite Liberator," said Anime News Network Editor-In-Chief Chris Macdonald. "As one of the top anime titles of 2008, Kite Liberator is a show that our viewers will be excited to check out. There will be many other shows to come." Kite Liberator is the first of three anime titles Anime News Network has licensed for online distribution from DVD distributor and producer Media Blasters. The other two include the twelve-part TV series "Girls High" and "Ramen Fighter Miki." Both of those series will be made available in weekly installments beginning on December 15th. Both shows will be in Japanese with English subtitles. Subscribers to Anime News Network's premium subscription platform get access to even higher quality video, approaching that of DVD. The site also features over 400 anime trailers.

*

AnimeNews.biz reports Crunchyroll's deal with TV Tokyo will offer a stream to paying members at least 4 of its shows, Naruto Shippuden, Shugo Chara!, Gintama, and Skip Beat!, only 1 hour after airing in Japan, has announced a special preorder price for membership. Streams will be available in 720p and 480p "super quality" with no advertisements for paying members. Currently the membership price is being set at $6.95, $19.95, and $59.95 for 1,3, and 12 months respectively. This is a special pre-order discount from the usual price of $12.95, $38.95, and $155.95. Only standard resolution streams will be available for free 1 week after the initial airing.

*

UDON Entertainment has partnered with digital distribution site Crunchyroll to launch online editions of UDON's full color Street Fighter comics, the manga adaptations of Street Fighter Alpha and Onimusha, and the original manga series 1520. The digital comics will be packaged in the weekly digest UDON COMBO. Street Fighter, Street Fighter Alpha and Onimusha are based on the Udon comics.

1520 A royal maid named Ana, and a young prince, Zelos, have been accidentally bound together by a magical curse. The two 15-year-olds are now each only 10 years of age! They both retain the ability to transform back to their original age, but at the cost of knocking the other down to a mere 5 years old! Now the age-shifting pair must search for a way to break the curse, while also trying to save their two kingdoms from disaster.

*

GDH K.K. has announced that it opened an official channel NiGONZO Dog within Nico Nico Douga , a website operated by niwango inc., which is a subsidiary of Dwango Co., Ltd. . Nico Nico Douga is a video community website with a unique feature that allows users to overlay their comments directly onto video as they "lounge about" the video. Since its launch in December 2006, Nico Nico Douga has grown to become a highly popular website with over 10 million registered users (as of November 2008). GDH has launched the NiGONZO Doga channel on this popular website to provide promotional footage of titles produced by GDH's subsidiaries GONZO and GONZO Rosso. Various exclusive events are also planned to be held for fans on the site. From the launch of NiGONZO Doga, anime trailers of The Tower of DRUAGA -the Aegis of URUK-, Linebarrels of Iron, BLASSREITER, Hennako-chan, and online game trailers of PANDORA SAGA, The Tower of DRUAGA -the Recovery of BABYLIM-, and Master of Epic -The ResonanceAge Universe- will be made available. More content will be added later, and GDH will look into further marketing possibilities such as fee-based distribution of anime episodes through this channel.

*

There is some indication that FUNimation distributed comedy School Rumble was on, then off iTunes.

*

Publisher's weekly looks at uclick's comic for iPhone/ipod touch business. Comic Book Resources on the Iverse Comics Reader IDW (publishers of Kazuo Umezu's Reptilia, and the upcoming Astro Boy movie adaptation) will be releasing Star Wars comics on the Apple app store
New and Upcoming in Japan
Previews Armored Trooper Votoms: Pailsen File Basquash - based on a concept from Oban Star-Racers' Thomas Romai, animated by Satelight (Hellsing Ultimate, Macross F)

Egg Man Elite Yankee Saburo Isekai no Seikishi Monogatari Kurokami The Animation (the manga version of which is released as "Black God" by Yen Press) Maria-sama ga Miteru 4th Season Rideback Sengoku Basara The Tower of Druaga: the Aegis of Uruk Takashi Miike's Yatterman Anime Active Anime reports Blu-ray Box sets for Mushishi and Kurozuka announced. Both titles schedule for release in 2009 in Japan. According to Canned Dogs, Card Captor Sakura's Clow card arc will be released on a Blu-ray set for 81,900 yen on 27th March 2009 and the Sakura card arc will be released for 49,350 yen on 26th June 2009 According to Anime Nation, the two OVA episodes of Shirow Miwa's action manga will be released on May 19, 2009, packaged with limited edition copies of the DOGS/Bullets & Carnage volume 4 manga and on July 17, 2009, packaged with limited edition copies of the expanded re-release of the 2001 DOGS Stray dog howling in the dark manga. Via Anime Vice The 17th theatrical Crayon Shinchan movie, Eiga Crayon Shin-chan Otakebe! Kasukabe Yasei Oukoku ("Movie Shin-chan Otakebe: Kasukabe Wild Kingdom") will debut in Japanese theatres on April 18th.

A "doujin" anime based on the doujin shooting game Touhou is progressing with the casting Reimu: Mai Nakahara Marisa: Miyuki Sawashiro Shameimaru: Ayumi Fujimura Patchouli: Mikako Takahashi Sakuya: Rie Tanaka Remilia: Ayumi Tsuji Suika: Aki Toyosaki Narrator: Kikuko Inoue The buzz in Japan is that financially strapped studio Gonzo may begin producing eroge anime. Via Anime News Network The Eureka Seven will be called Kokyo Shihen Eureka Seven: Pocket ga Niji de Ippai (literally, Psalms of Planets or Symphonic Poem Eureka Seven: Pocket Full of Rainbows) and open in Tokyo's Theatre Shinjuku, Osaka's Theatre Umeda, and other locations during Golden Week, the string of holidays that stretches from the end of April through the first week of May.

CLAMP's Kobato (serialized in North America in NewType USA) will be adapted into an anime series. Madhouse title will be directed by Mitsuyuki Masuhara (Chi's Sweet Home, Chobits episode director) from scripts by CLAMP's Nanase Ohkawa. kakifly's four panel manga concerning a high school light music club, K-ON! will be adapted into an anime series. San-X's Mamegoma seal mascot will be adapted into its own anime. Sakuran Boy DT ("cherry boy"), following a local costumed hero, is being called "Japan's first" Flash-animated television series. Nitroplus and writer Gen Urobuchi (Blassreiter) are adapting their Phantom of Inferno visual novel (narrative PC game) into an anime series. Director Koichi Mashimo (.Hack franchise, Blade of the Immortal, Noir) and series script supervisor Yousuke Kuroda (Demonbane, Gungrave, Mobile Suit Gundam 00) will be helming this Phantom ?Requiem for the Phantom?. software as a television anime series. Phantom ?Requiem for the Phantom? will feature the director Koichi Mashimo (.Hack franchise, Blade of the Immortal, Noir) and series script supervisor Yousuke Kuroda (Demonbane, Gungrave, Mobile Suit Gundam 00). The original game was previously adapted in 2004 as a three-volume video anime series, Phantom - The Animation. The first anime version of Rumiko Takashi's relationship comedy Urusei Yatsura in 17 years will premiere at the exhibition on December 23 in Sendai, Japan. The anime will be exclusively shown at this traveling display of Takahashi's artwork. Fumi Hirano will reprise the role of green haired oni alien Lum. A sequel to Nodame Cantabile: Paris, the latest anime adaptation of the manga that concerns the relationship between students of classical music, is sheduled for fall 2009. Two live action films continuing the 2006 television drama and this years special are now scheduled for 2010. Juri Ueno (live-action Young Kindaichi Case Files, Kodomo no Kodomo, Warau Michael) and Hiroshi Tamaki (MW's Michio Yuki, GTO drama guest star) will reprise their respective roles as leads Nodame and Chiaki. The first film will open in January 2010, while the second film will open later in the spring of 2010. Manga via Anime News Network Ichijinsha's Monthly Comic Rex magazine will reportedly announce that Eri Takenashi's supernatural romantic comedy Kannagi manga has been placed on hiatus due to the creator's "poor health." Anime News Network's forum threads reflects some of the controversy behind Kannagi. Manga creator Kazuya Minekura (Saiyuki, Bus Gamer) reported on his blog on Wednesday that fellow creator Eri Takenashi "cannot move her body." Hakusensha's Young Animal Magazine announced that Kentarou Miura's Berserk manga is going on hiatus with the next issue. Miura had only just restarted the manga in October after a four-month break. There have been joking references to Miura playing too much iDOLM@STER The manga creator Koge Donbo* (Digi Charat) announced that she will launch the new manga Dokidoki! Tama-tan manga in the March issue of Kodansha's Nakayoshi shojo magazine.
Cool Figures News
Organic Hobby, Inc will be releasing Gang King – King of Swanky "Jimmy" in February.'09 with a SRP of $52.00.

"Jimmy" the main character and the "King of Swanky Boys" is based on the well known Japanese "Bad Boy" manga series, "Gang King." This highly detailed figure is a state of art with its very vibrant tattoos and elaborate urban-like jewerly. "Jimmy" is a 9" tall PVC figure fully painted and comes in a window box. [Limited to 200 pcs]. Organic Hobby, Inc will be releasing High School of the Dead "Rei Miyamoto" in February.'09 with a SRP of $126.00.

"Rei Miyamoto" is one of the characters based on the manga series "Highschool of the Dead," written by Daisuke Sato and illustrated by Shouji Sato. It has been published in Fujimi Shobo's Monthly Dragon Age since September 2006. The series follows a group of Japanese high school students caught in the middle of a zombie apocalypse. "High School of the Dead - Rei Miyamoto" is a 8" tall highly detailed PVC figure fully painted and comes in a window box. This figure will be [Limited to 500 pcs] for the North American market.

*

Super 7 will be presenting the 5" Pink Death Zombeard at their store Saturday, December 13th, 11am Pacific at the Super7 Store and online.

*

From Dark Horse DOMO FUN TIME MAGNET SET

On sale Mar 18 20-piece set, packaged on a backing board $19.99 DOMO-MAGNET-SET-MOCKUP-BACK.jpg"> DOMO COLOR-CHANGING MUG

On sale Mar 18 11 oz. mug, packaged in a full-color box $14.99

*

McFarlane Toys has confirmed that they've had to lay off staff

*

Astro Boy from Tezuka productions

A 12" Soul Calibur Taki figure that is a bit too anatomical Revoltech Raoh Revoltech Haruhi Suzumiya Haruhi at Happy Soda
The Business
Mecha Mecha Media starts a conversation about Otaku USA dropping its packaged DVD and price. Of note is the comment "I feel like those DVDs are basically the reader paying for "next-gen" advertising. I can't imagine this move will not increase their subscribers." Manga Widget tries to look at the bright side of manga Nikkei Business on anime producers reaching out to international audiences through vehicles like Crunchyroll Cartoon Network's direction is evidently paying dividends for the network. According to according to preliminary Nielsen ratings, year-over-year for November, prime time delivery showed the largest increases, rising 14% among kids 2-11, 15% among kids 6-11 and 5% among tweens 9-14. Total day delivery also grew compared to the same 2007 time period, up 6% with kids 2-11, 12% with kids 6-11 and 4% with tweens 9-14. From the announcement Standouts among Cartoon Network prime time programming included the Thursday night comedy franchise Har Har Tharsdays (7-10 p.m.), which aired for the first four of the five-week November rating period. Across November '08 compared to November '07, the block earned 46% delivery growth among kids 2-11, 68% growth among kids 6-11 and 91% growth among tweens 9-14. The original animated series Chowder (8 p.m.) posted strong double and triple-digit growth over the prior year, charting 73% growth among kids 2-11, 104% growth among kids 6-11 and 143% growth among tweens 9-14. The anchor of the comedy franchise, Total Drama Island (9 p.m.) scored the largest growth overall, posting 101% gains among kids 2-11, 128% gains among kids 6-11 and 168% gains among tweens 9-14. On Friday night, exclusive action-driven programming from 8-11 p.m. propelled more modest growth among kids 2-11, 6-11 and 9-14. Soaring into the stratosphere, however, was the remarkable performance of Star Wars: The Clone Wars (9 p.m.), which earned double and triple-digit growth among its target audience. Compared to the same Nov. '07 time period, kids 2-11 delivery increased by 63%, kids 6-11 by 80% and tweens 9-14 by 101%. Similarly, the Cartoon Network original series Ben 10: Alien Force (9:30 p.m.) also provided significant ammunition to Friday night, earning 36% delivery increases among kids 2-11, 46% increases among kids 6-11 and 48% increases among tweens 9-14. AnimeNation's News Blog on How Can America's Big Three Save the Anime Industry? (FUNimation, Viz, Bandai Entertainment) AnimeOnDVD Forums notes that Tokyopop is will be raising the price of their manga from $9.99 to $10.99 Comics Worth Reading accuses Tokyopop of bribing readers to influence award voting Pricing tickets for DreamWorks' movies in 3D
Anime x Games
The Escapist reports that the bonus content in Capcom's Street Fighter IV Collector's Edition (listed for 2/17/2009, $79.99 ) will feature "exclusive downloadable content," figurines of Ryu and Crimson Viper, a box designed to look like "Chinese downtown" stage, a bonus disc containing a feature-length Street Fighter anime movie and a collection of trailers, and a comic book / strategy guide.

*

Anime style, online collectable card game Alteil is offering a 4 piece 5X7 postcard set with Original Alteil artwork to raise money for Penny Arcade's Child's Play Charity drive. The money is collected year round and goes to benefit Children's hospitals all over the world. These 4 postcards will feature newly commissioned art for the event, depicting winter images of Falkow's Djinn, Gowen's Magic Sword Duel Wielder, Lawtia's Annarose and Refess's Lion Baron Zagar.

*

ICV2 reports that the National Championship for the Pokemon CCG, peviously conjunction with GAMA's Origins Game Fair, will become a stand-alone even in St. Louis the weekend of June 26th to 28th Submatomic Brainfreeze has posted impressions of Blazblue, the new fighter from the makers of anime-esque fighting game Guilty Gear

goanimate.com has licensed Street Fighter for its custom animation creation site.
Cultural Notes
Japanese news sources, such as Daily Yomiuri are identifying 21 year old murder suspect Ryo Katsuki as a fan of 'manga, anime and movies, as well as "dark" suspense novels'. Katsuki has been arrested in collection to the September murder of Yukimaro Narita, 5, in Togane, Chiba Prefecture. Via Yomiuri Since the girl's body was found, he has been interviewed frequently by media organizations as a resident of the neighborhood. During the interviews he told the media that he wears wooden clogs in imitation of the protagonist of the popular anime "Gegege no Kitaro," in which a ghostly boy named Kitaro stars. He also told investigators that he likes scary stories such as the suspense novels of Edogawa Rampo and goes to a nearby library every day. ... He told investigators that he does not remember the details of the incident well. He also reportedly told the police that he likes the "Precure" anime series and has related posters.

*

Sankaku Complex notes that Amazon.co.jp has decided to cease selling adult manga featuring underage participants and other controversial subjects. Related product listing keywords will also be removed.

*

An Australian man is in hot water over what could be called Simpsons doujinshi

*

Via Anime Vice Japanese Agency for Cultural Affairs' Media Arts Festival Kunio Katou's Tsumiki no Ie won the top prize in the anime category, while Masaaki Yuasa's Kaiba won excellence award. 2008 Seiyuu Award Nominees

*

Via Anime News Network A Russian censorship committee is investigating objectionable material in GTO - Great Teacher Onizuka, an anime about a former delinquent turned high school teacher. Crayon Shinchan has been banned from Indian TV as a bad influence on children. The show case similarly been a target of Japanese PTA groups, some which have so as far as to label the show as the cause for a generation of rude children.

*

Hello Kitty is being used the ease the stress of child birth in Taiwan CNN asks Are fangirls the next 'it' demographic? Roland Kelts (Japanamerica) talks to David Hajdu (Ten Cent Plague) Hajdu: Yeah, I think it's fascinating to think what would have happened if the censorship clamp hadn't happened here in the United States, and I think that some of the answers follow in the Japanese model where there was no clamp–down and comics grew up a lot sooner. They acquired this sophistication and complexity that was appropriate for adults a lot sooner in Japan. I think the development of American comics was arrested by the censorship clamp–down. It was a slowdown on one hand, and on the other hand, there was a kind of glamorization of the pre-code comics that took place because they became contraband. They had this patina of forbidden fruit. I can't think of a better phrase than the cliché of forbidden fruit, but then they kind of elevated the imagination and the status of their fans, and they kind of enhanced their reputations. A generation of artists grew up in the early '60s and came to their maturity in the early '70s who had carried with them this romantic conception of what pre-code comics were. I'm talking about R. Crumb and all the other underground comics that did fulfill the promise of the pre-code comics. There's no question that what they were doing had direct links to the sensibility of the pre-code artists.

*

New York Magazine has named their favorite graphic novels of the year, including Disappearance Diary by Hideo Azuma, Travel by Yuichi Yokoyama

NPR's top graphic novels included Yoshihiro Tatsumi's Good-bye
Upcoming North American Releases
Afro Samurai II "The RZA", will release their second album, Afro Samurai: The Resurrection, on January 27th, 2009. Afro Samurai: Resurrection will be released on DVD and Blu-ray by FUNimation on Feb 3, 2009 The soundtrack features unlikely collaborations and guest spots from legendary recording artists such as Sly Stone, members of the Wu-Tang Clan, Kool G Rap, Rah Digga, and a whole cast of RZA's protégé's, including the late Ol' Dirty Bastard's son – Boy Jones.

For those interesing, RZA will be on tour with the Wu Tang Clan 12.14.2008 CHICAGO, IL HOUSE OF BLUES - 12.15.2008 MINNEAPOLIS, MN FIRST AVENUE 12.17.2008 CLEVELAND, OH HOUSE OF BLUES 12.18.2008 ROCHESTER, NY MAIN STREET ARMORY 12.19.2008 PHILADELPHIA, PA THE TROCADERO THEATRE 12.20.2008 NEW HAVEN, CT TOAD'S PLACE 12.21.2008 SAYREVILLE, NJ STARLAND BALLROOM 12.23.2008 NEW YORK, NY HAMMERSTEIN BALLROOM 12.27.2008 LANCASTER, PA CHAMELEON 12.31.2008 BALTIMORE, MD SONAR 01.01.2009 WASHINGTON, DC 9:30 CLUB 01.02.2009 PROVIDENCE, RI LUPO'S HEARTBREAK HOTEL 01.04.2009 SOUTH BURLINGTON, VT HIGHER GROUND 01.07.2009 NORFOLK, VA THE NORVA 01.08.2009 RICHMOND, VA TOAD'S PLACE RICHMOND 01.09.2009 GREENSBORO, NC THE N CLUB AND RED ROOM 01.10.2009 CHARLESTON, SC THE MUSIC FARM 01.11.2009 CHARLOTTE, NC AMOS' SOUTHEND 01.12.2009 RALEIGH, NC LINCOLN THEATRE 01.13.2009 COLUMBIA, SC LEVEL Bandai via Anime on DVD Bandai Entertainment 2-03-2009 Clamp School Detectives Complete Collection - 650 mins - $49.98 Ghost Slayers Ayashi Part 1 (also w/Limited Edition) - $39.98/64.9 02-24-2009 Code Geass Lelouch of Rebellion Part 3 (also w/Limited Edition) - 200 mins - $39.98/64.98 Gundam Seed Destiny Part 2 (Anime Legends Edition) - 600 mins - $49.98 Mobile Suit Gundam F 91 Anime Movie Classics Edition - $19.98 Mobile Suit Gundam The 08th MS Team Anime Legends Edition - 355 mins - $34.98 Wolf's Rain Anime Legends Perfect Collection - 775 mins - $49.98 From Honneamise 02-24-2009 Akira (Blu-ray) $49.98

Follow aicnanime