Hey folks, Harry here... You know... this whole internet fame thing... sometimes - it leads to nights where ... well, here. My spy on FANBOYS - I'll call him Lord Whorfin. Anyway... Emilio, as he likes to be called, sent me... Well... hang on. Flashback. A week ago I got word that Kevin Smith had to opt out due to an emergency on CLERKS 2 that has forced him to basically do some completely unnecessary work which had to be done before CLERKS 2 premieres at CANNES this year. Then last Friday, I got this letter from Kevin Smith:
Hey,

Very bummed I didn't get to play you earlier this week, sir. Scheduling snafu prevented it. Was looking forward to playing you as a hard-ass, "I'm Harry Knowles, Bitch!" type. Darn.

Kevin
That was like iodine on the wound. A Kevin Smith doing Harry Knowles like Lee Marvin with an attitude would have killed me in the theaters. So here I was not knowing who was playing me. Knowing it was being shot or had been shot using someone that wasn't Hurley from LOST or Kevin Smith from... you know. I was worried. Will it be funny? Would they lampoon me properly. What the fuck would I look like?
Ok - flash to around 2:49am. I'm sitting here. It's pitch black in my apartment. A single candle burning - I'd just watched Ryan Schifrin's ABOMINABLE (about a psychotic Yeti killing people), which was scary, freaky and a damn helluvalot of fucking fun. I'd been thinking how the Yeti looked sort of like a pretty version of me, and that FANBOYS should have just used Ryan's Sasquatch as me. When all of a sudden... Lord Whorfin sends me an email with some pics snagged from the set of FANBOYS.
Suddenly my two meaty paws slammed over my mouth to contain the laughter. With my sweetie asleep, I shouldn't wake her. But I couldn't stop laughing. I mean laughing so hard tears began rolling down my face. You see... they didn't just cast someone as me, they didn't just put him in hair and make-up. It isn't that they just gave me a badass 1954 DelRay in badass black as the AICN Cool Car. It isn't just that they put me in fucking shades and shaved around 7000lbs off me. Albeit all of that is fucking hilarious. It's that they cast Father Geek and fucking gave me a fictional 12 year old neice!!! And Father Geek? He fucking looks like a bad muther-effin' Roadie for ZZTOP, and my "neice" - Oh shit. I've got a fictional neice now! I want to know her name? I love that in early 1999, I've got a 12 year old neice... which would have meant that my sis got knocked up 1987 (the year my gf was born, lol) when she was 5 and a half years old and I was a Sophmore in High School. That's funnier than just about anything I can think of. LOL.
Well - here ya go. Here's the 3 pics I got sent.

First - you got FATHER GEEK and the AICN COOL MOBILE (trivia - actually I do own a 1953 red and white Chevy BelAir that is Awesome! And Father Geek is bald! Heh.)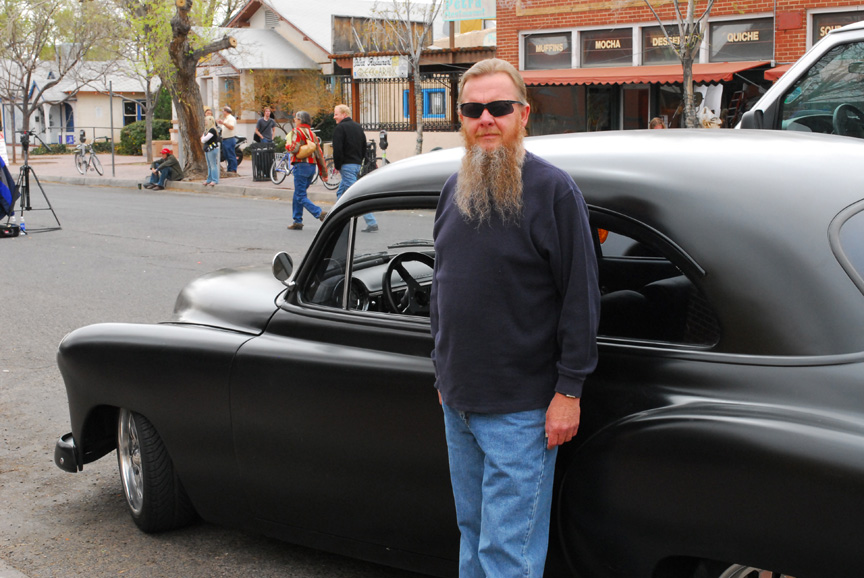 Then you have "Silent Harry" and his unnamed neice hanging out on set between takes. (trivia - actually I do have a nephew (age 5 1/2) and black leather trenchcoat like Toht's... however, I've never owned a hoodie)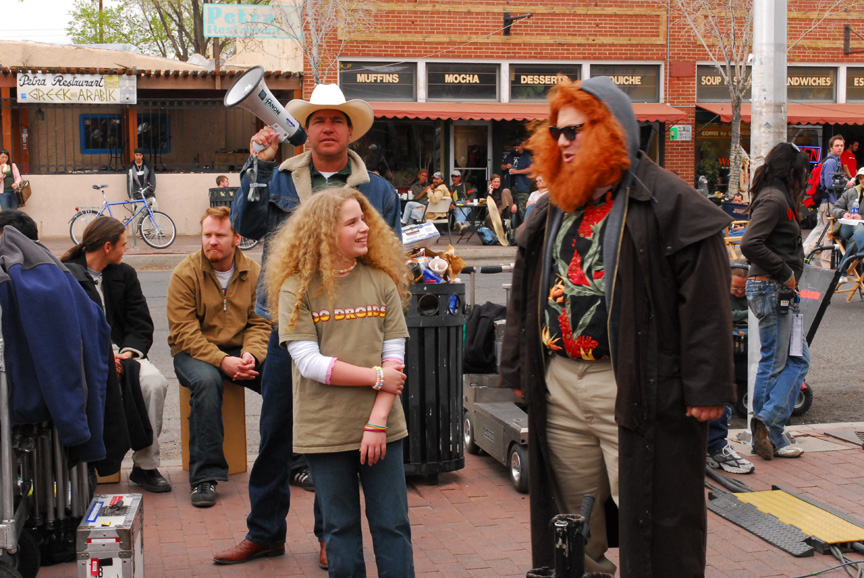 Lastly - here's a nice clear close up of the Weinstein Company's version of Harry Knowles. I thought the hispanic version of me on SATURDAY NIGHT LIVE was funny. Fuck that. This is hilarious. It's like a total caricature of me done with a human being. (trivia - I haven't worn Sunglasses since 1988, and I never in my life had those sunglasses. However... I do have original BLUES BROTHERS promotional shades - and I did once wear those out to a BLUES BROTHERS screening in 2001)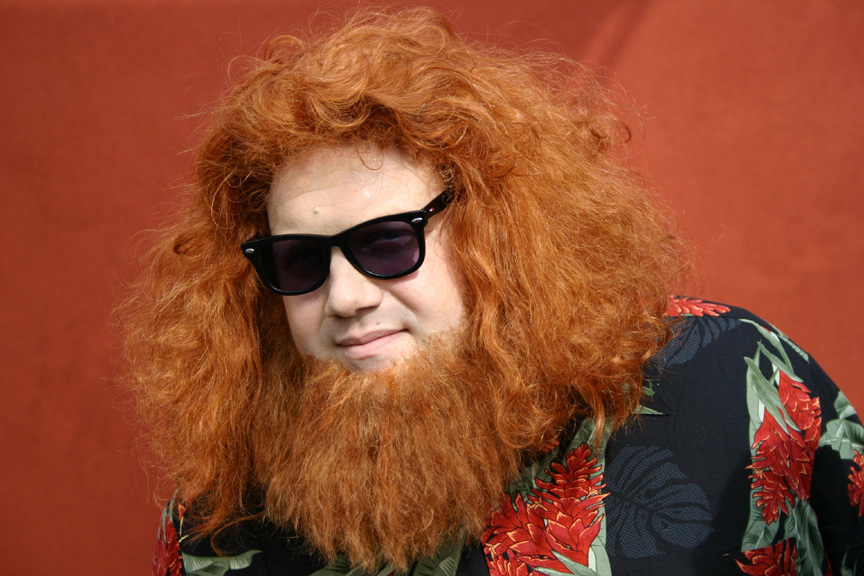 I can't wait to hear whatever it is they have me saying. I'm dying to hear the voice. I'm positive it'll have me crying laughing. You thought I had a lot of hair. Man, I'm fucking bald next to this version of me. Heh.