Ahoy, squirts! Quint here to present to you good folks another contest. You folks have seen the first of two Weta Collectibles items I'm giving away at this site... if you haven't, click here to go to the KONG Vs. V-REX Stop Motion Contest. That one's a beauty, but I'm makin' ya' go through a lot of trouble to get that piece of art. This contest will be a little simpler.
Visiting Weta's booth at Comic-Con this last year, I saw a bunch of their statues, but the piece that caught my eye over all others was the Bookend set.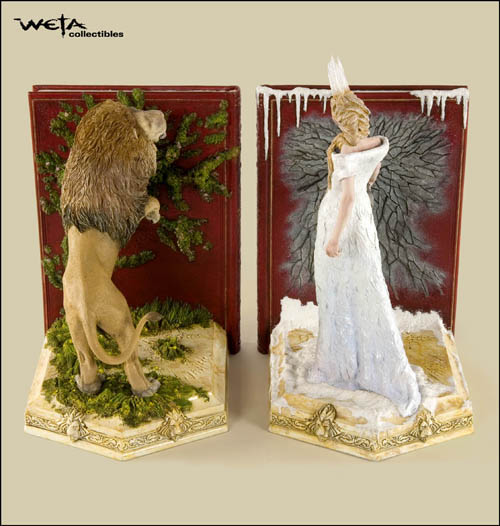 I love that in two little pieces you have the entire feeling of THE LION, THE WITCH AND THE WARDROBE. On one side is Aslan bringing life with every touch of his paw. On the other is the White Witch, who brings cold death and destruction wherever she goes. The detail of these pieces are incredible. For instance, look at the Aslan side. See that mound of grass where he paw had just rested before he put it up to the wall? How's that for attention to detail?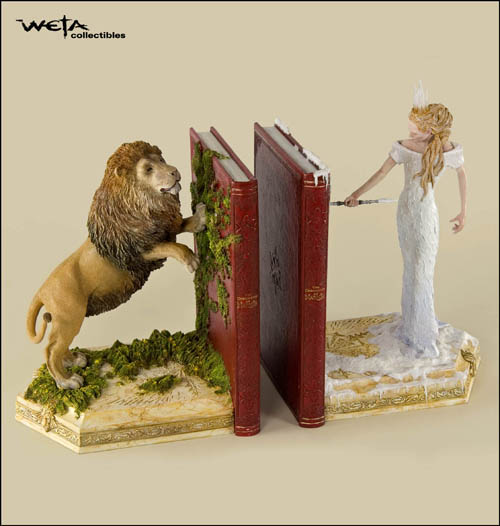 Since one side represents Good and the other represents Evil, I was thinking that I should work that into whatever contest I came up with.
Considering that what I'm giving away are meant to hold up books, I think I came up with something that'll fit. What I want from you is a photo of a selection of books from your library that bridge the gap between Aslan and the White Witch. I want to see what could be in-between the bookends. So, it could be a play on Good to Evil (Bible to Curious George to The Exorcist) or go from animal to Witch (Watership Down to Cujo to Wizard of Oz) or light to dark... or it could be a play on titles of books. It's up to you.
I want the pics to be the spines of the books (with the titles clear and easily readable)... could be 3 or 4 or 2 dozen titles. The more inventive, the more original, the more fun, the better.
You need to send your pic to quint@aintitcool.com with the subject line NARNIA CONTEST. You have between right this very minute and 11:59pm CST, Tuesday, November 29th. Be sure to include your mailing address with your pic.
The files must be 100k or less in size.
This contest is open to anybody in the world. By entering you agree that my decision on the winner will be final.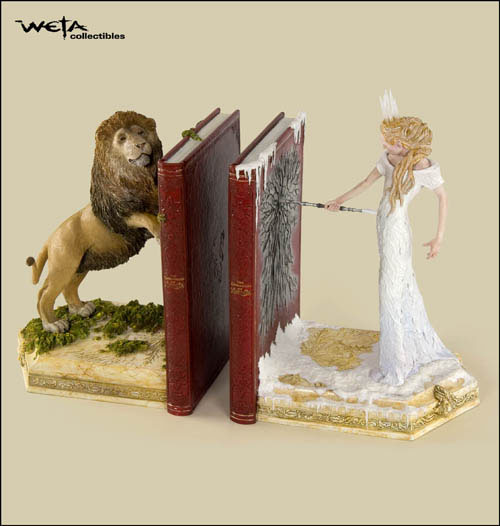 So, that's it. If you need a clarification, be sure to send me an email or ask below. Good luck!