Hey folks, Harry here... a little before the fat red trespasser performed global B&E, I was having a little chit chat with Stuart Gordon about the world and all signs indicating the return of the Old Ones and he told me the best news I've heard in a while.
It seems... That some industrious snooper at MGM was digging through stacks of elements, film elements when they came across a can of little distinction... but inside... oh... the glory that was inside. After checking it out, they called Stuart to come in and screen the footage... turns out this was the lost MPAA enforced missing minutes of depravity from FROM BEYOND! Unseen for 19 years - believed to be lost for all time. Stuart said as he watched these spectacular moments of gore artistry, he smiled one of the biggest smiles of his life.
But - wait - it gets better... As a result, apparently sometime this year we're going to get a restored Director's Cut of H.P. Lovecraft's FROM BEYOND!!! Which kicks all manners of ass, since we've only been limited to Video to see any version of the film, till now. MY question is... Will MGM strike a new print - so cool alternative theaters like The Alamo Drafthouse can screen this restored genre classic? That's what I'm pulling for!
Not enough good Lovecraftian News for you? Try this on:
Announcing the H.P. Lovecraft Collection on DVD based on films shown at the H.P. Lovecraft Film Festival over the last 10 years. Volume 1 contains Bryan Moore's Cool Air starring Jack Donner (Star Trek, Mission Impossible, Stigmata, Exorcism) a moving adaptation of Lovecraft's short story. The disk also contains many shorts such as Christian Matzke's Nyarlatotep and An Imperfect Solution (based on the original Re-animator series) and Anthony Reed's The Hound and The Hapless Antiquarian. Rounding the disk off are exclusive interviews with the cast and crew of Cool Air, an interview with Lovecraft scholar S.T. Joshi, bumpers from the H.P. Lovecraft Film Festival and a couple of Easter Eggs. Approximately 150 minutes of goodies. Available now.
Volume 2 of the H.P. Lovecraft Collection will be Rough Magik, a proposed BBC pilot created by Stephen Parsons (composer for Howling II) starring Paul Darrow of Blake's 7 fame. If you like the idea behind Delta Green you'll love this film. The Night Scholars, a clandestine organization setup to monitor the ancient cult of Cthulhu come to a single, incontrovertible, conclusion after compiling an enormous database of arcane information: the Sleeping God is waking. Diana Armitage, with the help of her Home Office liaison, the mysterious Mr. Moon (Paul Darrow), launch an aggressive campaign against the Dreamers. This operation designated the Rough Magik initiative is successful but they trod on the toes of some powerful people, amidst accusations of financial impropriety and possible treason, and the Night Scholars were disbanded. Now years later, the old magic is returning, the Sleeping God is rising, and there are more Dreamers than Mr. Moon can handle as he struggles to rebuild the Night Scholars before its too late. The DVD will also include Bob Fugger's Terrible Old Man (shown on CBC, Bravo! and Space: The Imagination Station) and From Beyond. Street Date is December 1, 2004.
Volume 3 of the H.P. Lovecraft Collection, we are extremely pleased to announce, will be releasing Out of Mind (shown on Bravo!) along with John Strysik's (a Tales from the Darkside staff director) The Music of Erich Zann and Aaron Vanek's The Outsider. Out of Mind offers the viewer a realistic encounter with Lovecraft and enters into his world. The film playfully winks at some of the themes characteristic of his HPL's work (the occult, cursed books, monstrous creatures, ancestry and the cosmos) and draws its inspiration from Lovecraft's personal correspondence and many of his stories, carrying the viewer through a labyrinth "beyond the wall of sleep." We plan to release the DVD by January of 2005.
We have 4 other titles in the works as well.
cheers!
Andrew Migliore, President
LURKER FILMS INC.
LurkerFilms.Com
You can order the first two DVD collections by clicking on the above link! Believe you me, they're loaded with atmospheric creepy Lovecraft thrills and chills. I have both of those editions - and while there is always that dream that some studio somewhere will let a filmmaker like Stuart Gordon or Guillermo Del Toro just unleash a well-financed and performed tale from long ago... we Lovecraft fans are lucky enough to have his stories being told by folks that make lots of great personal sacrifices to their tentacled gods to deliver his cinematic goodness. Take for example - this release I got regarding Lovecraft's BEYOND THE WALL OF SLEEP. It took them 3 years to make this 35mm film with the talents of William Sanderson, TOM SAVINI and Rick Dial! Here take a look:
MAURER/KLAUSMAN FILMS is proud to announce the upcoming release of their newest film, "Beyond the Wall of Sleep." This VFX soaked, Lovecraftian period piece showcases the acting talents of William Sanderson (Blade Runner, HBO's Deadwood), Tom Savini (Dawn of the Dead), Rick Dial (Sling Blade), and is co-written/directed by Barrett J Klausman and Thom Maurer.
LOS ANGELES, CA. -- Visceral Pictures and Triple "B" Productions is announcing it's upcoming release of a Maurer/Klausman film: "Beyond the Wall of Sleep." Produced by Jhano Ajamian, Jim Bolden, and Koko Polosajian, this 35mm feature film opens the porthole once again into the twisted mind of H.P. Lovecraft, author of dozens of early 1900's horror/sci-fi short stories. The film combines the writing/directing talents of Thom Maurer and Barrett J Klausman, a team that has been working in the horror film genre for the past decade. Through sheer force of will, they have pulled together a cast of cult favorites: William Sanderson (Blade Runner, HBO's Deadwood), Tom Savini (Dawn of the Dead, From Dusk till Dawn), Rick Dial (Sling Blade), Marco St. John (Thelma and Louise), and Bobby Jacoby (Tremors 1 & 3) amongst others to bring to the screen this tale of an unknown entity crossing over into our world and wreaking havoc on an asylum for the criminally insane.
Beyond the Wall of Sleep, while finishing its 3rd year of production, is long awaited by Lovecraft and horror fans alike.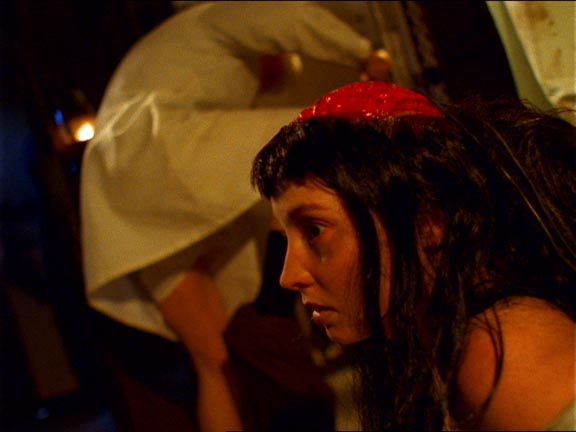 For more information please visit BeyondTheWallOfSleep.Com
Well - that's all the Lovecraft Goodness I've got for ya. However, my ears are always waiting to hear that Guillermo Del Toro and Matthew Robbins' fan-fucking-tastic adaptation of AT THE MOUNTAINS OF MADNESS is moving full steam ahead. That's the grand daddy of Lovecraft projects in the works... I just hope we get to see it soon!