Hey folks, Harry here... It's inappropriate for me to write a review of SKY CAPTAIN & THE WORLD OF TOMORROW, as fate would have it, I find myself in the position of producing the director of this film's next movie, PRINCESS OF MARS. That being said, I will report upon how I feel the AICN Screening of SKY CAPTAIN & THE WORLD OF TOMORROW went, and I'll share some of my musings about the film along the way.
First off - In regards to the contest I had for tickets to this, I wound up with over 1100 entries from places like Wales, Lansing - Michigan, Florida, New Mexico and throughout Texas. Military personel, Air Force Pilots from San Antonio, Computer gaming programmers, Grandfather's with grandsons, Sons writing to take fathers, and whether male or female, folks wanting to fantasize outloud regarding our world and Tomorrow. Sometimes these fantasies had Angelina Jolie, Gweneth Paltrow and Jude Law in them, sometimes a radical political shift in the way our world is run. But no matter what, all the entries shared a great desire to see the movie. In particular there were lots of family types that wanted in, which I was happy to see, as my personal hope for this film was that somehow... It would reach people of all ages and backgrounds with the simple message of giving us a world to dream in.
Picking through that many hopes, I couldn't help but feel like Mikey at a bottom of a wishing well lecturing his Goonies about what these paragraphs mean. The Air Force Lt. pilot from San Antonio wanted the film to rekindle the dreams of the little boy in him who stayed awake at night shining his flashlight like a searchlight over his dangling model planes upon his ceiling. Others wanted to dream about UNDERSEA KINGDOMS and PHANTOM EMPIRES. It was hard to pick and choose.
This was an event I was actually quite nervous about. You see, I was going to meet Kerry and Kevin Conran for the very first time at this event. Oh sure, I've had innumerable conversations with them dreamfasting about Barsoom, but this was different. We were going to meet for the very first time in front of 200+ fellow geeks all standing in the scorching Texas sun, awaiting... my surprise.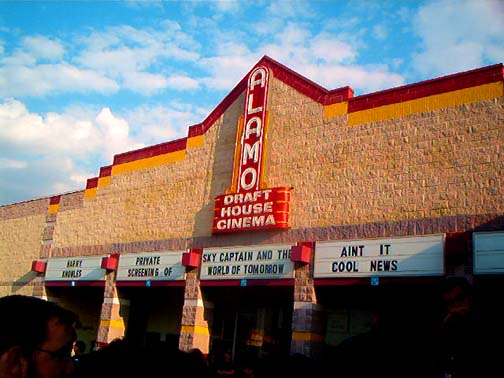 As usual, my partners in crime, the Alamo Drafthouse (in particular this time out Tim League and the Drafthouse CEO and Bag of Smiles, Terrell Braley) had helped in conjuring more than a simple screening. The crowd was gathered along the front of The Alamo LakeCreek!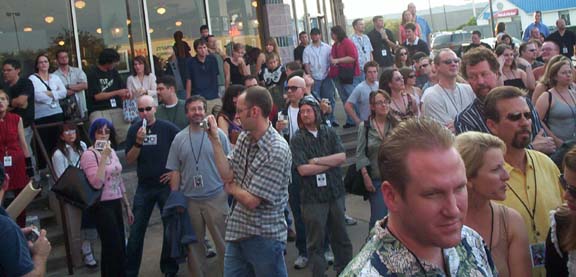 Then Kerry and Kevin Conran arrived. I could read Kerry's mind as he approached me, "25... 3 tons of him," but soon we were chatting guardedly for those intrepid pesky internet spies hanging to hear us spill details of Barsoom. I was killing time. Why? I had the microphone, doing my best Bob Hope, but why?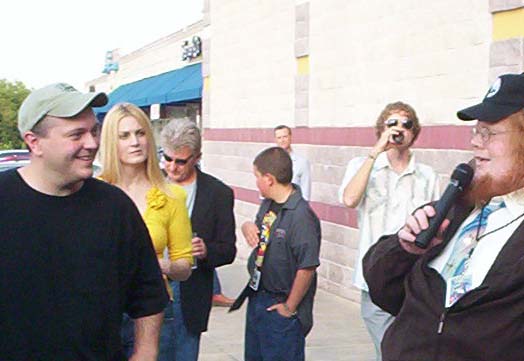 Well, unknown to Paramount Pictures or the Conran Brothers... Unknown to the gathering crowd... We had a surprise. During my obsessive-compulsive issues I've had with all things Sky Captain, I'd done some searching regarding P-40 Warhawks and discovered that the only flying P-40 in the world right now happens to reside in the Central Texas Branch of the Texas Confederate Air Force in San Marcus, Texas. As soon as I realized the only flying P-40 in the world was 30 minutes from Austin, I was determined to get it to make a special appearance at the Drafthouse. Alerting Tim League, who then in turn let loose the wild hounds of the Drafthouse to find and secure this P-40 for our viewing pleasure this beautiful day... Now, as is typical with these Drafthouse folks, I just asked for the P-40 Warhawk. So guess what? They not only got the P-40 Warhawk, but 3 other WWII era planes. Now, this is the great part. I'm aimlessly babbling about... and suddenly there's this rumble from the sky, that unmistakable sound of old vintage props chopping through the Texas Sky. Kevin Conran begins bobbing his head about looking up at the sky, Kerry joins him, and they see the planes (which were a bit early, dagnabbit) but they instantly recognized the P-40 a mere 500ft above us soaring like in days of old...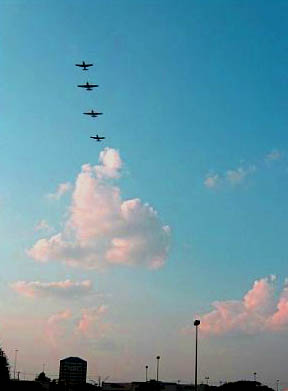 Now, unlike Ronald Reagan in that old WWII training film where he couldn't remember what the shape of the plane he saw was (in regards to whether he shot at friend or foe) Kerry and Kevin did know what they were looking at. And Kerry was quite excited...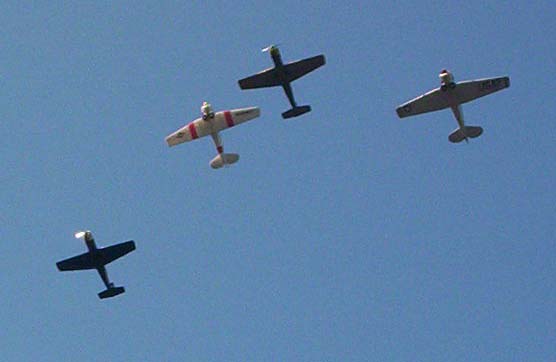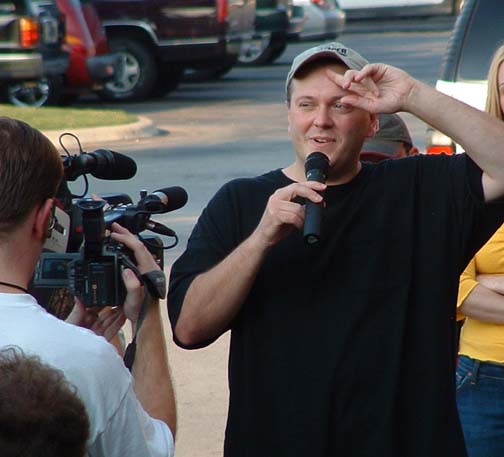 The planes flew by in a group of different formations and elevations, and truly the sky was beginning to capture our imaginations...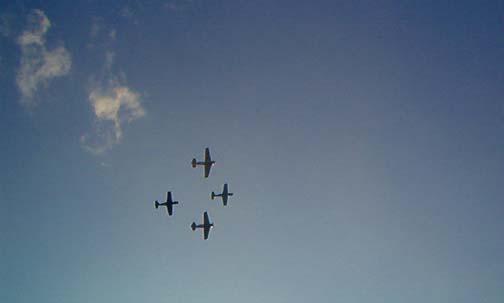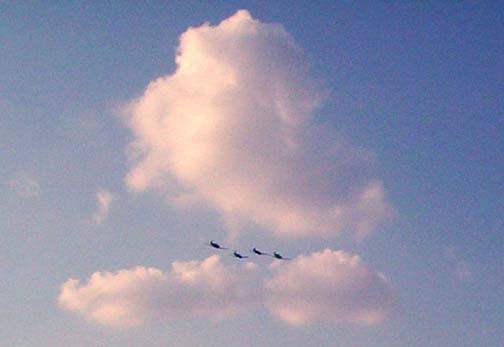 Kerry began to spontaneously dance...

Just kidding, he didn't really dance, but apparently in Film School he did do a Busby Berkeley Musical Number for a short film. Which I'd love to see! In addition to getting the planes in, they got the entire Drafthouse staff wearing vintage WW2 flight gear! Not only that, but they had 3 Sky Captains, 2 Mysterious Ladies, 1 Polly Perkins and drool... 1 Capt Frankie!!! The below femme-Sky Captain was played by Megan McAtee - who headed up the entire crew from the Drafthouse to decorate and plot out the step by steps and execute them. She did a fantastic job!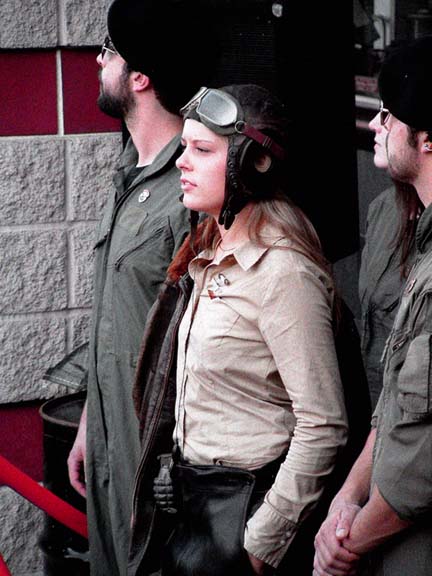 In addition to the contest winners, some of Austin's film community came out in support of the film. Robert Rodriguez's son Rocket's birthday was Saturday, and instead of having his birthday party then, Rocket got treated to SKY CAPTAIN, and his B-day party was today! What a lucky kid! Also Tim McCanlies showed up, very anxious to see giant iron robots smashing through New York City of 1939ish. MAY's Angela Bettis showed up, along with a whole host of other eclectic Austin personalities. It was a nice fun austintatious Drafthouse affair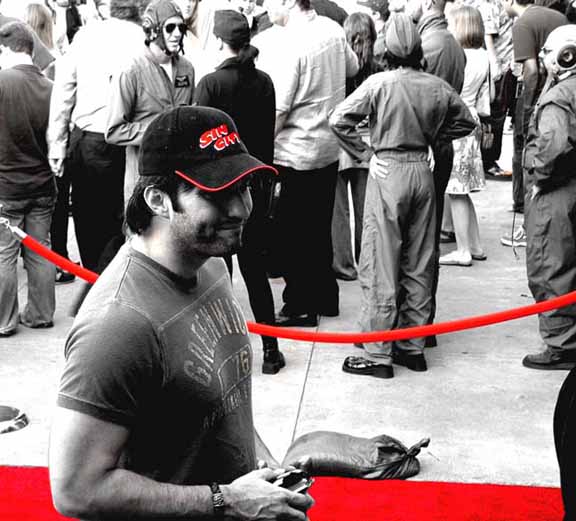 Once in the theater, all cameras and recording devices had to cease their recording, and be returned to the various trunks and glove compartments from whence they came. The pre-show entertainment was a selection of rare-film oddities from the 39 World's Fair, Fleischer's Superman cartoons, all manners of pre-show entertainment.
Having already introduced Kerry to the audience outside, I said a few comments about sticking around after the show to hear me and Kerry and Kevin Conran geek about the film and other subjects should they desire. Also, apparently in all the goody bags there were LEMONY SNICKET cards, and one lucky soul was going to get the rare 13th card, which when combined with the common 12 cards earns the lucky guy a free trip to the world premiere of those Unfortunate Events. Someone did win curiously enough.
Once the trailers began, the one that particularly affected Kerry Conran was the original FLASH GORDON trailer with Queen's Anthem which got Kerry hopping happy in his seat. Yes, he's one of us, google goggle...
How do I feel about SKY CAPTAIN & THE WORLD OF TOMORROW? I've now seen it twice. I'm seeing it again Tuesday. I plan on going to see it Friday and perhaps again on Saturday. For me, the film is an effortless celebration of the joy of everything I love about the 30's. The design, the film, the fashions, the hair & make-up, the pulp fiction tales of action, adventure, science-fiction, romance & fantasy. The Golden Age! To see a film embrace those elements without laughing at them or holding them in contempt... of not tackling them half-heartedly... well, it is a joy I imagine I'll feel in Christmas 2005 with Peter Jackson's KING KONG. In many ways, this film shares much with Tarantino's KILL BILL. It's creator, like Tarantino, is a cinema savant. Kerry's specific fetish is the world of "classic" cinema, rather than the realm of film occupied by post-Hayes Code mores.
I love that Paltrow is essentially Veronica Lake channeling Barbara Stanwyck performing the Fleischer's Lois Lane. I can't tell you how much I love it. I just love how NOTE PERFECT that performance is. As Jude said, it isn't an Oscar type role, but in my book it is. To capture a performance style from another era, not unlike what she did in SHAKESPEARE IN LOVE, this too is a completely different acting discipline which Gweneth effortlessly succeeds in. Jude is affecting the Flynn of films like DAWN PATROL, Giovanni Ribisi feels like some odd combination of Peter Lorre and William Benedict with a dash of Frank Shannon. Angelina Jolie... what can I say, she's just a goddess given human form poured into the greatest fetishistic femme-ware I've seen in ages. It's Michelle Pfeiffer CATWOMAN yummy for me, with a Nick Fury kick in the ass and perfectly round E.C.-sci-fi helmet for good measure.
Had they not gotten the actor that plays Totenkopf to agree on a salary and a trailer size, they apparently had Boris Karloff waiting in the wings. Him appearing would have sent my chest flying into two during the end of this film, simply because... well, Boris Karloff and crazed sci-fi equipment goes together like biscuits & gravy! PERFECT! The actor they got was no slouch, though he is certainly no Boris Karloff. Heh.
The look of the lighting and cinematography feels like Josef von Sternberg's loving lenses that worshipped Dietrich, but here, they worship Robots and Planes and Creatures and sights my eyes have hungered for... since my eyes began hungering for things to appear on silver screens.
How well does this film work? Little kids in the audience came up to Kerry Conran after the Q&A to tell him how much they loved it. I'm talking like age 5 (and female at that) to older kids, like my 79 year old Grandmother, who doesn't geek about scifi or fantasy... She picked up on the Stanwyck and Flynn work and latched on to an era she feels is too often forgotten. People stayed chatting and talking about the film till right near the nip of 3am celebrating and chatting about all things cinema. And who was praising Kerry Conran above all others? Robert Rodriguez, who went into some sub-dialect of digital filmmaking with Kerry, which we neanderthals attempted to decipher whilst hunched over.
That was the event, I hope you enjoyed this - non-film review. I'm just the happiest guy in the world right now, because... I know this is just the beginning.