Hi, everyone. "Moriarty" here with some Rumblings From The Lab...
Time flies. It seems like just yesterday that I was sent the editor's proofs of a bizarre, beautiful book called CREATURE TECH. If you don't remember the extent to which I went totally over-the-top batshit in my review of that book, CLICK HERE and witness me at my most hyperbolic.
Well, about a week ago, I went to the mailbox and found another big envelope waiting for me, and when I opened it, I was surprised to see that Doug TenNapel, the artist who wrote and illustrated CREATURE TECH, has already finished his new book. This is in addition to his various side projects like the psychotic short film series SOCKBABY over on the weird and wonderful Channel 101, his Nickelodeon pilot CATSCRATCH, or any of the other ways he keeps busy in his free time. I took the 112 page editor's proofs to the gym with me, my new favorite place to get some uninterrupted reading done, and I planned to spend my 40-minute cardio reading as much of the book as I could.
Now my brain and my geek heart adore TenNapel more than before, even if my legs might never forgive him. I lost track of time. I forgot where I was. I found myself tearing through the pages, overcome with emotion as I reached the note-perfect conclusion. As much as I loved and praised CREATURE TECH, it was always with the caveat that it is a very strange book, and might not be for everyone.
In every single way, TOMMYSAURUS REX is better.
I know that Fox and New Regency have been hard at work trying to turn CREATURE TECH into a movie, and I certainly wish them well with it. I have this sinking feeling, though, that any adaptation of that book is going to softpedal all the eccentricity that made it such a delight in the first place.
Whoever ends up owning TOMMYSAURUS REX (and believe me... someone will) has the easiest job in town. Sweet, simply told, blessed with a giant heart, this is a story that anyone is going to be able to embrace. It's of a very particular genre, and like E.T., HARRY AND THE HENDERSONS, or Brad Bird's magnificent THE IRON GIANT, this story of a little boy with an unusual friend feels universal, instantly relatable. If you read TOMMYSAURUS REX and find yourself unmoved, check your pulse... you may already be dead.
TenNapel loves to open his books with full-page drawings of key images that set a tone for the story to come. This time out, there's a two-page splash panel of an old man picking a toy off a crowded shelf in a store, then a full page image of a wedding ring, then the title, framed by a really, really big leash. Part of the fun of a TenNapel book is waiting to see exactly how those images come together and pay off.
Right away, we're introduced to Ely, a pretty typical kid who has one small problem... he doesn't make friends very well. He's an awkward boy, and he spends most of his time playing with Tommy, his golden retriever. TenNapel does a great job of establishing the bond between the boy and his dog, making it even more painful a few pages in when Tommy is hit by a car and killed.
TenNapel's got a real gift for drawing emotion, and this story is positively ripe with it. You can practically see Ely's heart break as he kneels over Tommy's body. And when his father comes to talk to him later that night, we see him set aside his own dislike of the dog, suddenly feeling his son's pain acutely. He reaches out, tries to find something to make him feel better. He tells Ely they've decided to let him visit his Grandpa Joe on his farm for the summer. Ely lights up and says, "I thought you said I was too young to go work for Grandpa."
His father's response hits hard. "When a boy loses his dog, he gets a lot older." Don't worry, though. This book isn't just page after page of sentiment. Far from it. TenNapel has a sly, wicked sense of humor, and he also seems to remember the particular horrors of being the new kid in town. When Ely meets the local bully, Randy, the encounter's both tense and funny.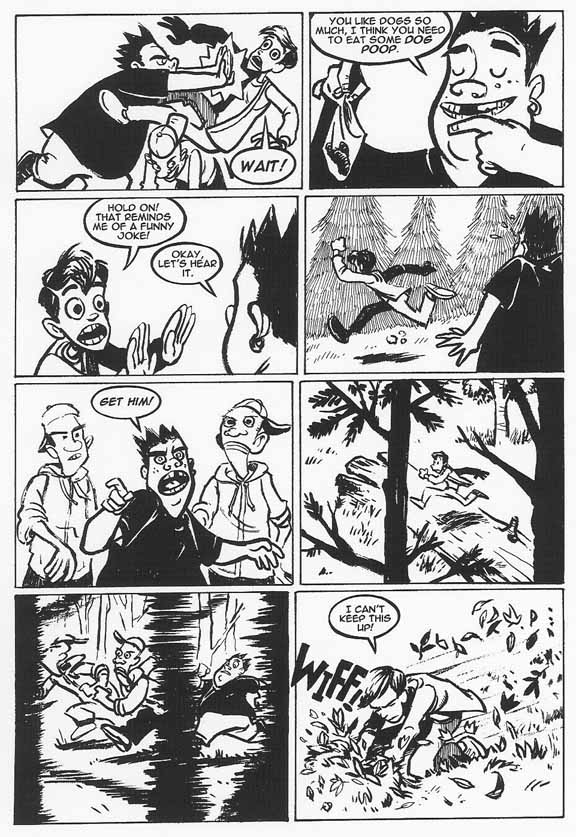 TenNapel's not about easy stereotypes, though, so just because Randy introduced him as a bully doesn't mean you know everything there is to know about him. In some ways, this is a book about loneliness and what we need to make us whole. Ely's starting to regret his decision to visit the farm, getting really discouraged, when he meets the friend that changes everything.
Somehow, improbably, there's a Tyrannosaurus Rex trapped in a nearby cave. Even more incredibly, once he breaks through all the outer wall, drawn by the sound of Ely's voice, all he wants to do is play.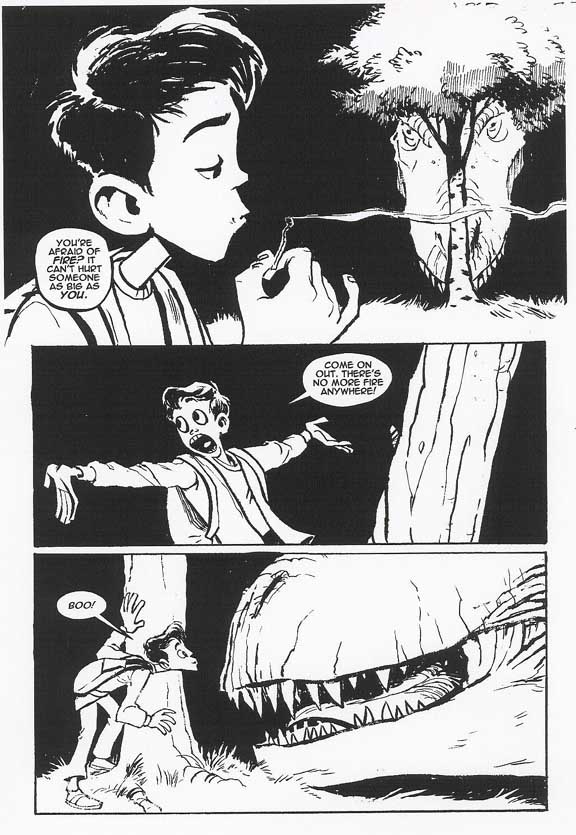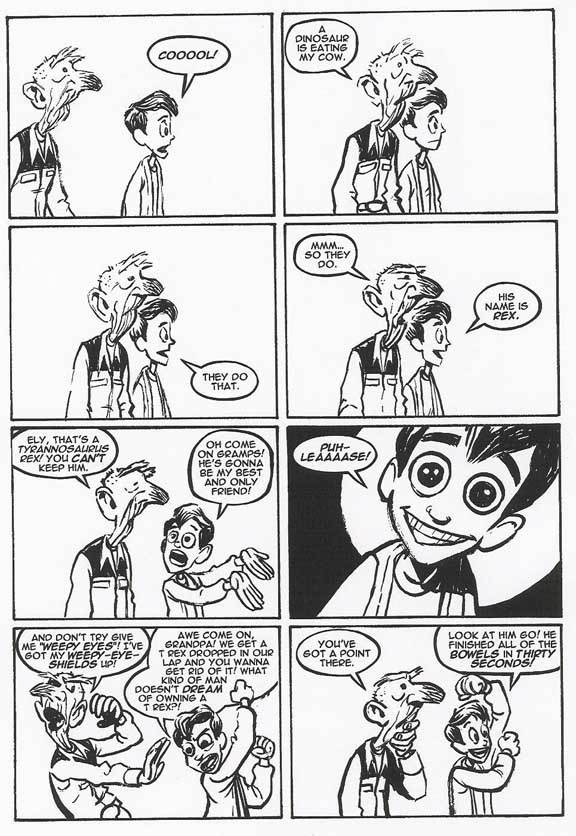 Discussing any more of the plot particulars is unfair to readers. You should be able to experience the book's tremendous charms for yourself the first time through. What makes the book worth revisiting (and I've already read it three times) is the detail packed onto every page, all of it worth savoring, and the open, unguarded humanity of the thing. And, yeah, it's pretty damn funny, too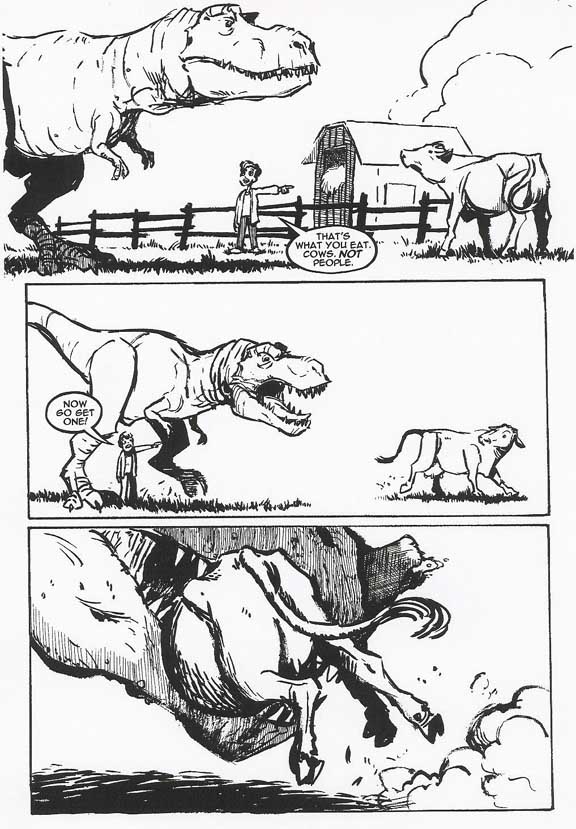 You may remember that TenNapel sent us his review of THE PASSION OF THE CHRIST before the film came out, and if you've read CREATURE TECH, you no doubt noticed some overt and striking religious imagery. He's a man of strong personal faith, no question about it. What I find compelling about his work is the way he weaves powerful moral ideas into his work without ever preaching or losing sight of the primary goal of entertaining. Ely's journey and the effect his friendship with his T-Rex, who he names Rex, has on him and his community is somehow both very simple and deeply profound. There's meaning in even the most seemingly offhand moments, and it adds up to a powerful conclusion that stirred me to the same degree as that amazing moment in IRON GIANT with the closed eyes, the slight smile, and the whispered "Sooooooperman..."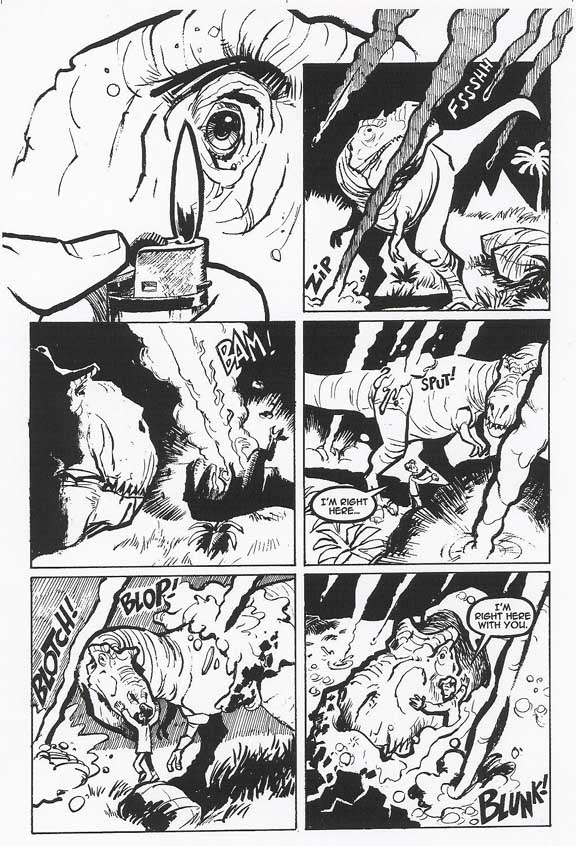 I'm not sure when Image is going to have TOMMYSAURUS REX on the shelves, but as soon as it comes out, I urge you to get a copy. Get several. This is one you're going to give as a gift, over and over. Sometimes, it is the simplest story that gets deepest inside you, and this quiet masterpiece will, I suspect, be one you treasure for a long time to come.