Hey folks, Harry here with a scoop provided by Jeremy... you know, that oh so dashing and charming rat from NIMH? That's right, well he and a buddy went and did some snap-shot shooting on the MATRIX set... nothing spectacular, but cool anyways... It also seems that TheMatrixOnline.Com was sent the same pics and the same story, only without the 'Harry'... go figure... Here ya go...
Harry, Monday and Yesterday my friend and I went to visit the set of The Matrix 2 in downtown Oakland. We work just a few blocks away so it was very cool to see them block off the streets for this. We managed to get a picture of the Silver-haired battlefield earth guy the other scooper told you about, but it turned out horribly because we shot it from so far away. We did manage to get a few interesting shots though. The chase scene they were filming apparently ended Tuesday since today the streets were reopened.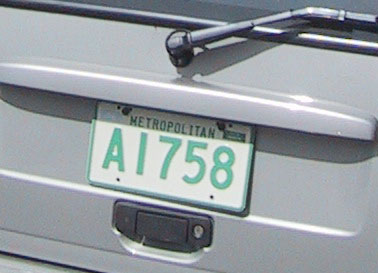 1) This is a picture of one of the license plates they were using on the cars during the chase scene. All of the cars (about 30) had these fake license plates on them. This raises an interesting question...what sort of permit would you get to be able to drive a car with a fake license plate for a movie? Anyway, many of these cars were used during the chase scene in downtown Oakland and I think also at the Alameda Naval base, where they had apparently set up a fake highway for more of the chase scene. After work, when they were shutting the filming down in downtown Oakland, I asked a cop what he saw. He told me there was a large chase scene with a number of explosions, some machine gun fire, and car accidents, some of which were *unplanned*. :-)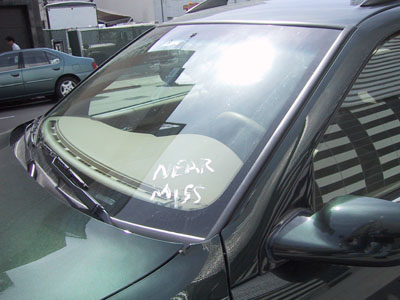 2) This is a prop car. The near miss drawn on it indicates it was to be used during the chase scene. There were dozens of cars like this. I wish I had the picture of the two cars cut in half (obviously not a near miss) but they didn't turn out so well since we took them from far away.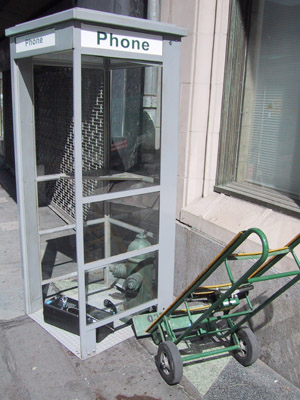 3) Next to some buildings near Telegraph avenue they built these two fake billboards. Behind them was an area where all the camera crews were set up. The people on the left are crewmen. I think part of the chase went down this street.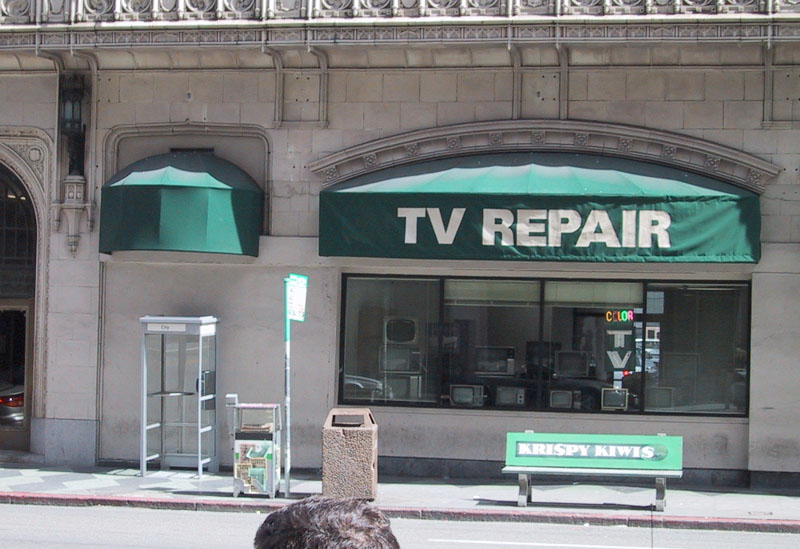 4, 5) As we were walking not far the set on Monday we saw this Phone booth with a fire hydrant inside it. This is odd because Oakland doesn't have many phone booths. It just said "Phone" on it. We thought it was a prop, and the dolly next to it was a good indication. Yesterday when we went back the word Phone had been lettered over with "City" instead. The bench nearby had been painted to say "Krispy Kiwis". There was a mailbox that we forgot to get a picture of that had cameramen installing a camera underneath it for a shot, just to the right.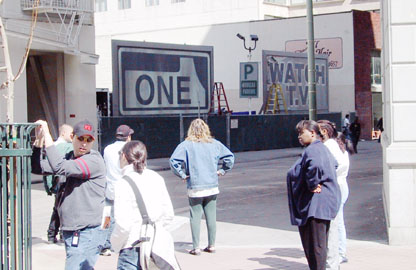 And then, in passing, we saw a crewman pushing a cart around the set that had about 30 identical brown briefcases packed on it and under it. Hmmm...curiouser and curiouser. I wish we could have gotten more shots but there was a fair amount of security in the area and we got yelled at for snapping some of these.
We wanted to get some shots while they were filming, but it was not to be. It was a beautiful day in Oakland though so it should look good on screen! I've been reading your website for years and this is the first cool thing I have been able to send you! Thanks for keeping such a great website running!