Hey folks and fans of Fangoria-styled joy.... Have I got a treat for you! I had no desire to really see 13 GHOSTS the moment I heard Matt Lillard was a part of the cast... and it was only the addition of Tony Shalhoub that interested me... but I feared that I would not get to see near enough of him... and way too much of Matt.... But after checking out these amazing behind the scene gore and make-up shots taken by our on-set spy.... well.... well now ya couldn't keep me away. Director Steve Beck has been a part of some amazing visual effects crews designing some of the scenes we geeks go to sleep with in our noggins... But very very rarely does a director appear from the visual effects medium that can then make a great or even fun flick... Maybe it's the usual lack of budget they are faced with delivering magical effects from... but here, KNB seems to have made some amazingly cool visual makeup and attachments to give a unique flair to these ghosts.... Now, will they appear as we see them here? Or will they be all bluish or whitish in a see-through fashion? Well only time will tell.... Till then only our triumphant host, the Ghost Observer can tell us more! Here ya go....
Harry,
On October 26, 2001, the remake of William Castle's 1960 film "13 Ghosts" opens. F. Murray Abraham is a ghost collector. When he dies, he wills his mansion to his nephew, played by Tony Shalhoub, and his kids (Shannon Elizabeth & Alec Roberts). He soon begins to find out that the ghosts his uncle collected haunt the mansion. He also learns why he has collected them and why there needs to be thirteen. But who wants to wait till then to see the ghosts, when you can see them now. I was a part of the crew and I was amazed with the quality of special makeup effects headed up by Howard Berger and KNB EFX Group. This movie is gonna kick ass. It was creepy just being on set with all these freaks walking around. Matthew Lillard and Embeth Davidtz work for the uncle and Rah Digga is Tony's nanny. There is a hell of a lot of visual effects in this movie.
Steve Beck, who has been visual effects art director on such films as "The Abyss" and "Indiana Jones and the Last Crusade", is the first-time director.
The mansion in this film is the story here. You haven't seen anything like it. It is basically a three-story glass mansion which has rooms that shift, like a Rubik's Cube. It took 40 guys five weeks to build this thing. The house contains over 45 tons of steel and more than 2500 pieces of full-length glass. It sort of reminds me of the movie "Cube", except this is like a regular house, with hallways and rooms full of furniture. All the walls are engraved with Latin text.
One of the ghosts (Suicide Woman) appears 100% nude for the entire film. Yeehah!
Below is a bunch of photos I took:
Anonymously Yours,
Ghost Observer...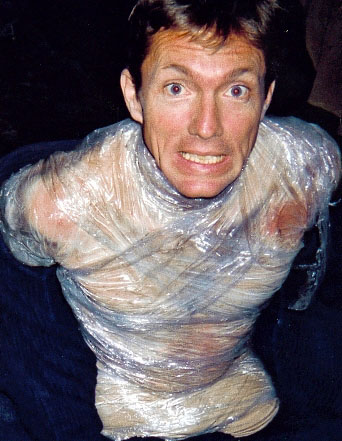 Daniel Wesley as Headless Torso (In the movie, his head will be digitally removed)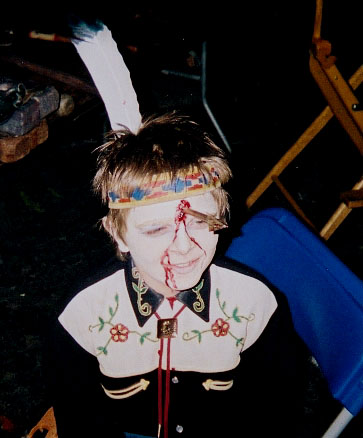 Mikhael Speidel as Boy with Arrow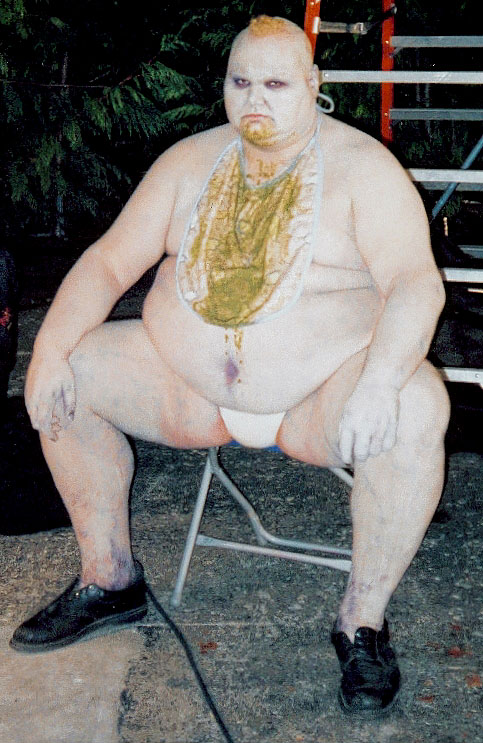 13 G's Baby Sit.jpg = C. Ernst Harth as Big Baby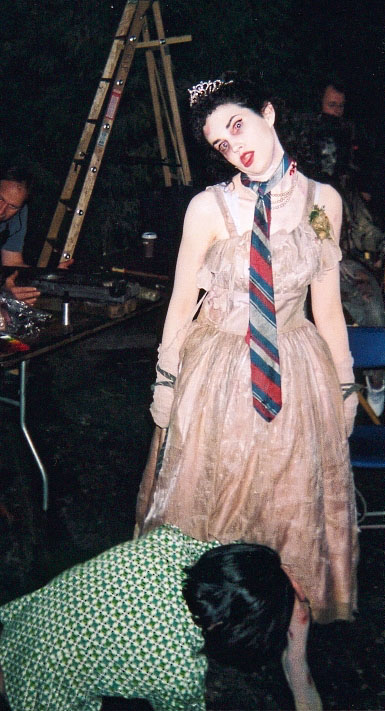 Laura Mennell as Bound Woman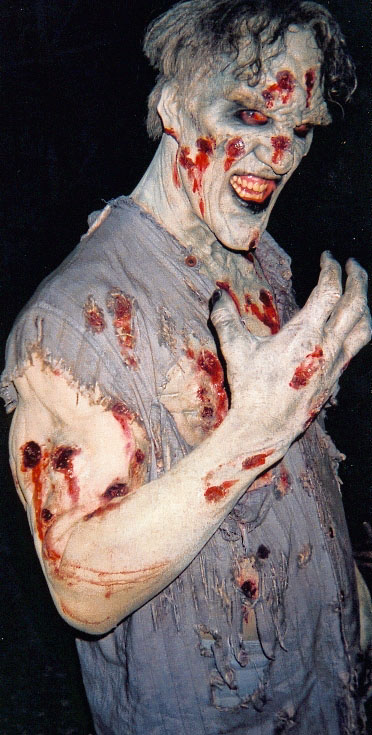 John DeSantis as The Breaker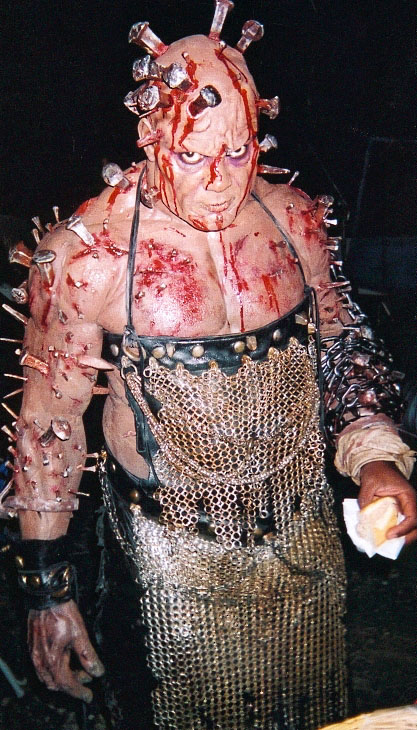 Herbert Duncanson as The Hammer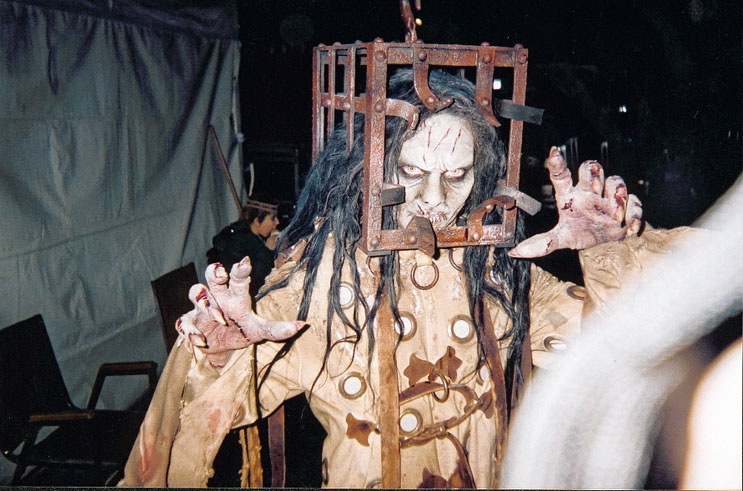 Shayne Wyler as The Jackal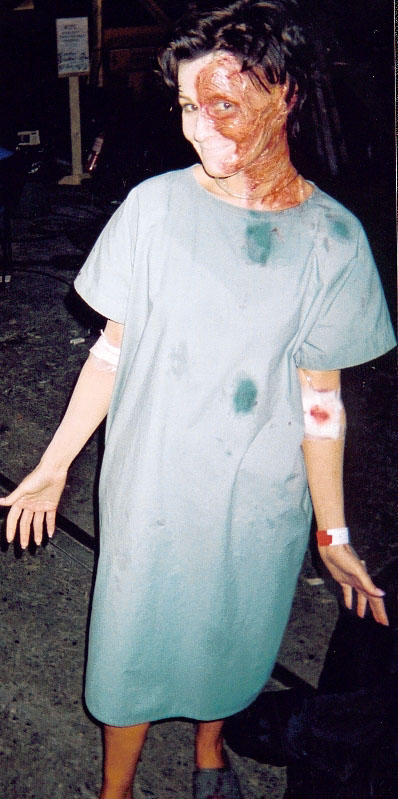 13 G's Jean.jpg = Kathryn Anderson as Jean (She is the mother of Shannon & Alec's characters. She had died when their house burned down.)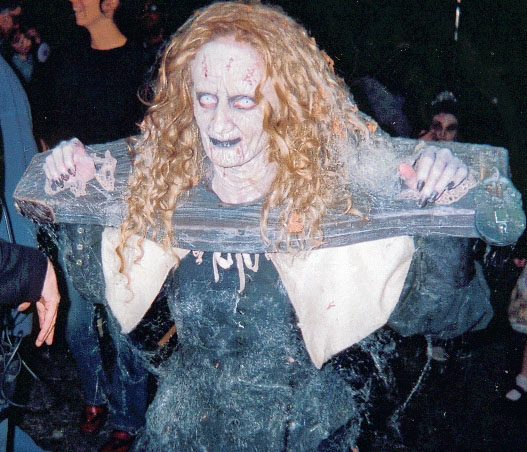 Xantha Radley as the Pilgrimess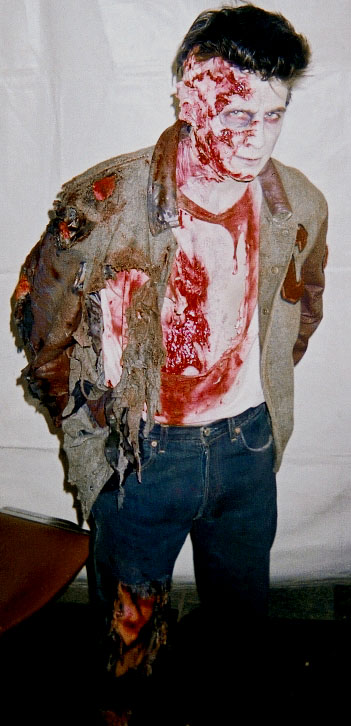 13 G's Teenage.jpg = Craig Olejnik as '50s Teenage Boy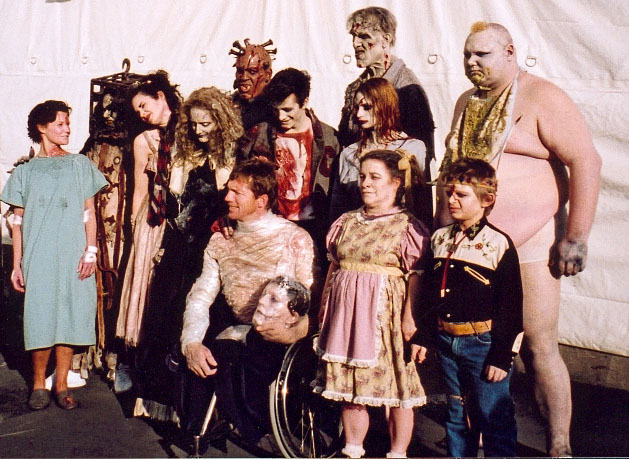 This picture has all the ghosts that appear in the film (As you'll notice, there is only 12 ghosts. You'll find out why in the movie)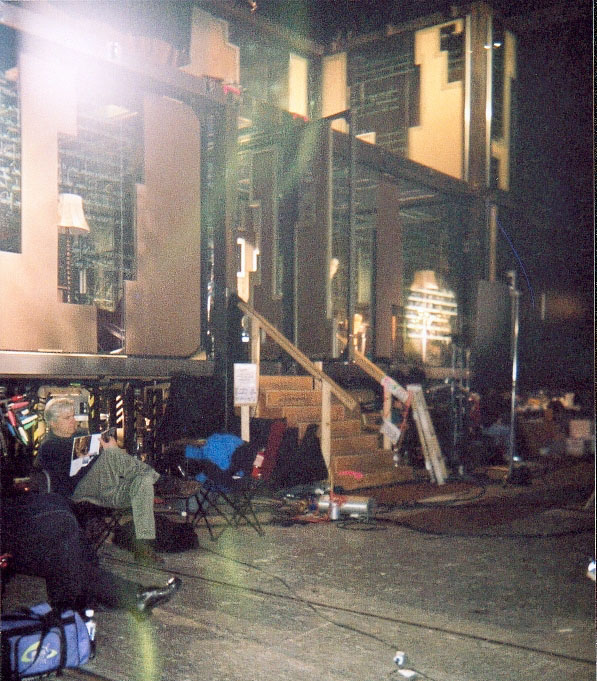 These last two are a couple shots of the back of the mansion. The mansion is top secret, thus it was very hard to get any good pictures. The wooden stairs you see are not part of the set, this was just where the actors entered the area. The set continues on for about 30 feet (it was huge) and it was SO hot in there. Think about the logistics of shooting in a house where every wall reflects. They had so many lights in there. The entire crew had to wear black just to cut down on the reflections.