Hey folks, Harry here. I was busting Moriarty's balls before he went to Sundance this year because he was being rather cocky about being able to send nightly updates and how it was no mean lick. Well, at the same time... He admitted that he'd never done the 'Film Festival' thing before... and certainly has never done Sundance before. I laughed, not out of cruelty, but because... Having done SUNDANCE the first time... I remember. I remember fighting to get Internet access.... being exhausted everyday.... I managed maybe 5 reports in 7 days, but hehehe... It was brutal. You're seeing films from Dawn till dawn in thin frigidly cold air, triapsing through the snow and trying like mad to fight getting sick or from dozing off. It is an endurance test unlike anything Moriarty and Robie have ever faced. They are handling it brilliantly though. Their hotel room has no internet access, they've patched into a payphone wire using techniques learned from watching WARGAMES and TERMINATOR 2 and this was the FIRST REPORT! I believe it was cut off at the end. Now, Moriarty sent this in two days ago... Now like I told the Professor, the rules of Garp law clearly dictate that 'shit happens'. My Road Runner account got hit by a tactical nuke... thereby not enabling me to open the email for 2 days, so... heheh... Like I said before to the Professor... "You have no idea what is going to happen" There is a mine field of problems that come with Film Festival reporting... they've hit the first wave of explosions and are still on their feet! Oh, and that's the guy claiming to be Moriarty on the left below... If you see him, feel free to go up and just give him a hug in gratitude for his wondrous prose!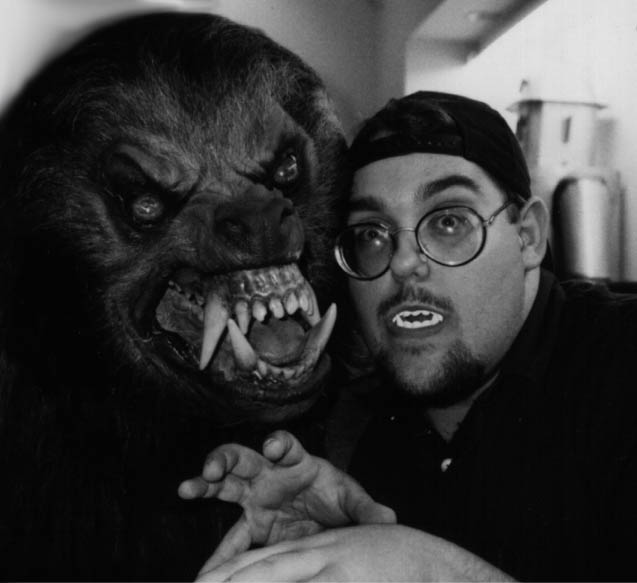 ~~~~~~~~~~~~~~~~~~~~~~~~~~~~~~~~~~~~~~~
SUNDANCE 2001: DAY ONE With MORIARTY - DONNIE DARKO and SUPER TROOPERS!!
Hey, everyone. "Moriarty" here with some Rumblings From The Lab.
1:30 AM, Friday the 19th, Heber City, Utah. John Robie and I are at the tail end of an eleven-hour drive. It's 14 degrees outside. We have no official press credentials, no tickets in hand, the craziest list of contact numbers you've ever seen, a bag full of video equipment, and a fair amount of stress. When we pull up to the outside of the nondescript motor inn where we're staying (only the best here at AICN, folks), the place is closed for the night, and there's a sign on the door: "McWeeny, Wright/Cok, B. Kink, keys are in drop box." McWeeny, Wright/Cok and B. Kink? Sounds like a porno law firm.
Welcome to our particular version of Sundance 2001.
Year after year, ever since SEX, LIES, AND VIDEOTAPE made Sundance the hottest American festival, I have sat on the sidelines like most of you, reading about the films that unspooled each year, wishing that I could visit, that I could dive into what sounded like a great big cinemacentric circus, each year finding some excuse not to go. Each year, I've been amazed at how much critics seem to complain about things, declare the festival dead, and spend as much energy condemning the event as discussing it. When I learned at the last minute that we would be attempting a Sundance trip this year, I was thrilled. No matter what happens, no matter how crazy the next seven days are, I am looking forward to it.
Already this morning, we've started to get our bearings. It's overwhelming upon first exposure. Robie and I were up and out of our hotel before 8 AM, and drove from Heber City up into Park City proper. It's about fifteen minutes, and the roads were thankfully clear. Although it's cold out, it's beautiful and the air is bracing. Once we hit town, it was a fairly simple matter to find the Shadow Ridge Lodge, the location of the press office. Checking in there was another matter altogether. Onsite press registration takes a full 24 hours, so we filled out our applications and turned them in. This means no press passes at all until Saturday morning at the earliest, and that's only if we're given accreditation. If we end up with an A-level access pass, which is what we applied for, then the rest of the week should be fairly manageable. Today, though, we found ourselves looking at a whole lot of nothing if we didn't get out there and start talking to people immediately.
We spent about an hour walking from publicity suite to publicity suite in the Shadow Ridge. Each of the different firms that is representing films h ere has a suite set up where they can answer questions, hold interviews, and play meet and greet. Everyone we spoke to was gracious and helpful, and we set up a few screenings later in the weekend as well as interviews with a number of actors and directors. At one point we walked past Albert Brooks and Leelee Sobieski, deep into their press day for MY FIRST MISTER, the film that opened the festival at a Thursday night screening in Salt Lake City. We also bumped into Joan Chen, more petite than I imagined. She looked as lost as I felt. It was at the last suite, though, that we finally connected with a screening for today: DONNIE DARKO.
We were sent to the Eccles Center, one of the primary venues for the festival, and we met director Richard Kelly outside. Richard appeared to be about 11 years old, his cheeks ruddy from the cold. He greeted us warmly, though, and told us he had tickets for the 2:00 show, the first public screening of the film. He had a great nervous energy pouring off of him, playing it off as best he could. Robie shot a bit of footage of Richard in those last few nervous moments before the film's premiere, and it'll be interesting to catch up with him later this week to see how he's feeling now that the film is out there. It's such a turning point for a first-time filmmaker. All of a sudden, it's not yours anymore. This thing, this dream you've been carrying around, is out there now, and it's fair game, and people are going to have reactions to it that you can't control.
It was almost an hour and a half after that before the doors of the Eccles finally opened. Robie and I sat in the lobby for a few moments, trying to catch our collective breath. The lobby filled up quickly, and by the time the doors were finally opened to let us in, the lobby was packed. We were standing next to Richard's family, listening to them talking about him as a kid, and the stories made me think about myself as a kid. There was the same early love of movies, the same fascination with storytelling. We bumped into a number of people who knew AICN for one reason or another and recognized me. The preshow was interesting enough, but once we got inside the Eccles and I experienced the seats for the first time, the real entertainment kicked in.
You see, the Eccles Theater is attached to a high school. It's a gigantic auditorium, but the seats were made for midgets. Dwarf midgets. Oddly tiny ones, even by dwarf midget standards. You're piled one on top of another, no room between you, no armrests to speak of. You get to know your neighbor really, really well. By the time the lights went down, I think that technically I was married to the woman sitting to my right. Maybe even to the woman on her right. It is, after all, Utah.
That's not a complaint, either. Just an observation. I don't care what theater I see these movies in this week. They could show them to us in the hospitality suites and I'd be fine with it.
Especially when the film that's being screened is something like DONNIE DARKO. Here's the exact thing I hoped I would see at a festival: a film of great promise from an emerging filmmaker that will no doubt be hotly debated in the months between now and its eventual release. DONNIE DARKO is a far from perfect movie, and it will frustrate many viewers, but there's a spell that it cast on me that I can't shake. It's been a number of hours since the film ended now, but there are images I am still turning over in my mind. The film is resolutely, even stubbornly oblique. It refuses to give you answers, and it even refuses to connect material from point A to point B at times, but that's part of what started to work on me.
I was moved most by the sense of family that Kelly paints with the film. Donnie (Jake Gyllenhaal) is a troubled boy, visiting Dr. Thurman (Katherine Ross, looking more like Sharon Gless with each passing day), his psychiatrist, and taking daily medication. His parents, Eddie (Holmes Osborne) and Rose (Mary McDonnell), are both good people who just don't know how to communicate this stranger in their home. The Donnie they knew as a child is gone, replaced with a sullen, surly, sarcastic sleepwalker who has a bad habit of waking up miles from home in his pajamas. The easy thing to do with these characters would be to paint them as the enemy, but Osborne and McDonnell both do wonderful work here, playing all the highs and lows of parents who are just trying to figure their boy out. I remember once when I was in high school and I accidentally snapped and told a teacher to "go down on this." The teacher blew a gasket and hauled me into the principal's office, furious, demanding action. The principal called my father and made me tell him the whole story on the phone. His response? Exactly like Osborne's in a similar scene in this film... laughter. Osborne is as amused by his son as anything. McDonnell is the one with the broken heart, and she does a great job of walking a tightrope around Donnie, never quite sure how to be or what to say. Donnie's older sister is played by Maggie Gyllenhaal, Jake's real life sister, and there's a great spark of sibling rivalry between them that's underlined by unspoken affection. It pays off in the way we invest in Donnie and what happens to him.
The film is such a strange ride, such a particular fairy tale about time and possibility and the simple power of connection that it seems like a miracle that it not only got funded but that it also attracted actors like Noah Wyle, Jena Malone, Drew Barrymore, and Patrick Swayze, who is actually very funny in a supporting role as a sleazy self-help guru with a secret. They all seem to have tuned into Richard Kelly's strange world, though, and that goes a long way towards selling it as real and persuasive. Jena Malone plays Gretchen, a new girl in town who becomes Donnie's girlfriend, drawn to his strange way of talking to people and his sadness. She's got more than her own share of sadness as she deals with her relocation, part of a situation between her mother and her psychotic stepfather. She's good for Donnie, giving him a taste of normal life in the middle of his dissolution. Every kiss they share seems supercharged, the way they do when you're young and you're just starting to enjoy the opposite sex. Every kiss is important. Every love is forever. Both Barrymore and Wyle play teachers of Donnie's, people who add crucial pieces to his understanding of the bizarre forces at work in his life. There's a number of supporting actors who I didn't recognize, actors who help fill out the rest of Donnie's world, who all do good work.
What really sells the world in the end, though, is the cinematography by Stephen Poster, who's shot films like SOMEONE TO WATCH OVER ME, THE BOY WHO COULD FLY, and the upcoming STUART LITTLE II. He's primarily a commercial and music video DP, and the chance to do something like DARKO seems to have inspired him to stretch as an artist. He and Kelly have obviously collaborated closely here, and there's a wonderful texture to what they've captured. The strangest details jump out at me as I think back on the film, like Donnie and his younger sister Samantha (Daveigh Chase, who we'll see this summer in AI) on the trampoline, the two of them sharing a lazy afternoon, or the revelation of Frank the Bunny in a movie theater, sitting next to Gretchen and Donnie as they watch THE EVIL DEAD.
Oh, yeah... Frank the Bunny. I know what I'm going as for Halloween this year if I can get the costume right. People are going to argue vehemently about what Frank means, about who he is and what role he really plays in the life of Donnie. I have my theories, but it seems a shame to force them on you before you have a chance to see the movie. I'll just say that to me, there's an echo that Donnie picks up, an echo that moves back in time instead of forward, and he happens to be receptive to that echo because of his medication and his disconnection from the world around him. I think the film makes sense the way a dream makes sense, with images that seem oblique if read literally or even as typical metaphors. Kelly wants you to do the work as a viewer. He wants you to fill in the gaps and have a reaction.
That's the one thing that's guaranteed: love it or hate it, you won't forget DONNIE DARKO.
Our early evening was spent trying out some local food (thanks to Junior Mintz for recommending Texas Red's) and trying to hook up with some of the friends we have wandering around up here. Everyone has a cel phone surgically grafted to their heads in Park City except for us, it seems. I've never had a reason to question my moral opposition to the damn devices until this week. We did finally get hold of some friends and dropped by their condo, a rental that's nicer than the Moriarty Labs or the John Robie Cathouse. We were busy trying to figure out a way to take the place over and establish squatter's rights when they produced two tickets to the 11:30 screening of the new comedy SUPER TROOPERS. Their bribe to get us out of the place may not have been subtle, but it was greatly appreciated.
I've always heard The Egyptian and the Eccles referenced as two of the most prominent venues at Sundance, so it's nice that we got in to see one film at each on our first day. The Egyptian was more welcoming on the ass and the back, with a wee bit more legroom. We walked in just a few minutes before the screening began and managed to find great seats on the left side of the theater, down near the front. Just as we were settling in, they brought up Jay Chandrasekhar, the film's director, as well as the rest of the group Broken Lizard. This is their second time at Sundance, following 1997's PUDDLE CRUISER. They warmed up the crowd with a quick round of "Who's the Mute?" then cleared the stage so we could see the film.
This is one you're going to see this year. There's no way this thing's leaving Sundance without a distributor. It's wicked funny, it's a different voice in comedy from what I'm used to seeing, and it's got a remarkable energy to it. Chandrasekhar is a solid comedy director, knowing how to milk maximum laughs out of material that I would describe as subtle, wry, and primarily character based. This isn't the raucous raunch of the Farrelly Brothers or their various imitators. Instead, Broken Lizard has created a fantasy world in which the crazed shenanigans of a group of Vermont State Troopers aren't just anarchy for its own sake, but are more a response to being marginalized, an antidote to boredom. Thorny (Chandrasekhar), Mac (Steve Leme), Foster (Paul Soter), and Rabbit (Erik Stolhanske) share a sense of absurdist humor that makes it possible for them to face down the possibility that their entire department is about to be closed down as an unnecessary expenditure. They have to balance their need to prank with the desires of Captain O'Hagan (Brian Cox in a revelatory comic performance) and the pinheaded thuggery of Farva (Kevin Heffernan), one of their fellow officers. They're also faced with the scorn of the local police, who consider them useless and constantly fight with them.
When festival programmer Geoff Gilmore introduced the film, he called it "POLICE ACADEMY 4 on crack," but that's the kind of description that undermines films to me. The POLICE ACADEMY films were lowbrow in every way, and there's nothing about this film that's lowbrow. The sense of humor that the film and Broken Lizard both demonstrate is genuinely smart stuff, with a silly streak a mile wide. This is going to sound like an impossible comparison, but they bring the Marx Brothers to mind for me. I am a rabid fan of Groucho and the boys, and what I always love about them is the way they deflate pomposity without the slightest effort. They would roll into totally normal situations and chaos would follow in their wake, society standing no chance against the full force of their wit. Broken Lizard isn't quite that laser-focused yet, but they could be. It's the first time in a long time that I've seen a team of comic performers in a film where they all just come across as actors, not comedians occasionally playing straight. They manage to play a fairly wide range of reactions with ease, and you really do buy these relationships. There's a really wonderful paternal relationship that they all seem to share with O'Hagan, and the way they all stand against the other cops. When Foster breaks all the rules and starts dating local cop Ursula (Marisa Coughlin at her most charming), he has to keep it a secret because of how closely knit the group is. I really love the way this subplot is handled, since comedies so often drop the ball in introducing the pat romantic elements. In this film, there's a really sweet spark between Foster and Ursula, and we can understand the attraction in both directions. They're both smart and funny, and their story never slows things down for a second.
I saw a few clips from this film out of context, and they seemed almost too gentle, too mild. In context, though, once you've had a chance to see the relationships develop, the same clips were much funnier, much more focused. Another big contributing factor to the film's effectiveness is the score by .38 Special. Yeah, you read that right. .38 freakin' Special wrote the score for the film, and it's awesome. It gives these characters big giant balls from the moment they appear onscreen. This is the soundtrack they're hearing in their heads as they prank their way through things. It's got a real old-school rock sound to it that makes these guys mythic when they hit the screen.
The bottom line about SUPER TROOPERS is this: the film made me laugh out loud, long and hard, for the majority of its running time. That's the most important criteria for any comedy, and this film passes with flying colors. I can't wait for PUDDLE CRUISER to debut on Sundance Channel this month so I can catch up with their earlier work, and I look forward to anything with the name Broken Lizard on it in the years to come.
By the time we fooled around with the SERIES 7 party at Cisero's and bumped into The Dude and Spike (of Spke and Mike's fame) and watched Harvey Weinstein heap compliments on Broken Lizard and goofed around in the now-heavy snow outside, it was almost 3:00 AM, and we headed back down the mountain to Heber City, where we packed it in for the night, determined to start Saturday with our press credentials and a vigorous screening schedule.
Bear with us as we work out technical issues on our end here in Heber City. It hasn't exactly been simple getting online to post, but we're going to do our damnedest to bring you the coverage as we go, whenever and however we can. We've got some great interviews set up in the days ahead, and as I get ready to grab a quick power nap at 7:44 on Sunday morning, I'm still reeling from an amazing day of film on Saturday. More on that to come...