Logo by Kristian Horn
What the &#$% is ZOMBIES & SHARKS?
---
Welcome to the darker side of AICN! M. L. Miller aka Ambush Bug here with another AICN HORROR: ZOMBIES & SHARKS column. We're approaching October. Can you feel the tingle in the air? Can't wait! Haunted houses! Horror movie marathons! And more, More, MORE horror films to dive into! Plus my October Best of the Best in Horror Countdown is coming!
---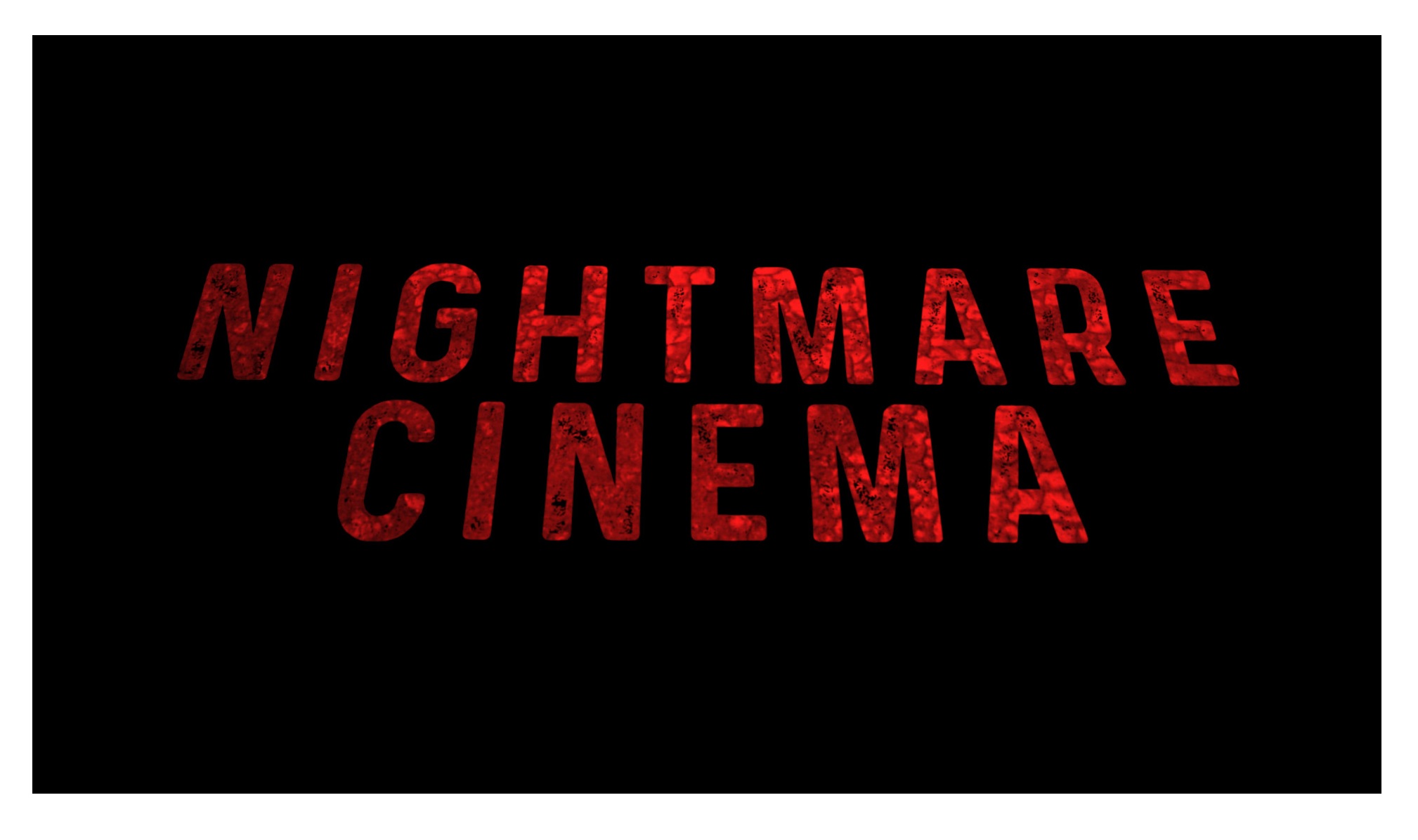 NIGHTMARE CINEMA is a new anthology film with Mickey Rourke, from Cinelou Films and five iconic directors including Joe Dante (Gremlins, Gremlins 2, The Howling, Innerspace, Explorers, Looney Tunes), Mick Garris (Hocus Pocus, The Stand, Psycho IV, *batteries not included, Amazing Stories, The Shining, Masters of Horror), Alejandro Brugues (Juan of the Dead, ABCs of Death 2), Ryuhei Kitamura (Midnight Meat Train, Godzilla: Final Wars) and David Slade (Twilight: Eclipse, Hard Candy, 30 Days of Night, American Gods, Hannibal). 1 film. 5 unrestricted directors. Endless different ways to keep you up at night. Nightmare Cinema endeavors to provide a new generation of horror fans with their own anthology which harkens back to the days of The Twilight Zone, Amazing Stories, The Outer Limits and Garris' Masters of Horror. Mark Canton and Courtney Solomon, and their Independent Production Studio, Cinelou Films, along with Scott Donley's Good Deed Entertainment are putting together Nightmare Cinema, an anthology of five short horrors which all share a common thread created by some of the genre's best directors. It's familiar territory for Solomon as his After Dark Films spent many years masterfully delivering horror films to hungry audiences with American Haunting and Horrorfest: 8 Films to Die For.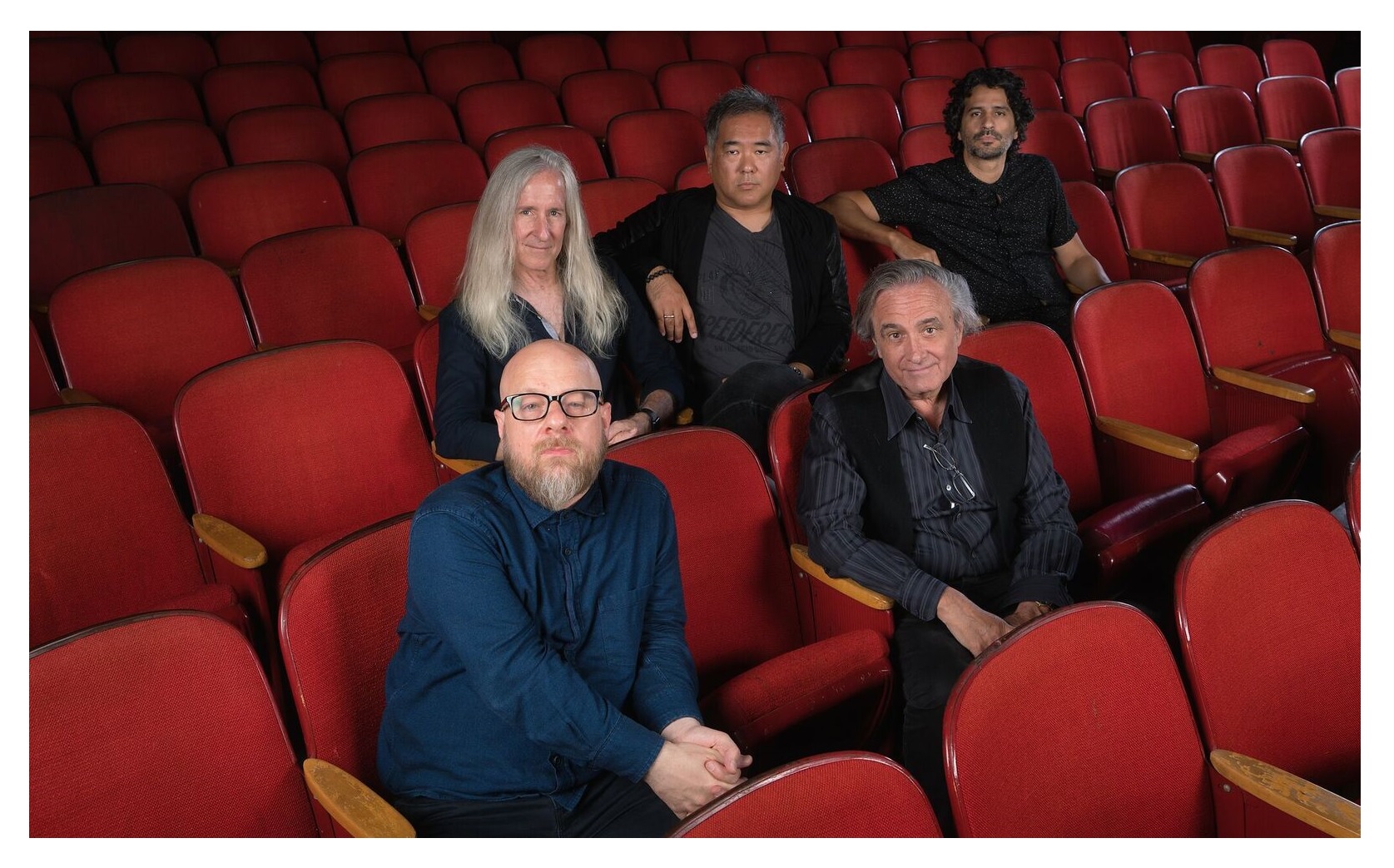 Here's the official synopsis;
A series of down-on-their-luck individuals enter the decrepit and spine-chilling Rialto theater, only to have their deepest and darkest fears brought to life on the silver screen by The Projectionist – a mysterious, ghostly figure who holds the nightmarish futures of all who attend his screenings. By the time our patrons realize the truth, escape is no longer an option. For once the ticket is torn, their fate is sealed at Nightmare Cinema.
Personally, any chance to see the work of any of these creators is a treat and having them in the same anthology sounds too good to be true. I'm looking forward to this one and will keep you posted as it develops!
Find out more about this film at Cinelou's website here
!
---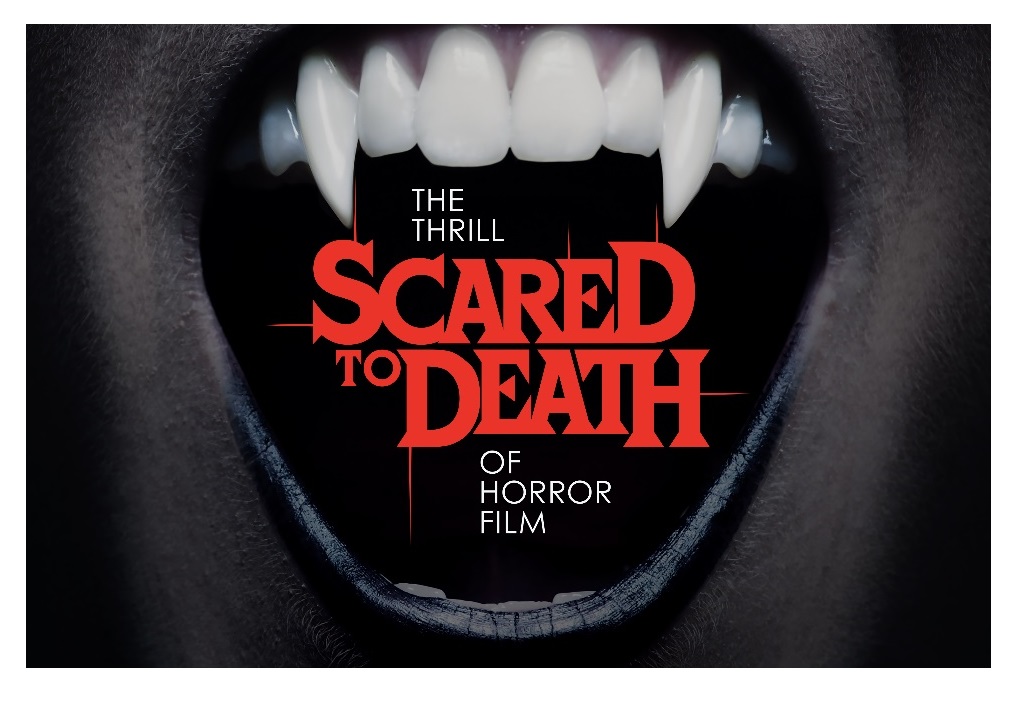 Horror fans in the Seattle, Washington area have a very cool event to go to next week. Organized by the Museum of Pop Culture, Scared to Death: The Thrill of Horror Film (#ScaredtoDeath) takes an in-depth look at more than a century of horror cinema. From blood-thirsty vampires to unrelenting zombies and fiendish slashers, this immersive experience presents the broad range of iconic horror villains and the stories over the generations that have brought them to life. Taking inspiration from the genre, the 3,000 square foot gallery space is designed to evoke the unsettling sensations associated with cinematic terror. Themed sections include an unholy vampire's chapel with walls dripping blood; a slasher's den with life-sized corpse figures suspended from the dungeon ceiling; and a containment area with zombie heads from The Walking Dead submerged in aquarium tanks. Additional props and costumes from film and television include more than 50 original objects from A Nightmare on Elm Street, Friday the 13th, Buffy the Vampire Slayer, Blade, Bride of Frankenstein, The Thing, Dawn of the Dead, Hostel, Jeepers Creepers, Pet Sematary, and more. Multi-media experiences include photo ops, digital artifact displays, exhibit films and oral history interviews with guest curators Roxanne Benjamin, Karyn Kusama, Eli Roth, John Landis, and Roger Corman. The show opens September 30th at the Museum of Pop Culture in Seattle, WA. This looks so cool!
Check out their website for more information
!
---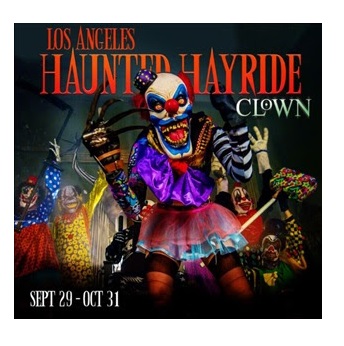 Getting ready to make your Halloween haunt plans? If you're in LA, one of your options is Melissa Carbone's infamous HAUNTED HAYRIDE which will be taking advantage of the recent scary clown trend and calling itself "CLOWN" this year.
Here's the synopsis;
Los Angeles Haunted Hayride (@LAHauntedHayride) returns with the most thrilling ride yet as guests become completely absorbed within the experience. Clown will feature four zones guaranteed to make your skin crawl: Haunted Hayride, House Of Shadows, Trick Or Treat, and Purgatory. Take a seat on our Haunted Hayride as we slither through the genuinely haunted woods of Griffith Park's Old Zoo. Meet a legion of vicious clowns waiting with more psychopathic fun than any wagon can handle. And if you think you know clowns...you don't know our clowns. The evolution of demonic apparitions that live within these trees have created a darkness that will leave with you and infiltrate your dreams. Clown - will literally have you on the edge of your seat and then forced out of those seats as you become immersed within your darkest fears escaping on foot to experience the winding, weaving Corn Maze smack dab in the middle of the ride! This year's hayride will be your favorite hayride to date. We are sure of it.
The ride goes from September 29th to October 31st. If you're in the LA area, this seems like a must see.
Get tickets here!
---
Looking for a Kickstarter to toss a bit of your money at? Well, my buddy Kristian Horn talked with filmmaker Micah Gallo over at
Part Time Fanboy
about his new feature film, ITSY BITSY. The creature feature/family drama is described as
A young mother with a troubled past must defend her two children and do battle with a legendary pre-historic Spider Goddess.
The film stars Denise Crosby and Bruce Davison. Check out the pitch trailer below and if it looks like it deserves your well earned shekels,
head over to the ITSY BITSY Kickstarter Page and donate!
---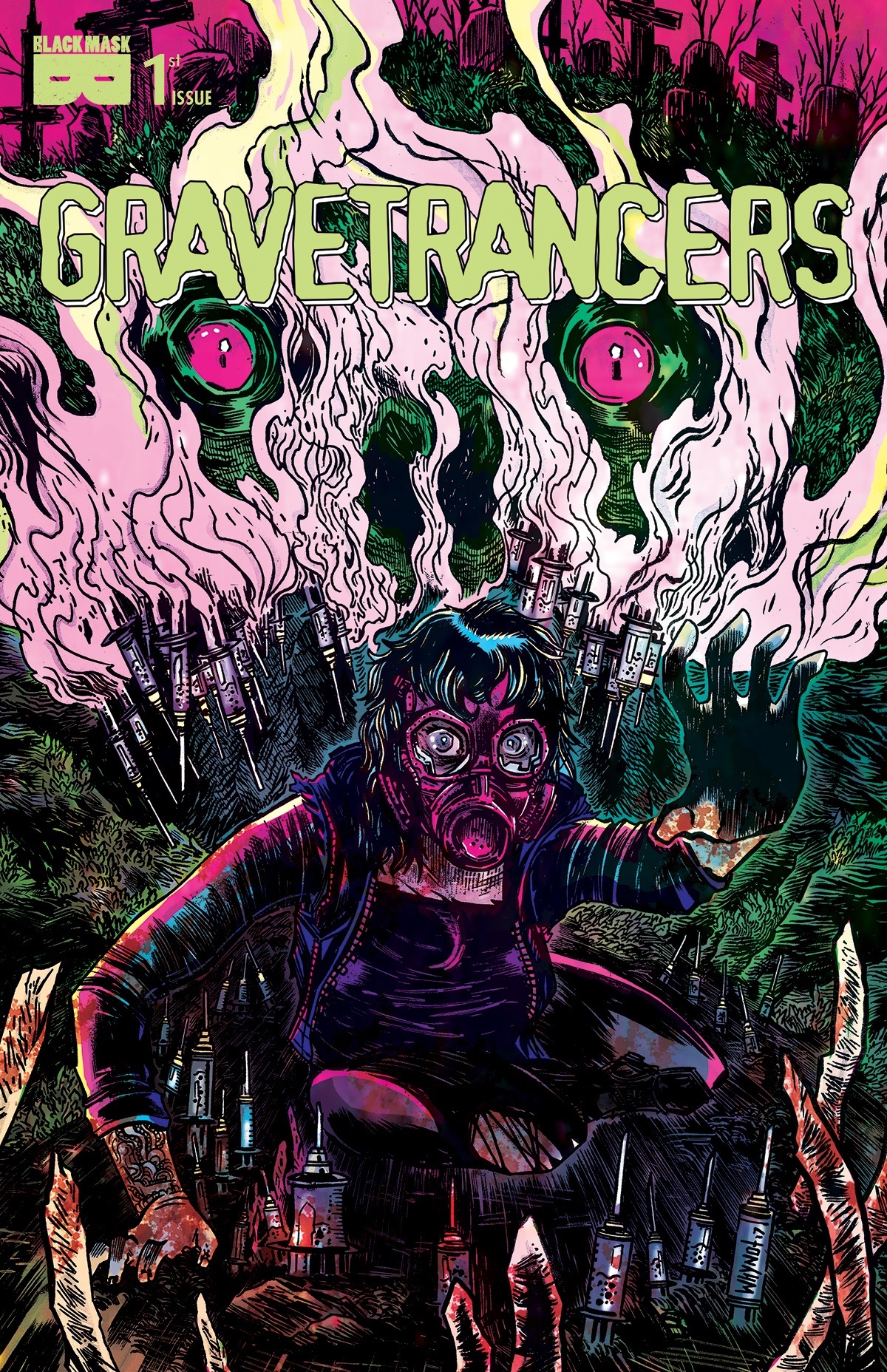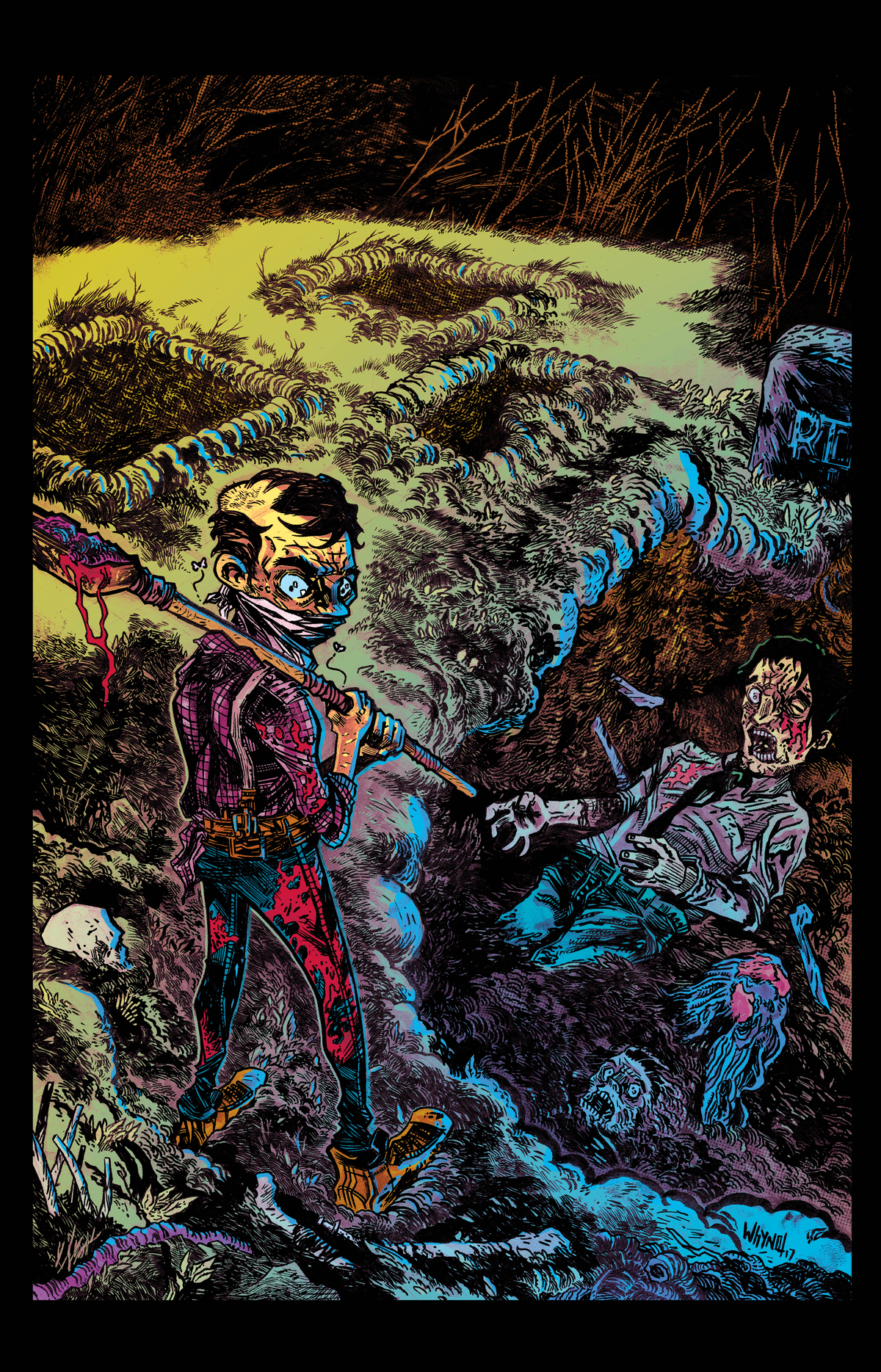 You can pay me back by ordering my upcoming comic book called GRAVETRANCERS from Black Mask Studios.
It's in July's Diamond Previews under item code #JUL171455
. Please let your comic shop know they should order a plenty as it's a pretty potent little horror tale, if I do say so myself with mesmerizing pencils and inks of James Michael Whynot, psychedelic colors by Dee Cunniff, and bold and beautiful letters by Jim Campbell! The four issue miniseries follows Maribel and Anthony who are in search of the grave of their dead father, not knowing that they are stumbling into a graveyard owned by an eccentric clan of grave-robbers who've devised a highly-addictive drug made from human remains–and the fresher the corpse, the stronger the dose. What started out as an attempt to reconnect with the past becomes a descent into a psychedelic, neon-colored nightmare—will Maribel and Anthony find their way through the hallucinogens or will they become the next hit? I think it's a story fans of grindhouse horror are going to love.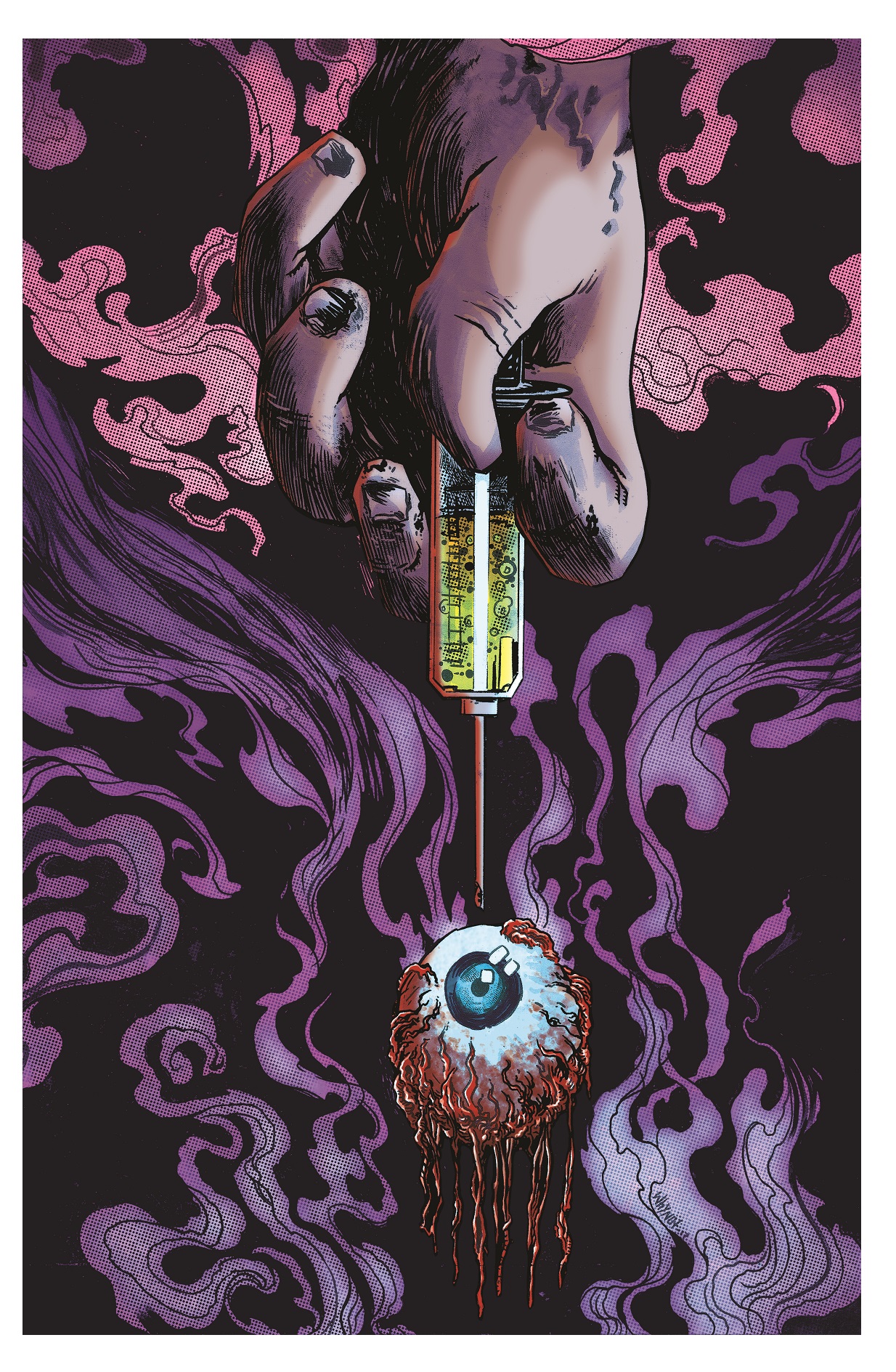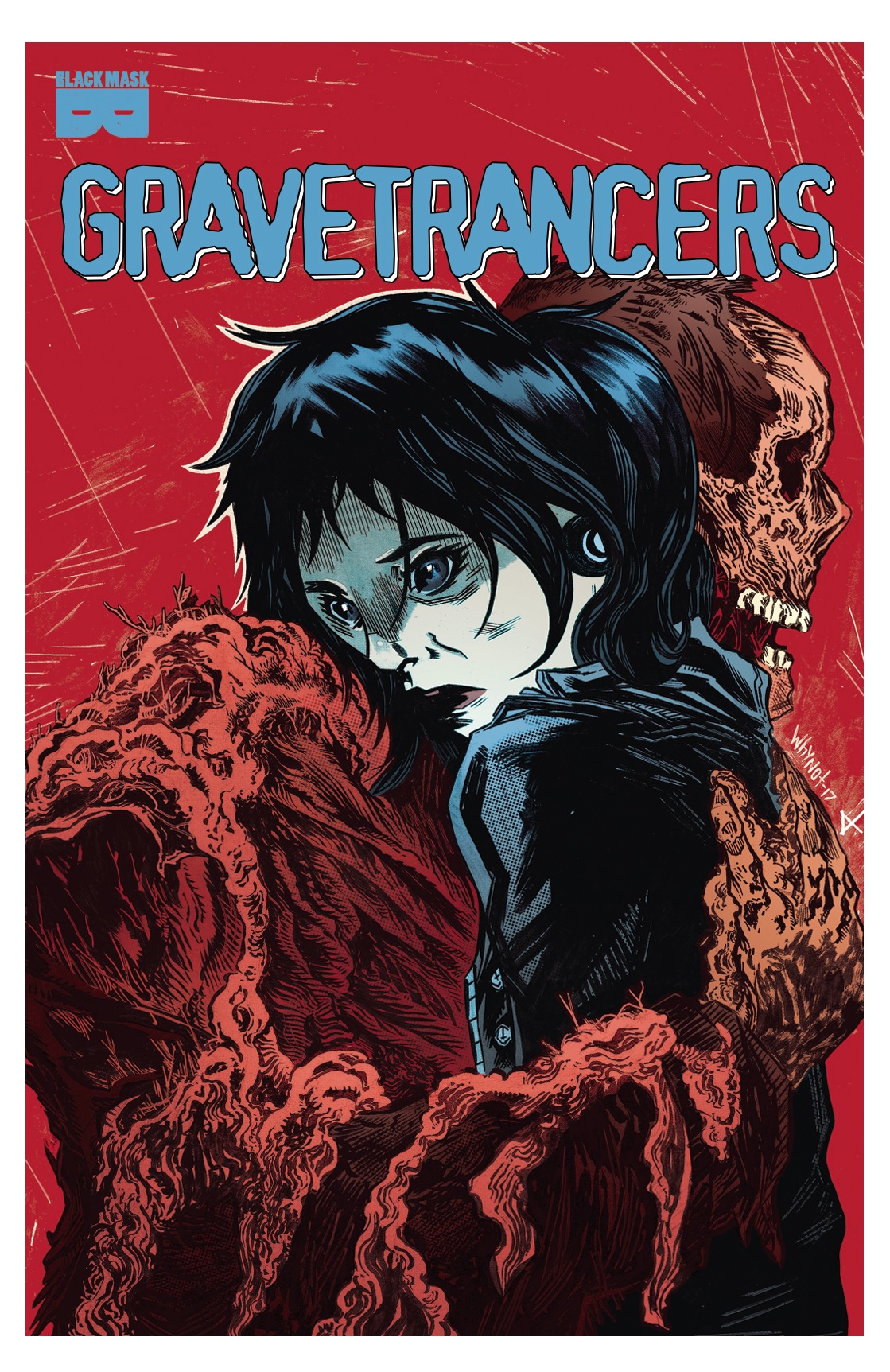 The news broke on Bleeding Cool here
and on
ComicCon.com
. I've been bopping all around the Interwebs doing interviews at
ComicCon.com
and
First Comics News
. GRAVETRANCERS has also been covered on
Dread Central
,
ComingSoon.net
, and
Horror Society
!
You can order
GRAVETRANCERS #1 from Previews under item code #JUL171455 by clicking here
,
GRAVETRANCERS #2 item code #AUG171290 by clicking here
,
GRAVETRANCERS #3 item code #SEP171274 by clicking here
and
GRAVETRANCERS #4 item code #OCT171228 by clicking here
! If your comic store doesn't have it, give 'em shit for it and tell them to pick up this hardcore horror series the hell up, pretty please!
---
With my October Best of the Best in Horror 2017 coming up, I also wanted to give out an open call to advertisers interested in helping to keep this column running. Any inquiries should contact me here!
On with the horror reviews!
Today on AICN HORROR

(Click title to go directly to the feature)
THE CREEP BEHIND THE CAMERA (2014)
Retro-review: THE CREEPING TERROR (1964)
Retro-review: THE RESURRECTED (1991)
ZOMBIES (2017)
WATCH OVER US (2015)
REVELATOR (2017)
THE MUMMY (2017)
THE HOUSES OCTOBER BUILT 2 (2017)
LET ME MAKE YOU A MARTYR (2016)
47 METERS DOWN (2016)
LEATHERFACE (2017)
And finally…HEAD CHEESE: A Leatherface Animated Short by Sonny Fernandez!
---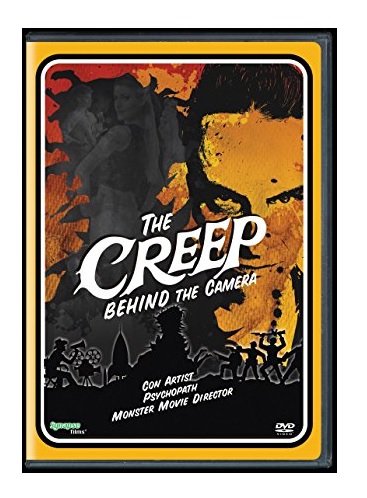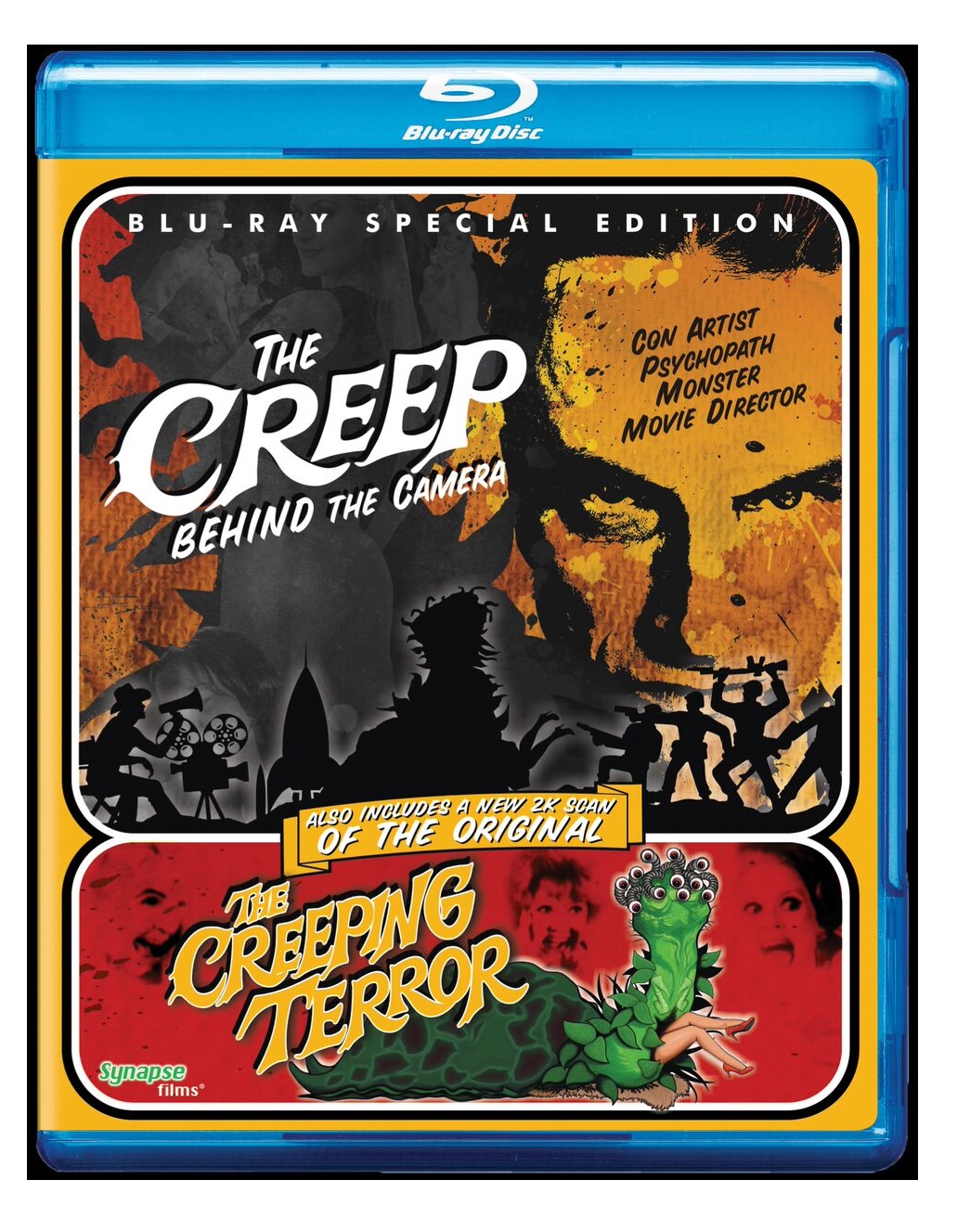 New on BluRay/DVD from Synapse Films!
THE CREEP BEHIND THE CAMERA (2014)
aka CREEP!
Directed by Pete Schuermann
Written by Pete Schuermann
Starring Josh Phillips, Jodi Lynn Thomas, Bill LeVasseur, Brian McCulley, Laurel Harris, Mark Lee, Helen Trencher, Chris Winters, Jason Coviello, Meggie Maddock, Katie Bevard, Glenn Thayer, Jeffery Jesmer, Tom Auclair, Oscar Robinson, Winston Elliot King, Sammie Joe Kinnett, Randy Bauer, Roy Kieffer, Judith Shay Burns, Nicolas Pacitto, Antonio Pacitto, Kyle Woodiel, Andy Hankins, Lucky McQueed, Mark O'Brien, Byrd Holland, Richard Edlund, Michael Medved, Harry Knowles, Kyle Amann as Charles Manson!
Find out more about this film here and on Facebook here
Reviewed by M. L. Miller aka Ambush Bug
I chose to watch the film THE CREEP BEHIND THE CAMERA before watching THE CREEPING TERROR for the first time in order to get some kind of perspective on the film which has been dubbed one of the worst films of all time. I don't know if that's a mistake or not, but that's the order I saw it. Knowing the utter chaos that went on behind the scenes due to the narcissistic lunacy and lofty aspirations of Art "A.J." Nelson/Vic Savage, the man monster director behind THE CREEPING TERROR, I don't know if that was the best order to watch it in.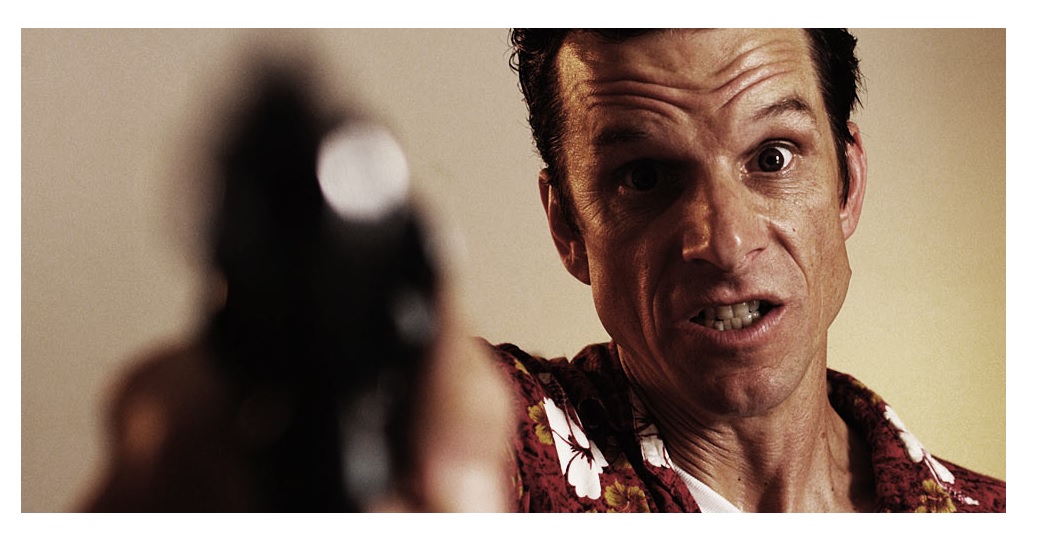 Less of a horror film and more of an odd little biopic about an obscure film, THE CREEP BEHIND THE CAMERA follows Nelson (played by a very Bill Paxton-esque Josh Phillips) who conned his way across the country and through Hollywood, promising he would make the biggest and best monster movie of all time. Without a lick of training or expertise in the field of filmmaking and only knowing how to swindle a buck from gullible investors, eager actresses, and his poor wife, Nelson set out to direct and star in THE CREEPING TERROR. Little of the money from the investors went to the film. Most of it went on Nelson's self-destructive rampage with women, alcohol, and drugs in his pursuit of fame and fortune.
I found the story of THE CREEP BEHIND THE CAMERA to be rather depressing. Often we see the story of an aspiring person with a dream, setting out to conquer unimaginable odds and we root for him to overcome those odds and live that dream. Nelson had those dreams, but because he preferred the adoration that comes with fame and felt entitled to that fame rather than simply working hard to achieve it, he fails and fails miserably over and over again. It's pretty disheartening to see someone who could have applied his talent for good and probably would have achieved so much, but this film does a fantastic job of showing how much of a skeeze this guy really was. As convincing as he is as a movie villain, I wanted to try to find some kind of nugget of humanity in there to highlight the tragedy, but even until the end (at least in his depiction here), Nelson was a creep. By the end of the film, you will hate the character actor Josh Phillips plays as Phillips is really good at being bad.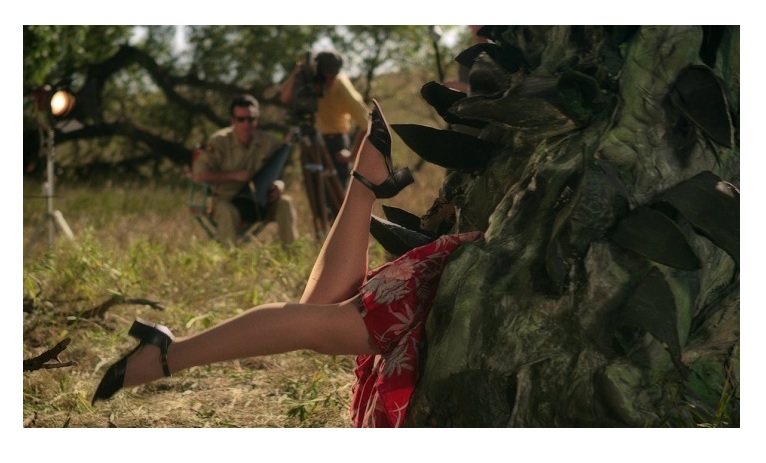 Part documentary and part biography, the film is interspersed with film historians, critics (including our very own Harry Knowles), and some of the people Nelson took advantage of during the filming of THE CREEPING TERROR. As I said earlier, I don't know if it was a good idea seeing THE CREEP BEHIND THE CAMERA before THE CREEPING TERROR. When I do see low budget films, I tend to be optimistic and try to notice kernels of imagination, heart, and a general fondness for the horror/sci fi genre. Having seen THE CREEP BEHIND THE CAMERA, I know that there really is none of that heart behind the film and I think it most likely soured the whole film a bit for me.
Rolling in at about an hour and forty five minutes, THE CREEP BEHIND THE CAMERA could have had about a half hour whittled off of it as it does run a little long in the tooth. The film does reenact a lot of depravity at the hands of Nelson be he pairing up with Charles Manson to steal cars for the film he is making, stalking Mamie Van Doren or Lucille Ball, or simply beating and cheating on his wife. It seems Nelson truly was the monster after all if this film and the testimonies of the cast are accurate. Either way, this is a thorough and convincing piece of behind the scenes cinema, vividly portraying the dark side of the pursuit of fame.
---
---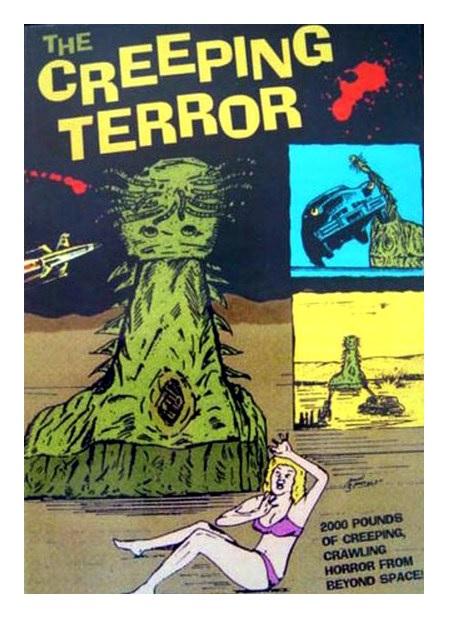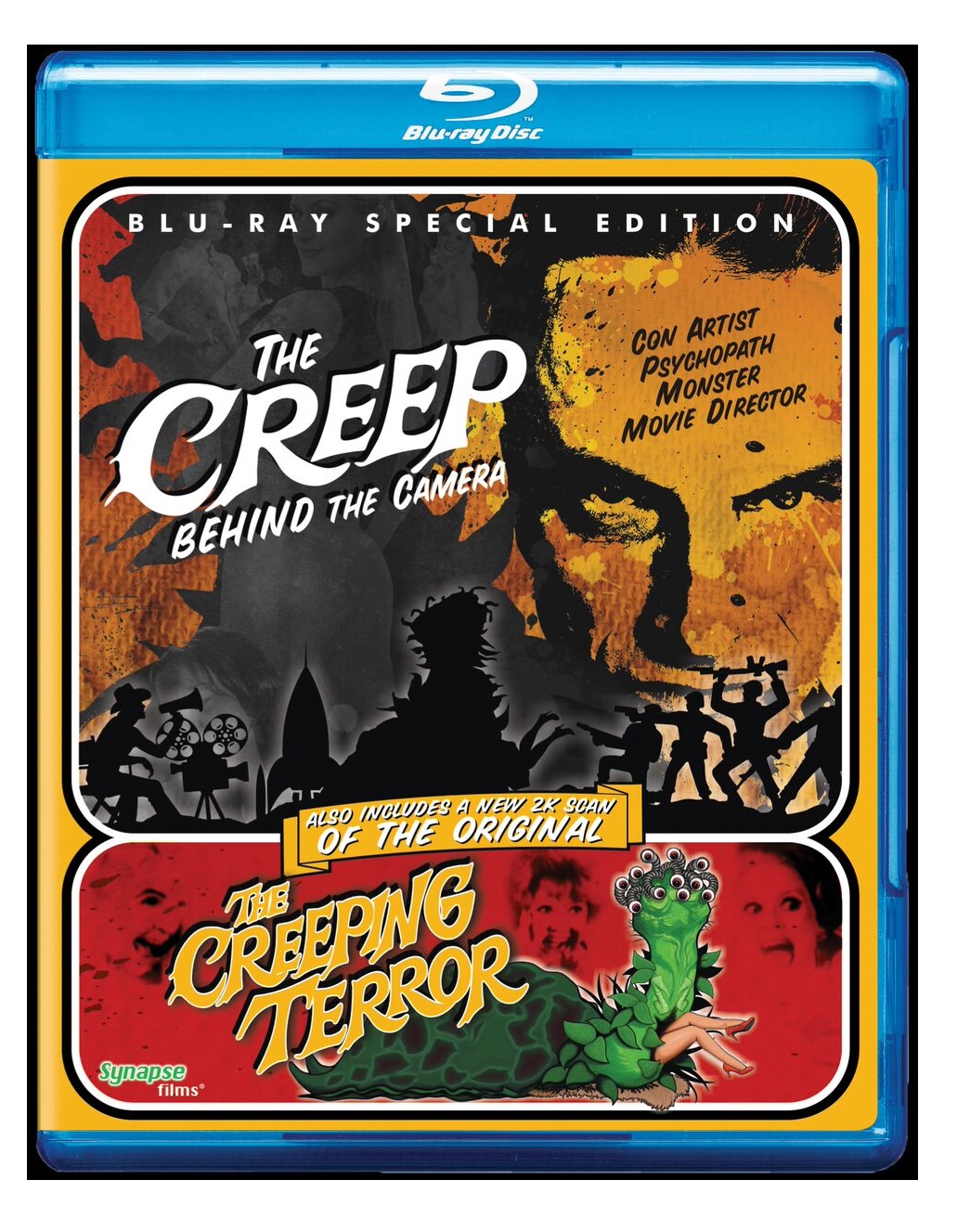 Retro-review: New on BluRay/DVD from Synapse Films!
THE CREEPING TERROR (1964)
aka THE CRAWLING MONSTER
Directed by Vic Savage (as A.J. Nelson)
Written by Robert Silliphant (story)
Cast Vic Savage, Shannon O'Neil, William Thourlby, John Caresio, Brendon Boone, Byrd Holland, Jack King, Pierre Kopp
Retro-reviewed by M. L. Miller aka Ambush Bug
While many films have been nominated as the worst movie ever made, I really think THE CREEPING TERROR might be in the top tier of that distinguished group.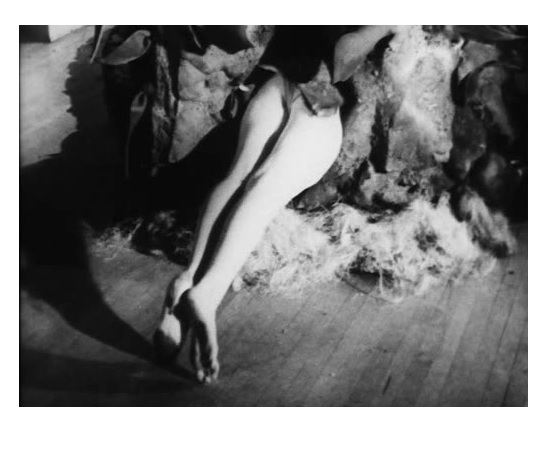 Made by a sociopathic con man who blew the budget on drugs and dames, this low rent monster from outer space film has very few redeeming qualities and a plot that is hardly followable. Still, there's a DIY charm to the film that I would attribute to director A.J. Nelson aka Vic Savage's aspirations to become famous. The fact that he conned anyone to be in this turd is amazing. Let alone the fact that much of the film feels scattershot, lacking in any type of logic, and meandering around behind a slow moving, beanstalk with Slinkys for eyes and a vaginal mouth that swallows ladies whole, leaving their long gams protruding out the mouth and flailing for uncomfortable amounts of minutes at a time.
The design of the monster itself is rather fun. It is a man in a suit and obviously so, as the operators seem to be stumbling around without knowing exactly where they are going. The dame-eating sequences are the highlight of the film as it is obvious the actresses are simply crawling into the mouth of the beast and not being pulled in. On top of that, how did something so awkward and un-dexterous have the know-how to build a spaceship and make it to earth? The filmmakers don't want you to ask questions like this because it seems they don't care about the answers as long as the camera can linger on the long legs and curves of the ladies in distress.
On top of it all, because the filmmaker didn't know what the hell he was doing, there was no sound looped into the film and scenes don't necessarily tie into one another to make a story. Because of this, most of the film is narrated and most of the narration has very little with what is happening in the frame. This is a mess of a movie, meant to be played in the background at parties and not payed close attention to. The filmmakers didn't really seem to care about making sense of it, so why should you? Still, it's got a fun monster and some groovy hip-swinging babes to feast your eyes upon, so THE CREEPING TERROR ain't all that bad.
---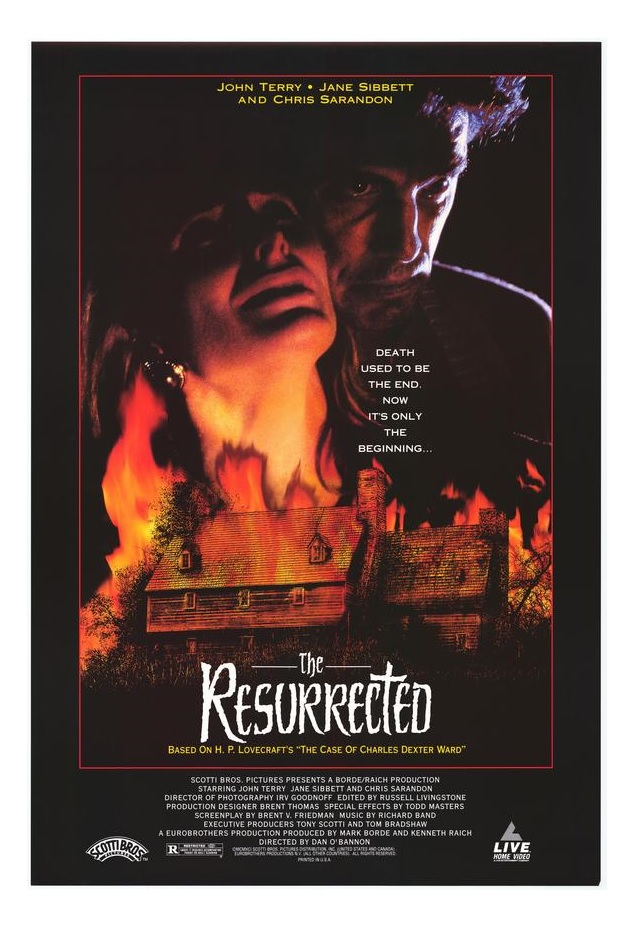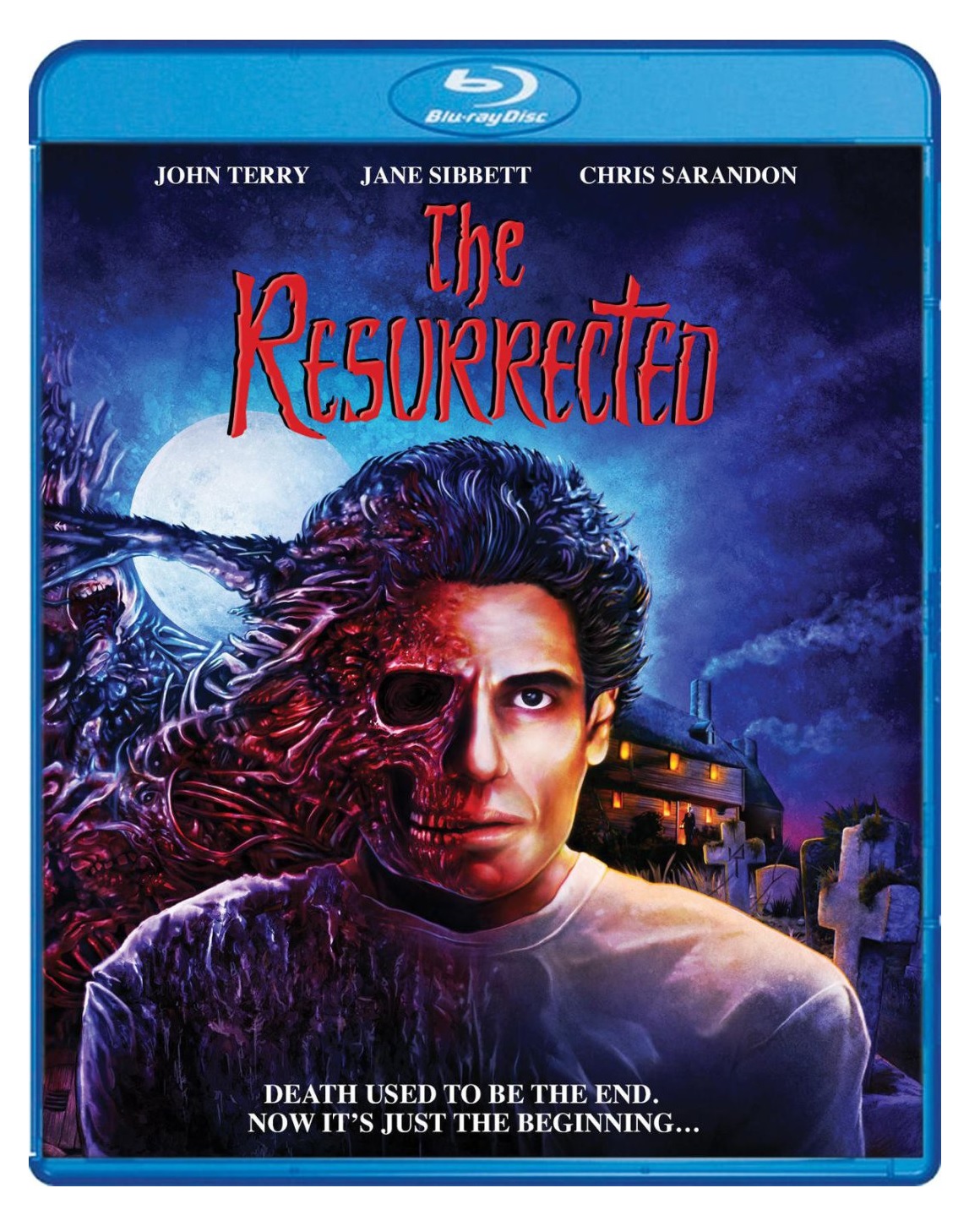 Retro-review: New on BluRay from The Shout Factory!
THE RESURRECTED (1991)
aka SHATTERBRAIN, Directed by Dan O'Bannon
Written by Brent V. Friedman (screenplay, based on a story "The Case of Charles Dexter Ward" by H.P. Lovecraft)
Starring John Terry, Jane Sibbett, Chris Sarandon, Robert Romanus, Laurie Briscoe, Ken Camroux-Taylor, Patrick P. Pon, Bernard Cuffling, Eric Newton, Judith Maxie, Charles K. Pitts, Megan Leitch, Joan O'Donahue, Scott J. Ateah, Deep Roy
Retro-reviewed by Mark L. Miller aka Ambush Bug
I'm surprised THE RESURRECTED eluded me with Chris Sarandon in the cast, Lovecraft as the story inspiration, and the legendary Dan O'Bannon at the director's helm. Still, despite that exceptional pedigree, THE RESURRECTED is schlocky at best, downright goofy at times, and sometimes even painful to watch. It's got some nice late 80's charm with its practical effects and Empire Pictures-like production, but I can't say this one lived up to the sum of all of its awesome parts.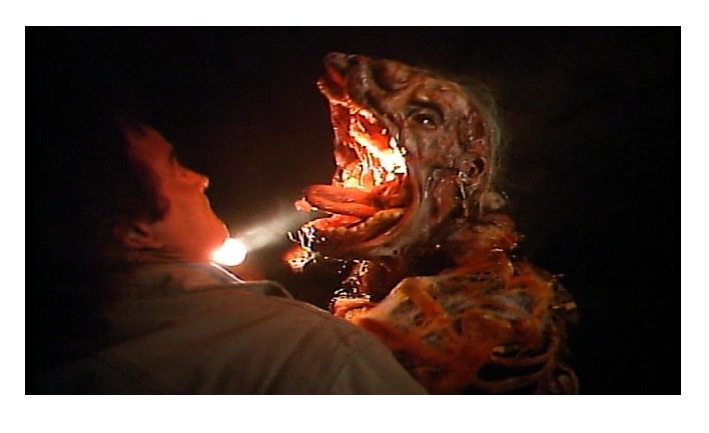 Detective John March (FULL METAL JACKET's John Terry) is hired by Claire Ward (Jane Sibbett) to locate her missing husband Charles Dexter Ward (FRIGHT NIGHT's Chris Sarandon) whose scientific experiments have taken him to the darkest of places. Seems Charles moved to a country home of his ancestor Joseph Curwen (who happens to look just like Charles) and Claire is worried her once loving husband is in over his head once he has paired with a mysterious Dr. Ash and relocated his lab onto his property. As March tracks Ward down, he uncovers an unholy alliance between mysticism and medicine that breaks all ethical bounds. But once arrested by the police for his heinous experiments and graverobbings and committed to an asylum, March is compelled to revisit Ward one last time.
It really feels like THE RESURRECTED might have been an attempt to capture the magic of RE-ANIMATOR and FROM BEYOND that went sideways somewhere. I could see Bruce Abbott playing the staunch and charming Detective March and Jeffrey Combs going over the top as Charles Dexter Ward. Of course, Barbara Crampton would have once again graced us with her talent and beauty as Claire Ward. Maybe it was the Richard Band score, but this feels like a long lost Empire film. That's not a bad thing. But the whole time, I felt that the cast was lackluster overall. Sarandon is alright as Ward, but just kind of there, lacking the dangerous sensuality he had as Jerry Dandridge in FRIGHT NIGHT. And while John Terry is a fine actor, he just doesn't feel right as a quirky detective type they try to communicate with March.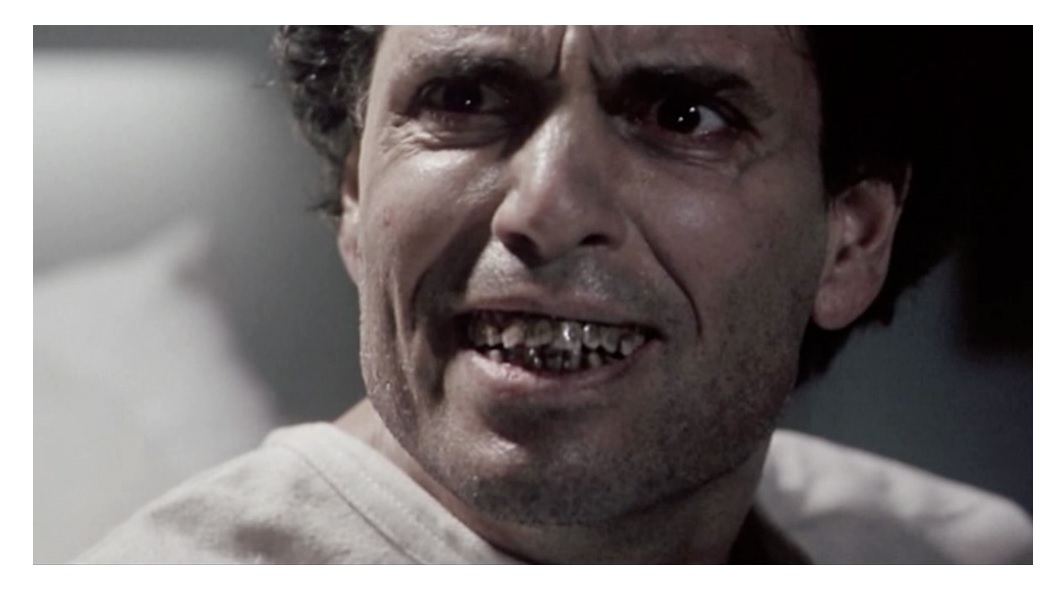 The classic story by Lovecraft is realized decently, taking the story out of a dank castle as we've seen before with Vincent Price as Ward in
THE HAUNTED PALACE
, though that was a goofy film as well. Still, what makes this film worth checking out is the effects extravaganza that makes up the end as March, Ward, and Curwen face off against one another. Reminiscent of films like IN THE MOUTH OF MADNESS, THE RESURRECTED pits logical science and the beyond against one another with mechanical skeletons, burn appliances, rotten teeth, and tons of animated lasers and portals. The climax doesn't really make a lot of sense, but it looks really cool!
This one's got some fun special features including; a 2K transfer from the film's vaulted interpositive film element, a new Claire's Conundrum – an interview with actress Jane Sibbett, a new The Strange Case of Charles Dexter Ward – an interview with S.T. Joshi, author of I Am Providence: The Life and Times of H.P. Lovecraft, audio commentary with producers Mark Borde and Kenneth Raich, screenwriter Brent V. Friedman, actor Richard Romanus and make-up effects artist Todd Masters, The Resurrected Man – an interview with Chris Sarandon, Abominations & Adaptations – an interview with screenwriter Brent Friedman, Grotesque Melodies - an interview with composer Richard Band, Lovecraftian Landscapes – an interview with production designer Brent Thomas, Human Experiments – an interview with special effects artist Todd Masters, deleted/extended scenes from the workprint, home video trailer & Japanese trailer, & a photo gallery! So if you're a fan of THE RESURRECTED, there's plenty of extras to enjoy!
---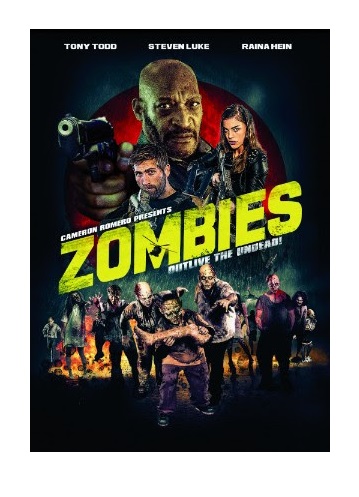 New in select theaters and On Demand next Friday, September 29th!
ZOMBIES (2017)
Directed by Hamid Torabpour
Written by Hamid Torabpour
Starring Steven Luke, Tony Todd, Raina Hein, Amanda Day, Aaron Courteau, Marcus Dee, Heidi Fellner, Todd Vance, Jim Westcott, Amber Rhodes, Brian Thoe, Bruce Miller, Cameron Cylkowski
Find out more about this film here and on Facebook here
Reviewed by Mark L. Miller aka Ambush Bug
While there are some decent action scenes and nice effects, ZOMBIES is sadly, just another zombie movie shambling among the herd of the million and one other zombie movies put out since 2000.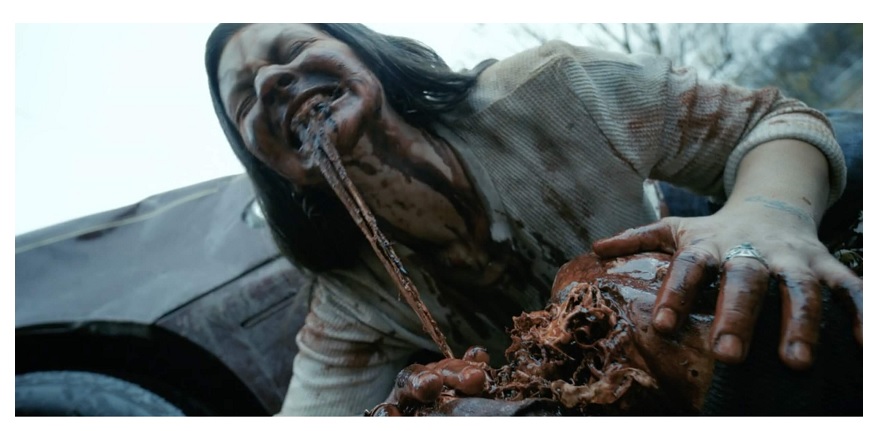 ZOMBIES follows Luke, a noble soldier (Steven Luke) who with a wizened Detective Sommers (Tony Todd) leads a resistance against a zombie horde. Luke mourns his lost love and finds a new one as they try to find the cause, the cure, and the way to survive in this zombie infested world.
While there is a decent story and somewhat of an interesting arc within ZOMBIES, the main problem lays within the editing and the acting. Scenes are edited and/or directed without the least bit of patience, making every emotional decision by the characters feel unnatural. On top of that, the acting is pretty awful. Luke can grunt and shoot a machine gun like a champ, but anything requiring real emotion and it's really tough to watch. Todd is fun, as usual, but none of the other folks in this film convinced me that the situation is as dire as they are saying. Because characters act so nonchalantly with one another, it's really hard to tell who knew who before the zombie plague and who didn't. Even first meetings feel way too casual in this film. And the final, supposedly emotional scenes really are cringe-worthy in terms of acting.
Casual is a good way to describe this film. It just doesn't feel like these characters are under any pressure at all. And because of that, I just didn't care. ZOMBIES looks decent enough and the zombie effects look cool (though I could do without the CG blood). If you must watch all zombie films, I guess this one is a decent time-waster of a film, but ZOMBIES just didn't have enough chops to carry the emotional heft the story called for.
---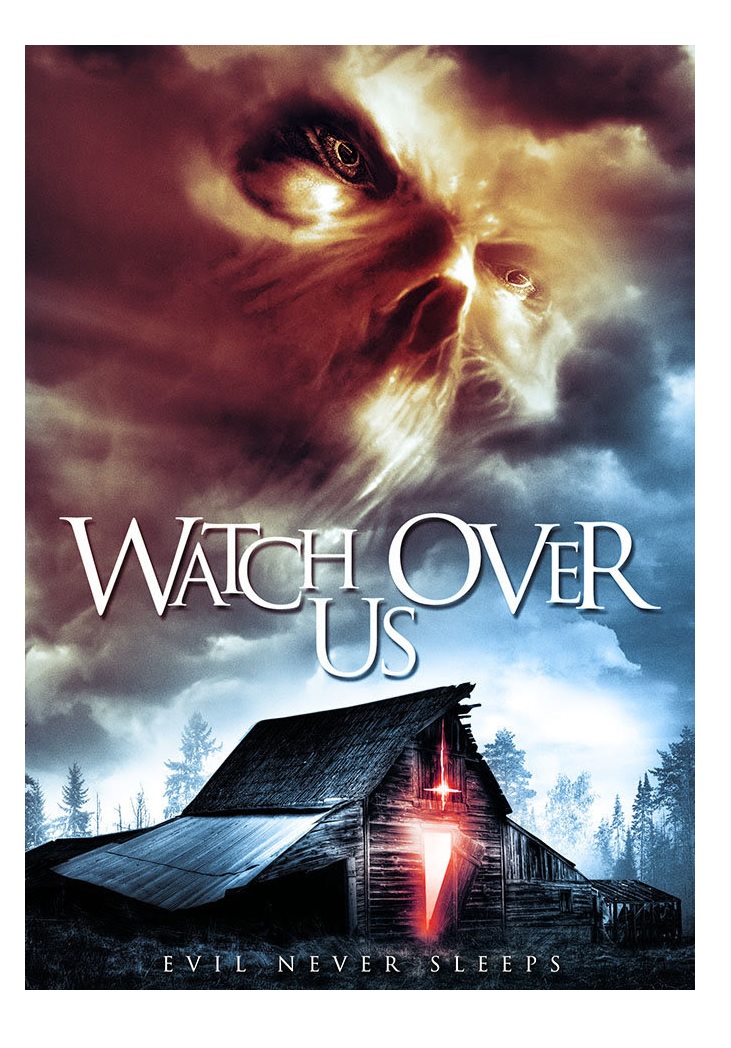 New next week On Demand from Wild Eye Releasing!
WATCH OVER US (2015)
Directed by F.C. Rabbath
Written by F.C. Rabbath
Starring Avery Kristen Pohl, Ella Schaefer, Daniel Link, Bill Kelly, Mike Whaley, Henry Tisdale, Hudson Meeks, Mike Herrin, Laura W. Johnson, Patrick Newman, Bryan Perritt, Dorothea Syleos, Kristina Tutton, Bella Odog, & Lauren Counts as the Demon!
Find out more about this film here
Reviewed by M. L. Miller aka Ambush Bug
WATCH OVER US sure will piss off those who like to see the monster by the end of the film, but if simple ominous atmosphere is enough for you, then this supernatural thriller might just be for you.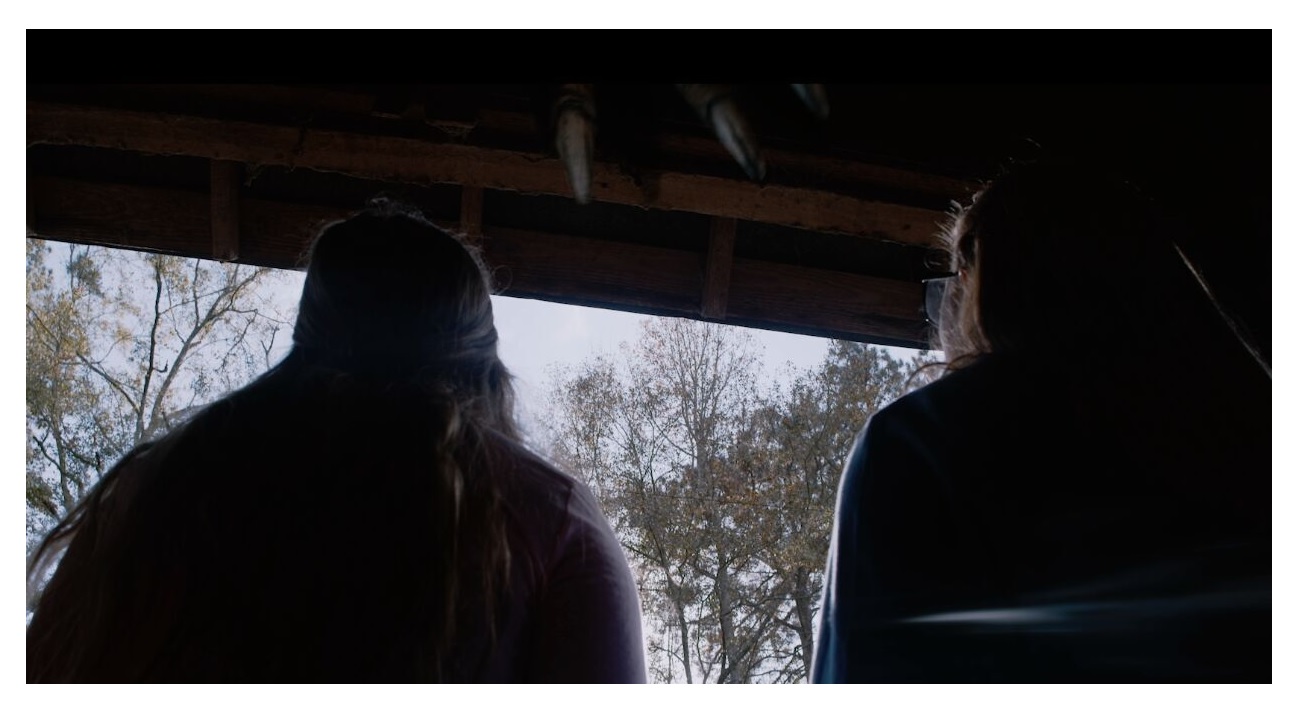 Jon (Daniel Link) is having a rough run. He lost his wife, got fired from his job, and had to move back in with his father with his two teenage daughters Becca (Ella Schaefer) and Eliza (Avery Kristen Pohl). With a sickly father living in the attic of his own country home, no luck with dating and job hunting, and two kids who are growing more aware of their father's problems, Jon is in a corner. Not to mention that the barn behind their house seems to be haunted by a benevolent spirit that might just be the devil. Warned to stay out of the barn by their grandfather, Becca and Eliza, along with their father Jon find the spirit in the barn restless and hungry for a new soul to consume.
Writer/director F.C. Rabbath does a lot with very little in WATCH OVER US. Simple sound effects, slow moving cameras, and a few tricks with deep dark shadows are all the tools he needs to make the hairs on the back of your neck rise in some extremely effective scenes. This is aided by some convincing performances by pretty much the entire cast. Schaefer and Pohl are two fantastic little actresses and even when the scenes aren't all spooky, their comfortable and witty interactions make this film run smoothly. Link is a pretty solid lead, playing a role that is less than heroic and he wears all of Jon's flaws well while still retaining his likability. This is a film that
almost
falls apart with a hasty ending as WATCH OVER US runs into the back-end of its budget in the final moments, but still maintains its creepiness all the way through.
The hurried resolution and the absence of an appearance by the evil spirit is going to infuriate some folks. But if you're more of an "enjoy the ride" person than a "what's this all mean in the end" guy, WATCH OVER US is going to deliver just enough invisible terror and ominous mood to satisfy.
---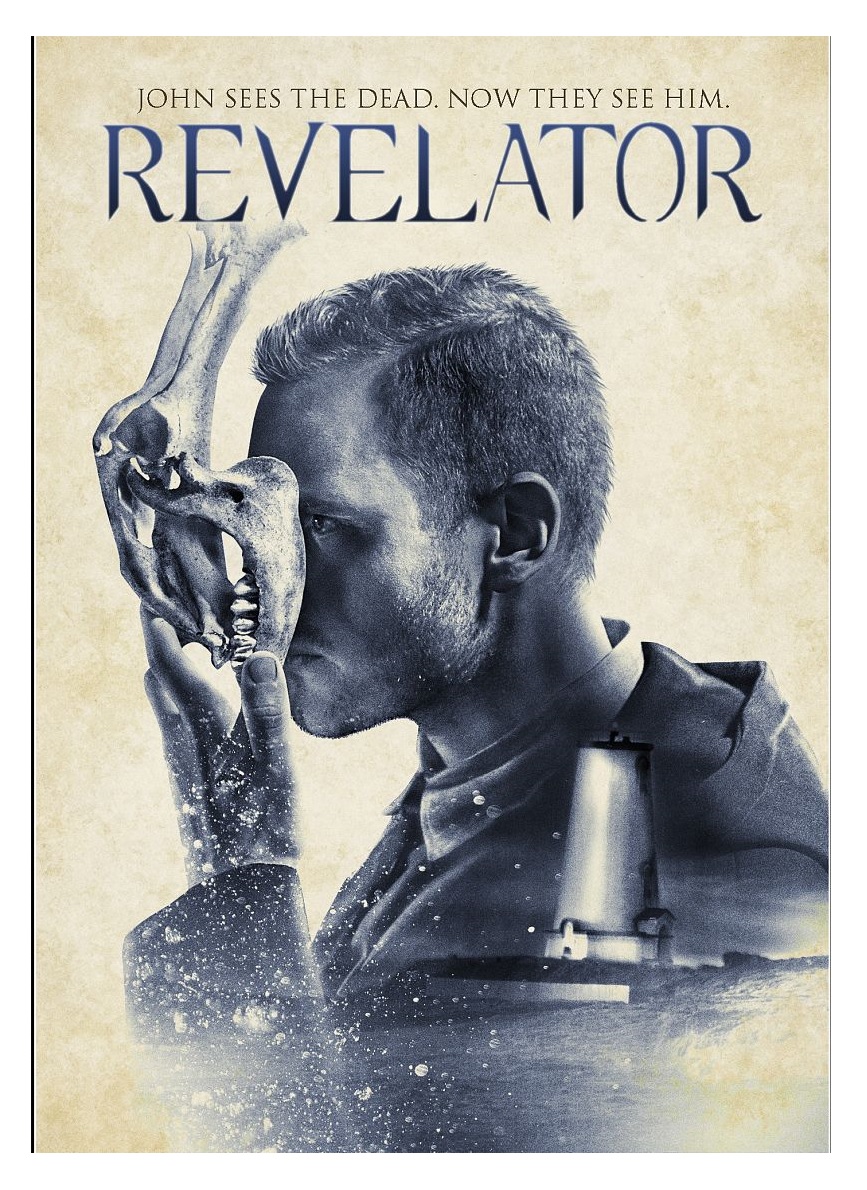 New On Demand, Amazon, iTunes, Google Play, Vimeo, Xbox, Steam, Vudu, Youtube, and DVD from Midnight Releasing!
REVELATOR (2017)
Directed by J. Van Auken
Written by J. Van Auken
Starring J. Van Auken, Mindy Rae, Lillian Solange Beaudoin, Barrow Davis-Tolot, Shelly DeChristofaro, Joe DeSoto, Josh Harp, Galen Howard, Justin Johnson, Kate Johnson, Ben Kientz, Alex Klein, Davison Locksley, Greg Lucey, Phil Miler, Patrick Peduto, Catherine Picta, Ramiro Quezada, Rosalie Roder, Yazemeenah Rossi, Charley Rossman, Josh Robert Thompson, Nicholas Thurkettle
Find out more about this film here, @revelatormovie, and on Facebook here
Reviewed by M. L. Miller aka Ambush Bug
REVELATOR feels like a dark and seedy style comic book, mixed with equal heavy doses of noir and the supernatural. Usually this would make for an uneven stew of a film, but it manages its parts well to make an enthralling, yet imperfect little broth.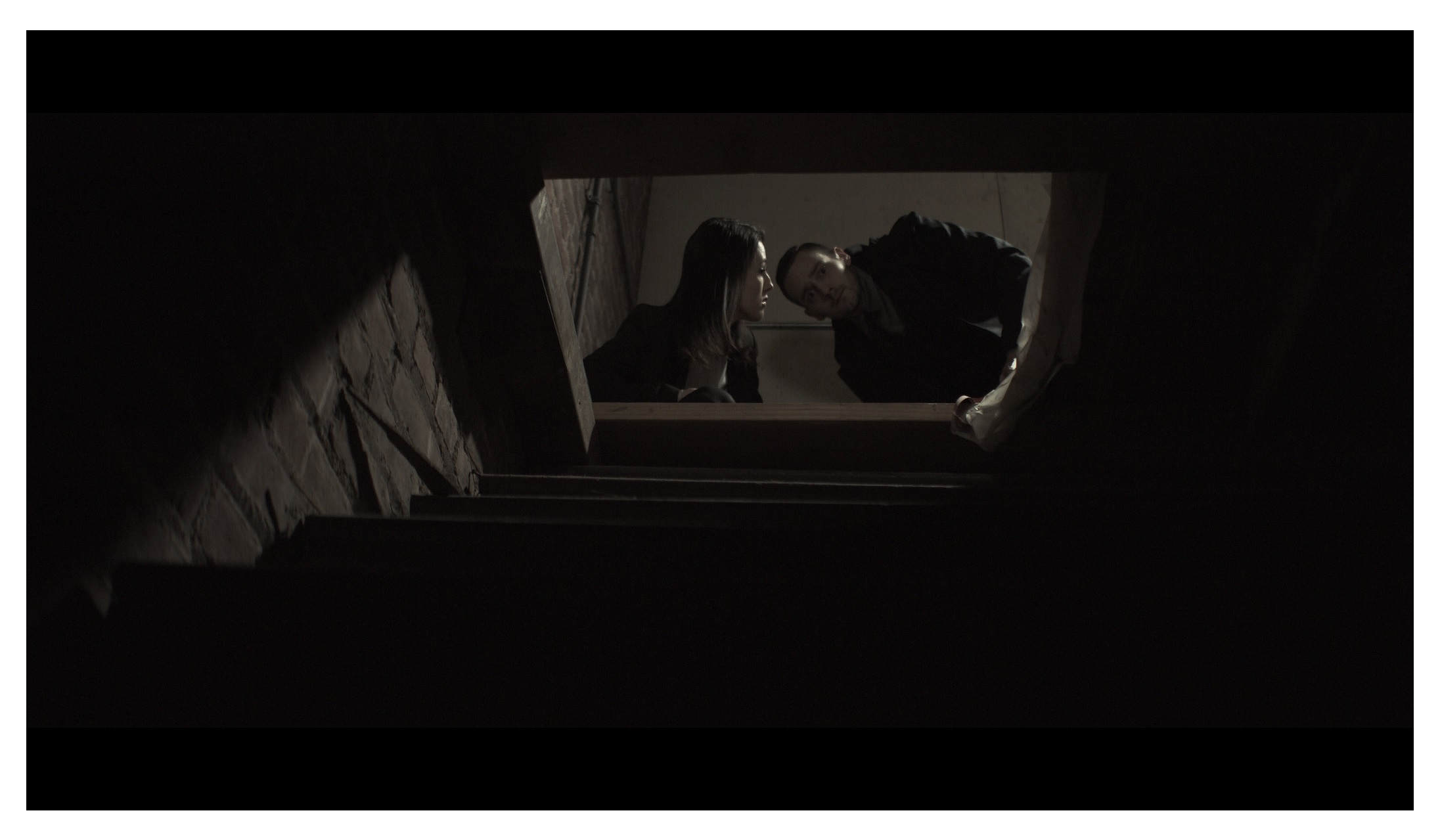 John (writer/director J. Van Auken) sees dead people and gets paid handsomely by people who believe in his power to communicate with their recently deceased loved ones. When a former client dies, she shocks her surviving relatives by leaving John an entire island. Knowing that no one has ever died on the island, John accepts the inheritance which enrages the other relatives and puts a target on his back. Meanwhile, a reporter named Valerie Krueger (Mindy Rae) looks to make a break by writing a story attempting to debunk John and his abilities, but this only puts more people on John's tail. With former clients and pissed off relatives after him, John finds more problems when the ghosts he sees are beginning to actually see him back.
I could see REVELATOR being some kind of ScyFy detective series. It's a fun concept that is familiar enough in that he has the same powers little Haley Joel Osment had in THE SIXTH SENSE, but Auken's introverted performance gives the character a much more intriguing character to play with. Auken is great as John, slump shouldered and often mumbling out his words so as not to draw the attention of both the living and the dead. While occasionally it was difficult to actually hear what he is saying, Auken plays this complex character with conviction. Rae is equally likable as John's sort of sidekick, first out to disprove his abilities and then finding herself relying on them in order to survive. Add in some creepy smiling ghosts, some tattooed faced goons, and a couple of angry relatives and you've got a supernatural gumshoe flick that meshes genres seamlessly.
REVELATOR becomes a bit extraneous in the final act. As I said before, while John's character is fascinating, the fact that he mumbles is occasionally difficult to take, especially when it seems like there is something important to be heard. Occasionally, the film goes into the realm of weird simply to go there and those scenes feel like the most ingenuine. Still, this is a really nicely constructed and expertly realized supernatural noir thriller with elements of super heroism, but none so over the top to distract. I'd love to see more cases for the REVELATOR as there are still a lot of ghosts out there to haunt John and Auken has created a character and world worth revisiting.
---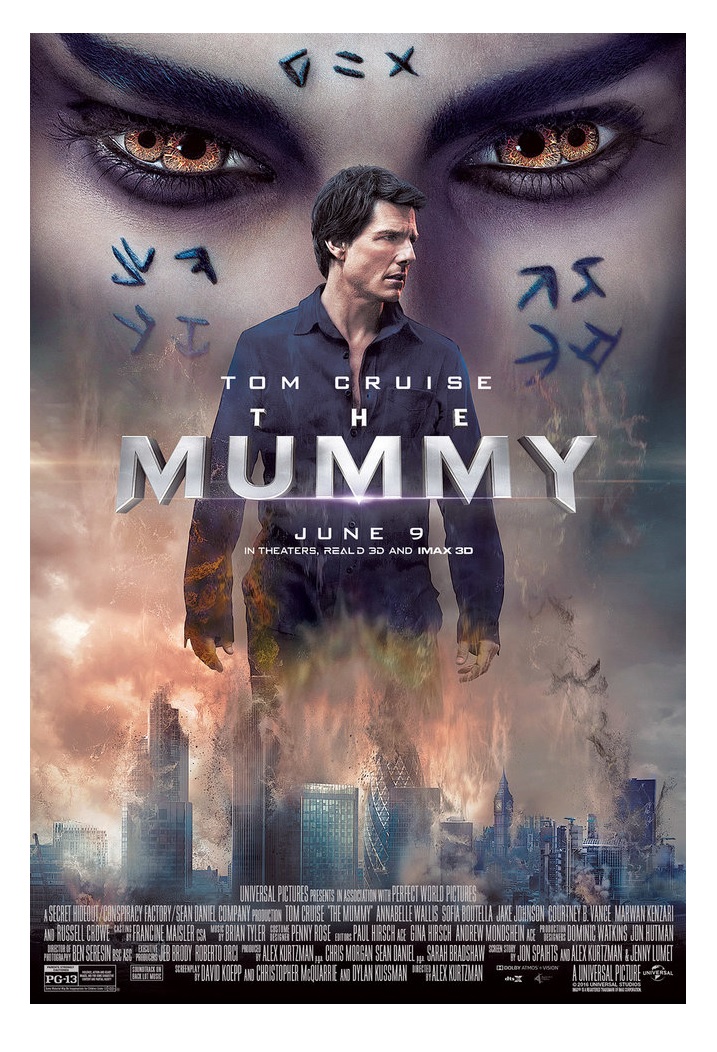 New this week on BluRay/DVD from Universal Pictures Home Entertainment!
THE MUMMY (2017)
Directed by Alex Kurtzman
Written by David Koepp, Christopher McQuarrie , Dylan Kussman (screenplay), Jon Spaihts, Alex Kurtzman, Jenny Lumet (screen story)
Starring Tom Cruise, Sofia Boutella, Annabelle Wallis, Sofia Boutella, Jake Johnson, Courtney B. Vance, Marwan Kenzari, Simon Atherton, Selva Rasalingam, Javier Botet, Neil Maskell, Rhona Croker, Andrew Brooke
Find out more about this film @TheMummy and on Facebook here
Reviewed by M. L. Miller aka Ambush Bug
A lot of vitriol was sent THE MUMMY's way as it tried to establish it's own "Dark Universe" before it was even deemed worthy of doing so. It also starred Tom Cruise, which to some is automatically reason to avoid it. I couldn't bring myself to see THE MUMMY in theaters because of bad word of mouth and an utter dislike of the previews that screamed nothing but "brainless blockbuster" instead of reimagining of a classic Universal horror. Still, being a fan of Mummy movies (I even have a soft spot for the Indiana Jonesey ones with Brendan Frasier), I knew eventually, I'd give in and watch it. Turns out, a lot of what I'd heard about the film is true. Then again, I didn't find the film without some kind of merit.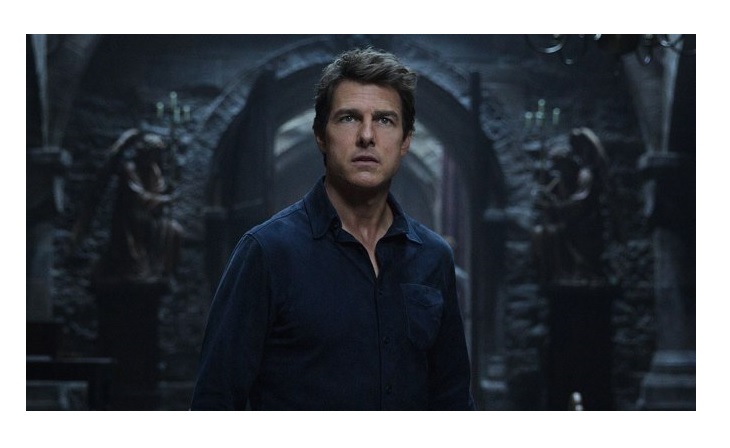 The adventure begins when a fortune hunter named Nick Morton (Tom Cruise) stumbles into an ancient tomb in the middle of Iraq. Inside the tomb, the sarcophagus of an ancient princess named Ahmanet (Sofia Boutella) is buried—punishment for murdering the king and royal family in exchange for eternal life. While she was unable to finish the ritual in Ancient Egypt, unearthing the tomb in the present has given Ahmanet a new chance to attain eternal power. But a shadow organization lead by Dr. Henry Jekyll (Russell Crowe) knows all about it and though he was killed transporting the sarcophagus to London in an airplane crash, Morton wakes up in a morgue, newly cursed by Ahmanet and destined to be her new ideal mate.
The original Universal Monsters films were kind of unique. For the most part, they weren't about the horror of the monsters themselves, but cast the monsters as the victims of a monstrous society. It was man itself that was the monstrous one. Dr. Frankenstein, not the Monster. The raiding townsfolk, not the Wolfman. One might think that if they were going to structure an entire universe of films around these classics, the folks behind this Dark Universe would at least get the basics of them. Instead of humanizing the monsters and monstrizing the humans, this film basically reimagining the 90's MUMMY movies not twenty years later with infinitely less fun. In the original Universal MUMMY movie, the Mummy was punished for falling in love with a princess, mummified alive and cursed to live forever in torment. This 2017 Mummy simply wants godly power and while today's society might see that as a noble goal—it ain't and makes the monster no kind of sympathetic character.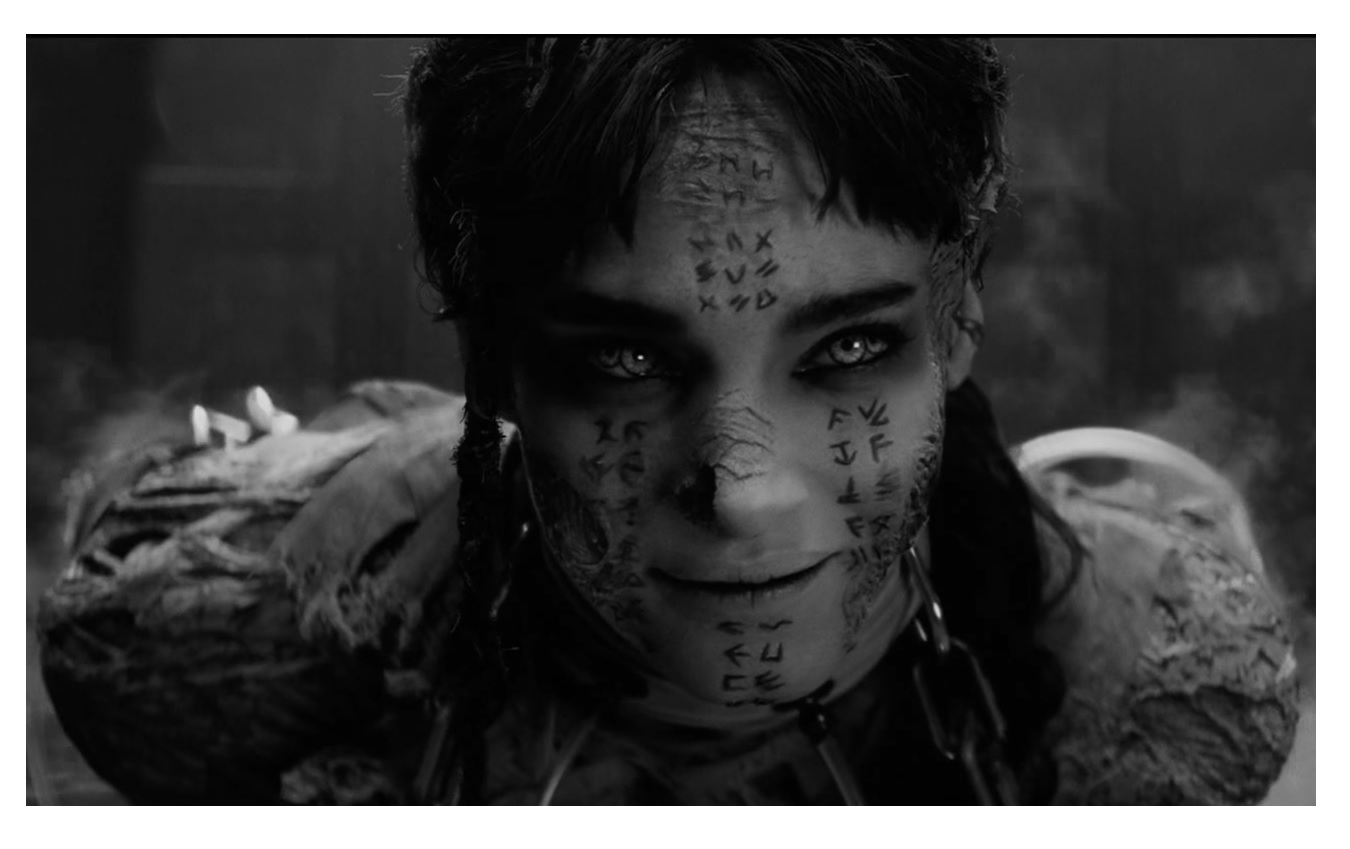 Who do we get to sympathize with? Other than the people that paid full price in the theaters to see this turkey? Tom Cruise, that's who. He is cast as an Indiana Jones/Han Solo type more interested in the thrill of adventure and the size of the bounty than anything else. Given some of the most painful comedic dialog, Cruise as Morton stumbles into this plot and SPOILER ends up being the tragic beast we are all supposed to empathize with by selflessly taking on the Mummy's curse in the end. END SPOILER Now, I'm no hater of Tom Cruise. He serves his purpose in the MISSION IMPOSSIBLE movies and I loved him in MAGNOLIA and TROPIC THUNDER, but empathy is not something that comes to mind when I see him gritting his teeth and running from or to an explosion. Here he is simply a combination of his spy persona who never fails, mixed with Han and Indy with none of the fallible traits or likability of those characters to identify with. One might say they are going with a Robert Downey Jr. vibe with Morton's character, but Cruise lacks Downey's likability despite his smarm and while Downey made Stark his own, Cruise is simply playing Cruise here.
Sure, some of the CG works. The initial ingestion of people's life essences (swiped from the 90's remakes and the HELLRAISER films) is done rather well and I winced a time or two at the animated rat attacks. I actually dug the underwater mummy scenes too, surprisingly, though the Knights Templar stuff was too much like THE LAST CRUSADE to my liking. But in the end, this film tries to desperately to be a tentpole film without really having any of the qualities or creativity of becoming one. The humor is forced and falls flat. Cruise banters with his dead friend (played by Jake Johnson, who is trying his best here) in the same way David Naughton and Griffin Dunne interact with each other in AN AMERICAN WEREWOLF IN LONDON, so obviously so that it feels like someone owes John Landis some royalties. The less said about the shoehorned scenes with Russell Crow as Jekyll the better as well as the horrible and nonexistent Hyde effects (what a misstep there). If they had any patience or knowhow to build anticipation, they would have shied away from a full on Hyde transformation in this film, but they don't and it sucks. This is one of those films that hinges on an overcomplicated ritual in order for it to work out and it ends so broadly that it feels like the credits were rolled early. All in all, instead of really having any understanding of what the original Universal Monsters movies were about and having the persona of Cruise sucking up any and all limelight, THE MUMMY simply performs as an action vehicle with ok CG monsters. The only shudders come from the possibility another film in this Dark Universe is on its way.
---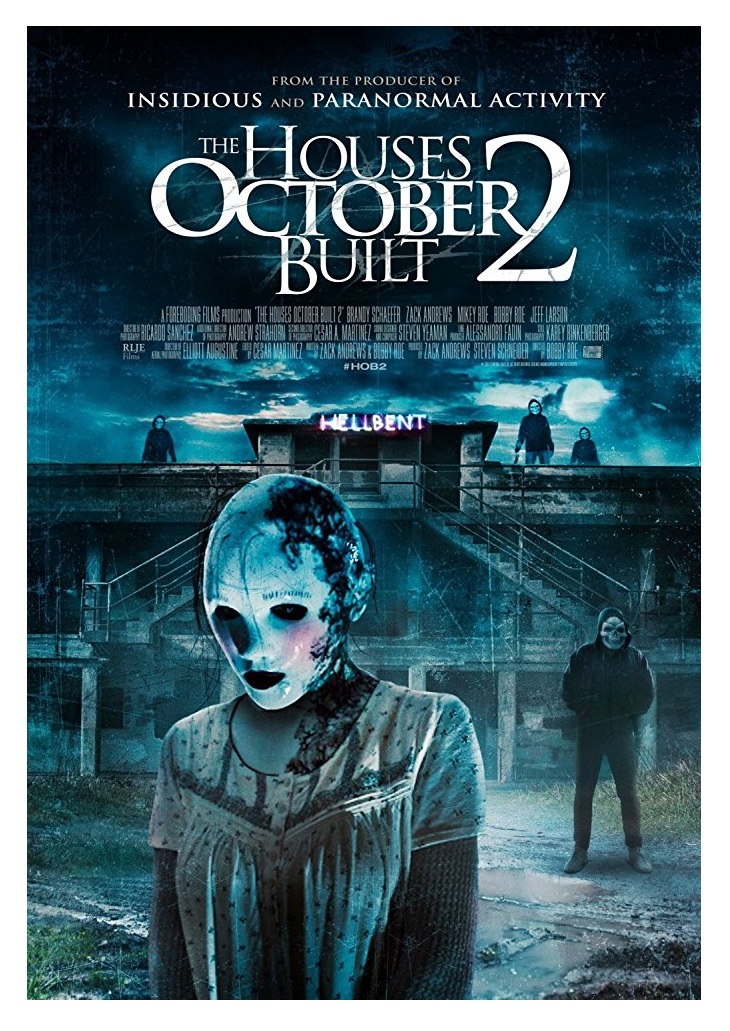 New this week in theaters and available On Demand / Digital HD from RLJ Entertainment!
THE HOUSES OCTOBER BUILT 2 (2017)
Directed by Bobby Roe
Written by Bobby Roe, Zack Andrews
Starring Brandy Schaefer, Zack Andrews, Mikey Roe, Bobby Roe, Jeff Larson
Find out more about this film @TheHousesOctoberBuilt and on Facebook here
Reviewed by M. L. Miller aka Ambush Bug
I liked
THE HOUSES OCTOBER BUILT
a lot when it was released a few years ago as it celebrated the haunted house attractions and how extreme they have become through the years. I hadn't come up with my Found Footage Horror Questionnaire when the original film was released, but let's see how this sequel fares against it.
What's it about?
A group of longtime friends reunite after college to celebrate their friendship and their shared love of horror by visiting extreme haunts, one more invasive and macabre than the next. Eventually, these haunts culminated with the five friends going to an extreme haunt called the Blue Skeletons and were put through the ringer and seemingly were killed in the final moments of that film. THE HOUSES OCTOBER BUILT 2 picks up right where the last one left off—revealing that the five weren't killed, but were dropped off a few miles from the haunted house and left to walk home. A year later, the group gets together to take on some new October terrors (some of them more reluctant to join this time than others), not knowing that they are being stalked by what seems to be the same group of ghouls that tormented them last year.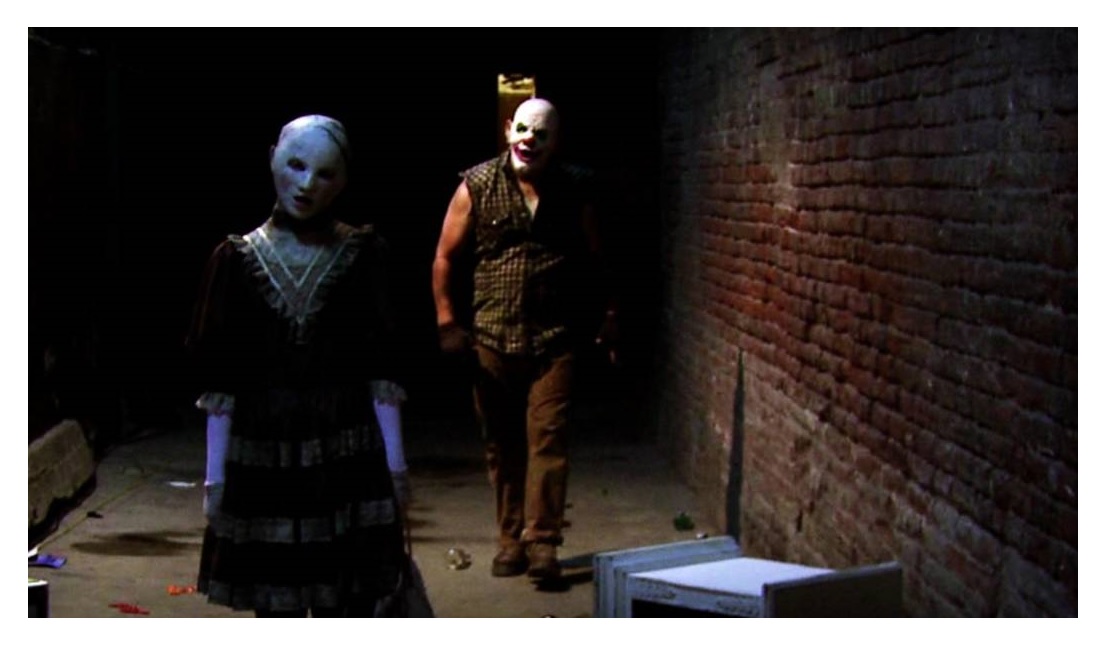 Are the actors successfully acting like they aren't acting?
Those who enjoyed the way the antics of the longtime friends felt authentic get another dose of that goodness here. For the most part, everything feels unscripted and real—as if this is really a group of people hanging with one another because they enjoy being with each other. Even when things get serious, the acting is believable. One of the things that is missing, though, is the authentic way the actors reacted to the scares in the first film as they walked their way through multiple haunts. I enjoyed seeing Brandy Schaefer scream every time a monster jumped out at her in the original. This one had a few of those scenes, but Schaefer's reactions weren't highlighted as much. Part of what sold the original was that it really felt that the actors were scared while walking through these haunts and this one doesn't have as much as that, unfortunately.
Does the footage found seem authentic and untouched by additional production (no omniscient editor making multiple edits between cameras or an invisible orchestra providing music)?
This is where this found footager becomes problematic. This film is all over the place in terms of convincing the viewer that the footage is authentic and "caught on tape" rather than filmed. Scenes are added when no camera is there to capture it within the story. Music is added to key scenes to heighten ominous mood and suspenseful atmosphere. A drone is introduced, a la BLAIR WITCH, and I'm kind of already sick of the use of this modern technology used in found footage as while it gives an amazing view, it's all the same type of shot and really adds nothing to the film in my opinion, other than establishing shots. There is a zombie 4K run that is filmed via GoPro and the drone that looks more like a segment in MTV's ROAD RULES than a horror movie. There is even an "evil" camera view tinted in blue to signify the Blue Skeletons stalking the crew. While events occur late in the film to justify all of these edits, additional music, and overall cinematic production of the film, as the film is playing, it definitely took me out of the movie and for me, if you're doing a found footage film, the goal is not to distract the person with the production intervention in the process of telling the story.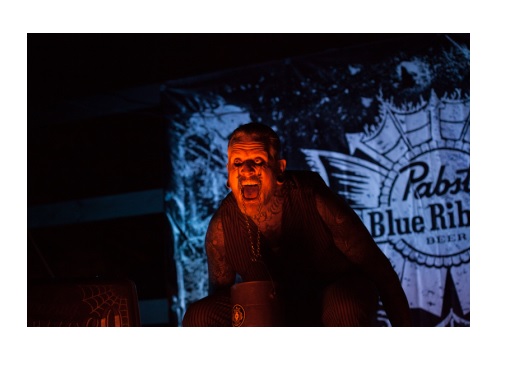 Why don't they just drop the camera and get the hell out of there?
Well, due to one factor that I won't spoil, the cameras roll the whole time. Sometimes the cameras are mounted on the participants while other times we are looking through the lens of the Blue Skeletons and since they are the monsters doing the scaring, they wouldn't be dropping that expensive equipment. The other reason is that the group doesn't know they are in danger until the very last minute, so in their eyes, this is just a documentary they are filming to make big bucks on Youtube.
Is there an up-nose BLAIR WITCH confessional or a REC-drag away from the camera?
Nope. The confessional is talked about, but Brandy quickly says that while she might need the confessional, she doesn't want it taped. So there are no scenes where this occurs, thankfully.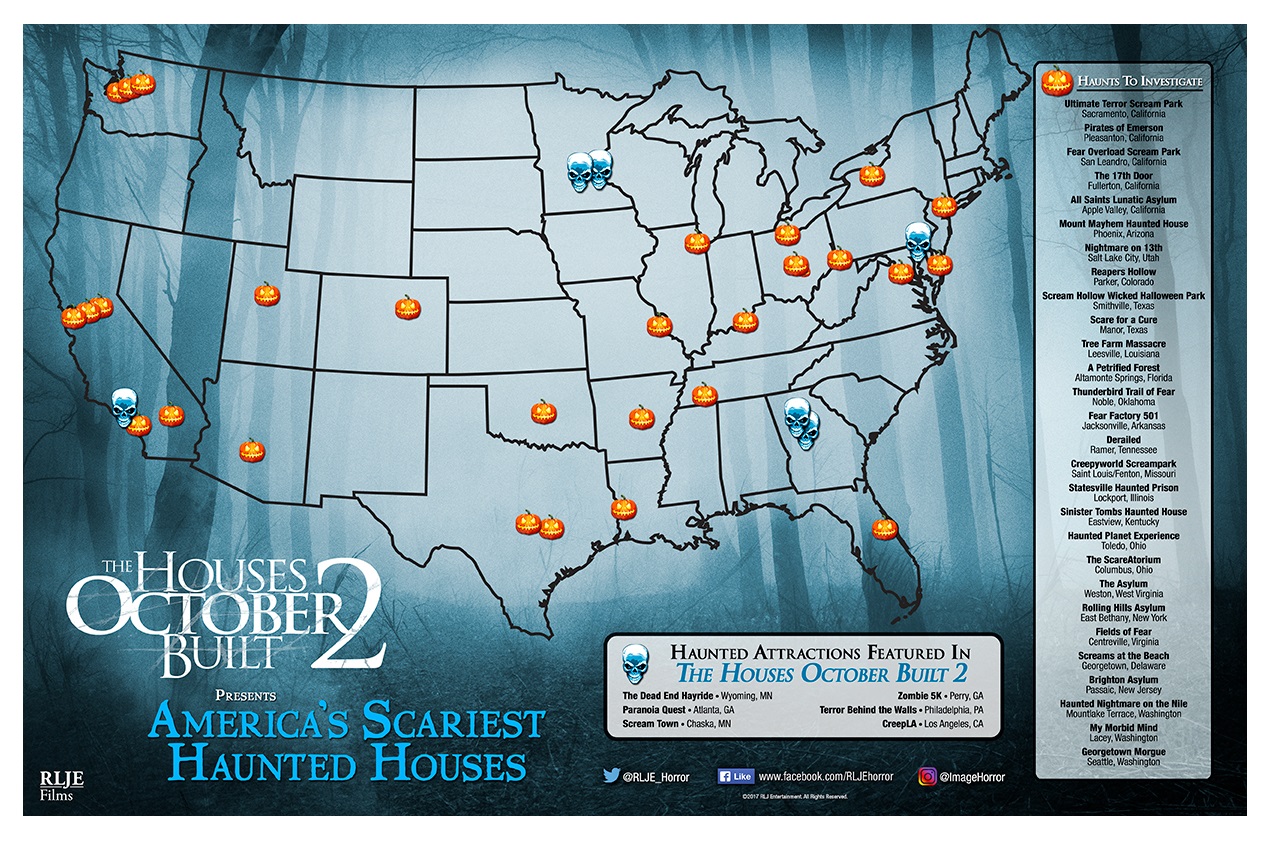 Does anything actually happen? Is the lead in too long and the payoff too short?
The film is filled with all kinds of fun. Because Brandy is against returning to the group if they explore haunted houses, the group takes on new challenges like a zombie pub crawl (with a fun brains eating contest guest starring Hot Dog Eating Champion Takeru Kobayashi!), a zombie 4K run, a haunted art show in a warehouse, and a haunted hayride. They also visit a few haunted houses, so we get more of that, but not wanting to repeat themselves, the film lives up to the challenge of highlighting more things to do in October. The action rolls pretty much all the way through and while the scares don't really happen until the last reel when the group is abducted, taken to a fabled haunt named Hellbent, and forced to run the gauntlet through a new horror house, it's a fun ride all the way through.
Does the film add anything to the subgenre and, ultimately, is it worth watching?
Like THE HOUSES OCTOBER BUILT before it, THE HOUSES OCTOBER BUILT 2 is another celebration of our favorite month and all of the fun activities available for horror fans to take part in. The sequel is bigger and better than the first with the creators milking the small celebrity they achieved with the first film. I think the larger scope kind of hurts the overall story. I liked the twists and turns added, but the finale will piss off some. I liked the way that the film continued the stories of these ultimate haunt fans and while there are some stumbles in the way this wraps up and while the film tosses authenticity of the found footage out the window, THE HOUSES OCTOBER BUILT 2 is a fun follow up that'll please those attracted to the first film.
---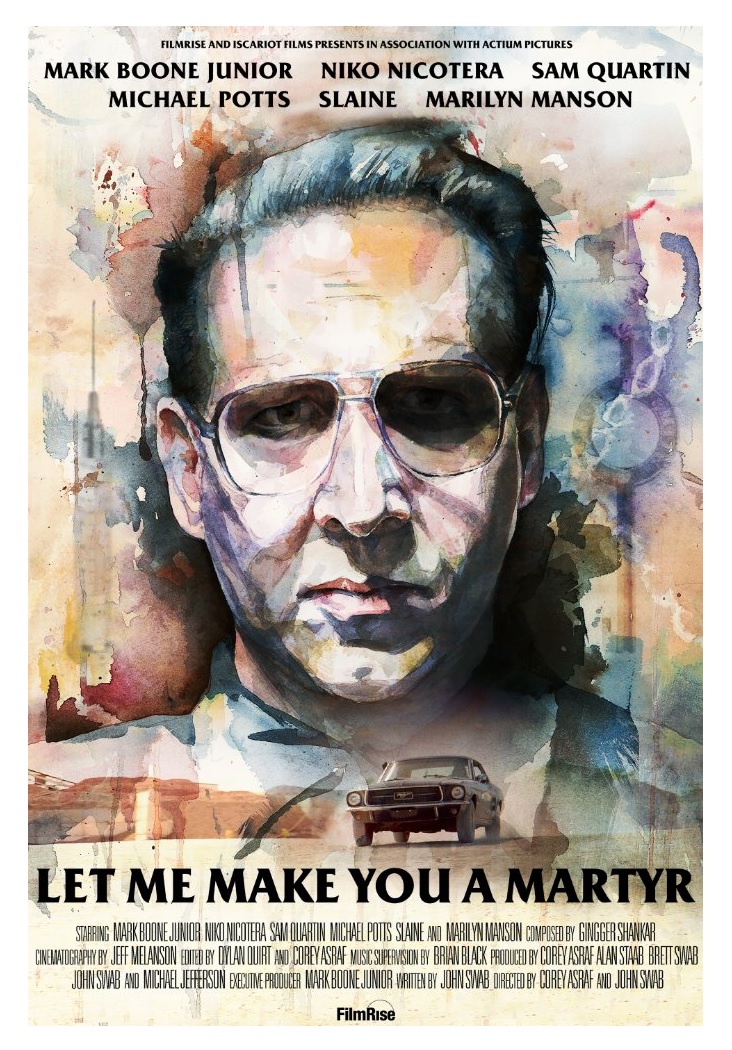 New exclusively on Shudder!
LET ME MAKE YOU A MARTYR (2016
Directed by Corey Asraf & John Swab
Written by Corey Asraf & John Swab
Starring Niko Nicotera, Sam Quartin, Mark Boone Junior, Michael Potts, Slaine, William Lee Scott, Gore Abrams, Michael Shamus Wiles, Daniel Martin Berkey, John Swab, Rebekah Kennedy, Gracie Grenier, Magen Mattox, Jake Silbermann, Bruce Davis, Michael Jefferson, Edrick Browne, Cat King, Lisa Catara, Debbi Tucker, Danny Boy O'Connor, Brett Swab, Mc Swab, Robert Peters & Marilyn Manson as Pope!
Find out more about this film here, @lmmyam , and on Facebook here
Reviewed by Mark L. Miller aka Ambush Bug
LET ME MAKE YOU A MARTYR is one of those films that were abundant in the nineties—a dark crime drama full of seedy characters spouting tangential stories of their own as they bob and weave in and out of each other's lives. Films like PULP FICTION, RESERVOIR DOGS, TRUE ROMANCE, USUAL SUSPECTS, LITTLE NIKITA, ANOTHER DAY IN PARADISE, DRUGSTORE COWBOY, and THINGS TO DO IN DENVER WHEN YOU'RE DEAD all popped into my head while watching this tale unfold. All of them great movies, but this is a film that feels more comfortable in a bygone era.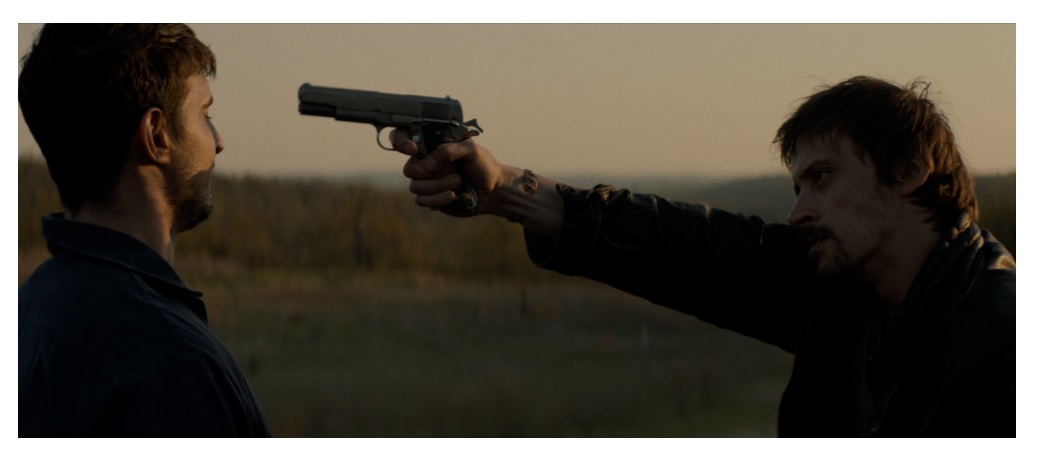 When Drew Glass (SONS OF ANARCHY's Niko Nicotera) returns to his home town with vengeance on his mind against his adoptive father Larry (SONS OF ANARCHY's Mark Boone Junior) and a passion for his step-sister June (Sam Quartin), he has a plan to make things right and start a new life. But the drugs and crime that run rampant in the town has left June a shell of her former self and Larry one of the most powerful crime bosses in the county. Knowing his son will be back for blood, Larry ventures out into the middle of nowhere to find Pope (Marilyn Manson), a sadistic assassin, to take out Drew and anyone in his way before Drew and June can make it to freedom.
This is a greasy, grimy, gritty, and dankly dark film. It's a film with very little hope as everyone seems to be either a psychopath, an addict, a criminal, or all three at once. If you're looking for a hero to root for and a clear definition between good and bad, this is not the movie for you, as no one is safe or without sin. And while it reminded me of the caper-like films where separated true loves are reunited and drive off into the sunset in a blaze of fire and bullets, this manages to even be darker in tone than that. But even though this film is about as dingy as they come, it manages to have somewhat of an uplifting ending, despite all of the horrifying things going on.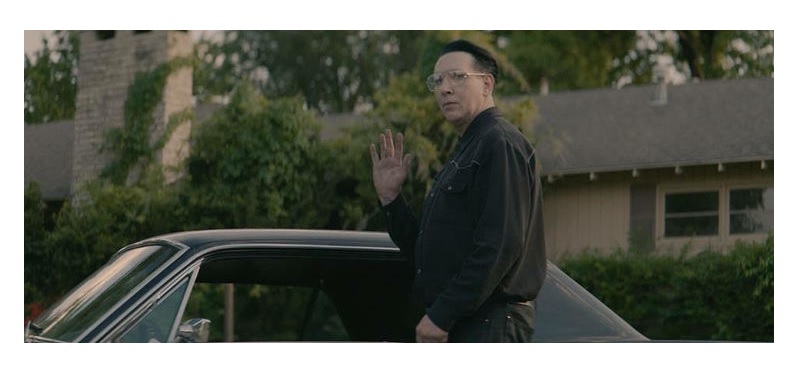 Not knowing he is in a crime drama, Marilyn Manson plays Pope as if he is straight out of a horror film. While everything around him plays like a grindhouse world where all laws are bent and broken, Pope is a true monster from nightmare. We first see him shaving some kind of bloody thing at his cabin and while it is not specified what exactly it is, whatever it is, it's disgusting and I'm pretty sure I don't want to know. Morose and of few words, Manson plays Pope like a soulless shell from hell whose only goal is to finish the job he was hired for. Sans his shock rock makeup, Manson still is quite powerful here as he slowly soliloquizes with his victims before putting them down in the most heinous of ways. The funny thing is that Manson actually looks a lot like Nic Cage's long lost brother in many of these scenes. While this distracted me a bit, it didn't take away from Manson's commanding performance. Though he is top billed, he is only in a few scenes, but his presence resonates as the strongest in this film.
LET ME MAKE YOU A MARTYR is a somber and melancholy ode to violence. The acting is quite good throughout with Manson and Mark Boone Junior being the standouts. Nicotera and Quarten are not the most conventional of leads, but they are able to carry themselves quite nicely as step-siblings who have loved each other since they were children. Sure, everyone has to have a "sit and chat" before the killing happens making this film ooze with Tarantino that at times it feels like a relic from that era rather than a more modern film. But LET ME MAKE YOU A MARTYR is finely made dark crime thriller that sizzles in the right spots and will definitely leave you with a hollow and horrified feeling after viewing.
---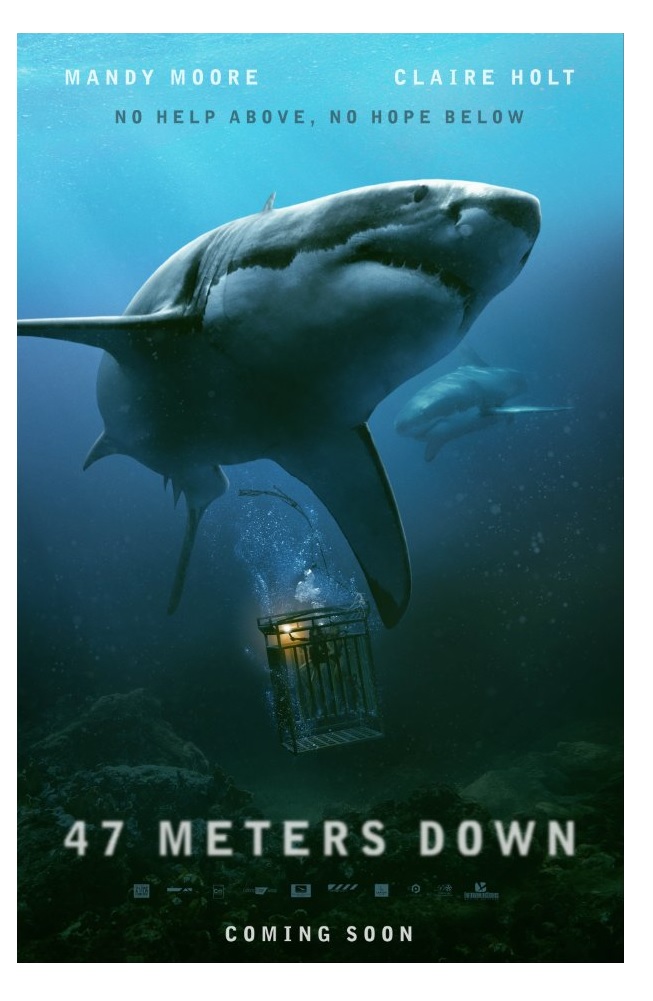 New on BluRay/DVD and digital download from Lionsgate Home Entertainment!
47 METERS DOWN (2016)
aka IN THE DEEP
Directed by Johannes Roberts
Written by Johannes Roberts, Ernest Riera
Starring Matthew Modine, Mandy Moore, Claire Holt, Santiago Segura, Yani Gellman, Chris J. Johnson
Reviewed by Mark L. Miller aka Ambush Bug
Being terrified of sharks, the advancement of CG animation has only made shark films more frightening for me. Still, there has to be a good movie around it. Last year, THE SHALLOWS (
reviewed here
) did a fantastic job of curling my toes and forcing me to watch through my shaking fingers. Just around the time I got over the thrills of THE SHALLOWS, I found out there would be another shark horror film released later in the summer called IN THE DEEP, pitting pop princess Mandy Moore against the world's deadliest predator of the deep. Well, someone realized that they might have a hit on their hands and while I received a screener for this and reviewed the DVD last year, it looks like the film's been retooled, renamed, and given a theatrical release under the new title 47 METERS DOWN, which was the original title. But that's ok, THE SHALLOWS was called IN THE DEEP at one point as well. Spacing it out a year later and plopping 47 METERS DOWN in roughly the same time of year seems to be the strategy to make this one a hit. Is it? Read on.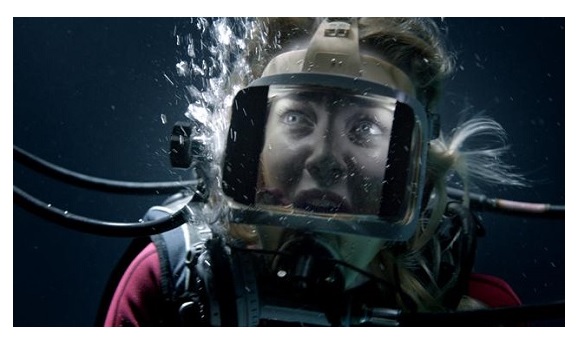 47 METERS DOWN is a one locale film where most of the action takes place in an isolated location for pretty much the entire film. Like OPEN WATER and FROZEN, 47 METERS DOWN isolates the main characters in order to show what a big dangerous world we live in to those who are so caught up in themselves to notice it. Moore plays Lisa, a recently heartbroken gal who follows her best pal Kate (Claire Holt) to Mexico on a vacation and into a shark cage boating trip where they can experience first hand these deadly predators in their natural environment. Petrified of this idea, Lisa wants no part of it, but is convinced to face her fears as the wench to the cage they are in breaks and sends them plummeting to the bottom of the ocean with sharks circling them.
This is a petrifying situation that most audience members would never, ever do. Simply by immersing these two into this horrific situation and the events leading to their descent into the darkness of the ocean was enough to make me check to see if I needed a new pair of underoos a few times in this film. The premise itself is terrifying and this film does a decent job of not only showing the danger of the situation but also of the speed and deadliness of the sharks circling the cage.
The problem is that in order to spice up the action component of the film, these girls are forced to leave the cage over and over and over again to a point that stretches beyond most folks suspension of disbelief. OK, maybe the gals have to leave the cage once or twice in order to find the new pulley to lift them up or to get the new breathing equipment send down to help them survive. But the girls spend more time outside of the cage than they do in. And that's the main problem of this film—they feel like they have to have action in order to keep the film interesting, but in doing so, things like character moments are glossed over. Sure one can establish character through action, but when the action is fucking stupid, like say, leaving a secure cage and swimming around in shark infested waters, then you don't feel for the characters; you just think they're stupid as fuck for doing what they are doing. I lost count of the amount of times Lisa and Kate left the cage in order to do something, when the natural survival instinct of anyone with a brain would be to sit tight in the safe space.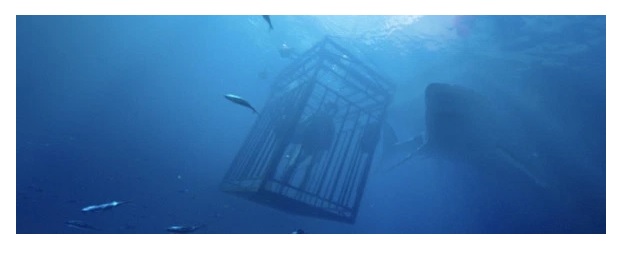 That said, the shark attacks are absolutely terrifying. As things get dire, air gets depleted, and yes, the gals continue to leave and return to the cage so many times you think it has a revolving door, the sharks (surprise, surprise) get wary of their caged prey and start attacking. Filmed in utter darkness with a simple flashlight, these attacks are the stuff of my absolute worst nightmare. Later in the film, as the possibility of rescue occurs, even more shark attacks made me cower in fear as the sharks launch themselves at our fearless girls as they try to get to the surface and to safety. The final moments of this film are filled with sheer terror and gave me some of the biggest jumps I've experienced since…THE SHALLOWS.
And then there's a false ending that sort of trumps all of those scares…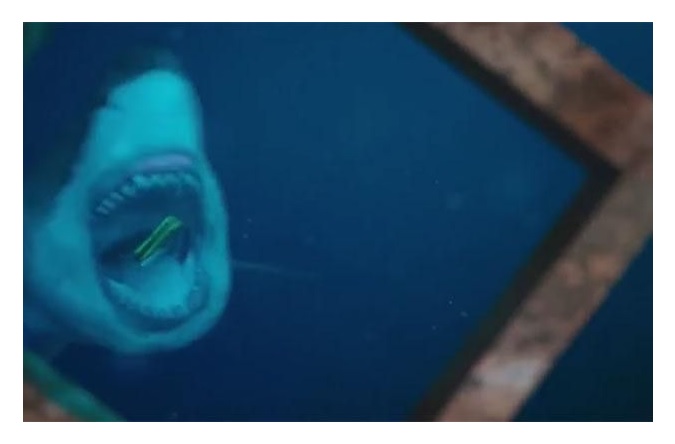 Sigh…it's a shame they didn't stick with the action filled ending. The one they went with is interesting and TWILIGHT ZONE-y (though not supernatural), but definitely deflated the balloon for me. Instead of the edgy ending jagged with gnarly fear, 47 METERS DOWN ends with a more uplifting end that feels tacked on rather than thought all the way through. It all makes sense and does have a charm to it, but still, the final moments ended up frustrating me more than anything else and leaving me with a bad taste in my mouth rather than the feeling of satisfaction that a film successfully scared the crap out of me.
Moore and Holt are fine here in the leads, despite the script pointing them in bone-headed directions. Modine only has a slight cameo, but it's good to see him working again. 47 METERS DOWN will make you jump is you have a deathly fear of sharks as I do, but the story itself is riddled with head-slapping decisions and an ending that felt toothless.
---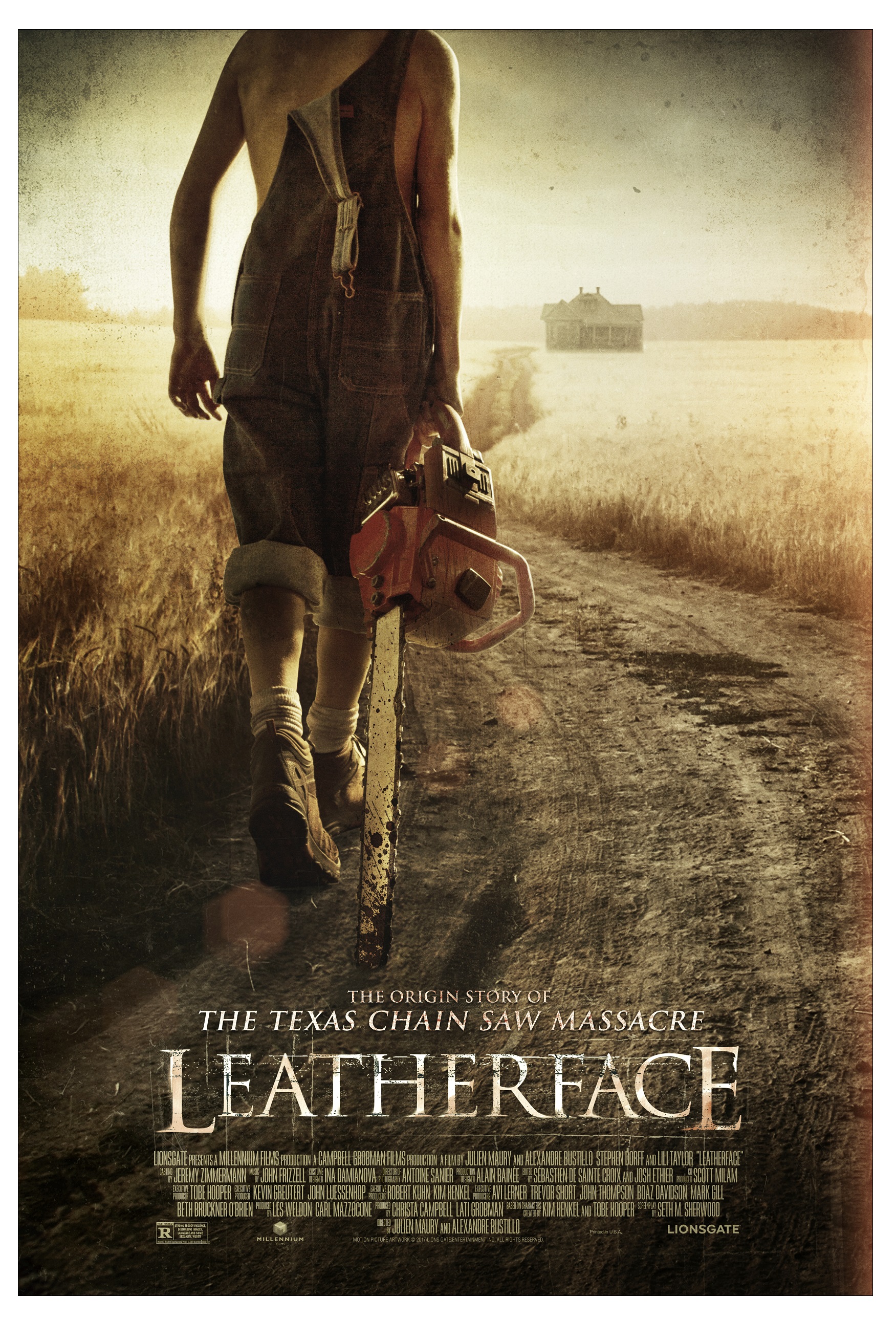 Premiering exclusively on DIRECTV this week and in select theaters & On Demand, October 20th from Lionsgate!
LEATHERFACE (2017)
aka TEXAS CHAINSAW 4
Directed by Alexandre Bustillo, Julien Maury
Written by Seth M. Sherwood (screenplay)
Starring Stephen Dorff, Lili Taylor, Finn Jones, Sam Strike, Nicole Andrews, James Bloor, Sam Coleman, Vanessa Grasse, Jessica Madsen, Christopher Adamson, Boris Kabakchiev, Julian Kostov, Ian Fisher, Velizar Peev, Dejan Angelov, Nathan Cooper, Lorina Kamburova
Reviewed by M. L. Miller aka Ambush Bug
It is just inevitable, people are going to hate LEATHERFACE. They already do and a lot of folks will continue to do so without even seeing it. Word of mouth will be bad because—let's face it, critics aren't going to like it, mainly because it dares try to add to the original mythos, it will never live up to the horror of TEXAS CHAIN SAW MASSACRE, and with the death of Tobe Hooper still fresh, anything massacring from Texas with a chainsaw just isn't going to live up to what Hooper did with it. Still, Hooper remains an executive producer of these films, along with TCM co-creator Kim Henkel, so if Hooper was ok with putting his name on it, I think the fans can give it a chance too.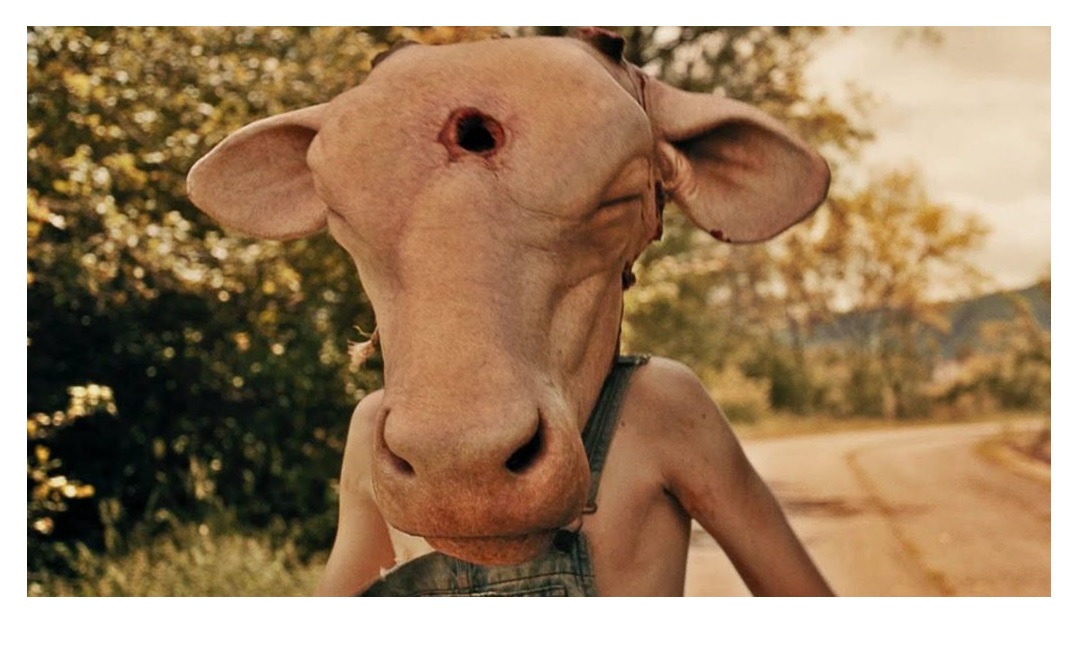 I also understand that there is a stigma put on this film because it is an origin story and explaining the dark unknown is never as powerful as the darkness one's own imagination can conjure up. We don't need to see young Jed Sawyer kill animals, wear their heads, and pick up his first chainsaw. But in this age of demystifying everything and over-explanation, Hollywood has milked the TCM story do much the teats have gone dry and instead of moving forward, moving backwards seems the only way to go.
No, LEATHERFACE isn't the TEXAS CHAIN SAW MASSACRE we asked for, but it is the film we got and while it may not be the best TCM movie, it turns out it's not a horrible movie in the end. Filmmakers Alexandre Bustillo & Julien Maury were behind the visceral and gory films LIVIDE and INSIDE, so I knew that despite my reservations, we might just get a film that was able to get under our skin. And that it does. LEATHERFACE is not TEXAS CHAIN SAW MASSACRE, but who really wants a retread of the same old story? How many times do we have to have a screaming woman bound to a skeleton chair with the whole family sitting around it and Grandpa whacking away with a mallet? We've seen that before and for the fans, we get a truncated version of that in the opening sequence, but it no longer is the centerpiece of the film, which for me, is ok, because I've seen that film before.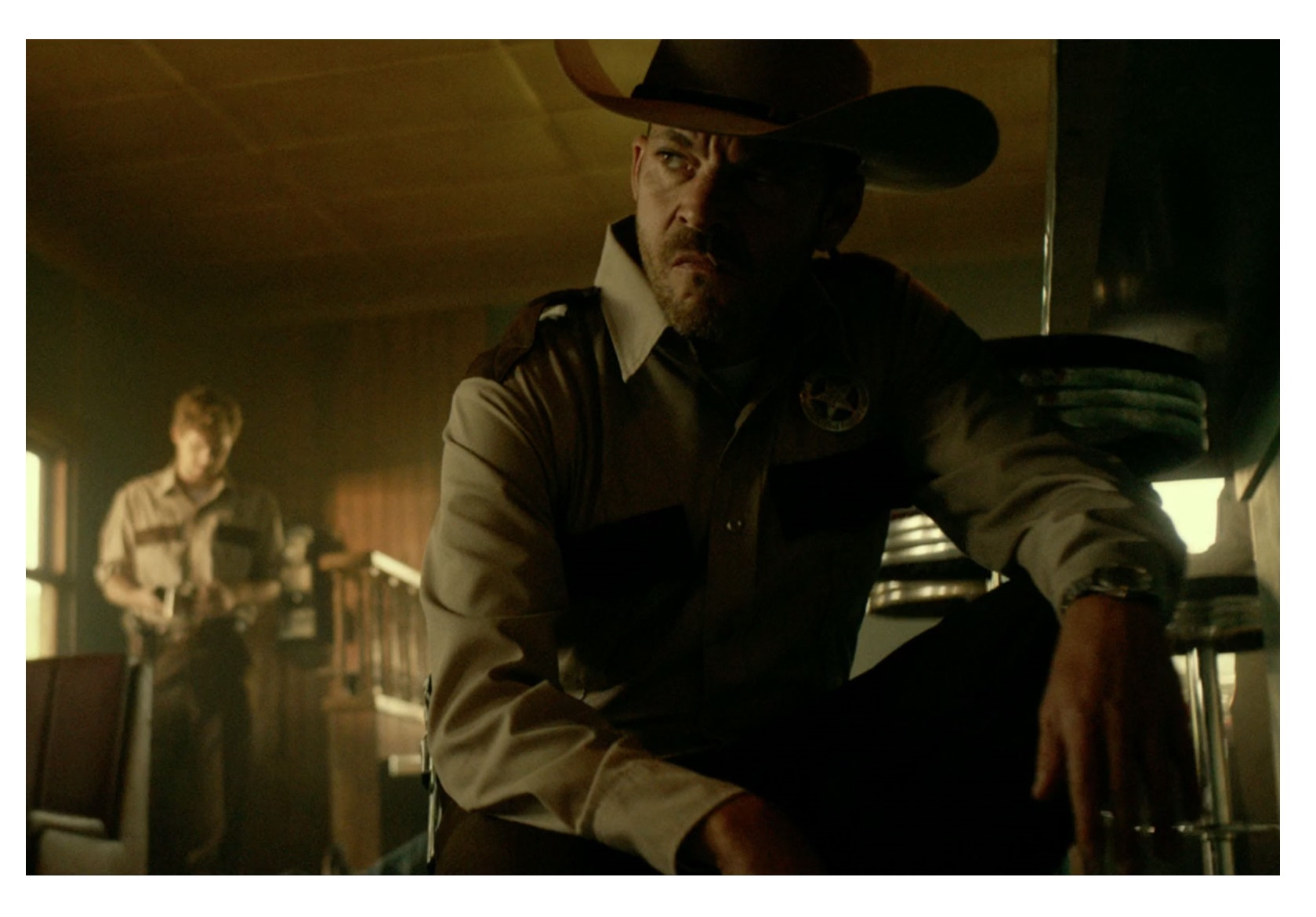 Now, I know I will discredit myself by saying that I liked TEXAS CHAINSAW 3D for the same reason. That film tried something new and the fans hated it. I didn't because it dared tell a different story rather than retread the original as part 2, 3, NEXT GENERATION, and both Michael Bay films did. It dared tell a story of family tradition. It wasn't a perfect film, but it kept the essence of family—a horrific family, but family none the less. LEATHERFACE as well keeps that theme going by introducing us to Lily Taylor who, as Verna Sawyer, fights to keep family tradition and family unity going despite the local establishment, lead by Texas Ranger Hal Hartman (Stephen Dorff), trying their best to tear it apart. When Hartman's daughter goes missing, he immediately points the finger at the local weirdos, the Sawyers and uses this authority to tear all of Verna's kids from her. Flash forward ten years and we arrive at an asylum where we are introduced to a few characters who could be Jed Sawyer, the teen who would become Leatherface. Is it Ike (James Bloor) a psychopathic bully, Jackson (Sam Strike) a manic but good natured nutjob, or is it the monosyllabic Bud (Sam Coleman) who has the looks of what Leatherface becomes in the future? Because the kids were given new names upon arrival to the facility, any of them could be our favorite flesh faced killer. But when a new nurse named Lizzy (Vanessa Grasse) arrives at the facility on the same day Verna decides to pay a visit and try to retrieve her son, chaos erupts and the three psychos, plus a female sociopath named Tammy (Nicole Andrews) escape with Nurse Lizzy as hostage. After he gets wind of the escape, Hartman is enraged and tears across Texas to find the group before they make it to the Mexican border. A bloody and morbid road chase ensues.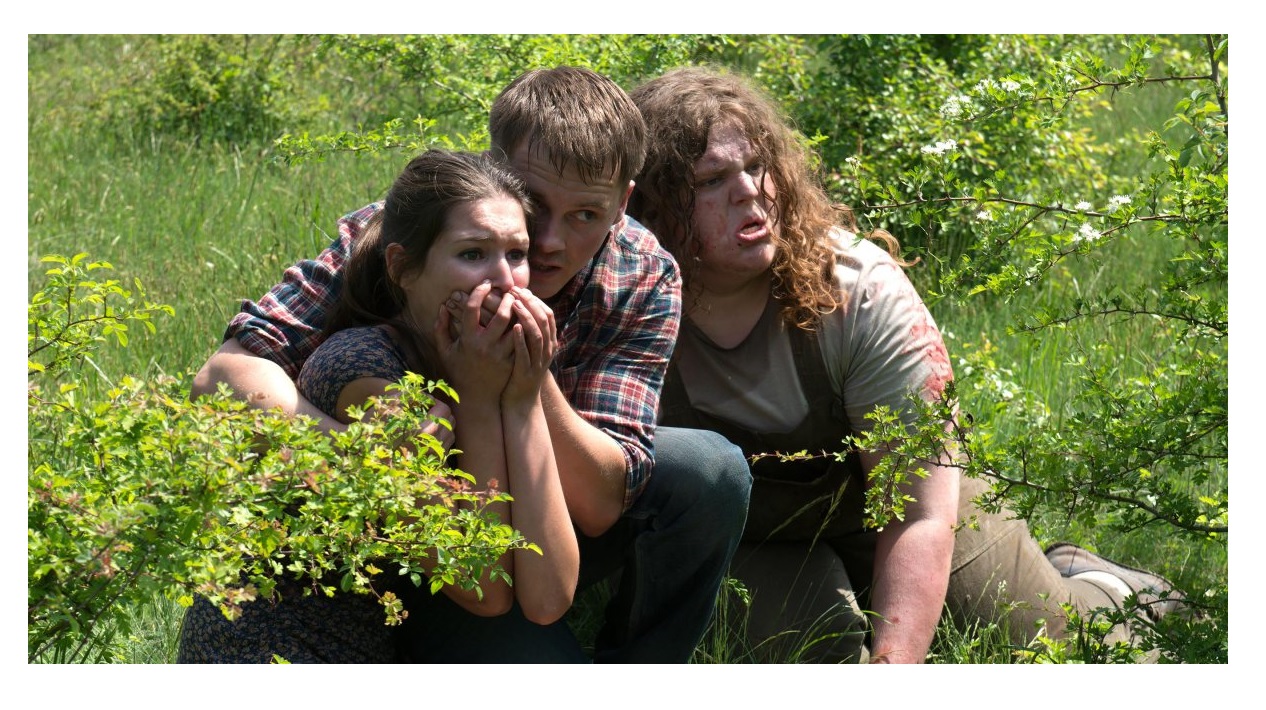 I'm here to tell you that if you go in expecting a film like other films in this franchise, you're going to be disappointed. But if you go in with less expectation and less embedded ire shouting "PART THREE WAS NAMED LEATHERFACE, DAMMIT!" or "Where's the sliding door scene?" or "Where's the skin mask?"—you might actually enjoy yourself. I'm not saying this is a perfect movie, but it is a fast paced, well acted, and gratuitously gory little number more in the vein of a grimy Peckinpah grindhouser than a TCM retread. Dorff is better here as the fire-spitting lawman who will stop at nothing to find the person he blames for the death of his daughter. Taylor gives her all in this role as a mother who simply wants her deranged brood back and will stop at nothing to do it. And there are moments from the younger cast that really make you root for these guys to make it to Mexico and a promise for a new life.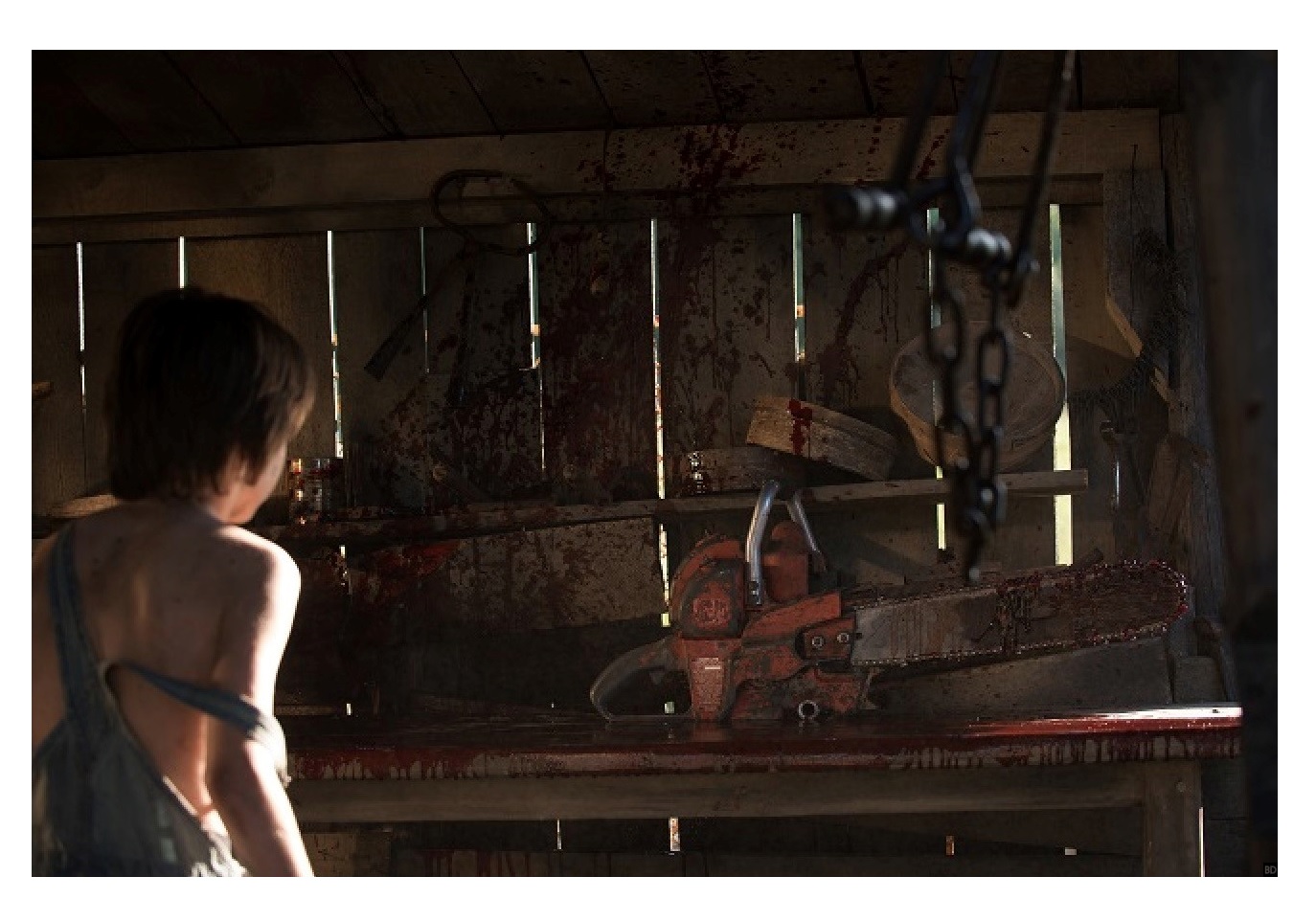 That doesn't mean this is a perfect film that fits seamlessly into continuity established in the series. The biggest blunder lays with Drayton Sawyer, who is shown in the first scene and while he "never really had the stomach fer killin'" in TCM as well as its original sequel, he certainly has no trouble doing it here. Handing an eight year old a chainsaw as big as him seems to be a pretty dumb idea since he can't even lift it. But that's what Verna encourages him to do in the opening scene. A mallet would have been more efficient. And while the kid who ends up being Leatherface says that sometimes he wishes he could be someone else, there is no gender confusion or transvestism to be seen. Granted, this theme is something we haven't seen in the character since THE NEXT GENERATION, as I guess, dressing as a woman is less acceptable than cannibalism to the studios and mass audiences. Also, while there is a reason for Jed to finally cover his face with the skin of others, it's not a strong one and feels like an afterthought rushed in there before the credits.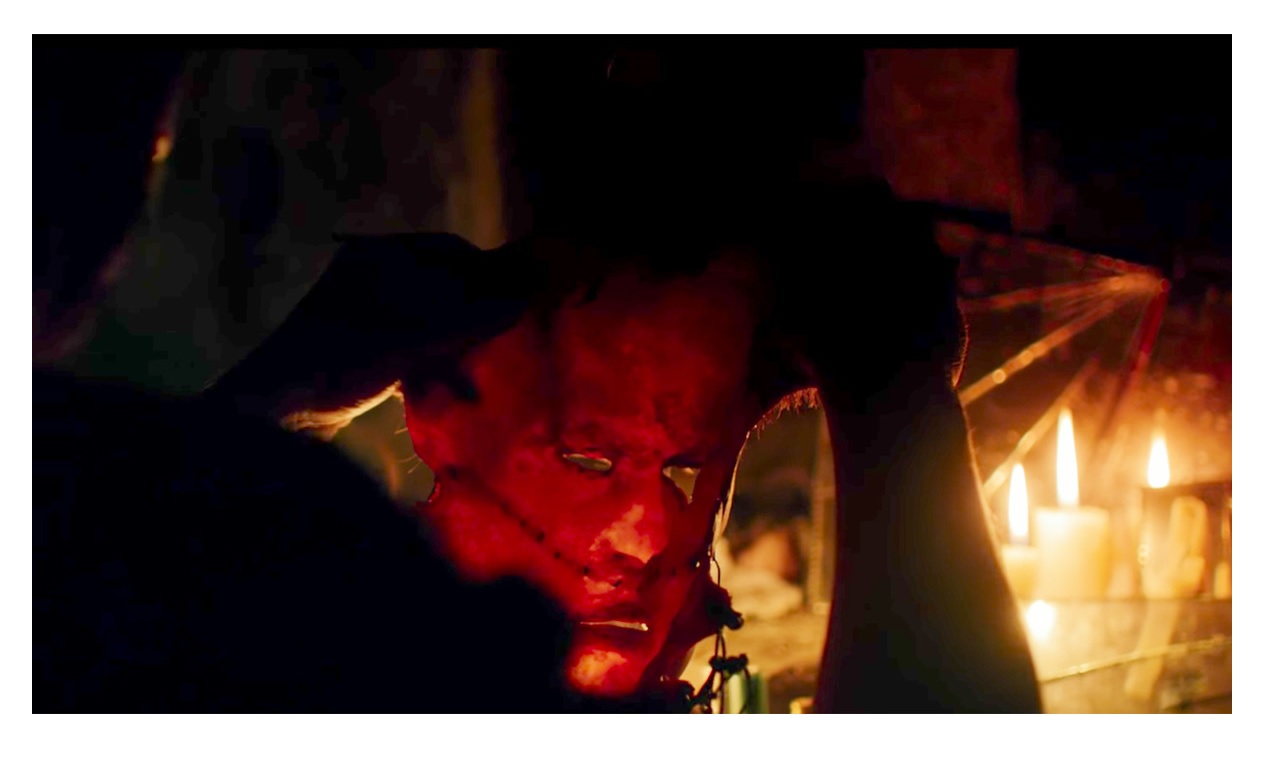 Imperfect as it is, I love revisiting the Sawyer family and while I hope one day we can have a film revolving around the lives of the family rather than the same old plot—maybe a Sawyer family vacation? A family reunion? A birthday for Grandpa?—this one tried something new and as a grimy and exciting road movie, it worked for me. I loved it that we get to see Nubbins as a grubby, giggling kid (no Chop-Top though, for shame). I liked the tiny bit with Grandpa, a little more limber with that mallet than we are used to. Taylor and Dorff aren't down-snouting their roles here. They're playing their parts more genuinely than Hopper's scene-chomping role in TCM2. Because of that, I recommend this film and even praise it for daring doing something different. Yes, it humanizes the monster, making him sympathetic, but Hooper did that in the original as Leatherface, despite his tendency to flip out, was always the put upon infant of the family, pressured by his older siblings in TCM. There's a scene in the original that shows Leatherface slapping his head and trying to calm himself after his first two onscreen kills. That's humanity we don't see in typical slashers, but we got it from the original. LEATHERFACE expands on that humanization and it's all the more odd because of it.
---
And finally…here's another animated short film from the mad mind of micro-budget filmmaker Sonny Fernandez. This one follows our favorite flesh-masked maniac as he chainsaws his way through more bodies. It's called HEAD CHEESE and it's more proof that Fernandez not only knows his horror, but he knows his horror icons. Enjoy HEAD CHEESE! Find out more about Sonny Fernandez's films and animations here!
---
See ya next week, folks!

Ambush Bug is M. L. Miller, original @$$Hole/wordslinger/writer of wrongs/reviewer/interviewer/editor of AICN COMICS for over 15 years & AICN HORROR for 5. Follow Mark on the Twitters @Mark_L_Miller and on his new website collecting posts for AICN HORROR as well as all of the most recent updates on his various comic book projects on MLMillerWrites.com.



---




---
Find more AICN HORROR including an archive of previous columns on AICN HORROR's Facebook page!
---
Interested in advertising with AICN HORROR? Click this link and talk with me about how to help keep this column running strong!