Mark L. Miller aka Ambush Bug here. On this week's episode of our latest and greatest podcast, our CultPop/Poptards host Johnny Destructo takes a well earned vacation, leaving Optimous Douche and myself free reign to discuss ACTION COMICS #986 (W – Rob Williams, A – Guillem March, 02:45), ARCHIE #23 (W – Mark Waid, A – Audrey Mok, 10:35), SECRET EMPIRE #9 (W – Nick Spencer, A – Leinil Francis Yu, Joe Bennet, Gerry Alanguilen, Joe Pimentel, 17:55), GENERATIONS: THE THUNDER – THE UNWORTHY THOR/THE MIGHTY THOR #1 (W – Jason Aaron, A – Mahmud Asrar, 30:36), SHIRTLESS BEAR FIGHTER #3 (W – Jody Leheup, Sebastian Girner, A – Nil Vendrell, 41:20), & WALT DISNEY'S DONALD & MICKEY #1 (W – Kari Karhonen, Andrea "Casty" Casteilan, Frank Jonker, A – Daniel Branca, Lorenzo Pastrovicchio, Bas Heymans, 46:35)!
As always, that sweet, sweet jack@$$ery is sporked in for no extra charge!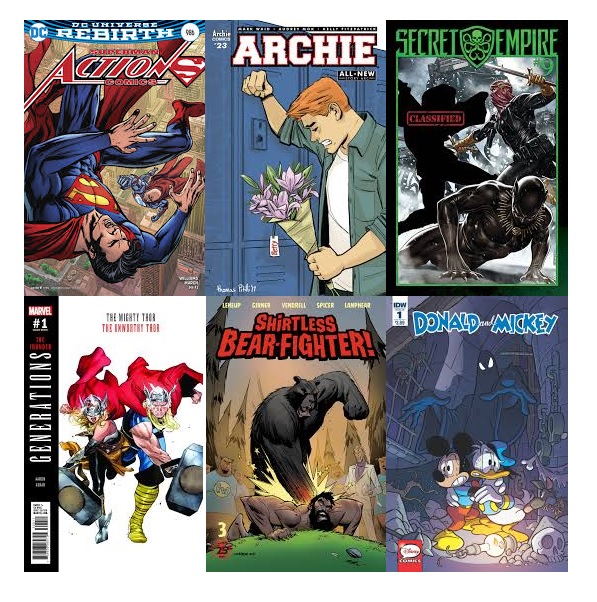 Follow JD on Twitter @ Jdsherocomplex and
find his art here
!
Follow Optimous Douche on Twitter @robpatey and
check out his website robpatey.com here
!
Follow Bug on Twitter @Mark_L_Miller and
at his new website MLMillerWrites.com
!
Look for more of the Holes rambling about comics on Cultpop.com, follow us on Facebook here, and look for the @$$Holes' written reviews every Wednesday on AICN COMICS REVIEWS!

And be on the lookout for AICN HORROR's new podcast CANNIBAL HORRORCAST every other Thursday…or so!