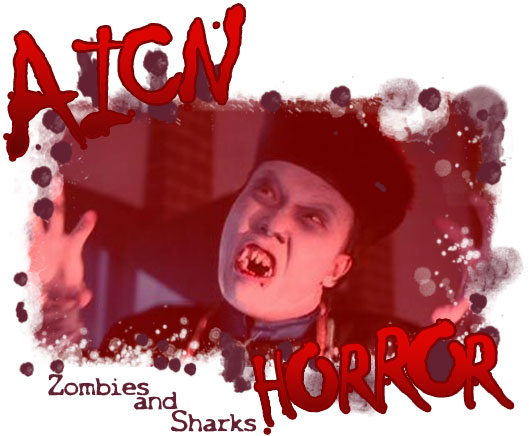 Logo by Kristian Horn
What the &#$% is ZOMBIES & SHARKS?
---
Welcome to the darker side of AICN! M. L. Miller aka Ambush Bug here with another AICN HORROR: ZOMBIES & SHARKS column. Sorry for the delay, but the post-con fatigue set in and I wasn't able to finish the column by Friday. But you know what that means…two columns this week!
Here are a few news bits worthy of consumption…
---
First up is an exclusive clip from the found footage horror film, THE GRACEFIELD INCIDENT.
I reviewed the film last week
and though it wasn't my cup of tea, maybe you'll disagree with me and like what you see below in this exclusive clip from the film and trailer.
Here's the clip!
And the trailer.
---
SRS Cinema does "Shark Week" their way with the release of the all new trailer for their latest film entitled HOUSE SHARK, written and directed by Ron Bonk. (SHE KILLS) and produced by Jonathan Straiton (NIGHT OF SOMETHING STRANGE), Tim Ritter (TRUTH OR DARE) and Howard Gromero (MS CANNIBAL HOLOCAUST). Here's the official synopsis of the film;
When Frank (Trey Harrison) finds his happy home under attack by a dangerous but largely unknown breed of shark, he's enlists the aid of the world's only "House Shark" Expert, Zachary (Michael Merchant), and a grizzled former real estate agent, Abraham (Wes Reid), to embark on a desperate quest to destroy the beast and claim back his life. It's JAWS in a house!
And with that, here's the brand new trailer for the film.
---
Finally, it's time for some shameless self promotion again. Earlier this week, I posted my Reinventing Horror panel at Comic Con in San Diego. You can check it out below if you missed it!
---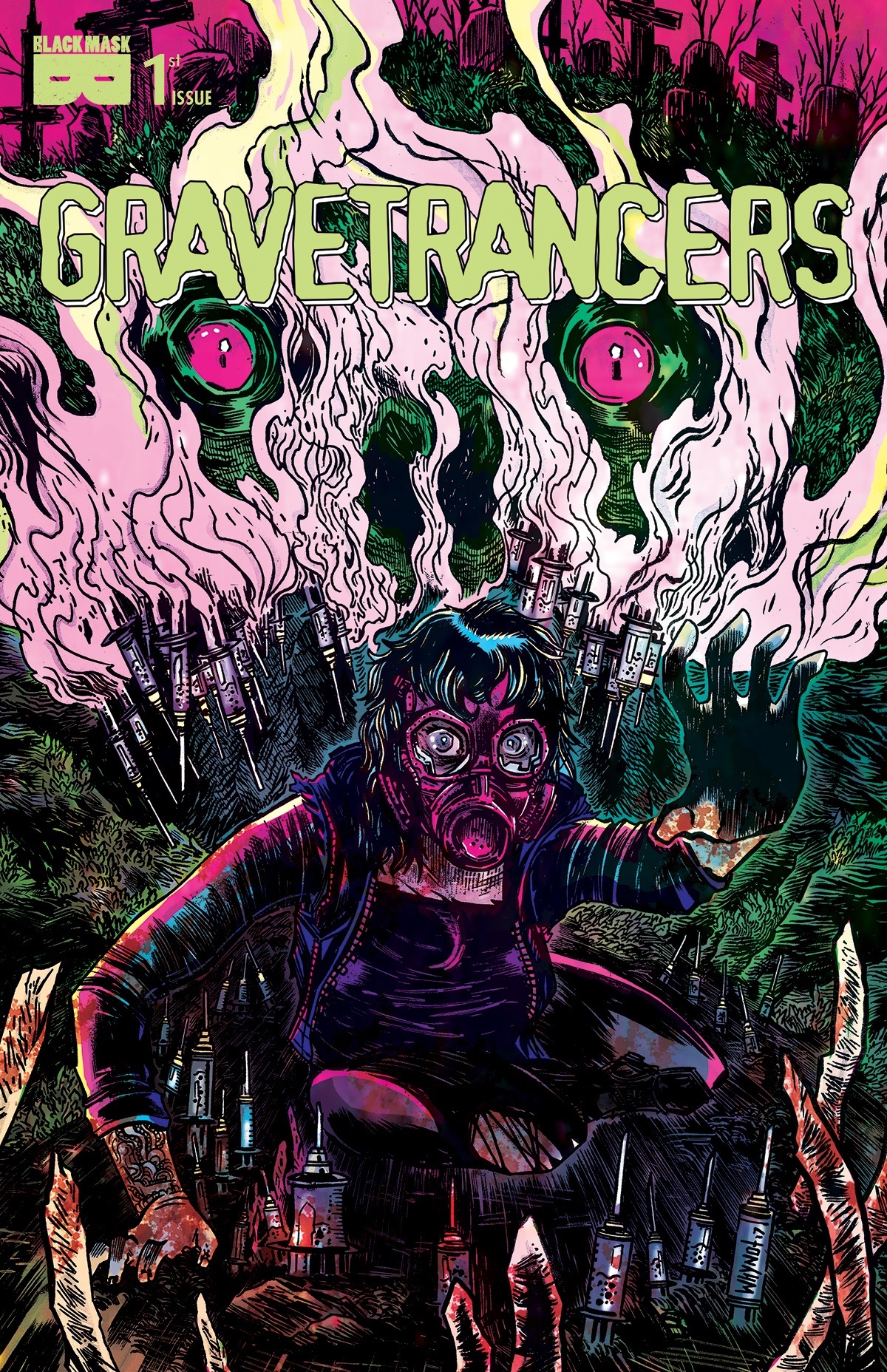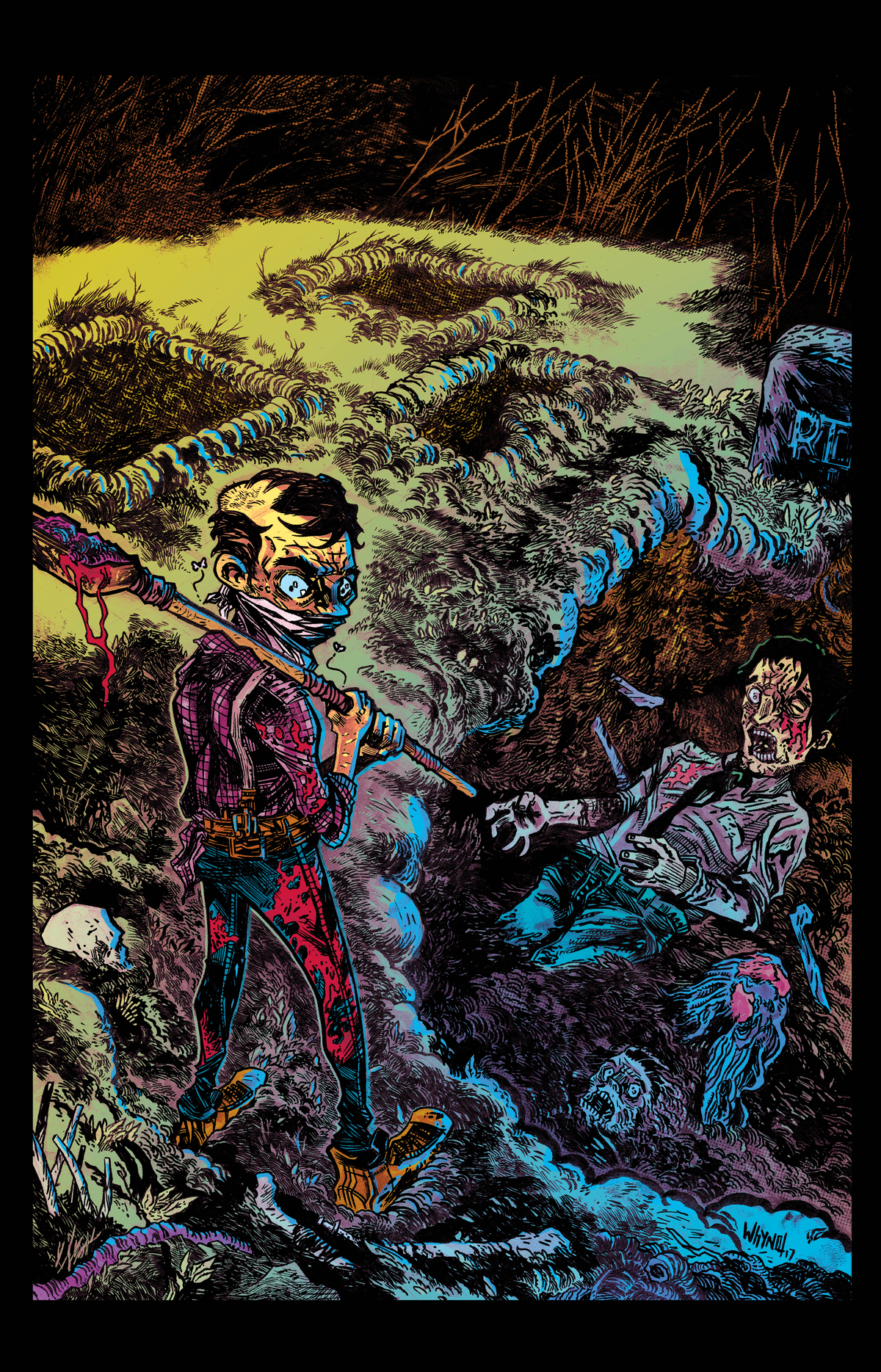 And finally for reals this time, here's one more reminder that you can now order the first two issues of my comic book GRAVETRANCERS from Black Mask Studios set to be released to finer comic shops in September.
It's in July's Diamond Previews under item code #JUL171455
. Please let your comic shop know they should order a plenty as it's a pretty potent little horror tale, if I do say so myself with mesmerizing pencils and inks of James Michael Whynot, psychedelic colors by Dee Cunniff, and bold and beautiful letters by Jim Campbell! The four issue miniseries follows Maribel and Anthony who are in search of the grave of their dead father, not knowing that they are stumbling into a graveyard owned by an eccentric clan of grave-robbers who've devised a highly-addictive drug made from human remains–and the fresher the corpse, the stronger the dose. What started out as an attempt to reconnect with the past becomes a descent into a psychedelic, neon-colored nightmare—will Maribel and Anthony find their way through the hallucinogens or will they become the next hit? I think it's a story fans of grindhouse horror are going to love.
The news broke on Bleeding Cool here
and on
ComicCon.com
. I've been bopping all around the Interwebs doing interviews at
ComicCon.com
and
First Comics News
. GRAVETRANCERS has also been covered on
Dread Central
,
ComingSoon.net
, and
Horror Society
!
You can
order GRAVETRANCERS #1 here
!
---
I also wanted to give out an open call to advertisers interested in helping to keep this column running. Any inquiries should contact me here!
On with the horror reviews!
Today on AICN HORROR

(Click title to go directly to the feature)
Retro-review: RE-ANIMATOR (1985)
Retro-review: CATACOMBS (1988)
Retro-review: VIOLENT SHIT 3: INFANTRY OF DOOM (1999)
Retro-review: PULSE (2001)
Retro-review: SLITHER (2006)
Retro-review: HARVEST MOON (2007)
JACK HUNTER'S PARANOIA TAPES (2017)
DEVIL'S DOMAIN (2016)
LAKE ALICE (2017)
MAN UNDERGROUND (2016)
BAG BOY LOVER BOY (2014)
IT STAINS THE SANDS RED (2016)
And finally…Light's Out Radio Play: Money, Money, Money!
---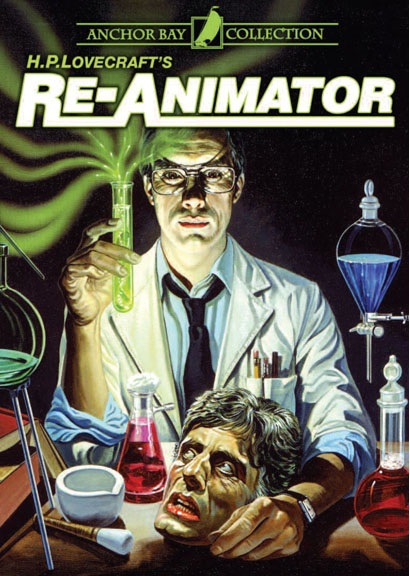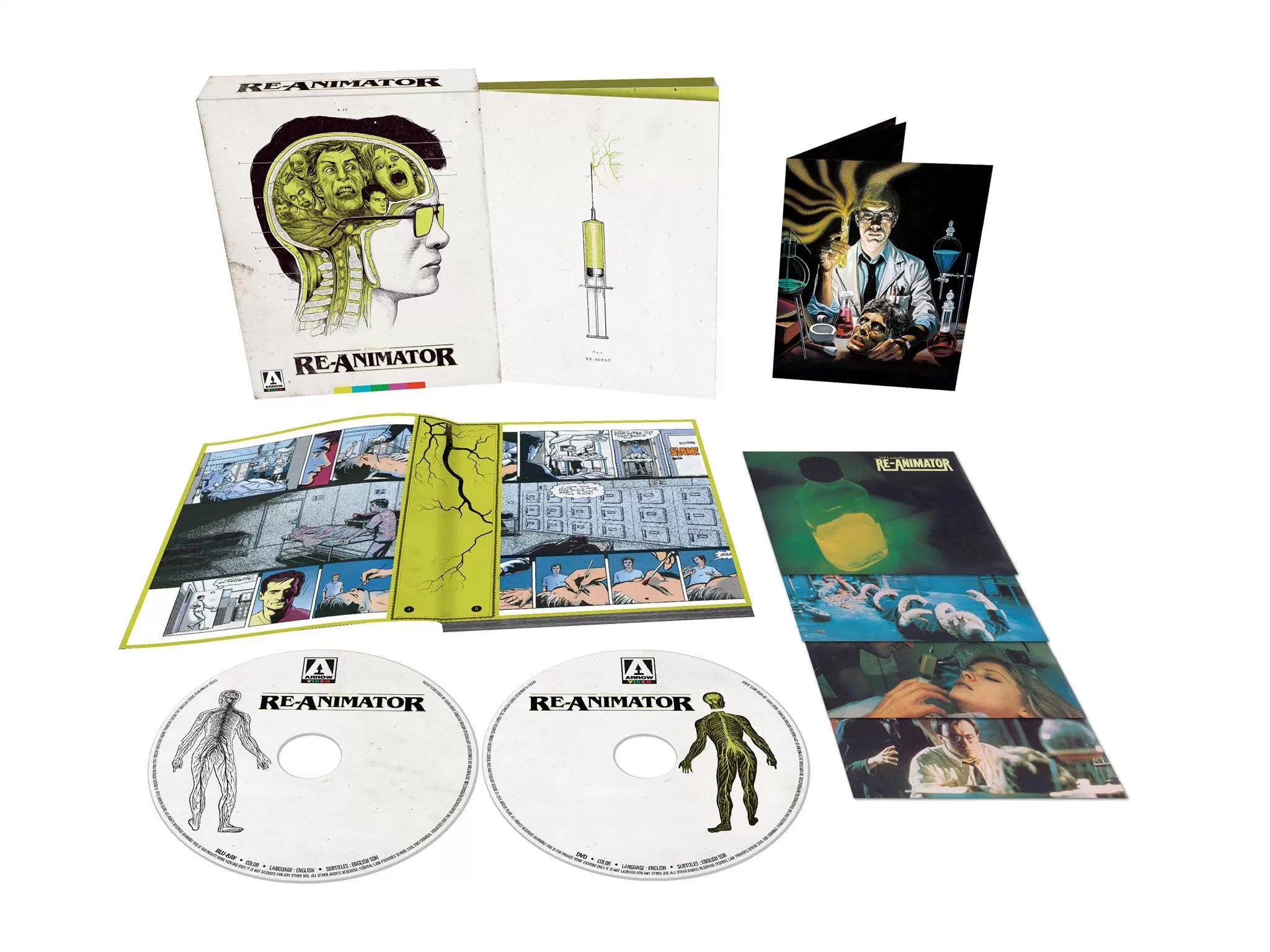 Retro-Review: New on Special Edition BluRay Box set from Arrow Films!
RE-ANIMATOR (1985)
Directed by Stuart Gordon
Written by Stuart Gordon, Dennis Paoli, William Norris (screenplay), H.P. Lovecraft (original story)
Starring Jeffrey Combs, Bruce Abbott, Barbara Crampton, David Gale, Robert Sampson
Retro-reviewed by Ambush Bug
What can I say about RE-ANIMATOR? I mean, how can I criticize the perfect horror film? In my eyes, RE-ANIMATOR is one of those horror films that hits all of its targets and whether it's watching people discover the film for the first time or sitting through it for the umpteenth, I can't help but be entertained.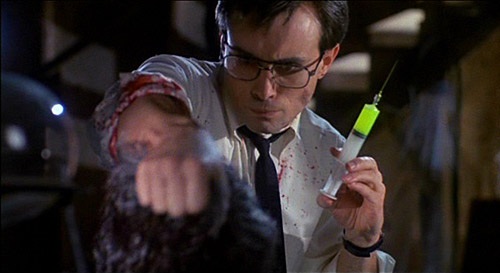 H.P. Lovecraft's ode to Marry Shelley is one of those horror classics that shouldn't be missed in written or cinematic form. The tale of Herbert West; a medical student at the Miskatonic Hospital, who has developed a cure for death is one of those horrific cautionary tales that can't help but be as relevant now as it was 27 years ago when it was first released. I guess the best was to review this film is to just elaborate on why it is just so fucking awesome.
RE-ANIMATOR is awesome because of the performances. Jeffrey Combs is the perfect casting for the twisted mad scientist, even early in his career, the actor has a gift for melodrama and though his actions are over the top, Combs as West is able to reel it in as not just another riff on Colin Clive to own the performance as his own. The range of emotions or lack thereof West has to go through in this film is pretty amazing and every note is played through Combs' finely tuned lens as Shakespeare. Though not as outstanding, Bruce Abbott plays a great strait man in Dan Cain to Combs over-the-top West, but the true standout is the entrancing Barbara Crampton as Megan whose brave performance in the nude is the stuff of legend and was able to convey the disgust and fear that permeated this film and made it more than just a horror goofball comedy. Finally, rounding out the cast is David Gale as the beheaded Dr. Hill who must not only be menacing as a disembodied head, but also convey the creepiness of the big baddie of the film before he is beheaded. This is a film that could have easily veered off into parody, but because of these rock solid performances, it safely avoids doing so.
RE-ANIMATOR is awesome because of the gore. Apart from an amazing story and cast, revolutionary gores and gruesome sights both the 1985 audience never saw and effects that are still revolutionary today was performed in this film. Beheadings, dead and undead cats, crawling intestines with minds of their own, surgical saws burst through chests, and all sorts of grossness makes this a splatter fiend's wet dream. Many gross out films come and go, but the fact that this is one of those perfect storms where the story is as strong as the gore effects makes it truly special.
Finally, RE-ANIMATOR is awesome because of the strength of the story. This film goes to operatic levels as both Herbert and Dan evolve from innocent scientific explorers to ethical line crossers depending on what situation arises at the time. The story evolves organically and meticulously as both West and Dan fall deeper into the darkness of playing god killing and re-animating the dead with less and less conscience involved. Though props should go toward H.P. Lovecraft for providing the structure of the story, Stuart Gordon, Dennis Paoli, William Norris would be applauded for adapting the film to make it timeless.
Enough kudos tossed. RE-ANIMATOR is simply awesome and this new BluRay shows it in a manner that makes it feel as if it were made yesterday. Though I don't know about previous transfers, I can say that everything looks damn pretty despite the gore. This 2-disc limited edition set contains 2K restorations of both the Unrated and "Integral" versions of the film, housed in packaging with brand new art by Justin Erickson with a collector's booklet containing new writing on the film by writer Michael Gingold and the original 1991 comic book adaptation of Re-Animator reprint. This two disk set includes audio commentary with director Stuart Gordon, a commentary with producer Brian Yuzna, actors Jeffrey Combs, Barbara Crampton, Bruce Abbott, and Robert Sampson, Re-Animator Resurrectus – a documentary on the making of the film featuring extensive interviews with cats and crew, an interview with director Stuart Gordon and producer Brian Yuzna, an interview with writer Dennis Paoli, an interview with composer Richard Band, a music discussion with composer Richard Band, an interview with former Fangoria editor Tony Timpone, Barbara Crampton In Conversation with journalist Alan Jones, A Guide to Lovecraftian Cinema – brand new featurette looking at the many various cinematic incarnations of writer H.P. Lovecraft's work, deleted and extended scenes. But who I really envy are those of you who haven't seen RE-ANIMATOR and get to enjoy it in this beautiful BluRay for the first time. Damn I'm envious.
---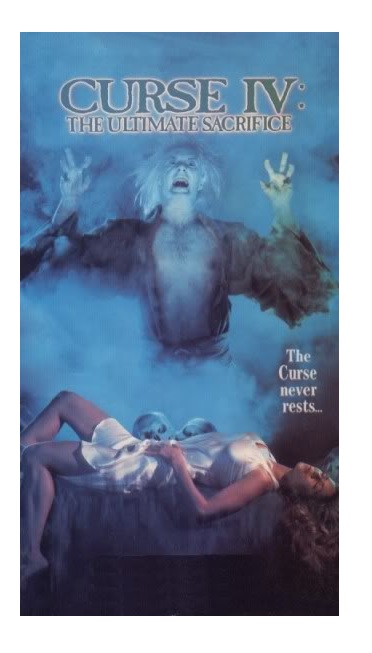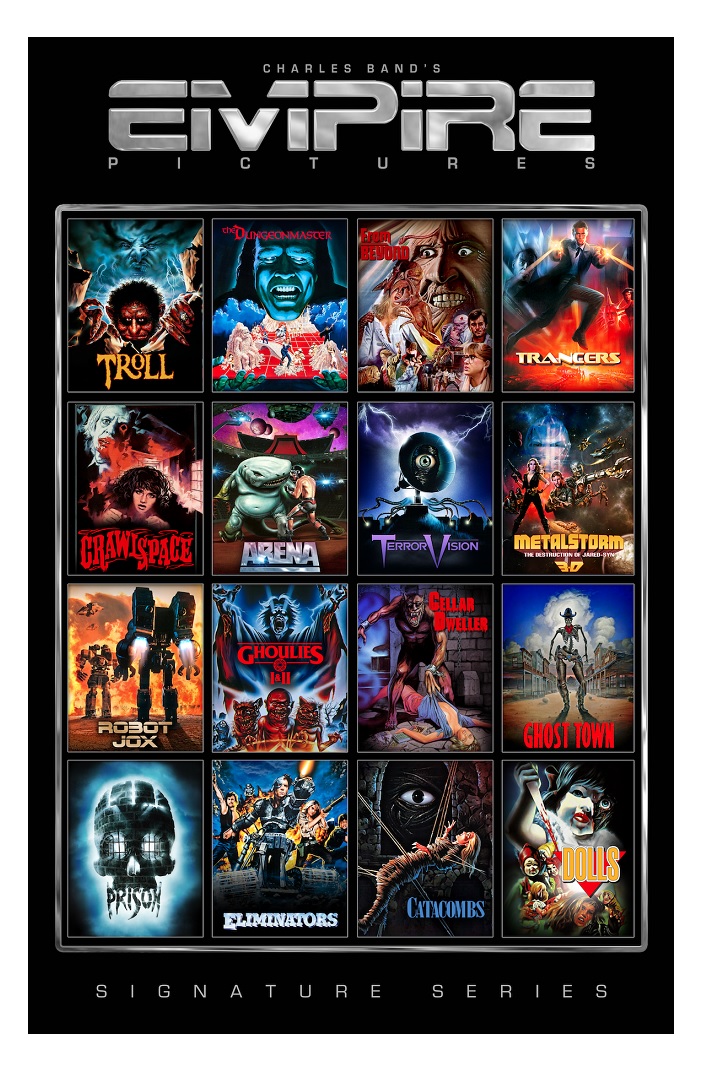 Retro-review: New in the Empire Pictures BluRay Box Set Collection from Full Moon Entertainment!
CATACOMBS (1988)
aka CURSE IV: THE ULTIMATE SACRIFICE
Directed by David Schmoeller
Written by David Schmoeller (as Giovanni Dimarco) , R. Barker Price
Starring Timothy Van Patten, Ian Abercrombie, Jeremy West, Laura Schaefer, Vernon Dobtcheff, Feodor Chaliapin Jr., Brett Porter, Michael Pasby, Mapi Galán, Nicola Morelli, Julian Jenkins, Ted Rusoff, Leslie Thomas, Giordano Falzoni, G. Ferretti
Retro-reviewed by M. L. Miller aka Ambush Bug
Empire Pictures made some amazing films in the 80's. The precursor to Full Moon Entertainment stretched their budgets and put varied and extremely creative images on screen. These mini-epics tackle horror, sci fi and beyond and now they've collected them all in one huge, badass box set. I'm going to be covering each film in this collection over the next few weeks, but if you're a film collector, you're going to want to grab this set as soon as possible as there are only 600 of them. Check out this sizzle reel featuring some of the iconic films collected in this Box Set.
There's nothing like defacing religious iconography to get the blood pumpin'. CATACOMBS may be a low budgeter, but it is a film from the time of Empire Pictures, and those films really knew how to stretch a buck!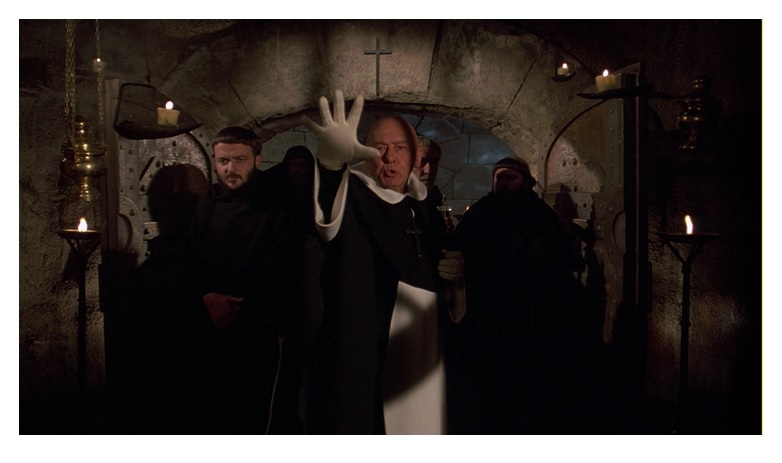 They don't make 'em like CATACOMBS any more. It's a horror film set in a monastery where an order of monks imprison an ancient demon in their catacombs, only to be set free to seek vengeance on the modern day monks. This being Empire, there has to be some damsels in distress, so there's a female news reporter and a cute country girl there to keep the eye candy sweet. When the demon is unleashed, the subtle battles for power within the monastery are amplified to an all-out monk war for power. It's up to a young monk (CLASS OF 1999's Tim Van Patten) to team up with the lady reporter to save the day.
While the story is rather ridiculous and something that feels like it would be comfortable occupying page space in an EC comic, the eye for effects and the commitment of the actors who are going for the gold in every scene for everything to be taken seriously is what makes CATACOMBS a winner. While Tim Van Patten has been in much better films, he's great here as the noble young monk, and there is much scene chewing by Ian Abercrombie, Jeremy West, and Vernon Dobtcheff, who tout the way of the good book with conviction. Finally the demon itself takes the form of Brett Porter, and is not guilty of gnawing on the scenery but still remains pretty scary in his old age and demoned up makeup.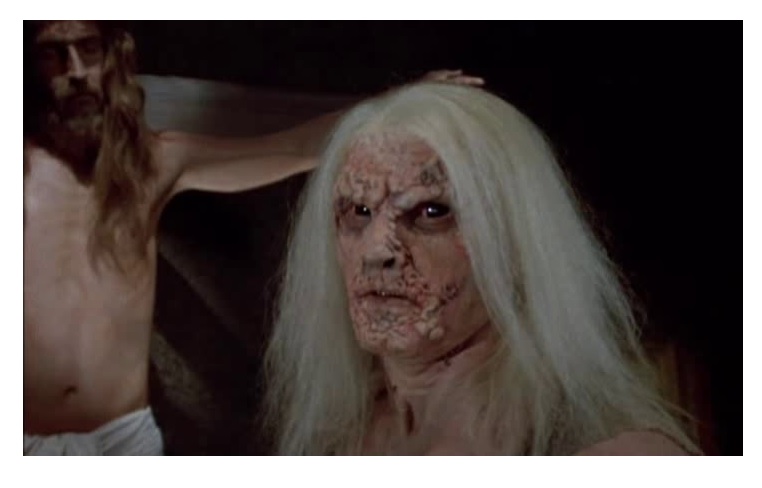 What I found to be the most unsettling is the use of religious iconography throughout as either a means of killing or just in a way that would make the more religious of folk cringe. I'm used to things like crosses being made into weapons, but CATACOMBS takes it a tad further by having Jesus Christ (played by Michael Pasby) himself step off the cross in a scene and kill a guy. The fact that this film has the balls to do that impressed me to no end and it makes for one of the creepier scenes put together by writer/director David Schmoeller.
While everything devolves into a typical big earth-shaking (i.e. camera shaking) standoff between good and evil in the bowels of the catacombs and there are tons of goofy moments such as the tendency for the possessed to do air punches at people causing damaging blows to its victims across the room, CATACOMBS' more quiet moments utilizing the religious iconography really got under my skin in a way most Empire films didn't, so I have to give it to this film for achieving that.
Reviews for other films in the Empire BluRay Collection!
FROM BEYOND
PRISON
GHOULIES
GHOULIES II
TROLL
DOLLS
CRAWLSPACE
CELLAR DWELLER
ELIMINATORS
THE DUNGEONMASTER
---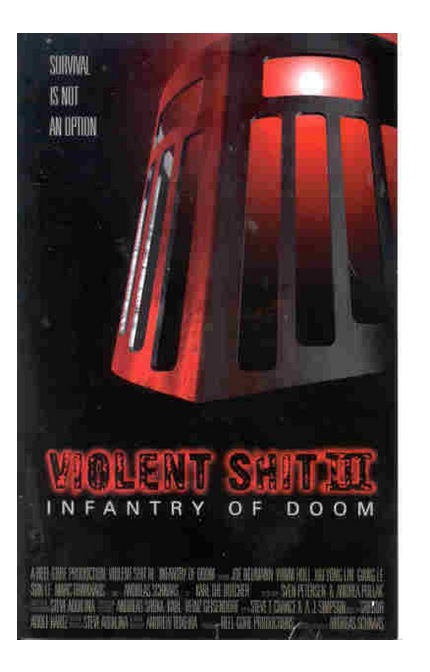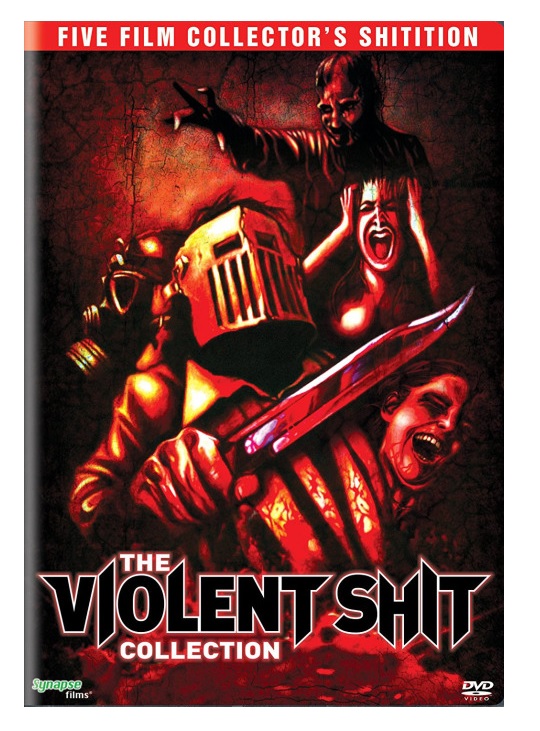 Retro-review: New on the VIOLENT SHIT DVD Collection from Synapse Films!
VIOLENT SHIT 3: INFANTRY OF DOOM (1999)
aka VS3, ZOMBIE DOOM
Directed by Andreas Schnaas
Written by Andreas Schnaas
Starring Andreas Schnaas, Marc Trinkhaus, Steve Aquilina, Beate Brüggmann, Uwe Grüntjes, Winni Holl, Mirco Hölling, Matthias Kerl, Giang Le, Son Le, Heiko Leesch, Xiu-Yong Lin, Joe Neumann, Andreas Sroka, Hagen van de Viven
Retro-reviewed by M. L. Miller aka Ambush Bug
One does not expect nuance or subtlety when you commit to watching an Andreas Schnaas film. The creator of the VIOLENT SHIT series is not someone who strives to hold back when it comes to doing his thing. Now, many will look down-snoutedly at the director after seeing clips of his films, but I admire the guts Schnaas has as he literally is a one man show when it comes to making these films. And though they are rough, there's a passionate voice in a Schnaas film that cannot be denied.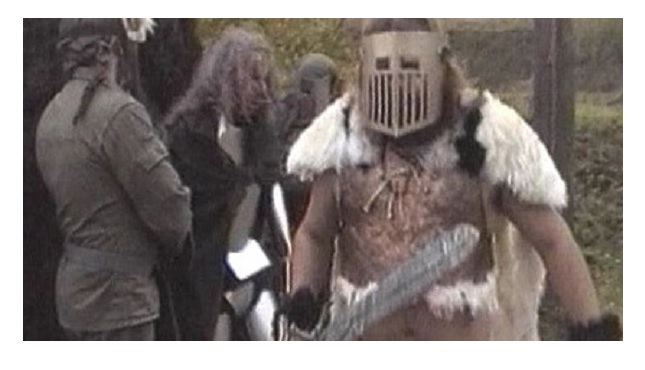 VIOLENT SHIT introduced us to Karl the Butcher Shitter, a maniac who not only murders people, but plays with the gore like a pig in slop afterwards. VIOLENT SHIT II: MOTHER HOLD MY HAND expanded the world a bit as we are introduced to Karl's mother, as twisted as he is—a cannibal who enjoys feeding the adult Karl from her bosom and Karl Sr., one of the most notorious serial killers in all of Germany who is busted out from an asylum at the end of the film. In VIOLENT SHIT 3: INFANTRY OF DOOM, Karl and his father have joined forces and recruited an army of madmen on a seemingly deserted island. When a boating crew crash lands on the shores of the island, they are taken by the army and forced to play as prey in a twisted hunting game.
While there are plenty of gory mutilations and blood splattered body decimations, Schnaas ups his game a notch in PART 3 by adding in some pretty epic action sequences as well as sort of including a bit of story in there as well. The first two VIOLENT SHIT films were light on story with the focus mainly on the extended mutilation scenes. Basically, they had a tiny bit of story at the beginning and the end, but the middle hour is simply one murder and body destruction after another. At least VIOLENT SHIT 3 adds in a few more characters, even tossing in a few flashbacks and a bit of a backstory. It's no Shakespeare, but at least it shows some kind of growth from the filmmaker.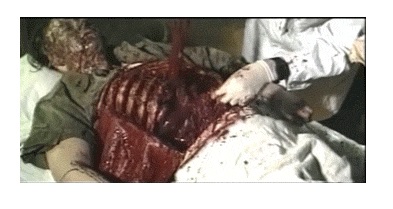 And the action is something to marvel at as the survivors fight back against Karl and his seemingly endless supply of masked minions. Soon, a troupe of ninjas show up to even the odds and it's an all out action melee for pretty much the rest of the film. The pointless ninja scene at the beginning of VIOLENT SHIT 2 is actually given some merit in this third installment and Schnaas love for big Schwarzennegarian action scenes and kung fu movies is as evident as his love for FRIDAY THE 13TH style mayhem and gore in this one.
Again, this isn't the kind of film most will go out of their way to go see. It's a turd of a film, but a well polished one, shat from a director who actually shows growth from one movie to the next. VIOLENT SHIT 3: INFANTRY OF DOOM is still utterly stupid fun, but better than the first two in terms of pacing and sheer shit going on.
Other VIOLENT SHITs covered on AICN HORROR!
VIOLENT SHIT
VIOLENT SHIT 2: MOTHER HOLD MY HAND
---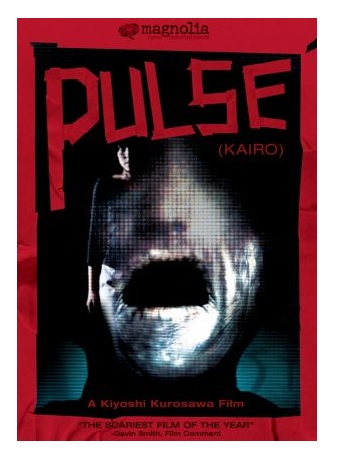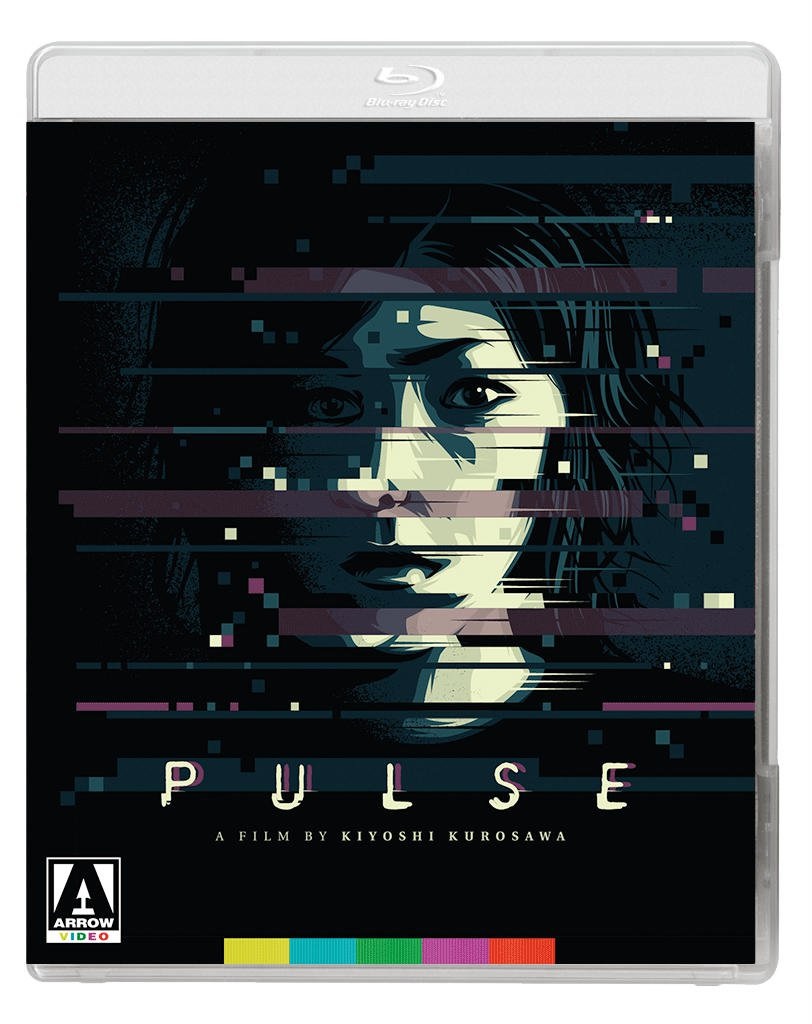 Retro-review: New on BluRay Arrow Films/MVD Visual!
PULSE (2001)
aka THE CIRCUIT
Directed by Kiyoshi Kurosawa
Written by Kiyoshi Kurosawa
Starring Haruhiko Katô, Kumiko Asô, Koyuki, Kurume Arisaka, Masatoshi Matsuo, Shinji Takeda, Jun Fubuki, Shun Sugata, Kôji Yakusho, Shô Aikawa, Kenji Mizuhashi, Kaori Ichijô, Teruo Ono, Masayuki Shionoya
Retro-reviewed by M. L. Miller aka Ambush Bug
Gloomy as all get out, PULSE reflects real life horrors while telling a spine-tingling ghost story. Sure, we were all sick of J-horror a few years ago, but after a bit of a break from the subgenre, I have to say, I had a lot of fun with this dismal little spook show.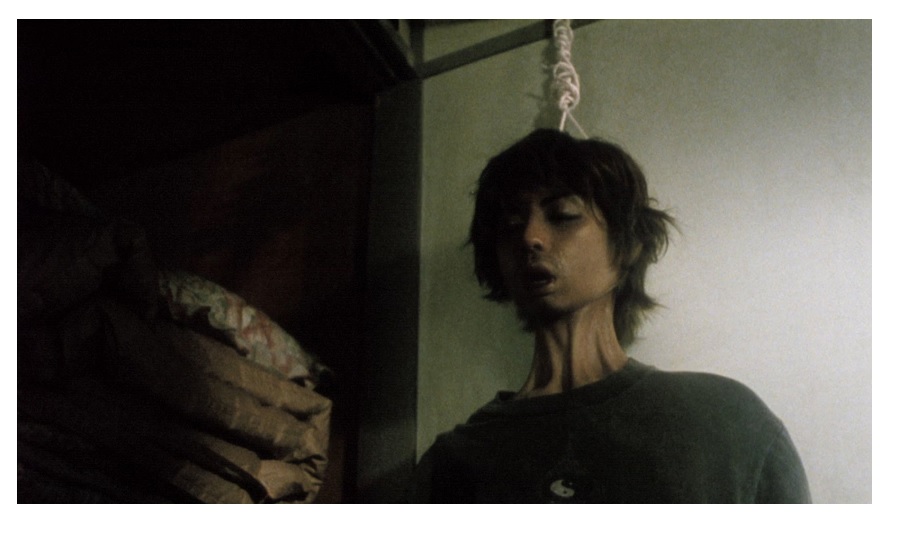 After a friend commits suicide, a young girl and her friends investigate the reasons he would kill himself and uncover a website which compels people to take their own life. Soon this website is made public and only a few people are left who haven't succumbed to a message from the web that curses those who receive it.
So basically, this is a film giving form to the fears pre-millenials had when they realized the world was soon being overcome with computer culture. It's a film for those people who only used their Commodore 64's for video games and never really cared about learning how to build a website or send emails or anything like that. Sure most adapted well, but I remember that feeling that I had stepped into an alien world when I first went to my college computer lab and tried to learn how to surf the web. We take it for granted now, but this leap into the technological abyss was scary for anyone who was born before 1985. And while it is not the most chipper of films, PULSE actually communicates that kind of fear of the unknown technological world pretty well through its computer illiterate characters trying to survive an ancient curse given form on the internet. I love this metaphorical mishmash of real life terror mixed with ancient curses and PULSE communicates this all flawlessly.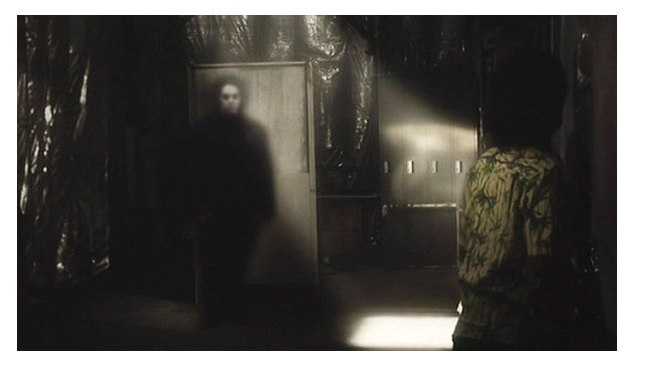 The problem is that PULSE also has a hell of a lot of imagery we'd already seen by 2001 in films like THE GRUDGE and THE RING. The pale skinned, hair flying ghosts ran rampant through the Oughts and America was just about to be hit with that imagery when PULSE came out. Sure the horror was coming from the web and not from a haunted house or a video tape, but the ghostly horrors in this one are going to be mighty familiar.
This Arrow BluRay features a high definition digital transfer on High Definition Blu-ray (1080p) and Standard Definition DVD presentations, a new optional English subtitle translation, a new interview with writer/director Kiyoshi Kurosawa, a new interview with cinematographer Junichiro Hayashi, a featurette "The Horror of Isolation": a new video appreciation featuring Adam Wingard & Simon Barrett (BLAIR WITCH, YOU'RE NEXT), an archive 'Making of' documentary, plus four archive behind-the-scenes featurettes, premiere footage from the Cannes Film Festival, cast and crew introductions from opening day screenings in Tokyo, trailers, TV Spots, and a reversible sleeve featuring original and newly commissioned artwork by Tommy Pocket!
---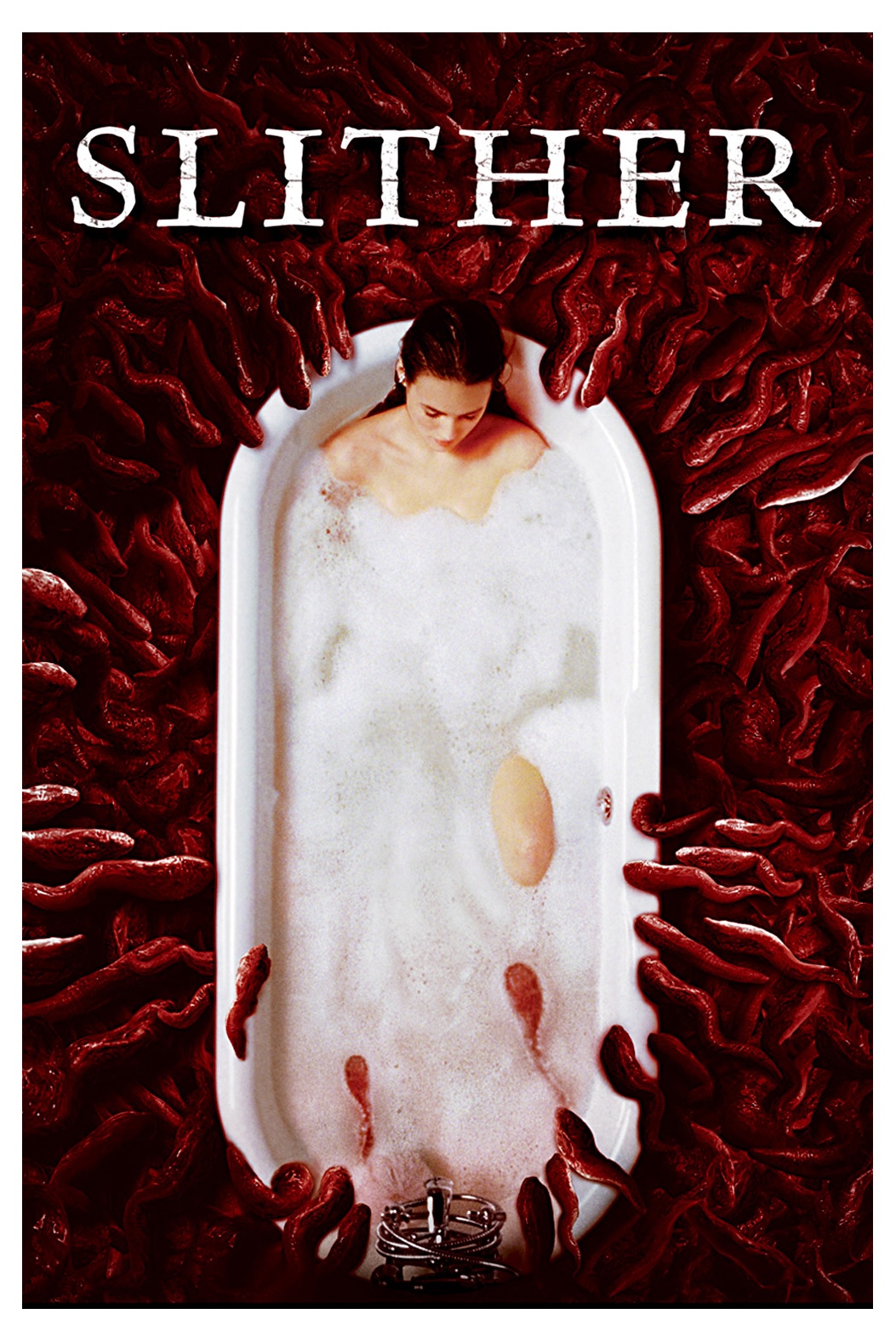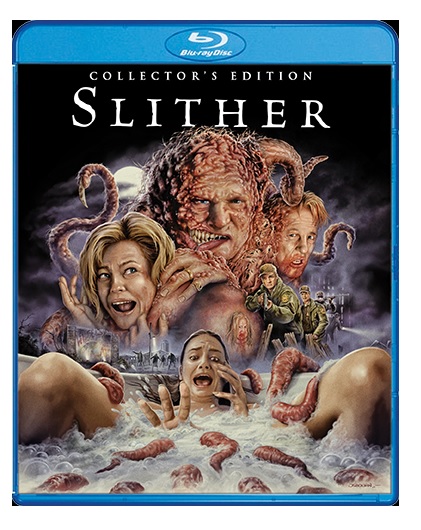 Retro-review: New on BluRay from The Shout Factory!
SLITHER (2006)
Directed by James Gunn
Written by James Gunn
Starring Nathan Fillion, Elizabeth Banks, Michael Rooker, Gregg Henry, Xantha Radley, Matreya Fedor, Don Thompson, Tania Saulnier, Michael Rooker, Haig Sutherland, Jennifer Copping, Zak Ludwig, Kathryn Kirkpatrick, Brenda James, Lorena Gale, Jenna Fischer, Ben Cotton, Dee Jay Jackson, Amber Lee Bartlett, William MacDonald, Iris Quinn, Michael Cromien, James Gunn
Retro-reviewed by M. L. Miller aka Ambush Bug
Mixing components from THE BLOB with David Cronenberg's THEY COME FROM WITHIN aka SHIVERS and a bit of Brian Yuzna's SOCIETY and NIGHT OF THE CREEPS tossed in for good measure, James Gunn attempted to break into the big leagues with a modestly budgeted horror film called SLITHER. The film pleased a lot of people lucky enough to see it, but Gunn's madcap brand of horror and comedy seemed to be a bit too much for audiences in 2006. It wouldn't be until he was smartly drafted to helm GUARDIANS OF THE GALAXY that he was given another chance at blockbuster films again and now that the intergalactic series has proven to be popular, it is a fine time to rerelease SLITHER to a whole new audience. Hopefully, this time folks will get how much fun this film really is.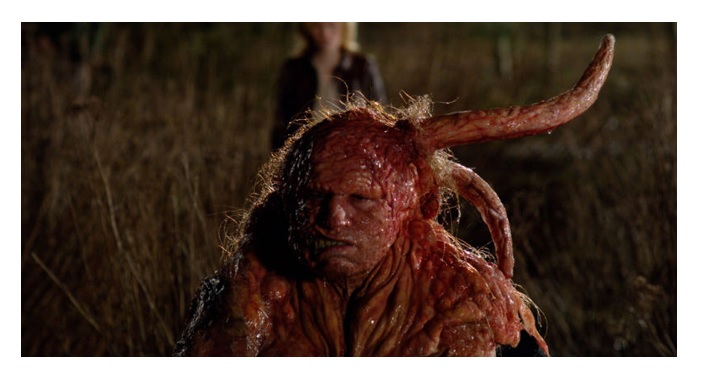 A meteor crashes outside of a small country town and is found by a local businessman named Grant Grant (Michael Rooker). When a small slug leaps from the cracked meteor, it burrows into Grant, infecting him with an all consuming hive mind bent on reproducing and overtaking the entire living populace of Earth. The only thing that stands in the way is a small group of survivors; Grant's wife Starla (Elizabeth Banks), the self serving mayor (Gregg Henry), a pretty teenager who lost her family to the monsters (Tania Saulnier), and a flawed but heroic sheriff named Bill (Nathan Fillion). Do this ragtag group of survivors have what it takes to defeat an alien menace possessing every citizen of their small hick town?
What SLITHER does well is pay homage to many, many horror films of the past while still keeping things fresh and fun enough to be entertaining in its own right. Sure parts have been downright lifted from a whole lot of classic horror films, but seeing them all schmelded together here is sheer fun. And Gunn knows we know all of the puzzle pieces he uses to put this film together as evidenced by him plopping references to Stephen King stories and other horror films every chance he can get. It would take whole other AICN HORROR column to list all of the references and half of the fun in this one is seeing how many you can pick up. Gunn is obviously a horror fan and much like the works of Joe Dante, it adds an extra layer to watch and get all of these fun references. Because the film moves at a rapid clip, the viewer isn't really given much time to catch one's breath as the action moves from one end of the town to the other and Gunn goes out of his way to incorporate computer effects as well as practical ones to make this film a gore-lover's and an effects-addict's dream. The slitering Grant creature is the true highlight of the film as Rooker goes through various transformations in between opening and closing credits. The scene where he kills and devours a cow stands out as one of the most surreal and twisted little bits I've seen in ages. Even the tub scene, ripped right from A NIGHTMARE ON ELM STREET, is made iconic as Saulnier battles an army of slugs in her bathroom having been attacked while bathing.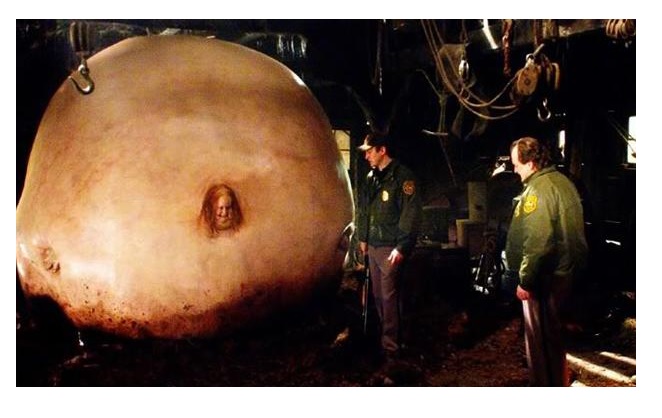 One of the biggest criticisms I have about the film is the ambiguous Starla, played by Elizabeth Banks. It's to the actress' credit that she is so convincing in all of her scenes, but her motivation becomes murky as she sort of shifts her investment in Grant (Rooker) and Bill (Fillion), depending on who she is sharing the scene with. At the beginning, she is obviously not in love with Grant, but when he makes love to her the next day, she is smitten. Later when she sees what Grant has become, she seems genuinely heartbroken at his transformation, but she seems to have no problem betraying him seconds later and walking off into the sunset with Bill. Sure this is the mushy stuff, but it's this type of shifting motivation that makes the story seem like it needed another pass-thru before it was filmed. Again, this isn't about Banks' performance. More so it is Gunn's fault for not clearly defining her character.
That said, this film is fun from start to finish. Fillion is at his most likable and Rooker once again shows some softness behind a cold stare. The effects are top notch for the time, even though they stand out a bit from the live action scenes. Still the imagination behind it all is absolutely wonderful. This new BluRay includes; a new audio commentary with writer/director James Gunn & actors Nathan Fillion & Michael Rooker, a new featurette "The Genesis Of SLITHER" – an interview with James Gunn, a new featurette "The Other MacReady" – an interview with actor Gregg Henry, audio commentary with James Gunn & Nathan Fillion from 2006, deleted & extended scenes with optional commentary by James Gunn, "Visual Effects: Step By Step" featurette, "Slithery Set Tour" with Nathan Fillion, "The Sick Minds And Slimy Days Of SLITHER" featurette, "Brewing The Blood – How To Make Blood" featurette, "Bringing SLITHER's Creatures To Life" featurette, Lloyd Kaufman's Video Diary, gag reel, "Who Is Bill Pardy?" featurette & theatrical trailer. That's a whole lotta bells and whistles, or should I say tentacles and slime, about a film that's a while lotta fun!
---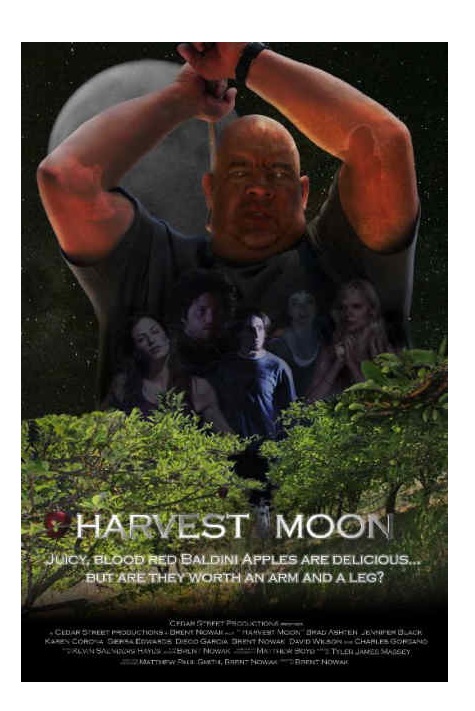 Retro-review: New on DVD from MVD Visual!
HARVEST MOON (2007)
Directed by Brent Nowak
Written by Tyler Massey
Starring Brad Ashten, Jennifer Black, Karen Corona, Sierra Edwards, Diego Villarreal Garcia, Brent Nowak, David Wilson, Charles Gorgano, Matt Copko, Kim Cottom, Chris Batstone, Chrissy Randall
Find out more about this film here, @harvestmoonhorror, and on Facebook here
Retro-reviewed by M. L. Miller aka Ambush Bug
I understand Neil Young is not the prettiest of men, but to make a horror movie about him is just a step too far… Just kidding, this isn't about a wailing folk rock singer. HARVEST MOON's a little slasher pic about a haunted orchard, fresh, ripe apples, and the murderous maniacs that grow them!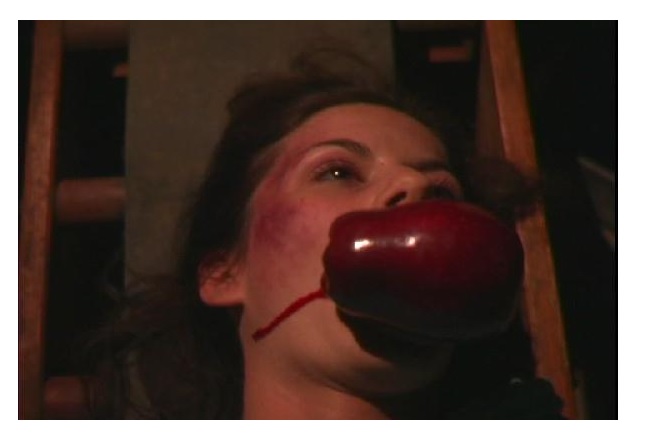 A group of twenty-somethings head out to a secret orchard inherited by one of them when his parents were mysteriously "mauled by wolves." Upon arriving, the couples squabble a bit, but that is nothing once ghosts start appearing around the orchard and someone starts murdering people to seed the orchard with blood.
While it tells a pretty straight forward slasher tale, HARVEST MOON tells it darn well. There are quite a few well framed shots from director Brent Nowak, specifically the murder scenes which seem to at least try to frame the action in an interesting way. I especially liked one scene where the killer comes out of a doorway Leatherface style, attacking his victim. The shot focuses on the feet of the victim on the ground, fumbling and stumbling away, with the killer's feet shuffling forward as the camera pans across the ground. Having seen a ton of slasher films, this extra mile taken by Nowak is appreciated.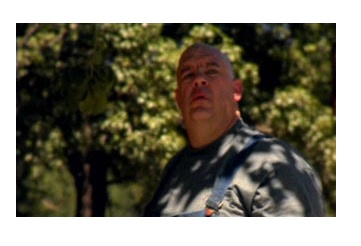 One of the other things that stood out for me is that the characters are written and acted in a manner that I actually cared about them. Their interactions with one another is rather complex as some hold torches for others, while others are at the beginning of their relationship and still others are at the end. This play on trust between a group of friends made the downtime between the action and scary bits more interesting than most in this subgenre.
So HARVEST MOON is a well made slasher with compellingly written characters and a fun eye for making the action unique. If you're a fan of the slasher genre, you're going to see a lot of similarities in basic story structure, but all in all, HARVEST MOON follows the slasher model in a more interesting way than most.
---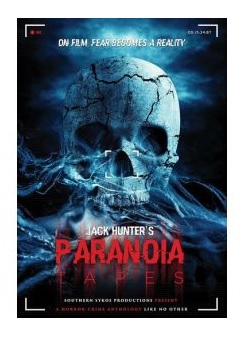 New on DVD from MVD Visual!
JACK HUNTER'S PARANOIA TAPES (2017)
Directed by Chad Freeman, Jesse Gilbert, Amy Hesketh, Aaron Normand, Larry Rosen, Douglas Farra, Jack Hunter
Written by Chad Clinton Freeman, Jack Hunter, Jason Swanger
Starring Paige Lauren Billiot, Tricia Brooks, Kasey Connolly, Autumn Duncan, Nicola Fiore, Kelly Garni, Trae Ireland, Ava Justin, Nicole Kruex, Kelly LeBenger, Eric D. Rodriguez, Yesi Rodriguez, G. Paul Salvetti, Muhib Samad, Corey Taylor, Kathleen Tripp, Paul Tumpson, Victoria Viveiros
Find out more about this film @paranoiatapes and on Facebook here
Reviewed by M. L. Miller aka Ambush Bug
Man o man, I'd put this found footage film up against my Found Footage Questionnaire, but it would fail so miserably, it just isn't worth it. JACK HUNTER'S PARANOIA TAPES seems to have seen all of the found footage films out there, yet still manages to misuse the usually compelling first person POV style in every way imaginable.
The flimsy concept for the film is that a box of video tapes which contain footage of murders and all kinds of weirdness and that once you watch this footage, one is compelled to lose one's mind and continue the murder spree. It's not a terrible idea mashing PARANORMAL ACTIVITY and V/H/S with THE RING, but the execution murders all possibility of it being compelling.
The problem is that instead of people taking footage and being behind the camera, this film seems to be entirely made of cell phone selfies with the people holding their phones in front of them, which pretty much negates any and all effectiveness of drawing the viewer into the film which most found footagers tend to do.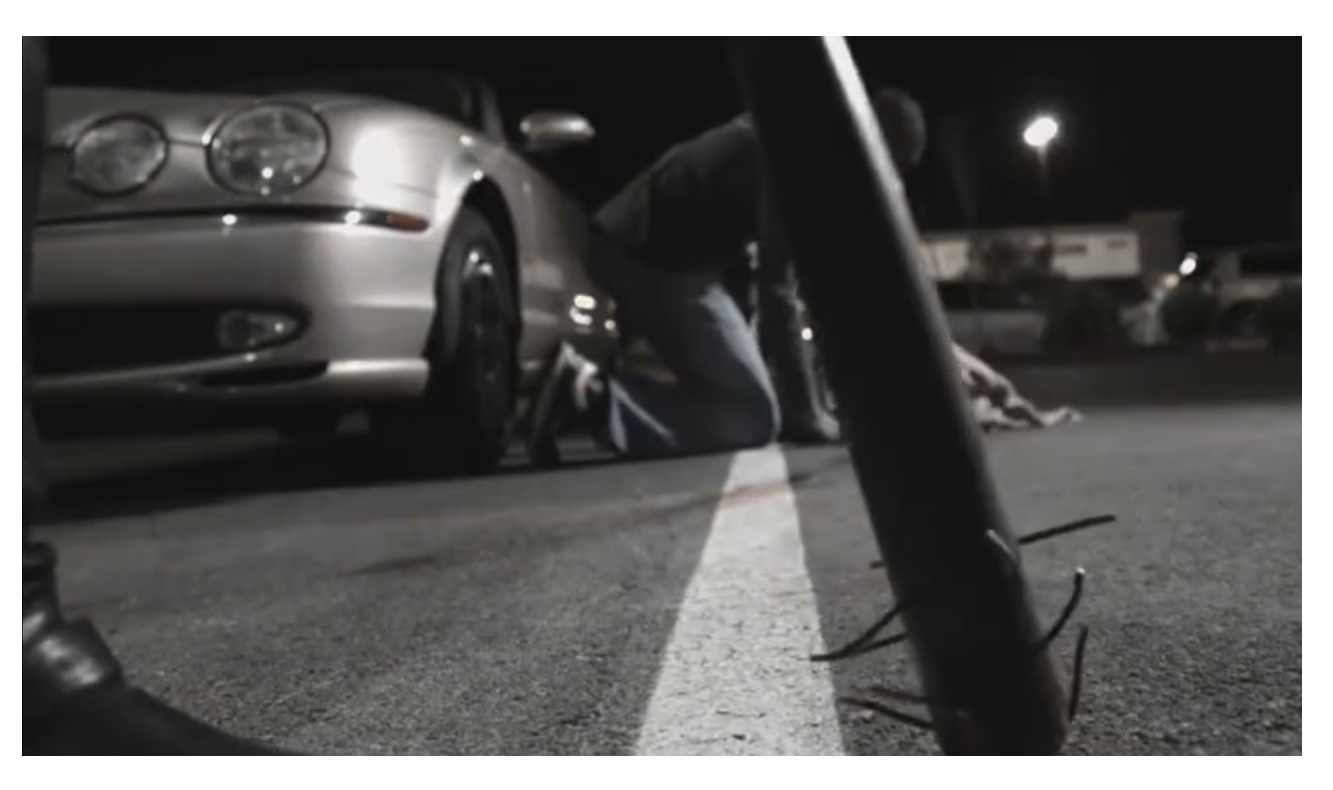 So basically, this is a bunch of non-actors spouting gibberish for five or ten minutes and then the scene ends in a non-sensical murder. Only two of the upteen shorts smooshed together to make this film are watchable, that being a woman suffering from post-partum depression and another where a couple of idiot anarchists make a bomb and then are beat up by a gang of thugs. The rest is blathering in front of a cell phone which is more annoying that one can imagine. The film is interspersed with scenes of a masked murderer talking and giggling to his camera and other scenes where a frightened guy warn the viewer that the footage you are about to see is horrifying (which it isn't). These scenes seem to be competing for which can be acted the worst and most boring.
I'm sure there was a good intention from the filmmakers to make a V/H/S style film, as there is even a definition and countdown of real life found footage tapes that vary from the Columbine tapes to possible murder footage. But this one is bottom of the barrel garbage. Avoid at all costs.
---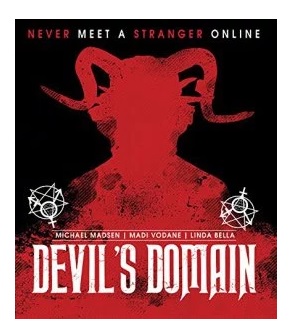 New on BluRay, DVD, and Redbox from MVD Visual!
DEVIL'S DOMAIN (2016)
Directed by Jared Cohn
Written by Jared Cohn
Starring Michael Madsen, Madi Vodane, Linda Bella, Zack Kozlow, Kelly Erin Decker, Brenna Tucker, Desanka Julia Ilic, Ciara Muller, Jordan Matayoshi, Stephanie Strehlow, Molly Nolan, Chloe Wick, Sharifa Oliver, Dave Huber, Andy Rappos, Shawn C. Phillips, Michael Blaine, Gabriel Carli-Jones, Gabrielle Avery, Angie Stevenson, Alphonse John Teems Iii, Christopher Kingry, Samm Allen, Michael Haddad, John Davis Walker, Tyler Conklin, Jeremy Wojchihosky, Ava Kujik
Find out more about this film here, @DevilsDomainMovie, and on Facebook here
Reviewed by M. L. Miller aka Ambush Bug
The age-old Faustian tale of selling souls for fame and fortune makes up the framework for DEVIL'S DOMAIN, which tries to pepper in modern online bullying into the mix. And while there are some impressive effects-work to see in this one, an overlong runtime, some horrifyingly bad edits, and some rough performances make this one hard to recommend.
We are introduced to Lisa (Madi Vodane) as she is vomiting into the camera after binging on snack foods she keeps under her bed. Lisa is a troubled teenager, struggling with sexual feelings about her best friend Rhonda and dealing with online and in person bullying from her peers at school. When she is secretly filmed binging, purging, and then masturbating and the video is shared to the entire school, Lisa is pushed over the edge and ready to kill herself. But a woman named Destiny (Linda Bella) pings her online, tempting Lisa to meet with her. Destiny seems to understand Lisa and knows exactly what she wants. It turns out Destiny is actually the devil him—herself and she's willing to give Lisa her deepest desires for the simple price of her soul.
Let's start positively here. The full body devil suit Linda Bella wears in demon form is downright awesome. It's both scary and sexy, yet filled with little details that make it an all around professional looking costume/effect. Youngster Mai Vodane also gives a likable performance as the troubled Lisa and I'm sure the young actress will go on to be in movies much better than this one.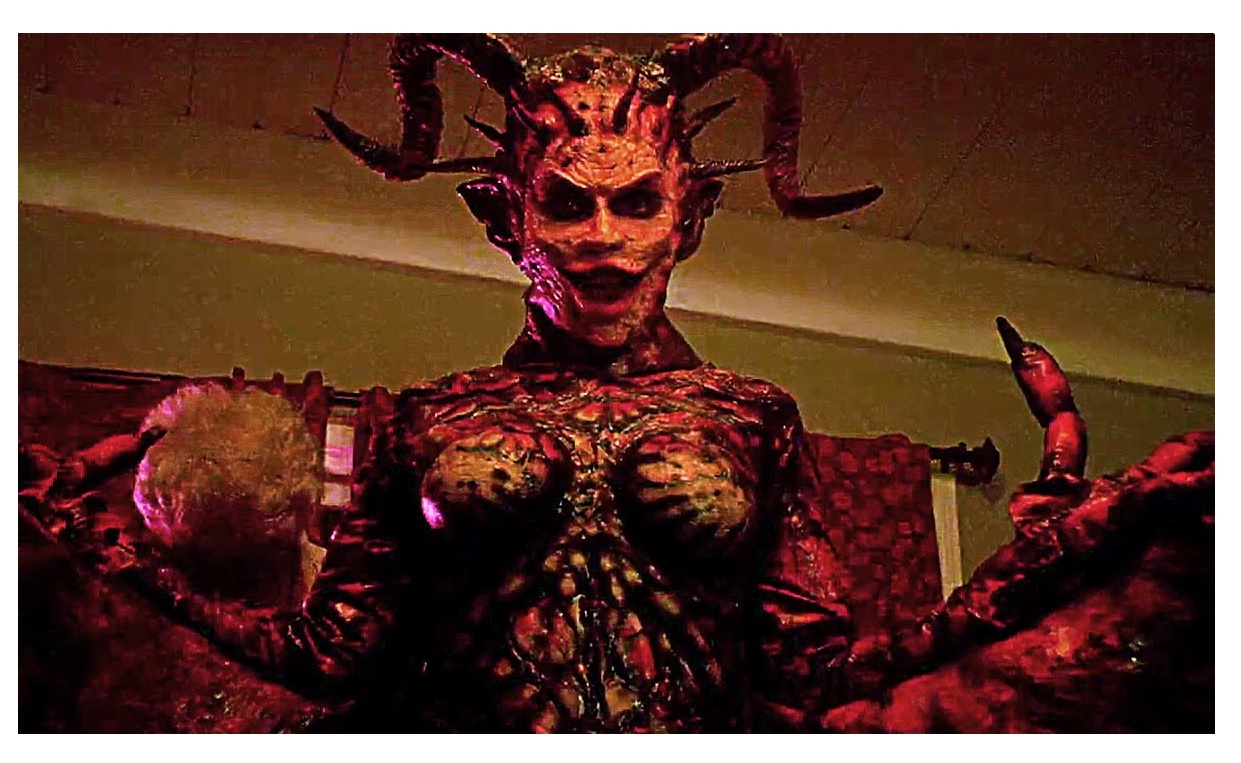 The problem is that the rest of the film is just poorly made. The story is meandering and repetitive. There are too many kids picking on Lisa and seeing Destiny creep up on them and kill them in an ill-fitting devil mask loses its luster when it occurs for the umpteenth time. This is undercut with Destiny tempting Lisa by exacting revenge on a few other bullies, so there's almost a whole hour dedicated to wiping out too many bullies for the film to properly deal with an introduction to the problem and its resolution in any manner that doesn't feel rushed. Add on to that some extremely shoddy edits which undercut effects and key plot points and key scenes, and you have one mess of a movie.
On top of that, despite the attempts at eroticism, the film is surprisingly PG when it comes to actually showing risqué or sexual scenes. It just lacks the bite when hell is filled with people who won't even take off their bras and panties. Everything just feels like a censored version of hell instead of the freakiness this film tries to convey. I also felt actress Linda Bella really was out of her depth as the Devil/Destiny. Most likely, Bella is a model and it seems like English is not her first language. And that's ok if not for the fact that she has so many lines and her line delivery is stiff and emotionless. This makes for some pretty unconvincing temptation scenes between Lisa and the Devil.
DEVIL'S DOMAN tries to be edgy, sensual, and horrifying, but the production and acting simply can't live up to what they are going for. Despite the devilish subject matter and PG sensuality, the whole thing feels like a teenage horror story one might find on the Disney Channel. So the demon suit and Vodane were not half bad. Hell, even Michael Madsen doesn't give a bad performance here. But everything else just fails to be a horrifying or sexy as it is trying to be.
---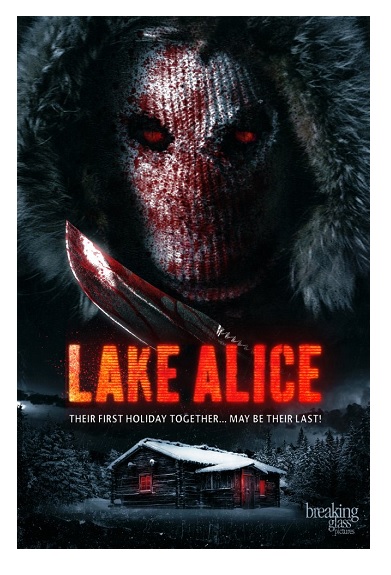 New On Demand and on DVD from Breaking Glass Pictures!
LAKE ALICE (2017)
Directed by Ben Milliken
Written by Stevie Jane Miller
Starring Brando Eaton, Michael Shamus Wiles, Caroline Tudor, Peter O'Brien, Laura Niemi, Eileen Dietz, Brad Schmidt, Craig Rees, Patrick Burch
Reviewed by M. L. Miller aka Ambush Bug
This pretty by the numbers slasher flick tries to be clever with multiple twists and red herrings flopping all around the place. Still LAKE ALICE doesn't manage to offer up anything we haven't seen before.
Sarah (Caroline Tudor) and Ryan (Brad Schmidt) just got engaged and they are heading to their folks' house for Christmas to announce the engagement and spend the holidays in Sarah's home town. But it turns out that more than one person has been carrying a torch for Sarah back home and there are tons of suspects when one of them shows up in a ski mask and begins gettin' all murdery.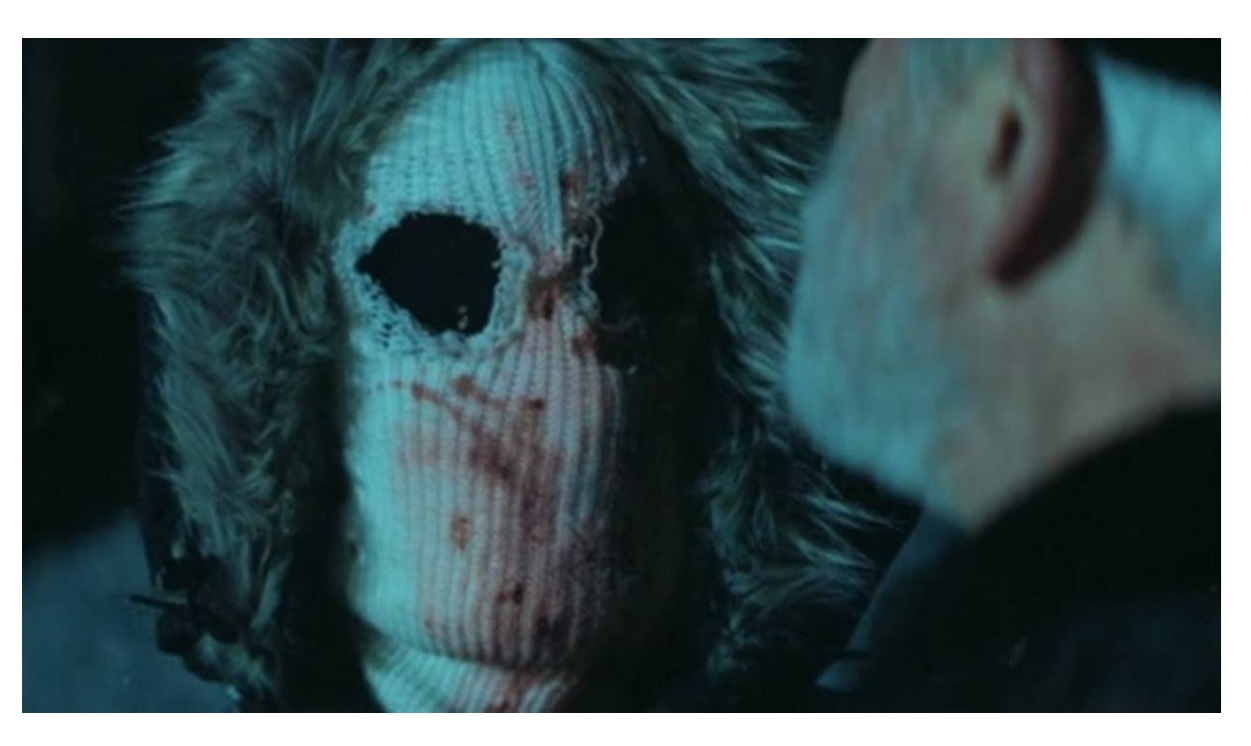 After a quick kill at the beginning of this one, nothing slashery really happens until about the forty-five minute mark and for a genre film like this, there had better be some compelling characters to keep me occupied during that lull in blood-letting. Unfortunately, in LAKE ALICE, there isn't. Everyone is rather bland and milquetoast. The film is all about trying to set up red herrings as to who the killer really is rather than spending time developing anyone to root for. So there is scene after scene of one crazy townie after another who may have some kind of grudge against the Thomas family or against Sarah's upcoming engagement. It could be her father, or the stupid cops who seem to hate her father, or the old boyfriend, or the old boyfriend's mother, or the loonie guy, or the deputy, or all of them, or none of them all. The problem is, I don't care.
Even when the slashing starts it really isn't anything we haven't seen before. Sure it's kind of keen to see the white ski mask of the killer get all splattery with blood, but that wears off as everyone seems to be going through the motions well tread by slashers films in the past. Even when the killer is reveals, it lands like a turd. The whole film just feels lazily executed as if everyone simply is going through the motions and have forgotten that character is what drives a good film, not red herrings killed one after another. In an attempt to be clever and keep the viewer guessing, those responsible for LAKE ALICE forget to make anyone worth rooting for to survive or even come up with a point for anyone to care.
---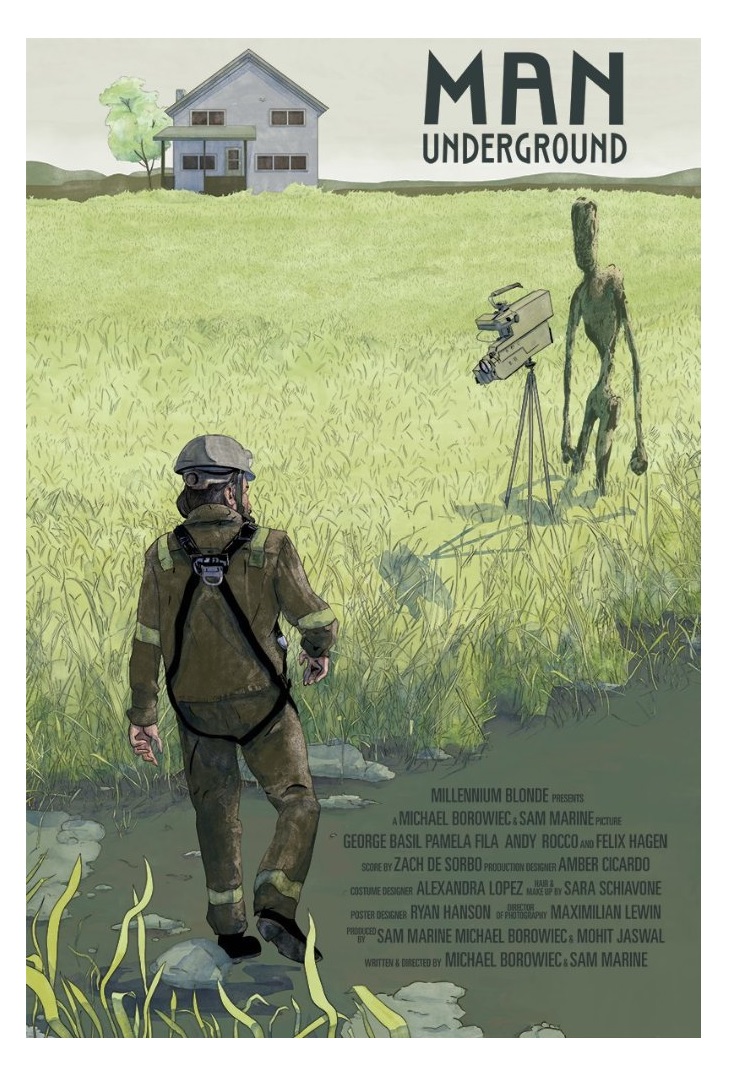 New Indican Pictures!
MAN UNDERGROUND (2016)
Directed by Michael Borowiec, Sam Marine
Written by Michael Borowiec, Sam Marine
Starring George Basil, Andy Rocco, Pamela Fila, Felix Hagen, Stephen Girasuolo, Alex Watt, Eleanor Hutchins, Jo Roueiheb, Denise Yuen, Christian Jacobs, Julia Frey, Gregory Borowiec
Find out more about this film here and on Facebook here
Reviewed by M. L. Miller aka Ambush Bug
MAN UNDERGROUND is a quirky and thoroughly entertaining little piece that dips its toe in the realm of the paranormal, but spends most of its time developing endearing characters and offering up a comedic and heartbreaking character piece.
A conspiracy theorist named Willem (George Basil) decides to make an independent movie about his life investigating governmental cover-ups and alien encounters and enlists the help of his best friend Todd (Andy Rocco) and a waitress/aspiring actress named Flossie (Pamela Fila) to make it. As the story goes on, it becomes apparent that Willem is using this film to plow through some heavy bouts of depression. Meanwhile, is it possible that Willem's delusions are real?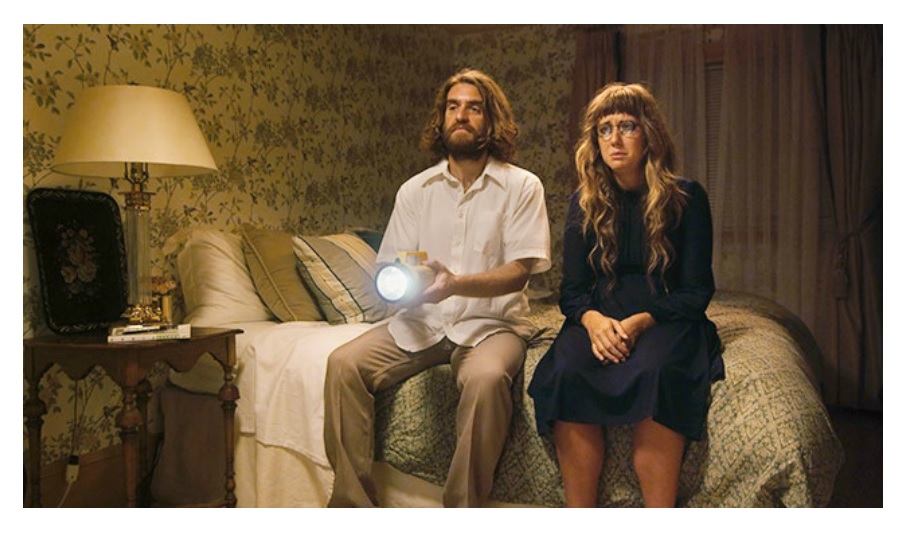 Less of a horror movie than an often hilarious and other times brutally honest portrayal of depression, mania, and dementia, MAN UNDERGROUND is an excellent little film that resonates with big shockwaves by the story's end. The film's real strength is in the conviction to show flawed and real characters in a stark light, highlighting the beauty in quirkiness and the horror in quirk taken to a pathological level. Basil is great here as Willem, who mumbles a lot and doesn't realize that he often becomes a joke when voicing his paranoid rants about alien abductions and men in black, yet he doesn't play this role as a blathering loon. He is morose and withdrawn, excited when he thinks others are interested in hearing about his delusions and sullen when not taken seriously. This subtle performance feels like a much more restrained variation on Larry David's CURB YOUR ENTHUSIASM lead character or sticking with the horror genre, Onur Tukel's lead role in
SUMMER OF BLOOD
.
The true find in this film is Pamela Fila who plays Flossie. Full of endearing quirk, Fila is enchanting as the always chipper wannabe actress. In just a few glances and turns of her head, she exemplifies more character than most of the department store mannequins that call themselves in the industry today and I predict big things from this spunky young actress.
MAN UNDERGROUND is a poignant and entertaining little movie about real mental illness that never gets too melodramatic or preachy. It's the kind of small movie you'll stumble on some rainy day and wonder why no one ever told you about it. Well, I'm doing it now. There are moments of fear and horror sprinkled into this one, but the focus on MAN UNDERGROUND is on the people affected by the believe in aliens rather than the alien phenomenon itself, making it a truly unique one to look out for.
---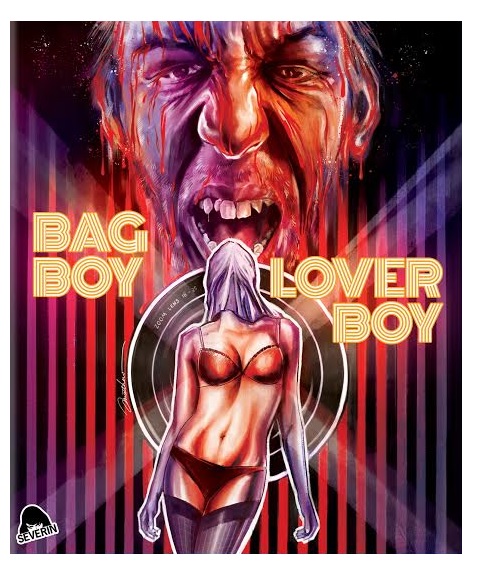 New on BluRay from Severin Films!
BAG BOY LOVER BOY (2014)
Directed by Andres Torres
Written by Toni Comas, Andres Torres
Starring Jon Wachter, Theodore Bouloukos, Kathy Biehl, Karah Serine, Adrienne Gori, Tina Tanzer, Marseille Morillo, Teena Byrd, Sarah O'Sullivan, Saoko Okano, James Elwood, Norman Outlaw, Peter Trojgaard, Ryan Preimesberger, Amanda Charles, Carlos Garcia, Richard Meiman, Danielle Joy, Helene Eidsvåg, G. Paul Salvetti
Find out more about this film here and on Facebook here
Reviewed by M. L. Miller aka Ambush Bug
This week in the theater of the odd is BAG BOY LOVER BOY by director Andres Torres and his co-writer Toni Comas. Reminiscent of films like
A BUCKET OF BLOOD
with a heaping dose of Hennenlotter's authentic New York Groove and sleaze cocktail seen in films like
BRAIN DAMAGE
,
BASKET CASE
, and FRANKENHOOKER, BAG BOY LOVER BOY is an unflinching, sordid, and filthy little tale of depravity and misguided ambition.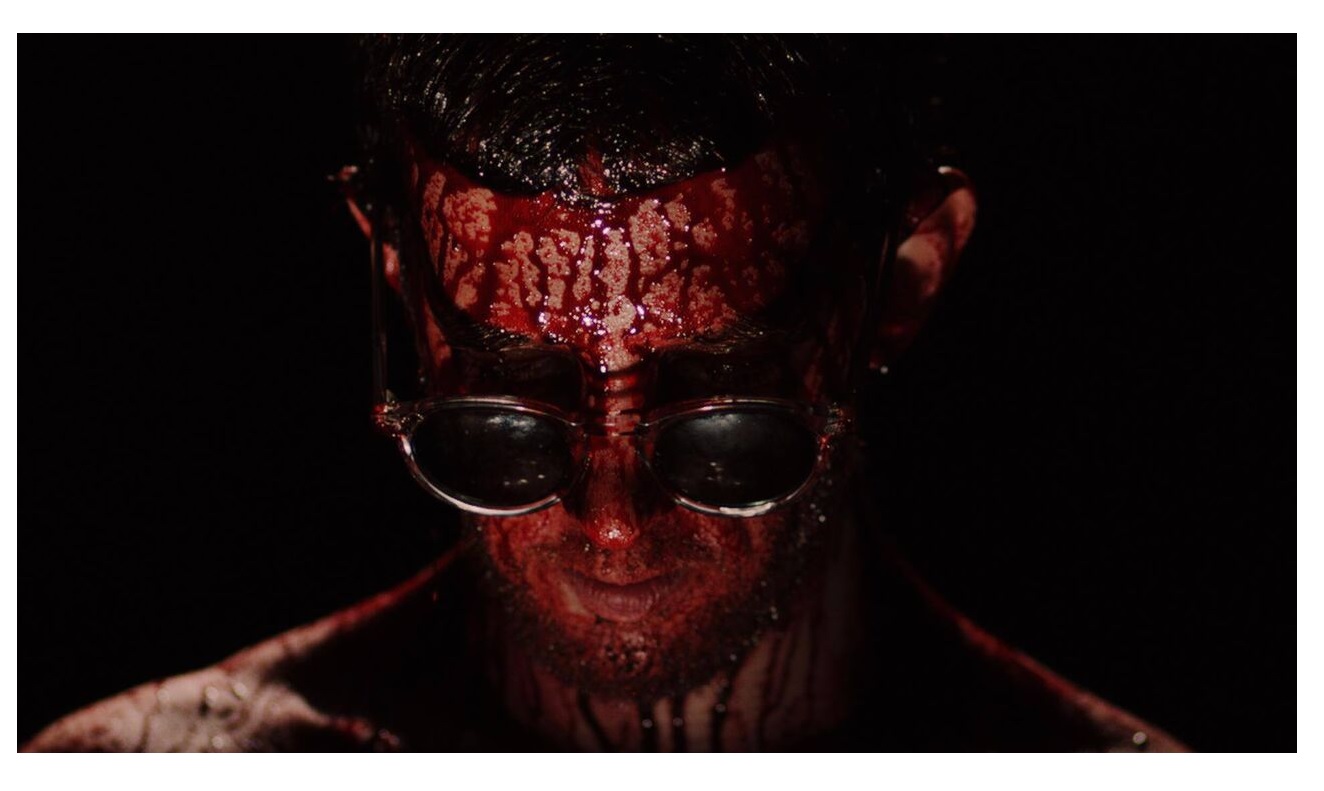 A weird hotdog vendor named Albert (Jon Wachter) is noticed by a New York photographer named Ivan (Theodore Bouloukos) who asks Albert to come to his studio and pose for him. After a surreal shoot with a half-nude model that ends with a simulated murder by trash bag asphyxiation, the naïve Albert decides that this life is much better than anything he has going for him at the moment and wants to become a photographer with only his depraved experience with Albert to act as a template. Wanting to impress a young gal named Lexy (Adrienne Gori) who frequents his hotdog stand, Albert sets out to become a photographer and with Ivan called overseas for a shoot in Milan, this opens up the opportunity for Albert to lure drunk and homeless women into the studio for him to photograph and kill for the sake of art and his muse Lexy. What could possibly go wrong?
A lot actually, and it's absolutely fascinating and nauseating all at once to watch. This is a super fast rise to stardom then crash and burn story about the dangers of aspiration and power going to one's head. Seeing Albert being treated lower than dirt is an uncomfortable experience and at the beginning you are rooting for him to succeed. But this film tells the tale of how that fame and power given to the wrong person can turn into a horrible and ugly thing. Things don't work out well for anyone in this film and it's kind of fun to watch in a cathartic/I'm glad that's not me sort of way. Filmmaker Andres Torres captures the seediness of the streets of New York in a way that only filmmakers Abel Farrera and Frank Hennenlotter have been able to do in their films. It's sweaty and stinky, rat infested and perverted, and filled with all sorts of lowlifes. This is not a pretty New York, but it's one of the more realistic versions of the city I've seen recently.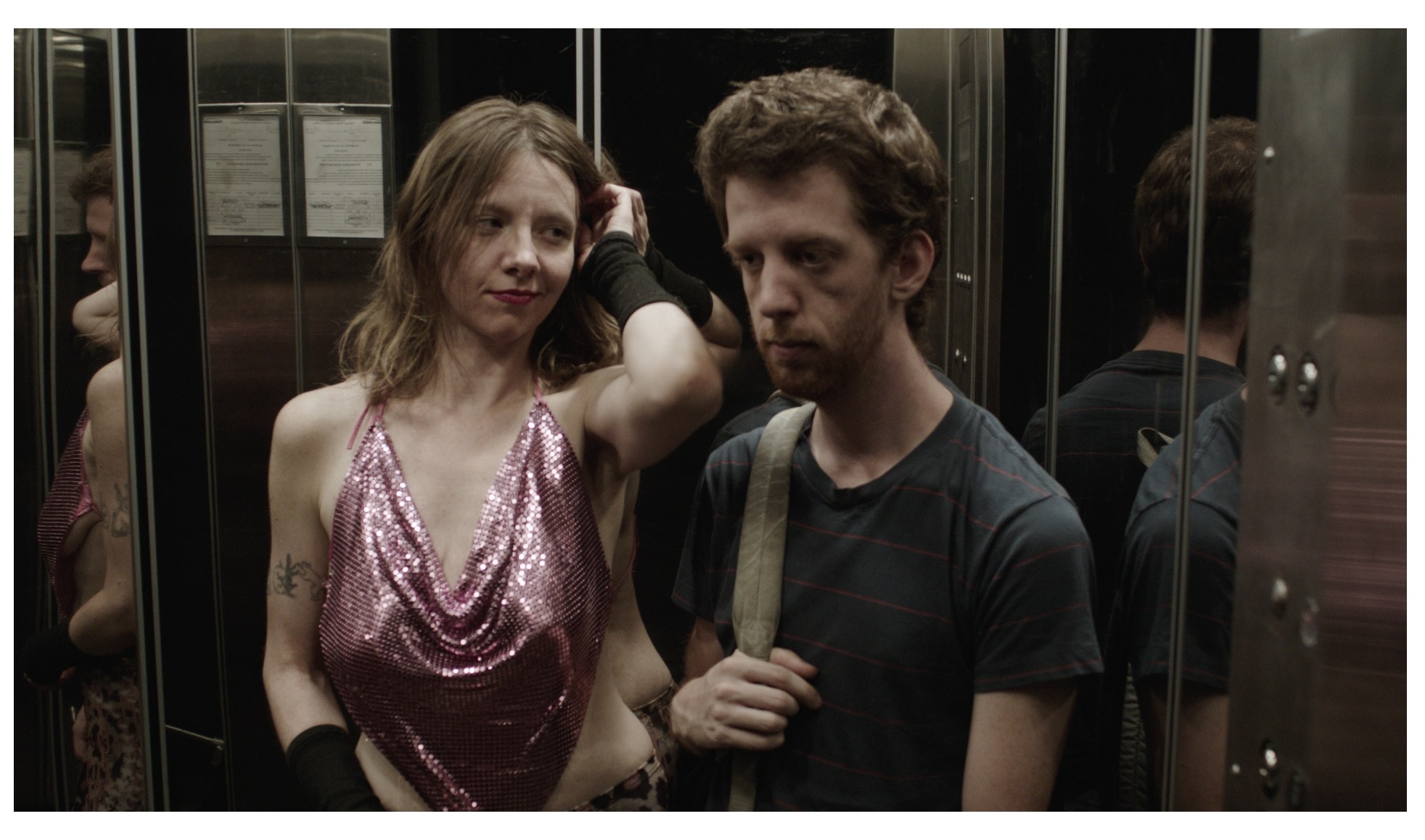 Jon Wachter is a true find as Albert, the monotone hotdog vendor turned wannabe artist and murderer. Sounding almost exactly like Peter Sellers playing Dr. Strangelove in DR. STRANGELOVE, Wachter truly is an interesting human specimen that most likely will show up in other genre roles once discovered. His day to day scenes of monotony are pretty brilliant be he staring at a wall, frying burgers made of human flesh, or masturbating in his stand to porn mags. There is a dream sequence of Albert dancing to techno that can't be unseen and his blank slate demeanor is truly unique offering up powerful waves of both disgust and sympathy all at once. Wachter carries the entire film on his sloped shoulders and does so with ease.
This film would make for a great double feature opener with
THE GREASY STRANGLER
as it functions on its own twisted state of reality, but under all of that weirdness is an ugly truth about society and the art world. BAG BOY LOVER BOY is not going to be for everyone. It's the kind of grungy film that really gets under your fingernails and you need multiple washings to get out. But it is effective in the message it sends and offers up an unfiltered look at the horrors of society that most fear to accept exist.
---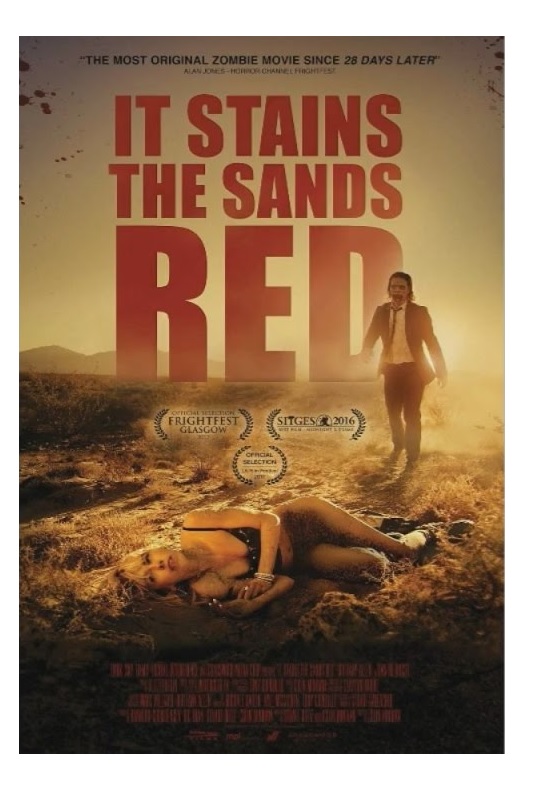 New On Demand and in select theaters from Dark Sky Films!
IT STAINS THE SANDS RED (2016)
Directed by Colin Minihan
Written by Colin Minihan, Stuart Ortiz
Starring Brittany Allen, Juan Riedinger, Merwin Mondesir, Kristopher Higgins, Andrew Supanz, Michael Filipowich, Nico David, Dylan Playfair, Max Christensen, Kyle McCachen, Steve Judkins, Warren E. Thomas
Find out more about this film here, @itstainsthesandsred, and on Facebook here
Reviewed by M. L. Miller aka Ambush Bug
These days it takes a little something extra to make a zombie movie stand out and be recognized apart from the herd. It takes a strong idea or an interesting take or even some strong performances. There are a lot of zombie films to choose from out there and let's face it, most of them are shit rehashes of the same story. Well, IT STAINS THE SANDS RED is different from the rest of those films in a lot of ways. Sure it features a world overcome by the walking dead, but what makes it stand out is a powerful story, a unique situation, and a powerful take on character.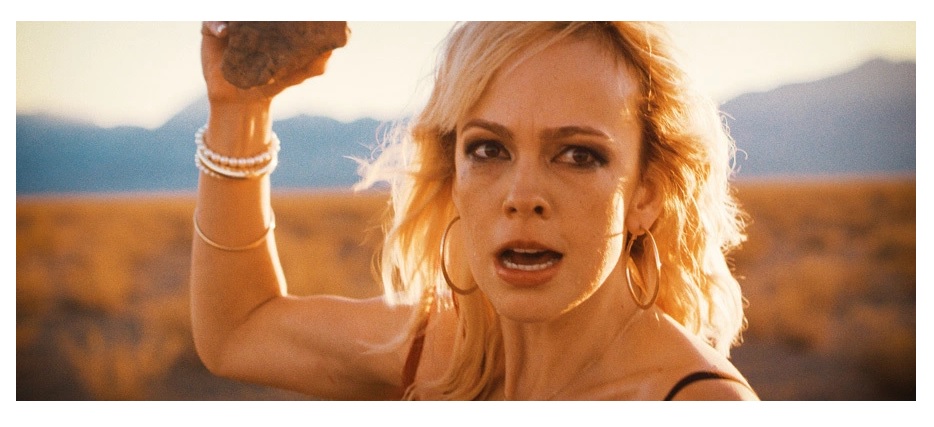 The world is ending and zombies walk the earth, but Molly (Brittany Allen) and her boyfriend Nick (Merwin Mondesir) have a plan to hop on a plane and get away from civilization. But on their drive out to an airport in the middle of the desert, their car gets stuck and Nick gets used as a chew toy by a zombie. Looking for more to chomp on, the zombie goes after Molly, who packs up as much water as she can carry and heads off into the desert for a 30 mile hike to the airfield and a hope for a zombie free life. But Molly finds out that the zombie has followed her and continues to follow her relentlessly. And while Molly must stop and rest occasionally, the zombie (who she has dubbed Smalls, played by Juan Riedinger) doesn't need to. This proves to be problematic once Molly is in the middle of the desert with a famished zombie on her tail and a whole lot of desert ahead of her.
What makes IT STAINS THE SANDS RED is the story structure. For the most part, this is a very slow and arduous chase scene as a woman staggers through the desert with a single zombie in pursuit, also slowly staggering. It's the type of premise that should be boring as fuck, but filmmaker Colin Minihan, along with his co-writer Stuart Ortiz manage to fill the film with enough action sequences, gloppy moments of gore, and strong character moments to make every second resonate making this slow pursuit through the desert a true nail-biter.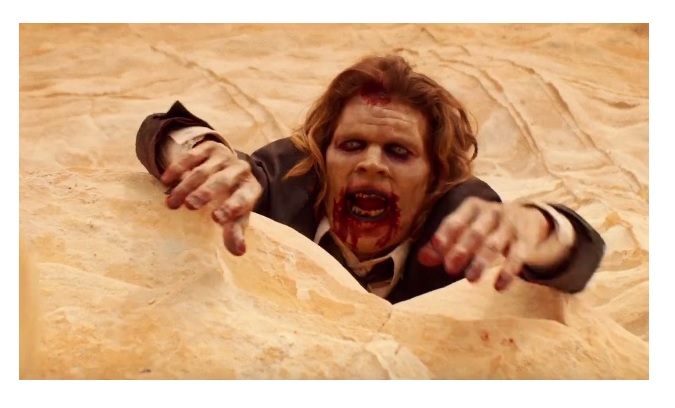 This film really excels in the metaphor department as Molly begins to form an attachment to Smalls during her trek through the desert. Molly seems able to keep a few steps ahead of Smalls, but only if she keeps moving. But when she is given a chance to leave her undead pursuer, it becomes hard as Molly has left behind so much already, including a toddler son. It takes a lot to make one care for a snarling zombie, but this film is able to achieve just that. IT STAINS THE SANDS RED has a beating heart that I wasn't expecting and really managed to pull on my heartstrings by the end of it. This is mainly due to the powerful acting by Brittany Allen who is a powerhouse in this film—playing a character we shouldn't like but can't help but sympathize with due to the predicament she finds herself in. It takes real chops to make one care for a drug addict mother who leaves her child, but Allen is able to achieve just that.
IT STAINS THE SANDS RED is going to surprise a lot of folks who take a chance on it. Sure there are a lot of zombie movies out there, but that doesn't mean that all of them are bad. This one takes the zombie threat and makes it an intimate ordeal with huge personal stake. It bares away all of the excess matter that occupies most zombie films and just gets to the good stuff. There's some great gore and a fantastic zombie performance by Riedinger as Smalls. There's also a badass, yet flawed lead that is worth rooting for. IT STAINS THE SANDS RED has it all. See it. I highly recommend it.
---
And finally…here's another scary story from the terrifying mind of Arch Obler. This one's title is on everyone's mind these days—"Money, Money, Money!"
---
See ya next week, folks!

Ambush Bug is M. L. Miller, original @$$Hole/wordslinger/writer of wrongs/reviewer/interviewer/editor of AICN COMICS for over 15 years & AICN HORROR for 5. Follow Mark on the Twitters @Mark_L_Miller and on his new website collecting posts for AICN HORROR as well as all of the most recent updates on his various comic book projects on MLMillerWrites.com.



---




---
Find more AICN HORROR including an archive of previous columns on AICN HORROR's Facebook page!
---
Interested in advertising with AICN HORROR? Click this link and talk with me about how to help keep this column running strong!