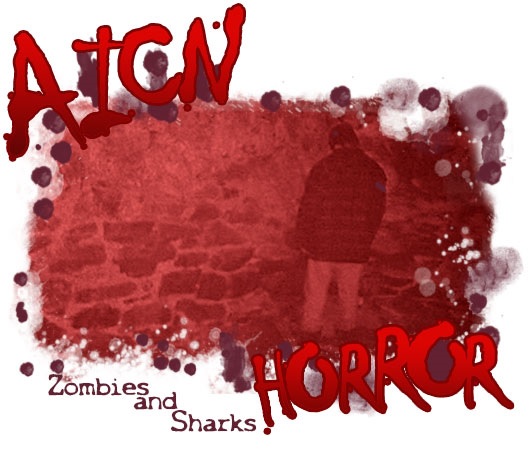 Logo by Kristian Horn
What the &#$% is ZOMBIES & SHARKS?
---
Welcome to the darker side of AICN! M. L. Miller aka Ambush Bug here with another AICN HORROR: ZOMBIES & SHARKS column. A few reminders before we delve into Found Footage overload this week. Who says the subgenre of horror is dying out?
---
If you're at Comic Con this afternoon at 5pm, be sure to come see my panel, REINVENTING HORROR. I have an exciting group of panelists all set to talk about the genre we all know and love. This is the tenth time I'm hosting this panel at San Diego and this year's panel is going to be a great one. Expect lots of surprises and an in depth conversation about horror. It's always a lot of fun and if you're going to be at the con, come on over to Room 23ABC tonight from 5:00-6:00pm.
Here's the official JIGSAW announcement from Lionsgate posted on Deadline
and the official description of the panel and the guests is below!
Reinventing Horror: What's Next in Film and Comics!—M. L. Miller
(Gravetrancers, Pirouette writer/Ain't It Cool News editor)
continues a decade long convention tradition of gathering a group of talented horror filmmakers & comic creators to discuss & dissect the horrors they make & what (if anything) scares them. This year Miller brings together the best and brightest in horror including The Spierig Brothers
(Jigsaw, Predestination directors/writers),
Justin Benson & Aaron Moorehead
(The Endless, Spring directors/writers),
Roxanne Benjamin
(XX, Southbound director/writer),
Matteo Pizzolo
(CalExit writer, Black Mask Studios publisher),
and possibly some extra-special guests to talk about how to reinvent the genre; pushing new limits, reaching new audiences of different cultures/genders/social classes, twisting old concepts, & crafting brand new terrors to keep you up at night!
Room 23ABC, Friday 7/21/17, from 5:00-6:00pm.
---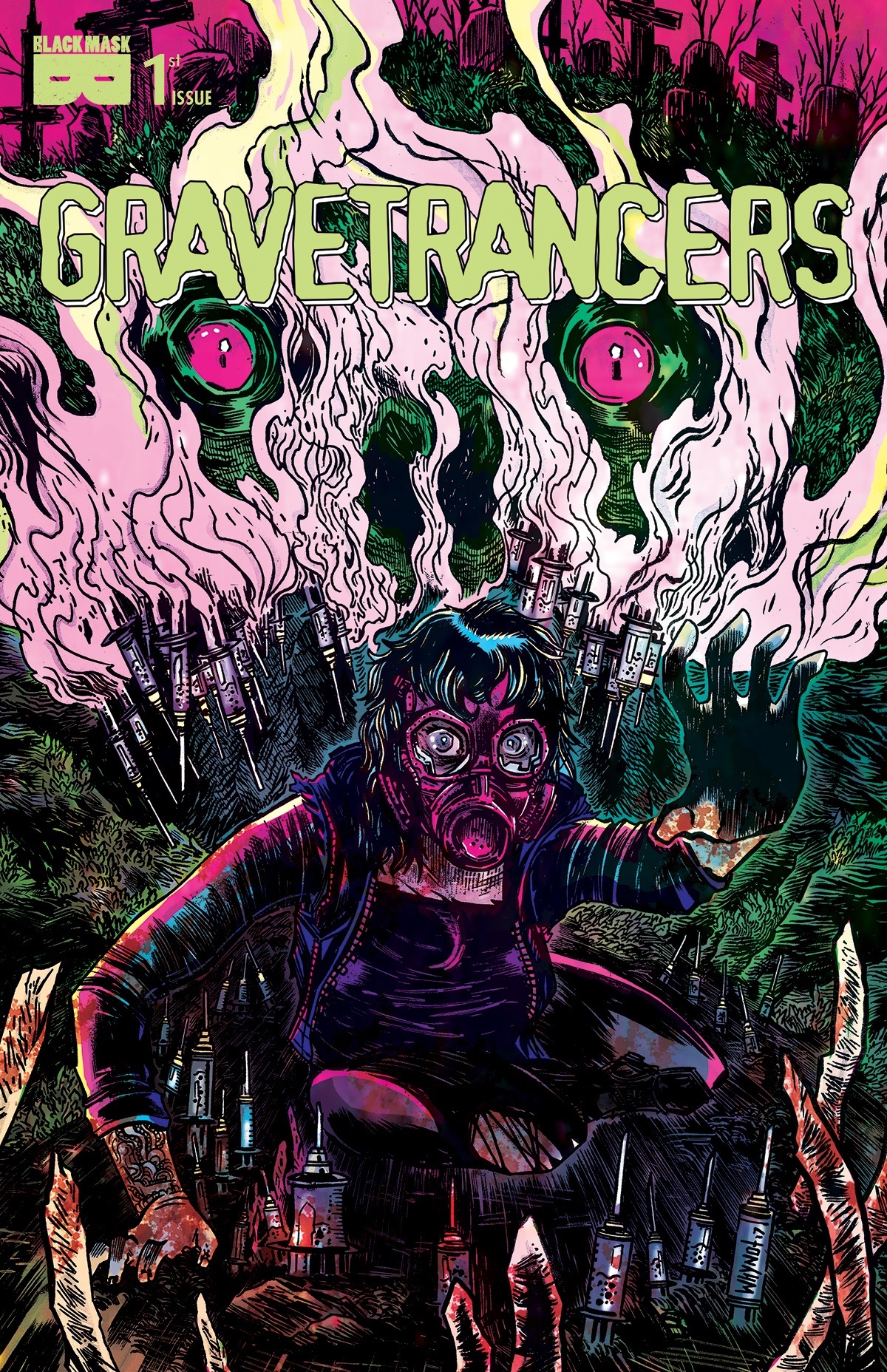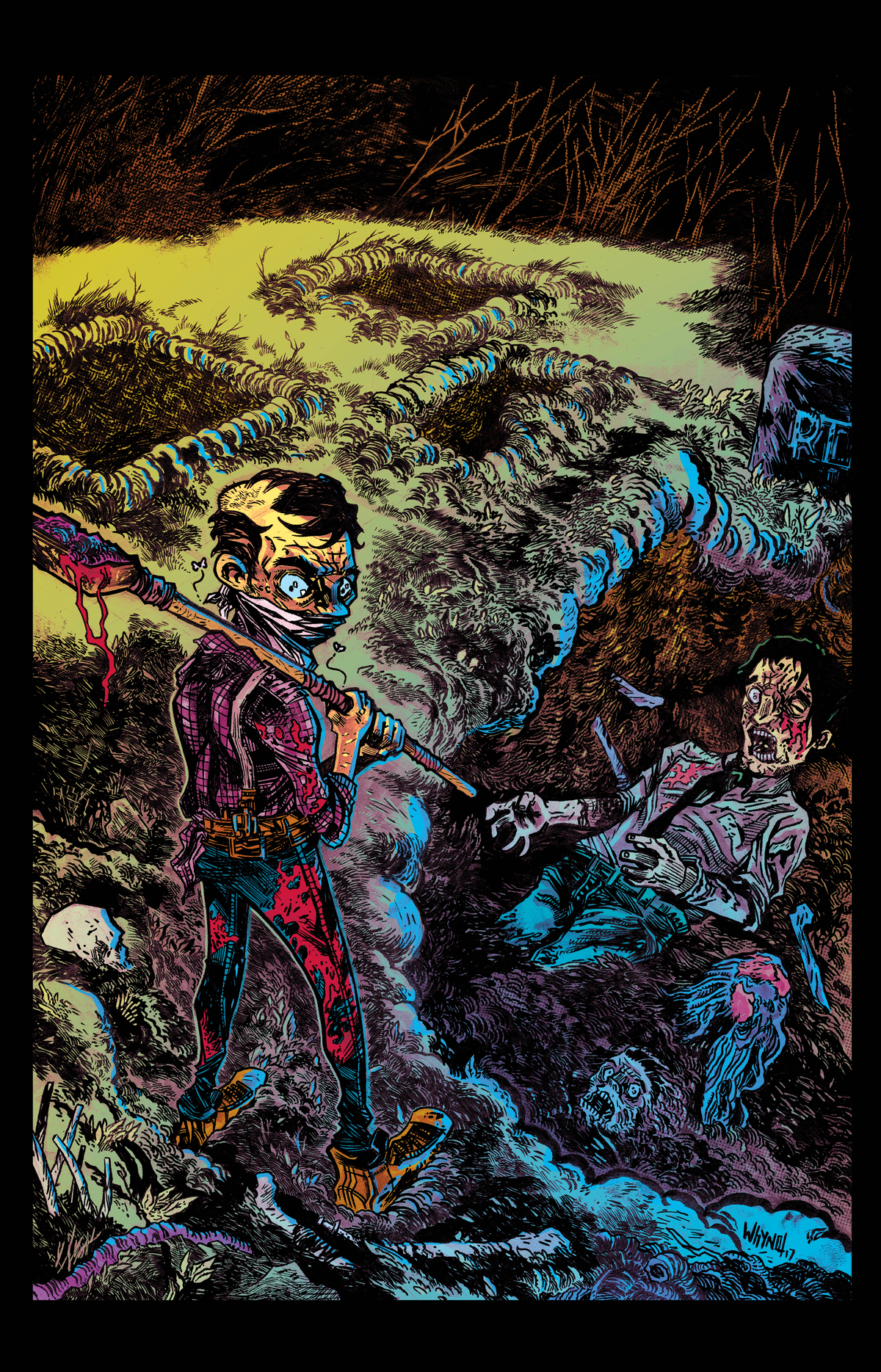 And speaking of horror, now for another moment of shameless self promotion; I've got a new comic book coming out in September called GRAVETRANCERS from Black Mask Studios.
It's in July's Diamond Previews under item code #JUL171455
. Please let your comic shop know they should order a plenty as it's a pretty potent little horror tale, if I do say so myself with mesmerizing pencils and inks of James Michael Whynot, psychedelic colors by Dee Cunniff, and bold and beautiful letters by Jim Campbell! The four issue miniseries follows Maribel and Anthony who are in search of the grave of their dead father, not knowing that they are stumbling into a graveyard owned by an eccentric clan of grave-robbers who've devised a highly-addictive drug made from human remains–and the fresher the corpse, the stronger the dose. What started out as an attempt to reconnect with the past becomes a descent into a psychedelic, neon-colored nightmare—will Maribel and Anthony find their way through the hallucinogens or will they become the next hit? I think it's a story fans of grindhouse horror are going to love.
The news broke on Bleeding Cool here
and on
ComicCon.com
. I've been bopping all around the Interwebs doing interviews at
ComicCon.com
and
First Comics News
. GRAVETRANCERS has also been covered on
Dread Central
,
ComingSoon.net
, and
Horror Society
!
You can
order GRAVETRANCERS #1 here
!
---
I also wanted to give out an open call to advertisers interested in helping to keep this column running. Any inquiries should contact me here!
On with the horror reviews!
Today on AICN HORROR

(Click title to go directly to the feature)
The Book Creeport: MEDDLING KIDS Novel (2017)
Retro-review: THE DUNGEONMASTER (1984)
AMITYVILLE: NO ESCAPE (2016)
ALTAR (2016)
THE GRACEFIELD INCIDENT (2017)
THE DARK TAPES (2017)
THE PHOENIX INCIDENT (2015)
BONEJANGLES (2016)
THE ALCHEMIST COOKBOOK (2016)
AMERICAN FABLE (2016)
ANOTHER EVIL (2016)
And finally…LIGHT'S OUT: THE AUTHOR AND THE OLD THING Radio Play!
---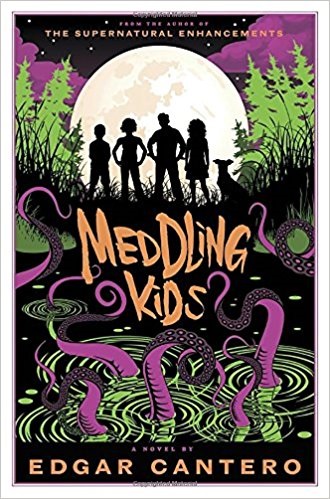 The Book Creeport!
MEDDLING KIDS (A BLYTON SUMMER DETECTIVE CLUB ADVENTURE)
Novel by Edgar Cantero
You can pick this book up here!
Reviewed by BottleImp
I don't know about you, but when I was a kid watching Scooby and the gang go up against ghosts and goblins and robots and monsters week after week, even at a young age I got sick of the baddies always being nothing more than old men in cheap Halloween costumes. I would have loved to see an episode where the mask didn't come off, and that swamp monster or alien phantom turned out to be the real deal. Zoinks and jinkies, indeed. Apparently Edgar Cantero has had that same thought, because that's the idea behind his novel MEDDLING KIDS, in which Andy, Kerri, Nate, and Peter (think Velma, Daphne, Shaggy, and Fred) grow up to realize that one of their past teenaged detective adventures wasn't as prosaic as it appeared. The one-time Summer Detective Club must reunite thirteen years after they thought they solved the Sleepy Lake monster mystery in order to stop the true evil that was hiding behind the rubber mask.
Cantero's story is an excellent blend of action-adventure with a healthy dollop of wit and humor stirred into the mix. For those who might be worried that the inspirational source material automatically puts MEDDLING KIDS into the kiddie category, rest assured—Cantero also adds some genuine, gut-churning horror (with a decidedly Lovecraftian bent) to the nightmarish menace of Sleepy Lake. Though Scooby-Doo might be the starting point for this book, the final result is less Saturday Morning Cartoon and more Midnight Horror Show.
This is helped by the way that Cantero has carefully crafted his characters so that they don't simply come off as cut-and-paste copies of the Mystery Machine gang. Though Andy is the closest analogue to Velma, she's more of an action-oriented tomboy—Velma's braininess is instead transferred to Kerri (which is great, since Daphne never really had anything going on up there in the cartoon). There's also a sly nod to the subset of Velma and Daphne slash fiction, but Cantero wisely never indulges in what could easily turn into a very NC-17 storyline. Nate is institutionalized with possible schizophrenia, and Peter—well, I think it would be unfair too much. Oh, and there IS a dog here, just not a talking one… which comes as a great relief, since there is a limit to suspension of disbelief even in Lovecraftian fiction. That's another aspect of the book that's handled remarkably well, by the way—though there's a definite HPL vibe throughout and a couple winks and nods (the hospital in which Nate is held is in Arkham, Massachusetts, for instance), Cantero never succumbs to the trap of devolving into flat-out pastiche. So while there are ancient books of forbidden lore, hideous monsters, and unspeakable evil, there's not a Cthulhu or Shoggoth to be found.
There is only one slight criticism that I have, and it's in regard to the writing style. Generally, I prefer the prose style of the books I read to be fairly uncluttered—"invisible" is how I've heard it described by some. Sometimes the worst thing that a writer can do is draw attention to the style of writing, which thereby draws the reader's attention away from the actual story in favor of pointing out just how clever the writer has written the words. Some authors can get away with this, but I can count the number whose work I enjoy on one hand. For the most part, Cantero's style is clean and enjoyable; he gives just enough description to let the reader's mind fill in the blanks and moves the action along smoothly. But every so often, for reasons I can't fathom, Cantero writes a scene (or even a portion of a scene) as if it were stage direction in a play or film script. Every time this happened as I was reading, I was jarred out of my enjoyment of the story by the abrupt shift in style. I wish that Cantero hadn't felt the need to include this trick, as I don't feel that it adds anything to the novel (and in fact I'd argue that it detracts from the story), but thankfully the whole of the book is strong enough to make up for this stylistic misstep.
MEDDLING KIDS is a fun romp of horror, humor, adventure, and a surprising amount of heart. If you're looking for something that feels both comfortably familiar and exciting and new, add this book to your summer reading list.
The BottleImp is in reality Stephen Andrade, an artist and sign maker who lives in Western Massachusetts with his wife and baby daughter. Once every hundred years or so, in between work, painting, and changing diapers, he manages to review the occasional comic book, movie, or novel for AICN. You can see his artwork at sandradeillustration.com!
---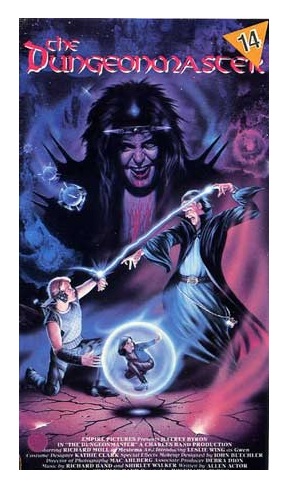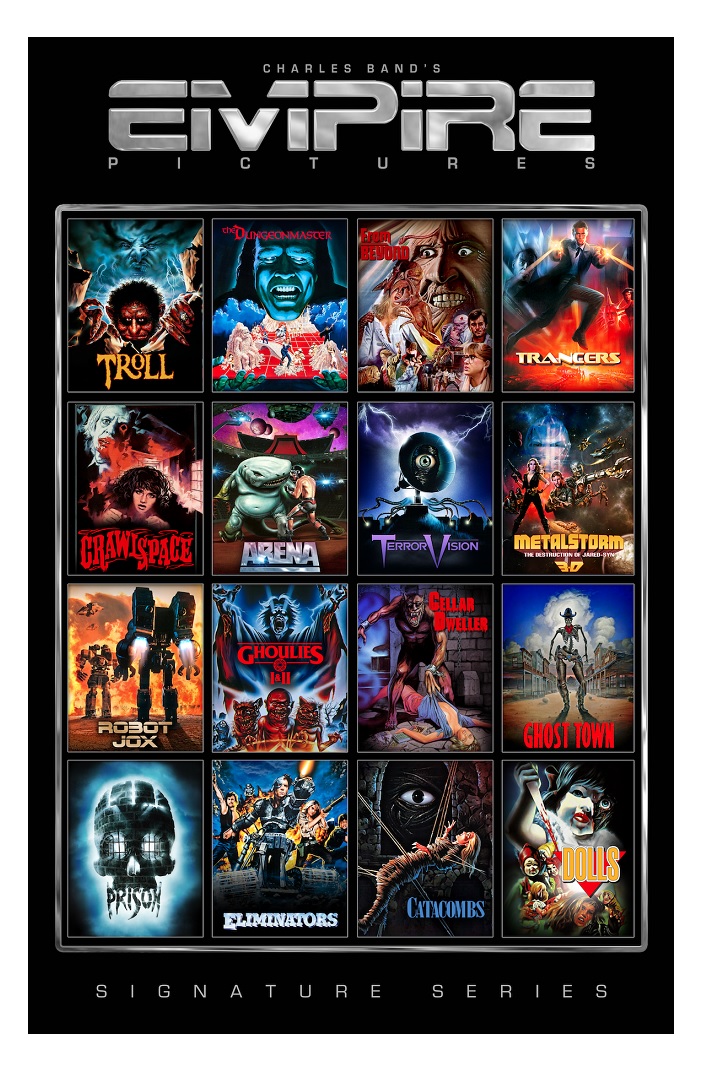 Retro-review: New in the Empire Pictures BluRay Box Set Collection from Full Moon Entertainment!
THE DUNGEONMASTER (1984)
aka RAGE WAR
Directed by David Allen, Charles Band, John Carl Buechler, Steven Ford, Peter Manoogian, Ted Nicolaou, Rosemarie Turko
Written by Charles Band (original story), Allen Actor, David Allen, Charles Band, John Carl Buechler, Jeffrey Byron, Peter Manoogian, Ted Nicolaou, Rosemarie Turko (screenplay)
Starring Jeffrey Byron, Richard Moll, Leslie Wing, Gina Calabrese, R.J. Miller, Don Moss
Retro-reviewed by M. L. Miller aka Ambush Bug
Empire Pictures made some amazing films in the 80's. The precursor to Full Moon Entertainment stretched their budgets and put varied and extremely creative images on screen. These mini-epics tackle horror, sci fi and beyond and now they've collected them all in one huge, badass box set. I'm going to be covering each film in this collection over the next few weeks, but if you're a film collector, you're going to want to grab this set as soon as possible as there are only 600 of them. Check out this sizzle reel featuring some of the iconic films collected in this Box Set.
Man, this film started out promising as hell as a man in futuristic garb wakes from a dream to see a siren in a see through dress tempting him to follow her. Of course, he follows and the stunning woman (Gina Calbrese) drops what little clothes she has and waits for her hero to take her. Just then some monsters burst in and snag the woman away from the guy, startling him out of what seems to be a dream/computer program he has been developing. This opening sequence was both titillating and action-packed. Too bad the rest of THE DUNGEONMASTER couldn't have followed suit.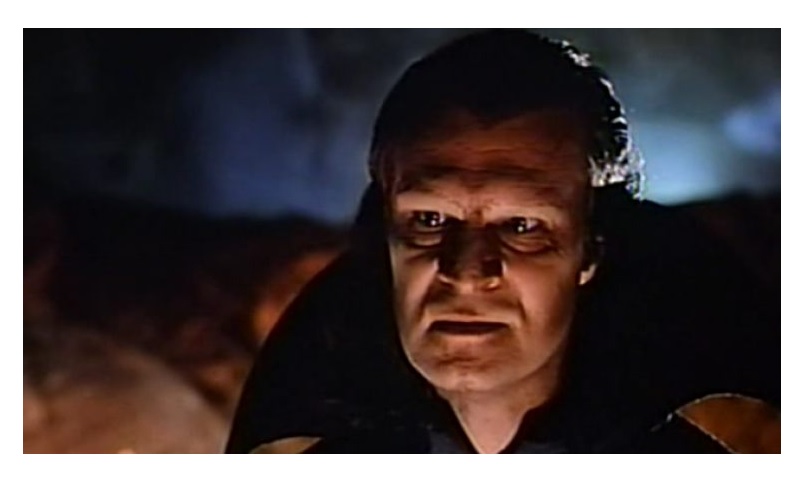 THE DUNGEONMASTER, also inexplicably known as RAGE WAR, is a clumsily put together mess about a computer programmer named Paul (Jeffrey Byron, aka the guy who was in the opening dream sequence aka the star of METALSTORM: THE DESTRUCTION OF JARED SYN) who is sucked into a computer program which takes the form of the wizard Mestema (NIGHT COURT's Richard Moll) and puts Paul through a series of challenges in order to save the life of Paul's real life girlfriend, who is also sucked into the game.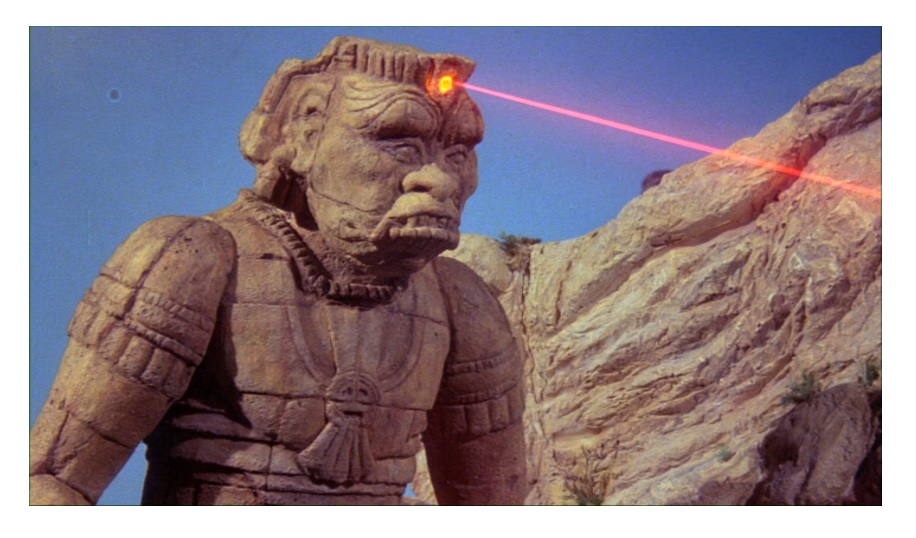 The film is broken up into different segments where Paul must overcome some kind of obstacle. In one segment he has an animated dragon battle with the wizard, in another he matches wits with a troll named RatSpit and his zombies, in another he battles a giant monkey-faced rock statue reminiscent of the Achilles statue from JASON & THE ARGONAUTS, and in still another he is thrown into the middle of a WASP concert (it is kind of cool that WASP makes a cameo in this film). It doesn't matter what the challenge, though: be it tussling with Jack the Ripper or throwing rocks at a post-apocalyptic demon, they're all pretty lame in both direction and in terms of the lame effects used in each challenge. This looks to be one of John Carl Buechler's earlier works, and his inexperience shows in this one as the effects are really weak throughout.
There really isn't much of a story here. Paul beats each challenge with his wrist laser, then moves on to the next one. Any throughway story is simply connected through the appearance of Paul, his girlfriend, and the wizard, but very little by way of an intriguing plot is going on here. DUNGEONMASTER has nothing to do with Dungeons and Dragons, though it seems to want to try to be an epic fantasy. The poster art of the film is the best part of this movie; it's just too bad the movie inside just doesn't match that caliber the box art suggests.
Reviews for other films in the Empire BluRay Collection!
FROM BEYOND
PRISON
GHOULIES
GHOULIES II
TROLL
DOLLS
CRAWLSPACE
CELLAR DWELLER
ELIMINATORS
---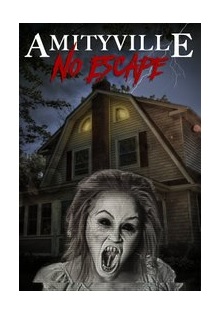 New on DVD from MVD Visual/Camp Motion Pictures!
AMITYVILLE: NO ESCAPE (2016)
Directed by Henrique Couto
Written by Ira Gansler
Starring Stephen Arthur Alexander, Matt Brassfield, Joni Durian, Alia Gabrielle Eckhardt, Allison Egan, Julia Gomez, Josh Miller, Michael William Ralston, Duane West, Ira Gansler, Katrina Gansler
Find out more about this film @AmityvilleNoEscape and on Facebook here
Reviewed by M. L. Miller aka Ambush Bug
Loosely based on THE AMITYVILLE HORROR, this spinoff of sorts transfers the famed house with the iconic arched windows in the attic into the middle of a wooded area and focuses the whole thing through a first person POV. And you know what that means…it's time once again to see how this film stacks up to my Found Footage Questionairre!
What's it about?
AMITYVILLE: NO ESCAPE is about a group of five twenty-somethings who embark on a thesis project to explore the meaning of fear. The plan is to go out into the middle of the forest and talk about their greatest fear by a spooky campfire. It just so happens that the forest is next to a fabled house in the middle of the woods that is supposed to be haunted. The film footage switches between tapes captured in present day and others recorded in the late eighties when the wife of a soldier moves into the Amityville home and decides to get the house all set up for when her hubby gets home from overseas. As the film goes on, it splits between footage from the woman in the home (Lina played by the overly chipper and emotional Julia Gomez) making a daily diary for her husband overseas in the military and the five students with cameras out in the woods trying to scare themselves. In each of the footages, scary shit starts happening and all trails lead to one house rumored to be haunted by ghosts that compel humans to do horrible things.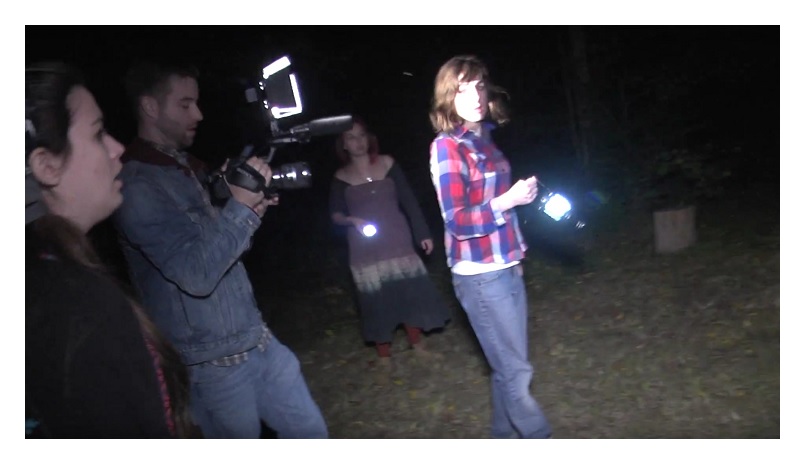 Are the actors successfully acting like they aren't acting?
Overall, the actors actually do a decent job with what they are given from the script. I mentioned the hyperactive and histrionic Lina and I went back and forth with being utterly annoyed with her character to acknowledging that she is the most compelling character in the entire film. Acting-wise, Julia Gomez is the best actress of the bunch as it is just her talking to the camera through the entire film as scary stuff happens around her. You actually feel for this woman who is trapped in the house desperately waiting for her husband to return and struggling with both loneliness and the increasing paranormal stuff happening around her. The other kids all do fine jobs as well, but the reasoning behind their motivations just aren't sold as well as Gomez does in her portions of the film.
Does the footage found seem authentic and untouched by additional production (no omniscient editor making multiple edits between cameras or an invisible orchestra providing music)?
For the most part, this feels like a pretty pure film with no additional music and bumpers at the beginning and end telling us that this footage was found and then spliced together to get an idea of the complete story. There are multiple edits in the film (both between the past and present as well as between different cameras in the present held by different kids) and while the words at the beginning mention why the edits were put together, there is no real explanation why the past sequences were spliced in with the present day stuff. Narratively, it makes for a more interesting movie, but in a sense of this being authentic found footage, there is no real reason why these two tapes are spliced together in such a way.
Why don't they just drop the camera and get the hell out of there?
The camera in the present is used for documenting the reactions of people being scared. There also seems to be somewhat of a motive behind the lead filmmaker George (Josh Miller) who intentionally guides the rest in the direction of the haunted house in order to scare them, though this backfires as they get lost in the woods and can't seem to find their way out and later use the cameras as light sources to find their way around in the darkness. In the past sequences, the ghost has some kind of compulsion to turn the camera on whenever it wants to assault Lina, so the camera catches the stuff the ghosts wants it to catch.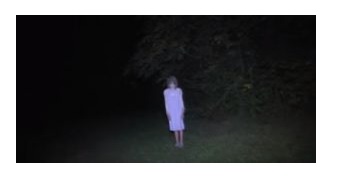 Is there an up-nose BLAIR WITCH confessional or a REC-drag away from the camera?
No confessional and no real drag away, but dead characters plop in front of the camera which is another kind of clichéd shot, though it's less annoyingly overused as the other two.
Does anything actually happen? Is the lead in too long and the payoff too short?
While there is a long lead in before the supernatural stuff begins, the acting is decent enough to hold my interest until then. Specifically in the past sequences with Lina, the ratcheting up in tension works very well with supernatural stuff happening in the background and then slowly coming into the forefront. This is done exceptionally well in the past sequences. The present sequences spice things up with some gratuitous nudity and some hit and miss attempts at humor and charm. Of the two stories, the past sequences move at the most interesting clip. The present footage is much more bottom heavy as the action happens mostly in the last twenty minutes.
Does the film add anything to the subgenre and, ultimately, is it worth watching?
AMITYVILLE: NO ESCAPE is interesting in that it is really two separate 45 minute films laced together. Sometimes the transitions between the past and present work. Other times, the present stuff almost felt like filler between the much more interesting past story with Lina alone in the house. I haven't seen a dual found footage story laced together telling a more expansive story since THE BAY tried that a while back. There are some lulls in the present day stuff; some iffy motivations and decisions of the kids in the woods, some woods scenes that feel like the crew is just walking though a backyard that hasn't been mowed for a week, and an open ending that really doesn't make a while lot of sense, but does register as creepy. The past stuff in AMITYVILLE: NO ESCAPE is actually pretty haunting in it's simplicity and strong performance by Julia Gomez.
---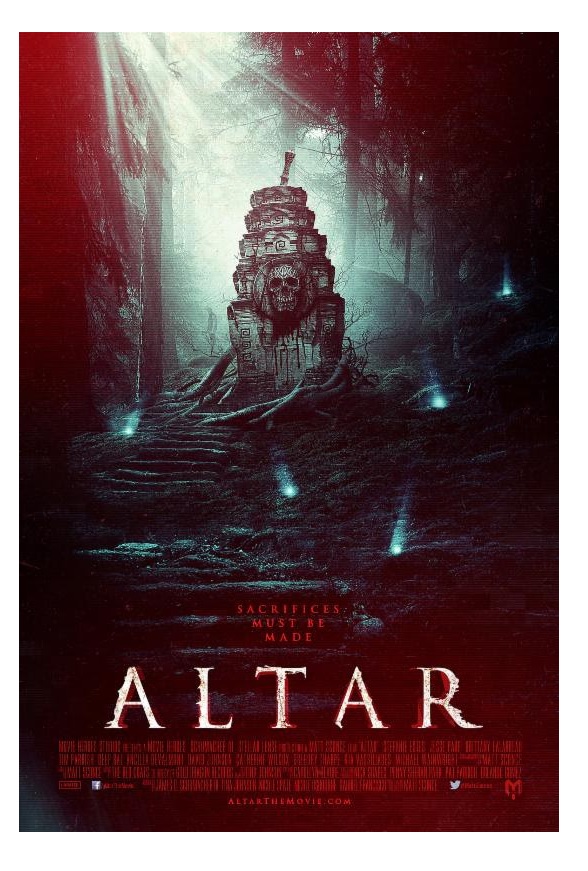 New On Demand and on digital download on iTunes and Amazon!
ALTAR (2016)
Directed by Matthew Sconce
Written by Matthew Sconce
Starring Stefanie Estes, Brittany Falardeau, Jessica Strand, Tim Parrish, Deep Rai, Jesse Parr, Tina Johnson, Master Dave Johnson, Johnny Soto, Kia Vassiliades, Catherine Wilcox, Patrick Nalty, Gregory Tharpe, Nicole L. Osborne, Jacqueline Connors, Nicole Spate, Michael Jaurigue, Michael Wainwright as Ripper!
Find out more about this film here and on Facebook here
Reviewed by M. L. Miller aka Ambush Bug
Some frustrating acting turn and narrative decisions make the low budget ALTAR a problematic found footage film. Here's how it stands up to my Found Footage Questionairre.
What's it about?
A group of twenty-somethings reuniting from after college go on a camping trip, but make a wrong turn and end up wrapped up in the middle of an ambiguous cult and a seemingly mystic altar that gives an excuse for some bizarre shit to happen. Along for the ride is an autistic kid who takes comfort in viewing the world through his camera, hence the found footage. This story tells the tale of their twenty-four hour ordeal trying to find they way back to their camping group and eventually, just to survive.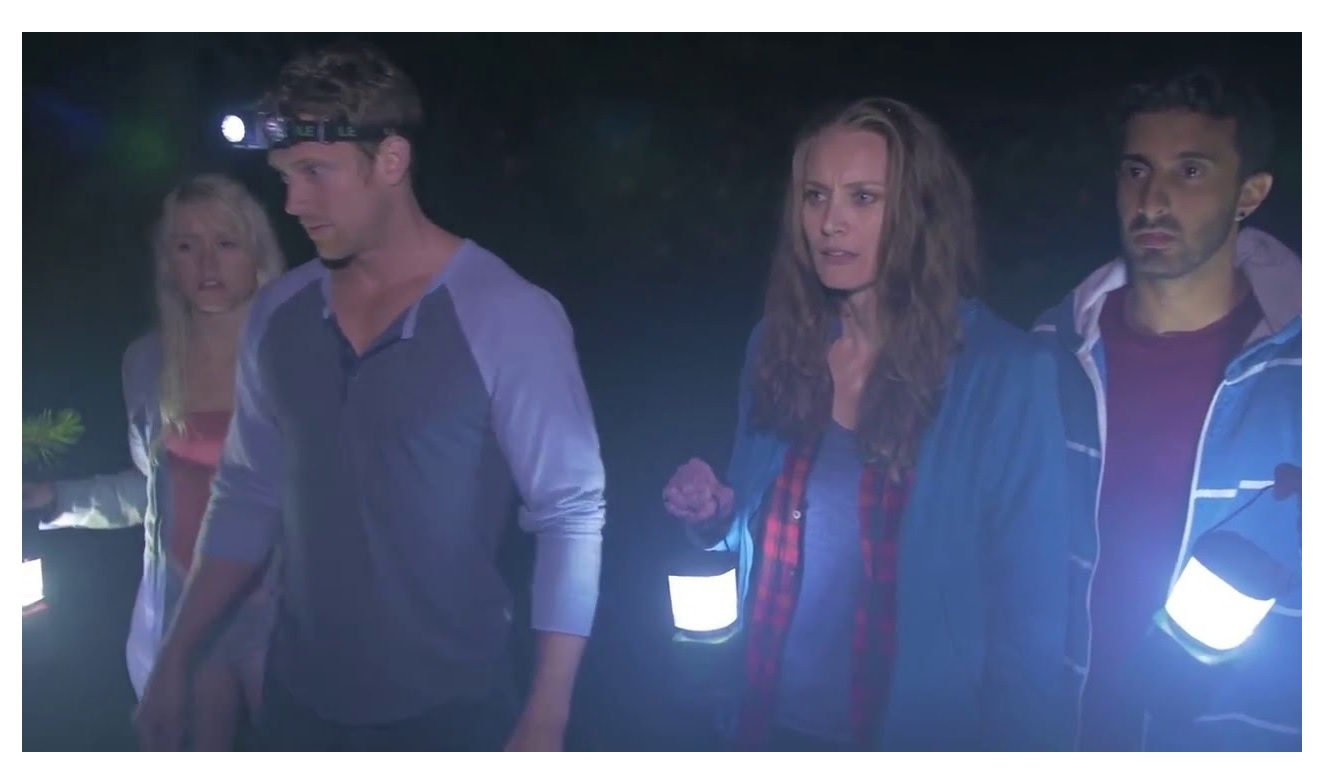 Are the actors successfully acting like they aren't acting?
The actors range from annoying to too-pretty to be there. For found footagers, the less the actors look like runway models, the more convincing they are. It's just easier to relate to people with the next door look rather than seeing perfect featured mannequins trying to go for their Oscar moment. Too many times, this film feels way too Hollywood-made and again, it just works against the authenticity of the film. On top of that, while the autistic Bo (Jesse Parr) may be authentic in his child-like performance as the man behind the camera, his whining and fit throwing makes for some simply aggravatingly annoying moments. Instead of giving Bo any depth, the actor chooses to simply act baby-like with wide-eyed innocence through the entire film and it just felt unconvincing. Add in an over the top performance by Michael Wainwright as an axe carrying aggro-man named Ripper who both warns the crew and then tries to kill them, and you've got a cast that is difficult to invest in.
Does the footage found seem authentic and untouched by additional production (no omniscient editor making multiple edits between cameras or an invisible orchestra providing music)?
For the most part, the found footage purity is pretty strong throughout ALTAR. There are moments of heightened sound effects that feel like sound bumps often found in Blumhouse horrors meant to shock the audience, but there isn't an orchestra hiding somewhere in the woods. The camera edits are also pretty well done as only one camera is used for the most part, through the entire film.
Why don't they just drop the camera and get the hell out of there?
ALTAR has a pretty unique reason for the camera to keep rolling, that being that Bo uses the camera as a therapeutic tool as a means to come out of his shell and interact with the world around him. This turns out to be fortunate for us the viewer as Bo captures everything that happens on the trip. So even when things get crazy, Bo clings to the camera like a security blanket instead of dropping it and running for safety.
Is there an up-nose BLAIR WITCH confessional or a REC-drag away from the camera?
For the most part, there are none of those over-played antics going on here. There are instead, a lot of times when the camera is so shaky, one really can't tell what is going on. Camera movements are too quick and shaky and just doesn't work, especially when the supernatural stuff going on in the periphery is so vague and innocuous.
Does anything actually happen? Is the lead in too long and the payoff too short?
Sadly, this is one of those found footagers where no one knows they are in trouble until late in the film. On top of that, when things do go sideways, not enough explanation or back story is given as to what is happening once the Altar is found to have any of it resonate. It's just a bunch of random stuff happening through a shaky cam and then the film ends abruptly. I appreciate the abrupt end, with some of the cast running away with their fate left unknown as a refreshing way to tell the story, but it will leave viewers with a feeling of dissatisfaction as to what really happens at the end.
Does the film add anything to the subgenre and, ultimately, is it worth watching?
I'd hate to say no. ALTAR tries some experimental decisions along the way. Using the camera as a means of therapy for one character is cool, but I think it could have been incorporated into the main story a little more effectively to make it matter. The Altar itself is pretty cheaply made, looking like something you can buy at any Spencer Gifts shop around Halloween time. The gore is decent, but sparse. There are a lot of strange things going on in the background out of focus, but it just isn't enough to save it and not enough explanation by the end to identify what the hell is happening. The sudden ending is the cherry on top of this unsatisfying little found footage sundae.
---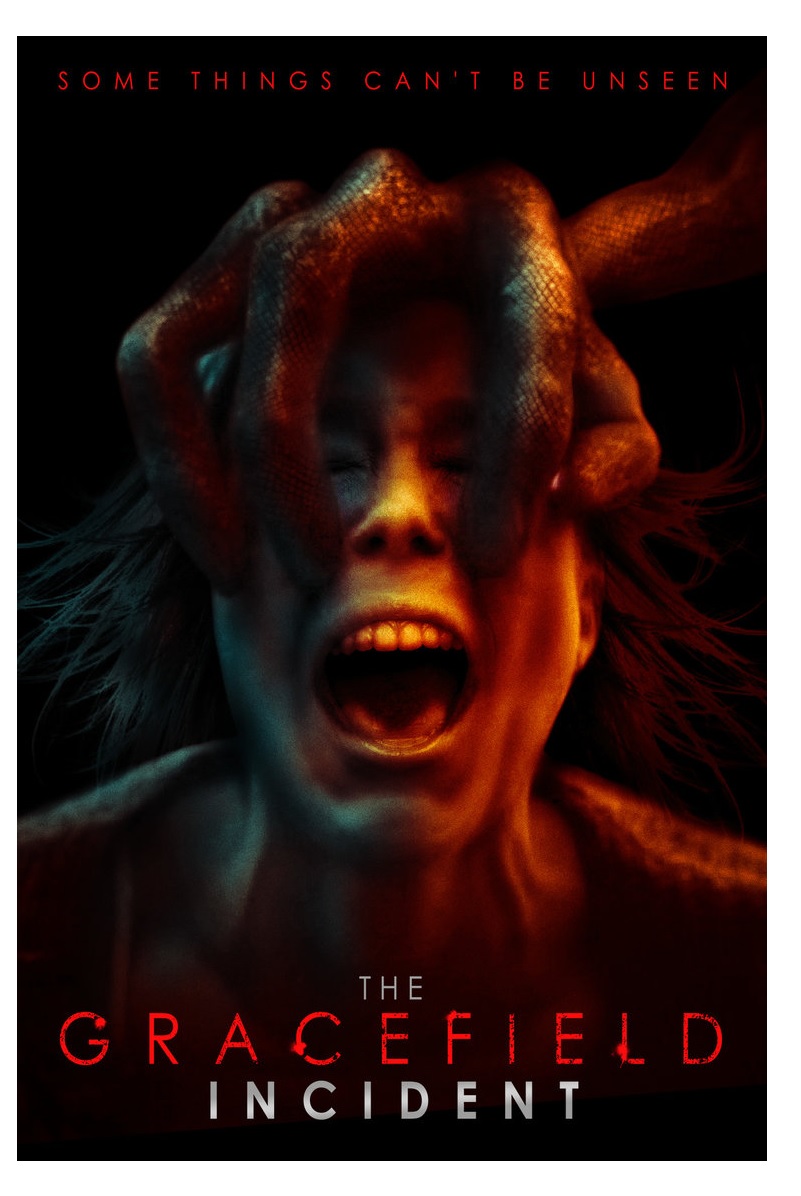 New this week in select theaters, on demand, and digital download from Momentum Pictures!
THE GRACEFIELD INCIDENT (2017))
Directed by Mathieu Ratthe
Written by Mathieu Ratthe
Starring Mathieu Ratthe, Laurence Dauphinais, Juliette Gosselin, Kimberly Laferriere, Kimberly Laferriere, Victor Andres Turgeon-Trelles, Lori Graham
Find out more about this film @TheGracefieldIncident and on Facebook here
Reviewed by M. L. Miller aka Ambush Bug
As you'll see as I go through my Found Footage Questionnaire below, THE GRACEFIELD INCIDENT does not fare well on just about the whole thing. The film is riddled with head-slappingly bad moments. But THE GRACEFIELD INCIDENT did manage to make me jump a few times along the way and serves as a film that seems well intentioned, but really doesn't understand "the rules" of a found footager. Sure, it can be said that this one is bold in that it shucks a lot of found footage conventions, but this one does it so much that, other than it being made on the cheap, it doesn't really have a reason to be filmed in this first person POV. Some films are made better by using this template, but this one, I think, would have been better if filmed more traditionally.
What's it about?
A group of friends decide to go to a cabin in the middle of the Canadian area known as Gracefield. Recovering from a devastating car accident where Jessica (Kimberly Laferriere) lost her unborn child and Matthew (writer/director Mathieu Ratthe) lost an eye, the couple want to use the weekend to relax and reconnect with their best friends and themselves. Matthew rejiggers a small camera into his glass eye so the viewers see everything he sees (see the Adam Wingard/Simon Barret segment of
V/H/S 2
for something extremely similar) though most of his fellow cabiners are unaware they are being recorded. But that's ok, because all of them brought their cameras and cell phones too, so everyone is filming everything just in case something interesting happens. Sure enough, a meteor crashes just a hop, skip, and a yodel away from the cabin and Matthew and the rest of the guys investigate and find a glowing rock at the crash site that is cool to the touch. Nabbing the rock, the group return to the cabin, but not before encountering something horrifying in the woods. Does this have something to do with the cabin owner's obsession with Bigfoot? Or is this about the meteorite crash? And what about the destruction of that satellite that keeps being reported in the news? Soon something inhuman is stalking Matthew and his crew, swiping them up and swooping them away one by one. Will Matthew and Jessica be next?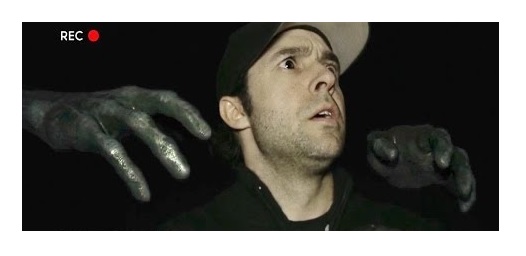 Are the actors successfully acting like they aren't acting?
This is a tough one. Some of the actors are decent, while others are expected to convey way too much emotion and information in order to keep the story rolling along. While Ratthe is decent at times in the lead role, his scripting doesn't really give him enough plausible motivation to keep the secrets he witnesses from the rest of the group and therefore it just isn't convincing when Matthew decides to keep pretty much all information about his encounter with Bigfoot or an alien in the woods from the gals of the group. Over and over, Matthew thinks he is protecting his friends and family, but only ends up making things more complicated and downright dangerous having not clued everyone in about the dangers he encountered in the woods. This makes Matthew rather unlikable in that you are swearing at the screen for the boneheaded moves he is making. Now this is a script thing, but since Ratthe wrote it as well as acted it out, it makes him doubly to blame for these dumb script turns.
Does the footage found seem authentic and untouched by additional production (no omniscient editor making multiple edits between cameras or an invisible orchestra providing music)?
This film inexcusably has a soundtrack as if it were a cinematically produced film. Even if this is a film Matthew returns to and reedits into some kind of home movie, it's doubtful he would have been able to add all of the sound bumps, suspense violins, and tension drumbeats that should occur in any film…other than a found footage film which is supposed to feel as authentic as possible and in real life, there is no orchestra following you around in the woods when maybe aliens/maybe Bigfoots are chasing you. Add in some camera edits that just make no sense at all, flipping from cell phones, to hand held cameras, to Matthew's eyeball cam at a rapid rate, and you've got a problematic movie where no one really cares to try to sell it as an authentic piece of footage found. There's one scene where Matthew and his friend are whispering back and forth in the woods trying not to be found by the snarling alien/Bigfoot and while Matthew's eye cam is looking at his friend, when you flip to see his friend, he is pointing his camera towards the air and not at Matthew. Again, it's stuff like that which make you wonder why they even tried to make this found footage since they aren't even trying to make anything feel authentic or believable.
Why don't they just drop the camera and get the hell out of there?
Because they're making a movie, duh? There really is no reason anyone but Matthew, who has a camera embedded into his glass eyeball, shouldn't drop their cameras and run. Sure they are addicted to their cell phones and one of them just got a shiny new camera, but still, when the shit goes down, there is no real reason for anyone to hang on to their cameras and keep filming. There is a line where Matthew instructs his friend to keep filming everything, but there's no real reason for him to do so since Matthew is catching everything on his eyeball cam.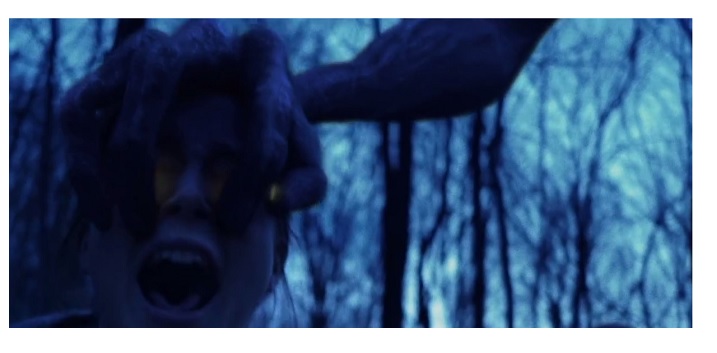 Is there an up-nose BLAIR WITCH confessional or a REC-drag away from the camera?
Yeah, folks get dragged away through the woods and up into the air. Matthew and his friend both have their moments where they are seemingly performing some kind of last monologue to the camera. It's all of the typical found footage fare, though the up-nose shot is interrupted by Jessica making fun of Matthew for doing such a thing and when folks are dragged away, it's doesn't necessarily mean the end of them, which offers up a slight derivation from those clichéd scenes.
Does anything actually happen? Is the lead in too long and the payoff too short?
A lot happens in this film and it happens pretty quickly and never really lets up for the duration of the film. If this film has one thing going for it, it is that it packed quite a few action scenes into the runtime. Ratthe takes a lot of care in setting up an entire obstacle course for the cabiners to run through as they are slinking around the house, sneaking around the woods, getting lost in cornfields, and even venturing into giant dark caverns. The problem is that there are some absolutely moronic moments that just defy the laws of intelligent writing and simple science. In order to remember their way back through the woods, Matthew and his friend Jonathan (Victor Andres Turgeon-Trelles) decide to blow up balloons and tie them to trees to make visible cues so they can find their way back to the cabin. The problem is that somehow, these guys have helium for breath because not only do these balloons float, but they also are strong enough to later lift a cell phone hundreds of feet into the air in order to get a view of the cornfield they become lost in. Again, it makes for an interesting shot, but breath just don't work that way with balloons. It's science. Look it up.
Does the film add anything to the subgenre and, ultimately, is it worth watching?
I can't find myself to loathe THE GRACEFIELD INCIDENT. It's got a lot of nicely timed jump scares and a few really well done scenes involving effects of many kinds (some CG, others practical). The film has a solid heart to it and really seems well intentioned, fleshing out the feeling of loss Matthew and Jessica are going through and actually ending on a positive note, which definitely is something you don't see in too many found footagers. The thing is that this is a film that really could have worked as a cinematically filmed movie and the fact that it is supposed to be shot in first person POV just makes for problems for the film. The head-slappingly bad balloon scenes aside, the inclusion of music, multiple cameras, and staccato edits really make the film implausible and overly complex. Had more time been spent on the script and less on additional music and unnecessary cameras, I think a pared down version of this film might have worked. As is, THE GRACEFIELD INCIDENT is overly complex for no real good reason and shoots itself in the foot because of that.
---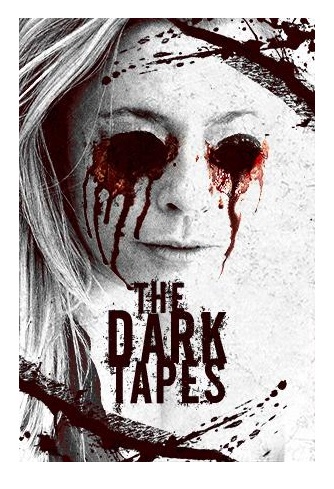 New on DVD/BluRay and available on iTunes as well as Google Play, Vudu, On Demand, Dish TV, Amazon, Vubiquity, Xbox, Playstation, Sling TV & Vimeo from Epic Pictures!
THE DARK TAPES (2017)
Directed by Vincent J. Guastini ("To Catch A Demon"), Michael McQuown ("Amanda's Revenge", "Cam Girls", "PsychoTherapy", "The Hunters & The Hunted", "Wraparound")
Written by Michael McQuown
Starring Emilia Ares Zoryan, David Banks, Jonathan Biver, Sara Castro, Michael Cotter, Denise Faro, Brittany Fisheli, Jo Galloway, Aral Gribble, Annalisa Guidone, Shane Hartline, David Hull, Stephane Kay, Clint Keepin, Casey James Knight, Kari Lane, Shawn Lockie, Matt Magnusson, Anna Rose Moore, Tessa Munro, Jake O'Connor, Olivia Leigh Nowak, Cortney Palm, David Rountree, Katherine Shaw, Wayne River Sorrell, Meredith Thomas, Brittany Underwood, Julian von Nagel, Stephen Zimpel, Ryan Allan Young
Find out more about this film here, @TheDarkTapesMovie, and on Facebook here
Reviewed by M. L. Miller aka Ambush Bug
Lately I've been using my Found Footage questionnaire against the latest releases in the first person POV style. Since this is an anthology of sorts and I don't want to be repetitive in covering each installment, I'll just boil it down by saying that for the most part, THE DARK TAPES passes my found footage test with flying colors. Everything going on in the tapes seem like they were inclusive to only what we see. There's no music added in. There are no tired clichés like REC pull-aways or BLAIR WITCH up-nose confessionals. While the film is edited together and sometimes uses multiple angles, this does feel like someone is compiling some kind of strange phenomena here and putting it to one tape, so it even sort of makes that believable. All in all, THE DARK TAPES works in every technical way. On top of all of that, it is a film rich in fun ideas, creepy imagery, and often shocking twists and turns.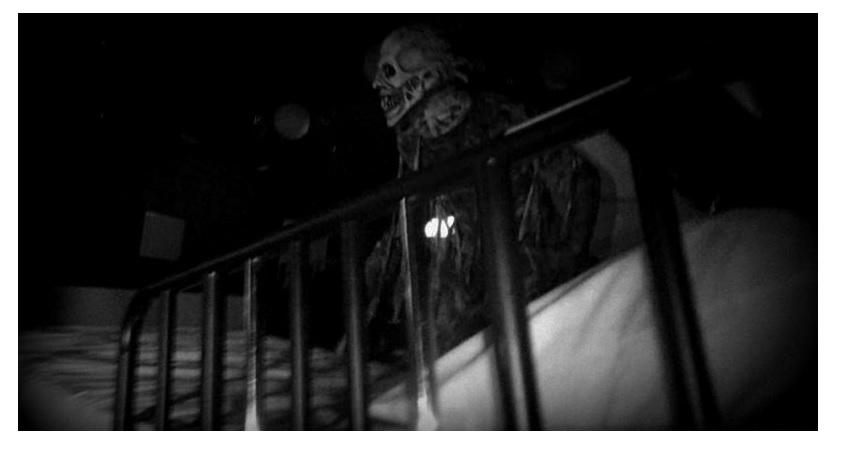 The first segment and wraparound is called "To Catch a Demon" and basically does a decent job of hypothesizing about what exactly we are seeing play out in these installments. A paranormal research team is experimenting with the concept of between-time psycho-phenomena. Basically, there is a world playing out in between the seconds of our own world that we don't perceive and in that world, there are inhabitants and occurrences that happen so fast that the human mind does not register it. These occurrences are perceived subliminally in the form of flashes and odd feelings. The team is experimenting on this theory which leads to an encounter with something from the other side. The handheld/night vision usage in these connecting tissue installments are what make these parts work so well. On top of that, there are some amazing practical effects that add to the horror. While wraparound segments are usually the segments least developed in most anthologies, here these segments are crucial in understanding the rules and guidelines that are applicable to the other stories in this anthology.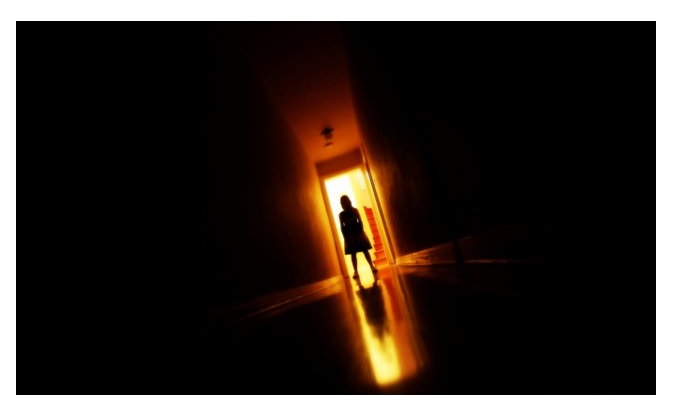 Tape two is called "The Hunters and the Hunted," which starts out as a sort of PARANORMAL ACTIVITY riff, becomes a GHOST HUNTERS style show, and ends…well, you'll just have to see it. A couple experiences weird things happening in their homes and call some paranormal investigators when it gets too intense for them. This one has some great suspenseful moments, made more so when things get crazy and you are forced to see every turn around the corner and every descending of stairs from a fixed angle guided by the cameraman investigator. A long creepy hallway, some footsteps heard from the floor above, and a toy ball all factor in to a very intense installment that pays off unconventionally.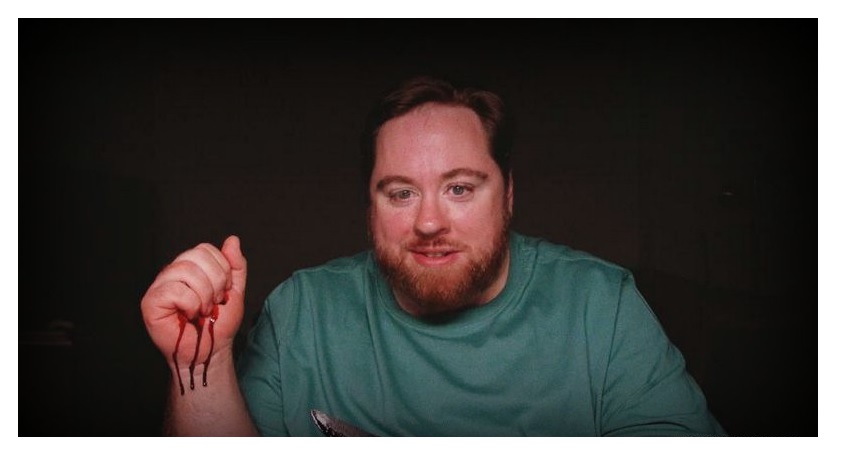 The third tape is called "Cam Girl" and while it changes format a bit by showing footage from computer cams, in this day and age where we know it is possible for people to record from our TV and laptop cams without us knowing, the fact that this footage exists is more believable than ever. This one focuses on a pair of cam girls who are not without their own peculiarities choosing a random viewer (a poor schlub named Gerry – played convincingly schlubby by Aral Gribble) to enact a ritual of sorts that ends very badly. This is simple, but Gribble is particularly convincing as the weak-willed computer geek who gets wrapped up in something way over his head. While the speed at which this segment plays out is kind of brisk and Gerry is convinced to do some pretty horrible shit rather quickly, given the fact that this is a short, I'm willing to forgive it.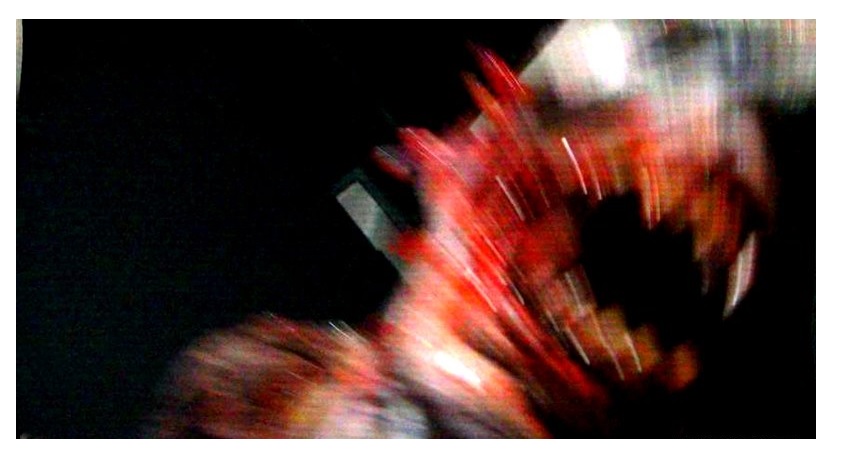 The final tape is called "Amanda's Revenge" where a young girl (Amanda—played by Brittany Underwood) believes something is happening to her in the night that she cannot capture with electronic devices or see with the human eye. Utilizing some ancient equipment and enlisting the aid of lifelong friend, Amanda is able to finally capture what it is that is happening to her. Again, the simple setup of a camera on a tripod and a long hallway makes for some very scary scenes that made my hair stand on end. It helps that Underwood is a really good actress and sells the scene no matter how outlandish it gets.
What impressed me the most about THE DARK TAPES is that it seems to have a distinct universe and guidebook applying to the all of the stories playing out here. Unlike films like V/H/S that feel more like a grab bag of ideas from different directors, the singular vision of writer/director Michael McQuown along with his co-director Vincent J. Guastini makes this feel like he is building a singular universe and the stories captured on camera here are all linked to a bigger tale. The opening and closing narration, which is an ominous warning of the existence of these creatures that live between the eye-blinks and seconds and how close we are to discovering their existence makes this anthology feel more like puzzle pieces to a tale yet told. As the filmmakers promise a second installment to this film, which was a hit on the festival circuit and now will be seen by the population, I can't wait to see more of this twisted and unusual universe hinted at through these stories. All installments of THE DARK TAPES really work and are successful in delivering the scary with clever uses of darks, practical effects, smart editing, solid acting, and a thorough set of ground rules for the world it is taking place in. THE DARK TAPES is potent nightmare fuel and deserves a viewing for those who love heady Lovecraftian horror and found footage fans.
---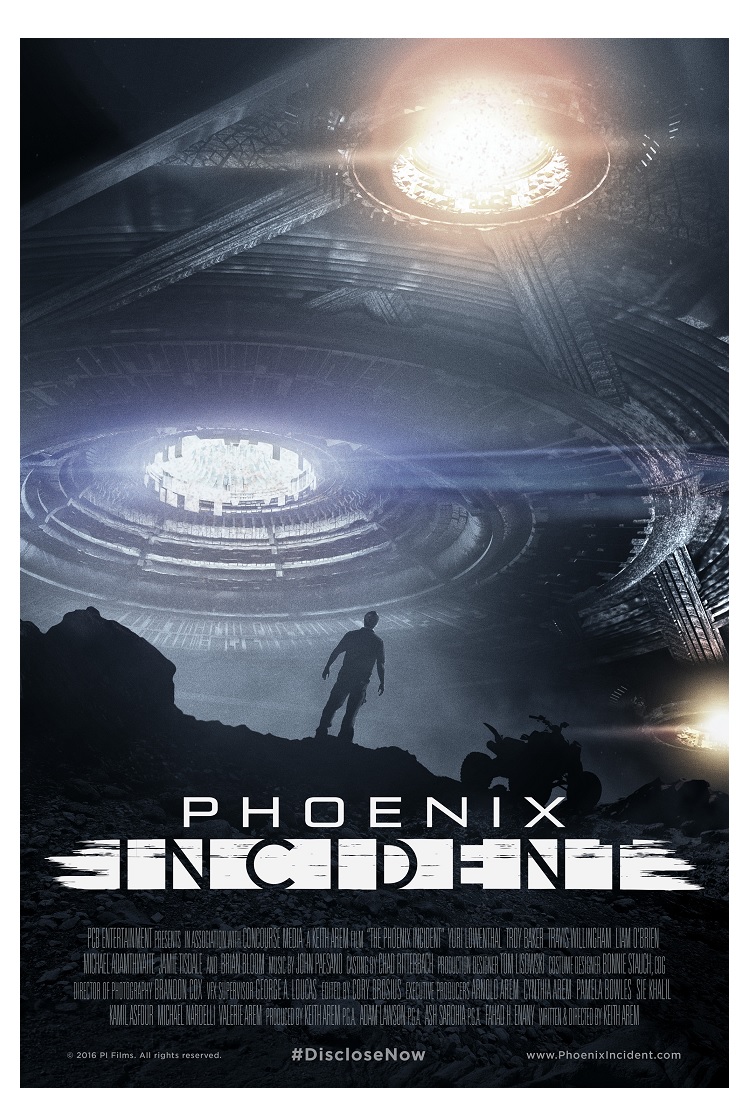 New on DVD/BluRay and digital download from its website here!
THE PHOENIX INCIDENT (2015)
Directed by Keith Arem
Written by Keith Arem
Starring Yuri Lowenthal, Travis Willingham, Troy Baker, Liam O'Brien, Michael Adamthwaite, Brian Bloom, Jamie Tisdale, James Patrick Stewart, Mark Withers, Deborah Geffner, Maria Bobeva, Constance Broge, Paul Thomas Arnold, Jaimie Fauth, Ryan Keating, Holgie Forrester, William Goldman, James L. Brewster, Elise Muller, Tony Prince, Dan Willoughby, Scot Ruggles, Ron Ross, Brandon White
Find out more about this film here, @phoenixincident, and on Facebook here
Reviewed by M. L. Miller aka Ambush Bug
There seems to be a plethora of "Phoenix Lights" found footage films out this year. THE PHOENIX FORGOTTEN was released in theaters and left quickly and I hope to be reviewing it when it arrives on BluRay. I already covered the mysterious and scarily authentic looking
THE PHOENIX TAPES '97
and how here's THE PHOENIX INCIDENT, a pretty strong entry in the growing "Phoenix Lights" subgenre of found footage films. Let's put it up against my Found Footage Questionnaire.
What's it about?
Four thrill seeking campers plan to ride their four-wheelers along the Phoenix deserts and are unaware of the lights occurring above Phoenix until it is too late. Wounded and stalked by monstrous creatures that are unleashed from a massive craft in the desert, the campers face the military, religious madmen, and monsters of an alien origin and it's all captured on the cameras the campers have taped to their helmets. What makes THE PHOENIX INCIDENT different is that it not only can be viewed as a found footage film, but it also was made into a documentary format, incorporating many of the scenes from the film itself in with interviews from investigators, government leakers, and relatives of the four missing and presumed dead campers.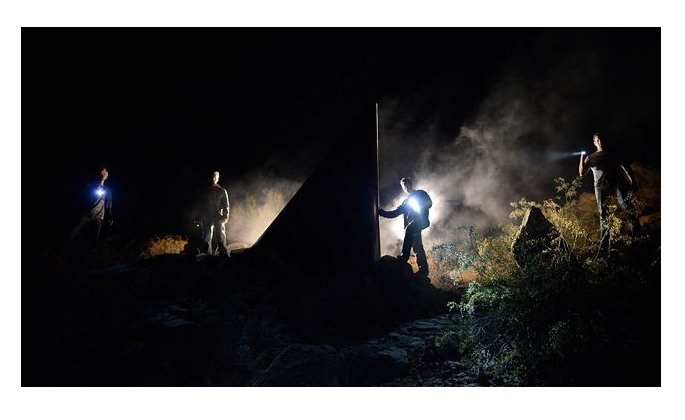 Are the actors successfully acting like they aren't acting?
While the actors are kind of acting like the typical thrill seeking twenty somethings and don't really have enough character to make them stand out other than the one who wears a bandana, the one with floppy hair, the one with dark hair and the one with blonde hair, they do a decent job of acting like people in peril. These guys are just regular dudes out to have fun that find themselves in the middle of an alien invasion. There is a lot of screaming, a lot of panicking, and a lot of running. Which doesn't involve a lot of acting chops, but it's done convincingly. The interview segments with relatives, military officials, and others involved with making the documentary portion of this film are equally convincing and do a great job of painting a thorough and detailed picture of the events that occur on the night of the Phoenix Lights.
Does the footage found seem authentic and untouched by additional production (no omniscient editor making multiple edits between cameras or an invisible orchestra providing music)?
What is cool about THE PHOENIX INCIDENT is that in the main menu, you can choose to see the untouched found footage of the four thrill-seekers and their final night captured on film or you can choose to pick the documentary incorporating the found footage, but having it presented in a produced documentary format with it's own music, edits, multiple cuts, and interviews. I watched segments of the untouched version and while I was entertained, I found the documentary version much more thorough and fulfilling a watch. Still, the filmmakers went out of their way to make the found footage feel pure and untouched, which was appreciated.
Why don't they just drop the camera and get the hell out of there?
For one thing, the cameras are taped to the helmets of the four-wheeler drivers, so they couldn't drop it. Basically, everything these guys see, we see. But in the documentary footage, we are made privy to the actual footage taken by the military as well as the found footage, so while the formats change, the reason for filming is for military documentation. In the world of the film, we are looking back at the start of a very public alien/human conflict—a conflict that occurs worldwide, with the documentary looking back at the beginnings of this conflict which occurred on that Phoenix night in 1997. So the documentary does a fantastic job of incorporating military footage as well as the footage from these four campers on that fateful night in a slickly produced way.
Is there an up-nose BLAIR WITCH confessional or a REC-drag away from the camera?
Not really. If anything, this film owes more to ALIENS with its attention to tactical military maneuvers and night vision during a battle zone. While the night vision is reminiscent of the scenes we see in REC, the inhuman nature of the aliens being more bestial than humanoid and the sheer bombast of the action makes one feel like this is more influenced by STARSHIP TROOPERS and James Cameron than BLAIR WITCH and REC.
Does anything actually happen? Is the lead in too long and the payoff too short?
A hell of a lot happens. There is the initial sighting. A UFO crash. And an entire chase sequence that lasts the duration of the final 40 minutes of the film. This is one fast paced film reliant heavily on action and movement. Having endured quite a few found footagers that move like they are sludging through molasses, it is refreshing to see a film that actually feels like it took a shot of adrenaline at the halfway point and never really slows down until the end. While it is pretty obvious from the footage the fate of these four guys, the one thing that annoys me is that they label the four as missing when it is pretty clear they were torn to bits by these aliens. Sure there seems like there is a bit of a government cover-up, but the footage is definitely contradictory to the message the family and friends convey about the missing four.
Does the film add anything to the subgenre and, ultimately, is it worth watching?
I liked the way this film started running at about the half hour point and never let up until the end. This is a fast paced movie with lots of energy and peril at play. There really isn't a dull moment and the whole thing never sticks around long enough in one spot to become boring. I also have to give it up to this film for the packaging and formatting of the film itself. Offering the story up in pure found footage and documentary format is an extra step that shows these guys care about this film and watching both versions of the tale tells the same tale from different angles. I don't think I've seen anything like that before done at this scale. I also think the special effects were especially well done. The monsters were distinct and scary, though I don't know how these four legged and savage beasts have the ability to traverse thousands of miles across space and pilot advanced ships when they act more like insectoid tigers tearing through its prey. But despite all of that THE PHOENIX INCIDENT is a complex and thorough take on found footage that fans of the subgenre should not miss. It's a grim and gritty take on a common type of film, but one that leaves and indelible mark in how far it goes and how intense it will get.
---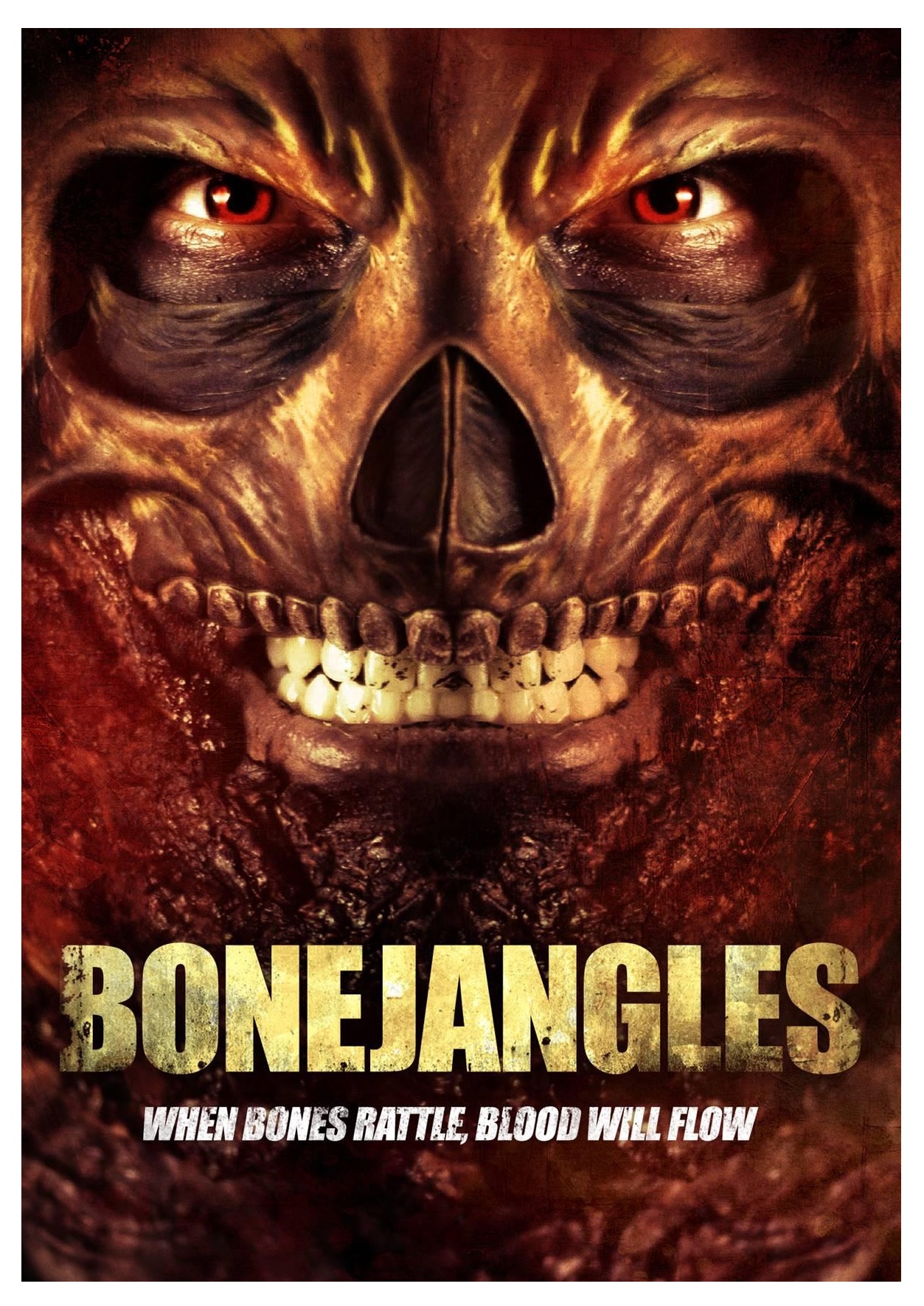 New this week On Demand from Wild Eye Releasing!
BONEJANGLES (2016)
Directed by Brett DeJager
Written by Keith Melcher
Starring Reggie Bannister, Elissa Dowling, Wade Everett, Julia Cavanaugh, Kelly Misek Jr., Jamie Scott Gordon, Christopher Hunt, Lawrence Wayne Curry, Brett DeJager, Devin Toft, Connor Quinn, Hannah Richter, Katie Walgrave, Allen Regimbal, Sam Hanson, Tracy Mailloux, Scott Wessels, Brandon Scott Jacobson, Nadine Purvis Schmidt, Ben Gersch
Find out more about this film @bonejanglesmovie, and on Facebook here
Reviewed by M. L. Miller aka Ambush Bug
So much fun is to be had with BONEJANGLES, a sick and twisted slasher/monster spoof that treads on clichés, yet feels fresh and new.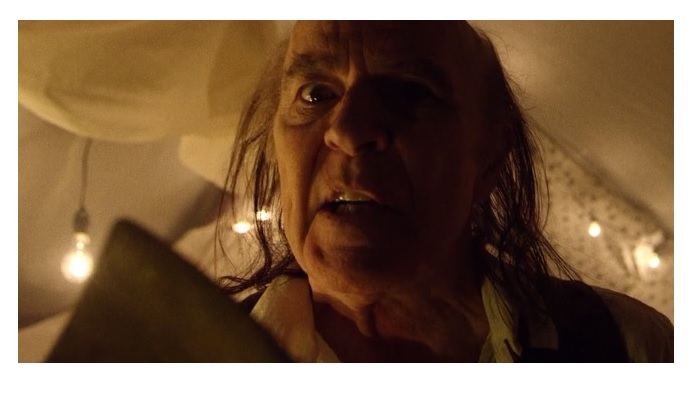 A supernatural serial killer by the name of Bonejangles is incapacitated after annihilating an entire police force. Now the four remaining cops must transfer the unconscious killer to a town called Argento to transfer him to a maximum security facility. What could go wrong? Well, Argento could be the site of an ancient witch's curse where the dead walk on the very same night Bonejangles is being transferred. That's what could go wrong.
So in one corner, you have an undead killing machine instructed by his pops (Reggie Bannister) to punish those who have sex and another corner with a succubus who cursed an entire town with zombies every year with a bunch of bumbling cops stuck in the middle. It could be the set up for a painful farce of a film, but it isn't as the humor is quite biting and outrageous. Reminiscent of the over the top comedic antics of Broken Lizard, the people behind BONEJANGLES knows their horror territory well and milks it for maximum comedic effect. Odd little vignettes become instant classics such as when a creepy townsperson explains in great and dramatic detail about the curse in a mock gravelly voice or when some campers are forced to decide whether to listen to the hippie sing songs on his guitar or have a forest orgy. And after seeing this film, your eyes will be forever scarred by the Juice Lad! The one liners and quips come at rapid fire and this film never loses its wit and attitude even during the most horrific moments.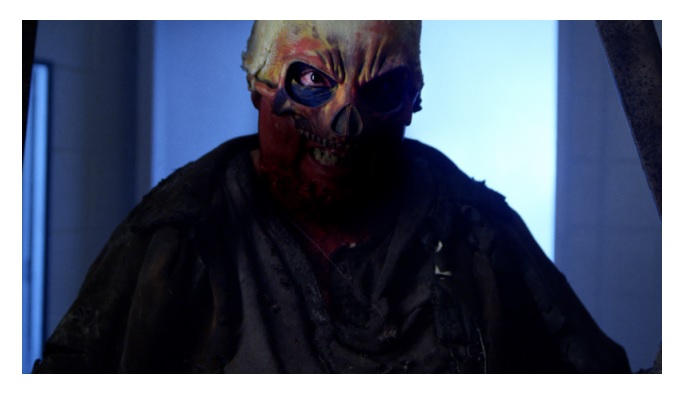 BONEJANGLES also delivers on the blood and gore one would expect from a horror comedy. Heads, arms, legs, and all kinds of parts are tossed all over the place with reckless abandon in slasher sprees and zombie carnage. Not settling for overpowering just the funny bone, BONEJANGLES goes for the gut with ultra-sloppy gore as well.
BONEJANGLES is a film that starts out a bit slow, as it attempts (somewhat unsuccessfully) to come off as a legitimate slasher film and while the comedy rears its head early, the film really gets its pace going in the second act as the cops enter Argento. There is a fun personal story with one of the cops who happens to be from Argento that makes for a bit of an emotional core to the film, but even that is mostly for comedic effect. While we are all waiting for a new FRIDAY THE 13TH, Bonejangles is a fitting substitute as an undead killing machine with high morals and it's a lot of fun seeing him go toe to toe with zombies—something we most likely will never see with Jason in F13. Add in a shit ton of gore and some truly monumental nudity (my hat's off to you, Ms. Hannah Richter) and this is one horror comedy that has it all.
BONEJANGLES comes out in July and if you like effective comedy with your gore, this one's a can't miss.
---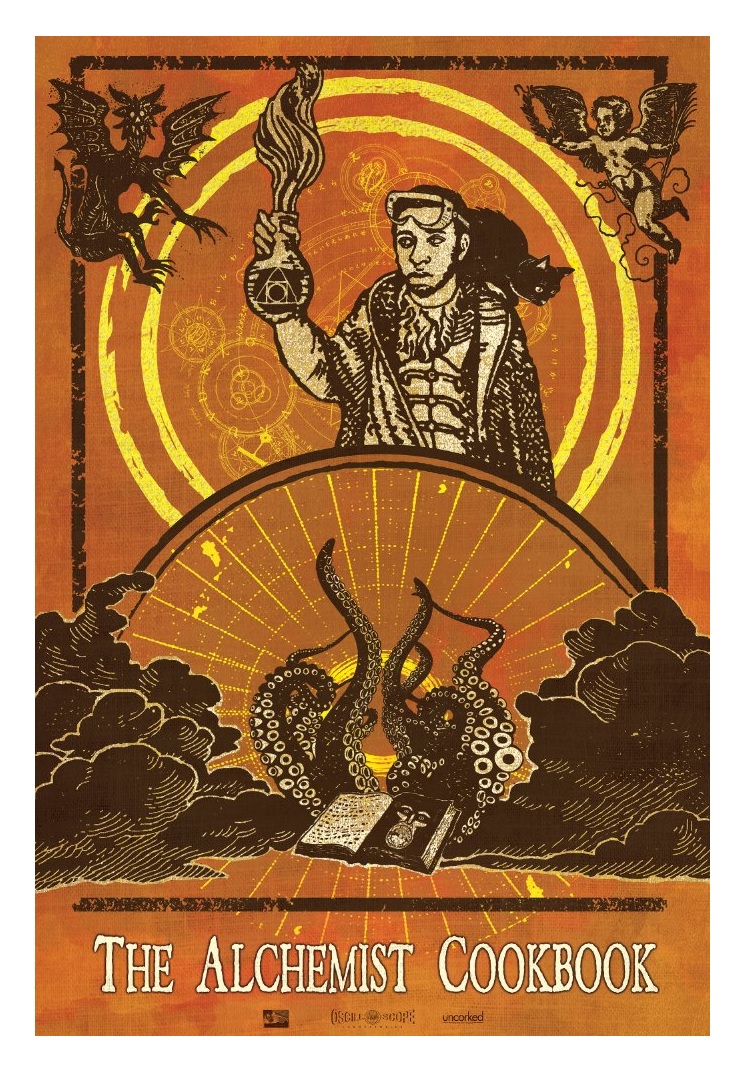 New exclusively on Shudder!
THE ALCHEMIST COOKBOOK (2016)
Directed by Joel Potrykus
Written by Joel Potrykus
Starring Ty Hickson, Amari Cheatom, Fiji
Find out more about this film here, @thealchemistcookbook, and on Facebook here
Reviewed by M. L. Miller aka Ambush Bug
I wanted to like THE ALCHEMIST COOKBOOK more than I did. I am appreciative of the minimalist size and scope of the film, functioning mainly as a character piece, one man show type film. I also really appreciated the subtle horrors going on in the periphery as well as Ty Hickson's outstanding performance. But the pacing of this film is somewhat off, suggesting a tighter edit might have made this film a little more watchable and worth checking out.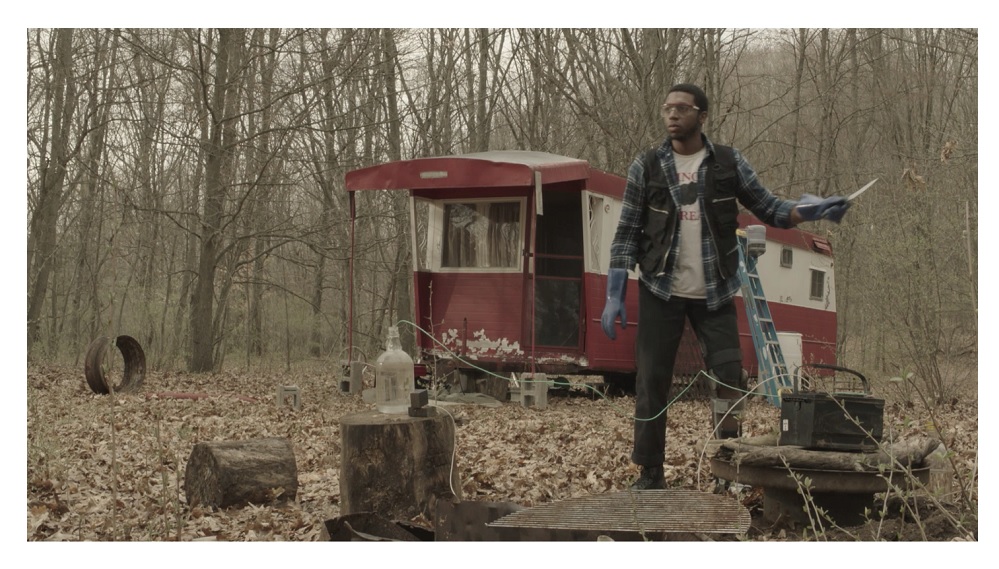 Sean (Ty Hickson) is a reclusive scientist living in the middle of a thick forest in a small camper. It is soon revealed that Sean is working on the ancient alchemical formula to create gold and he believes to be on the right track. His only connection to the outside world is his cousin Cortez (Amari Cheatom) who brings him supplies, music, and Sean's essential meds. Turns out Sean is suffering from schizophrenia and when Cortez misplaces his medication, Sean's sanity begins to fray and the monsters he hears far out in the woods are creeping closer and closer.
This is a descent into madness tale in the purest sense. And the best part of THE ALCHEMIST COOKBOOK is that Sean is utterly convincing every dark step. Reading up on this film, the filmmakers made the movie to reflect symptoms of schizophrenia which showed up in his family. Having witnessed the devastating effects of this disease, I both empathize with Sean and am in awe at how utterly convincing he is as his disease takes over. He already has delusions of grandeur in that he is going to solve a puzzle scientists have been attempting to figure out for centuries, but when he loses his meds, Sean's sanity dissolves and it is utterly believable all the way through. Hickson is bold and fearless, unafraid to make himself look ridiculous or monstrous or pitiful. It's heartbreaking to see Sean try to continue his work as he loses hold of reality.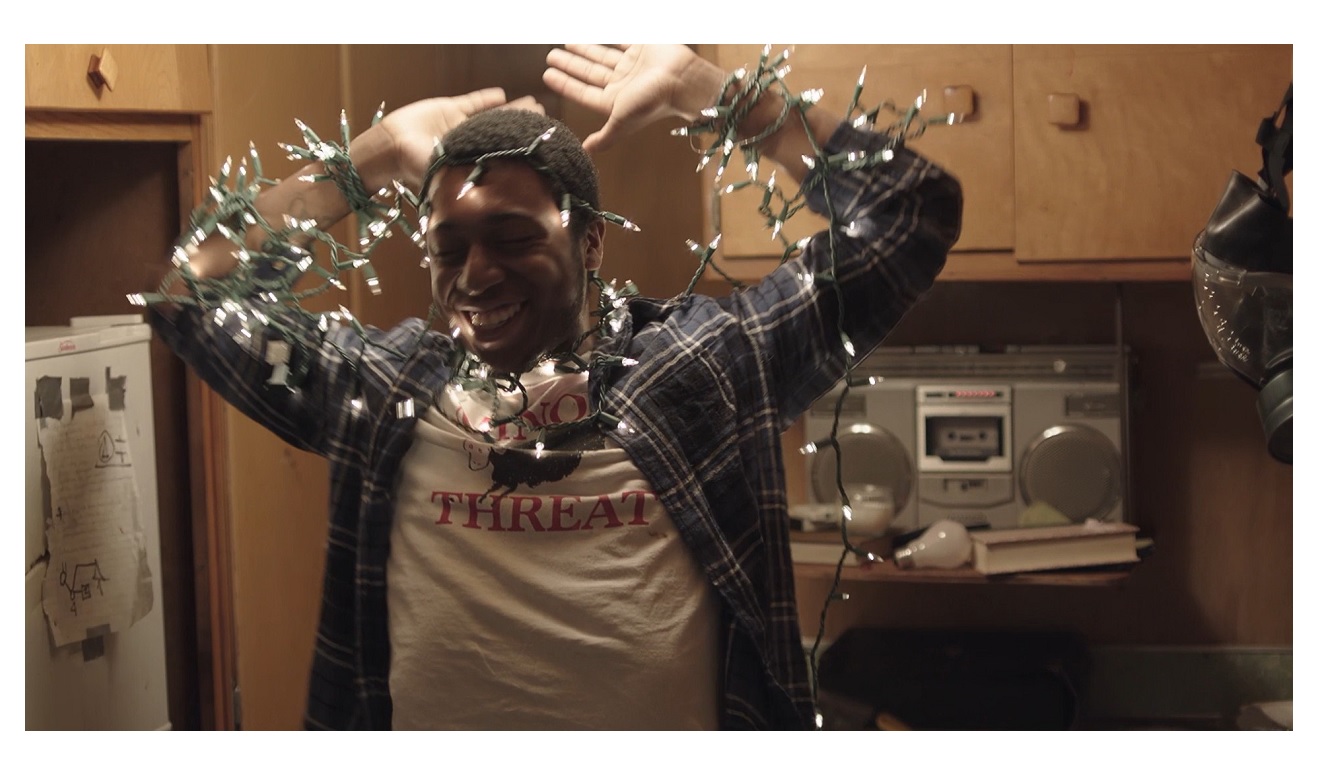 There are also some really harrowing scenes of a monster or devil of some sort, lurking in the woods around Sean. These scenes are vague and you never fully see the beast shambling around out there, but the scenes are set up as to amp the tension and make you believe what Sean believes—that there is something evil out there and it poses a threat to Sean. The gorgeous woodlands around Sean's camp act as the perfect camouflage for this tale that pulls you by the throat into the abyss.
THE ALCHEMIST COOKBOOK is a film with elements I love. The acting, the subject matter, the slow descent, the monster in the woods. All of it is done with a patient hand. I will say that there will be those who lack the patience for this film as it definitely tugged at my ADHD reflex a bit near the end. But if the film does serve as a convincing and horrific little piece about insanity and if you have the wherewithal, you're in for a hell of a descent.
---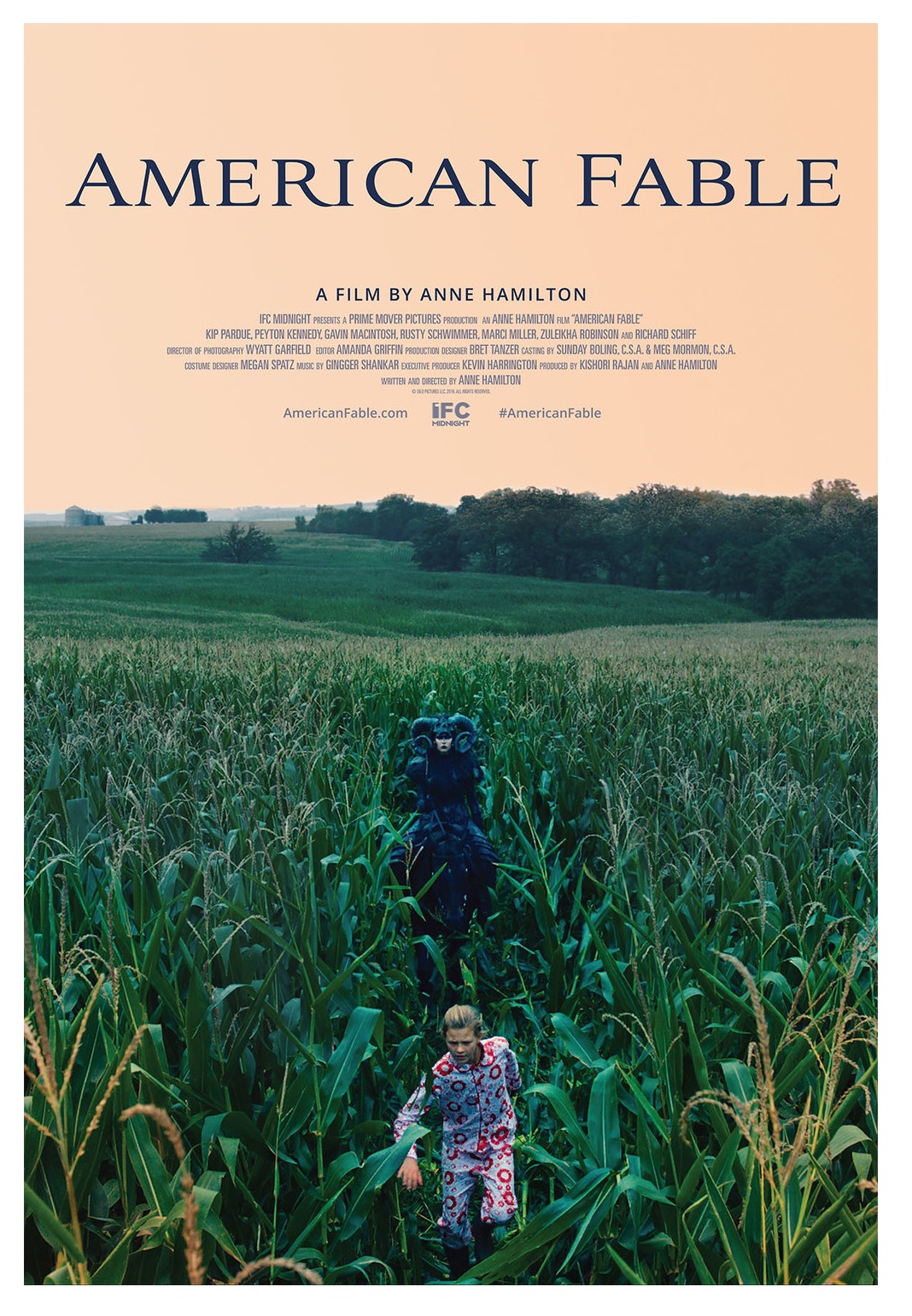 New on DVD from IFC Midnight!
AMERICAN FABLE (2016)
Directed by Anne Hamilton
Written by Anne Hamilton
Starring Peyton Kennedy, Richard Schiff, Kip Pardue, Marci Miller, Gavin MacIntosh, Zuleikha Robinson, Charlie Babbo, Spencer Moss, Rusty Schwimmer, Megan Renner Rieck, Theresa Tilly, Karen Woditsch, Michael Collins, Liz Cloud, Spencer Tomich, John Warner
Find out more about this film here and on Facebook here
Reviewed by M. L. Miller aka Ambush Bug
Less of a horror film and more of a dark drama with fantastical elements, AMERICAN FABLE reminded me of films like FRAILTY meets TO KILL A MOCKINGBIRD with it's rural setting and pitch black fantastical themes all surrounding the loss of innocence of a young country girl named Gitty (Payton Kennedy).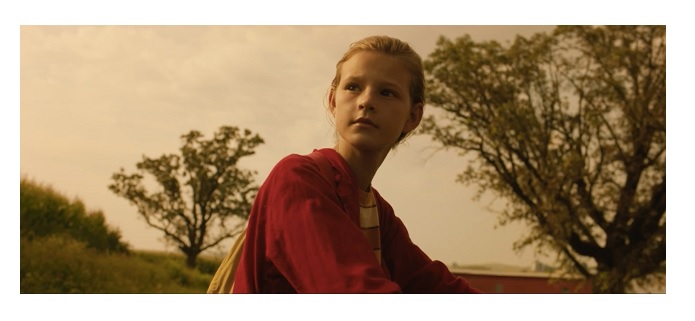 Gitty is a rambunctious young girl with a vivid imagination, dreaming of magical landscapes and mystical witches riding dark horses. The reality is that she lives on a farm with her family lead by her father Abe (Kip Pardue), her mother Sara (Marci Miller), and her heartless older brother Martin (Gavin MacIntosh) and that like many other farms in the area, it seems as if her family might lose the farm to wealthy investors buying up the land. Gitty accidentally discovers a man locked inside the old silo at the back of the farm and forms a bond with the strange city fellow (played by the always great Richard Schiff). Turns out, Gitty's father has a dark secret pact he made with a local businesswoman Vera (THE LONE GUNMAN's Zuleikha Robinson) involving kidnapping, extortion, and possibly murder. Seeing the world through a fantastical fairytale lens, Gitty struggles to understand the complexities of the situation her family is in causing all sorts of problems to an already problematic predicament the family finds themselves in.
AMERICAN FABLE, first and foremost, has a phenomenal cast. Kip Pardue, who you'll remember as the European travelling college kid in RULES OF ATTRACTION, really does a good job of playing a flawed father who loves his children unconditionally. Losing the farm is a cliché in films, but his take on it and his interactions with Gitty really make up the heart of this unconventional little film. Also giving a striking performance is Zuleikha Robinson as Vera, who embodies the femme fatale as soon as she appears and also makes a pretty stunning wicked witch during Gitty's fantasy sequences. Rounding out the memorable moments is actor Gavin MacIntosh who plays the evil older sibling to Gitty. He plays a character you love to hate and does a good job of playing the true villain in the film as a budding sociopath in his nascent stage.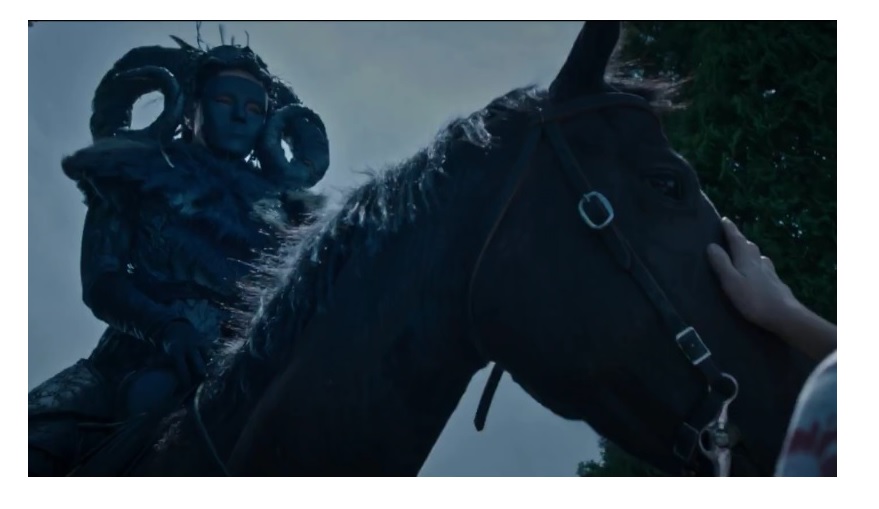 But the true star of this film is the immensely talented Payton Kennedy who plays Gitty. Her deeply set brown eyes and chipper demeanor embodies the innocence you just want to protect from all of the bad stuff going on around her. She's a fantastic little actress, full of energy and joy in, yet still able to play a tough tom girl and sensitive young lady all in one role. Kennedy will surely be an actress to watch if her performance here is any indication.
As I said above, AMERICAN FABLE is not really a horror film, but it's a damn fine film. It has subtle fantastical elements, but I was surprised how set in the real world this film ended up being. While the evil witch and carousel moments are striking, what really works is the character work of all of the cast. AMERICAN FABL feels influenced by classic films of the past which set out to thrill and entertain the entire family without talking down to them. This is not particularly an all ages film, as there are some bits and pieces too intense for tiny tots and not a lot of flash and flair to keep their little attention spans firing, but it is a little film that harkens back to an era of filmmaking that really isn't around anymore. AMERICAN FABLE is a charming and wholesome little tale and, with so little of that showing up in cinema these days, it's a refreshing change of pace.
---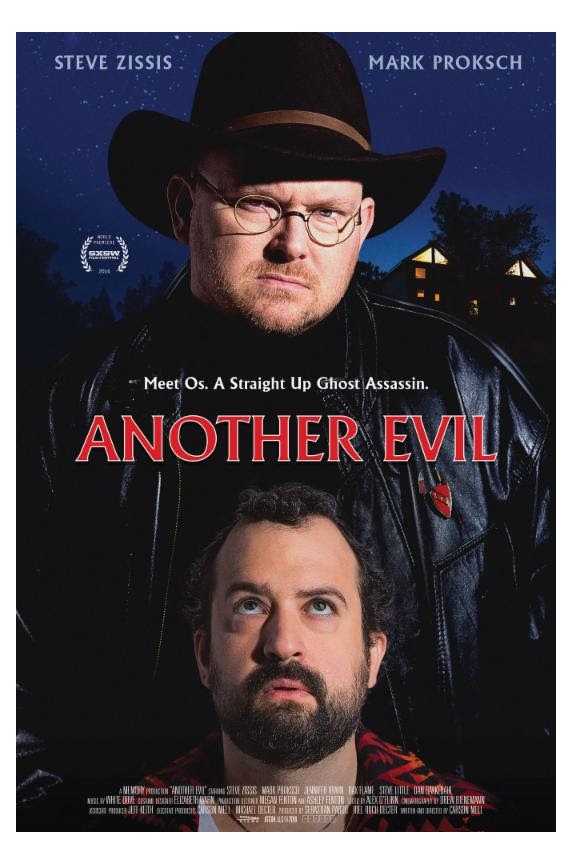 New this week in select theaters and on digital download from Dark Sky Films !
ANOTHER EVIL (2016)
Directed by Carson D. Mell
Written by Carson D. Mell
Starring Mark Proksch, Steve Zissis, Jennifer Irwin, Dax Flame, Dan Bakkedahl, Steve Little, Beck DeRobertis, Mariko Munro
Reviewed by
Ambush Bug
An off kilter tone and a truly fantastic cast enables this odd little ghost film to stand up tall and proud.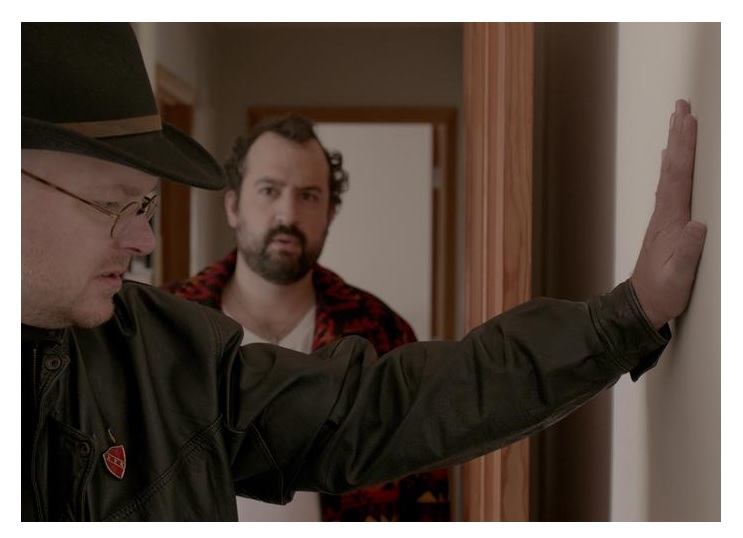 ANOTHER EVIL focuses on Dan (Steve Zissis from HBO's TOGETHERNESS), the patriarch of a family of three who slowly realizes after a series of curious events that his summer cabin is haunted. After consulting with a co-worker (EAST BOUND & DOWN's Steve Little) and being unfazed by a psychic (Dan Bakkedahl) who attests that he is lucky to have ghosts in his house, he is directed to a professional badass ghost hunter Os (Mark Proksch recently seen on BETTER CALL SAUL as the baseball card collector turned amateur drug dealer). Sending his wife and kid away for a few days, Dan meets Os ad is immediately impressed with Os' gung ho talks about ghost hunting and his knowledge of the paranormal. Os says it will take a few days to perform an exorcism on the house, which Dan agrees to, but since hauntings usually occur only at night, Dan and Os have the day to simply hang out and bond. But as the days go on, Dan begins to realize that Os is simply an awkward man looking for a friend and becomes uncomfortable having him basically living in his house with him.
ANOTHER EVIL plays as a thematic brother of
CREEP
(starring Zissis' co-star in TOGETHERNESS Mark Duplass) which also focuses on a man too naïve that he is letting a true weirdo into his life and becoming regretful of doing so a little too late in the game. Because there is a paranormal aspect to this film, there is enough of a distinction between this and CREEP, but as the movie went on and Os begins to form an unnatural bond with Dan and Dan becomes more and more uneased by this bond, the tone is surprisingly similar. Both Zissis and CREEP's Patrick Brice do such a great job of conceptualizing the uncomfortable feeling of slowly realizing the truth of the situation that I think this film will definitely cause the same kind of unease as CREEP did in folks and made it such a divisive film for viewers. Like Zissis' Dan, I felt a true sense of sympathy towards Proksch's Os as he confides in Dan about his recent failed marriage and life troubles. We ride on Dan's heavily burdened shoulders through this entire film and to Zissis' credit, he handles the weight masterfully. This film illustrates how easily one can be taken advantage of and despite the spookiness of the ghosts lingering about, that is the true horror at play in ANOTHER EVIL.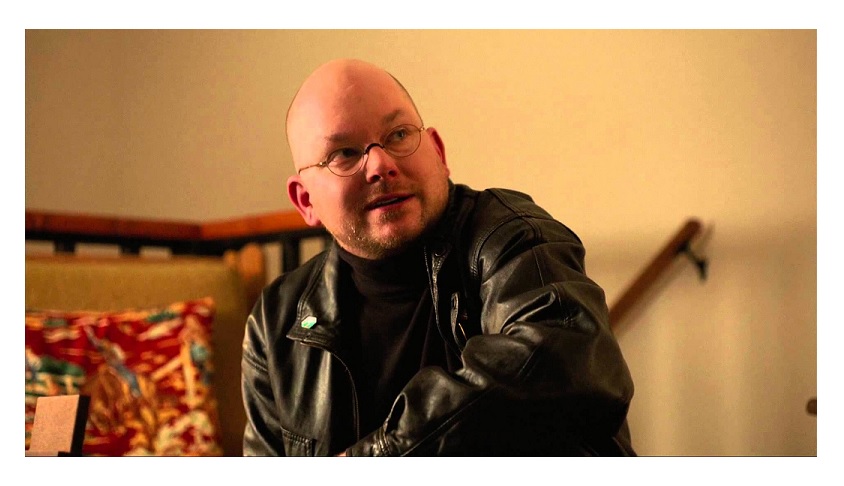 That doesn't mean that this film doesn't have its fair share of scares. I was taken aback by the effectiveness of the scares that occur in the film. The ghosts don't appear often, but when they do, they are presented in a tense and terrifying manner that definitely jars you our of the quirky comedy mode this film snuggles you into. The designs of the ghost themselves are unique in a simplistic way I haven't seen before, which adds to the effectiveness of the whole thing. And when this film shifts into darkness overdrive culminating in a confrontation between Dan and the obsessed Os, it does so again in a bleak manner that is surprisingly effective, again given the comedic tone that went on for most of the rest of the film.
Think CABLE GUY, but on a much lower extreme, and you get the plot of this one. That film dealt with obsession pretty well despite the karaoke scene and whatnot. ANOTHER EVIL is a fantastic showcase on two actors highlighting their spectacular talents in ways that their previous work hasn't been able to do. Zissis and Proksch are mesmerizing together as they build a friendship that both end up regretting. The ghosts in this film are truly terrifying and the banter between the two characters will cause as much chuckles as the ghosts do chills. ANOTHER EVIL is not a broad blockbuster comedy. It is a film that will hopefully find an audience as it masterfully deals with terror on a much smaller scope. These terrors of emotional discomfort are one we feel every day and this film exemplifies them in convincing and effective ways. Filled with moments that will make you laugh, scream, and wince in discomfort, ANOTHER EVIL is brilliantly unusual little horror comedy that will leave you squirming in your seat.
---
And finally…hey how about another LIGHT'S OUT Old Timey Radio Play? This one is called THE AUTHOR AND THE OLD THING! Turn out the lights and scoot in close to your computer speakers for it…is…later…than…you…think!
---
See ya next week, folks!

Ambush Bug is M. L. Miller, original @$$Hole/wordslinger/writer of wrongs/reviewer/interviewer/editor of AICN COMICS for over 15 years & AICN HORROR for 5. Follow Mark on the Twitters @Mark_L_Miller and on his new website collecting posts for AICN HORROR as well as all of the most recent updates on his various comic book projects on MLMillerWrites.com.



---




---
Find more AICN HORROR including an archive of previous columns on AICN HORROR's Facebook page!
---
Interested in advertising with AICN HORROR? Click this link and talk with me about how to help keep this column running strong!