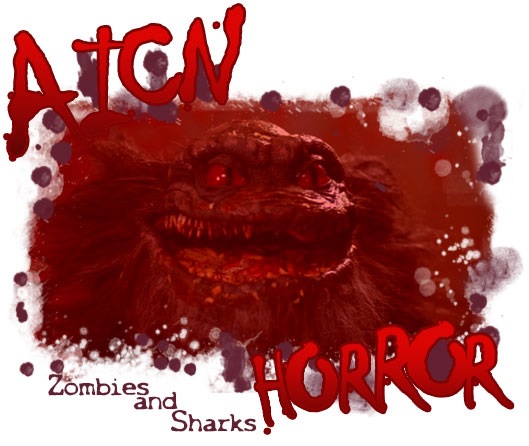 Logo by Kristian Horn
What the &#$% is ZOMBIES & SHARKS?
---
Welcome to the darker side of AICN! M. L. Miller aka Ambush Bug here with another AICN HORROR: ZOMBIES & SHARKS column. Before we get into the reviews, here are a couple of news bits for you to sink your teeth into!
---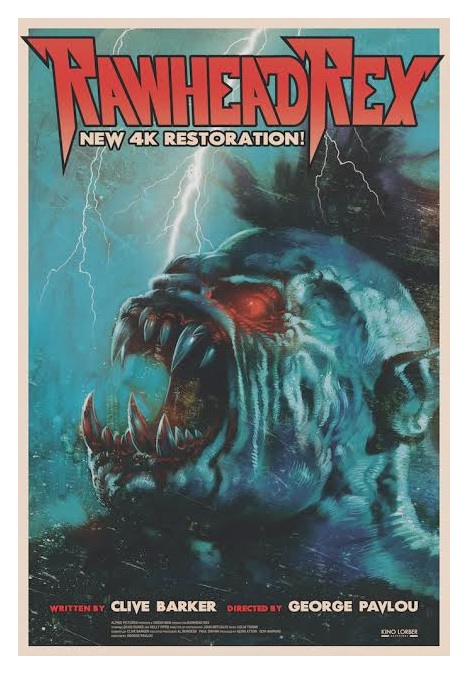 Remember RAWHEAD REX? I sure do. While the film had a few problems, the practical effects and visage of the titular character was the stuff of pure toothy nightmares. Kino Lorber Repertory remembers RAWHEAD REX too as they are set to rerelease the film in theaters this summer in a new 4K restoration and a new BluRay is set to be released just in time for Halloween. They just revealed their poster art by prolific comic book artist Sean Phillips (
you can check out more of his art on his webpage here
) and here is an exclusive look at that exclusive poster on the right over there!
I can't wait for this one!
Find out more on the release here
. Here's the new trailer for RAWHEAD REX below!
---
I'll be once again hosting my panel, REINVENTING HORROR and have an exciting group of panelists all set to talk about the genre we all know and love. This is the tenth time I'm hosting this panel at San Diego and this year's panel is going to be a great one. Expect lots of surprises and an in depth conversation about horror. It's always a lot of fun and if you're going to be at the con, come on over to Room 23ABC on Friday 7/21/17, from 5:00-6:00pm.
Here's the official JIGSAW announcement from Lionsgate posted on Deadline
and the official description of the panel and the guests is below!
Reinventing Horror: What's Next in Film and Comics!—M. L. Miller
(Gravetrancers, Pirouette writer/Ain't It Cool News editor)
continues a decade long convention tradition of gathering a group of talented horror filmmakers & comic creators to discuss & dissect the horrors they make & what (if anything) scares them. This year Miller brings together the best and brightest in horror including The Spierig Brothers
(Jigsaw, Predestination directors/writers),
Justin Benson & Aaron Moorehead
(The Endless, Spring directors/writers),
Roxanne Benjamin
(XX, Southbound director/writer),
Matteo Pizzolo
(CalExit writer, Black Mask Studios publisher),
Bryan Edward Hill
(Postal writer, Top Cow editor, screenwriter)
and possibly some extra-special guests to talk about how to reinvent the genre; pushing new limits, reaching new audiences of different cultures/genders/social classes, twisting old concepts, & crafting brand new terrors to keep you up at night!
Room 23ABC, Friday 7/21/17, from 5:00-6:00pm.
---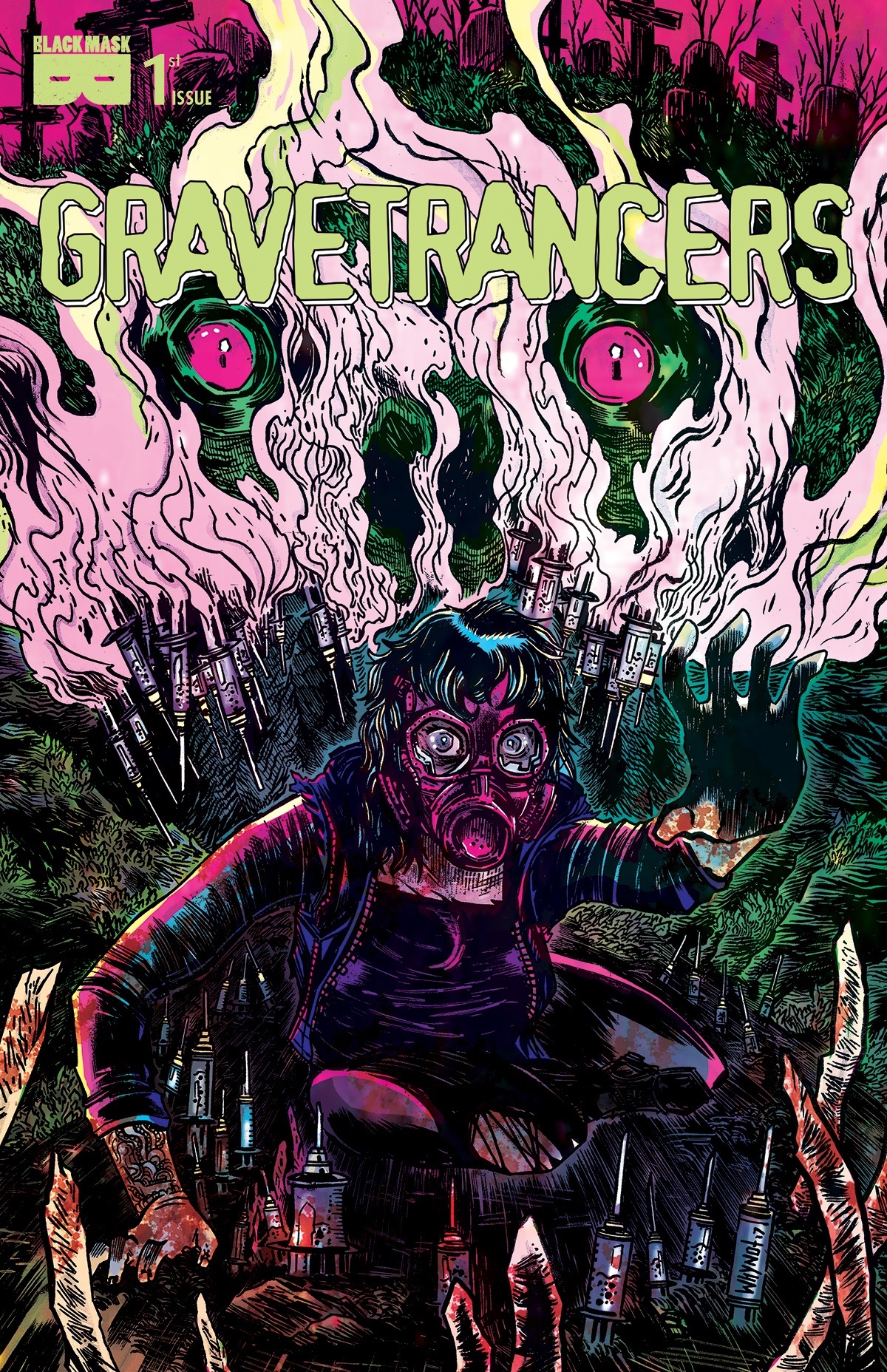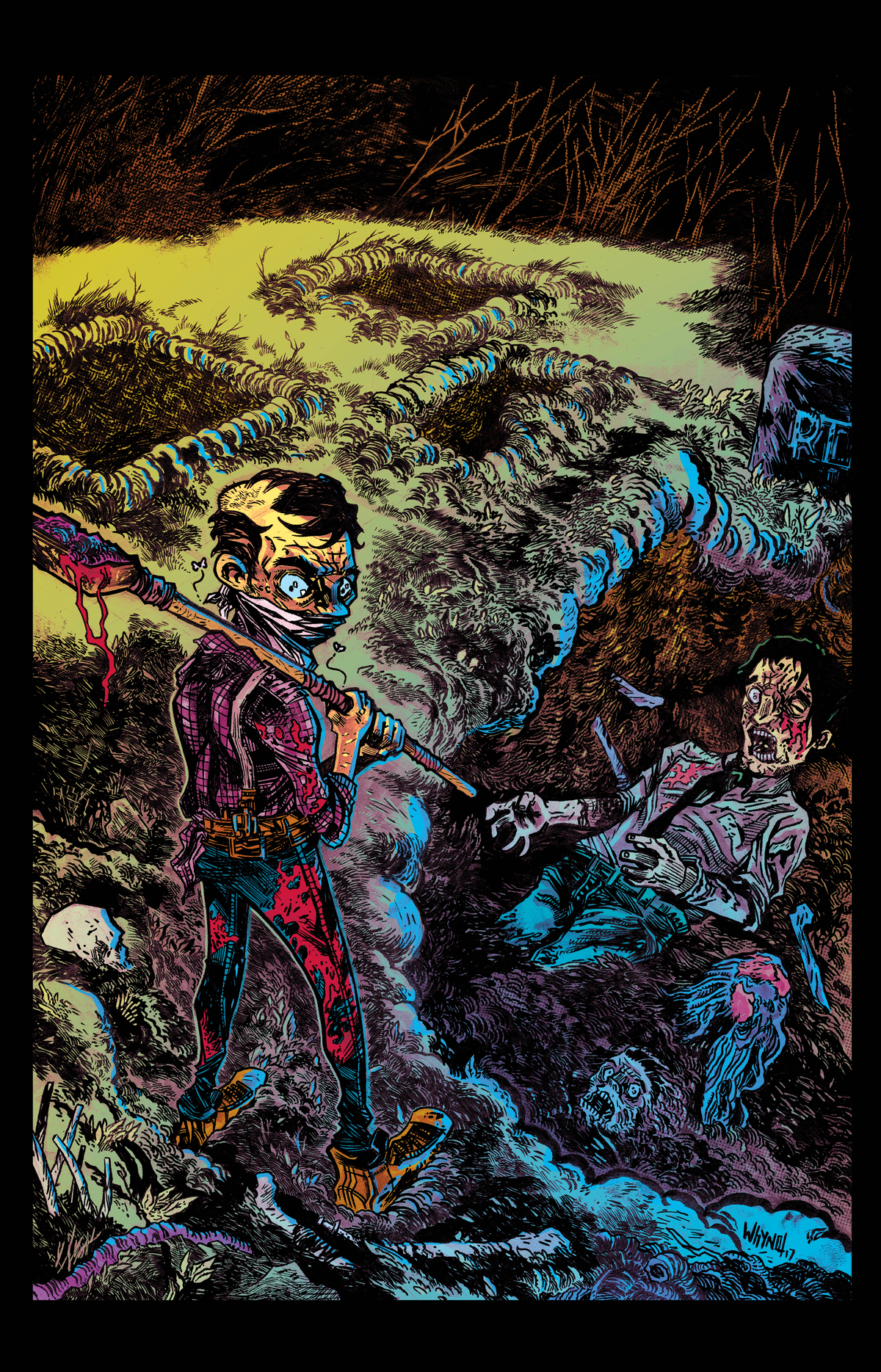 And speaking of horror, now for another moment of shameless self promotion; I've got a new comic book coming out in September called GRAVETRANCERS from Black Mask Studios.
It's in July's Diamond Previews under item code #JUL171455
. Please let your comic shop know they should order a plenty as it's a pretty potent little horror tale, if I do say so myself with mesmerizing pencils and inks of James Michael Whynot, psychedelic colors by Dee Cunniff, and bold and beautiful letters by Jim Campbell! The four issue miniseries follows Maribel and Anthony who are in search of the grave of their dead father, not knowing that they are stumbling into a graveyard owned by an eccentric clan of grave-robbers who've devised a highly-addictive drug made from human remains–and the fresher the corpse, the stronger the dose. What started out as an attempt to reconnect with the past becomes a descent into a psychedelic, neon-colored nightmare—will Maribel and Anthony find their way through the hallucinogens or will they become the next hit? I think it's a story fans of grindhouse horror are going to love.
The news broke on Bleeding Cool here
and on
ComicCon.com
. I've been bopping all around the Interwebs doing interviews at
ComicCon.com
and
First Comics News
. GRAVETRANCERS has also been covered on
Dread Central
,
ComingSoon.net
, and
Horror Society
!
You can
order GRAVETRANCERS #1 here
!
---
I also wanted to give out an open call to advertisers interested in helping to keep this column running. Any inquiries should contact me here!
On with the horror reviews!
Today on AICN HORROR

(Click title to go directly to the feature)
Retro-review: HORROR RISES FROM THE TOMB (1973)
Retro-review: ELIMINATORS (1986)
Short Cuts: BURN Short Film (2017)
GREMLIN (2017)
The Boo Tube: CASTLEVANIA Season 1 (2017)
Advance Review: BEAR WITH US (2016)
And finally…Light's Out: Lord Marley's Ghost!
---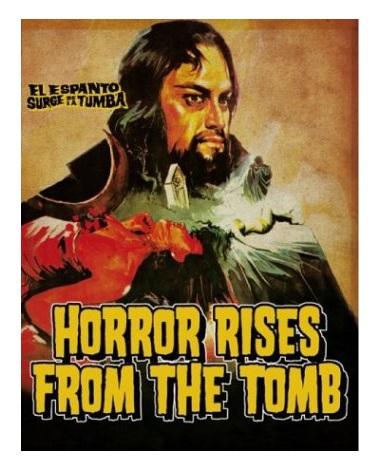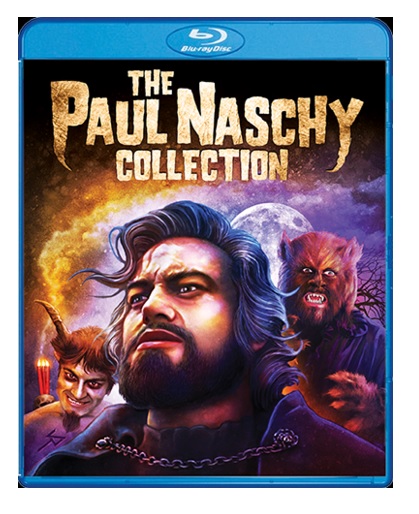 Retro-review: Newly released in the Paul Naschy Collection Vol.1 from The Shout Factory!
HORROR RISES FROM THE TOMB (1973)
aka HORROR RAISES FROM THE TOMB, HORROR FROM THE TOMB, MARK OF THE DEVIL 4, EL ESPANTO SURGE DE LA TUMBA
Directed by Carlos Aured
Written by Paul Naschy
Starring Paul Naschy, Emma Cohen, Víctor Alcázar, Helga Liné, Cristina Suriani, Betsabé Ruiz, Luis Ciges, Julio Peña, María José Cantudo, Juan Cazalilla, Francisco Llinás, Ramón Centenero, Montserrat Julió, Elsa Zabala, Esther Santana, Francisco Nieto
Retro-reviewed by M. L. Miller aka Ambush Bug
While one can expect a wolfman or two in a Paul Naschy flick, HORROR RISES FROM THE TOMB tosses everything and a cursed kitchen sink at you in this schlocky but fun horror jaunt.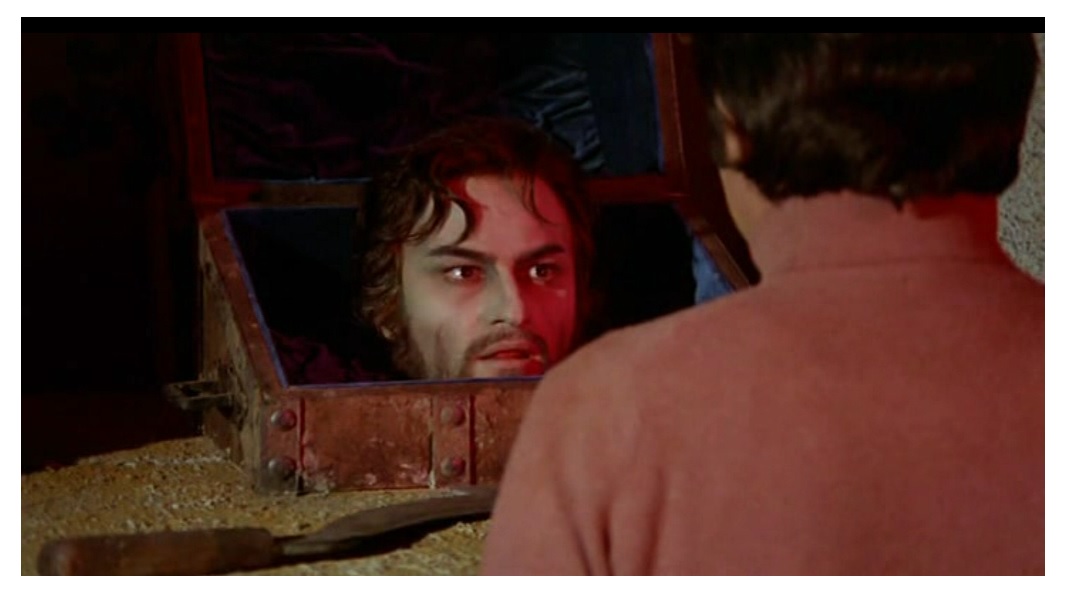 A warlock named Alaric de Marnac (Paul Naschy) and his witch bride Mabille De Lancre (Helga Line) for practicing arcane arts. Alaric is beheaded while Mabille is hung. Years later, their descendants are taking a trip through the country and compelled to return to the castle the spellcasters once lived. Immediately, dark happeninigs begin in and around the castle. Alaric's talking head is unburied and reunited with its body and the group begin killing all who cross their paths. But that's not all. Once killed, the dead rise and the warlock and witch creep into the homes of residents of the adjacent village, seducing them and killing them in their bedrooms. It all culminates with a battle between the living and the undead at the castle steps!
Vampires, zombies, werewolves, and witches are tosses around with reckless abandon in HORROR RISES FROM THE GRAVE. While there is a lot of supernatural stuff is tossed around in this film, the rules are played fast and loose with many things just explained as "It's just magic!" and we are supposed to just buy it. It's fun to see all of these supernatural elements tossed at the viewer with such heft and dedication, but someone who needs for things to make some sort of sense is going to have an aneurism trying to make heads or tails of this film.
That said, the schlock is gloriously thick throughout this entire film. From over the top werewolf howls punctuating beats just at the right ominous time to gratuitous gore sequences where the evil literally rip the hearts out of the innocent with their bare hands. While this film predates DAWN OF THE DEAD, much of the attacks reminded me of the visceral attacks seen in Romero's film. The addition of spaced out zombies definitely reflects NIGHT OF THE LIVING DEAD and it's interesting to see Naschy as a disembodied head again after seeing him as a head transferred to another body in CRIMSON (also written by Naschy). Still, Naschy is doing a full on Dracula act with a flapping cape and all, though he is not identified as a vampire in the film itself, but has similar powers and weaknesses, including an aversion to a particular antique necklace. All of these are played with a lot of monster movie flair, though subtlety is not on the menu here.
As usual, Naschy is great, commanding every scene he is in either as the warlock or his modern day relative. Seeing him karate chop his foes will never get old despite how hokey it is. While HORROR RISES FROM THE GRAVE is not the scariest of films, it does pack a powerful triple punch of fantastic moos, awesome performance by Naschy, and nice amount of sloshy gore to indulge in.
Other films in the Paul Naschy Collection Vol.1!
HUMAN BEASTS
Other Paul Naschy Films Reviewed on AICN HORROR!
A WEREWOLF IN THE AMAZON
CRIMSON
WEREWOLF SHADOW
---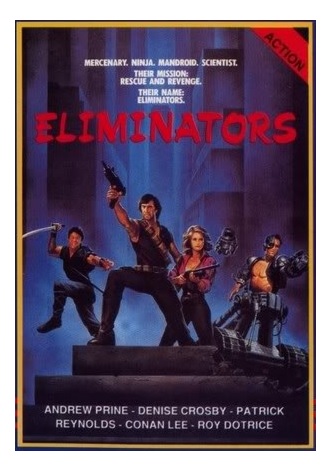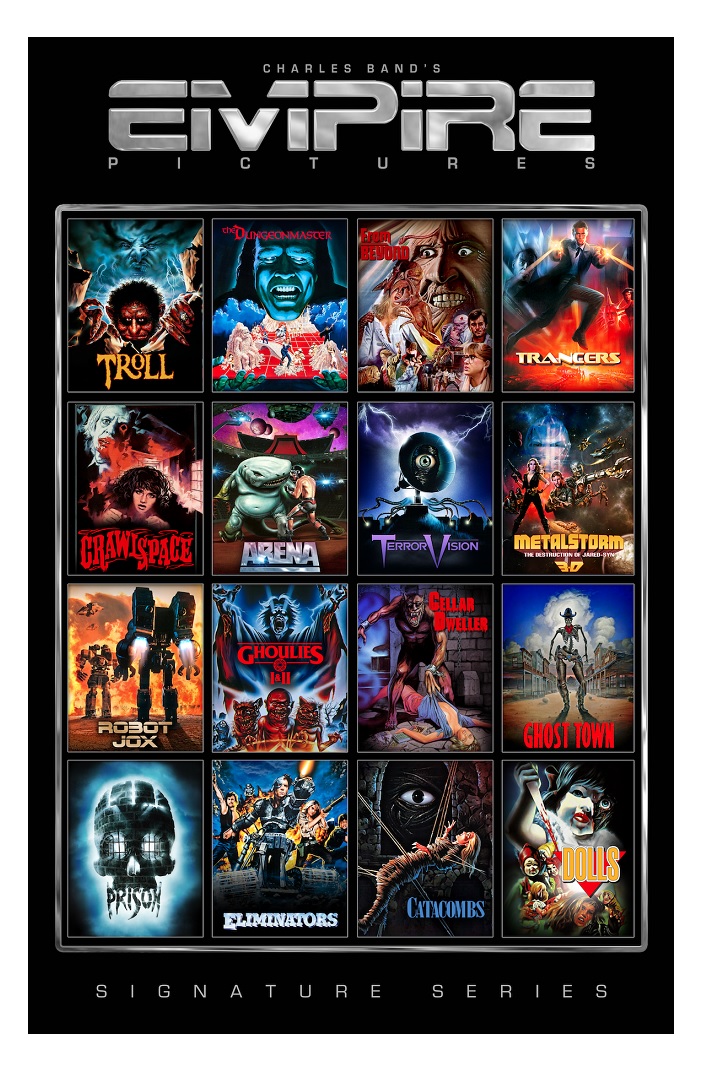 Retro-review: New in the Empire Pictures BluRay Box Set Collection from Full Moon Entertainment!
ELIMINATORS (1986)
aka DESTROYERS, MANDROID
Directed by Peter Manoogian
Written by Paul De Meo, Danny Bilson
Starring Andrew Prine, Denise Crosby, Patrick Reynolds, Conan Lee, Roy Dotrice, Peter Schrum, Peggy Mannix, Fausto Bara, Tad Horino, Luis Lorenzo, José Moreno
Retro-reviewed by Ambush Bug
Empire Pictures made some amazing films in the 80's. The precursor to Full Moon Entertainment stretched their budgets and put varied and extremely creative images on screen. These mini-epics tackle horror, sci fi and beyond and now they've collected them all in one huge, badass box set. I'm going to be covering each film in this collection over the next few weeks, but if you're a film collector, you're going to want to grab this set as soon as possible as there are only 600 of them. Check out this sizzle reel featuring some of the iconic films collected in this Box Set.
ELIMINATORS is a low rent STAR WARS with a lot of charm that makes up for the hokey effects and lack of originality. Attached to
THE DUNGEONMASTER (which I reviewed here)
, ELIMINATORS don't really eliminate anything, but the members of this rag tag band of adventurers are kind of fun to watch.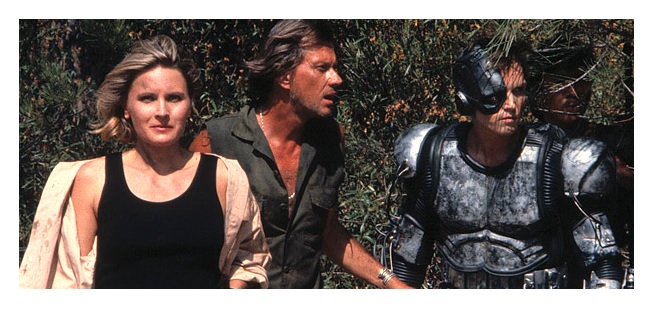 After a devastating crash, a pilot (Patrick Reynolds) is revived part man, part machine, part plastic as Mandroid. When he escapes from the lab that created him, Mandroid searches for the one doctor who invented the tech that saved him (Denise Crosby), before the evil Dr. Reeves (Roy Dotrice) can find him and destroy him. There's also time travel, robot sidekicks, boat races, cavemen, martial arts, and a skimpy wet T-shirt to be seen in this grandma's stew of a movie.
The filmmakers behind this one tried their damndest to toss in every cool thing in cinema here and hoped the final recipe doesn't taste too shitty. Because the budget was so low, it looks like after the Mandroid costume, nothing really was left to make things look futuristic, so they went post-apocalyptic and simply filmed most of the film along a dingy river. Obvious riffs on STAR WARS include a cantina scene, but instead of all sorts of aliens we get hillbilly boatmen complete with a butch Bayou Betty as a scallywag trying to vie for the job to transport Mandroid and his doctor friend through the rivers. But THE TOWN THAT DREADED SUNDOWN's Andrew Prine wins the fight and serves as the Han Solo of this one. Prine is actually kind of fun here, though he really needs to beef up a bit as he looks a bit too much like the Helicopter pilot from THE ROAD WARRIOR to be a leading man as they are trying to sell him here.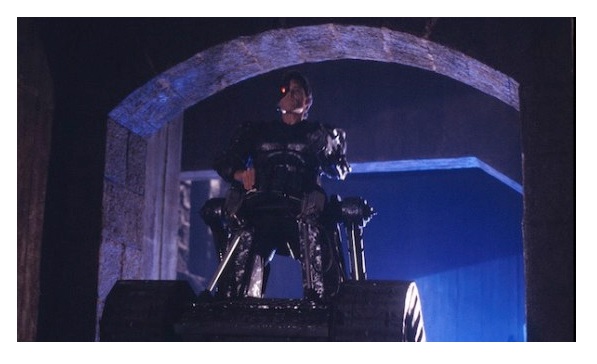 There's an obligatory wet T-shirt moment that most likely will have STAR TREK: TNG fans drooling as Crosby strips down and goes diving. But like everything else in this film, it's simply tossed in just to see if anything can come out cool. At least the wet boobs work as entertainment compared to the low rent martial arts and bad makeup on the cavemen. The whole thing ends just barely wrapping up the main plot of wiping out the evil doctor, but nothing really is resolved in terms of somehow getting Manborg into a getup that isn't so clunky or the crew returning to some kind of civilization. The whole thing ends in a He-Man laughing freeze frame that simply completes the film most likely because the cast and crew simply got sick of trying to ape other films.
While the effects are hokey, there's at least something fun in this film trying to convince us that ELIMINATORS is STAR WARS meets ROBOCOP; without all of those annoying things like good effects, engaging acting, engaging characters, and fun story.
Reviews for other films in the Empire BluRay Collection!
FROM BEYOND
PRISON
GHOULIES
GHOULIES II
TROLL
DOLLS
CRAWLSPACE
CELLAR DWELLER
---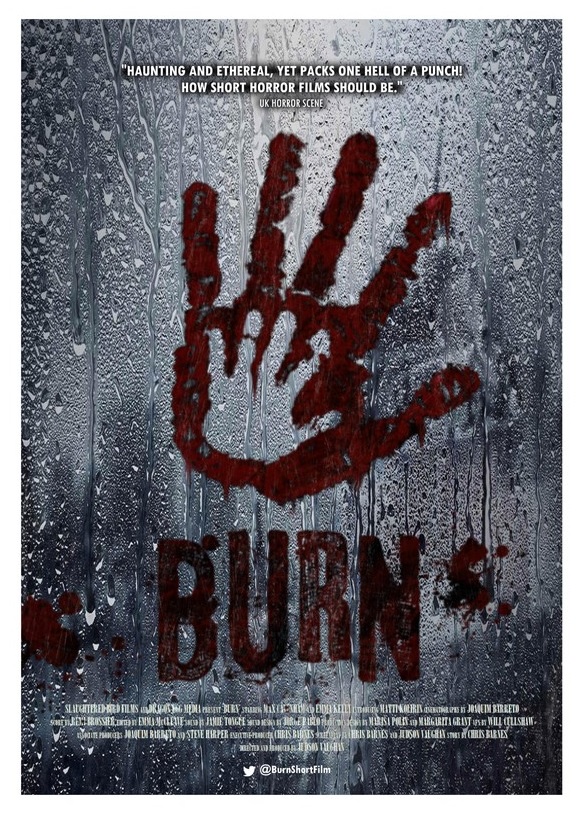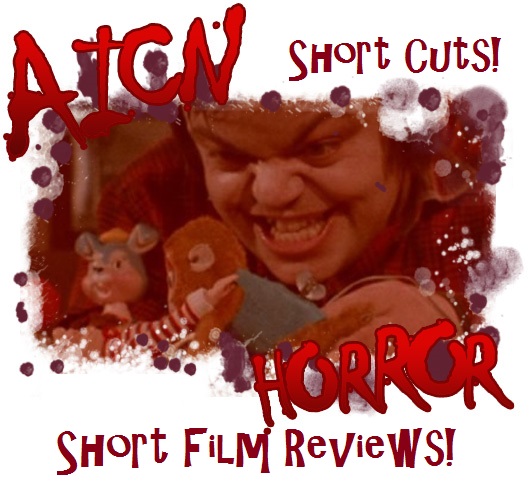 Currently touring festivals! Find out when and where @BurnShortFilm!
BURN Short Film (2017)
Directed by Judson Vaughan
Written by Chris Barnes & Judson Vaughan
Starring Max Cavenham, Emma Kelly, Matti Kolirin, Inês Marcelo Curto, Julius Rost, Sadie-Jane Scott, Judson Vaughan, Annabel Pemberton, Chris Barnes, Steve Harper
Reviewed by M. L. Miller aka Ambush Bug
BURN is a clever and wicked little short that is getting ready to tour the festival circuit. The film focuses on a family left in ruins when the father is revealed to be a serial killer. Half of the short focuses on the father making a video for his son letting him know what he does and what he might become. It's said that this video is one of many the father has left for his son. The story ends with a twisted punch line that suggests that what we know about the father is just the tip of the psychotic iceberg.
BURN moves at a pretty impressive clip, breezing through the capture of the father and settling down in order to really drive the scenes with the young son watching these videos home. This film offers up a compelling argument about nature vs. nurture and also the impact disturbing imagery has upon innocent eyes. While I don't think I agree that the psychotic mind is inherited, I will say that having a crazy father who makes videos addressing his son confessing to being a murderer most likely will cause an impact. Still, director Judson Vaughan keeps the story moving and makes it lean enough to make the ending extremely powerful and unexpected.
BURN views like a psychotic MY LIFE where a father knowing he is about to come to an end, wants to communicate with his child and guide him. It's just that that father happens to be a sadistic serial killer. This one is for those with a dark sense of humor and once it's available for the masses, I'll definitely be posting it at the bottom of this column.
Sorry, no trailer for this one just yet!
---
New this week On Demand from Uncork'd Entertainment !
GREMLIN (2017)
Directed by Ryan Bellgardt
Written by Ryan Bellgardt, Josh McKamie, Andy Swanson
Starring Adam Hampton, Kristy K. Boone, Christian Bellgardt, Katie Burgess, Stacy Casaluci, Connie Franklin, Raychelle McDonald, Rachael Messer, Caleb Milby, Mike Page, Kyle Pennington, Chris Crane, Christopher Sneed, Catcher Stair, Mike Waugh, Vicki Wilcox
Reviewed by M. L. Miller aka Ambush Bug
While it has nothing to do with Joe Dante's famous little monster movie from the 80's or its sequel, Ryan Bellgardt's GREMLIN is a fun little monster romp with a lot of strengths and a couple of weakness.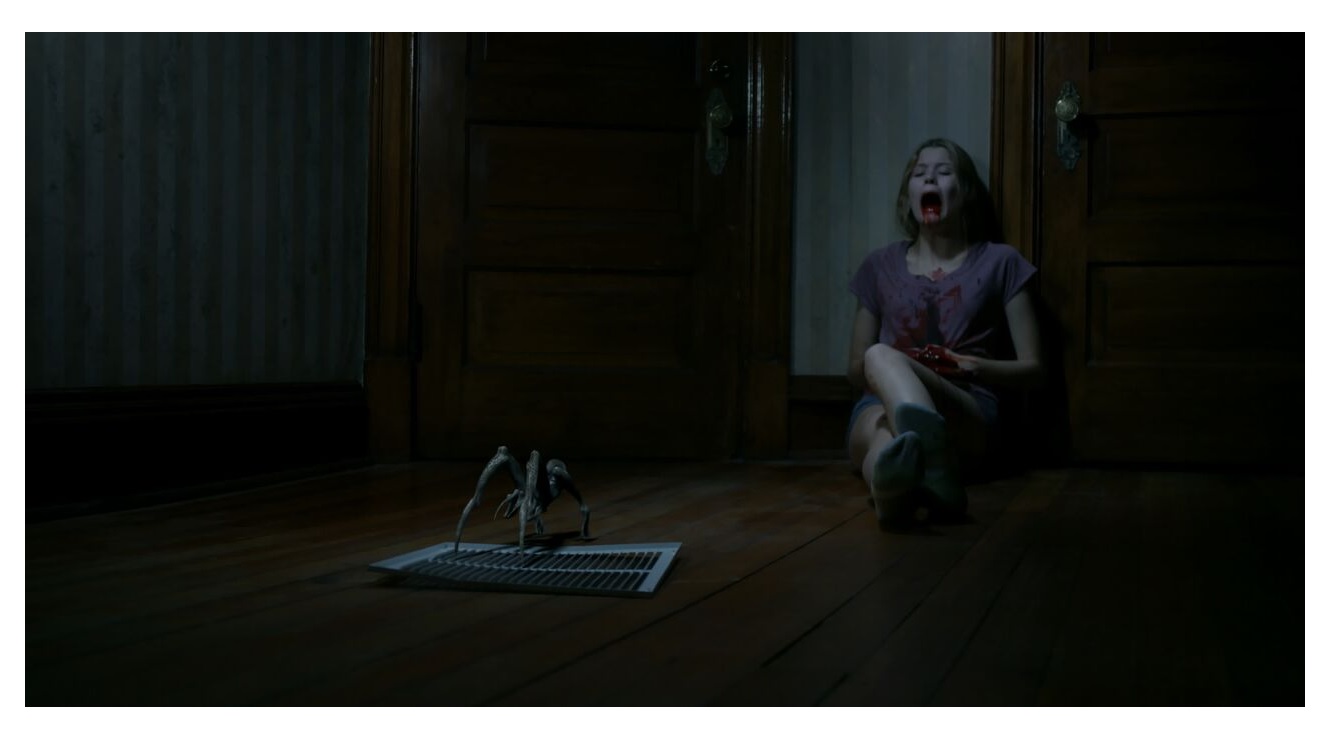 The story of GREMLIN revolves around a curse passed on via a box containing a little monster. The rule is that the box can only be given to someone you truly love, but if you don't pass it on to someone you truly love soon after, the little gremlin crawls out and tears your loved ones apart one at a time. When a distant uncle passes on the box to his mother, who then passes the box on to her other son Adam (Adam Hampton), the entire Thatcher family is placed in danger. The Thatchers have plenty of problems themselves as Adam is having an affair with someone from work, Adam's teen daughter Anna (Katie Burgess) is pregnant from her boyfriend, and the Thatchers' youngest son Henry (Christian Bellgardt) is traumatized the most as the family recently lost their middle child mysteriously. Battling these familial troubles is nothing, though, compared to the spindly legged monster rampaging through the house and then retreating into an unbreakable box.
While the acting in GREMLIN is hit and miss, the longer I stayed with it, the better it became. This probably had a lot to do with the compelling story which juggles the family issues as well as this supernatural threat pretty deftly. And while at times, the monster CG struggled with incorporating the monster into the same frame as the people, it is much better than most low fi horror CG and the design of the Gremlin itself is an absolute winner as I've definitely never seen anything like it before. I also liked the curse aspect of the film, though it does mirror some key plot points from IT FOLLOWS in a less carnal manner in the way the curse is passed from one loved one to another.
I liked the way the action culminates here as the threat of this little critter gets worse as the movie goes on. The film does a great job of highlighting the threat a little creature such as this can cause a family and while some movies feel the need to toss in a boatload of monsters at you in order to scare, this one does a decent job of making this one miniscule monster threatening. The biggest problem with this film, aside from some amateur acting, is the non-ending which really doesn't resolve a few key things. The film just kind of ends abruptly, with no real resolution to what happened to the middle Thatcher child (something devious is suggested, but never followed up on) and what happens to the curse after the climax? None of this is answered and instead we get an out of the blue shock ending that left me wanting a meatier emotional and narrative payoff.
Still, despite its faults, there is a lot of fun to be had with this GREMLIN film.
---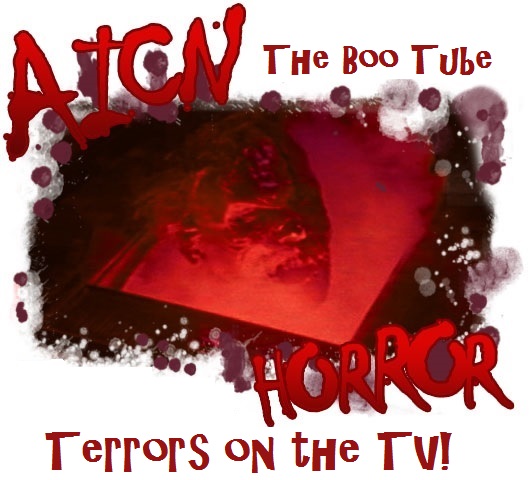 New on Netflix!
CASTLEVANIA Season One (2017)
Directed by Sam Deats
Written by Warrren Ellis
Starring Richard Armitage, Tony Amendola, James Callis, Matt Frewer, Alejandra Reynoso, Emily Swallow, & Graham McTavish as Dracula!
Reviewed by M. L. Miller aka Ambush Bug
Back in the day of my first Nintendo system, I wasted many an afternoon whipping the shit out of vampires with CASTLEVANIA. Now, I know very little about modern gaming. As soon as the number of buttons on the controllers became more than three, I was out. Plus, with comics and horror movies, I simply didn't have the funds to become addicted to yet another form of entertainment. No judgment on you gamers out there, it's just not my thing. But CASTLEVANIA strummed the strings of nostalgia pretty melodically when I heard about it, so I sat down and watched all four half hour episodes of Season One.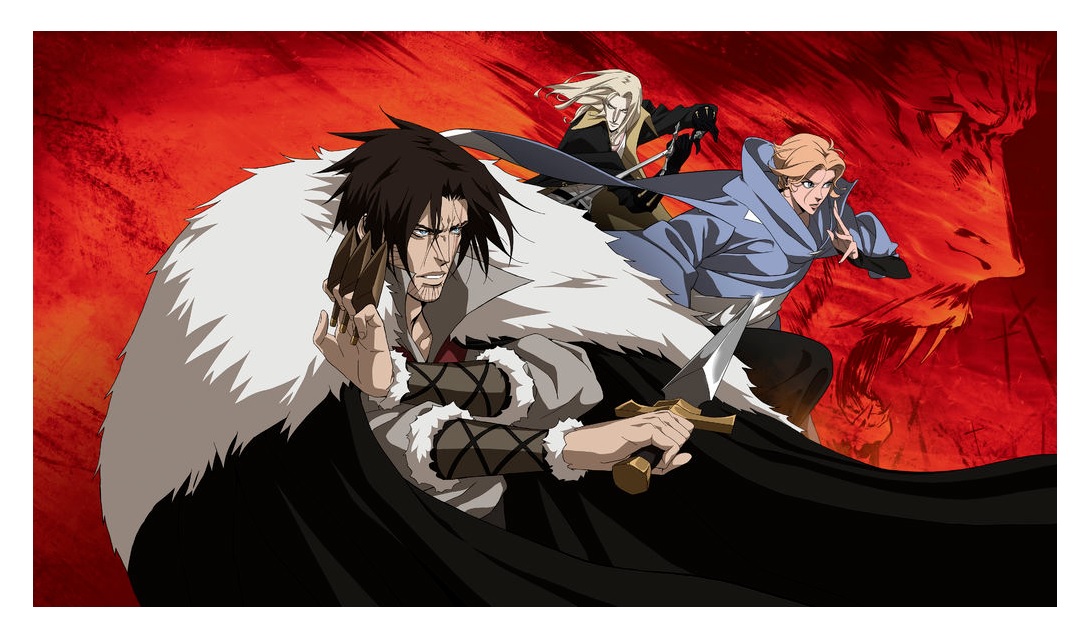 Apparently CASTLEVANIA actually follows the storyline set to CASTLEVANIA III: DRACULA'S CURSE. I believe I played the first and second of those games, but I think I exited the medium by the time three came out, so the storyline was new to me. I don't know how much the film follows the game, but for the most part, it seems to have all of the key players—namely Dracula (voiced by Graham McTavish) and the whip-cracking monster hunter Trevor Belmont (voiced by Richard Armitage). Episode one focuses on setting the stage for the main baddie Dracula. This episode does a great job of both establishing him as a formidable threat, but giving him a little back story that offers up a bit of a sympathetic side to the monster as a woman named Lisa (voiced by Emily Swallow) charms the cold heart of Dracula and she becomes his bride. Flash forward a bit of time, and we see Lisa burning at the stake after Dracula takes up her advice to experience the world as a common man and leaves her unprotected at the castle. A religious sect, lead by the fanatical Bishop (voiced by Max Headroom himself, Matt Frewer) incur the wrath of Dracula, forcing the church to hire a drunken and defeated Trevor Belmont to take on the menace. Episode two focuses on Belmont, a drunken lush in a bar trying to forget his own and his family's past sins, who is forcibly brought back into the world of monster hunting by the church. Episode three pairs Belmont with a gypsy cleric named Sypha (voiced by Alejandra Reynoso) who has magical powers of her own and her own vendetta against Dracula. This is an action packed episode that is most like the game as Belmont and Sypha make their way through numerous traps, corridors, and monsters. Episode four wraps up this short miniseries as Belmont and Sypha meet Alucard (voiced by James Callis), Dracula's opposite number who glows brightly and who seemingly once was connected with Dracula in some way. The series ends with a warrior three created to take on the forces of Dracula.
Written by the always interesting comic book and fiction writer Warren Ellis, CASTLEVANIA moves quickly and slowly all at once. Ellis manages to imbue every episode with large spectacles and rapidly paced fight scenes, but moves the players around only every so slightly from one episode to the next. While I appreciate the slow burn, I was surprised at the fact that there really isn't any kind of confrontation with Dracula by the end of these four episodes. I know that Dracula is the big boss of the last level, but the fact that he appears prominently in the first episodes and then sort of disappears is an interesting choice for this story. Now, it may be that Alucard (Dracula spelled backwards) is a not so clever ruse and Dracula is actually there or that Alucard sort of represents Dracula's lost soul, but Ellis doesn't reveal those cards just yet and I'm hoping for a bit more depth than those two rather obvious hypotheses. Still, each episode has plenty of toothy demons and other beasties to battle. Belmont's prowess as a monster killer is put to test numerous times on his own and leading an army against a horde of demons in a vivid action sequence. All in all, the story is exciting and provides just enough character moments and wonderful turns of a phrase such as "God shits in my dinner once again." to make every episode feel rich and full.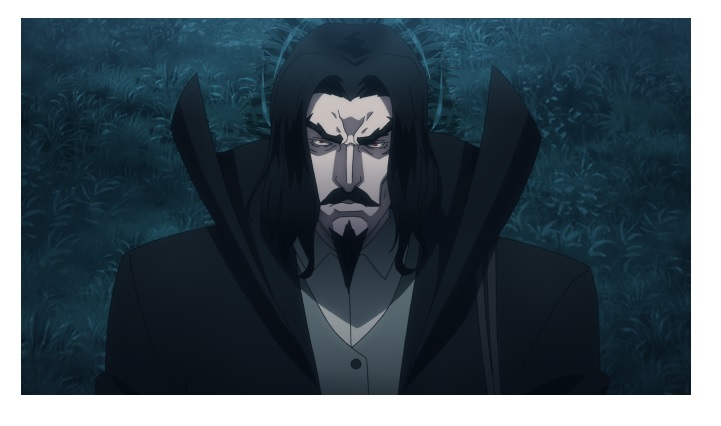 The cartoon artwork in CASTLEVANIA feels both old school and completely fresh all at once. Reminiscent of the vibrant way THUNDERCATS used to swirl around the characters and bring them to life, CASTLEVANIA's "camerawork" and movement are fluid and fun. Extreme angles, glowing infernos, swooping demons, and shots following Belmont's whip as it cracks into the beasties all show that on top of some fine writing, there is a talented eye at work making every episode unique and visually filling. Director Sam Deats seems to be new to animation, but makes every episode look dynamic.
Fans of the game will have fun seeing the pixilated character of Belmont and all of the monsters come to life. And even if you aren't a fan, CASTLEVANIA provides all you need in four manageable chunks to catch everyone up with a compelling story and fantastic imagery. While I was left with wanting more than just four episodes, what I got was a lot of fun and I'd definitely recommend it to folks who know that horror can come in all kinds of packages, even animated ones.
---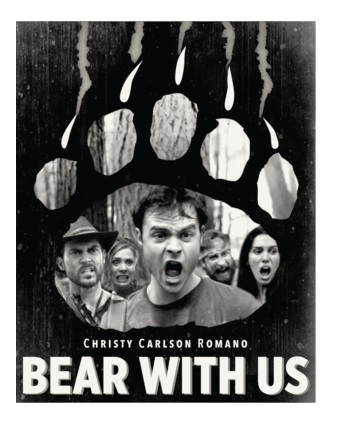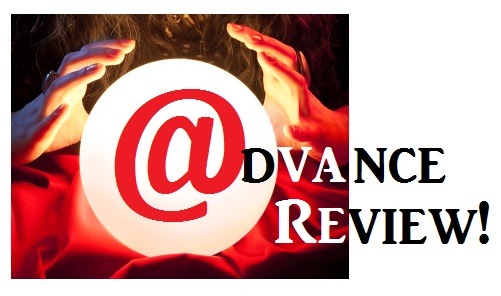 Coming soon!
BEAR WITH US (2016)
Directed by William J. Stribling
Written by Russ Nickel, William J. Stribling
Starring Mark Jude Sullivan, Christy Carlson Romano, Collin Smith, Cheyenne Jackson, Alex McKenna, Curtiss Cook, Alice Ripley, Kevin Carolan, R.J. Lewis, Allen McCullough, Jade Rubenstein, Stephen Guice, Lori Argyle, Lea DeLaria
Find out more about this film here and @bearwithusfilm
Reviewed by M. L. Miller aka Ambush Bug
BEAR WITH US is a goofy comedy with a pitch black sense of humor that I found to be a lot of fun in a sitcommy sort of way. Filled with some talented comedians and a clever script, the film really is a fun little indie flick about a couple with relationship problems looking for answers, a bear suit, a wedding ring, a bag of cocaine, and a real live bear on a murderous rampage!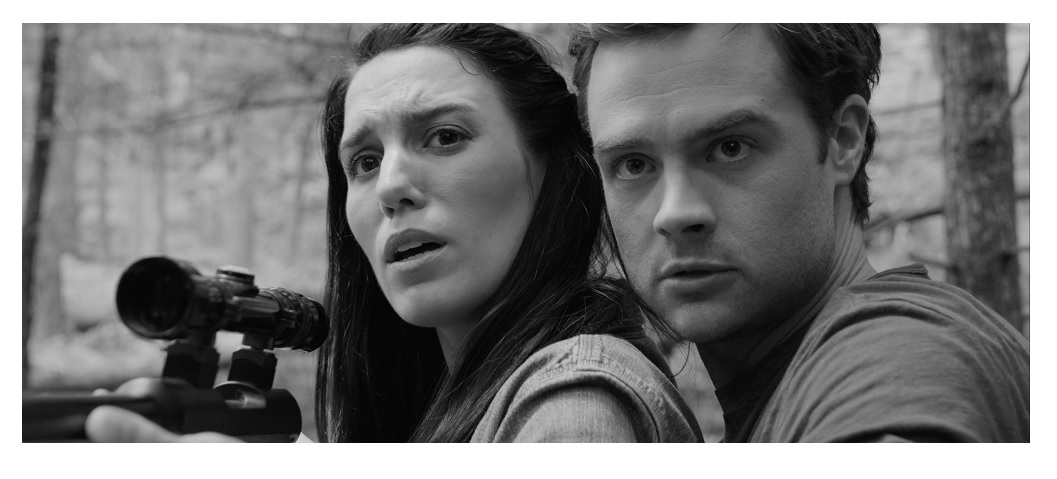 Mark Jude Sullivan plays the aptly named Colin Dense who proposed once to his girlfriend Quincy Adams (Christy Carlson Romano) and it didn't go so well. So Colin has hatched a plan with his equally dense buddy Harry (Collin Smith) to bring Quincy out to the middle of the woods and put her in peril, so she can then feel bonded with Colin and due to the dire situation they are in, she will realize she is the right one for him. While this idea is convoluted, it makes sense in the film while highlighting Colin's misguided notion that Quincy is absolutely flawless, something that Quincy knows is not true since she is having an affair with someone behind Colin's back. Along for the ride is the flower child-esque coke-snorting friend of Quincy's named Tammy (Alex McKenna). With a bear suit in a tow and a full plan of attack, Colin and Harry set out to prove Quincy's love for Colin. What they don't know is that there is a real bear loose and a brawny bear hunter by the name of Hudson (AMERICAN HORROR STORY's Cheyenne Jackson) who has a penchant for telling long stories and a weird thing about D batteries. Antics ensue.
I know by calling this film sitcom-esque might feel like a putdown but it really isn't. The film maks the most of its four leads, giving them full and fun characters for the audience to get into. Each of them is flawed in some way. Colin is likable but densely thinks Quincy is perfect. Quincy is in love with Colin, but often comes off as self-centered and heartless. Harry is even dumber than Colin at times, but seems to be the only true innocent (and blissfully ignorant) of the bunch. And despite an avid coke dependency, Tammy's free-thinking attitude is nothing less than lovable. Seeing these characters bounce off of one another is fantastic in a way you only get from the best of sitcoms. Tossing thee overly macho Hudson and the antithesis of the dolts Colin and Harry represent and you have a bear shit-load of awesome characters. Once the characters are established, it's time to set the overly-complex plan in motion and that's where the real fun begins.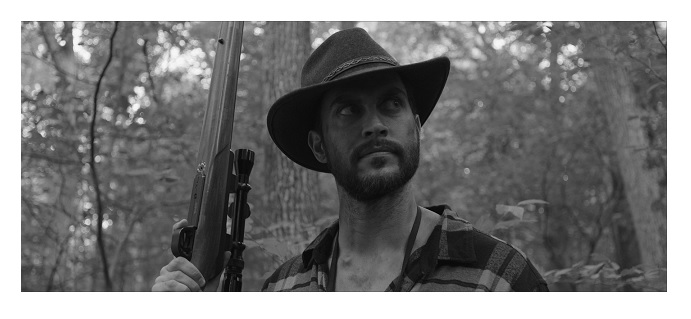 And there are tons of antics. How could there not be when two bumbling idiots dress up like a bear in the middle of a forest that is threatened by a real bear. Add some cocaine to the lemonade and everyone running around like madmen and there is nothing but pure fun going on in these woods. The film is light on gore, but there are some accidental shootings that had to smart and a few off-screen bear maulings to qualify this as a very dark comedy. Plus there is one extremely gory scene that goes on so long that I couldn't help but laugh at its absurdity.
BEAR WITH US made me laugh all the way through and never really misses a comedic beat. The actors involved all shine in their roles and while some of the time the comedy is performed broadly, it always seemed to come from a smarter place rather than broad, stupid comedy. BEAR WITH US is a riotous little piece of woodland horror comedy worth checking out!
---
And finally…get ready for another old timey radio play. In this episode of LIGHT'S OUT, we are haunted by "Lord Marley's Ghost!" Here's the ever ominous Arch Obler whispering, "It…is…later…than…you…think!" Enojy!
---
See ya next week, folks!

Ambush Bug is M. L. Miller, original @$$Hole/wordslinger/writer of wrongs/reviewer/interviewer/editor of AICN COMICS for over 15 years & AICN HORROR for 5. Follow Mark on the Twitters @Mark_L_Miller and on his new website collecting posts for AICN HORROR as well as all of the most recent updates on his various comic book projects on MLMillerWrites.com.



---




---
Find more AICN HORROR including an archive of previous columns on AICN HORROR's Facebook page!
---
Interested in advertising with AICN HORROR? Click this link and talk with me about how to help keep this column running strong!