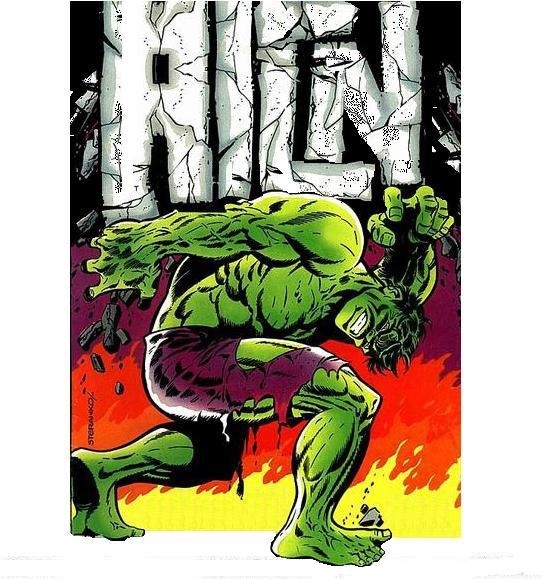 Hey folks, AICN COMICS/AICN HORROR editor Ambush Bug aka M.L. Miller here. I'm headed to the West Coast next week for Comic Con in San Diego. But before I go, I have a gaggle of reviews and a few news bits before I start packing my bags.


---
First, I want to alert you to the On Demand and Itunes release of a film called SHE MAKES COMICS from XLrator Media. Director Marisa Stotter describes the film as SHE MAKES COMICS traces the fascinating history of women in the comics industry. Despite popular assumptions about the comics world, women have been writing, drawing, and reading comics since the medium's beginnings in the late 19th century. And today, there are scores of women involved in comics and its vibrant fan culture. Here's the trailer and an exclusive clip from the film below!


---
I'll be once again hosting my panel, REINVENTING HORROR and have an exciting group of panelists all set to talk about the genre we all know and love. This is the tenth time I'm hosting this panel at San Diego and this year's panel is going to be a great one. Expect lots of surprises and an in depth conversation about horror. It's always a lot of fun and if you're going to be at the con, come on over to Room 23ABC on Friday 7/21/17, from 5:00-6:00pm. Here's the official JIGSAW announcement from Lionsgate posted on Deadline and the official description of the panel and the guests is below!

Reinventing Horror: What's Next in Film and Comics!—M. L. Miller (Gravetrancers, Pirouette writer/Ain't It Cool News editor) continues a decade long convention tradition of gathering a group of talented horror filmmakers & comic creators to discuss & dissect the horrors they make & what (if anything) scares them. This year Miller brings together the best and brightest in horror including The Spierig Brothers (Jigsaw, Predestination directors/writers), Justin Benson & Aaron Moorehead (The Endless, Spring directors/writers), Roxanne Benjamin (XX, Southbound director/writer), Matteo Pizzolo (CalExit writer, Black Mask Studios publisher), Bryan Edward Hill (Postal writer, Top Cow editor, screenwriter) and possibly some extra-special guests to talk about how to reinvent the genre; pushing new limits, reaching new audiences of different cultures/genders/social classes, twisting old concepts, & crafting brand new terrors to keep you up at night! Room 23ABC, Friday 7/21/17, from 5:00-6:00pm.


---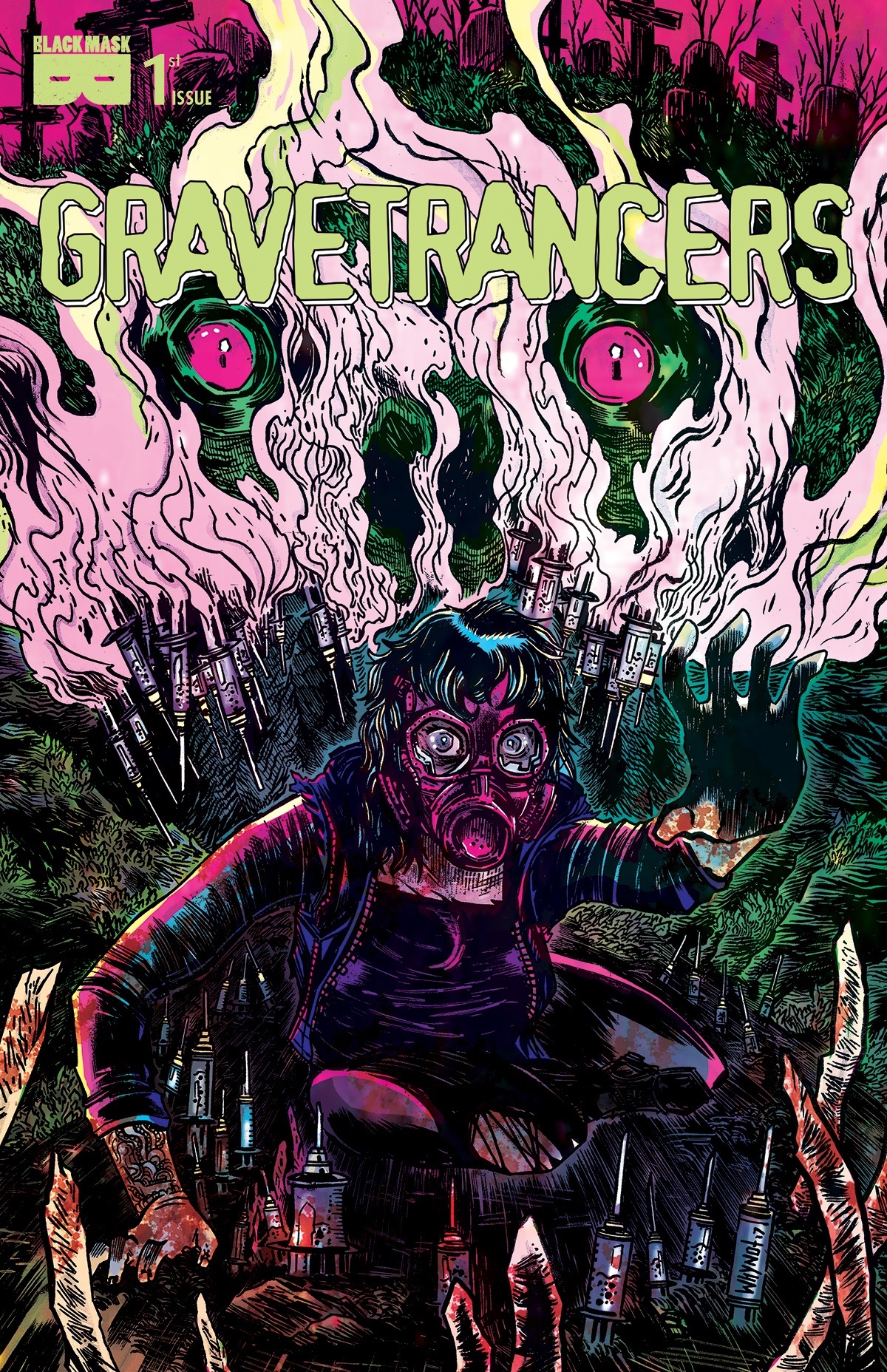 And speaking of horror, now for another moment of shameless self promotion; I've got a new comic book coming out in September called GRAVETRANCERS from Black Mask Studios. It's in July's Diamond Previews under item code #JUL171455. Please let your comic shop know they should order a plenty as it's a pretty potent little horror tale, if I do say so myself with mesmerizing pencils and inks of James Michael Whynot, psychedelic colors by Dee Cunniff, and bold and beautiful letters by Jim Campbell! The four issue miniseries follows Maribel and Anthony who are in search of the grave of their dead father, not knowing that they are stumbling into a graveyard owned by an eccentric clan of grave-robbers who've devised a highly-addictive drug made from human remains–and the fresher the corpse, the stronger the dose. What started out as an attempt to reconnect with the past becomes a descent into a psychedelic, neon-colored nightmare—will Maribel and Anthony find their way through the hallucinogens or will they become the next hit? I think it's a story fans of grindhouse horror are going to love. The news broke on Bleeding Cool here and on ComicCon.com. You can order GRAVETRANCERS #1 here!
OK, enough about San Diego, I'll be reporting from there all next week. Here are those comic book reviews!
The Pull List

(Click title to go directly to the review)
LADY MECHANIKA: THE CLOCKWORK ASSASSIN #1
THE CHILLING ADVENTURES OF SABRINA #7
SKYBOURNE #7
RICK & MORTY: POCKET LIKE YOU STOLE IT #1
THE GREEN HORNET '66 MEETS THE SPIRIT #1
---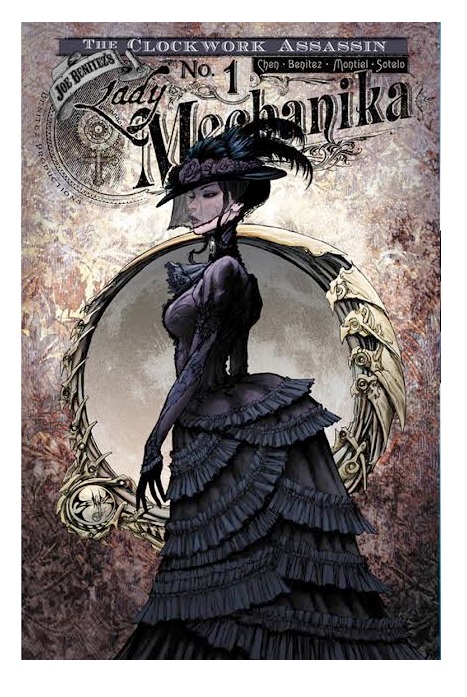 LADY MECHANIKA: THE CLOCKWORK ASSASSIN #1
Writers: Joe Benitez & M.M. Chen
Artists: Joe Benitez & Martin Montiel
Publisher: Benitez Productions
Reviewer: Masked Man
I wouldn't call myself a Steampunk fan by any stretch of the imagination. I don't hate Steampunk, I just don't find it interesting by itself. To that, I'm always surprised how much I enjoy Benitez's LADY MECHANIKA! Nearly every Lady Mechanika series has been just an excellent adventure tale, and THE CLOCKWORK ASSASSIN seems to be no difference.
So these stories take place in a fictitious world and Lady Mechanika is a bit like Wolverine. She woke up one as a cyborg, with no memory of who she was or how it happened to her. She quickly joined up with some thugs, but soon figured that life wasn't for her. So she has set-up shop, as a 'hero-for-hire' in Mechanika City (named for it's rampart industry, not her). In each adventure, she is often reminded that she is not normal, and is often haunted by what has happened to her, making her a cyborg.
Getting into the issue, a.k.a. spoilers, Benitez and Chen have set-up a murder mystery. Lady Mechanika's partner in crime (so to speak) is inventor and tinkerer, Archie Lewis. Years back, he worked for the 'Lex Corp' of Mechanika City, Blackpool Industries. Well one of his former co-workers was just murdered. As all the former co-workers gets together for the funeral, two more are murdered. A witness to one of them describes the killer as Lady Mechanika herself! Who else could chop a human body in half so easily! Mechanika's friend, Detective Inspector Singh, doesn't quite believe it, so he asks her for help in the matter.
This is all good, all good! If you like murder mysteries or adventure stories in general, you need to buy this. It's just classic murder mystery stuff. While the story itself is quite light and breezy, it's also charming as hell too. And that's the real secret to Lady Mechanika's world, everything is so damn charming. Even as Benitez creates a string of cliché characters and plot points, they all have just enough extra thought and effort put into them so they are not boring, but charming arch types. Like Mechanika herself, there are a ton of attractive female heroes out there. But none of them are as stiff-upper-lip, dry sense of humor, and yet still earnest heroes as she is. And of course Benitez draws everything just beautifully (I'll also mention that this is not cheese cake!).
For myself, this book couldn't come at a better time. Over the past year, I've become very brow beaten by the lack of spark in comics. It seems like everything is either a trite adaption of a 20 year old property, an AMC/HBO series wannabe, or the simple maligning of a classic character. And more often than not, written very pretentiously. Benitez' LADY MECHANIKA is just prefect in it's simplistic elegant story telling and superior artwork. I can't think of another comic book doing it better than this right now.

---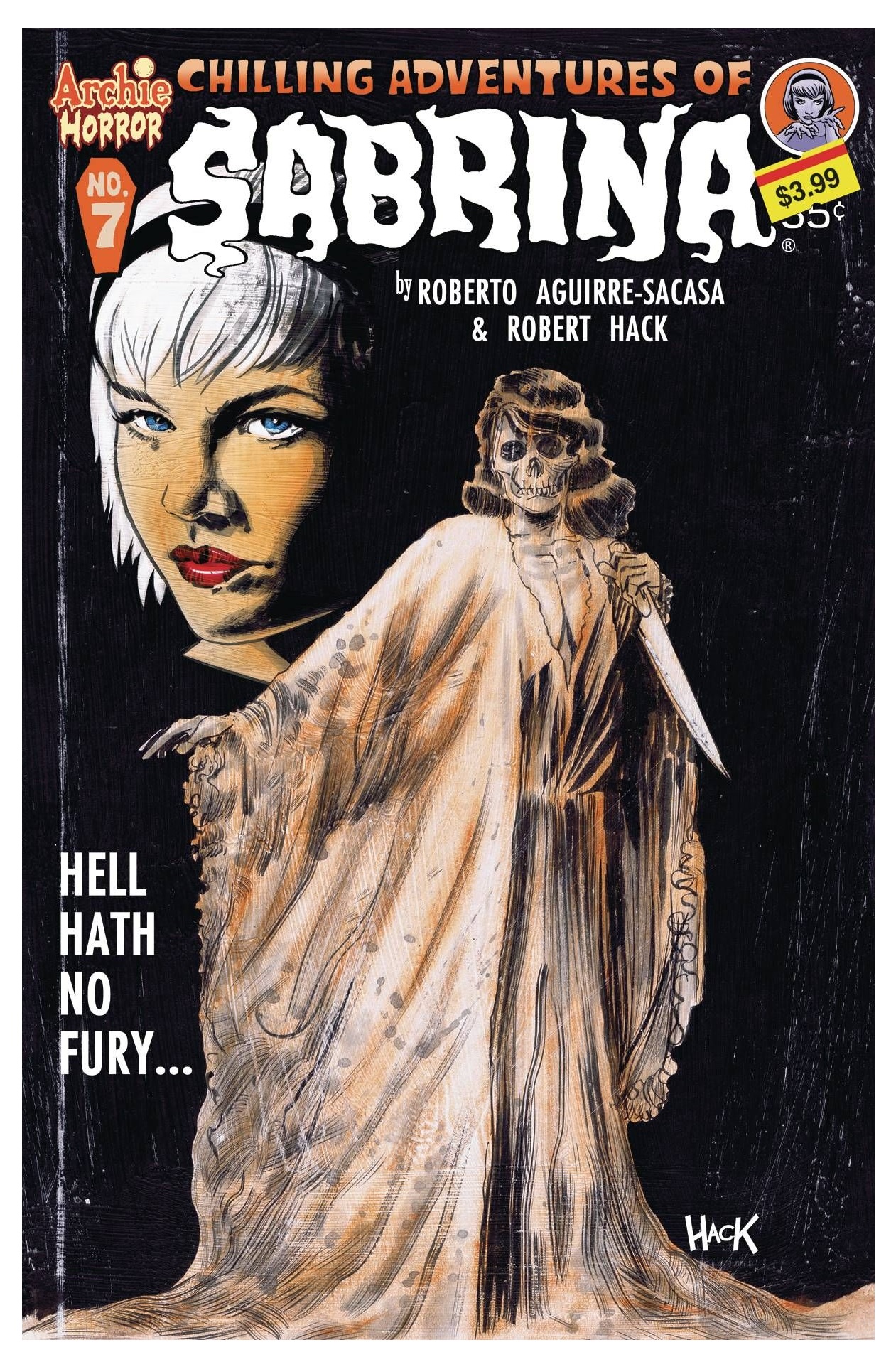 THE CHILLING ADVENTURES OF SABRINA #7
Writer: Roberto Aguirre-Sacasa
Artist: Robert Hack
Publisher: Archie Comics
Reviewer: Lyzard
We had to wait two months in between the lackluster CHILLING ADVENTURES OF SABRINA #5 and the sixth issue that, instead of returning to the glorious goriness of earlier books gave us Salem's unnecessary backstory. Twelve months later and what does CHILLING ADVENTURES OF SABRINA #7 do? Yet another lengthy flashback.
In this issue of CHILLING ADVENTURES OF everyone but SABRINA, we learn about Edward Spellman's past as a devious, little Eddie Munster, prominent widow's peak and all. A talented conjurer from a young age, Spellman quickly garnered favor from the Church's leadership. Not sure if Catholics should be more appalled by the Church of the Night bastardizing all their sacraments and rites or that their bishops seem somewhat less evil than some in the Light. Moving along from my sacrilegious observations, little Eddie grows into the manipulative Edward who lusts for women and, more importantly, power. His betrothal to a mortal provided a suitable heir, but a dangerous distraction as well. If you've read the early issues of the series, then you know the twist of fate that was to come. At least the seventh issue, unlike book #6, gives us some present-day plot advancement, bookended with Mr. Spellman in a Harvey Kinkle body-suit.
I'll be honest, I feel betrayed as a reader. This was my most anticipated book of the entire year. JUGHEAD: THE HUNGER didn't satisfy my need for Archie-universe horror and the fan theory regarding Sabrina's arrival in RIVERDALE sadly ended up being just that. Sorry for any of those who picked up Moritat's variant edition. That's quite some misleading art, prominently featuring a character who makes only a passing appearance. You could make an argument that the issue was meant to give us character development, to build out Edward's character before the Spellman vs. Spellman book. But I didn't walk away with any new, pertinent info. We already knew he cared dearly for his daughter and had some feelings for his ex-wife. Who cares that he was a manipulative bastard at a young age? We all kind of assumed, didn't we?
I'll concede that there are some redeeming elements to the book. Aguirre-Sacasa is a stellar world-builder, but narrative pacing is not his forte. The issue starts off appropriately morbid and grisly and ends just the same. I would have been less disappointed by a dollar book of just those five pages than what I got. Hack's artwork, as well, hasn't lost its impact. He is as adept a conjurer as little Eddie, able to instill a sense of dread and horror over readers, leaving lingering goosebumps well after the issue's conclusion. Yet even in he I can find fault. Referencing Eddie Munster is one thing, drawing the spitting image of the character is just distracting.
So is CHILLING ADVENTURES OF SABRINA #7 a good book, featuring quality writing and artwork? Objectively, yes. In comparison to the rest of the series? Absolutely not.
Lyzard is Lyz Reblin, a graduate student at Michigan Tech pursuing a doctorate in Rhetoric, Theory, and Culture... which is just a fancy way of saying she plays a lot video games, watches far too many horror films, and then tries to pass it all off as "research."
---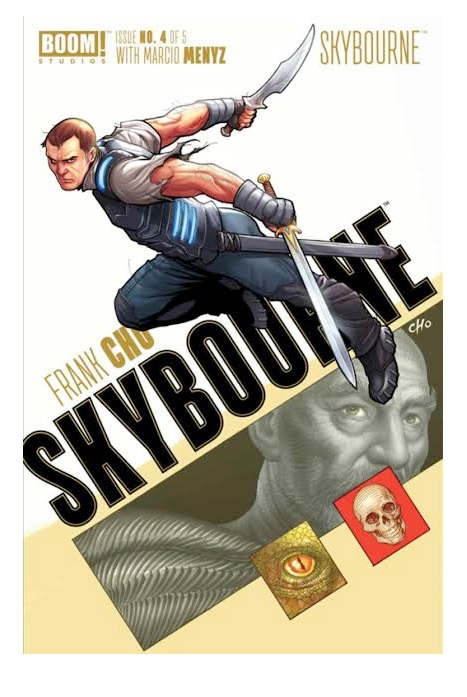 SKYBOURNE #4
Writer / Artist: Frank Cho
Publisher: BOOM! Studios
Reviewer: Masked Man
Well it took about seven months, but Boom finally got another issue of Frank Cho's SKYBOURNE out! And for those of you who care about such things, he does draw a naked woman in the issue (the first of the series, mind you). So either whip out your wallet to get a copy or your laptop to start laying some angry smack down on him! For the rest of us, let's talk about the issue itself.
So Skybourne(s) are the immortal and invincible children of Jesus. The main character is Thomas, who is just sick of living. And then there's his sister Grace, who was just killed. Both of them have worked for the Mountain Top, a secret organization that spends it's time protecting the world from magical creatures and / or weapons. Although sometimes they are just imprisoning them to imprison them. Now that Grace has been killed by Merlin (the guy from Camelot), Thomas has rejoined the Mountain Top. They hope he can defeat Merlin, and he pretty much hopes Merlin can kill him too.
In this issue (be prepared for spoilers) the climatic battle kicks off. Merlin, and his pet dragon, has attacked the Mountain Top's mountain base (duh), looking to open Pandora's Gate (ha, you thought it was a box). Along the way, he has freed all the creatures being imprisoned there. As all hell is breaking loose in the mountain base, Thomas, and a small squad of soldiers hunts for Merlin. Of course, they finally face off right in front of Pandora's gate. Big spoiler now: Meanwhile we discover, Grace wasn't really killed. As she busts out of the morgue, butt-naked (and there you are).
As with the previous issues, this one is light and breezy. It's almost just an excuse to look at Cho's amazing artwork of monsters and muscle men. Though the story is fun enough. The reveal in this issue is pretty cool too. As for the action, which is the bulk of the book, it reminded me of BIG TROUBLE IN LITTLE CHINA. As our main hero, Thomas Skybourne, (who is quite a bit out of practice) never really gets a chance to fight anyone.
Cho has created quite an interesting (if not massively derivative) world here. And honestly, there is just no way he can explain it all with one final issue. So I'm guessing, SKYBOURNE is a concept he will dip in and out of, in the coming years. Depending how good the final issue is, will most likely determine whether or not I decide come back for another SKYBOURNE go around.
---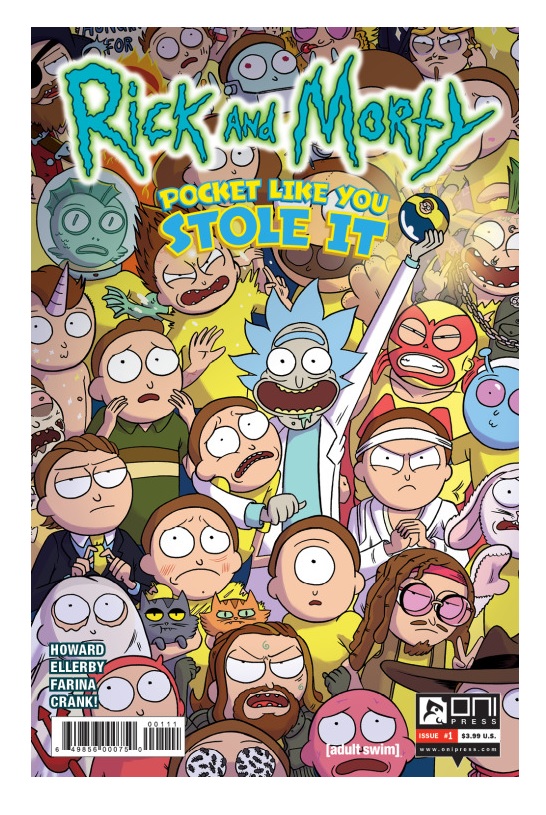 RICK AND MORTY: POCKET LIKE YOU STOLE IT #1
Writer: Tini Howard
Art: Marc Ellerby
Publisher: Oni Press
Reviewer: Justin Burkhardt and @justinburkhardt on Twitter
Oni Press's new Rick and Morty comic book is inspired by a mobile game called, Pocket Mortys. I've been a Rick and Morty fan since day one (so I guess that makes me a Rick and Morty hipster?), but haven't played the game because I generally avoid downloading mobile games. The concept of the game is a lot like Pokemon, and the object is to collect different Mortys and win badges by battling your Mortys against others (mostly Ricks). So does a comic based on a TV show's mobile game actually work? Yes, yes it does.
RICK AND MORTY: POCKET LIKE YOU STOLE IT #1 is the start of a new mini-series written by Tini Howard (MIGHTY MORPHIN POWER RANGERS: PINK, THE SKEPTICS) with art by (DOCTOR WHO: THE 11TH DOCTOR, NORMAN). Rick is the Ash Ketchum here, if you will, trying to catch all the different Mortys. And boy there are a lot of different Mortys, my favorite being Ants in my Eyes Morty, a nice play on the hilarious Ants in my Eyes Johnson from the TV Show.
Where this comic really succeeds, just like the other Rick and Morty comics, is in its tone. It reads just like you're watching the show and I can almost hear both Rick and Morty's voices as I'm reading their dialogue. That's a credit to writer Tini Howard, who's able to continue the great work Dan Harmon and Justin Roiland have created.
The humor is exactly what you'd expect from Rick and Morty (I especially loved Rick's when doves cry joke). The book also has its meta moments as well, like when Morty is describing another mobile game to Rick. The downside to this book is that if you're not familiar with Rick and Morty, this isn't a good jumping on point. It expects you to already be familiar with the characters and the humor (though you don't really need to have played the game, because as I said I haven't and I still enjoyed it).
The art, by Marc Ellerby looks very close to the show and it's great. I mean if it's not broke, don't fix it right? Ellerby has worked on two other Rick and Morty comics, and his familiarity with the universe is apparent. All the new Mortys, even the ones just in the background, look fantastic. There are also plenty of visual jokes as well in this issue, and the "cut-out trading cards" are a nice added touch to the book.
Those who can't wait for season 3 of Rick and Morty to start on Adult Swim (July 31st!) will enjoy this spin-off of a spin-off while they wait. After two seasons, you either like Rick and Morty, or you don't. If you do, read this book which I give 5 out of 5 evil Mortys…... And if you're still somehow one of the few people out there who hasn't yet watched an episode of Rick and Morty, I urge you to do so because you're missing one of the best animated series of all-time.
---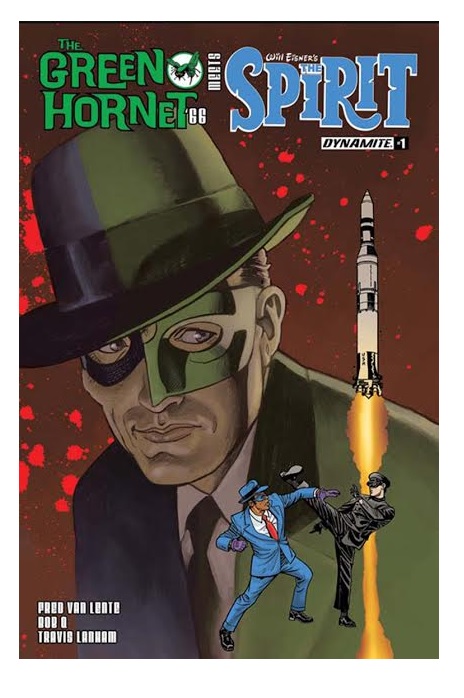 THE GREEN HORNET '66 MEETS THE SPIRIT #1
Writer: Fred Van Lente
Artist: Bob Q
Publisher: Dynamite Entertainment
Reviewer: Masked Man
Dynamite is back with another classic hero team-up. They've been handling the GREEN HORNET for a while now, and recently they picked up THE SPIRIT, so it makes perfect sense to match them-up. Fred Van Lente is putting together the script for this six part adventure. Van Lente has worked on various projects like GENERATION ZERO for Valiant, CONAN for Dark Horse and MAGNUS: ROBOT FIGHTER for Dynamite. As for artist Bob Q, first time I'm hearing about him.
So as you might be able to guess by the cover, this story takes place in 1966. As this is the TV series version of the Green Hornet. Like many of Dynamite's crossovers, they like to keep characters in their proper timeline (in their team-up, the Lone Ranger never really met Zorro, as Zorro was too d@mn old). So the Spirit first appeared in the 1940's, making him an older gent for this cross-over. Kind of lame if you ask me, but oh well. Oh, and I will say team-ups with the Green Hornet are always cool, because everyone thinks he is a villain. Therefore the mandatory superhero / superhero fight actually makes sense!
Getting into the spoilers, this is a fairly brief issue, with only two scenes. Both of them taking place in a technology pavilion at Central City's World Fair. The first has Brit Reid (a.k.a. the Green Hornet) showing off his prediction machine. Learn tomorrow's headlines today! One of it's prediction is that the Spirit, who has been missing for 13 years, will reappear this very night! In the second scene, thugs attempt to steal the prediction machine, but are stopped by the Green Hornet and Kato. Then the Spirit drops in to capture the Green Hornet. As they fight, we learn there is no prediction machine, as it was all a ruse to draw out the villain, Kid Kraken (Kid Kraken is said to be the prodigy of the Octopus, the Spirit's arch-foe). Then Kid Kraken appears and a battle royal ensues. But, (big spoiler here) we learn the Spirit is not Denny Colt(!?), but his African American side-kick, Ebony, all grown-up (or at least that's who I assume the guy is).
So this issue is light and breezy. Though as a first issue, I kind of wish there was more to it. Even the complicated ruse seems kind of wasted, as it was just used as set-up. Mind you, I did enjoy that this issue jumped right into the action. The Green Hornet and Kato's banter was nice as well.
Bob Q's artwork is very nice as well. Clean and detailed enough to be engaging. He has a slight anime style (not the typical huge eyes / crazy hair style mind you), which is quite well done. Dynamite can be very hit and miss with their artist, but I'd say Bob Q is definitely a hit.
So, THE GREEN HORNET '66 MEETS THE SPIRIT kicks off with a fun little issue. I think any Spirit or Green Hornet fan should enjoy it. For everyone else, no reason not to try it.
---
Editing, compiling, imaging, coding, logos & cat-wrangling by Ambush Bug
Proofs, co-edits & common sense provided by Sleazy G
Remember, if you have a comic book you'd like one of the @$$holes to take a look at, click on your favorite reviewer's link and drop us an email. Check out AICN COMICS on Facebook and Comixpedia!
---