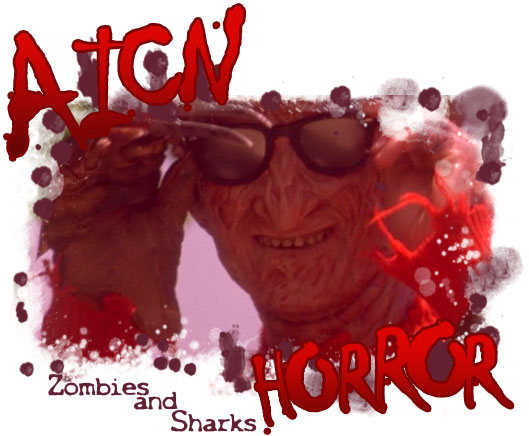 Logo by Kristian Horn
What the &#$% is ZOMBIES & SHARKS?
---
Welcome to the darker side of AICN! M. L. Miller aka Ambush Bug here with another AICN HORROR: ZOMBIES & SHARKS column. Before we jump into the reviews, I want to toss out a few news bits you all might be interested in.
---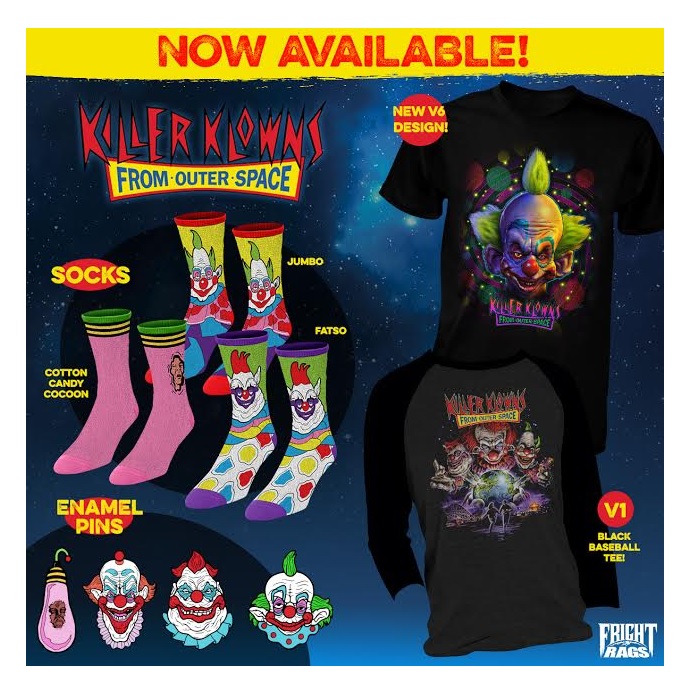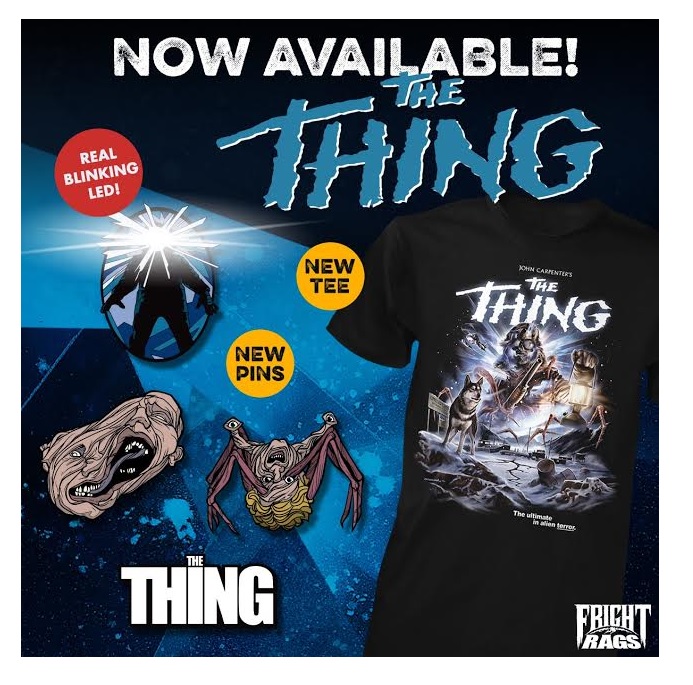 It's six months before the holidays, but you can never start getting your presents too early. The maniacs at Fright Rags have just released two sets of shirts, pins, socks, and such featuring art and imagery from JOHN CARPENTER'S THE THING and the cult classic KILLER KLOWNS FROM OUTER SPACE!
You can pick of any of the merch from the pics on the right and left by clicking on this link
!
---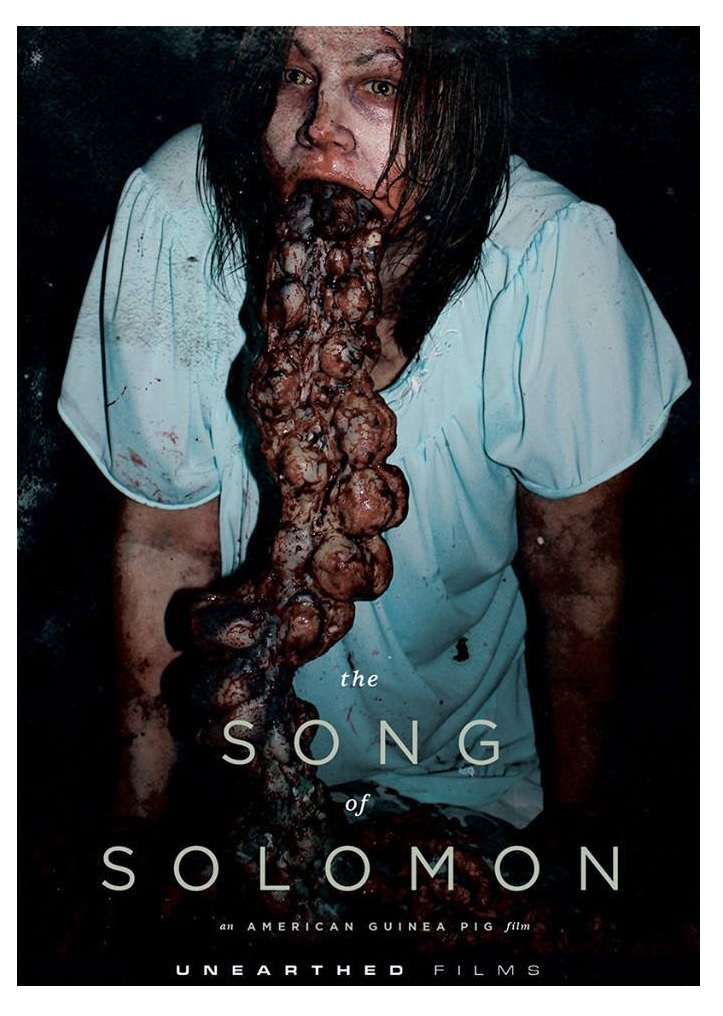 Here's a new project from Unearthed Films called AMERICAN GUINEA PIG: SONG OF SOLOMON and SACRIFICE that is currently in the final days of their IndieGoGo campaign. Now, the Unearthed Films are intense and not for everyone, but they also celebrate the beauty of the grotesque in ways no other company does these days (I mean, check out those insane posters over there). Their latest project, SONG OF SOLOMON is described as;
Mary witnesses the brutal suicide of her Father. His death unleashes the savage forces of demonic possession in his daughter. The End of Days is upon the world, famine, drought, looting and chaos is ripping the world apart and the Catholic Church is trying to save an innocent soul from the ravages of satanic possession. Wave after wave of holy men are sent to confront the possessed but what is the Holy Church actually doing? The City on Seven Hills is working on the Second Coming of Christ but before He comes back… the Antichrist must rule for seven years. The Song of Solomon's true nature is to unleash an evil the world has been waiting for since the beginning of time.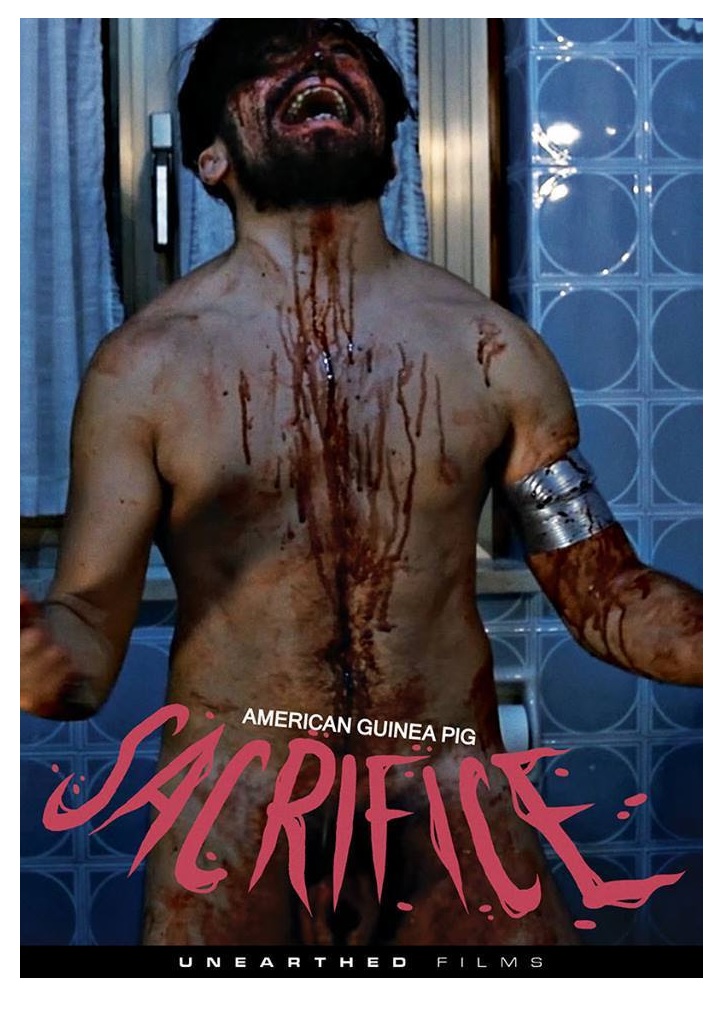 And SACRIFICE is described as;
Haunted by the death of his father and other psychological traumas, Daniel (Roberto Scorza) returns to the home where he was raised. Faced with intense emotional scars, as well as physical -- which are realized by the years of self-harm depicted by the cuttings adorning his body -- he enters the bathroom to begin a journey of self-exploration, self-mutilation and quite possibly, self-enlightenment. Prepared only with three white candles and some crude instruments, Daniel attempts to beckon the embrace of the Goddess Ishtar (Flora Giannattasio) to assist him on his self-illumination.
If you're brave, click on the pitch trailers below.
You can support SACRIFICE and SONG OF SOLOMON's IndieGoGo campaign here!
---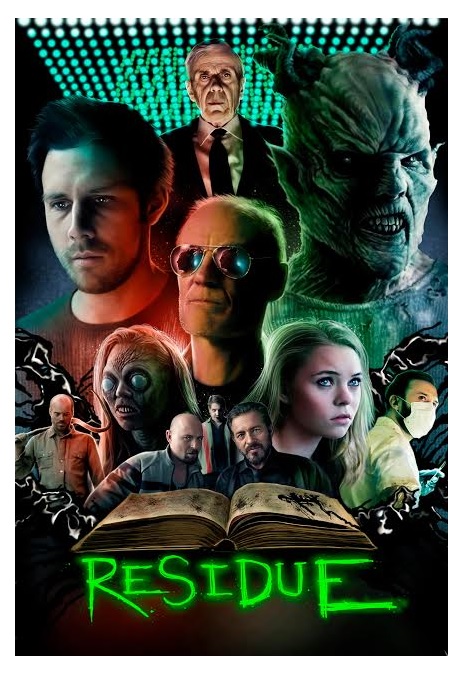 I have one more exclusive clip and trailer for the new film RESIDUE from director Rusty Nixon and starring James Clayton, Taylor Hickson, Costas Mandylor, Matt Frewer, & William B. Davis. The low fi sci fi film is described as;
Private investigator Luke Harding (James Clayton) reads a book of sinister origins owned by seedy crime lord Mr. Fairweather (Matt Frewer). Unbeknownst to Luke, the book is a much sought-after supernatural artifact and Fairweather's greatest rival, the enigmatic Mr. Lamont (William B. Davis), pursues Luke with his henchmen (Costas Mandylor, Michael Matic). While the criminal underworld is desperate to retrieve the book and harness its power for their own dark agendas, it's evil begins to take root in Luke's apartment; putting himself, his daughter (Taylor Hickson) and his secret love (Elysia Rotaru) in a fight for their lives... and their eternal souls.
RESIDUE is going to be available On Demand and digital HD platforms on July 18th. Here's a clip from the film followed by the trailer!
---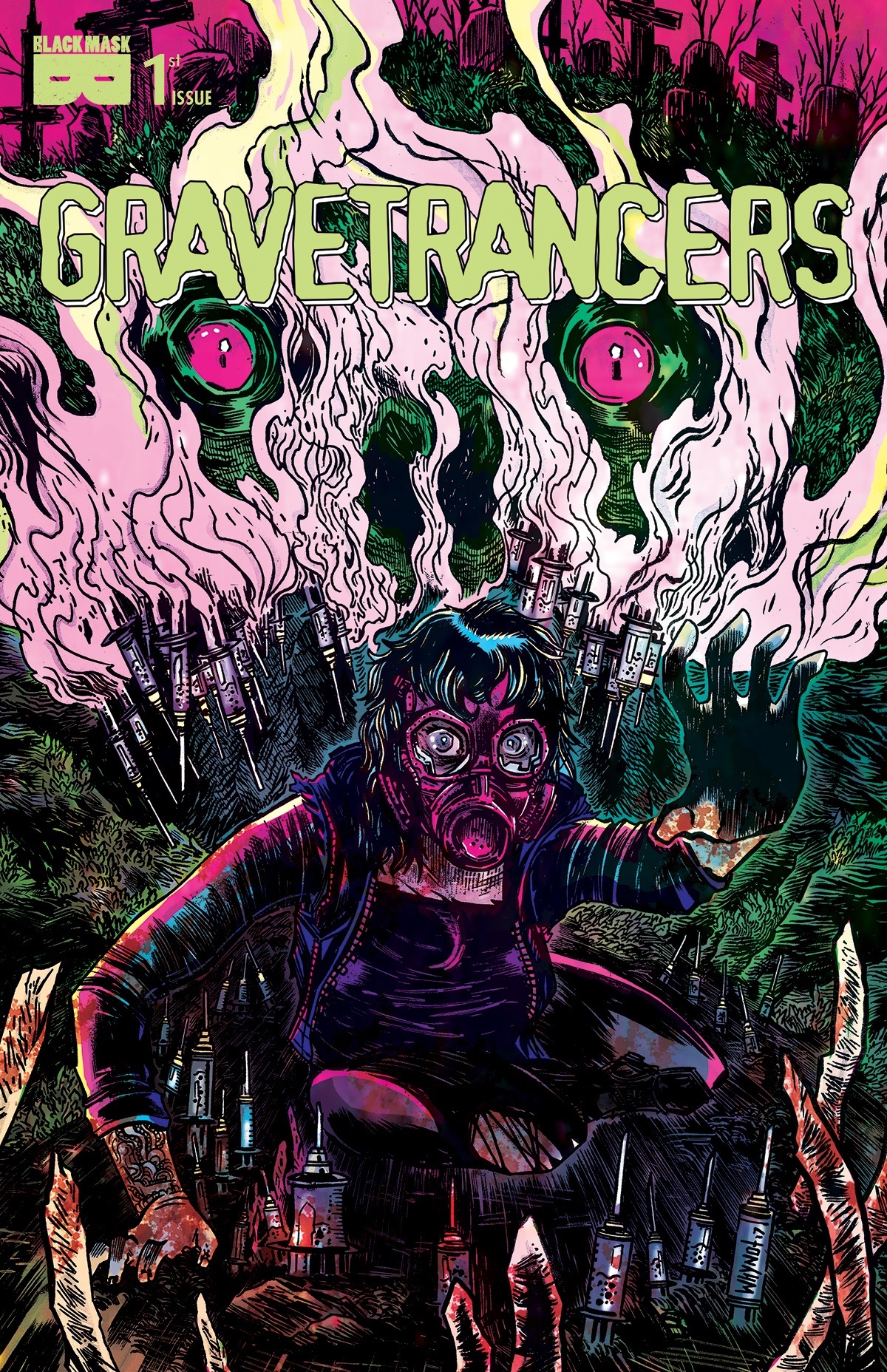 And now for another moment of shameless self promotion; I've got a new comic coming out in September called GRAVETRANCERS from Black Mask Studios.
It's in July's Diamond Previews under item code #JUL171455
. Please let your comic shop know they should order a plenty as it's a pretty potent little horror tale, if I do say so myself with mesmerizing pencils and inks of James Michael Whynot, psychedelic colors by Dee Cunniff, and bold and beautiful letters by Jim Campbell! The four issue miniseries follows Maribel and Anthony who are in search of the grave of their dead father, not knowing that they are stumbling into a graveyard owned by an eccentric clan of grave-robbers who've devised a highly-addictive drug made from human remains–and the fresher the corpse, the stronger the dose. What started out as an attempt to reconnect with the past becomes a descent into a psychedelic, neon-colored nightmare—will Maribel and Anthony find their way through the hallucinogens or will they become the next hit? I think it's a story fans of grindhouse horror are going to love.
The news broke on Bleeding Cool here
and on
ComicCon.com
. You can
order GRAVETRANCERS #1 here
!
---
I also wanted to give out an open call to advertisers interested in helping to keep this column running. Any inquiries should contact me here!
On with the horror reviews!
Today on AICN HORROR

(Click title to go directly to the feature)
Retro-review: THE HUNTING PARTY (1971)
Retro-review: BEN (1972)
Retro-review: STAR CRYSTAL (1986)
Retro-review: CELLAR DWELLER (1987)
The Boo Tube: LET ME OUT: THE RUSSIAN SLEEP EXPERIMENT Season 1 (2015)
ZOMBIE CROC (2015)
LAND SHARK (2017)
THE WAKE (2017)
BLOOD HUNTERS (2016)
PEELERS (2016)
THE BELKO EXPERIMENT (2016)
Advance Review: NAILS (2017)
And finally…"The Russian Sleep Experiment" Creepy Pasta!
---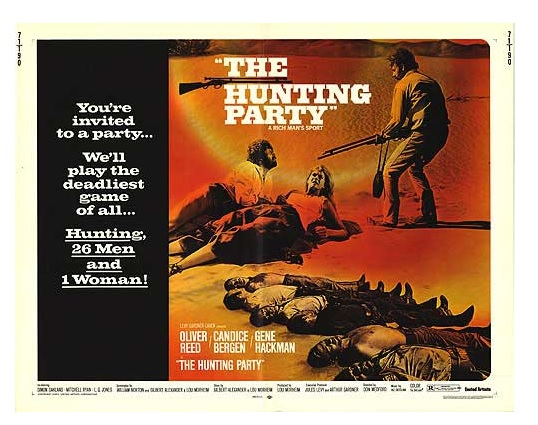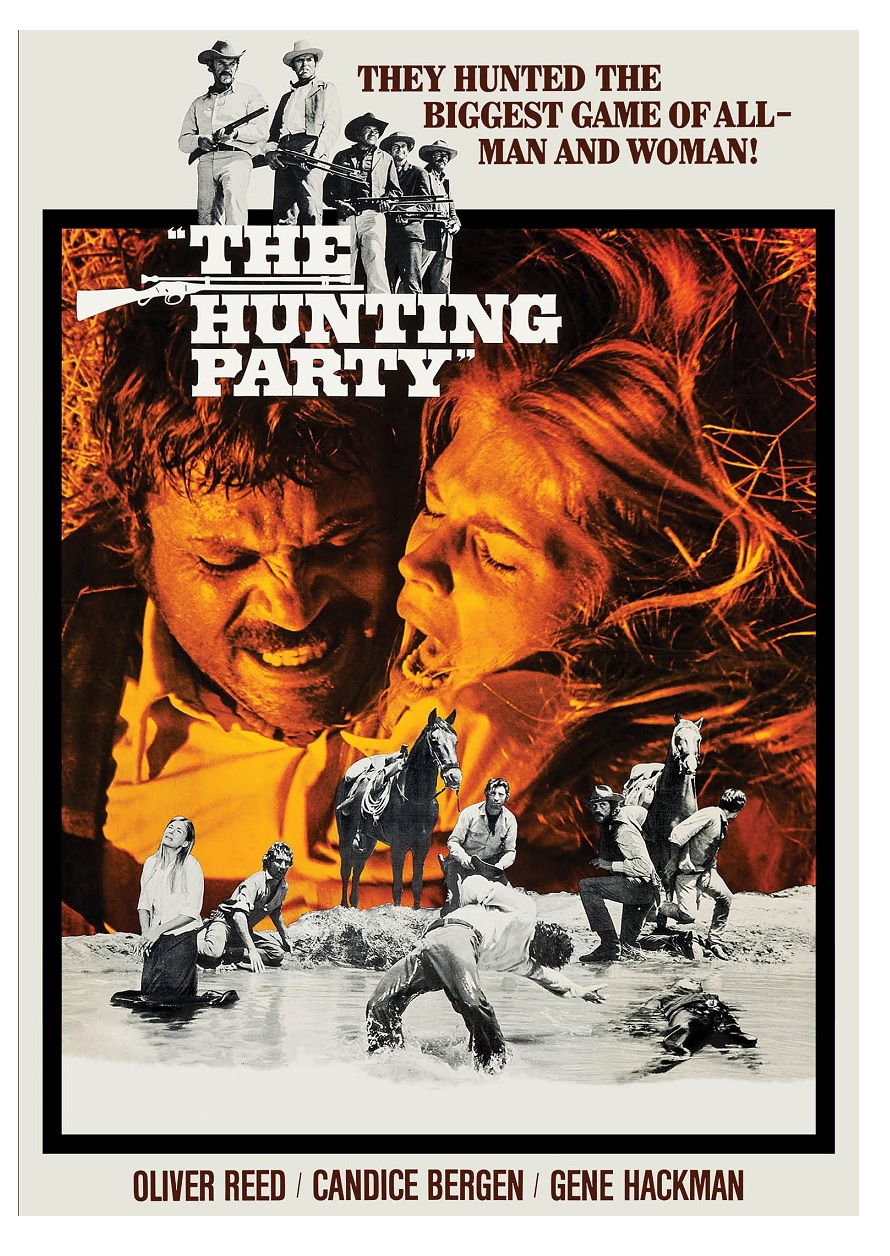 Retro-review: New this week on BluRay from Kino Lorber!
THE HUNTING PARTY (1971)
Directed by Don Medford
Written by Gilbert Ralston, Lou Morheim, William W. Norton
Starring Oliver Reed, Gene Hackman, Candice Bergen, Simon Oakland, Ronald Howard, L.Q. Jones, Mitchell Ryan, William Watson, G.D. Spradlin, Rayford Barnes, Bernard Kay, Richard Adams, Dean Selmier, Sarah Atkinson, Francesca Tu, Marian Collier, Ralph Brown, Charly Bravo, Eugenio García, Rafael Albaicín, Emilio Rodríguez, Max Slaten, Lilibeth Solison, Bud Strait, María Luisa Tovar
Retro-reviewed by M. L. Miller aka Ambush Bug
THE HUNTING PARTY is a gritty and grimy Western twist on THE MOST DANGEROUS GAME story. I was unaware of this one, but seeing that this is a film pitting Gene Hackman against Oliver Reed over Candice Bergen, I knew it was something I had to see. Even if there weren't heavy dollops of sadism, bloody bullet wounds, and despicable characters, I'd still recommend this grindhousey Western to anyone who loves Westerns and horror alike.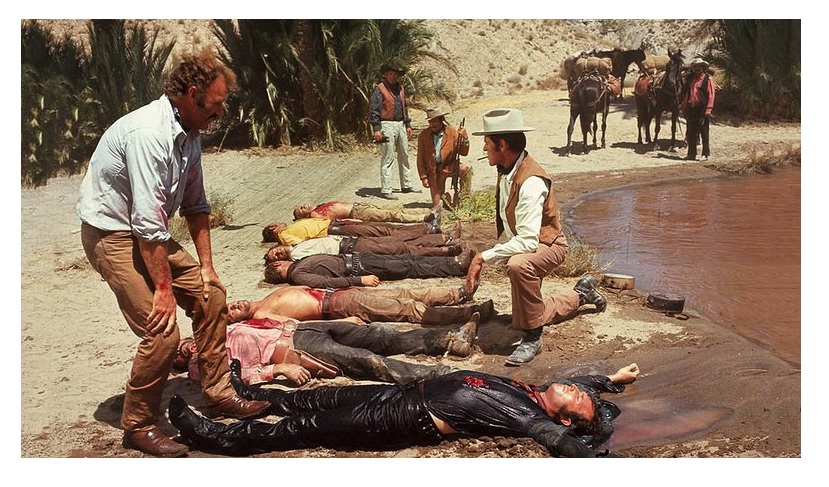 THE HUNTING PARTY opens with a wealthy rancher Brandt Ruger (Gene Hackman) having rough sex with his schoolteacher wife Melissa (Candice Bergen). Cut to the outskirts of Brandt's ranch and we see surly outlaw Frank Calder (Oliver Reed) murdering a cow and eating some of the raw meat intercut with the violent sex scene. It's a poignant and compelling juxtaposition of the grisly killing of a cow and the sex scene where Melissa is begging Brandt to not be so rough. As Frank chomps on the cow meat, he is told not to come into town by the local sheriff—an order that he immediately disobeys as he leaps on his horse and rides into town, abducting Melissa in front of her schoolchildren and making off into the sunset. Now, one would think that there is some kind of history between the two, but this turns out to be a chance encounter as Frank doesn't seem to know Melissa is Frank's wife. Word gets to Brandt of his wife's abduction as he is en route to a hunting expedition with three other wealthy landowners. Brandishing rifles with new telescopic scopes and increased firepower, Brandt sets out to take down Frank and his men, and Melissa too since Brandt thinks the surly cowpokes have already soiled her. Meanwhile, Frank reveals that he only abducted Melissa to teach him to read and begins to develop a real relationship with her that is much more meaningful than her relationship with Brandt ever was.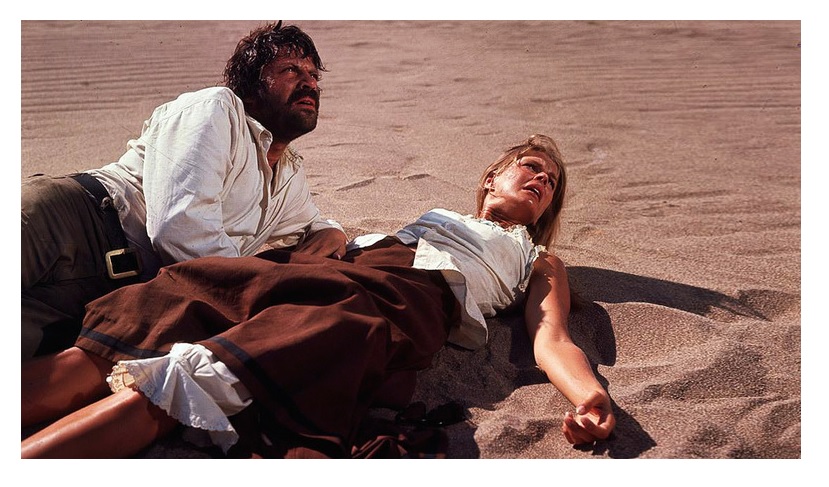 For a Western film, that's a whole lotta complex emotions being lobbed around. The same goes for a horror film and it's a testament to this film that it is able to convey a story about conflicting emotions a woman might have with her husband, her abductor, and to violence itself. Melissa is devoted to her husband, but is obviously not into Brandt's version of kink, but bears the bruises in order to live the comfortable life. When Frank abducts her, the first intention of the gang is to rape her, but he saves her. Yet later, there is a violent scene where Frank rapes Melissa himself after she tries to run off on him after he saved her from the rest of the surly group. But it's during this rape that Melissa notices that even though this is an act she has not okayed, Frank is still more passionate and considerate than her husband. Eventually, this difference between Frank and Brandt makes Melissa choose Brandt. This is something no sane filmmaker would try to get away with in this day and age, but it's kind of fascinating to see play out and noting how much the concept of consensual sex has changed in such little time. This whole film is basically about an abused woman choosing between the better of two abusers which, if you think of it, is a pretty fucked up concept.
I've always been a sucker for a good MOST DANGEROUS GAME story be it the original black and white adaptations (like
A GAME OF DEATH, reviewed here
) or modern interpretations like SURVIVING THE GAME or more recently
PARASITES, reviewed here
. Maybe it's the fact that I had such a strong reaction to going to hunting with my father and grandfather as a kid, but something about the role of human as hunter always fascinates and abhors me. While the prey in this film is less than innocent, the rich haves tracking down and hunting the have-nots like animals is a story that still resonates. Seeing Brandt and his crew with weapons that put them so far advanced over their prey and seeing how Frank and his men still seem to muster the grit to keep going says a lot about both parties. If you're a fan of this subgenre, THE HUNTING GAME is one that really does highlight the suspense and tension of the hunt as Brandt relentlessly stalks his prey, hitting them from a distance rather than facing them head on.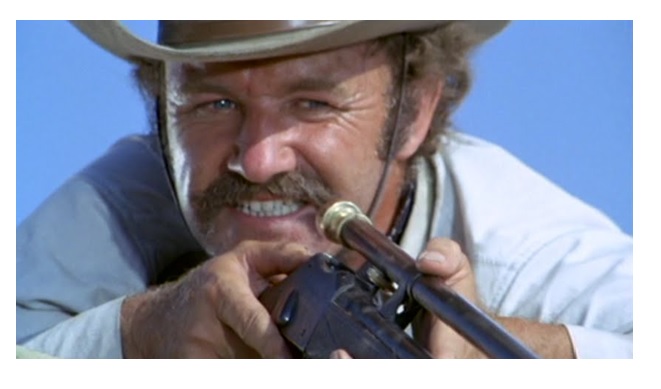 On top of all of the uncomfortable rapey stuff, there's a lot of great gore going on as the rifles tear right through Frank's crew with bloody bursts of carnage. There are a few squib hits that look painful and a few bullet hits that seem surprisingly real as the bullets tear through the men's bare skin. This is just one grueling little Western that is bloodier than most. Also top notch is the acting. This film really plays on the strengths of Hackman and Reed. Hackman is at his best when he plays a conniving asshole and he does it here to perfection. From his stacking the deck against the outlaws to his sadistic mistreatment of some prostitutes with a candelabra and a cigar, Hackman snickers with evil glee at all of his misdeeds. On the other end of the spectrum, Oliver Reed displays his stare that could stop a rhino numerous times here. Some of them are stares of seduction toward Bergen, but others convey the seriousness of his intent to his men and his growing need for vengeance towards his pursuer who is too cowardly to get close to him. Reed is full on Wolverine here—the Wildman who is more noble than the savage minded nobleman that Hackman represents. Seeing the way they interact with Bergen is complex, but the actors being who they are makes it all even more resonant. Reed versus Hackman is a battle for the ages.
The film does get a bit extraneous in the middle. There's lots of downtime for Bergen and Reed's characters to get close, which makes their love more believable, but also made me look at my watch a few times. Still, the powerful and dramatic ending made up for the extended wait. This BluRay edition of THE HUNTING PARTY comes with a few extras including; trailers, an interview with actor Mitchell Ryan, and an audio commentary by film historians Howard S. Berger and Nathaniel Thompson. THE HUNTING PARTY is not to be missed.
---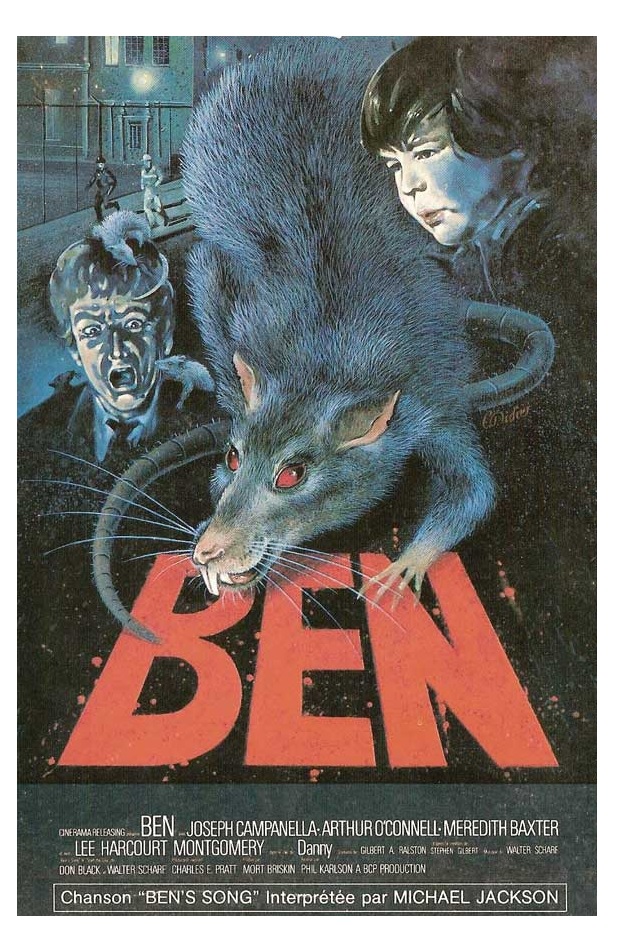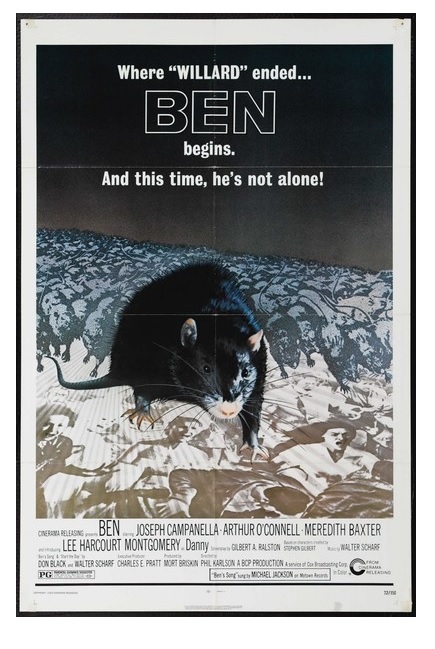 Retro-review: New on BluRay from The Shout Factory!
BEN (1972)
Directed by Phil Karlson
Written by Stephen Gilbert (characters), Gilbert Ralston (screenplay)
Starring Lee Montgomery, Joseph Campanella, Arthur O'Connell, Rosemary Murphy, Meredith Baxter, Kaz Garas, Paul Carr, Richard Van Vleet, Kenneth Tobey, James Luisi, Lee Paul, Norman Alden, Scott Garrett, Arlen Stuart, Ric Drasin, Frank Farmer, Bern Hoffman, John Rayner, Tom Steele
Retro-reviewed by M. L. Miller aka Ambush Bug
While I have a profound love for both
the original WILLARD (reviewed here
) and the remake, I loathe BEN just as vehemently. It's not just because of the little shit kid…well, yeah, it is mainly because of the little shit kid.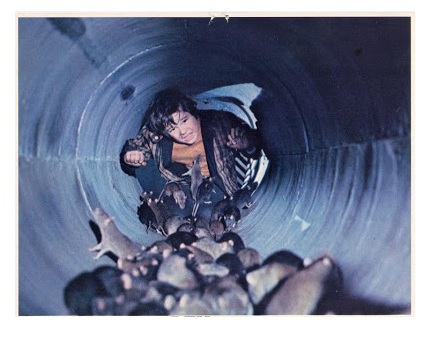 So after Ben compelled the rats to gnaw Willard to death at the end of WILLARD, the police arrived and Ben and the rats skedaddled the hell out of there, but not before Ben notices a puffy-faced kid named Danny (Lee Montgomery) in the crowd gathered outside the home. Ben ends up following the kid home, recognizing a kinship, I guess, and the two become swell pals. A rather feeble lad, Danny makes up for it by being clever and creative in his little boy-cave along the side of the house where he does what most boys do—make up songs about rats and play with his marionettes. But Ben and the rats are hungry, so he leads the millions of rats on smash and grab rampages at supermarkets (understandable) and health spas (huh?). Soon the military is called in with flame throwers, water hoses, shotguns, machine guns, and anything else they can muster up to take on the rat infestation problem. Meanwhile, Danny is suffering from the wheezes from his recent heart surgery and the only thing that can save him is the love of his pet rat.
Oh yeah, and this one has a young and sexy Meredith Baxter (before the Birney) as Danny's sister. And the sight of the lovely, nebbish Miss Baxter is probably the farthest I can reach to give a compliment to this fetid rat turd of a film. Lee Montgomery simply ruins the coolness of the original film about an outcast to society who finds empowerment by befriending his animal equivalent and turning that power against all who oppose him. The original was so good because the action revolved around the character of Willard. The befriending of the rats, the attacks on the party, and the siege on the office—all of them felt more personal because it was all linked to Willard's plight. BEN has none of that. The rat Ben leads rat attacks because they are hungry to the various spots around town and then pops into Danny's playhole for some cuddling in between attacks. Because none of the action really revolves around Danny, the scenes of the rats destroying the supermarket or the sauna are a little ooky because they do close-ups of the rats skittering about, but there's just no character to this action. It's just random scenes tossed together.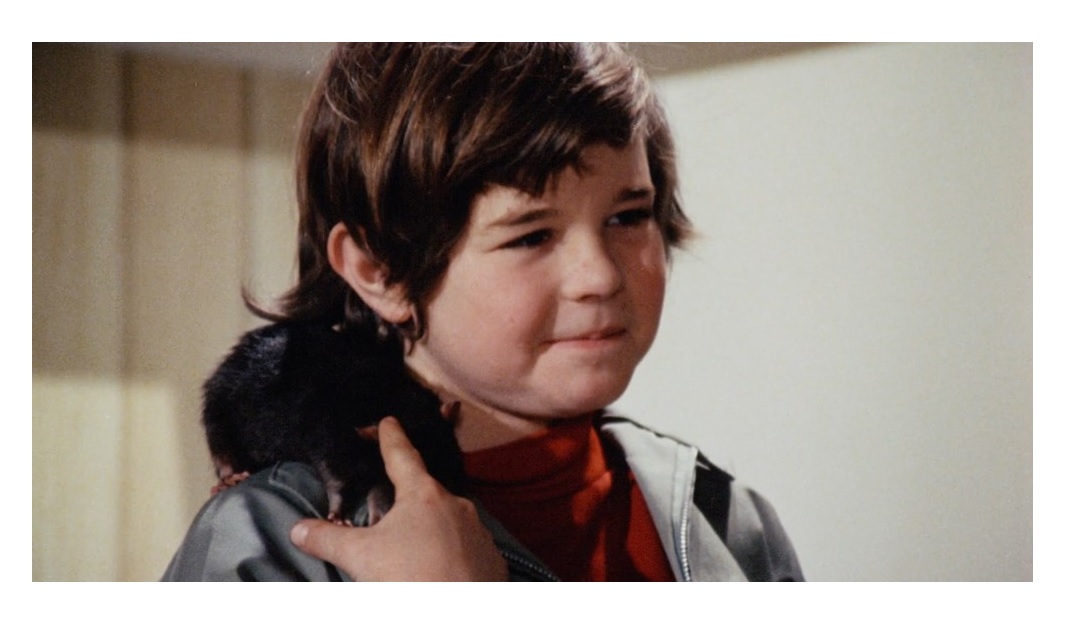 I would have given this film a bit of love had it focused on the rats, but the bulk of this film instead centers on Danny. He makes up songs. He does little dances with his marionettes. He talks to his toys. Sure I guess this is what a lot of kids do, but from some reason, coming from the fat cheeks of this kid makes everything absolutely grating. I understand why the ad wizards decided to make this film about a kid. Bring in the kids and the money follows and I'm sure this film made a killing. But I think even when I was a kid watching this film, I wanted to smash this little kid in the nostrils. The annoyance factor goes into overdrive as Danny acts as if he is making up the song BEN (performed over the credits by Michael Jackson) as he plinks away on his little piano while the family gazes at his little "genius." This is the scene that had me punching my couch. It's just so bad. So, so bad. I have no problem with the song. It's actually quite sweet and poignant, especially from the golden pipes of Crispin "Hellion" Glover.
I guess I'm being hard on this film. Most sequels have difficulty mastering the themes of the original. Had the action revolved around Danny's character—maybe having the rats show up at the hospital during Danny's operation or if there was something keeping Danny from having the operation and the rats took care of them in some kind of ratty way, I think this could have been a much more resonant film that worked alongside the original. Instead, BEN feels a little more like nature run amok films of the time rather than the more personal film WILLARD was. Either way, as with most sequels, aside from the iconic song, BEN simply doesn't compare to WILLARD.
This BluRay version of BEN comes with extras including; a new HD transfer from the best surviving archive print, a new audio commentary with actor Lee Montgomery, a new interview with actor Lee Montgomery, theatrical trailers, TV spots, BEN/WILLARD double feature trailer & TV spot, radio spot, and still gallery.
---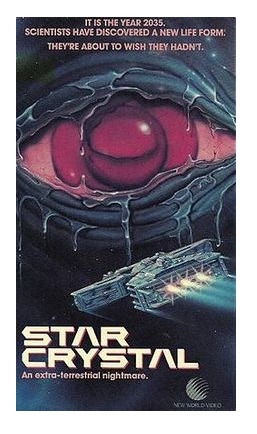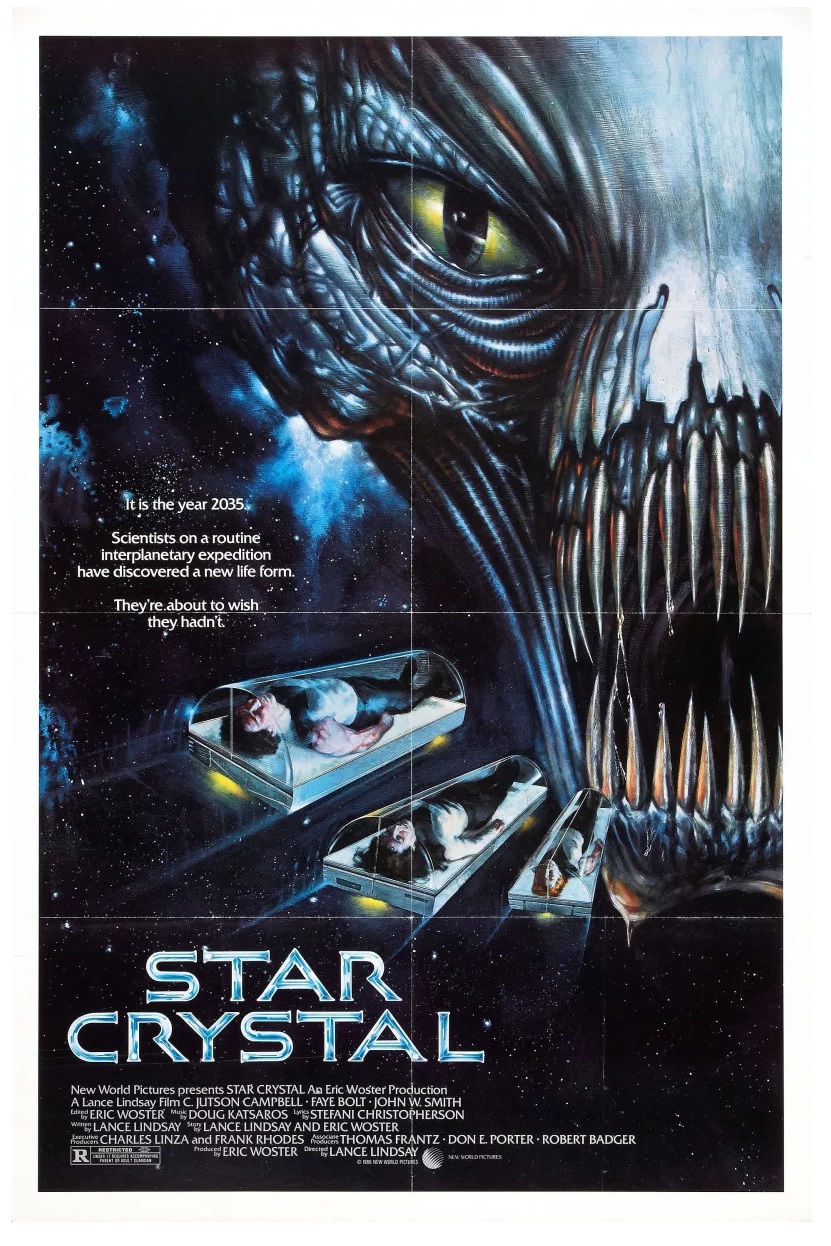 Retro-review: New on BluRay from Kino Lorber!
STAR CRYSTAL (1986)
Directed by Lance Lindsay
Written by Lance Lindsay, Eric Woster
Starring C. Juston Campbell, Faye Bolt, John W. Smith, Taylor Kingsley, Marcia Linn, Eric Moseng, Thomas William, Don Kingsley, Robert Allen, Emily Longstreth, Lisa Goulian, Charles Linza, Randall England, Paul Rawson
Retro-reviewed by M. L. Miller aka Ambush Bug
Low budget sci fi was abundant in the eighties. One might say there was a sci fi renaissance during that time and the low budget response was all a part of it. Then again, if you're just rehashing plot points from bigger and better films, is it really adding anything to the genre? I honestly think good intentions are behind every film—that every film has to have some kind of passion behind it at some level in order to be made. But it's hard to look at a film like STAR CRYSTAL and not think a low budget cash grab was the only thing in mind at every stage of the game.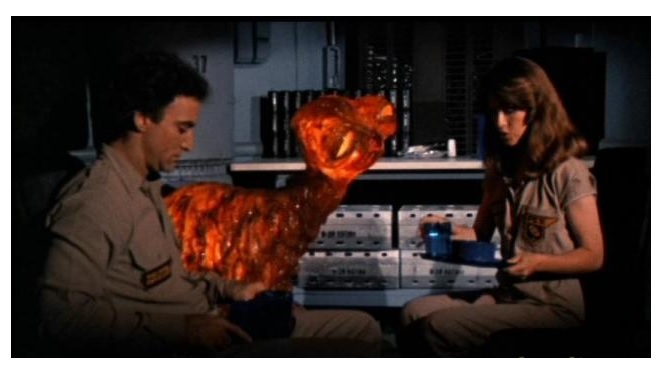 In the year 2035, after two failed trips to Mars, a third team is sent to the red planet to find out what happened. They recover an artifact and of course bring it on board where the space crystal hatches into a slimy amorphous creature that is mainly seen off screen for the bulk of the film. After whittling down the crew to two, the space being gains intelligence which only causes more problems for the two astronauts trapped on board the vessel.
While the plot structure mimics pretty much every thing you remember from ALIEN save the synthezoid and the dinner scene, STAR CRYSTAL tries to be somewhat different in setting the action a little closer to home. Still, that doesn't stop them from aping the entire scene where Sigourney Weaver watches on a screen as the alien life form moves through the tunnels of the ship after the heat signatures of the astronauts on board. This is the most tension filled scene of STAR CRYSTAL and while it is done rudimentily on a screen using what looks to be flashlights, it still makes for some tension filled moments. There is also a laughably remedial scene where another ship passes by our alien infested ship after the alien has taken control and really does nothing when the ship does not respond to it's alert signal. While this was played to be another tension filled moment, the fact that the other ship simply assumes that the non-responsive ship has nothing wrong with it even though it's not communicating with them is a true head slapper as it decides to cruise on by without even investigating.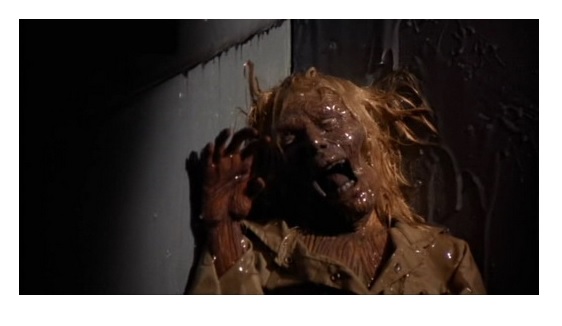 What STAR CRYSTAL does have going for it is the effects it uses for the alien. While the tendril attacks are simple backwards filming techniques as the rope-like tentacles wrap and unwrap themselves around the alien's victims, once the glowing orange alien shows it's bug-eyed visage, it is pretty impressive. Most likely there's a man in a yellow glowing suit under all of that undulating slime and ooze, but the puppeteering work and details to the monster really are impressive for a film of this scope.
I also kind of liked the way this film ends up as it decides to go a rather atypical route we have seen time and time again in monster on the spaceship films. It's shows that there was at least someone with a bit of creativity (besides the effects men, that is) on this project. STAR CRYSTAL is sci fi schlock at its finest with some corny humor and even hokier settings inside the ship. The story is pretty dumb most of the way through, but the alien effects save it as does the interesting decisions made at the end, making it an oddity worth checking out if you're a fan of low fi sci fi.
STAR CRYSTAL comes only with trailers as extras. Sorry no groundbreaking behind the scenes making of documentary uncovering the complexities of this one.
---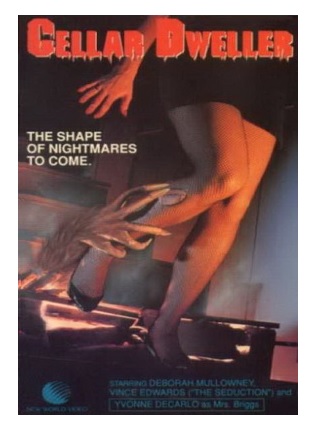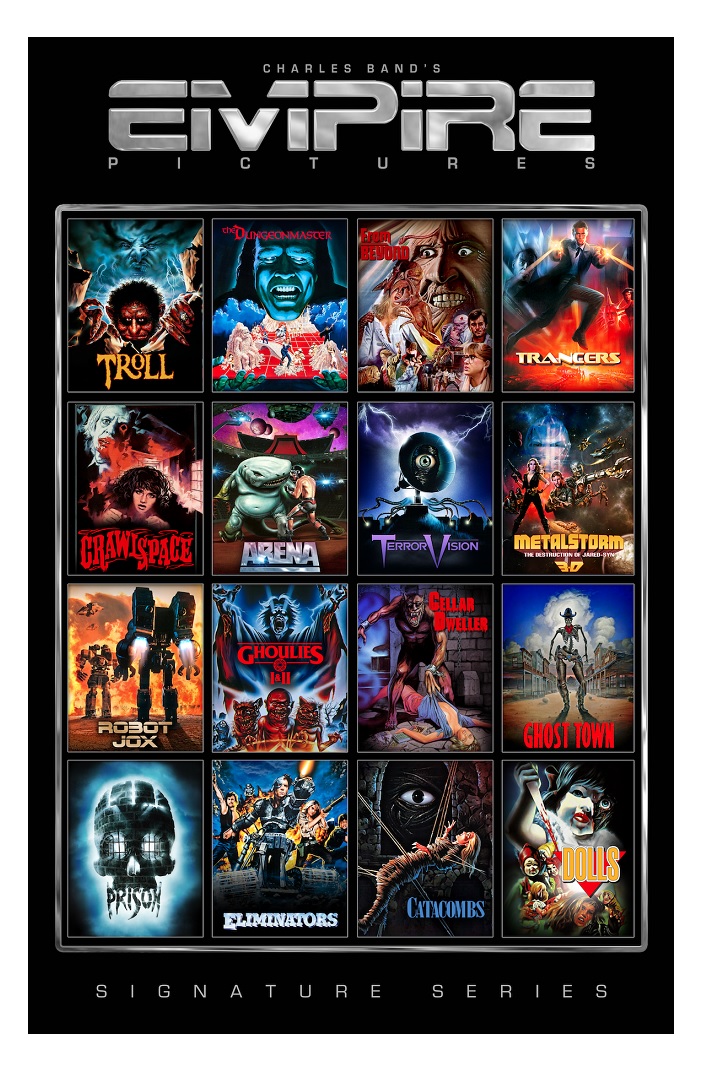 Retro-review: New in the Empire Pictures BluRay Box Set Collection from Full Moon Entertainment!
CELLAR DWELLER (1987)
Directed by John Carl Buechler
Written by Don Mancini
Starring Yvonne De Carlo, Debrah Farentino, Brian Robbins, Pamela Bellwood, Miranda Wilson, Vince Edwards, Jeffrey Combs, Floyd Levine, & Michael Deak as the Cellar Dweller!
Retro-reviewed by Ambush Bug
Empire Pictures made some amazing films in the 80's. The precursor to Full Moon Entertainment stretched their budgets and put varied and extremely creative images on screen. These mini-epics tackle horror, sci fi and beyond and now they've collected them all in one huge, badass box set. I'm going to be covering each film in this collection over the next few weeks, but if you're a film collector, you're going to want to grab this set as soon as possible as there are only 600 of them. Check out this sizzle reel featuring some of the iconic films collected in this Box Set.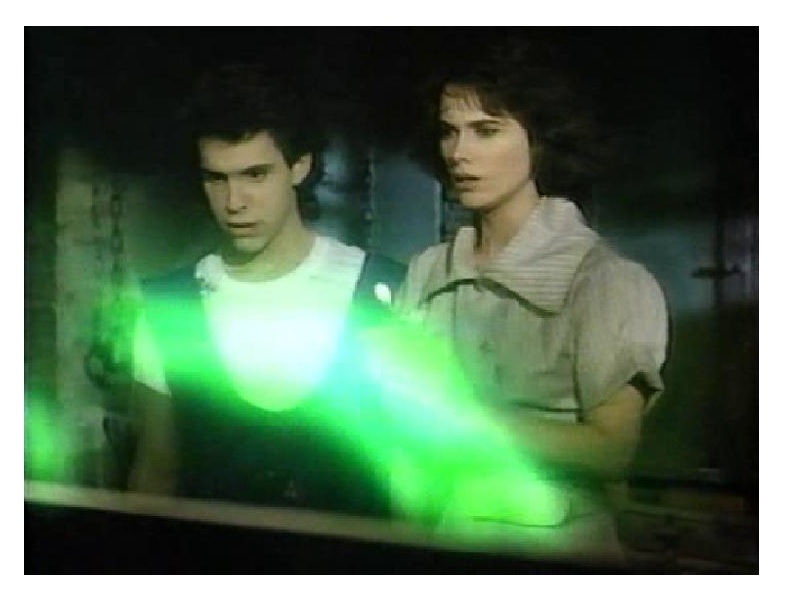 Steeped in 80s horror movie clichés is CELLAR DWELLER (which I keep wanting to spell as CELLAR DWELLAR for some reason). The film is far from perfect. In fact, it's quite awful. But I don't know about you, but occasionally I love to sit back and watch an old, dumb horror movie and CELLAR DWELLER definitely qualifies in terms of story, acting, and scares.
The story opens with comic book creator Colin Childress (horror icon Jeffrey Combs) making black marks in the already shaded areas of a comic book page that looks to be some derivation of a TALES FROM THE CRYPT-style anthology horror comic called CELLAR DWELLER (like the name of the movie, get it?). After the once and always Herbert West finishes the page of a monstrous and satanic looking hairy wolf-beast, the monster actually magically rises from the shadows and murders the artist. Jumping ahead thirty years, the ominously named Throckmorton Institute of Art is open for business once again, run by the art snob hausfrau Mrs. Briggs (THE MUNSTERS' Yvonne DeCarlo). Our heroine is a comic artist named Whitney (Debrah Farentino), who happens to love Childress' CELLAR DWELLER comic and hopes to make a comic similar to his one day and from the pages she draws, it looks like the pages are from the same artist. After meeting her classmates in this eclectic art school, Whitney is compelled to explore Childress' basement studio for inspiration and finds it as her pages begin to come to life and the Dweller in the cellar begins lopping off the heads and eating her classmates one by one.
Looking at the creative team behind this film, one would think there would be something better to say about this film. It was written by CHILDS PLAY's Don Mancini and was directed by FX guru John Carl Buechler. But while this is a rather repetitious film in terms of the way the Dweller dispatches the cast, at least Buechler makes up for it with some pretty amazing effects. The Dweller itself is a nicely articulated mask and full body suit, and the gore effects are nice and wet with heads being lopped off and the Dweller slurping up flesh and sinew during his attacks.
Typical of 80s horror, it's the gore here that takes center stage, so it makes sense that this was helmed by Buechler, but there's little else in CELLAR DWELLER worth dwelling upon. It's fun to see Combs in his brief cameo and Yvonne DeCarlo lends some senior flair to the mix, but that hardly makes up for Brian Robbins from HEAD OF THE CLASS dorking the whole place up right good. Flat acting with an uninspired story that felt torn from the reject pile of one of the horror comics it emulates is what we get here.
All I could find was this fan-made trailer below, but it pretty much gives you everything you need to know about the film.
Reviews for other films in the Empire BluRay Collection!
FROM BEYOND
PRISON
GHOULIES
GHOULIES II
TROLL
DOLLS
CRAWLSPACE
---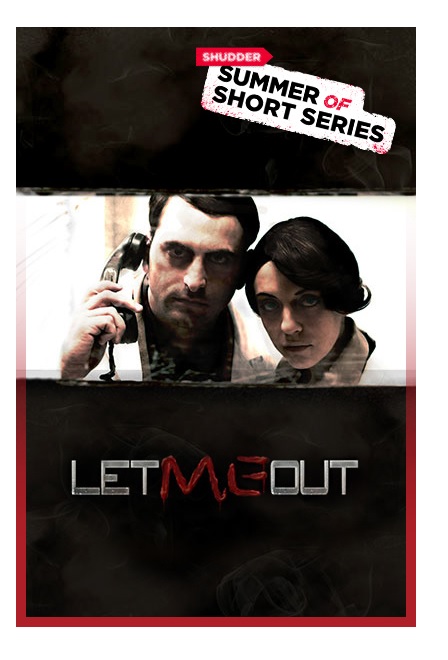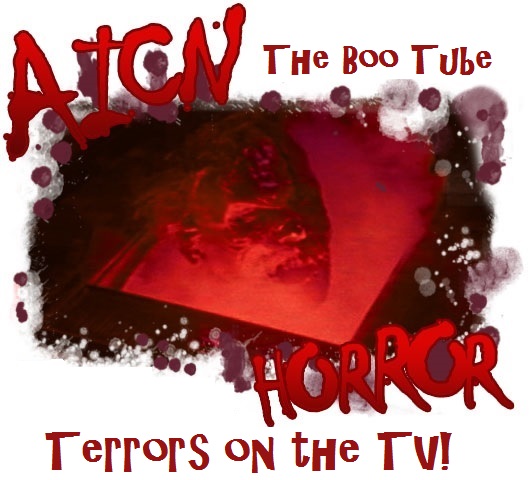 New on Shudder!
LET ME OUT: THE RUSSIAN SLEEP EXPERIMENT (2015)
Directed by Riccardo Greco
Written by Riccardo Greco
Starring Antonino Anzaldi, Giulio Bianchini, Flavio Capotosto, Alessandro Fioenza, Desiree Giorgetti, Christian Laiontini, Massimo Macchia, Salvatore Mazza, Gilles Rocca, Carlotta Maria Rondana
Find out more about this film here
Reviewed by M. L. Miller aka Ambush Bug
If you're a browser of the darker corners of Youtube like me, you've probably stumbled upon "The Russian Sleep Experiment" Creepy Pasta about a Russian science team who experiment on sleep deprivation on some American prisoners. The video is narrated by a creepy moderator, shows black and white photos, even provides recordings, and claims to be a real story. I have no idea if an experiment of this kind was performed. It wouldn't surprise me if it did. But what I can say is that this is a creepy ass story and fun to listen to in the dark if you like to experience the chills.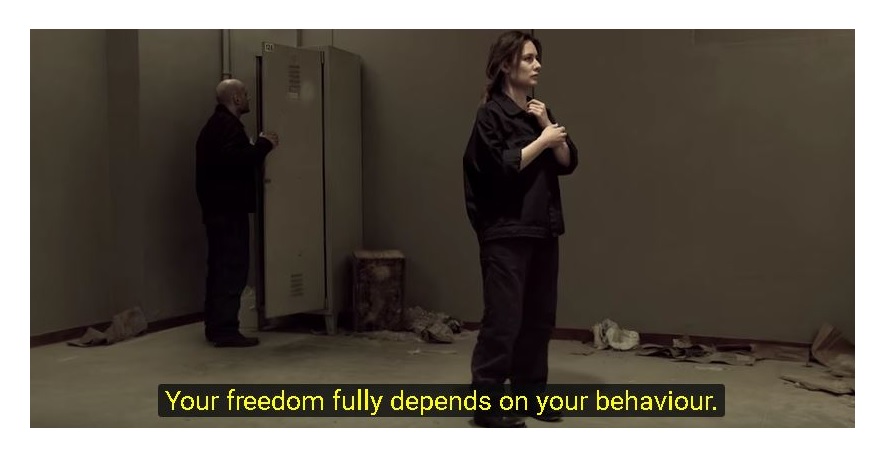 Obviously I'm not the only one chilled by the story as it appears Italian filmmaker Riccardo Greco liked it so much that he made a webseries about it. The story follows the creepy pasta pretty closely as a team of scientists and a group of prisoners are lead to a bunker where an experimental gas is used to deprive the patients/prisoners from sleep. Almost immediately, the group reacts to the gas, which would indicate that it's the gas and not the sleep deprivation causing the problems with the experiment, but the team presses on, even when the prisoners use feces to obscure the windows into the room where they are habituating. When the military gets involved, a high ranking officer starts getting impatient about results and the antics of the unruly prisoners, so of course they go in looking for answers only to find a waking nightmare.
This is on odd duck of a webseries. I am always impressed with Shudder which finds all sorts of weird shit to highlight on their online channel, but I don't know about this one. It's an Italian production, speaking in Italian, but the players are supposed to be Russian and American. I guess it's not such an uncommon thing to see American actors speaking American and not the language it is supposed to be, but this struck me as odd to see people talking about Mother Russia with thick Italian accents. I believe this would have felt a little more "authentic" had Russian and American dialects been used.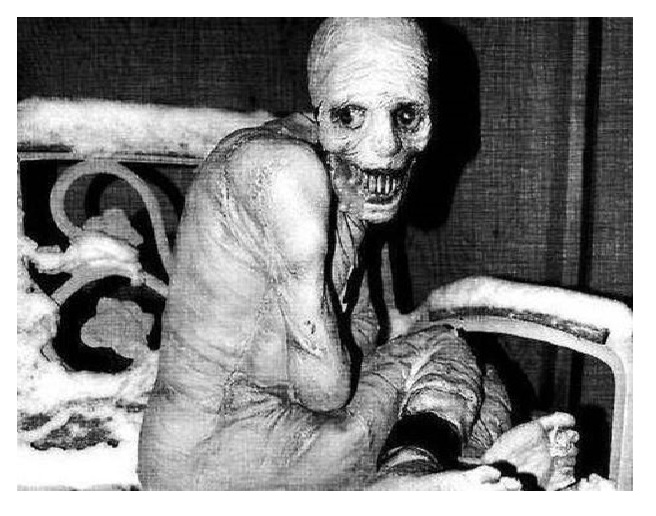 The original creepy pasta is a well paced and scary story, accompanied by some horrific images (see the image to the left), but instead of turning the prisoners into dream demons, this one keeps things rather realistic. And while there are a few nice moments of suspense and terror, in the end, the story feels more like a zombie/infected tale than one tiptoeing through the supernatural as the original story suggests. It leads to less terror and more action, so I understand why the filmmaker chose to go this route, but I think the brightness of the room that the prisoners are occupying and the rapid clip each installment moves at (none of them are more than ten minutes an episode and there are only seven episodes in this season) undercuts the scares quite a bit.
There is also a sort of staged feel to this series that suggests the budget was pretty low. That's not as much of a detriment to the actual project as it is a feeling of a missed opportunity as I really think some higher production values and some stronger actors would have been able to pull off a much more effective story. The story itself is a bit too obtuse and vague to really say anything, but I was entertained by the breezy way this story was told in seven installments. LET ME OUT: THE RUSSIAN SLEEP EXPERIMENT is not going to take up too much of your time and it does make for some scary moments and some nice and meaty practical effects. I think it's kind of perfect in it's original Creepy Pasta form (which I will link to at the end of this column), but this was a noble, albeit flawed attempt to expand on the mythos. The story is ripe with potential, I just don't think this series is able to communicate it as effectively as it could. Still, this is listed as Season One. No Season Two was made and the story does end up in a nice and spooky ending, open enough to continue, but enough of a final note to reach a satisfying conclusion as well.
---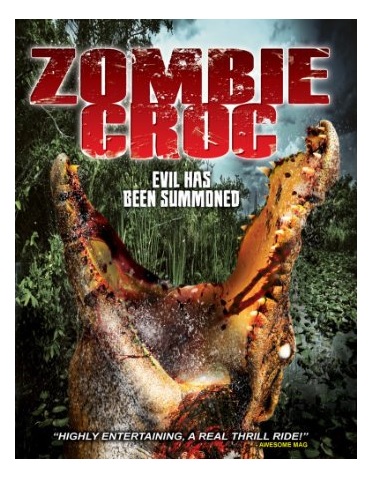 Available on DVD from Sector 5 Films/World Wide Media!
ZOMBIE CROC (2015)
aka A ZOMBIE CROC: EVIL HAS BEEN SUMMONED
Directed by Robert Elkins
Written by Robert Elkins
Starring Apryl Crowell, Crystal Howell, Tony Jones, Jerry E. Long, Ken Peebles, David S. Witt
Reviewed by M. L. Miller aka Ambush Bug
While ZOMBIE CROC falls back on the old and tired JAWS storyline about a town that just won't admit that they have a giant monster eating its residents, there are elements of this film that I really liked. Filmed with a full on retro-filter, this film doesn't take itself too seriously, but it does get a little long in its decayed crocodile tooth.
The mayor of a small Louisiana town evicts a group of local swamp folks from their property in order to build a few new shopping centers and entertainment parks. This angers the local voodoo practitioners who slaughter a chicken or two and toss some bones in order to summon a giant, zombified crocodile with a voracious appetite for old ladies, hillbillies, clowns, and pretty much any townies and out of townies that cross its path. Only one cop and maybe a couple of environmental specialists have the gumption to overpower the rotten croc before it eats everyone.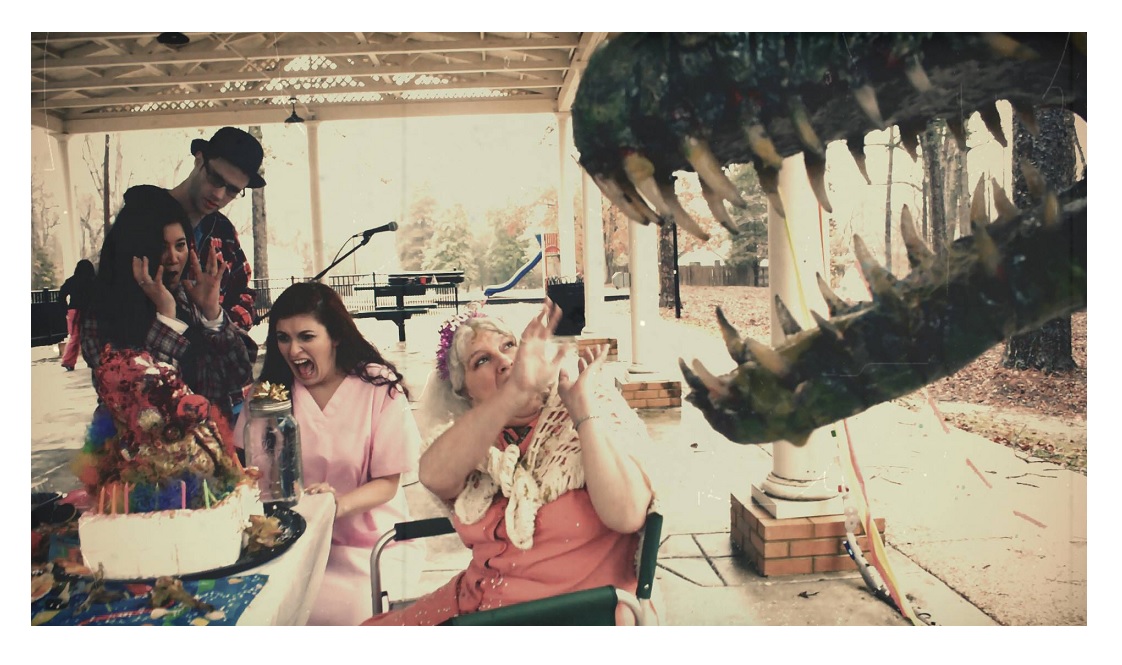 What makes this micro-budgeted monster mash up watchable is that it melds voodoo and crocodile monster films together pretty well and basically casts it on the JAWS storyboard. It all fits nicely and had this a bigger financial backing and maybe a tweence more talent behind and in front of the lens, this film could have been great. There are some fun stabs at humor at the expense of hillbillies everywhere and there's a circus clown tossed in for giggles and shits. I also liked the old school way this one refused to use CG for its croc, reminiscent of ALLIGATOR and other practical effects monster films which focused on parts of the monster like the eye, snout, and sometimes POV from behind the teeth shots. Later a croc puppet is used and it's obviously a prop with someone's hand up its ass, but by that time, this film kind of had me and I was able to look past it.
The main problem with ZOMBIE CROC is that it doesn't know when to quit. Coming in just under two hours, this film is desperately in need of an editorial buzz cut. It's just over-indulgent and overstays its welcome as the laughs gave way to sighs of "when is this fucker going on end?" Still, I like the premise and the low fi chutzpah ZOMBIE CROC packs for about the first hour. If you like cheapo monster movies, this one fits in with the rest nicely.
---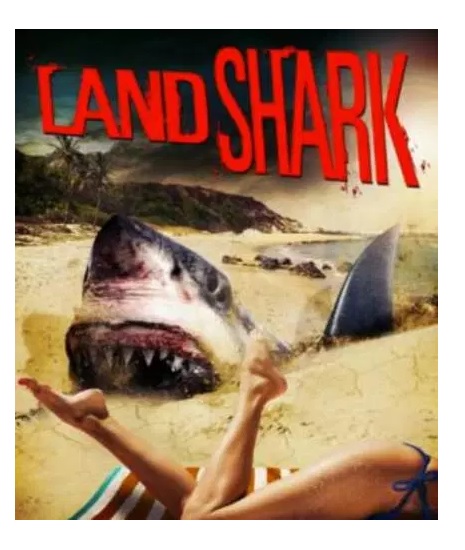 New on DVD from MVD Visual/Camp Motion Pictures!
LAND SHARK (2017)
Directed by Mark Polonia
Written by Mark Polonia
Starring Sarah French, Peter Baldo, Kathryn Sue Young, Eric Spudic, Annmarie Lynn Gracey, Elissa Dowling, Jeff Dylan Graham, Jeff Kirkendall, James Carolus, Alexis Alosta, Austin Dragovich, Kyle Valmassy
Reviewed by M. L. Miller aka Ambush Bug
Right off the bat, I'm just going to tell you that if you happen to have a chance to catch LAND SHARK, it would do you well to simply toss it back. I was burned when director/writer Mark Polonia got me jazzed to see
BIGFOOT VS. ZOMBIES, reviewed here
), and was burned yet again with LAND SHARK. I should'a known better.
A secret government research facility is developing the tech to give sharks the ability to walk on land (because, you know…science) and are surprised when sharks waltz out of the lab and begin eating people. Meanwhile, a beautiful scientist and a guy who looks like Greg Grunberg's HEROES stand-in grab their laser guns (because all labs have those) as they are the most capable ones to take down these giant man-eating walking sharks. Meanwhile again, Greg Grunberg's HEROES stand-in is injecting himself with the same science stuff they are injecting the sharks (because why the hell not?) and becomes the first Land Shark Man! When the busty blonde scientist takes her glasses off and lets her pony tail down, you know it's time for some payback against these Land Sharks and Land Shark Greg Grunberg's HEROES stand-in!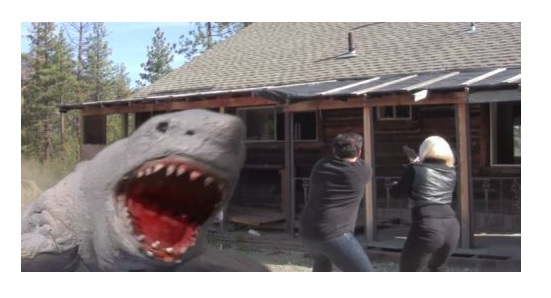 While I admire the fact that this film didn't even have enough money to go CG like most Asylum films and the puppet land shark is rather adorbs, I simply can't recommend LAND SHARK to anyone. Again, there's just nothing put into this film. There's not even nudity and very little gore. It's just two science types running around after sharks and extended scenes of horrific acting from people who are either high or too nervous to be in front of the camera.
The comedy bit on SNL struck a chord, but while this film isn't trying to play things seriously in the least, it still manages to take itself too seriously even when the monster is a badly super-imposed puppet in the background. No real attempt at suspense is made. This film just is and while I bow my head to those smart enough to get funding and were able to get people behind making this film—they really are negotiation wizards, there's just nothing worth seeing in LAND SHARK.
---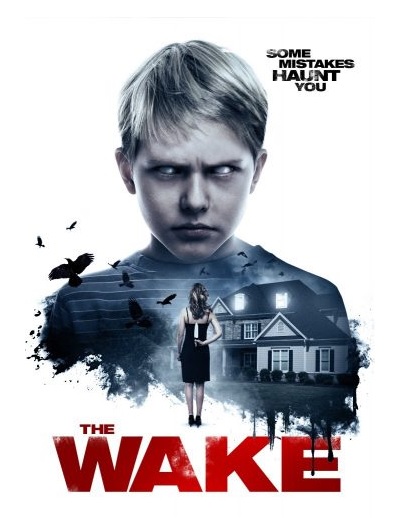 New on digital downloads such as Amazon, Itunes, Google Play, Vimeo, Xbox, Steam, Vudu, Youtube and on DVD exclusively from Amazon MOD from Midnight Releasing!
THE WAKE (2017)
Directed by Faouzi Brahimi, Bryan Brewer
Written by Allie Rivera, Bryan Brewer
Starring Bryan Brewer, Allie Rivera, Darla Delgado, Michael Aaron Milligan, Kristen Dalton, Amanda Musso, Jakob Ulrich, Faouzi Brahimi
Find out more about this film @thewakemovie and on Facebook here
Reviewed by M. L. Miller aka Ambush Bug
This clichéd and tired slasher film makes a Scooby Doo episode look deep. THE WAKE tries to be slick, but the twist is projected pretty much in the first fifteen minutes and the story plods along drawing out the inevitable to painstaking lengths.
A group of unrelatable pretty people (led by a Freddie Prinze Jr. lookalike) show up for the wake for a child who was murdered. No real reason is given as to why they decide to go to the wake of a child and no reason is given to the mother as to why they are there, though we find out in flashback that the FPJ clone accidentally killed the kid in a drunk driving accident. The kids and the mom pass out at the wake and wake up in the mother's home without power, keys, and cell phones. A burlap bag wearing stalker torments them and picks them off one by one. Who is the killer? Why is he killing? And why should we care? These are all answers the filmmakers keep close to their vest.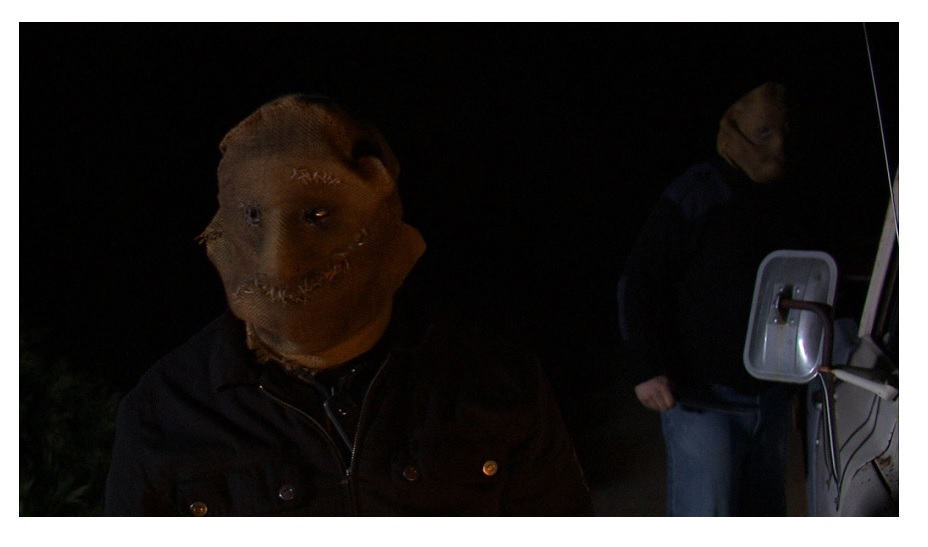 THE INVITATION meets I KNOW WHAT YOU DID LAST SUMMER with some YOU'RE NEXT tossed in is basically what you get with THE WAKE with all of the twists and turns you might imagine when you mention those films. I am not against taking elements of different movies to make something fresh, but this film really isn't fresh in the least, mainly due to the horrific script that is filled with every clichéd line imaginable. Honestly, almost every beat of the way, I could almost predict every line before the actors said it. I should have known better as within the first five minutes we get this old chestnut, "Guys, I have a bad feeling about this." Followed by the old standby, "You have a bad feeling about everything…" It doesn't get better from there. There's even an opening sequence aping SE7EN's iconic montage set to industrial music, for god's sake! I mean, it's like everyone behind this film only watched movies from the nineties for inspiration.
Bad acting, poor pacing, and lazy directing are all factors in why this film doesn't work, but directly lifting whole plots from better films doesn't make a good film. It makes you want to smack your forehead and those of everyone involved with the film. I mean, there's even a scene where one of the captured kids picks the lock on her shackles with a hairpin. Add in some confusing mythology mixing Asian culture with Satanism and there really is no stopping the whirlwind of stupidity going on. The main offense is the uninspired script. It painfully tries to be funny and most offensively tries to be clever, but THE WAKE fails miserably at it all. The opening scene has a woman running from a home and screaming, which is good advice. Everyone should run screaming away from this one.
On the positive end, as with all good movies, there is an unfunny blooper reel during the credits…dear god, why? Sorry, I loathe films that use absolutely no creativity and this is one of the worst offenders.
---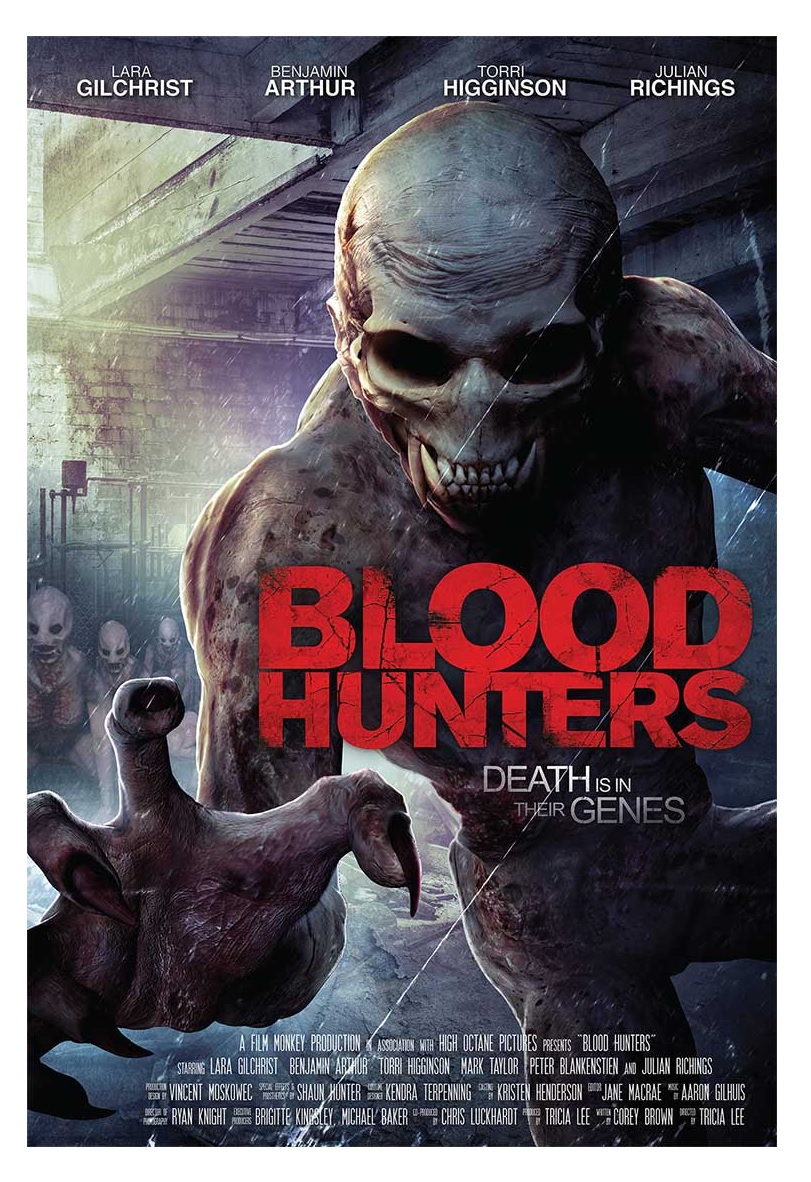 New on DVD, VOD and all digital platforms in Canada and the USA from Film Monkey Productions!
BLOOD HUNTERS (2016)
Directed by Tricia Lee
Written by Corey Brown
Starring Lara Gilchrist, Benjamin Arthur, Torri Higginson, Mark Taylor, Julian Richings, Samuel Faraci, Peter Blankenstein, Tony Ning, Briar Nolet, Breeanna Booth
Find out more about this film here and on Facebook here
Reviewed by Mark L. Miller aka Ambush Bug
While simple and often schmaltzy, BLOOD HUNTERS is a single location, locked room mystery monster mash-up that had me by the throat for most of the film.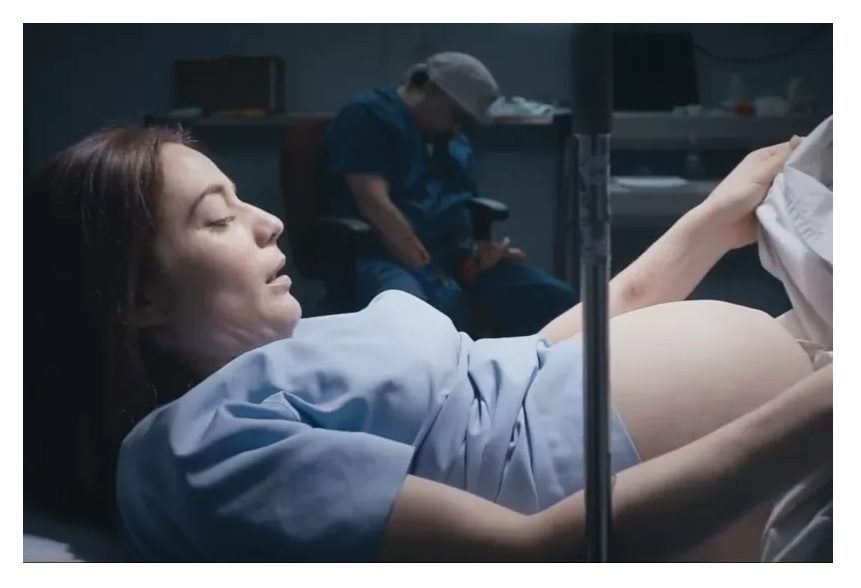 Elllie (Lara Gilchrist) wakes up on a gurney in a hospital and doesn't know how she got there. Worse yet, she wakes up about nine months pregnant without knowledge of who the baby-daddy is either. She soon runs into Henry (Benjamin Arthur) a good guy who seems to have a lot of self esteem issues and some scars on his wrists to indicate he has had suicidal tendencies in the past. The two lost souls find themselves in the middle of an abandoned hospital, empty of doctors to help the pregnant Ellie, yet filled with hairless monsters who don't like light. As Ellie and Henry make their way through the corridors, they run into a scientist (Torri Higginson), a doctor's intern (Mark Taylor), and a priest (the always altogether ooky Julian Richings) who help them in piecing together where they are and why they are there. Meanwhile, the hospital is running out of power and the monsters are getting closer.
For the most part, BLOOD HUNTERS is a strong little mystery thriller that kept me guessing for the entire time. The monsters are formidably terrifying and the actors are good enough to make me care about them avoiding the creepy beasts. I liked the way this film unwrapped itself, shedding light on one question while presenting a new mystery to keep the thrills and chills going. From a storytelling standpoint, the film kept things low scale, but succeeded in keeping my interest with one challenge presented after the next that was equally entertaining.
That said, BLOOD HUNTERS is extremely formulaic. While the formula is formidable, it really follows a blueprint of "present the group with one problem, have them achieve their goal only to present the group with another problem." The story unfolds as a series of challenges and while that can be said for many films, the skeletal structure of this film was evident, making the film feel more like a paint by numbers problem and solution game. The fact that the actors are going for a universal Oscar award in the final act and the film allows them to schmaltzily chew up the runtime for so long doing so is distracting and will definitely lose folks by the end. But the rollercoaster ride to the end is fun and boppy and the acting is less painful that most films of this level. Rank this one in the upper tier of ScyFy flicks one might see on any given weekend and you will probably not leave BLOOD HUNTERS disappointed.
---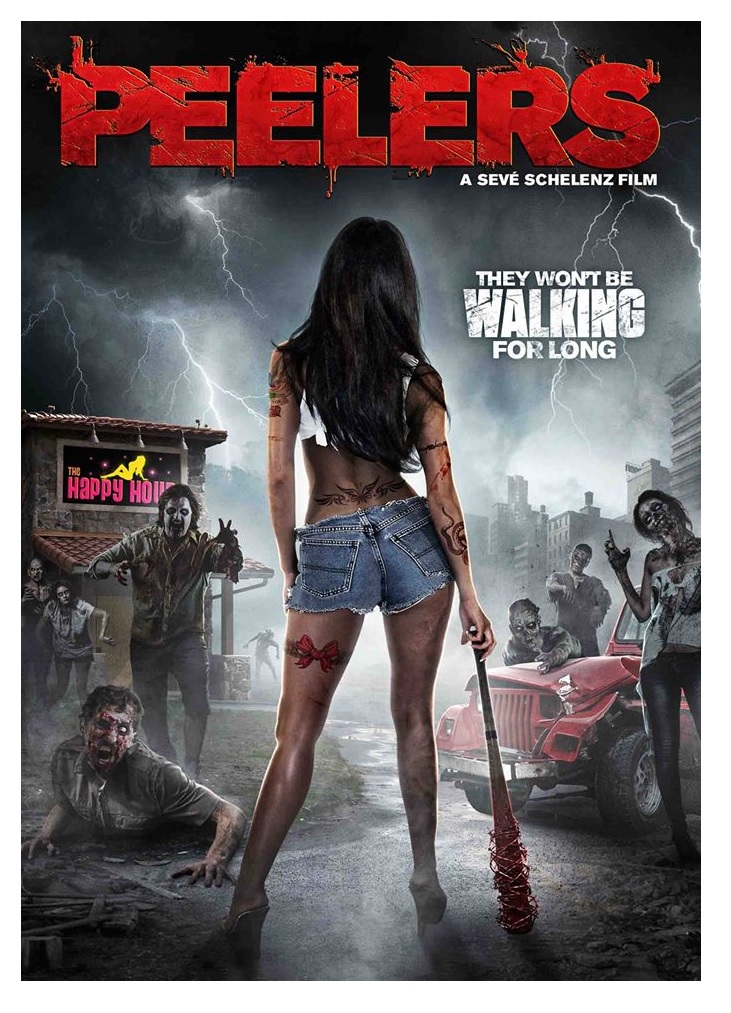 New this week on BluRay and DVD from Uncork'd Entertainment!
PEELERS (2016)
Directed by Sevé Schelenz
Written by Lisa DeVita & Sevé Schelenz
Starring Wren Walker, Caz Odin Darko, Madison J. Loos, Cameron Dent, Al Dales, Momona Komagata, Kirsty Peters, Nikki Wallin, Victoria Gomez, Rafael Mateo, David Torres, Edwin Perez, Andrea Rosolia, Manny Jacinto, Emma Docker, Richard Olak, James Challis, Jason Asuncion, Mark Anthoney, Rob Scattergood, Katherine Blaylock, Lauren Martin McCraw, Diego Hernández de la Rocha, Sevé Schelenz, Todd Giroux, Lisa DeVita, Brendan Smith, Preston Shannon-Meischl, Tim Chisholm, Geoff Anderson
Find out more about this film here, @peelersthefilm, and on Facebook here
Reviewed by M. L. Miller aka Ambush Bug
While stripper horror seems to be a dime a dozen (or is that a crisp dollar bill?), PEELERS turned out to be surprisingly entertaining. With some boobage, some knee slapping humor, and a copious amount of blood and guts, PEELERS ended up one strip club horror show worth investing your ones into.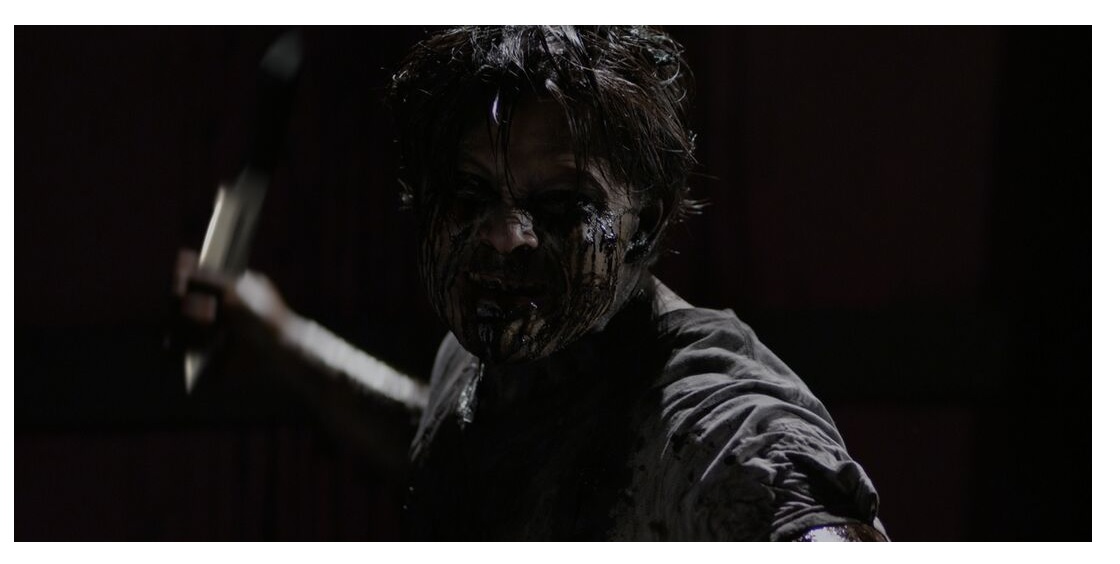 Blue Jean (Wren Walker) is the owner and manager of Titty Balls, a typical strip club where unsavory types stop in for a view of unattainable women and drinking themselves into oblivion. With business going downhill and a rich investor buying the place at midnight, Blue is packing up shop and getting ready for her last night open to customers. But when a quartet of miners come in after work covered in an oily liquid, it turns out they are infected with some kind of crude crude-oil that turns them into spastic zombies that are tough as hell to kill. Now the bouncers, the bartenders, the strippers, and the patrons must join forces against these greasy monsters eager to chomp on their brains and tear them into bloody bits.
What works is both the humor and the attention to character here. Sure there are clichés a plenty—the bouncer with a heart of gold, the pregnant stripper still on the pole, the newbie stripper who needs shots to get up on stage, and the owner who has seen it all and is getting too old for this shit. But enough character is injected into each of these characters to make them a little more than the clichés they stand for. Props go to the script by Lisa DeVita & director Sevé Schelenz which actually is quite punchy and funny at times. It makes the clichéd backdrop for the horror to be more believable as it really feels like actual interactions one has at a bar rather than some kind of Hollywood cartoon version of it.
Add on top of that quite a few scenes of sloshy and down n' dirty gore and you have one hell of a fun time at the strip club. PEELERS is a little gem of a film that never tries to be more than it is, but it does what it does (namely blood, boobs, and belly laughs) really well. It's lowbrow horror, but good lowbrow horror.
---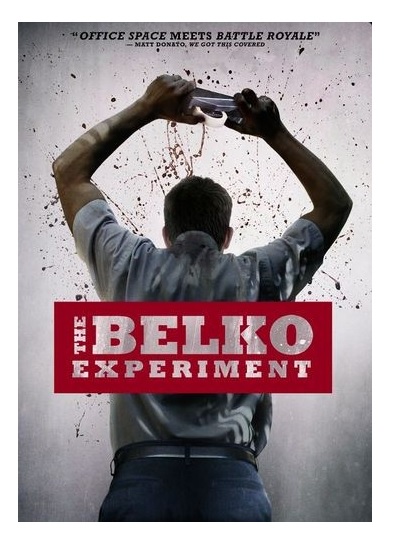 New on BluRay, DVD, and digital download from 20th Century Fox Home Entertainment!
THE BELKO EXPERIMENT (2016)
Directed by Greg McLean
Written by James Gunn
Starring John Gallagher Jr., Tony Goldwyn, Adria Arjona, John C. McGinley, Melonie Diaz, Owain Yeoman, Sean Gunn, Brent Sexton, Josh Brener, David Dastmalchian, David Del Rio, Gregg Henry, Michael Rooker, Rusty Schwimmer, Gail Bean, James Earl, Abraham Benrubi, Valentine Miele, Stephen Blackehart, Benjamin Byron Davis, Silvia De Dios, Cindy Better, Andres Suarez, Lorena Tobar, Joe Fria, Mikaela Hoover, Maia Landaburu, Santiago Bejarano, Maruia Shelton, Luna Baxter, Juan Manuel Lenis, Kristina Lilley, Monica Giraldo, Maria Juliana Caicedo, Juan Ortega, Manuel Torres, Yeison Alvarez, Guillermo Galindo, Silvia Varon, Dan Clifton
Find out more about this film here, @TheBelkoExperiment, and on Facebook here
Reviewed by M. L. Miller aka Ambush Bug
While I prefer the upcoming
MAYHEM (reviewed here
), the office horror shown in THE BELKO EXPERIMENT is a pretty potent mix of insanity, action, and character.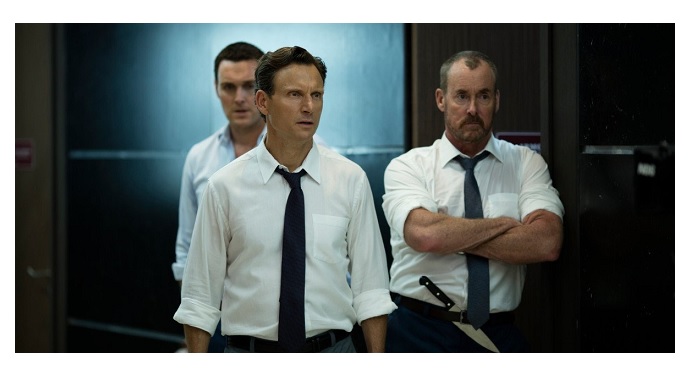 The Belko building houses 80 employees in Bogota, Colombia, all of them American executives who have relocated to the tropic isle and agreed to work there in hopes of climbing the corporate ladder. Chips have been planted into the heads of the employees as we are told kidnappings are common and the chips are the best way to locate the employees quick with the company's personal security services and get them back quick. Still, inside the Belko building, everything plays off as your typical office building full of colorful characters working a 9 to 5. But one day, the building locks down its steel shutters and doors and announces that if the employees don't begin killing each other and whittling down their numbers, a signal will be sent out to the chip causing it to explode inside the employees heads. Office politics become deadly as the employees realize that this is not a joke or a drill and all of their lives are in danger from the person sitting one cubicle away from them. Let the game of survival begin!
People have described this film as OFFICE SPACE meets BATTLE ROYALE, and while on the surface one can see the elements, the film itself really is somewhat uneven in terms of comedy vs. action/horror. Not a lot of time is spent before the loud speakers announce that the workers of Belko must take each other out or the chip in their heads will be detonated, so we really are only given a cliff's notes version of character before the blood starts pouring. Because of that, everyone kind of only functions as a stereotype one might find in an office rather than the somewhat original take on office personalities we saw in the first portion of OFFICE SPACE. There is no Lumbergh or Michael Bolton or Milton or even the O-Face dude here. Everyone is pretty nice at Belko, save for John C. McGinley's Wendell sleazebag office harasser (but McGinley has made a career of making amazing characters out of small parts, one of them, surprisingly is in OFFICE SPACE). With everyone being just hard working schmoes, it's hard to relate to anyone there. Had there been a bit of a chance to get to know some of these people as anything but a handful of recognizable actors blending in with extras in the first ten minutes, I think the impact of the switch from office to battlezone would have been stronger.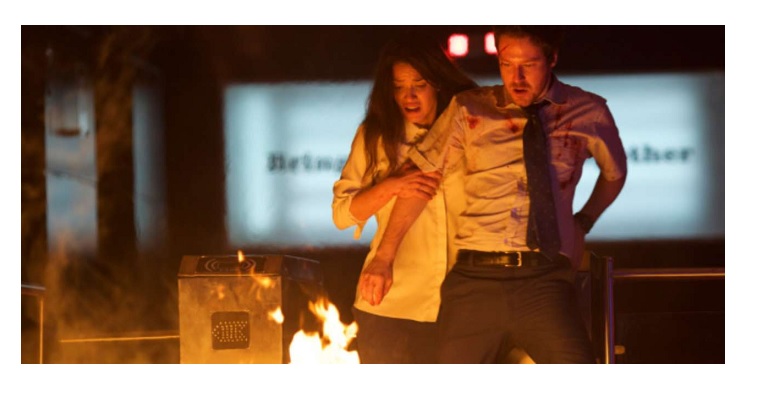 Another missed opportunity is lack of real impact of the two core relationships in THE BELKO EXPERIMENT. The central figure is "Average Joe Worker" Mike Mitch (played by the likable John Gallagher Jr.). He seems to be able to make out with his fellow employee Leandra (Adria Arjona) and even when he is caught by the COO Barry (Tony Goldwyn) it really doesn't seem like he gets into much trouble. Mike already has the girl at the beginning of the film, so there's no real conflict there and other than the fact that Leandra is hot and has a cool neck tattoo, she isn't given much of a character for us to see why Mike is so smitten with her. On top of that, Mike and Barry seem to have a hunky-dorey relationship, so if there was some kind of conflict, it surely isn't communicated on the screen. So again, when the staplers and post-it notes get moist with blood, Mike still has the girl and the conflict between Mike and Barry seems extra forced.
One thing you can say is that John C. McGinley deserves ALL the roles. He is the only person in this film really trying to do something different as he is both lecherous and pitiful all at once while pursuing Leandra as he feels she is leading him on with her constant shove-offs. Had this film centered on McGinley's Wendell character, it would have been infinitely more interesting. The monster he turns into when the shit goes down is fantastic and he is the only role really given any meat for the viewers to chew on.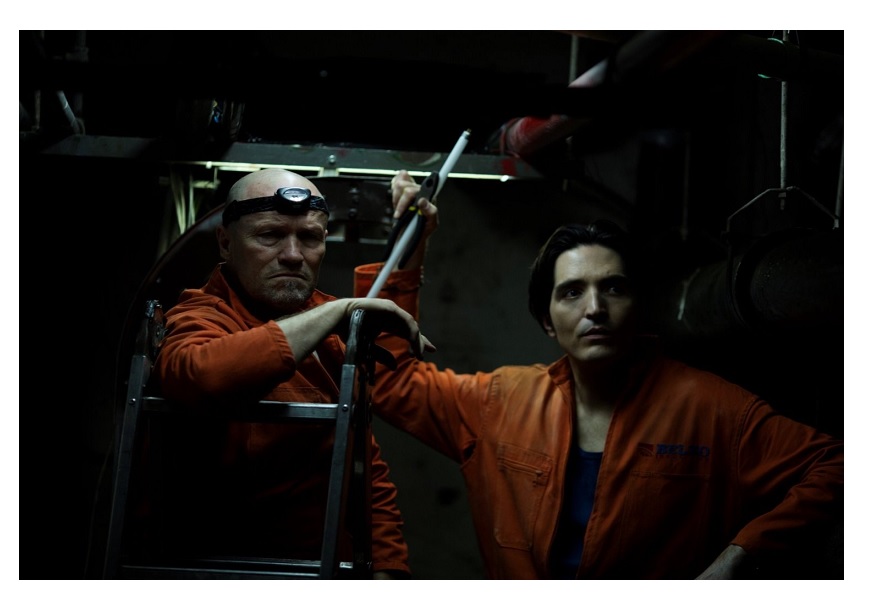 Everyone else does a capable job of going through the motions of the humdrum world of cubicle life. The film is a fun rollercoaster of an action vehicle, problems with characterization aside. The action moves at a nice clip and gets quite gory in parts. I was especially impressed by the gore which isn't completely over the top, but looks extremely real and practical most of the way through. The film also has some nice action set pieces, some of them set to ironic Colombian versions of songs like "I Will Survive" that will definitely cause a snicker or two once recognized. As the workers make their way through the cubicled warzone, the film has a lot of fun with the setting and use of office materials as a means for warfare.
I do want to acknowledge the balls this film has for being so violent in a time when violence in the workplace is such a common event we see on the news almost every day. It's a real problem in America and across the world and I think films like THE BELKO EXPERIMENT and MAYHEM reflect the stress and tension that comes from imprisoning people in a carpeted cube day in/day out. The symbolism that all it takes is a little push for a complex system to come completely apart is abundant in these office horror films and maybe seeing this happen on the screen is the catharsis we need to stop everyone from going a little mad at work. In that sense, THE BELKO EXPERIMENT works as it really does offer up an exasperated exhale of relief in seeing everything go to shit and people clawing each others eyes out when everything was completely civil a moment before. While many condemned this film for possibly inciting violence in the workplace, I'd argue that is offers up an alternative to these horrific real life acts by seeing them played out on screen from the safety of our couches and theater seats.
I don't want to hypothesize too much, but had THE BELKO EXPERIMENT remained in the hands of James Gunn, I think most of these problems I had with the film would have been rectified. Gunn has a firm handle on character while Greg McLean, best known for his WOLF CREEK films, has proven himself a master at fast paced and non-stop action, but needs a bit of work in the character department. Gunn certainly wouldn't have used Michael Rooker with such restraint and most likely would have gotten more iconic performances from the truly talented cast. While McLean nails the action and there's a lot of it in a hard hitting fashion that proves to be both shocking and entertaining, here's hoping a little more character is paid attention in future endeavors.
---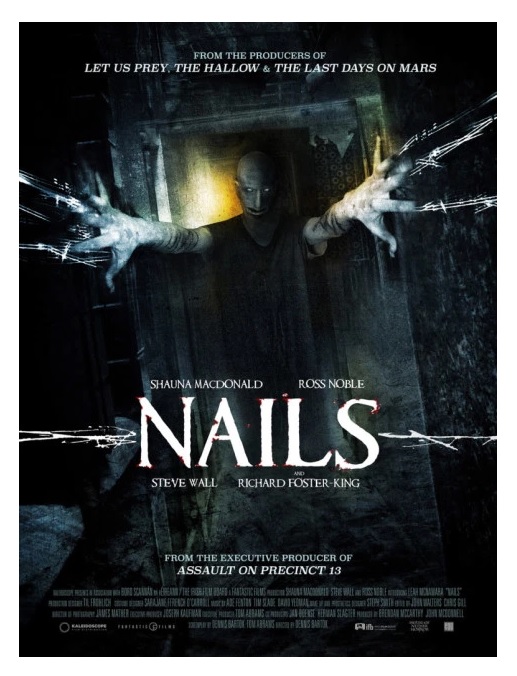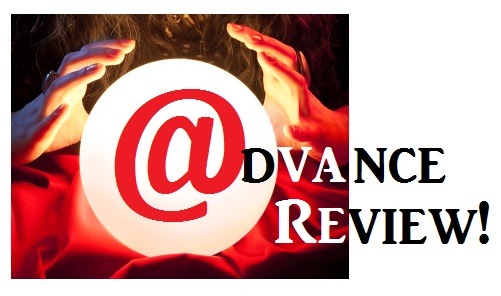 Coming soon to US; opening in the UK and Ireland in select theaters (Find out when and where here)!
NAILS (2017)
Directed by Dennis Bartok
Written by Dennis Bartok, Tom Abrams
Starring Shauna Macdonald, Leah McNamara, Ross Noble, Steve Wall, Dennis Bartok, Charlotte Bradley, Robert O'Mahoney, Kreeta Taponen, Amelia de Buyl Pisco, Trish Groves, Conor Scott, Muireann D'Arcy, Conor Scott, & Richard Foster-King as Nails!
Find out more about this film here and on Facebook here
Reviewed by M. L. Miller aka Ambush Bug
A long finger-nailed man with a history of abuse of youngsters returns from the grave and haunts the nights of the living. Sounds familiar, right? No, I'm not talking about A NIGHTMARE ON ELM STREET. This is the premise of NAILS, a rather effective little shocker that borrows heaping elements from ANOES, but also makes some improvements to some of the more campy stuff that bogged down the later installments of the ANOES series.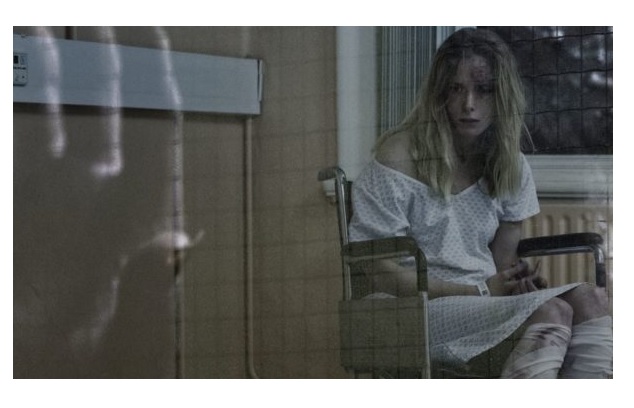 THE DESCENT and THE DESCENT II's Shauna Macdonald plays Dana, a track and field coach who suffers a horrific accident while jogging and is hospitalized, unable to speak, walk, or move from her bed. Recovering from a massive head wound and broken bones, Dana communicates via computer and struggles with the simplest of movements. While her husband and daughter seem supportive, they still have to leave her alone in the hospital at night. But when a mysterious taloned specter appears by her bedside at night, Dana uncovers a dirty secret the hospital has tried to cover up nicknamed "Nails." Dana attempts to let her loved ones know about Nails, but they think she is hallucinating or suffering trauma from the brain injury. Meanwhile, Nails night attacks are intensifying and Dana fears for her life.
What works is pretty much the first hour of this film. Dana's accident is grueling. The state she is in is traumatic and the performance of Macdonald and the subtle practical effects making up her wounds really does a good job of conveying Dana's isolation and lack of control of her own body. The lead up to the reveal of Nails and even the slow reveal of his back story are all done expertly well. This is a film where you actually care about the characters and their fates. You feel for them and when they are in danger, you shiver in fear with them. Nails looks horrifying—mixing creative camera angles, practical makeup effects, and CG enhancements. If this were the eighties, Nails would have given Freddy Krueger a run for his money as the monster has a lot of the same physical attributes minus the campy need for one liners. The hospital is filled with gloomy and dank atmosphere, with walls rotting like a corpse and full of dark corners. On top of it all, there are quite a few well developed scenes of crescendo-ing atmosphere and quite a few well timed jump scares. All of this added together makes for a pretty potent first hour and makes the bulk of this film definitely worth seeking out.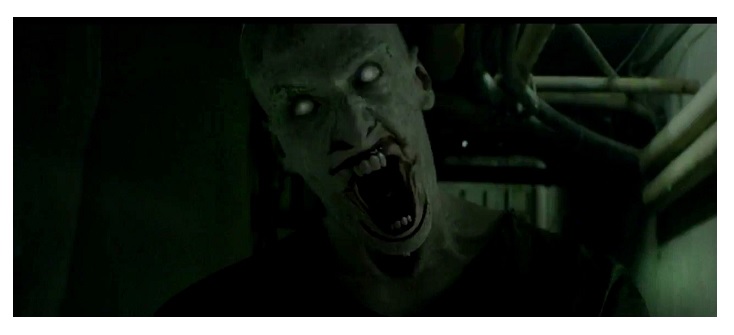 The problem with NAILS has to do with the way things wrap up. All sense of up and down, right and wrong, and any other rules established in the first hour as to what Nails is and what he is capable of is kind of tossed out of the window in favor of a flashy, over the top, kitchen sink tossing finale that just doesn't fit in with the subtlety of the rest of the film. On top of that, I felt Dana's story failed to come to a satisfying conclusion by the final reel. Part of this is because most of the time, the film focuses on Dana overcoming her own struggles rather than relying on others to help her or worse yet, shifting the focus to another character. Because of this, I felt unsatisfied with the final moments of NAILS after being fully enthralled with it for the first hour.
NAILS is two thirds a great movie, which is more than I can say for most horror films out there. Richard Foster-King is mesmerizing as the titular monster and STITCHES' Ross Noble offers up another fun turn as an orderly conflicted between keeping the hospital's secrets and helping Dana. Shauna Macdonald is also a standout as the lead, giving yet another grueling and physically demanding performance as Dana. Had this film used a bit of restraint with the climax and reeled it in a bit, this would be one of the best. As is, NAILS offers up solid scares, a terrifying monster, dense atmosphere, an inner conflict that is beyond compelling, and sadly, a less than satisfying conclusion.
---
And finally…as promised, here's the Creepy Pasta of "The Russian Sleep Experiment." Accompanied with the images, this is a pretty solid little spook story. I'm sure there's a nugget of truth in this story somewhere, but nevertheless, it makes for a fun tale to listen to in the dark! Enjoy!
---
See ya next week, folks!

Ambush Bug is M. L. Miller, original @$$Hole/wordslinger/writer of wrongs/reviewer/interviewer/editor of AICN COMICS for over 15 years & AICN HORROR for 5. Follow Mark on the Twitters @Mark_L_Miller and on his new website collecting posts for AICN HORROR as well as all of the most recent updates on his various comic book projects on MLMillerWrites.com.



---




---
Find more AICN HORROR including an archive of previous columns on AICN HORROR's Facebook page!
---
Interested in advertising with AICN HORROR? Click this link and talk with me about how to help keep this column running strong!
</div