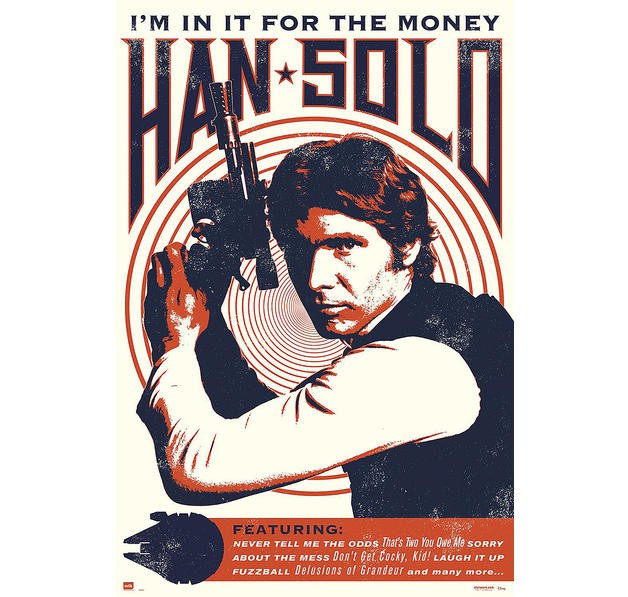 Hey folks, Harry here... If the rumors we're hearing are true, this change in director for HAN SOLO has more to do with a course correction from a laugh it up Han, to a more cynical Han, in keeping with the character we first met in that Cantina a long time ago. They've chosen RON HOWARD to take over the reins, for what sounds like three and a half more weeks of shooting, then a 5 week (already scheduled swath of reshoots & additional shoots) and then the post production to release process on the highly anticipated film. Here's the press release that came...
Lucasfilm is pleased to announce that Academy Award-winning filmmaker Ron Howard has been named director of the untitled Han Solo film.

"At Lucasfilm, we believe the highest goal of each film is to delight, carrying forward the spirit of the saga that George Lucas began forty years ago," said Kathleen Kennedy, president of Lucasfilm. "With that in mind, we're thrilled to announce that Ron Howard will step in to direct the untitled Han Solo film. We have a wonderful script, an incredible cast and crew, and the absolute commitment to make a great movie. Filming will resume the 10th of July."

Howard has made some of the biggest hits and most critically-acclaimed movies of the modern era. Among his many films are Lucasfilm's Willow, Apollo 13, A Beautiful Mind (winner of four Academy Awards, including Best Picture and Best Director), The Da Vinci Code, Frost/Nixon, and Rush. He also narrated and produced the beloved comedy series Arrested Development, starred in George Lucas' American Graffiti, and remains a TV icon for his roles in The Andy Griffith Show and Happy Days.

The untitled Han Solo film is slated for a May 25, 2018, release.
How do I feel about this? Well, it has happened. Last time Ron Howard was at Lucasfilm he made WILLOW, which I have soft spots for, but his filmmaking style wasn't nearly as developed as it is now. Of everything in Ron's filmmaking history, the films that most make him perfect for this project have nothing to do with APOLLO 13 or BEAUTIFUL MIND. Not FAR AND AWAY either. For my money, the Ron Howard I hope helms the rest of HAN SOLO is GRAND THEFT AUTO, the same year as STAR WARS. He had starred in EAT MY DUST just the year before, but GRAND THEFT AUTO is a heaping helping of the right spirit for this film of a scoundrel speed freak!
Personally, this is worthy of a heart-felt YEEEE-HAAAAWWWWW!!!!!
Less than a year from now we'll see what happens.
Keep it cool,
Harry