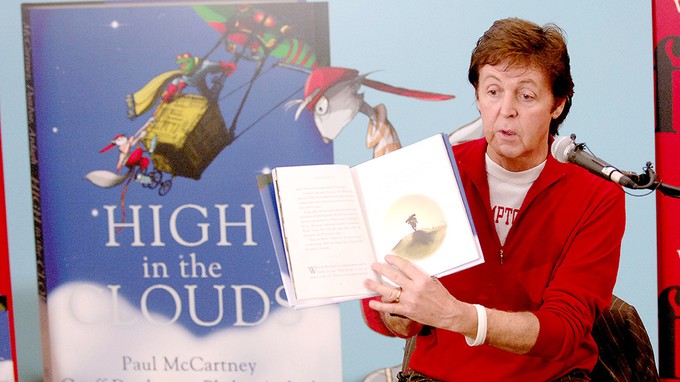 Ahoy, squirts! Quint here. If I had to pick a favorite living musical artist it'd be coin flip between John Williams and Paul McCartney. Both men shaped my tastes in ways I can't begin to explain and have given me so much joy since before I can even remember.
Thankfully both are still out there working their magic. We have new Star Wars music from John Williams to look forward to this December and Paul McCartney isn't one to be left behind. He's been in and out of the movie scene since the '60s, taking part in the three Beatles movies (A Hard Day's Night, Help! and Magical Mystery Tour, the latter of which he directed himself), doing a cameo appearance at the end of Yellow Submarine and memorably providing the title song to Live and Let Die. In his later years he's still dipped his toe in pop culture waters from time to time, providing original songs for Vanilla Sky and even the video game Destiny.
One of the projects he's been toying with for the last few years has been an animated movie called HIGH IN THE CLOUDS. He's been trying to get this movie made since 2009 and eventually released a children's book of the same name in 2015.
Looks like the original production company went belly up and now Gaumont has stepped up to the plate and is spearheading the development of this film, which will have 8 or 9 original McCartney-written songs and performances by other superstars, including Lady Gaga, says Deadline.
McCartney is also expected to voice one of the characters.
The story follows Wirral the Squirrel as he is orphaned as a result of human development and is on a quest to find a legendary animal sanctuary.
The last time McCartney was involved with an animated movie we got Yellow Submarine. Even though that was made largely without the participation of the Beatles, McCartney has embraced that style of animation and seems to be a pretty big fan. He even uses that look for the backgrounds at his concerts.
As a big fan, I really hope Gaumont can make this one a reality. I'd love a chance to see it.
-Eric Vespe
"Quint"
quint@aintitcool.com
Follow Me On Twitter