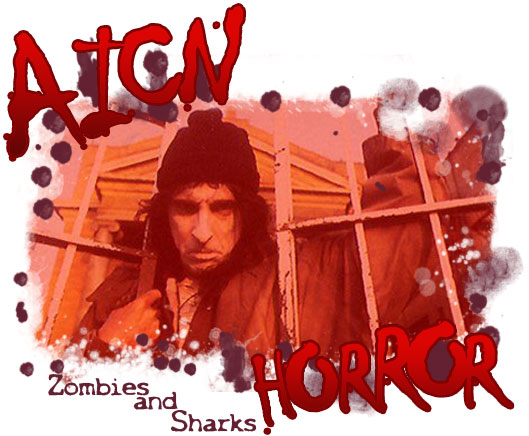 Logo by Kristian Horn
What the &#$% is ZOMBIES & SHARKS?
---
Welcome to the darker side of AICN! M. L. Miller aka Ambush Bug here with another AICN HORROR: ZOMBIES & SHARKS column. While many refuse to acknowledge it as a holiday anymore, Easter is yet another subgenre with many horror films made in its honor. Personally, visiting the Easter Bunny in the mall was always one of the more bone-chilling traditions of my childhood. And with all of the bunny suit horror out there, it seems I wasn't the only one. So along with a few films new and old released this week, I've got some Easter horrors to help you celebrate the holiday!
---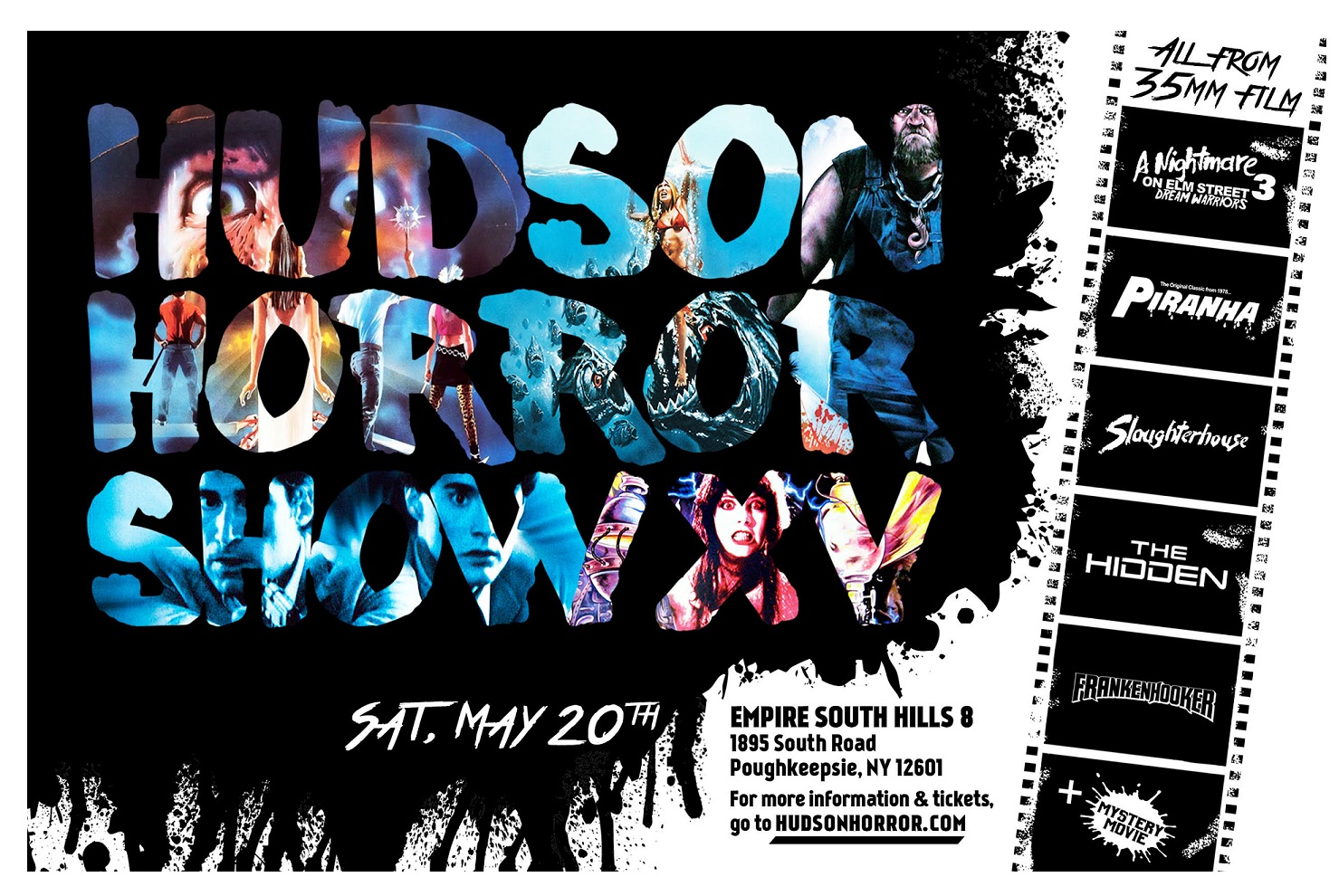 Before we dive in, I wanted to remind folks that it's that time of year again. Time for the Hudson Horror Show 2017, now in it's fifteenth year of showing 35mm Classics. They've just announced their lineup and it's a good one including Frank Hennenlotter's FRANKENHOOKER, the 80's classic slasher SLAUGHTERHOUSE, a 30th Anniversary screening of THE HIDDEN, Joe Dante's PIRAHNA, one of THE best horror sequels A NIGHTMARE ON ELM STREET 3: DREAM WARRIORS, and a special Mystery Show!
Find out how to get tickets and more about the festival, which takes place on May 20th in Poughkeepsie, NY, by clicking this link
!
Here's the trailer for the show!
---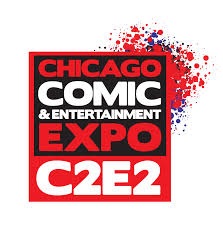 I also want to let folks know that I will be hosting a panel at this year's C2E2 Comic Convention at the McCormick Place in Chicago, IL next weekend. This will be the ninth year I've been hosting this panel at various cons talking about the current state of horror and where we think the genre will go next. This "Reinventing Horror" panel will feature Chicago filmmaker Dorian Weinzimmer (director/writer of CHICAGO ROT
which I recently reviewed here
), DC Vertigo/Image writer Justin Jordan (THE SPREAD, LUTHER STRODE Trilogy, SAVAGE THINGS), Marvel/Image artist Brian Level, critically acclaimed REVIVAL artist Jenny Frison, Chicago short film director Kellee Terrell (BLAME), and maybe a few more surprise guests!
You can still get tickets to C2E2 here
! So if you're going to be at the con, come on out and see the panel next Saturday night at 7:45-8:45pm!
---
I also wanted to give out an open call to advertisers interested in helping to keep this column running. Any inquiries should contact me here!
On with the horror reviews!
Today on AICN HORROR

(Click title to go directly to the feature)
Retro-review: THE OTHER HELL (1981)
Retro-review: VIOLENT SHIT (1989)
Retro-review: DREAM STALKER (1991)
Retro-review: ROBOCOP 3 (1993)
AMETHYST (2016)
EASTER BUNNY BLOODBATH (2010)
EASTER SUNDAY (2014)
CHUPACABRA TERRITORY (2016)
HEIDI (2014)
QUARRIES (2016)
THE BYE BYE MAN (2017)
THE GREASY STRANGLER (2015)
And finally…Rory Abel's HAPPY BIRTHDAY BRENDA!
---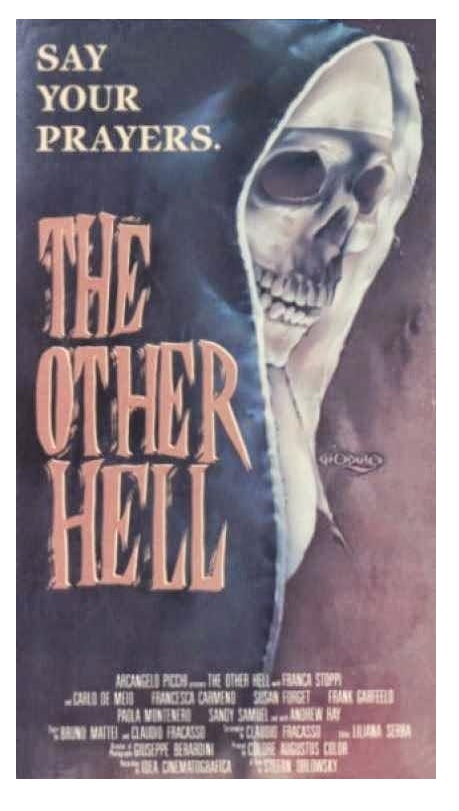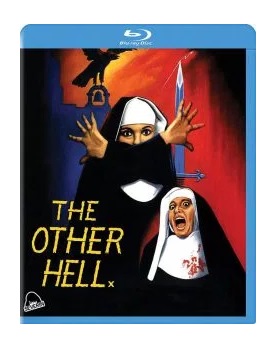 Retro-review: New on BluRay from Severin Films!
THE OTHER HELL (1981)
aka GUARDIAN OF HELL, THE PRESENCE, TERROR IN THE CONVENT
Directed by Bruno Mattei (as Stefan Oblowsky)
Written by Bruno Mattei (story), Claudio Fragasso (story & screenplay)
Starring Franca Stoppi, Carlo De Mejo, Francesca Carmeno, Susan Forget, Franco Garofalo, Paola Montenero, Ornella Picozzi, Andrea Aureli, Tom Felleghy
Retro-reviewed by M. L. Miller aka Ambush Bug
While most nunsloitation films focus on fetishizing ladies of the cloth and putting them in erotic and twisted situations, THE OTHER HELL actually focuses on mystery and horror resulting in a flawed but downright devious little supernatural revenge film.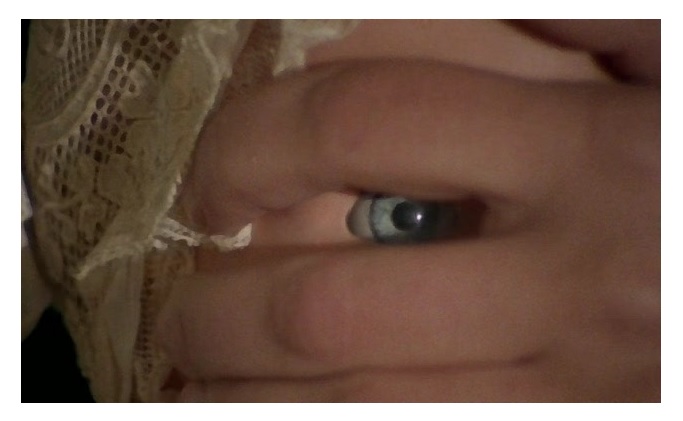 Italian filmmaker Bruno Mattei (HELL OF THE LIVING DEAD, RATS: NIGHT OF TERROR) brings forth another blasphemous little number about a crooked convent, a maniacal Mother Superior (Franca Stoppi), and all kinds of twisted secrets just waiting to be uncovered by a visiting priest (Carlo De Mejo) who doesn't want to be so fast in declaring all of the weird things happening at the convent to be acts of the Devil. While he investigates the convent's secret passages and trap doors, Father Valerio (De Mejo), finds that there are secret abortions being performed and dark rites being read in the shadows of the night in the convent. But just because Father Valerio uncovers the human truth, that doesn't mean that none of it is supernatural.
I kind of loved this twisted little mystery as it walks the wire between human and supernatural horror. While there definitely is some twisted stuff going on with the nuns at the convent, there is also some ancient evil afoot here and part of the fun is seeing Father Valerio uncover the truth, yet still refuse to believe that some of the work is by the Devil himself. I loved the "everything and the kitchen sink" approach to this film that feels sort of by the numbers at the beginning, but then surprised me that it sort of bucks all convention by the end. The twisted stuff is indeed some seedy and sordid wickedness involving rape, torture, human sacrifice, and untold abuses. But while most nunsploitation films seem to get off on putting the nuns into sexual provocativities, Mattei seems bound and determined to make this more of a horror movie than porn.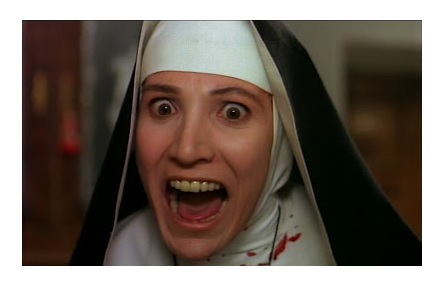 This is an awesome looking film as well. There is a secret room with hanging doll parts that is nightmare fuel. A scene where a baby is burned in scalding water will make your toes curl. But that's just a few of the horrors Father Valerio uncovers here. De Mejo is great as the priest who won't give up on finding the truth and Franca Stoppi is equally fantastic as the monstrous Mother Superior who rules with an iron fist while covering up all kinds of evil secrets at the convent.
THE OTHER HELL is a disturbing and twisted look at religious horror. Those who get uppity about blasphemy are going to want to give this one a pass, but if you don't mind horror set on holy grounds, this one is going to surprise you. Sure the acting is a bit dodgy at times, but the balls this one has is damn impressive. Recommended.
This release of THE OTHER HELL comes with audio commentary from co-director/co-writer Claudio Fragasso, moderated By Freak-O- Rama's Federico Caddeo, an interview with actress Franca Stoppi, and archive interviews with director Bruno Mattei and actor Carlo De Mejo, plus trailers!
---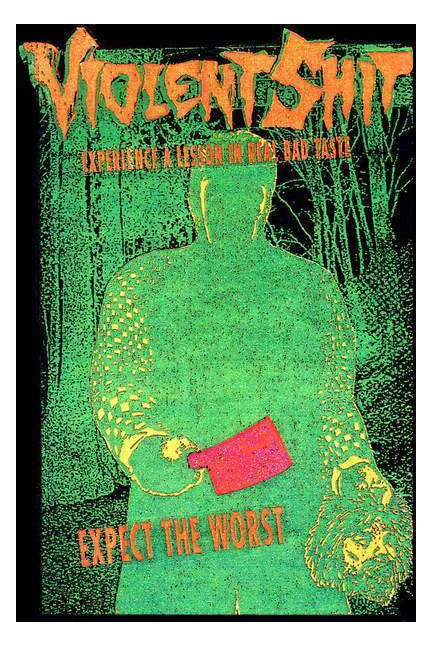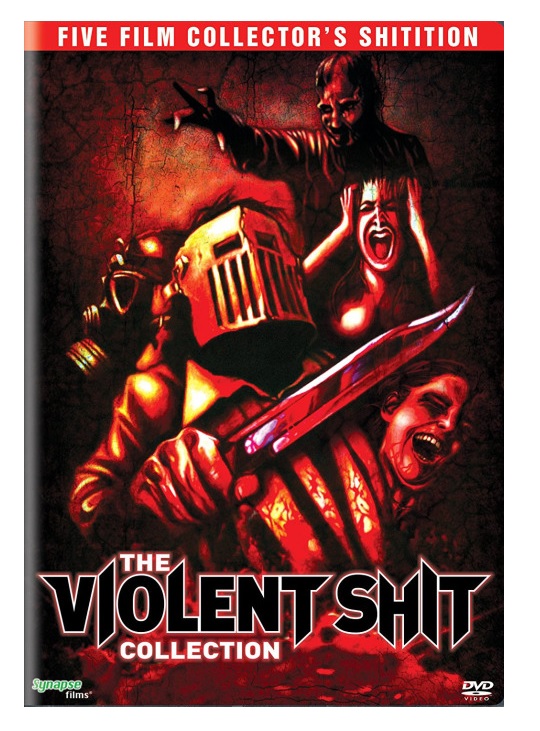 Retro-review: New on DVD in a Special THE VIOLENT SHIT COLLECTION from Synapse Films!
VIOLENT SHIT (1989)
Directed by Andreas Schnaas
Written by Andreas Schnaas
Starring Andreas Schnaas, Gabi Bäzner, Wolfgang Hinz, Volker Mechter, Christian Biallas, Uwe Boldt, Marco Hegele, Lars Warncke, Werner Knifke, Bettina X., Steve Aquilina, Maren Y., Beate Z.,
Retro-reviewed by M. L. Miller aka Ambush Bug
So in college, my friends and I used to rent the most extreme, crude, and disgusting shit we could find at our local mom and pop video store. We plowed through NEKROMANTIK and its sequel, a lot of early John Waters flicks, among others. Finally, just when we thought we had seen it all, we happened upon VIOLENT SHIT and it's a discovery we will never forget. The sheer amount of gore made up for the film's obvious drawbacks, but we didn't care. VIOLENT SHIT was something we experienced and we wore it like a badge of honor.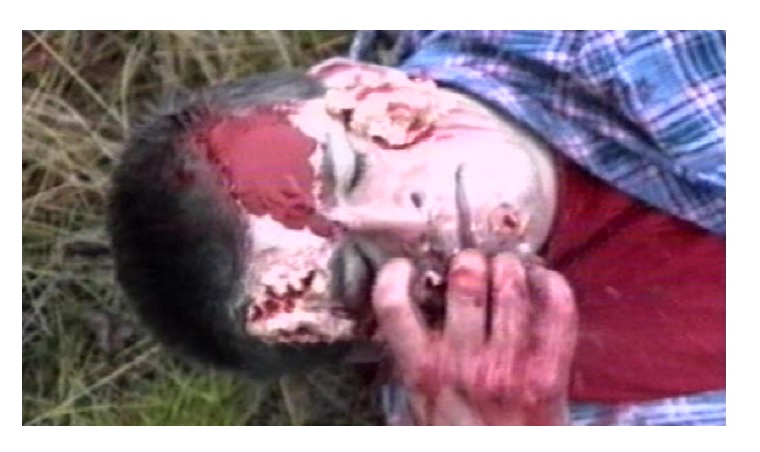 No, VIOLENT SHIT isn't a story that takes place after an especially filling Taco Tuesday. VIOLENT SHIT is the story of Karl the Butcher Shitter (filmmaker Andreas Schnaas), a rather psychotic man who likes to kill and maim and mince and dice and stab and gouge and basically annihilate any person who is unlucky enough to cross his path. The film begins with a boy playing with a ball set to creepy and repetitive organ music. We follow the young boy (who turns out to be a young Karl the Butcher Shitter) as he makes his way home and receives a beating for being late for dinner. Apparently this is the last straw and Karl cuts up his mother in one of the few off-screen deaths that take place in the film. Flash forward to twenty years later and Karl is being transported from one mental facility to another. When the driver pulls off the road to take a whiz, Karl takes this opportunity to escape and maim and kill anyone he encounters. After many scenes of Karl mutilating bodies with a giant meat cleaver, Karl finds Jesus in a church hanging from a cross, kills him, and then runs off to the forest to pick away at his own face until he dies and a Little Baby Karl emerges from the guts of the old dead Karl.
Let me begin my critique by saying there are going to be very few people a film like VIOLENT SHIT is for. It's a film for gorehounds and folks who are curious about what DIY horror is like in other countries. Andreas Schnaas was a huge fan of horror as a budding filmmaker, but because of the tight censorship laws in Germany at the time this film was made, horror was all but outlawed in the country. That didn't stop filmmakers like Schnass and guys like NEKROMANTIK's Jörg Buttgereit from making these underground movies. So I can't help but admire the rebellious underground grittiness VIOLENT SHIT represents. Schnaas pretty much made the film by himself, with the help of his friends and that type of passion to make horror despite strict laws against it is appreciated here at AICN HORROR.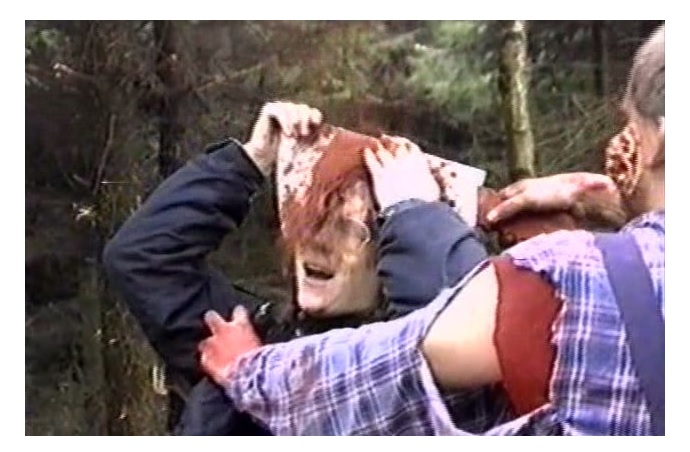 Still, I have to admit, VIOLENT SHIT is rough stuff. Basically the film is one senseless kill after another with very little narrative, but you don't go into a film called VIOLENT SHIT expecting deep character arcs and nuanced storytelling. At least this film is honest about what you're going to get if you dive into it. The film simply shows one gory scene after another as Karl goes on his senseless rampage. This is a high school notebook style film that is only interested in the gory and violent stuff with no shits given for anything else. And while it isn't a film I'd recommend to all comers, it does have a fun, no-fucks-given sort of feel to it that I cannot help but love.
This collection is little on bells and whistles, but it does contain all four of the VIOLENT SHIT films plus Schnaas' zombie opus ZOMBIE '90 (I'll be covering each installment in future columns).
WARNING: This isn't a trailer, but a clip of some of the violent shit that happens in VIOLENT SHIT!
---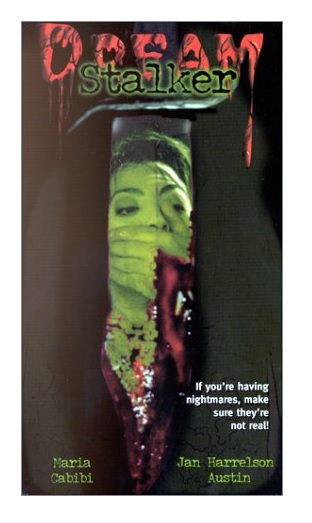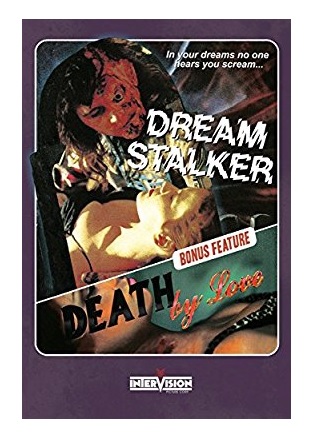 Retro-review: New on a Special Edition Double Feature DVD from Intervision Films!
DREAM STALKER (1991)
Directed by Christopher Mills
Written by Christopher Mills
Starring Diane Cardea, Mark Dias, Jan Harrelson
Retro-reviewed by M. L. Miller aka Ambush Bug
While shot on video (SOV) horror was all the craze in the late 80's early 90's, it definitely is a trend that doesn't hold up well. Coming from this era, I remember gobbling up all of these films from my local video store, but I didn't really stumble across DREAM STALKER. Taking a page from PHANTOM OF THE OPERA and A NIGHTMARE ON ELM STREET, DREAM STALKER has big ideas—just not a lot of know how or talent to back it up.
When motorcyclist Ricky wrecks his bike and dies, Brittany is left heartbroken. Plagued by nightmares that Ricky is coming back, Brittany returns home to find challenges at every corner. But the ghost of Ricky is all set to murder away all of those challenges so he can once again have her as his own.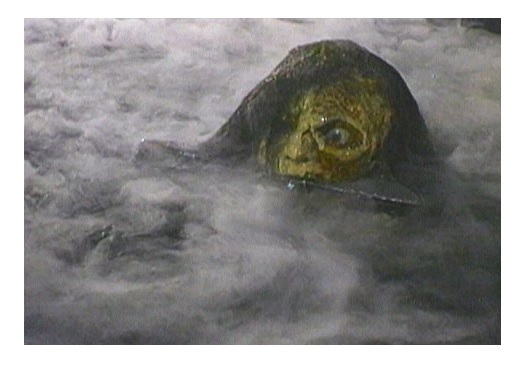 Film snobs are going to immediately want to give this one a pass and I don't really blame them as this is a difficult one to get into. But while there are a lot of cheesey moments, the music is repetitive as hell, and the acting is abhorrent, somewhere deep down there's a real passion here that endeared me while watching this film. Sure there are a lot of scenes of Brittany waking up from a nightmare (I lost count after 8), but the makeup effects are nicely done (they even stayed together under water as Ricky emerges from a lake to kill two boaters) and the relationship between Ricky and Brittany is fleshed out more than most films of this scope.
Plus there's a scene where the undead Ricky puts on a condom before having sex with a sleeping Brittany, so while he mentions that the condom broke, at least he put the effort into being safe. There's a lot of cheesy dialog and it seems everyone wants to rape Brittany, including the female gang she runs into in the woods, but I'll file this one under goofy fun and let you decide whether or not it's for you. This one is paired with DEATH BY LOVE, which I'm not necessarily looking forward to checking out, but will do so because it's my cross to bear. Look for that review in a future column.
Here's a trailer for both DREAM STALKER and DEATH BY LOVE!
---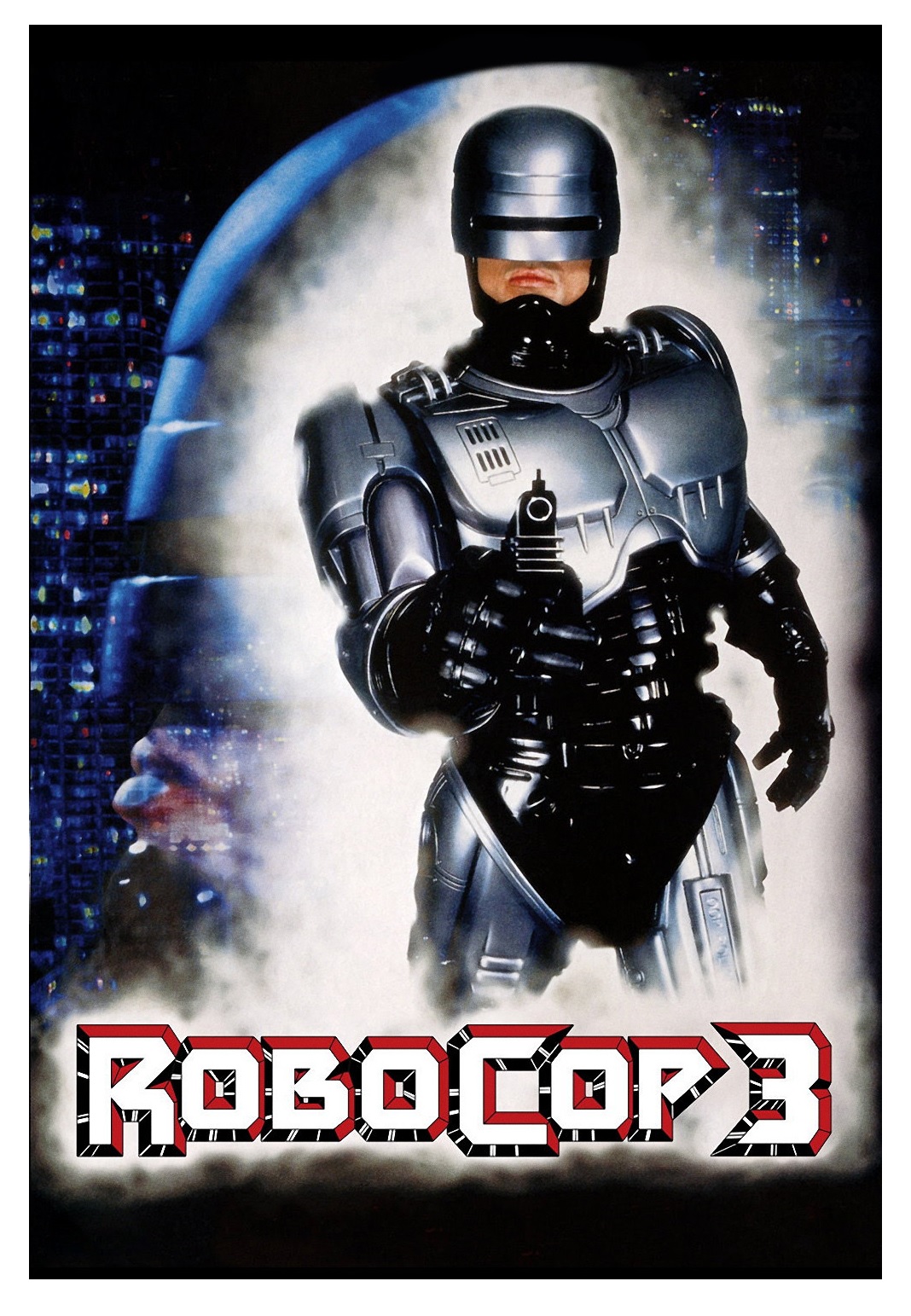 Retro-review: New on BluRay from The Shout Factory!
ROBOCOP III (1993)
Directed by Fred Dekker
Written by Fred Dekker & Frank Miller (screenplay), Frank Miller (story), Edward Neumeier (characters), Michael Miner (characters)
Starring Robert John Burke, Nancy Allen, Mario Machado, Rip Torn, Mako, Stephen Root, Daniel von Bargen, John Castle, Bradley Whitford, Randall Taylor, Jill Hennessy, Robert DoQui, S.D. Nemeth, CCH Pounder, Judson Vaughn, Ken Strong, Stanley Anderson, Remy Ryan, Jodi Long, John Posey, Jeff Garlin, Lee Arenberg, Shane Black, Felton Perry, Doug Yasuda, Bruce Locke, Angie Bolling, Eva LaRue
Retro-reviewed by M. L. Miller aka Ambush Bug
So I guess ROBOCOP 2, flawed as it was, made a killing at the box office, so a sequel was bound to happen. But by the time this film was made, the very corporations that Robocop fought in the films were pulling the strings on how the movies turned out it seemed and since Robocop was now a TV cartoon and a comic book, the powers that be decided that this third installment should be rated PG-13. So gone is all of the grit and gore from the first film and maybe a bit from the second. What's left is a twinge of social commentary and a movie that pales in comparison to the original.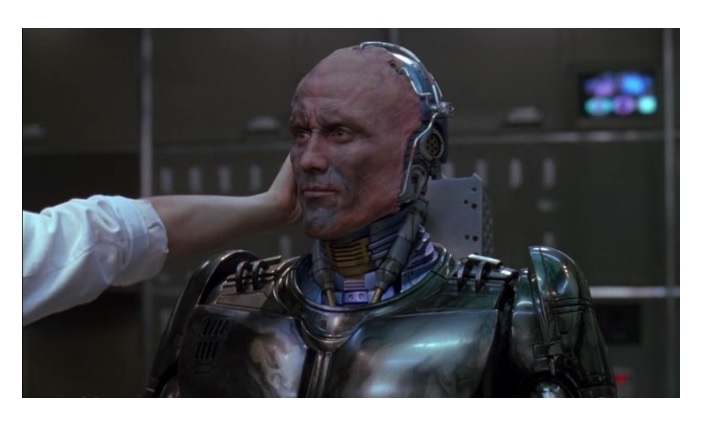 This third installment of the ROBOCOP franchise pits Murphy (played by John Burke this time around replacing Peter Weller) once again against the evil corporation that built him. As a new OCP corporate city is planned to be built, the poor population living on the land are being relocated in busses to "camps." A resistance, led by some pretty recognizable names (CCH Pounder, Stephen Root, Daniel von Bargen) are sabotaging the plans of OCP and with Robocop gone rogue, the corporation called in a cyborg mercenary named Otomo (Bruce Locke) to take him out.
This is a bad one. The biting satire of the first film as well as the second is all but gone. No fake commercials. What's left is some extremely lame action with very little heft. Sure there are suggestions of a darker story playing out. The relocated people are being led away by Nazi fatigued corporate police and are suggested to be killed, which is a not too subtle reference to the Nazi atrocities against the Jews in World War II. Though Frank Miller, who penned the second ROBOCOP, isn't known for being subtle. All nuance that carried over into the second film is gone here as characters are more one-dimensional than ever and good actors don't even get a chance to show what they can do through the clunky script.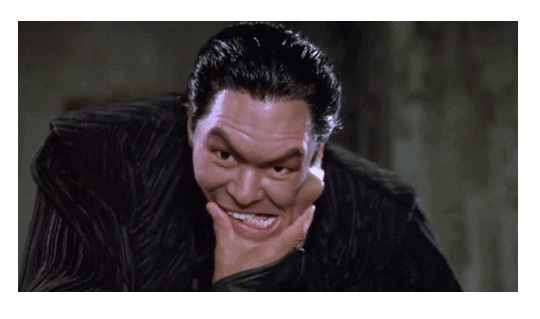 Proving once again that the filmmakers didn't really know what to do with Murphy after the initial film, Robocop doesn't even show up until 20 minutes in. Here Robocop is damaged and reprogrammed by the resistance, which sort of tries to bring things full circle as Robo finally takes on the evil corporation, but the structure is basically the same as ROBOCOP II as everything ramps up to a big fight between Robocop and Otomo. I must admit, that fight is the only fun I had with the film as Otomo repairs himself after fighting Robo by relocating his dislocated jaw and flips and jumps over Robo as he flies around in his new jetpack! Had the rest of the film had this sense of fun, I wouldn't have minded the saccharinating of the franchise, but that sense of wanton, balls to the wall fun is only dedicated to about a five minute fight scene. The rest is boring resistance talk and uninspired action between faceless people fighting other faceless people with machine guns.
Peter Weller was smart enough to sit this one out as he got only about five minutes without the mask in the second film. Here Robocop gets about a minute without the mask and with the mask; it does look a lot like Weller's mouth. He doesn't have Weller's movements down though as it appears at times Burke is holding his hand outward to steady himself from falling over in the heavy armor. Nancy Allen agreed to come back only if her character is killed off and she is, giving Robo about five minutes of motivation. All in all, if you're a fan of the first ROBOCOP, you're going to be frustrated as all get out as to what the character devolved into by the third film. Had the franchise kept its sharp satirical teeth and appetite for gore, this could have been a great franchise. As is, ROBOCOP was great, but the sequels just don't stack up to the original model and add nothing to it.
---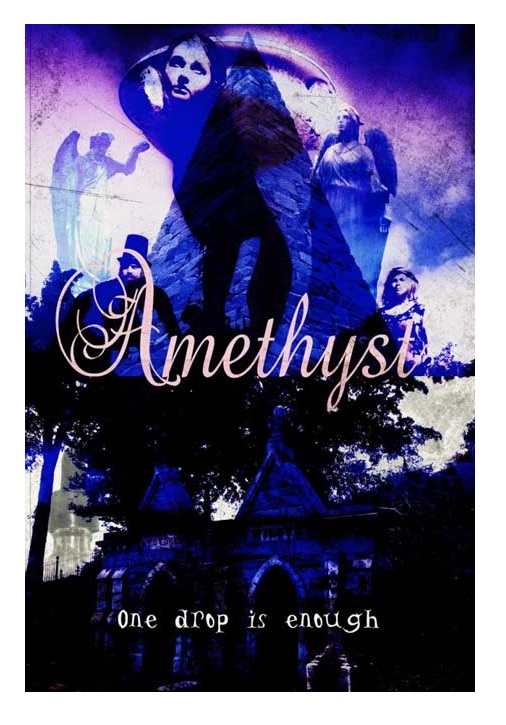 New this week on DVD from Frolic Pictures!
AMETHYST (2016)
aka PSYCHEDELIC GODMOTHER
Directed by Jared Masters
Written by Jared Masters
Starring Grace Klich, Valerie Miller, Derrick Biedenback, Olivia Yohai, Jared Masters, Vincent Joel
Find out more about this film here, @amethystmovie, and on Facebook here
Reviewed by M. L. Miller aka Ambush Bug
Light on story, but heavy on style and trippy nuance, AMETHYST is one LSD trip appreciators of art house horror will definitely want to check out.
In this dialog-less experimental film, a pair of women take some LSD and go on a sometimes beautiful/sometimes haunting trek across a mansion grounds, a countryside, along a river, and through a cemetery.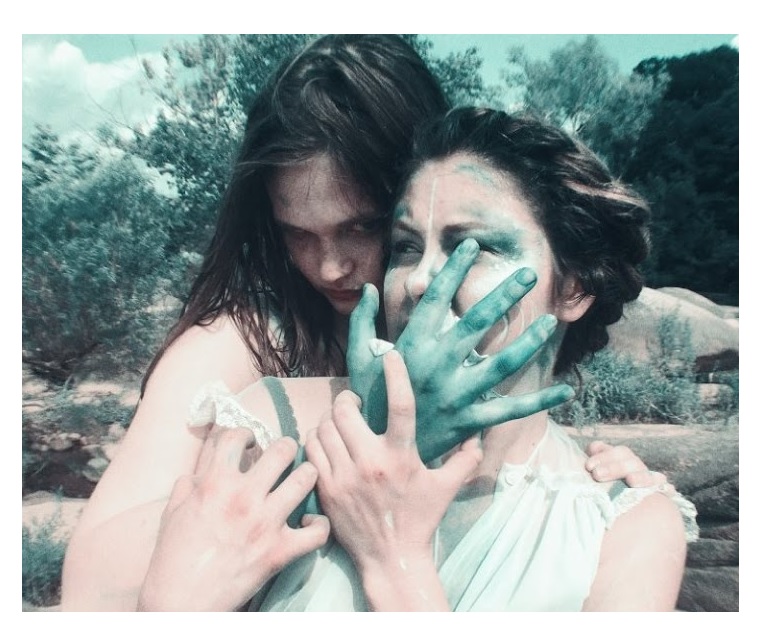 So there's not a lot by ways of story going on, but writer/director Jared Masters gives these two damsels room to explore the locale and come in contact with some pretty trippy things along this fantastical journey. Along this path is a pants-less guy in a top hat and cape that I believe represents a Pan or Trickster character. There's also a female vampire ready to let loose the red stuff. As the maidens attempt to recover their sanity and find their way back to the real world, they lose and find themselves as well as seem to fall in love only to destroy it. All of this happens in a dream-like fashion as classical and synth music plays in the background.
Fans of more straight-forward horror steer clear, but if you're more into the voyage rather than the destination, AMETHYST is going to be a psychedelic little pill worth popping.
---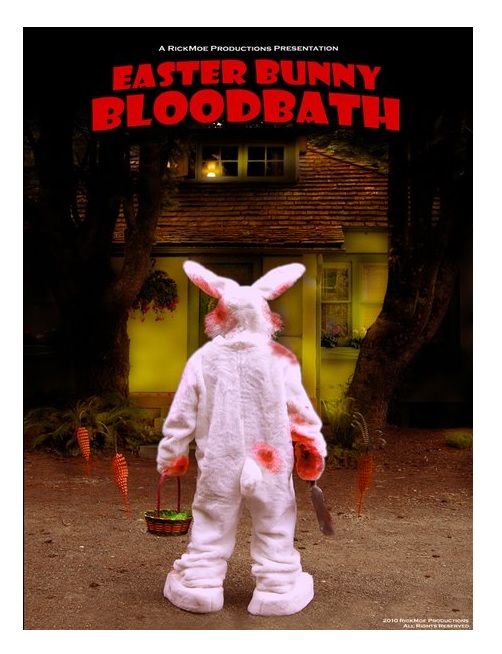 New on DVD from MVD Visual!
EASTER BUNNY BLOODBATH (2010)
Directed by Richard Mogg
Written by Richard Mogg
Starring Shayan Bayat, Meghan Kinsley, Travis Turner, Adrian Daniels, Laura Hope, Jessica Hill, Chris J. Clements, James Lawson, Halie Hunter, Jim Hunter
Find out more about this film on Facebook here
Reviewed by M. L. Miller aka Ambush Bug
While I wouldn't recommend EASTER BUNNY BLOODBATH to readers who expect a polished and professionally made horror feature, if you're a fan of DIY filmmaking and have a taste for the dark and twisted, this isn't a such a bad egg of a film after all.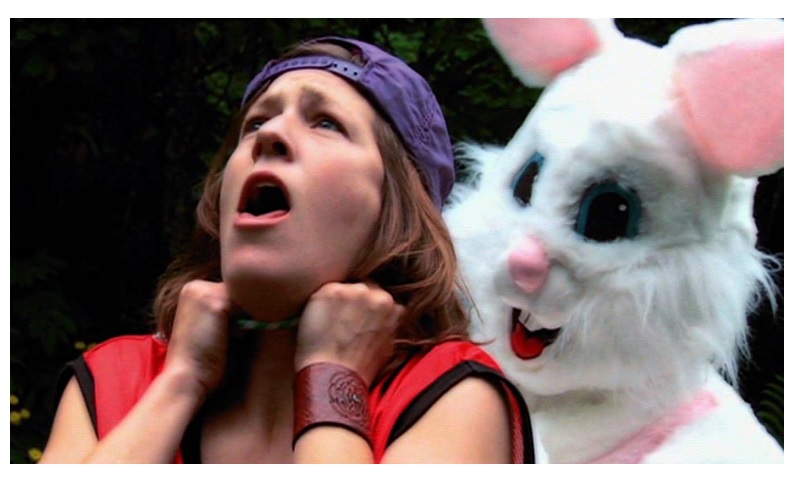 After witnessing the beheading of his sister by a deranged man in an Easter Bunny suit when he was 6, Peter (Shayann Bayat) grew up to be a normal guy with a girlfriend and a baby on the way. When Peter, his preggers girlfriend, and a few friends decide to take a weekend trip to the woods for Easter break, all is well until Peter starts seeing the same man in the Bunny suit hopping around the periphery. Peter things he's seeing things until people start disappearing and bodies start turning up hacked, sliced, and chomped to bits.
So this is a killer in a bunny suit flick. And while not all Easter Bunny suits are the same, this one looks a lot like the same one from
BUNNYMAN
and its sequel
THE BUNNYMAN MASSACRE
. But while that series grimed up the suit a lot to give it even a freakier feel, this one is clean as a whistle, which makes it all the more disturbing when it is spattered with blood later in the film. There's a bit of mystery here as we are supposed to guess who the killer is and while the answer is pretty obvious, the film does a decent job of misleading you until the reveal.
While this one doesn't have a lot of scares and chills, EASTER BUNNY BLOODBATH looks like the young filmmakers had a lot of fun making it and there is an undeniable sense of love for the horror genre in every second of this film. This one at least has a nice sense of story and tries to keep you guessing along the way. The blood and gore are pretty rudimentary, but there are some decent character moments that show that the filmmaker wasn't only out to show blood and guts. Still, EASTER BUNNY BLOODBATH is pretty rough filmmaking and is only going to interest the hardcore indie bunch.
---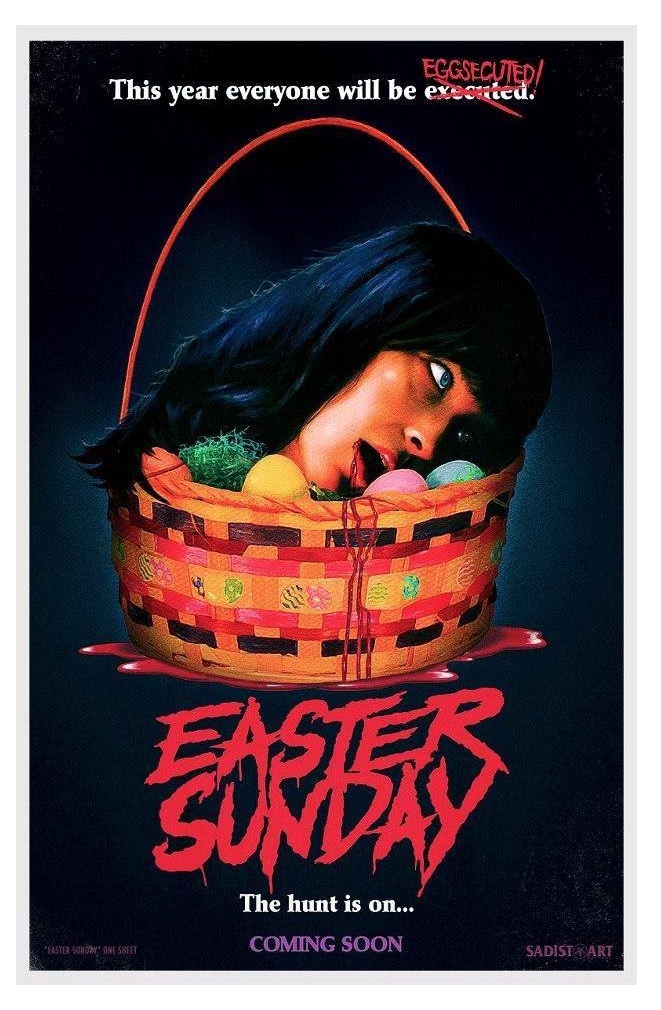 New on DVD and Special Edition VHS from MVD Visual!
EASTER SUNDAY (2014)
Directed by Jeremy Todd Morehead
Written by Jeremy Todd Morehead
Starring Robert Z'Dar, Jeremy Todd Morehead, Ari Lehman, Jason Delgado, Jon McKoy, Travis Morton, Bryan Bohn, William L. Bozarth, Valerie Foos, Christine Galbraith, Kim Gunzinger, Danielle Hansohn, Anne Morehead, Russell Ray, Angela Russell, Paige Taylor, Edward X. Young
Find out more about this film @EasterSundayOfficialMovie and on Facebook here
Reviewed by M. L. Miller aka Ambush Bug
While I'm still waiting for that Easter Bunny horror film that will blow me away (
BUNNYMAN
came close and the less said about the torture porn
THE BUNNY GAME
the better), EASTER SUNDAY at least has a dark sense of humor going for it. It's another madman in an Easter Bunny mask rampage, but while most of these films are simply about a madman with an axe, this one is about the reanimated corpse of a madman wearing a bunny mask and brandishing an axe. So that's…different.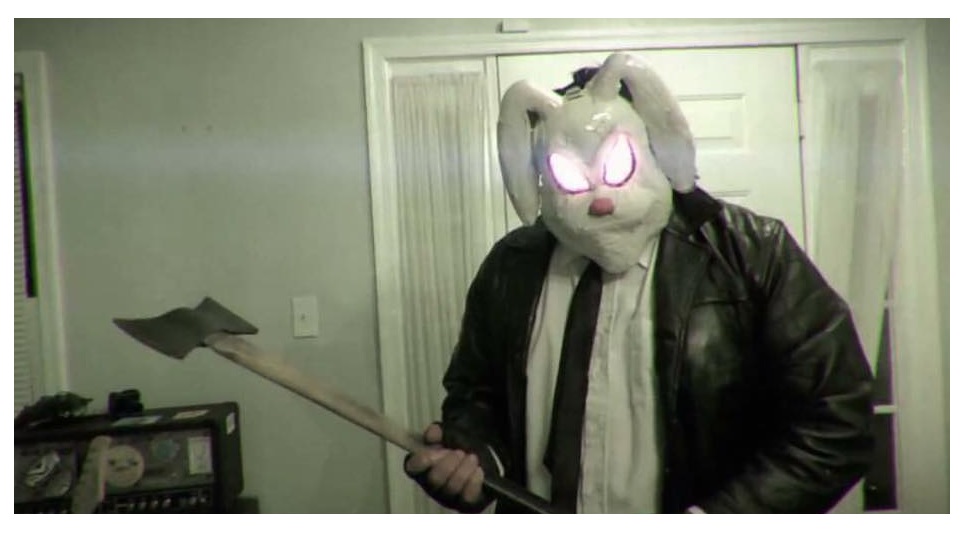 So when an axe murderer is executed on Easter Sunday over two decades ago, the small Midwestern town thought the horror was over. But when some pesky partying teenagers decide to party on down the night before Easter, they accidentally resurrect the bunny masked killer and he goes on another bloody rampage.
Expect lots of CG blood and bad puns with this holiday horror. And while I usually hate the computer generated blood, this film has fun with spraying it to and fro. Lots of decapitations. Lots of chopped off limbs. Lots of dumb kids being split in two. It's all here. And the bunny man is ready with a quip or two just to drive the point home. Those who hate bad puns are going to have a lot to hate here. But there is a fun sense of homage to all things horror with appearances by the late great Robert Z'Dar and the first Jason Voorhees Ari Lehman. There are also some fun names giving a nod to horror icons like Angus Bradley and Ash Loomis. None of it is particularly smart or scary, but EASTER SUNDAY seems like it was a lot of fun to make and shows that with some computer CG and a few friends, you too can make a horror film. I dug the glowing bunny eyes of the killer during the kills, so there's that.
---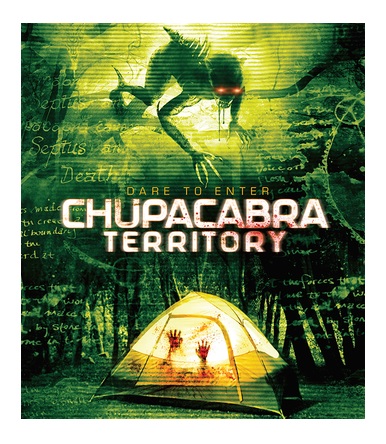 New this week on BluRay/DVD and Flixfling, expanding to iTunes, Amazon Instant & Cable VOD next month from Maltauro Entertainment!
CHUPACABRA TERRITORY (2016)
aka TRAIL OF THE BEAST
Directed by Matt McWilliams
Written by Matt McWilliams
Starring Sarah Nicklin, Michael Reed, Alex Hayek, Bryant Jansen, Elliot Book, Donnie Brinker, Megan Hensley, Pierre Kennel, Julianne Tura, Mike Wood
Find out more about this film here, @ChupacabraTerritory, and on Facebook here
Reviewed by M. L. Miller aka Ambush Bug
Another found footage film means another excuse for me to dust off my found footage questionnaire. This one focuses on the elusive goat-sucker, the Chupacabra!
What's it about?
A quartet of amateur cryptozoologists decide to go into the heart of recent Chupacabra sightings in an area marked as "Chupacabra Territory." After meeting the requisite pariah warning them to stay away and bucking the park rangers urgings to keep out of the woods, the campers keep filming their documentary, read from a book that explains everything you'd ever want to know about the Chupacabra but were afraid to ask, and scoot into the woods to be picked off one by one by this little monster responsible for cattle mutilations and worse in the area.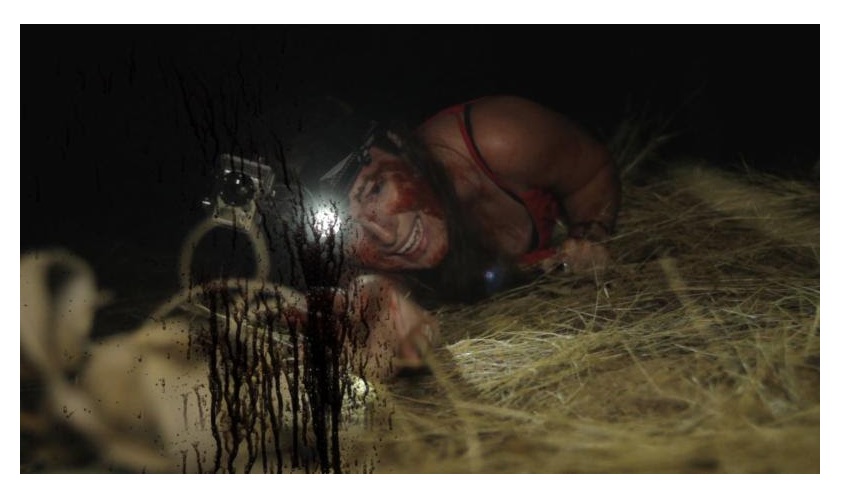 Are the actors successfully acting like they aren't acting?
While the actors are not fantastic, they do seem like they are following some kind of script rather than making it up as they go along. This makes for some uncomfortable scenes that just feel out of place with dialog that feels scripted and character decisions and interactions that feel rather forced. Alex Hayek's character introduces himself to the camera and pretty much explains how he's not a believer and will be playing the part of the contrarian of the trip. While this is supposed to be a documentary style shoot, the roles feel forced as Hayek's character is never really given the motivation as to why he has to act like such an asshole. He just is all of the time.
Does is seem like this footage was actually found and not untouched by additional production (which means there is no omniscient editor making multiple edits or an invisible orchestra providing music)?
In order to tell the story from different perspectives, we switch from camera to camera throughout the film. While it does up the kill ante a skosh, this doesn't really add anything else to the story and definitely takes away from the believability that this footage was found. There is one scene in particular that cuts between our quartet of monster hunters and a nearby camp encountering the Chupy that plays more like cinematic cuts and while it makes for a rather exciting scene, it simply kills the suspension of belief that this is found footage.
Is there a valid reason the camera isn't dropped and they just get the hell out of there?
This is supposed to be a documentary, so the reason is there. Later when fan meets shit, they need the light from the cameras to get around, so I guess that's motivation enough for me not to drop camera and haul ass.
Is the lead in too long and the payoff too short?
There is a lot of exposition here. The fact that there is a book that seems to know everything that is going to happen is extremely silly. Scenes are literally explained while reading the book as if this were scientific fact rather than cryptology such as the fact that if you are splashed with Chupacabra digestive fluid you develop a rash and become one of his minions. Of course, they happen upon this passage just when someone is splashed with Chupa-juice.
Is there an up-nose BLAIR WITCH confessional or a REC-drag away from the camera?
There are more drag-aways than I can count in this film as folks are dragged away from the cam, off to the left, and off to the right, with the camera positioned so you can't see the monster, but see the character get carried away. Once is excessive in this over-used cliché, more than once used and its inexcusably lame.
Does anything actually happen? Does the film add anything to the subgenre and is this one worth watching?
Not really. CHUPACABRA TERRITORY is a ridiculous little film that I guess could be taken as a tongue and cheek take on found footage. I don't know anyone who is as excited about Chupacabras and so sure they are going to uncover the truth behind the little beastie as this group of morons are. Bonehead decisions are made throughout, such as having the lead actor and actress have sex during the "climax" of the film in order to awaken the positive energy and stimulate the senses or some kind of stupid shit. You barely see the monster in the blurred distance and when things get real in the end, it just gets real stupid, repetitive, and uninspired. Skip CHUPACABRA TERRITORY. I'm trying to forget it myself.
---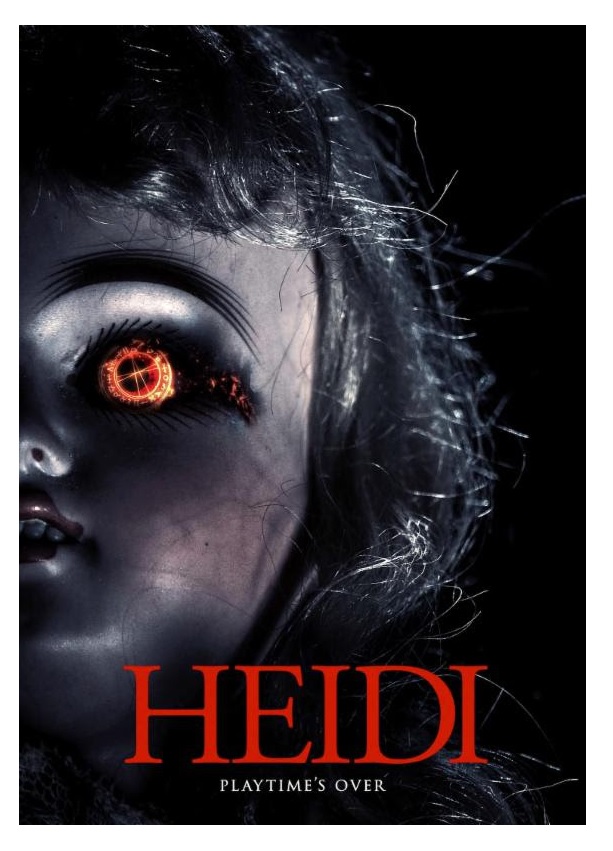 New this week on DVD and On Demand from MVD Visual & Wild Eye Releasing!
HEIDI (2014)
Directed by Daniel Ray
Written by Daniel Ray
Starring Samuel Brian, Joei Fulco, Joey Bell, Eva Falana, Elizabeth Callahan, Michael Monteiro
Find out more about this film @heidithedoll, and on Facebook here
Reviewed by M. L. Miller aka Ambush Bug
While there is a DIY sense to HEIDI, I found myself getting more and more involved in the story and the strong handling of the scarier scenes as the film went on. This found footager suffers from a lot of the setbacks that make folks hate the genre, but this is one creepy doll film that will creep up on you. Let's apply my found footage questionnaire to HEIDI.
What's it about?
A couple of amateur filmmakers who find potential in a new movie in everything they experience are asked to check in on an old lady's bird while she is out of town. While snooping around her attic, the kids find a room full of antiques and a creepy doll named Heidi. But once found, Heidi begins showing up around every corner and strange accidents seem to occur on a trail that leads directly back to the kids who found her.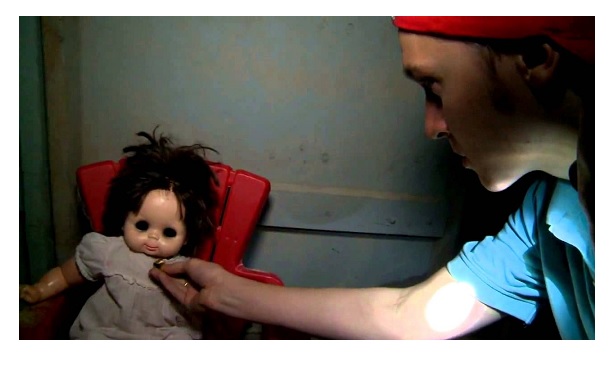 Are the actors successfully acting like they aren't acting?
For the most part, the acting is just ok. Due to a lack of scripting, the characters simply alternate between "What the fuck?" and "What the hell?" throughout the film as weird shit happens, but they do act like normal people and don't really seem like they are reading from a script. This just means that, as in real life, the unscripted dialog is pretty repetitive and boring.
Does is seem like this footage was actually found and not untouched by additional production (which means there is no omniscient editor making multiple edits or an invisible orchestra providing music)?
There's no music added in for extra effect that I noticed, but there are edits between different cameras and different formats. While this fills out the story and offers up a few different perspectives to the film, it makes no sense that someone would thread these scenes together. Had the filmmakers simple stuck to one camera, it would have made it more believable that this is footage found.
Is there a valid reason the camera isn't dropped and they just get the hell out of there?
Yeah, I guess. It is established that the kid simply films everything. That doesn't really make up for the fact that when he hears someone screaming, he first picks up his camera before running to the other room or to the door to catch footage essential to moving the plot along. The whole, "Kids these days tape everything." rule is applied here.
Is the lead in too long and the payoff too short?
This is where HEIDI separates itself from a lot of its brethren in the found footage style as the intensity definitely escalates as the movie goes on. Pretty much immediately we are introduced to Heidi and we feel the after-effects of that meeting throughout the entire film. So this isn't one of those "walking through the woods" films. Stuff actually happens and as the tension escalates, I found myself along for the ride.
Is there an up-nose BLAIR WITCH confessional or a REC-drag away from the camera?
Nope, and it's a better movie without those clichés.
Does anything actually happen? Does the film add anything to the subgenre and is this one worth watching?
Yes and yes. I was impressed with how much HEIDI does with so little. A simple quick shot of the doll looking around a corner makes for one of the most terrifying little sequences I've seen in an evil doll movie. And while the acting is a bit stiff at times and they don't seem to know what to say other than swear, the way this film doles out horrific information along with the subtle way they make an inanimate object something to fear by the end is admirable. HEIDI is not the best found footage film, but I was impressed with how they effectively made the suspense rise exponentially by the end. You have to sit with it for a bit in order to get caught up in the story, but I found myself pleasantly surprised that I did.
---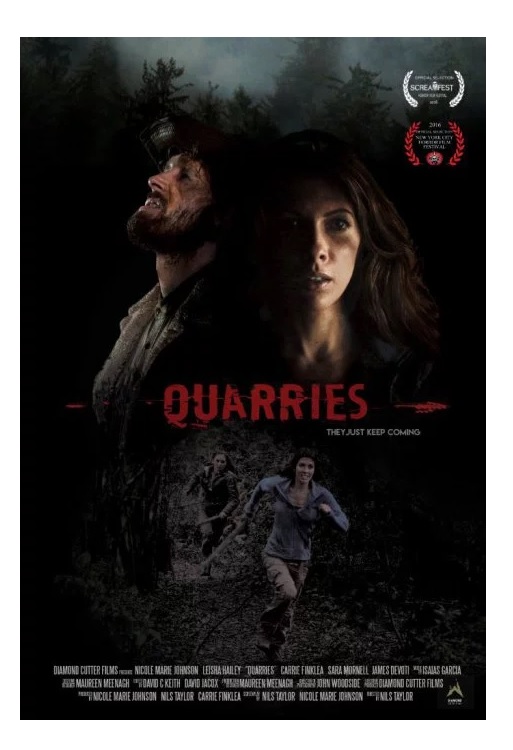 New on BluRay/DVD as well as iTunes from their website here!
QUARRIES (2016)
Directed by Nils Taylor
Written by Nils Taylor, Nicole Marie Johnson
Starring Nicole Marie Johnson, Carrie Finklea, Leisha Hailey, Sara Mornell, Luke Edwards, Nicole DuPort, Joy McElveen, Rebecca McFadzien, James Devoti, Wes McGee, Michael Yebba, Ray Fonseca, Cody Davis, Dean Alioto, Bryan Jordan, Ryan O'Leary
Find out more about this film here, @quarriesthemovie, on Facebook here!
Reviewed by M. L. Miller aka Ambush Bug
QUARRIES is survivalist horror done simple and right as a group of women hikers stumble into the wrong wilderness and become targets of a group of hillbillies with high powered weapons.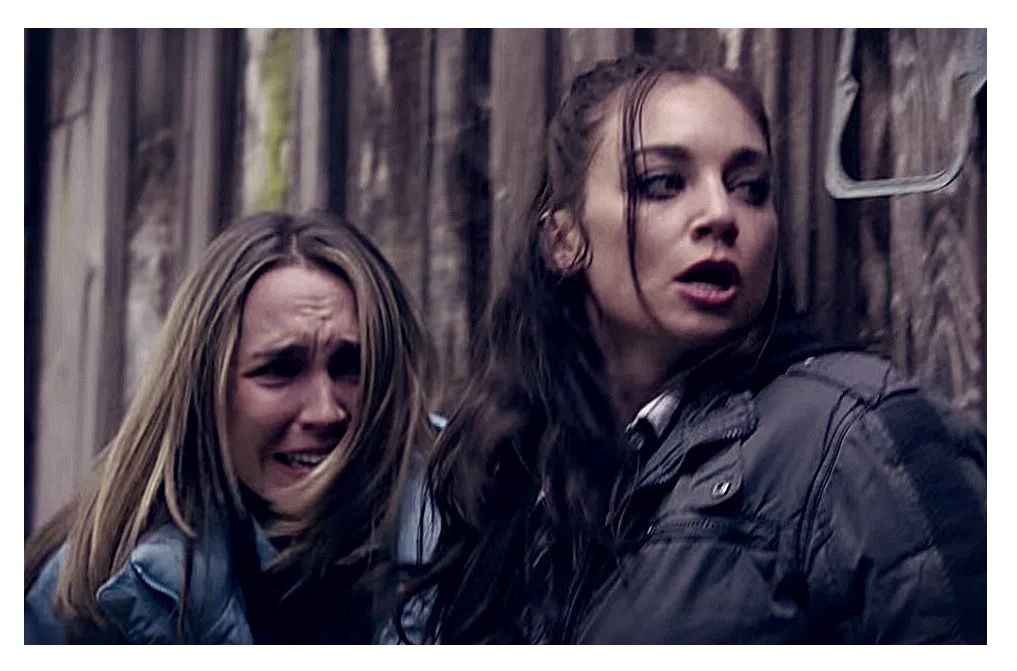 While this isn't the most original story, what makes it stand out are the performances of the women in peril. The entire group of hikers are made up of talented actresses that play off of one another well as the safety they thought they have is taken away by these monsters. Reminiscent of THE DESCENT where a group of amateur spelunkerers face monsters in an uncharted cave system, this group may be facing humans, but they are monstrous in action more than appearance (though they do have some weird scarring which never is really explained). Actresses Nicole Marie Johnson is strong as an out of her element abused woman trying to accomplish this hike in order to gain some control in her life. And goth gal Carrie Finklea is equally strong as a painkiller addict whose tough exterior protects an extremely hurt soul. While it is cliché to give every person an "issue" to represent them, these actresses build character around these hot button issues and make them work to serve the story well.
Once things get down and dirty, they really get down and dirty as the battle for survival between woman against inbred mountain man heats up. The action here is raw and ugly with no one really coming out unscathed. There is an intensity to QUARRIES that few films achieve and fans of films like THE DESCENT, DELIVERANCE, and other wilderness survival flicks are going to want to seek this all female actioner out.
---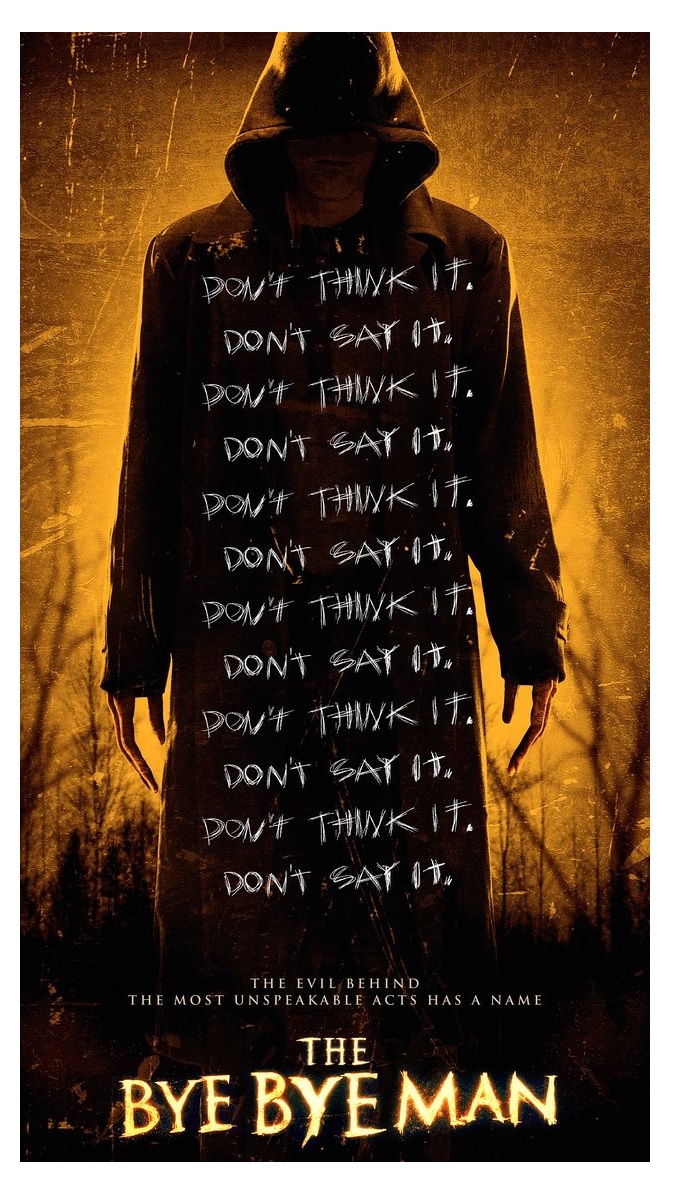 New on BluRay/DVD from Universal Studios Home Entertainment!
THE BYE BYE MAN (2017)
Directed by Stacy Title
Written by Jonathan Penner (screenplay/based on "The Bridge to Body Island" by Robert Damon Schneck)
Starring Douglas Smith, Lucien Laviscount, Cressida Bonas, Michael Trucco, Jenna Kanell, Erica Tremblay, Marisa Echeverria, Cleo King, Faye Dunaway, Carrie-Anne Moss, Leigh Whannell, Keelin Woodell, Lara Knox, Jonathan Penner, Nicholas Sadler, Martha Hackett, Ava Penner, Andrew Gorell, & Doug Jones as the Bye Bye Man!
Find out more about this film here, @thebyebyeman, and on Facebook here
Reviewed by M. L. Miller aka Ambush Bug
Playing out like a special needs version of PONTYPOOL is THE BYE BYE MAN, the latest in what seems to be an endless churning out of uninspired horror to make it to theaters lately. Mixing the Slender Man myth with a verbal venereal disease, the film just wants to be too many things and ends up being rather pointless.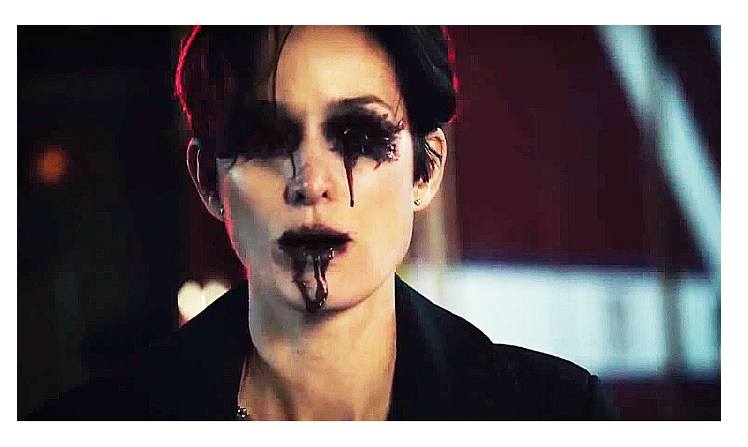 BIG LOVE's Douglas Smith plays Eliot, one of three college students who move into an old house off campus. With his girlfriend Sasha (Cressida Bonas) and best childhood friend John (Lucien Laviscount), the trio are ready to live on their own and party down. But soon they realize something is afoot in the home and when Eliot happens upon a scribbling repeating the words "Don't say it. Don't think it." over and over again, he uncovers the name is he is not supposed say or think about and of course, he says it and thinks it, unleashing the stupidly named Bye Bye Man which torments those who utter his name and forces them to pass on his name to others so he can…well, there's no real motivation for the Bye Bye Man because we know absolutely nothing about why the Bye Bye Man is what he is and how he got that way. With the Bye Bye Man growing in power to drive those he has cursed insane, Eliot has to go around and try to get rid all existence of the Bye Bye Man which may mean killing those closest to him.
Oh and the Bye Bye Man has a skinless dog…
…because, why the hell not?
This film is a mudded mess mainly as there is not an inkling of information in regards to the origins of the Bye Bye Man. I understand that the filmmakers didn't want to blow their load in a film that they hope to be franchise-able, but in order for there to be more BYE BYE MAN movies to explain his origins, the first one has to be good and this one is just too much of a mess to be anywhere near that. I like the premise of an idea being made real once it is seen, spoken, heard, and conceived in one's mind. It is an idea used with nuance and subtlety in PONTYPOOL where a man is trapped in a radio station as a virus travels via sound outside of his studio. But while that film used the concept of the terror of an idea spreading like a virus, THE BYE BYE MAN explains it in simplest terms over and over and over again. In PONTYPOOL, they struggle with getting the worms back into the can once opened in a futile, but again, interesting way. In THE BYE BYE MAN the solution is just to kill everyone and anything associated with it. Treating it like a curse where death is the cure again can be interesting, but because the Bye Bye Man can manipulate those cursed into seeing what he wants him to see, this power is only executed to make the monster feel more like a Freddy Krueger of daydreams. Once again, we don't know why the Bye Bye Man is what he is or does what he does. The focus is solely on Eliot and his friends. A little ambiguity is fine, but when you don't really know why there are train imagery and gold coins and a skinless freaking dog, it feels more like a grab bag on ideas than a real firm grasp of a concept at play here.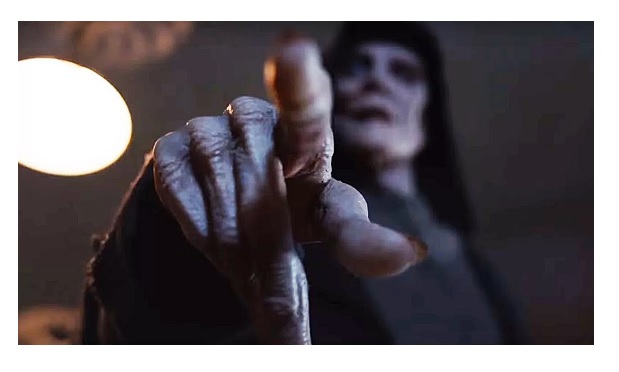 The pretty kids in peril do a decent job, I guess, but it's hard to really get into the by the numbers way characters are made. In mainstream horror, there is less interest in character and more interest in having a character present simply to fit a demographic. By the end, I didn't really know who was who other than the kids being made up of the black guy, the white weepy eyed guy, the hot blonde gal, and the hot brunette gal (I had to look up their names for this review). Because this is just a film put together to appeal to the broadest set of audience, there is no culture, no substance, and no real character to latch on to. The cast is perfectly fine as they have to act hysterical or goofy or both from time to time, but none of them come off as real and are pretty much as ethereal as the Bye Bye Man himself.
Doug Jones is once again misused here and gets very little screen-time, let alone anything to say. I'm glad he is playing a character in the new STAR TREK series because he is often wasted in these films as he is only used for his stature and slenderness rather than acting ability. Plus, since he is wearing a billowing robe the whole time, his unique form isn't really utilized in this one at all other than his lengthy and slender fingers pointing at-cha. Had Jones been given some kind of back-story for his character or allowed to say or do something other than jump out of the shadows every now and again, there might have been something scary in this film. Because PONTYPOOL is a cult hit from a decade ago, I don't blame this film for dusting off a semi-old concept and trying to do something new with it, but they forgot to do anything new, elaborate, or have any of it make sense while making THE BYE BYE MAN. It's just a wasted effort to bring a good idea into the mainstream. Watch PONTYPOOL instead.
---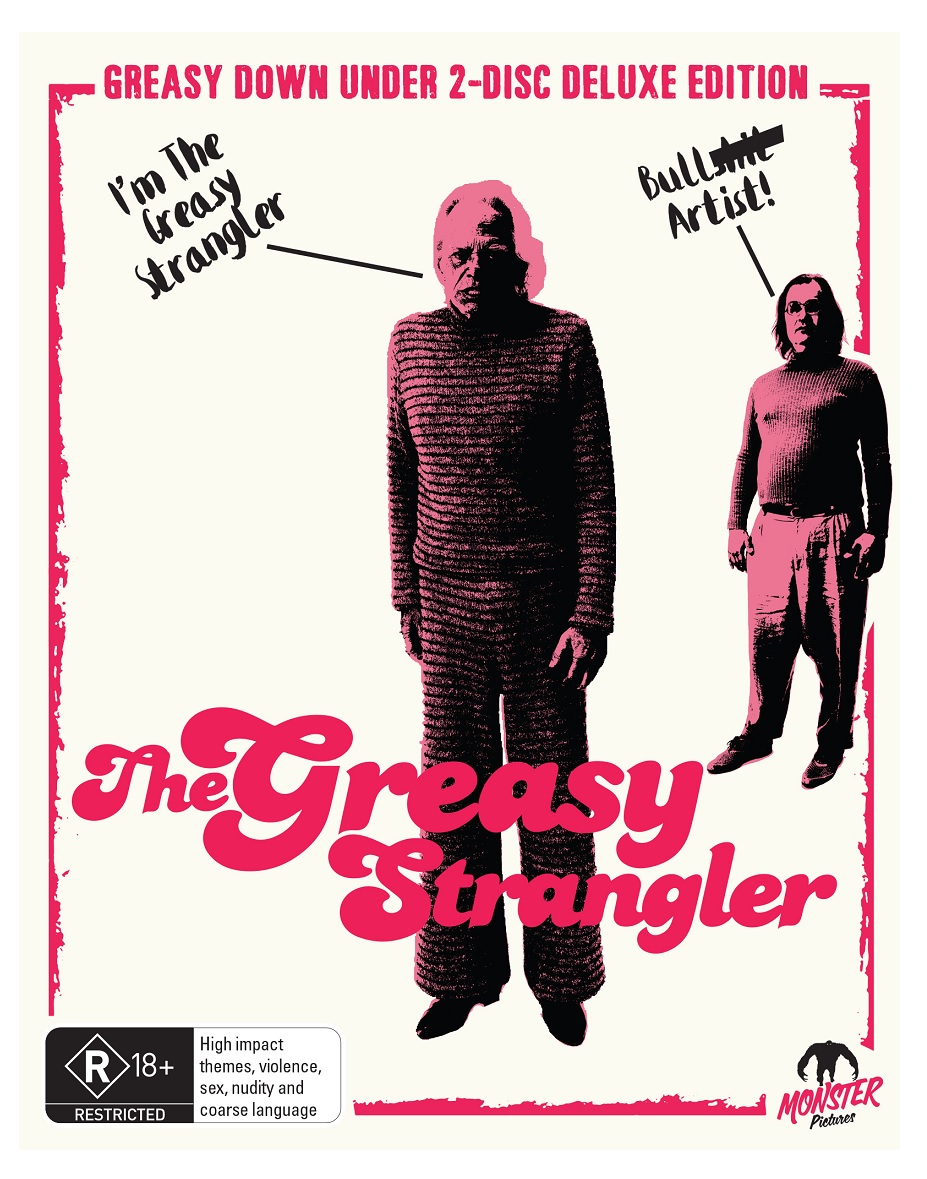 New on DVD/BluRay in the "Greasy Down Under" Special Edition from Monster Films!
THE GREASY STRANGLER (2016)
Directed by Jim Hosking
Written by Toby Harvard, Jim Hosking
Starring Michael St. Michaels, Sky Elobar, Elizabeth De Razzo, Gil Gex, Abdoulaye NGom, Holland MacFallister, Sam Dissanayake, Joe David Walters, John Yuan, Matt Yuan, Sal Koussa, Jesse Keen, Carl Solomon, Dana Haas
Find out more about this film on Facebook here and @greasystrangler
Reviewed by Mark L. Miller aka Ambush Bug
You're probably going to characterize your life as; what I had going on before watching THE GREASY STRANGLER and how to put my mind back together after watching THE GREASY STRANGLER. I know I am.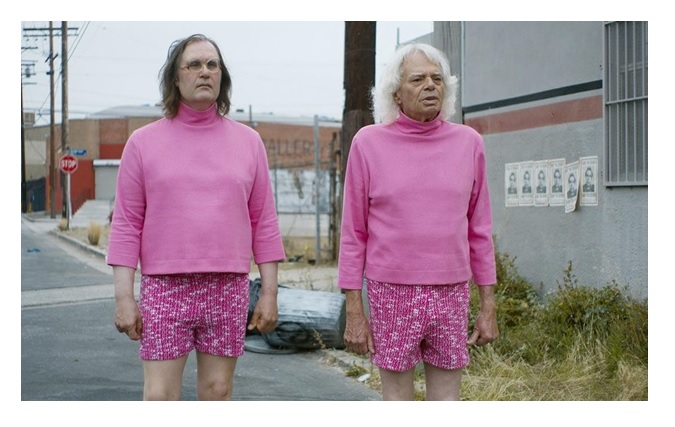 There is not an easy way to describe THE GREASY STRANGLER, but I'll try. The story revolves around a father (Big Ron played by Michael St. Michaels) and son (Big Braden played by Sky Elobar) who live together and work together on a walking disco tour that attracts gullible foreign clientele. On one of these walks, Braden meets Janet (Elizabeth De Razzo) on one of these tours and the two immediately fall for one another, which causes Big Ron to don a layer of grease from head to toe and go out strangling people. Things get complicated after that.
This is not a movie for those who live a conventional, logical life. It's a film for folks who are willing to take a leap into the insanity pool and try to touch the bottom even though there may not be one. It's the kind of leap of faith film that you just kind of go with, despite the fact that no one in the film seems to be from this planet and the world they live in certainly isn't our own. If you have difficulty disconnecting from the reality we all live in, I'm sure you're going to be one to check out of this film early.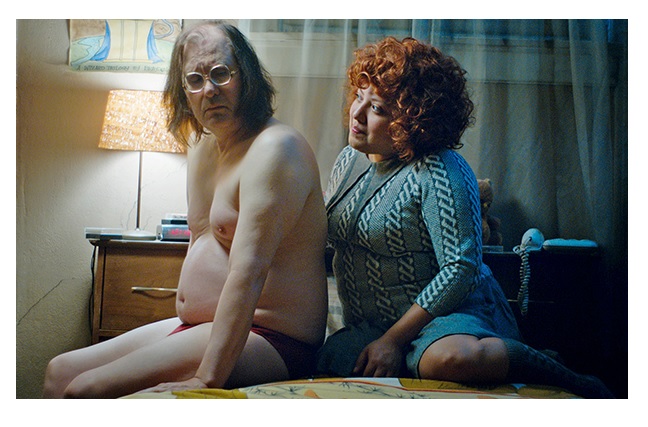 Even if you sit with this film and wallow around in all of its grease, it still will try its damndest to annoy the shit out of you or nauseate you or both. The cast repeats lines over and over. There are long uncomfortable pauses between characters in scenes that should cut to another scene, but instead forces us to uncomfortably sit there with these people you wouldn't want to share space in on in an elevator. And just in case those qualities don't repel you, THE GREASY STRANGLER bathes itself in every kind of body fluid and greasy substance you can and can't imagine. Things are tasted. Things are spat forth. Things are lathered around on all of the nethers and this film shows it all in graphic and gross detail. I winced more than once at this film and even joined in the crowd and cried out "Nooooo!" and I consider myself to have an iron constitution.
All of that said, this is probably the most memorable, most quotable, and most entertaining film I saw recently. I can't get it out of my head. I can't stop repeating lines to my friends I saw it with. This is a film that, like it or not, burrows into your brain and nestles its greasy buttocks in and refuses to get out. All of the gratuitous nudity (Big Ron likes to walk around naked to show the world his enormous and misshapen schlong), the cartoonish kills, the uncomfortable family relationship interactions, and just plain goofy bits and pieces are undeniably creative, unique, and hard to forget.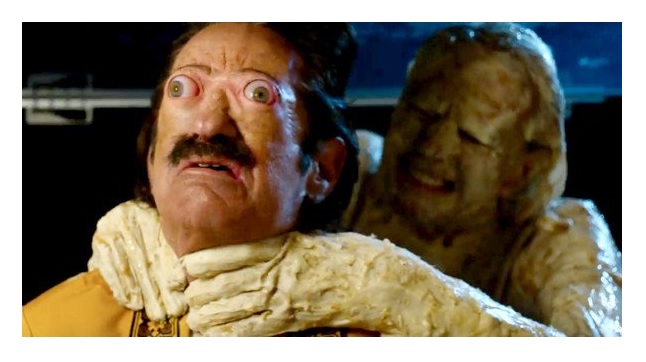 Michael St. Michaels (who most will not remember from
THE VIDEO DEAD
, I sure didn't) is the epitome of the creepy old man as Big Ron. Blatantly flaunting his large penis around Janet, he tries his best to be the disco superstar he used to be without much regard for his son's feelings. Both St. Michaels and Sky Elobar offer up star making performances here and I hope to see their offbeat style and humor again soon. Elizabeth De Razzo is also pretty brave in this film, baring all, despite being not your Hollywood ideal when it comes to body shape. The three of these stars are going to be seen again, I guarantee. They are just too infectious not to.
In the end, THE GREASY STRANGLER manages to be rather sweet within all of its absurdity. Big Ron is obviously lashing out as the Strangler and hitting on Janet because he is frustrated and scared that his son is leaving him with no one to make him greasy meals. It's a story of a father and son, getting to know one anther at a late stage in their lives after simply functioning for all these years. It's a tale of love…and grease. So despite all of the disgusting things going on, those who look through their fingers and choke down their own lunch will find some redeeming and even heart-warming qualities about it.
You're going to want to have repeated trips to the car wash sans car after watching THE GREASY STRANGLER. It's an unforgettable movie experience that feels like a flash forward sequel of NAPOLEON DYNAMITE at times and embraces its absurdity much like Quentin Bupieux's RUBBER did. THE GREASY STRANGLER is the film equivalent of an inappropriately tight and uncomfortably long low hug and I love every second of this film for that very reason.
The "Greasy Down Under" 2-Disc Deluxe Edition comes with an audio commentary from Michael St. Michaels, Sky Escobar, & Jim Hosking, on set interviews with the entire cast and crew, an interview with co-writer/director Jim Hosking called "Bullshit Artist," an interview with actress Elizabeth De Razzo called "Hootie Tootie Disco Cutie," an interview with Hoskings about the effects called "The Greasy Effect," a skit with Sky Escobar and Elizabeth De Razzo where they eat Aussie foods called "Greasy Down Under Cuisine," an on the road with Ballarat Home Movie, deleted scenes, extended scees, photo galleries, and trailers. That's a whole lot of greasy stuff wedged into this two disk set.
WARNING: This trailer is not safe for anyone to view anywhere at any time! You've been warned!
---
And finally…here's a terrific short film entitled HAPPY BIRTHDAY BRENDA from director Rory Abel which toured the festival circuit and won Best Short at HorrorHound Weekend Indianapolis. It's being prepared to be a feature film soon. Let me know what you guys think of it!
Happy Birthday Brenda - Revised Color Grade from Quiet Box Productions on Vimeo.
---
See ya next week, folks!

Ambush Bug is M. L. Miller, original @$$Hole/wordslinger/writer of wrongs/reviewer/interviewer/editor of AICN COMICS for over 15 years & AICN HORROR for 5. Follow Mark on the Twitters @Mark_L_Miller and on his new website collecting posts for AICN HORROR as well as all of the most recent updates on his various comic book projects on MLMillerWrites.com.



---
Look for our bi-weekly rambling about random horror films on Poptards and Ain't It Cool on AICN HORROR's CANNIBAL HORRORCAST Podcast every other Thursday!
---
Find more AICN HORROR including an archive of previous columns on AICN HORROR's Facebook page!
---
Interested in advertising with AICN HORROR? Click this link and talk with me about how to help keep this column running strong!