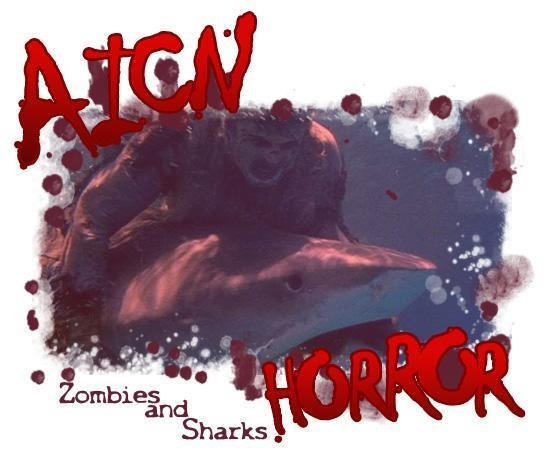 Logo by Kristian Horn
What the &#$% is ZOMBIES & SHARKS?
---
Welcome to the darker side of AICN! M. L. Miller aka Ambush Bug here with another AICN HORROR: ZOMBIES & SHARKS column. Sorry this one is a few days late. Had some family commitments for the weekend that took precedence, but here's a Monday batch of horrors for you to start the week!
I also wanted to give out an open call to advertisers interested in helping to keep this column running. Any inquiries should contact me here!
On with the horror reviews!
Today on AICN HORROR

(Click title to go directly to the feature)
Retro-review: CATHY'S CURSE (1977)
TEENAGE GHOST PUNK (2014)
SKYQUAKE (2015)
BETHANY (2017)
CHICAGO ROT (2015)
WE GO ON (2015)
TANK 432 (2015)
THE VOID (2016)
And finally… Ghosts In the Graveyard's 13 Ways To Die!
---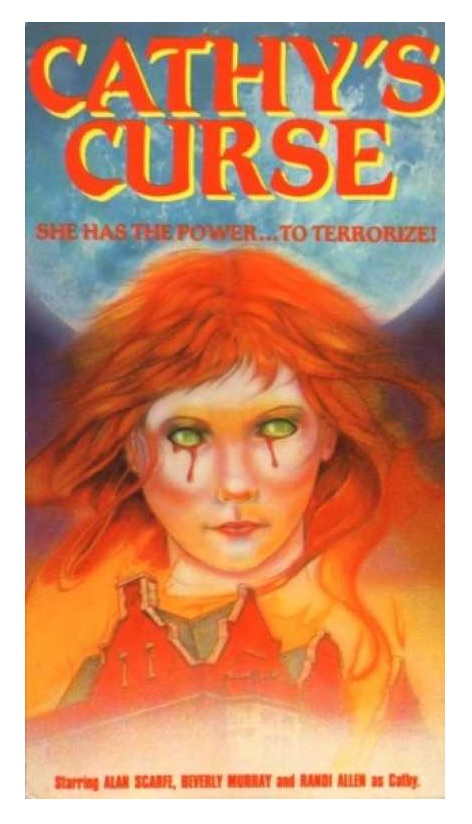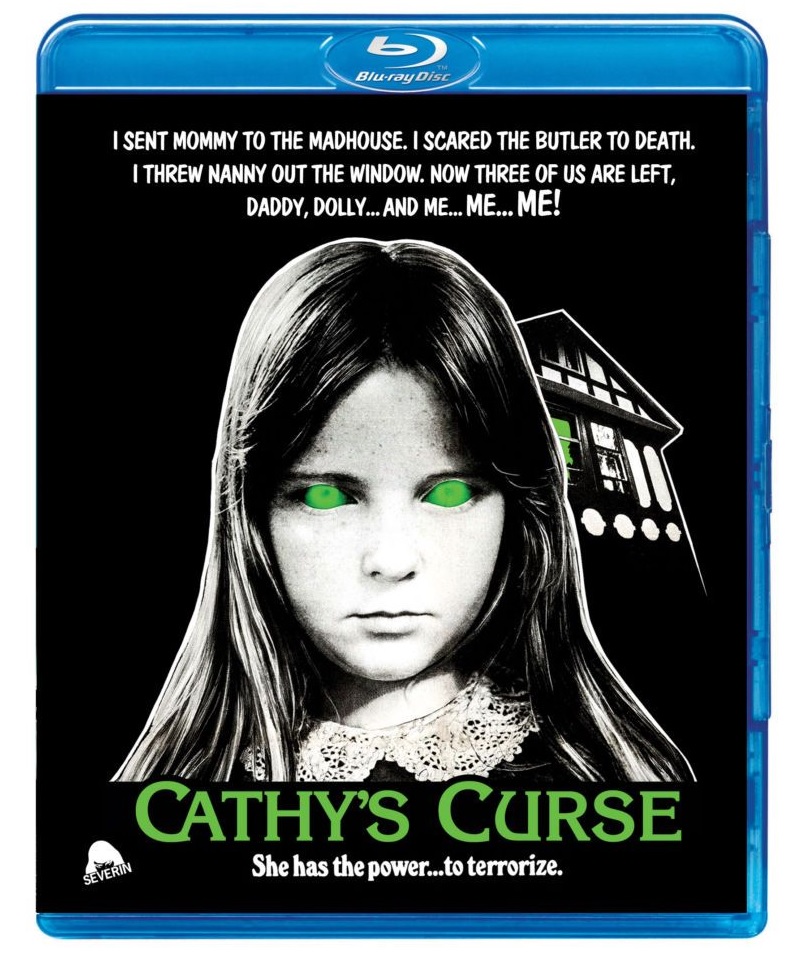 Retro-review: New this week on BluRay/DVD from Severin!
CATHY'S CURSE (1977)
Directed by Eddy Matalon
Written by Myra Clément, Eddy Matalon, Alain Sens-Cazenave
Starring Alan Scarfe, Beverly Murray, Randi Allen, Dorothy Davis, Mary Morter, Roy Witham, Bryce Allen, Sonny Forbes, Robert V. Girolami, Renée Girard, Linda Koot, Jeffrey LaFlamme, Peter MacNeill, Lisa Nickelt, Hubert Noël, Sylvie Lenoir
Retro-reviewed by M. L. Miller aka Ambush Bug
This odd little installment from the Canucksploitation era mixes THE OMEN with THE EXORCIST and while the results are lesser than its inspirations, there still is a creepy vibe to this schlocker by the name of CATHY'S CURSE.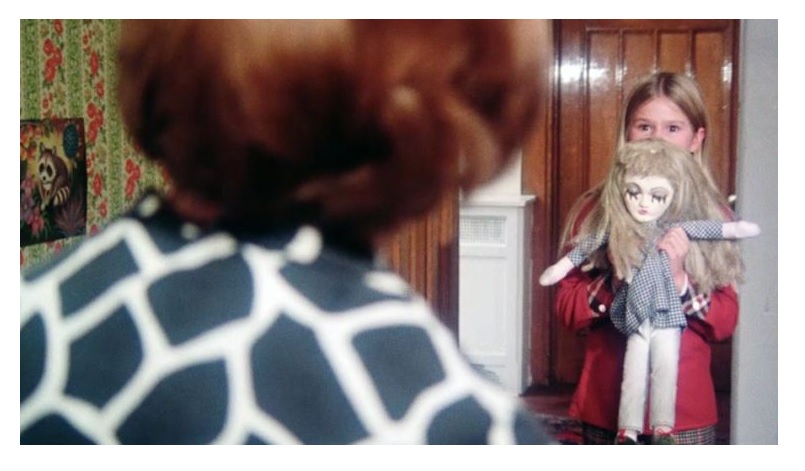 George Gimble (Alan Scarfe), his frigid and fragile wife Vivian (Beverly Murray), and his possessive (or is that possessed?) daughter Cathy (Randi Allen) return to George's childhood home to live. While Vivian recovers from a nervous breakdown and George attempts to work to pay the bills, Cathy is free to explore the many rooms filled with all sorts of antiquities. In the attic, Cathy discovers an odd doll and a painting of a little girl who used to live in the house and becomes possessed with her evil spirit. This does not bode well for the family and anyone who dares enter the house and tell little Cathy what to do.
As I said before, this is pretty much just a rip-off of better evil kid films like THE OMEN, THE EXORCIST, and a bit of THE BROOD with Cathy housing an evil soul within her and using her doll to scare people into falling from high places. One by one, the house crew, any visitors, and even visiting children are put into danger or killed whenever Cathy gets a wild hair about her and holds her doll up like a weapon. These don't really factor in to any really scary moments, but there are some nice and creepy scenes such as Cathy's voice turning all demonical when she holds the doll over her face. While somewhat goofy, it still makes for an odd mix of imagery and sound that is palpably unnerving.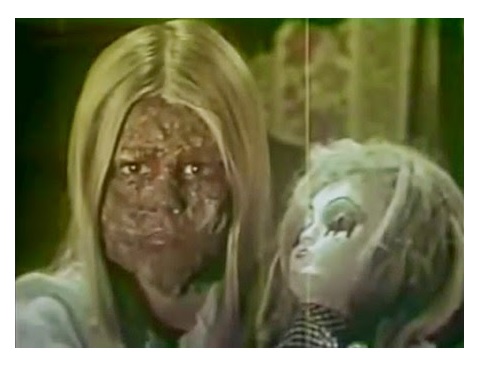 Adding to the low fi schlock is some horrible pancake makeup worn by Cathy in her final stages of possession that looks more like lasagna than anything else. There are a few other scenes of gore as one man gets his face scalded off (how I'm not sure) and another woman is tossed from a top floor window. The low budget gore actually adds a bit to the fun factor here if you let it.
CATHY'S CURSE is badly acted, poorly paced, and really has a nonsensical story. There are a few nicely framed scenes that inspire a dark tone as well as the aforementioned effective moments of creep. This one isn't necessary viewing, but if you're looking for a schlocky laugh, then CATHY'S CURSE has got it. This BluRay includes both the US release and the director's cut, commentary by BirthMoviesDeath critic Brian Collins and filmmaker Simon Barrett, an interview with actress Randi Allen and costume designer Joyce Allen, another interview with director Eddy Matalon, an intro by BirthMoviesDeath critic Brian Collins, and trailer.
---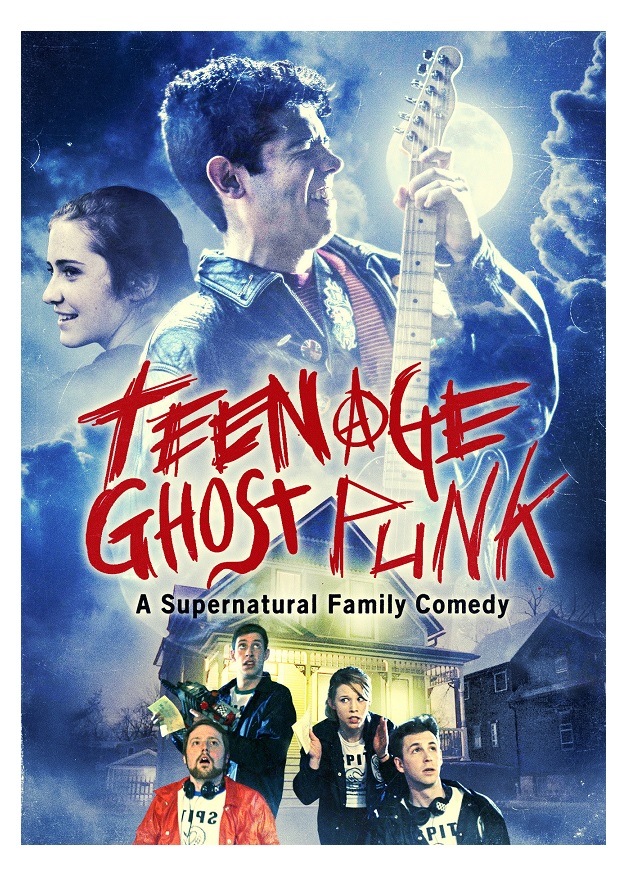 New this week On Demand, DVD, Amazon, Itunes, Google Play, Vimeo, Xbox, Flix Fling, Vudu, and Youtube from Midnight Releasing!
TEENAGE GHOST PUNK (2014)
Directed by Mike Cramer
Written by Mike Cramer
Starring Grace Madigan, Jack Cramer, Noah Kitsos, Adria Dawn, Austin Cone, Aleksandar Vasic, Mike Cramer, Parish Collier, Alex Peterson, Courtney Blomquist, Miora Brumfield, Ella Gill, Keith Habersberger, Jodi Kingsley, Marc Muszynski, Kevin O'Brien, Rachel Pospisil, Ethan Ramsay, Jason Ruff, Jake Shadrake, Lynda Shadrake, Brian Shaw, Darren Stephens, Aleks Vasic, Alex Waheed, Brian Wohl
Find out more about this film here, @teenageghostpunk, and on Facebook here
Reviewed by M. L. Miller aka Ambush Bug
TEENAGE GHOST PUNK is not the type of film I regularly review in this column. It's an all ages "horror" film focusing on a family who moves into a house haunted by the ghost of a kid who died in the eighties. But while the premise is something that may venture into some dark territory, this film chooses not to.
Instead, TEENAGE GHOST PUNK plays everything pretty safe. There are no real scares. No real attempt to make the ghosts spooky. No real dire circumstances other than the lead character not having a date for the Halloween dance. It's a film made for kids and while that really isn't the audience I speak to here on AICN HORROR, some of you might have kids who might share your interest in horror and I think this film would be a decent "gateway" movie for kids who think they like horror but don't really have the courage yet to watch actual horror without soiling their bedsheets and calling for mommy in the middle of the night.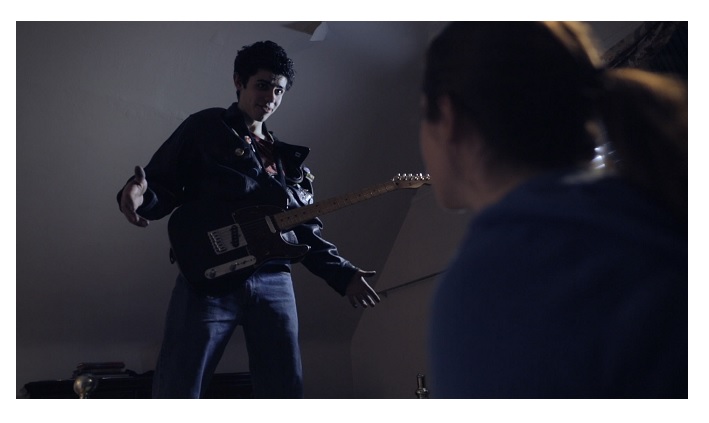 Then again, I think as a kid I might have thought this movie was toothless as well. There really is nothing much by way of effects—most of the ghosts are just said to be unseen until they are by the kids. There are no creepy effects. And the attempts at humor are of the blandest variety you're bound to see this side of a FULL HOUSE episode.
The story is sweet enough—about a girl who basically falls for a ghost boy, but there are all kinds of problems here. Let alone the fact that the girl ages while the ghost can't; there is a weird scene where the mother of the girl is said to have made out with the ghost, but most likely, because it is creepy as shit to have a teenage boy actor making out with a middle aged woman, the scene was cut. Still, they make mention of it happening, which doesn't really sit well. Also, for some reason, the story keeps cutting back to the mother at her job pointlessly, giving an office harassment suit ready to happen the chance to toss out lame pickup lines at the mother. This has nothing to do with the story other than to have something for the mother character to do and maybe make this film feel like feature length.
I guess, basically, what I'm getting at is that this is a bland and toothless all ages "horror" film that doesn't even have the edge of most GOOSEBUMPS episodes. I'm sure the filmmakers tried to make this one a treat the whole family can enjoy, but for an all ages film to work, it should entertain all ages and TEENAGE GHOST PUNK failed to capture my interest.
One last thing; if you're going to try to be punk, cut a bit deeper than The Ramones and The Clash. Sure they're great, but at least mention New York Dolls, The Cramps, The Dwarves, The Stooges, Sex Pistols, Naked Raygun, Buzzcocks, The Damned, The Misfits, or some other classic bands to make it seem like you know what you're talking about. The "punk" played in TEENAGE GHOST PUNK is about as legit as the scares.
---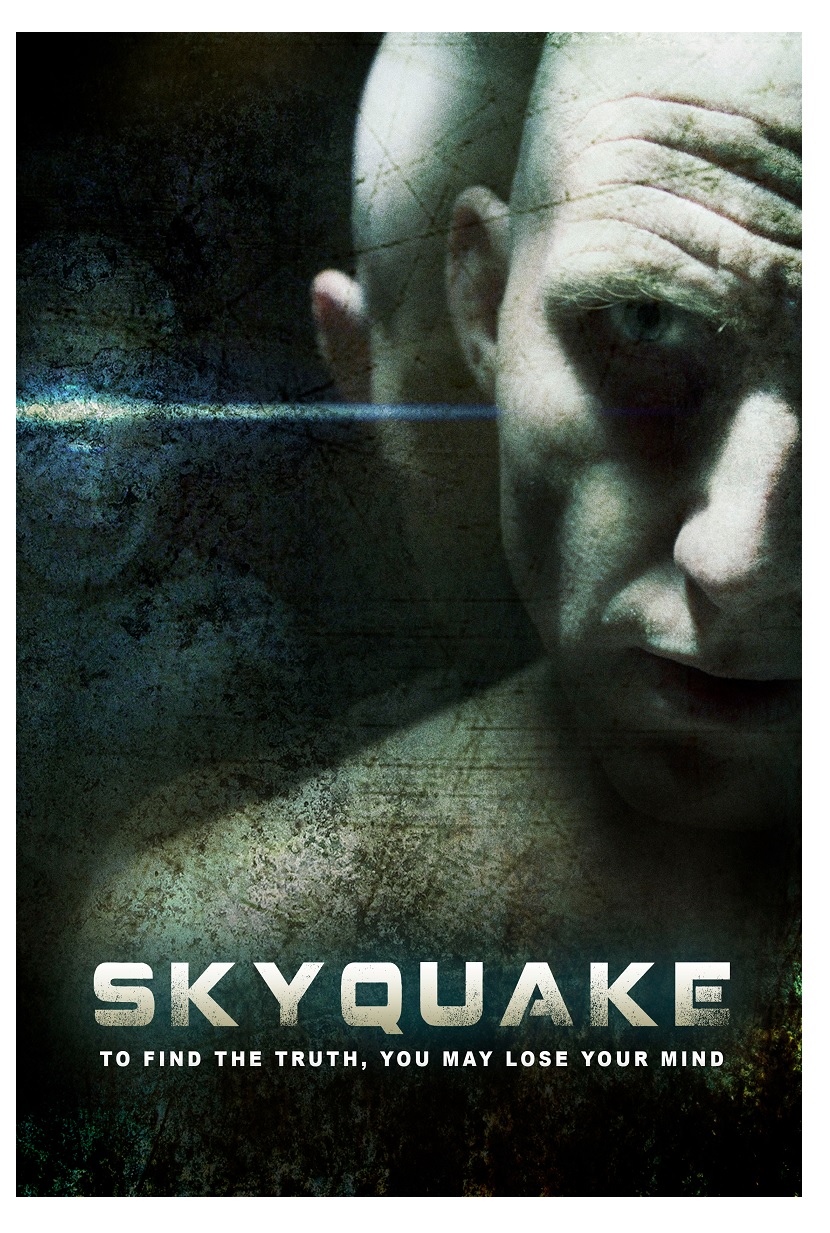 New this week On Demand, DVD, Amazon, Itunes, Google Play, Vimeo, Xbox, Flix Fling, Vudu, and Youtube from Midnight Releasing/Brain Damage Films!
SKYQUAKE (2015)
Directed by Sandy Robson
Written by Sandy Robson
Starring Sandy Robson, Bronwen Smith, Aidan Kokotilo-Moen, John Prowse
Find out more about this film here and on Facebook here
Reviewed by M. L. Miller aka Ambush Bug
SKYQUAKE is a fascinating character study that almost keeps your investment all the way until the end. Almost.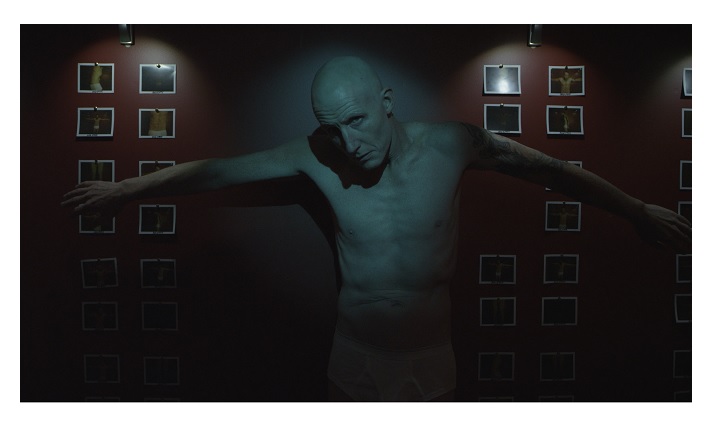 Adam (Sandy Robson, who also wrote and directed the film) has suffered a tragic loss and has dealt with it by becoming a obsessive compulsive recluse who maintains a rigid ritual that involves waking up at 4:44AM, shaving the hair off his body, running through the forest, huffing cleaning products in the sink, and scrubbing his skin with bleach in the shower. This routine is repeated throughout the film, showing how Adam is punishing himself for something that has happened in his past. One day, on one of his runs, Adam hears a loud, thunderous sound coming from the sky, causing him to break his routine and hurry home. Adam comes to find out others have heard these mysterious sounds and they are known as Skyquakes, which may occur as a response to frakking or tectonic plates shifting, but some believe it is a sign of the Rapture. Whatever it is, it has shot Adam's precise routine all to hell and the appearance of a small boy and a pale humanoid form in the woods indicate that these sounds may be from another world.
There is a lot that SKYQUAKE gets right. It sets up a scenario where you immediately have questions about how Adam became the reclusive and obsessive person he is at the beginning. At the same time, for me, it was fascinating to see him go about his routine and react to any disruptions to this routine. As an example of what an obsessive compulsive person is like, this film excels at exemplifying one. The orderly scenes showing Adam doing his sometimes horrific routines are painful, yet fascinating to see play out.
The only problem is that the film has to tell a story too, and there are some interesting twists and turns along the way, especially in the nuanced and nightmarish ending, but for some reason, I felt somewhat disappointed in the way this one turned out. This is not a complete criticism because Robson was able to conceptualize an utterly fascinating character. And I understand some kind of resolution had to happen for this film to come to a close. I guess, I was just so fascinated at this intimate view of this flawed human being that ANY story just wouldn't match up. SKYQUAKE is a raw, often terrifying, and emotionally impactful look at a fractured soul. It's a harrowing little film that I didn't want to end and if you like your horrors on the psychological side, do yourself a favor and seek it out.
---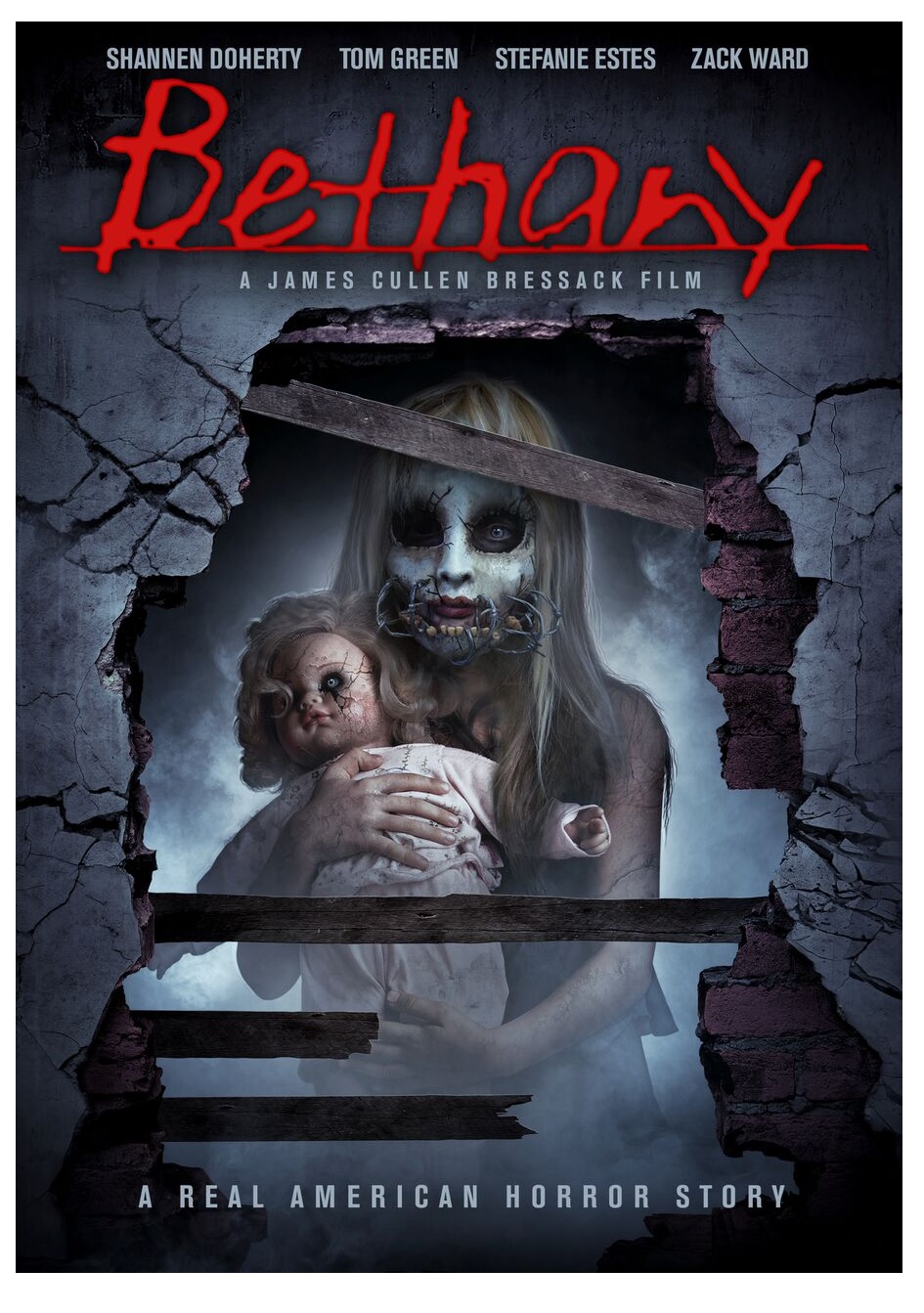 New this week in select theaters and On Demand from Uncork'd Entertainment!
BETHANY (2017)
Directed by James Cullen Bressack
Written by James Cullen Bressack, Zack Ward
Starring Stefanie Estes, Zack Ward, Tom Green, Shannen Doherty, Anna Harr, Leon Russom, Kevin Porter, Keith Jardine, Felissa Rose, Tommy Pistol, Thomas Downey, Ellen Gerstell, Paris Holmes
Reviewed by M. L. Miller aka Ambush Bug
James Cullen Bressack has created some potent little horrors through the years from the home invasion nightmare
HATE CRIME
to the stalker terror
TO JENNIFER
to the twisted confessional
MY PURE JOY
. With BETHANY, he offers up another powerful dose of horror focusing on a woman and her childhood imaginary friend that may not be as imaginary as everyone thinks.
BETHANY stars Stephanie Estes and Zack Ward (who also co-wrote and produced the film) who play newlywed couple Claire and Aaron just returning to Claire's childhood home. Claire ran away as a teenager and never looked back leaving her unhinged mother (Shannen Doherty) alone. But with the guidance of their couple's counselor Dr. Brown (Tom Green), Claire agrees to return to the home and confront the demons of her past. But almost immediately the house seems to respond to Claire's return and her grip on her sanity is loosening every second she stays there as it appears Bethany, her imaginary friend is back and has a vengeful streak.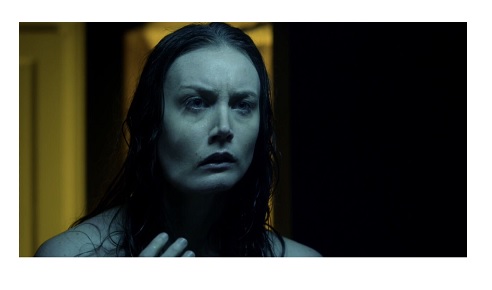 What works with BETHANY is that it offers up some very subtle, yet powerful scares and effects pretty much all the way through. While there is a great attention to character to get us involved with these people in peril, Bressack and his co-writer Ward give us some imagery and scenes that I haven't seen before like Claire's melting face in the mirror or Bethany invisibly guiding Claire to slice her own wrists. Bethany herself is rather horrifying with a mask sewn to her face and her gait resembling that of an animal rather than a human. I also really loved the skin-crawling scene where a drugged up Claire is wandering around a hospital and runs into a creepy old man with perverted intentions. All of these images and horrifying acts put together make for one scary film.
Estes and Ward are great in this one as well. Both are convincingly in love, yet frustrated at Claire's recurring psychosis resulting in a more realistic relationship with push and pull than one usually sees in horror films. Because the relationship feels real, it makes for everything happening to be all the more tragic.
BETHANY is a great grab bag of horror scenes with some nice character work with Ward and Estes. Green is surprisingly reserved as the counselor and Doherty is convincingly off kilter as Claire's mom. All in all, this is a well done film that shows real growth from Bressack—a filmmaker who I think has great terrors to show us in the future.
---
New this week On Demand, DVD, Amazon, Itunes, Google Play, Vimeo, Xbox, Flix Fling, Vudu, and Youtube from Midnight Releasing!
CHICAGO ROT (2015)
Directed by Dorian Weinzimmer
Written by Brant McCrea, Dorian Weinzimmer
Starring Brant McCrea, Dave Cartwright, Jonez Jones, Lee Kanne, Ryan Oliver, Shira Barber, Jojo Baby, Paul Barile, Roy Burgess, Robin Anne Christopher, Johnny Colon, Cody Evans-Gan, Quentin Gilliatte, Mike Madgiak, Matthew W. Miles, Rachel Morgan, Tony Papaleo, Obie Perez, Peter Renaud, Karl Stein, Preston Taub, Jeremy Vranich
Find out more about this film here, @ChicagoRot, and on Facebook here
Reviewed by M. L. Miller aka Ambush Bug
While Scorsese and Ferrara are often associated with being able to capture the seedy underbelly of New York, I always thought Frank Hennenlotter was much more successful in giving light to those unsavory and dark places. Filmmaker Dorian Weinsimmer seems to have the same kind of eye Hennenlotter did. And while Chicago has been the setting for many a film, CHICAGO ROT is one that will show you a Chicago that exists only after the sun goes down. CHICAGO ROT is part gory horror, part superhero adventure, part sci fi mindfuck, part rock and roll nightmare, and part crime revenge thriller. It's a film that smashes genres together like an epileptic expressionist painter and unapologetically represents the Chicago underground scene better than any other.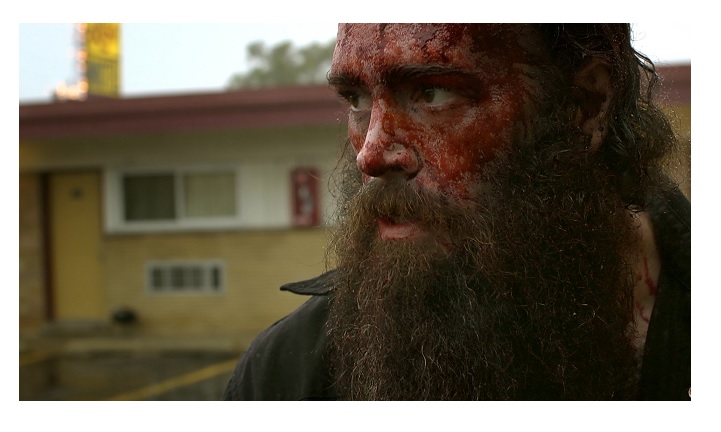 The story of CHICAGO ROT focuses on the intersecting lives of Les aka "The Ghoul" (played by co-writer/co-producer/co-score-writer/costumer Brant McCrea), Detective David Simmons (David Cartwright), Les' girlfriend Alex (Shira Barber), and a crime boss named Elion (Jonez Jones). Detective Simmons inadvertently stops Les' vigilante killing spree and puts him away in Joliet prison, but not before he kills' Simmons' partner. After a decade in the slammer, Les is released and immediately finds himself in trouble with Elion who is at first hesitant to rekindle his war with the Ghoul, but after the Ghoul makes short work of his hit squad, Elion is forced to retaliate. Meanwhile, Simmons has become a shell of a man, drinking away his sorrows and disappointing his super-cop father, now on a respirator at home. When Simmons plan for revenge for his partner's death goes wrong, he ends up being just a few steps behind Les as he cuts a bloody swath through the criminal element of Chicago in order to get to Elion. Meanwhile, Alex is hoping Les can survive this rampage so they can disappear and live happily ever after.
Plain and simple, you're going to see a whole lot of shit in this film that you've never seen before in any other film. While there are recognizable elements to CHICAGO ROT, director Dorian Weinzimmer and his co-writer Brant McCrea give this film a look and feel like few other films out there. Not only are we taken to dark back alleys, strobed underground sex clubs, and neon lit rock and roll concert halls, but this film plunges the viewer into a literal nightmare-hell, the other end of the cosmos, and back again. Tossing story structure and linear thinking out the window in the final reel, CHICAGO ROT switches genres like a diva between songs, but somehow through the astute eye of Weinzimmer, never skips a beat in telling a story with a bloody beating heart and raw emotion. One second Les is ripping hitmen apart with his bare hands, the other he's done up in full barbarian gear and battling an elephant headed minotaur in a cage match that would make George Miller proud, and the next he's finding the key to all creation at the end of the universe with a celestial metal band. This story is fucking nuts and all over the place and I loved every second of it.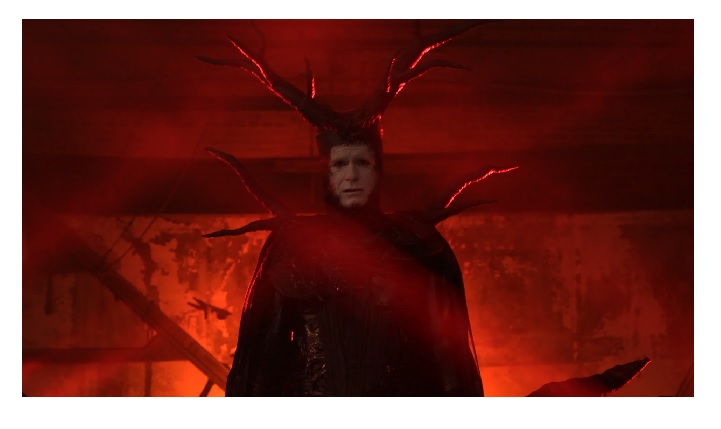 But while there are all kinds of sights, sounds, gore, and grotesqueries to ooo and ahhh at, the little things are what made me smile the most. This is no simple tale. The storylines of the characters intersect and twist around and under each other. There is so much thought put into each and every character that appears. There's the ever-changing t-shirts of the insane Charles (co-producer Jeremy Vranich) which seem to psychically say "fuck you" to the immediate situation he is in every time he appears. There's a fucking berserker and his handler in this film. There's a clown psychic. There's a man in leather who barks like a dog. As I said, there are sights, sounds, and details little and big that you simply won't find anywhere else.
And the real achievement of the film is how grand it feels despite the limited budget. From the Road Warrior meets Tron glowing metal costumes to the score which grates and grinds at the heart (both produced by Brant McCrea), this film looks, sounds, and feels so much bigger than it is. Weinzimmer and McCrea flesh out an entire world and beyond filling them with moments both brutal (the killdo scene taking the cake in gore) and beautiful (a muse played by Rachel Morgan sings and plays a piano in the back of a pickup truck speeding down Lakeshore Drive over the opening credits). While made on the cheap, the blood, sweat, tears, and other unmentionable fluids from the creative madmen in front of and behind the lens show more passion than most company-made films released this year.
Evoking nuances from everyone from David Lynch to Tarantino to Ken Russell to Rob Zombie (DEVIL'S REJECT Zombie not HALLOWEEN Zombie) to the aforementioned Hennenlotter, CHICAGO ROT still manages to feel utterly original. CHICAGO ROT is a wonderful low-fi ode to Chicago's glorious dark side, shedding light on a culture that is rarely seen, but once you do, you're never going to forget the experience. Sometimes ugly. Sometimes tragic. Sometimes chilling. Sometimes breathtaking. Try to box this film in to one specific genre and then see it fight itself out of its confines with a steel-toed boot, bloody knuckles, and a mouth full of broken teeth. CHICAGO ROT is an off-the-rails rollercoaster ride into a brick wall that will leave you in traction by the time the credits appear.
---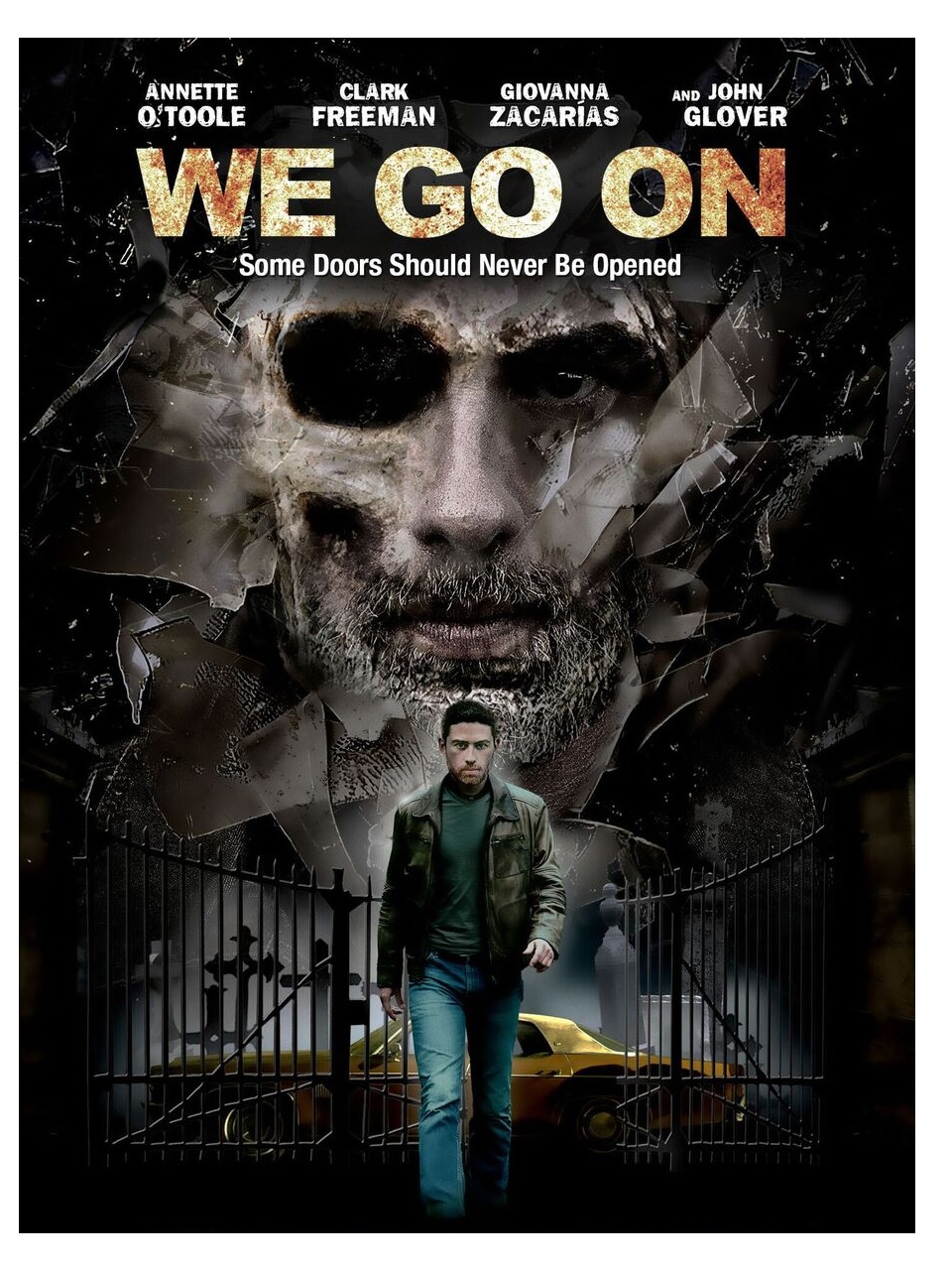 New on Shudder and released on DVD/BluRay from Momentum Pictures/Sony Home Entertainment
WE GO ON (2015)
Directed by Jesse Holland, Andy Mitton
Written by Jesse Holland, Andy Mitton
Starring Clark Freeman, Annette O'Toole, John Glover, Laura Heisler, Peter Lucas, Jay Dunn, Justin Carpenter, Dig Wayne, Cassidy Freeman, Edwin Garcia II, Logan Kishi, Nicholas Popov
Reviewed by Ambush Bug
This spooky little number comes from the same team that brought us YELLOWBRICK ROAD a while back (
reviewed here
) and its evidence that the eerie feel of that film was no fluke. WE GO ON shares a plot with another recent thriller about the afterlife (THE POSSESSION OF MICHAEL KING,
reviewed here
), but still manages to sheathe the viewer in an utter sense of creepiness.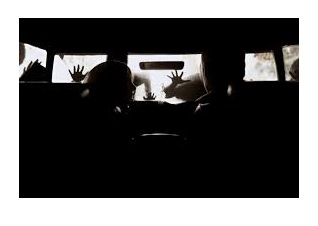 Miles (the very Channing Tatum-esque Clark Freeman) is petrified of dying. So much that he decides to give $10,000 to the first person who can show him a ghost, an angel, a spirit, or any kind of proof of life after death. While his mother (Annette O'Toole) worries that his life is becoming more and more apart from the real world, she supports him thinking that this will be the only way to cure him. She also wants to look out for Miles and keep him from being taken advantage of by conmen looking to make a chunk of change. After being fooled and almost fooled by a few people, Miles finally answers a peculiar call that guarantees proof of an afterlife. But once Miles meets with this person, his life is changed forever.
What I liked about this film was that it really tells a broad scoped tale of wanting to believe in something. Freeman is convincing as Miles, terrified of pretty much everything, and the gauntlet he runs is nicely realized as he investigates a scientist (played by O'Toole's co-star on SMALLVILLE John Glover), a medium, and billionaire, all promising the answers he is looking for. Each give him a piece of the puzzle, yet fail to convince him completely. This desperate pursuit is convincing and moving, mostly because Freeman does a great job and the story offers up various methods with which he can find these answers.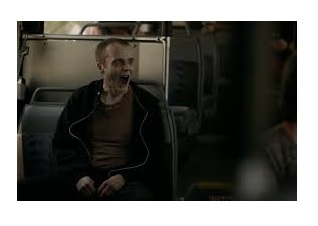 I also liked the interesting choice to have Miles' mother (O'Toole) along for most of the movie. This could have very easily slipped into comically being about a man-boy and his protective mother, but the relationship between the two actors really works well here; again, a testament to the acting and story not going the easy route.
There are also quite a few effective scares throughout that don't overly rely on CG and are more of the well-timed scare variety. I appreciated this as most of the time, modern ghost stories resort to a special effects extravaganza that just goes against the subtlety of the way the spirit world and this world intermingle in the rest of the film. Once Miles experiences the paranormal, he is haunted and this takes the film in a whole new direction. WE GO ON is a spooky tale with a strong emotional core. It's a smaller scale film which succeeds on levels big budget horrors only dream of because it relies on a sensible story and a lot of character to carry it.
---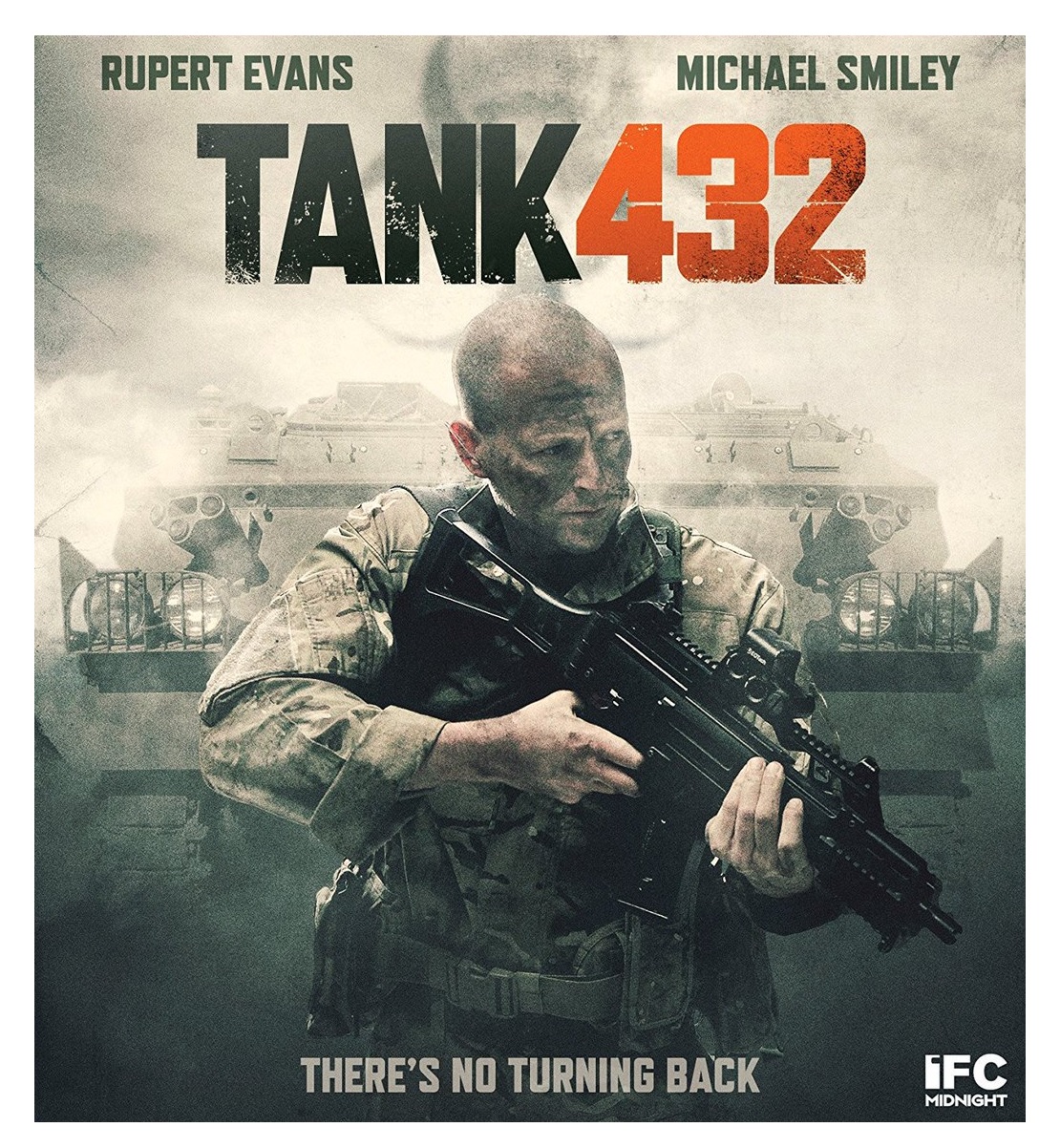 New on BluRay/DVD from The Shout Factory and IFC Midnight!
TANK 432 (2015)
Directed by Nick Gillespie
Written by Nick Gillespie
Starring Rupert Evans, Steve Garry, Deirdre Mullins, Michael Smiley, Gordon Kennedy, April Pearson, Tom Meeten, Alex Rose March, Georgina Beedle, Todd Bruce, Sara Dee
Find out more about this film @TheTankMovie
Reviewed by M. L. Miller aka Ambush Bug
Ben Wheatley produced this military horror film and while there are strong performances throughout the film and a good amount of scares and chills, the ambiguity that permeated Wheatley's A FIELD IN ENGLAND (
reviewed here
) afflicts TANK 432 and the film unfortunately offers up similar unsatisfying results.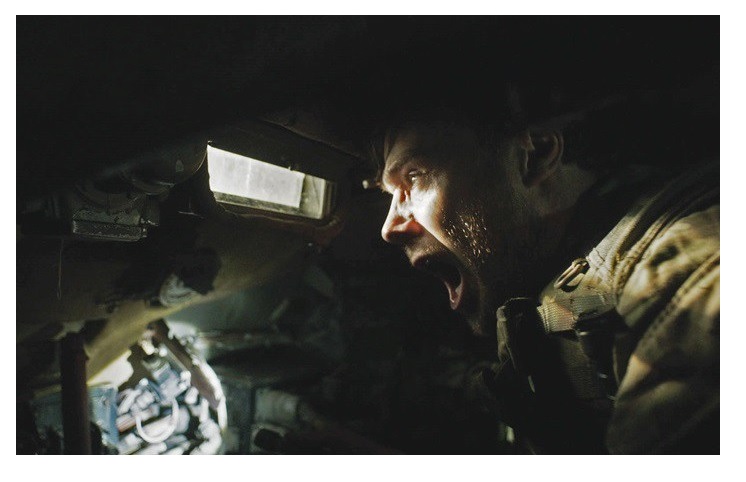 A squad of military types make their way through a farmland apparently fearful of enemy contact behind every corner. With two prisoners in tow, the squad follows procedure and tries to find a safe way back to home base. When they happen upon a tank in the middle of a field, they think their prayers are answered, but once inside, they find themselves locked inside with the enemy just outside and madness finding its way into the armored vehicle. The group must overcome surmounting psychosis if they are to survive this ordeal, though none of them can completely remember why they are there in the first place and what their objective is.
On the positive side, TANK 432 offers up a super strong cast.
THE CANAL
's Rubert Evans,
THE KILL LIST
's Michael Smiley, are just two standouts from a phenomenal cast of European actors that are put through this ordeal. Their performances make this film worth investing in and they really do offer up convincing performances that make you care for them and want them to make it through this ordeal safely.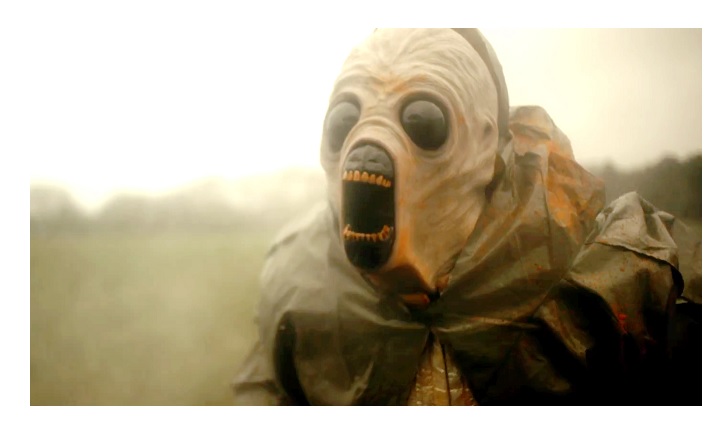 The problem is that the film doesn't really offer up a satisfying resolution enough to make the buildup to the end worth it. This is an intense film and the actors involved really sell it all the way through. But once we find out what is going on (or at least are made privy to the bare minimum of an understanding of what is happening to these soldiers), things are so vague it unfortunately makes the whole journey not worth it. Much like A FIELD IN ENGLAND, the strong performances carry the film, but by the end, the lack of a story, resolution, and just plain sense to be made of it all, is more likely going to leave one frustrated than satisfied.
I understand what this film was going for. This is more of a cerebral experience than a physical threat one can shoot, stab, or kill. But with so many characters meeting their end and so many questions left unanswered, TANK 432 feels more like an exercise in putting good characters in a situation that never finds its footing enough to be worth the investment. It's too bad because this film is gritty as hell most of the way through, but once reality starts skewing and shit starts going sideways, it ends up being a frustrating mess of a movie that never really seems to commit to anything by the end.
---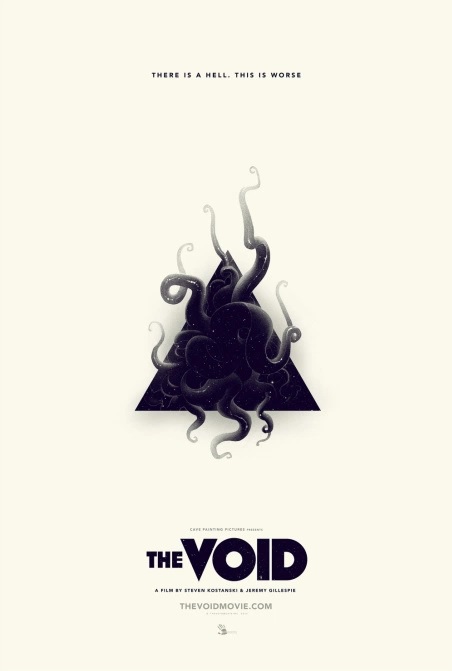 New this week in select theaters and on Itunes from Screen Media Films!
THE VOID (2016)
Directed by Jeremy Gillespie, Steven Kostanski
Written by Jeremy Gillespie, Steven Kostanski
Starring Aaron Poole, Ellen Wong, Kathleen Munroe, Kenneth Welsh, Amy Groening, Art Hindle, Evan Stern, Stephanie Belding, Trish Rainone, Grace Munro, Daniel Fathers, Mik Byskov, James Millington, Mark Fisher
Find out more about this film here, @TheVoidMovie, and on Facebook here
Reviewed by M. L. Miller aka Ambush Bug
While filmmakers Jeremy Gillespie and Steven Kostanski made festival splashes with their over the top goof and gorefests
FATHER'S DAY
and
MANBORG
, these guys have upped their game to a whole new level with THE VOID, a competent and confident entry into horror that will make fans of John Carpenter happy and proud.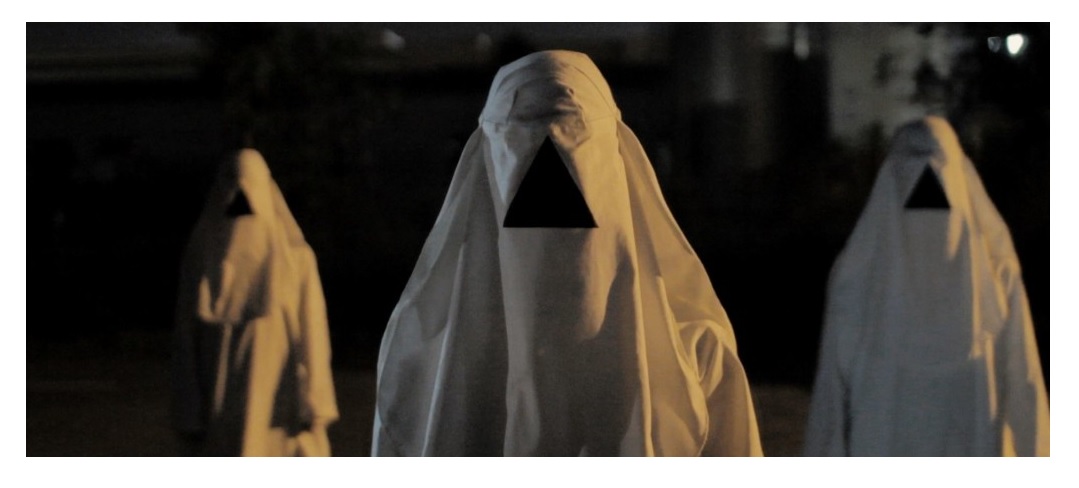 A group of people converge on a newly renovated hospital as a cult of robed weirdos gather outside and strange otherworldly happening occur inside. That's the basic premise of THE VOID and the simple setup gives filmmakers Gillespie and Kostanski the chance to pay homage to Carpenter in a way few others have done. Reminiscent of THE THING by way of PRINCE OF DARKNESS, THE VOID only shows us thee tip of the blood-spattered iceberg, but still manages to be compelling all the way through.
A lot of this has to do with some compelling character work from actors Aaron Poole who plays an out of his wheelhouse cop who has no idea what is going on. You also have genre greats Art Hindle and Kenneth Welsh as well as compelling young faces Kathleen Munroe, Ellen Wong and Stephanie Belding rounding out the cast—all playing pivotal roles in this intense horror show. The way these people interact is what makes the central conflict of the film, never mind the horrors that burst out of the dead bodies and surround all of the exits of the hospital.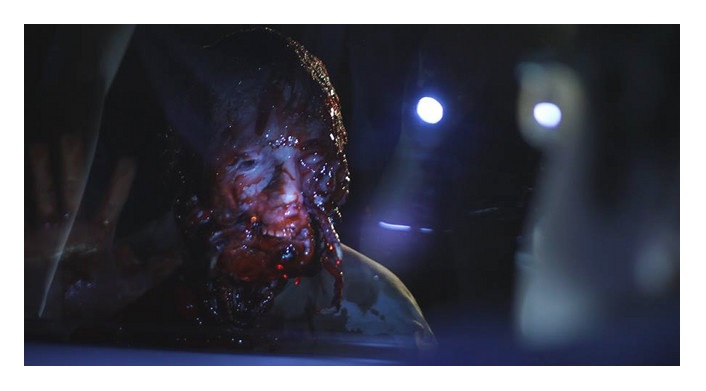 But the real take-away from THE VOID is going to be outstanding practical horror effects that occur throughout. Monsters that defy description burst out of flesh, grow tentacles and devour anyone who comes near. The final moments of this film as a whole morgue-full of corpses shift, quake, awaken, and metamorphize make for an effects showcase that would make Rob Bottin proud. And these directors, who have much of their experience doing effects work for films such as PACIFIC RIM, HANNIBAL TV series, SUICIDE SQUAD, the upcoming IT film, and CRIMSON PEAK know what they are doing when it comes to making monsters on screen. These guys film these effects in a way that most directors don't know how to BECAUSE THEY MADE THEM!
THE VOID is one of the best horror films of the year, hands down. It offers up practical effects that you've never seen before. It does the 'trapped in one locale with monsters outside and evil inside" theme that Carpenter did to death with a fresh perspective. It ventures into otherworldly territories reminiscent of ALTERED STATES, HELLRAISER, and PHANTASM, but does so with originality and energy that makes you want more tales of this horrific world filmmakers Gillespie and Kostanski. THE VOID is a true achievement in horror that needs to be experienced by anyone calling themselves a serious horror fan. Highly recommended.
---
And finally…here's another music video from the band Ghosts In the Graveyard. This one is called 13 Ways To Die! This was directed by vocalist Byron C. Miller and if you're interested in finding out more about Ghosts In the Graveyard, check out their website here!
---
See ya next week, folks!

Ambush Bug is M. L. Miller, original @$$Hole/wordslinger/writer of wrongs/reviewer/interviewer/editor of AICN COMICS for over 15 years & AICN HORROR for 5. Follow Mark on the Twitters @Mark_L_Miller and on his new website collecting posts for AICN HORROR as well as all of the most recent updates on his various comic book projects on MLMillerWrites.com.



---
Look for our bi-weekly rambling about random horror films on Poptards and Ain't It Cool on AICN HORROR's CANNIBAL HORRORCAST Podcast every other Thursday!
---
Find more AICN HORROR including an archive of previous columns on AICN HORROR's Facebook page!
---
Interested in advertising with AICN HORROR? Click this link and talk with me about how to help keep this column running strong!