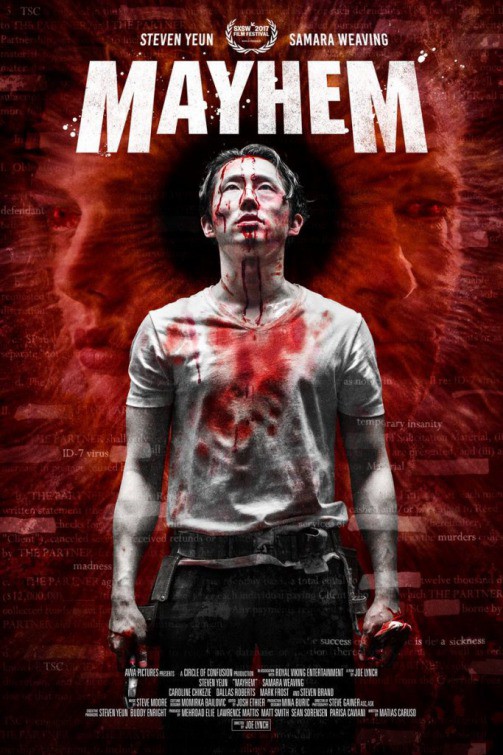 Hey folks, sorry to come a little late in the game with this one, but as I looked back at all my movie notes from SXSW, I realized I hadn't written up Mayhem. It was a major oversight on my part because this was my favorite flick of the festival. Mayhem, directed by Joe Lynch, is fun, clever, and delightfully unhinged.
As a horror comedy, this movie doesn't pull it's punches and keeps a tight pace throughout. It's a snappy film, perfect if you like a frenzied quality to your movies. The story captures a maniacal day in a corporate law firm. Our main character Derek Cho, has been working grueling hours for years to climb his way up the rungs of power in his career. He's close to the top, thanks to a major win of a unique case that ties in nicely to the movie's ironic tone. You see, there's a new disease loose on the world, ID-7, and it causes folks to lose all inhibitions and act on their most base desires. People can potentially go wild if they get excited or agitated, impulsively acting out with abandon. Derek, played by Steven Yeun, made a breakthrough move by exonerating one of the firm's biggest clients using the disease as a loophole to excuse a violent murder. So, if infected with ID-7, folks have a valid get-out-of-jail-free card in court. Despite being promoted for this brilliant legal maneuver, Derek is trapped as a scape-goat by The Siren (Caroline Chikezie), and is fired in disgrace.
As Derek struggles to save his job, the building becomes contaminated with ID-7 and is quickly quarantined by the CDC. They have 8 hours of symptoms before the disease can be neutralized, leaving hundreds of employees of a cut-throat law firm trapped together with zero impulse control. Havoc ensues and, thanks to Derek, nobody will be held liable for their actions. The film captures the pure anarchy of human behavior when left unchecked and I found myself giggling madly at the antics of all the characters. It's a rambunctious story of opportunism as our main character takes advantage of the quarantine to go after the jerks who betrayed him. Yeun's experience in The Walking Dead really pays off here, as he seamlessly takes on this very physical role. He's smart, empowered, completely unhinged and he's not alone. Melanie Cross, played by Samara Weaving, has been majorly screwed by the law firm and comes in to argue her case. She has a bone to pick with the firm, and when she falls victim to the infection, she teams up with Derek. The two of them take on the task of bringing down the corporate juggernaut, one floor at a time. Their goal is to get to the top floor and take on The Boss (Steven Brand). Weaving brings a plucky ferocity to the role that is just perfect. The chemistry between her and Yeun is tangible and helps them nail every scene with relish.
As the plot unfolds, we are treated to a variety of interesting characters, representing different facets of the law firm, like level bosses in video games. They have nick-names: The Siren, The Boss, The Reaper, and The Bull. Derek must defeat each of them within his eight-hour window. The higher he climbs, the more difficult each enemy is to overcome and the higher the stakes. The sharp script, penned by Matias Caruso is as vibrant as the synthy soundtrack by Steve Moore. The 90s-inspired soundtracks that are trending in new films are hit or miss for me, but for Mayhem, it really works.
Triumphant and exhilarating, Mayhem is a brilliant, action-filled comedy that takes on the ironies and overblown power of corporate America. Joe Lynch helms the kind of movie that makes you smile through the blood-splatter and giggle into your popcorn. It turns the dial up to 11 and left me excited and invigorated. I hope it gets national release, because it deserves it.
Thanks for reading,
The Diva Del Mar