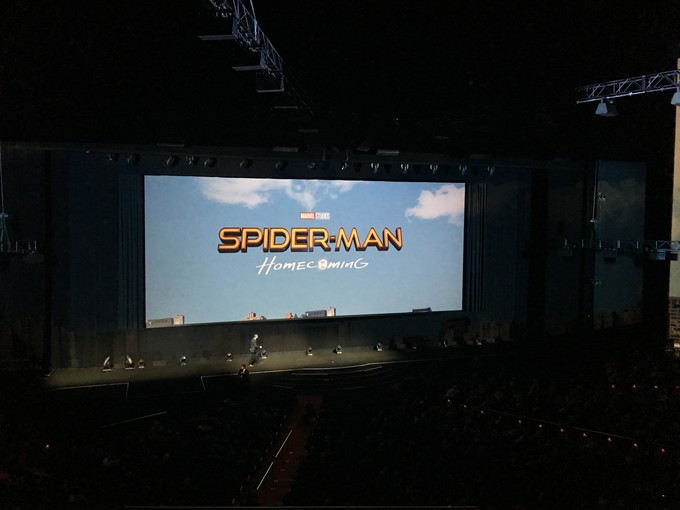 Ahoy, squirts! Quint here. One of the most anticipated titles on Sony's slate is, of course, Spider-Man: Homecoming. Naturally, that movie had a major presence in their big opening night CinemaCon presentation. Tom Holland, Kevin Feige and Amy Pascal came out on stage to talk a little about it before showing a new trailer for the thousands of theater owners and press in attendance.
Feige had the most to say and one of the big things he dropped was how this Spider-Man fits into the existing MCU. He said that was one of the questions he has gotten the most and his answer is very simple: He's always been there. Specifically he said that with the age they're playing here that Peter Parker was about 5 years old when Tony Stark said "I am Iron Man" to the world.
Not only does that make him work in the movies, it's also pretty true to his character in that Parker has always looked up to other heroes and I think they're going to play with a bit here.
In fact, one of the new aspects of this second trailer is that there's a little friction between Tony Stark and Peter Parker because of Peter's eagerness to impress. Part of the car conversation we've seen before involves Parker asking how he can become a permanent Avenger. "Are there trials or something?" he asks.
Stark tells him to slow his roll. "Can't you just be a friendly neighborhood Spider-Man?" he says.
We also see Stark angry at Parker later in the trailer, after he flies in to help save the Ferry that Vulture cuts in half. He blames Spider-Man for this and demands his suit back. Parker pleads with him. "But I'm nothing without this suit." You see a lot more of his technical gadgets as well (including him making his chest logo fly off like some kind of robotic drone), so you know he is sacrificing something if he gives the suit back.
I think that's why we see him adopting his old homemade suit, which plays in another big action scene in the trailer involving a fight with Vulture on some kind of Jet as it flies through the sky.
It's interesting to me that the relationship between Stark and Parker is more complicated than I expected from the end of Civil War and what we've seen in that first trailer.
This new trailer also shows a little more of Parker's high school life, which was pretty neat. My favorite moment was when he was in class with his friends and they're watching an old PSA tape featuring Chris Evans' Captain America. He leans over to his friend, the one who catches him out as Spider-Man in the first trailer, and whispers "You know, I stole his shield once."
I dig the overall vibe I got from the trailer. Michael Keaton looks crazy and dangerous as Vulture, Parker's world seems to be in jeopardy and him actually being a teenager really changes the feel of the character in a very good way.
Word on the street is the trailer is hitting the net sometime tomorrow (probably today by the time you're reading this). I think you'll agree that this one's looking pretty damn good.
-Eric Vespe
"Quint"
quint@aintitcool.com
Follow Me On Twitter