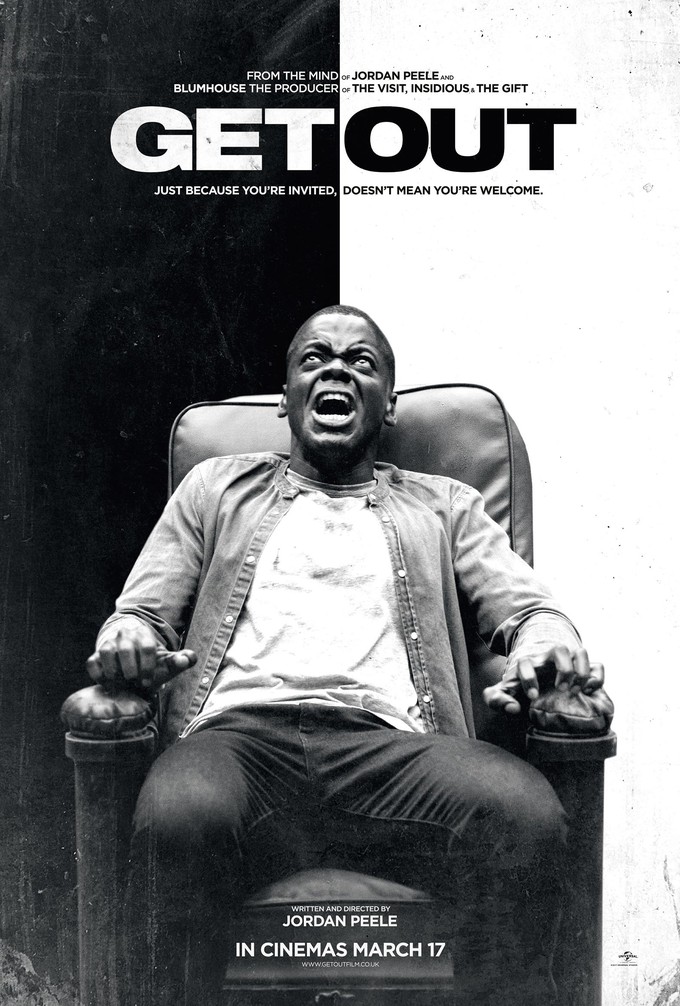 Fucking Marnie.
Man, if there's one thing I've learned from GIRLS, it's don't fuck Marnie. You know you want to, but man, the hassles, the nightmares… the horror.
Ok, now I know Lena Dunham has nothing to do with GET OUT, that instead it's Jordan Peele as the creative genius in charge, but the rule of Marnie sticks. Don't fuck Marnie. She's trouble. She's beautiful, she seems genuine and sweet, but there's pure danger there.
Peele's GET OUT is one of the most awesome audience satiric horror experiences I've had in ages. The audience I saw the film with was a photograph of the America I love. All manners of creeds and races and ages and sex. Nobody was really prepared for what was to come. The movie has jokes and tension for everyone in the theater. There's something terribly wrong in GET OUT – the trailers have prepared us for that, but we don't know what it is.
That at the awesome beating heart of this satiric thriller – that plays in the realms of STEPFORD WIVES, SECONDS and I'd say… to a degree the dread & fear of something like SHADOW OVER INNSMOUTH – although – what is afoot, isn't Lovecraftian… although I do think Herbert West would admire the work that Bradley Whitford's Dean Armitage is up to here.
There's a scene in GET OUT, that plays like that scene in STIR OF ECHOES, where Kevin Bacon is going under for a bout of hypnosis. I always loved that scene and thought it was and remains some of Kevin Bacon's best work. Daniel Kaluuya, who plays the central terrorized character of Chris Washington, is fucking phenomenal here. He's fear and paranoia are absolutely palpable as he's being regressed through personal trauma… and drinking hot tea will never ever ever be the same. Oh – and Catherine Keener already has messed with my head in BEING JOHN MALKOVICH, but this is my fave film with her since that one. She's awesomely creepy here.
Throughout the film, Kaluuya's Washington has a lifeline best friend that works for the TSA at an airport – and is watching his dog while he visits his white girlfriend's family out in the woods somewhere. Lil Rel Howery plays Rod Williams as the best friend we all want in a horror film scenario. He's perfect. He has a natural fear of weird white folks that serves him well. It is also, through him, that the most hilarious humor throughout the film comes. He's awesome. When he begins trying to convince Kaluuya about what he thinks is going on… I nearly cried laughing. It isn't that he's right… but he isn't exactly wrong either.
The racial tensions here are handled to perfection.
As for… what is really happening. The exact sort of EVIL that is at play here… I leave that to the film to give you. It is just kind of perfect. It isn't too far from THE THING WITH TWO HEADS with Roosevelt Grier and Ray Milland, only greatly greatly refined. That film also played with Race in some similar manners, definitely play it after you see GET OUT – should match up beautifully.
What I loved most about the film is that I was rooting for Kaluuya's character throughout the film. Mainly because I know that nobody male or female should ever get involved with Marnie from GIRLS – she's toxic pure evil, like in TIME BANDITS. She's pure evil. RUN.
GET OUT is smart biting satiric work – the perfect material for the lower budget genre film efforts from BLUMHOUSE – and quite possibly my very favorite film that brand has sold to theaters near you and me. Go see GET OUT with your fellow Americans and learn to laugh and scream together as we're meant to! It's your patriotic duty!