Ahoy, squirts! Quint here. Ridley Scott's Alien: Covenant is coming up fast! May 19th isn't that far off, is it? We've seen a pretty kick-ass trailer, a cool xenomorphical teaser poster and now we have a nice crew photo for you to look at.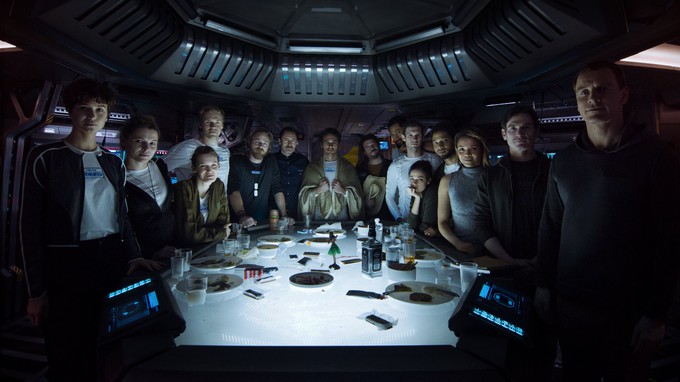 Unless my eyes deceive me that is indeed James Franco in the middle, which would confirm his involvement in this flick.
Interesting to note that the filename on this photo when Fox sent it out was "AC_LastSup_group.jpg". Is this a Last Supper scenario? Is someone gonna have John Hurt style tummy troubles? Or was that just a cute thing someone in marketing added into the file name in order to stay sane during the 9-5 workday?
If you want to see more Alien stuff, Fox says they're running a special sneak peak tomorrow during the airing of the new episode of Legion on FX, so stay tuned for that!
-Eric Vespe
"Quint"
quint@aintitcool.com
Follow Me On Twitter