Hello ladies and gentlemen, your pal Muldoon here with a selection of fun films that were all submitted by the filmmakers themselves! Wherever you are, whatever your week's been like I hope you're able to carve out a little time to check out each of the films below. You truly never know what each SATURDAY SHORTS, so the important part is to simply strap in and go along for the ride. This week features a large amount of fake blood (at least I hope it's all fake...), some futuristic robots chasing Michelle Rodriguez, one of the most perfectly executed "awkward" wedding scenarios ever, and a dash of drama. Whatever your genre of choice is, I just hope you're able to enjoy each of the films below as each one was built from the imagination of some talented individuals. So let's cut the jibber jabber and jump right on into to these solid shorts, eh?
Go grab yourself some popcorn, lock your kids in a closet, kill the lights, relax and check out this little weekly film fest we've got ourselves here!
NEVER TEAR US APART
TRT: 6:19
Boom, to kick this party off right, here's a solid horror comedy from director Sid Zanforlin. The film just hit the internet a few days ago and has already been picking up steam. It features clever practical effects mixed with just the necessary amount of CG to sell a few of the gags, meaning it's a lovely reminder of when and how to blend the two seamlessly. Well acted, nicely shot, and actually has a bit of humor - a fun first film to get us on a great start. In fact, this short is part of an anthology called MINUTES PAST MIDNIGHT, which seems right up my alley. Check out more of Sid's work over on his Vimeo Page!
Never Tear us Apart from Sid Zanforlin on Vimeo.
HUSHY BYE
TRT: 3:33
To keep the terror train chugging, next up is a freaky film from Writer/Director James Webber! "A new father is woken in the middle of the night by his crying child and finds his wife missing. As he searches their home for her he makes an eerie and terrifying discovery..." It's dark, and certainly showcases a sinister tale that'll leave you weary of your loved ones. With a runtime of three and a half minutes, HUSHY BYE perfectly gets in and out, not at all wearing out its welcome, but leaves you wanting more. (At least that's my two cents.) I very much want to see more from Webber, and hope he's hard at work on a feature that equally leaves me wanting more! Check out more of his work over on Vimeo or follow the man on Twitter (@DirectorJWebber)!
Hushy Bye (Horror Short) from The Springhead Film Company on Vimeo.
AMERICAN PRIDE
TRT: 14:46
Director Tamzin Merchant is back with a film I find hilariously well done. This is a short that feels perfectly executed, from the first minute of the piece you know exactly what you're in for and you know you can't quite trust the creator behind the lens! Masterfully done even. While I don't expect this short to be for everyone, it's a solid comedy that feels all too real. Merchant's created one of the most awkward weddings I think I've seen put to film, complete with non-stop photographers and amateur photographers snapping away at every twisted turn of events. "When Ty accidentally steals the spotlight at his sister's wedding, tensions arise between Ty and his family." I'm very much excited to see what Merchant and her Exec Producer Cam Owen do next, and if you are as well - then fly over to Executive Producer Cam Owen's YouTube Page!
THE RESTLESS
TRT: 19:43
Up next is a cop drama with a twist. Corey A. Mellott and Anansi Pictures bring us our next story, roughly 20 minutes of jam-packed cop drama with a handful of exceptional actors and a look that's reminiscent of some of the best HBO shows in years past. "The harrowing tale of police officer Rick Besat, who in an act of loyalty to his partner, betrays his honor and own mortality. Are his nightmarish visions trying to warn him or is he just restless." While I'm not typically interested in cop dramas myself, I found this a damn fine short that held my attention every moment it played. Congrats Corey, and please do keep kicking ass! Be sure to check out Corey's YouTube Page!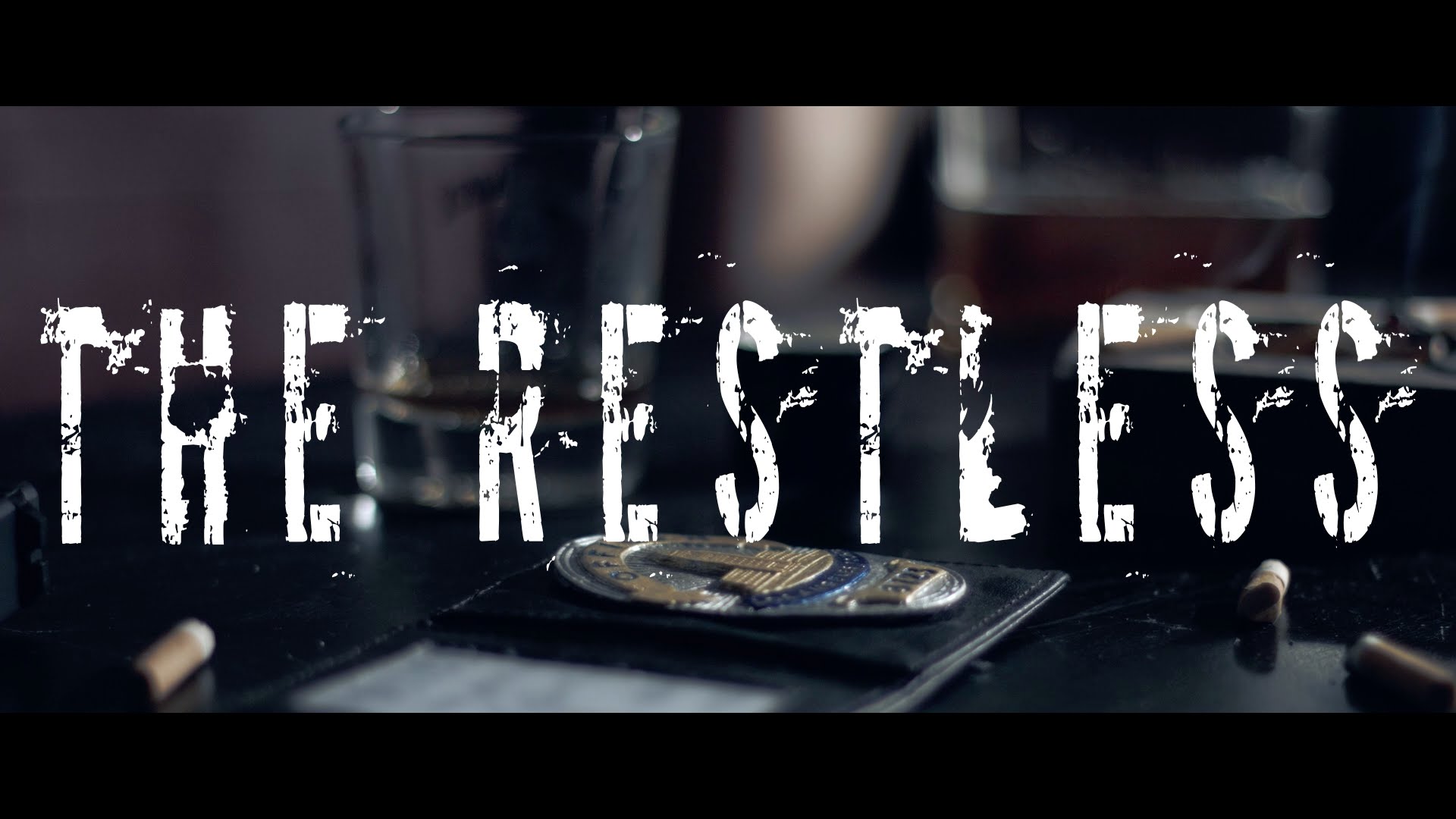 2031
TRT: 5:16
Director Catero Colbert has our last short of the week, a solid way to wrap us out, one featuring Michelle Rodriguez and Lukas Haas fighting off killer robots. I feel there's quite a world Catero's choosing to glimpse at for us in the short, possibly one I'd hope to spend more time in if he decided to do a feature. "In this action-packed short featuring Michelle Rodriguez, chaos becomes the new world order when robots designed to serve mankind form an army to destroy it. One man discovers the source of the uprising and enlists the help of an ex solider to stop it." If you like what you see, then check out the film's pre-viz and check out Catero's acting in Showtime's ROADIES!
BOOM! That's it for this week's selection of short films, ladies and gents! I hope you had a kickass time waching a few flicks with me. I hope to be back next week with another handful of fun films! In the meantime, check out a past column!
Hank & Honey: A Holiday Horror; Black Christmas; Grammy; Pick Ups (1/2/16)
Lilitu; Auld Lang Syne; Chronoshred; Ash Vs. Lobo Vs. The DC Undead (1/9/16)
What If My Wife Died In Yoga Class; The Prodigy "Nasty"; Jared.; Nicolife Ep. 3; Pigeon Impossible (1/16/16)
Believe; The Dragon's Blade; Native Immigration; The Problem With Friends (1/23/16)
Harbinger; Hyperthermia; The Chickening; Head (1/30/16)
Erebus; Boldly Gone; Cupcakes; City In Crisis; Vandalaze "Great Big Things" (2/6/16)
Blurry; American Virgin; Azarkant; The Homing Bird; Sex, Lies, And Terminators (2/13/16)
Connected; Terry And Brenda; Fuck Buddies; Audrey; BigHead Walking Dead Parody (2/20/16)
The Champ; Shotgun; Big Guy: One Week; Space Missionaries - Holy Sh*t; Moving Day; The Lord of Catan trailer (2/27/16)
Absence; The Adept; MAT ZO - "Sinful;" Dreamco; Hoot (3/12/16)
Pop Music; Tumble Dry Low; Rooms; Promise; Darth Maul: Apprentice (3/19/16)
Status Update; Kafka's Little Fable; Ghoster; I Got Your Nose; Creature Feature (4/2/16)
Oh, Possum!; Geeks, Girls, Guns, And Ghouls; Intricate Vengeance; Send In The Clowns; Pregnancy Test (4/9/16)
Steve; The Good Survivor; Field of Screams; Mirrored; Jack Edwards - "Falling In Love" (4/16/16)
Rest Stop; The Technician; Romp; Who's There?; If Joke & Harley Quinn Were A Normal Couple (4/23/16)
Trial; Star Struck; Color TV, No Vacancy; Notifications On; One Sunny Day (5/14/16)
You Are Not Alone; Giraffe Soup; Brother; Bury Tomorrow - "Last Light"; Rain (5/21/16)
The Group; The Trap; The Echo of Small Things; Alison Blaire - "The Sight of Sound"; James (5/28/16)
Monster Island; An Entanglement; 2016: A Space Oddity; The Smiling Man; The Reunion; Bright Eyes; The Mission (6/4/16)
It's Okay; The Birch; Up On The Roof; 100 Bullets: Dead Ghosts Part 1; Eliza; Low Hanging Fruit Ep 7 (6/18/16)
Blinking Lights; Dédalo; Invisible; Identity Crisis (6/25/16)
Schackled; Miss Nobody; I Hate Mondays; Jefferson; Mary's Passion (7/2/16)
Swap; Ghostbusters: All Manned Up Edition; The Invisible Man; Sleep Tight; Defining Fay (7/10/16)
Carl; Flat Tire; Loree's Crazy 'Bout Kittens; Chum Zone II: Shark Fin Soup; Archetype (7/16/16)
The Chaplain; Bump CLassique; The Listener; Timelike; Fantasy Hospital Episode 4 (7/23/16)
Trial Run; Thick Air; First Date From Hell; Rise; God, Me And The Salty Peanuts; Graves (7/30/16)
Deathly; The Hope You Promised Love; Surrender; Crumb; Deep 6 (8/6/16)
Broadhurst "Take Me Down;" Prungen; The Paris Syndrome; Foxed!; Ecstacy Boulevard (8/14/16)
Heartburns' a Killer; Draft Eight; Versus; Chainsaw; Injustice For All (8/20/16)
Sebastian; Where You Are; Xenos; The Line; Sand Boys (8/27/16)
The Itch; Teddy Bears Are For Lovers; Dead Bird Pocket; Armand Van Helden: WINGS; A Game Of Numbers (9/10/16)
Long-Term Parking; House Of Straw; You Won't Regret That Tattoo; Invasion Day; Forever (9/17/16)
Best Friends; Nae Parasan; My First Day; Slaps; Merry Gentlemen (10/1/16)
Otherhalf; Red Curtains; The Great Break-Up Contest; Pioneer; Seven Rules (10/8/16)
As They Continue To Fall; A Film By Vera Vaughn; Michael Jai White: Kills Movie Killers; Backtrack; Don't Do It (10/23/16)
Frank And The Zombie Girl; Spooky Club; o negative; Zelos; The Moonlight Man; Sweet 16 (10/29/16)
Red; Larry Gone Demon; Visitors Parking; Grave Dangers; Intruder (11/6/16)
Chomper; Hoshino; Boniato; On Sunday; Darkness of Night (11/12/16)
Where The Shadows Fall; The Girlfriend; Friendlies; The First Men; Toc Toc (11/19/16)
The Last Abduction; Time Travel Through Time; Broadhurst "Bones"; Ghosts of The Ozarks; Caitlin Among The Beasts (11/26/16)
The Tale Of Thomas Burberry; Anna Bonny; The Mink Catcher; Portent; Who's Afraid Of The Octopus Man? (12/3/16)
Rudolp The Red-Nosed Reindeer's Real Father; The Mimic; Miracle on Canary Wharf; The Fisherman; Impactus; Confession (12/17/16)
Christmas Special Goes Horribly Wrong; Do You See What I See?; Zero-State; The Leap; Mae And Ash (1/1/17)
Pizza Delivery; Forever's Gonna Start Tonight; Epoch; Points Of Origin; Knack! (1/7/17)
Capes; Out Of The Family; Noodles; The Great Orecto; Orphans Of Ash Concept Trailer (1/14/17)
Dr. Gordz; Gleep-Glorp & Lasertag; Mindgame; Quad Diamond; From Below; Killer Queen (1/22/17)
If you have a short and think it belongs here or are on the fence about whether to send it in, please do send it in - I'd love to see what you've put together. I've already seen hundreds of fresh new filmmakers' shorts and like any good addict, I need more!
Shoot me an email at "Mike@aintitcool.com"
In the subject line include:

"SHORTS" + "Your film's name" + "The film's genre"

Then, in the body of the email, please include a synopsis of the film and any contact information you might think I need or would want published. The more info you send my way, the more info there is to put with your short.

Please don't feel the need to submit multiple times.
Remember, the filmmakers might still be in the audience, so feel free to share your thoughts in Talkbacks below. (JUST DON'T BE AN ASSHOLE). I picked them, so you know I think highly of all of these, but how about you fine folks? How'd you like 'em?
BY THE WAY: If you've had a short featured here, that means that I personally am a fan of your work, so feel free to shoot me any kind of news on new projects/films/whatever. I can't say I'll be able to help or in what capacity, but I'm interested in your work and am always down to see more! (Keep making cool stuff, everyone!)
- Mike McCutchen
"Muldoon"
Mike@aintitcool.com