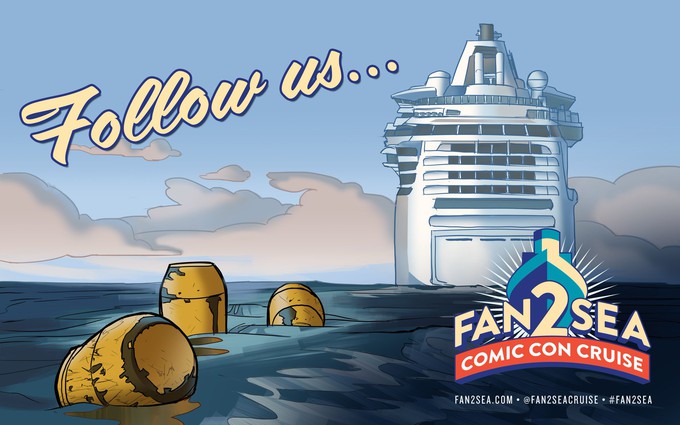 Ahoy, squirts! Quint here newly returned from a 5 days, 4 nights sailing around the Caribbean with a ton of nerds on a huge boat.
This was the inaugural Fan2Sea Cruise, a floating comic-con that packed a bunch of comic book royalty onto a boat with some TV stars and a whole lot of geeks. The concept was simple: create a Comic-Con experience that eliminated all the stress of your standard convention and also happened to take you to exotic locales in the process.
On that point, Fan2Sea was a rousing success. There were never any lines, your cabin was always within a 3 minute walk from just about any part of the ship and there was always something to do, whether it was catching a comic book panel, a movie screening, taking a dip in the pool, perusing the small, but quality artist alley, paying for an autograph and selfie with a Stranger Things or Walking Dead cast member or even attending a geek-themed burlesque show (called Nerdlesque) the schedule was packed, but that just meant that everything was just lightly enough attended so you could walk up seconds before it'd start and you'd find an easy seat.
This was my first cruise, but far from my first Con experience and I can say that it's a night and day difference not having to stress out about that stuff. Everybody seemed more chill and happy, the combination of con fun and relaxed vacation giving this thing a wholly new vibe than anything else I've attended.
I mean, where else can you randomly bump into Stranger Things' Randy Havens (aka the coolest teacher ever, Mr. Clarke) and have a nice conversation before going to a burlesque show where one of the performers takes the stage looking like Klytus from Flash Gordon and every time Queen's theme song says "Flash!" she whips open her cape to literally flash the audience and then to a casino where you lose some money at craps with comic book pros like Charles Soule, Reilly Brown and Scott Snyder?
No shit, that all happened to me on the second day of the cruise and not because I was a guest of the convention in the super special VIP club either. Anybody could mingle with the celebrities who were having as much of a vacation as most of us on board. By the way, someone remind Scott Snyder that I owe him thirty bucks that he threw my way when craps took all my money because I got on a hot roll earlier and made him some cash and he felt bad that I busted out later.
I had two obligations during the Fan2Sea Cruise: I was to moderate a panel with Bill Davis, the Art Director of Stranger Things, and to introduce a screening of Jaws on the pool deck of the ship while we were sailing through the Caribbean en route back to Florida.
The Stranger Things panel was something I was very excited about. I love that show and the look of the show is some of my favorite art direction and production design of 2016. To get a chance to hang on the stage with Bill Davis and go through some slides showing his process was an absolute pleasure.
Davis made sure to share credit with the production designer Chris Trujillo and the set decorator Jess Royal as he started his presentation with a really cool pitch video the Duffers cut together to get their project financed. Back then it was called Montauk (set in a beach town instead of the mid-west) and they made a compilation video using footage from other films that set the tone and feel of what became Stranger Things.
You can imagine there was a lot of Spielberg in there... Close Encounters, lots of Poltergeist (kids around the table), ET, Goonies, but also some newer (but period-set) movies like Let Me In. I'd love to see this make its way online because it really does capture the feeling of the show without them having to film one new thing. I doubt they could get clearances to put it on an official Blu-Ray or something, but maybe someone will throw it up on YouTube at some point.
His slides ranged from BTS shots to tile patterns and a series of old Sears Catalogue images, which was his secret weapon during prep for the series. They looked at Sears Catalogues from the mid-'70s to early '80s, the idea being that if they just pumped in everything that was brand new from 1983 that it would look fake. Look around your house or apartment. Odds are your furniture and appliances and decorations aren't all from 2016. Same for the families in Stranger Things.
He said the key for them was to make sure they had a healthy amount of '70s stuff to convey that feeling of amassing pieces over years. That's what makes it feel real instead of like The Wedding Singer. And all those things, from fabrics to carpeting to appliances to plates and silverware all were found in old Sears catalogues and tracked down from there.
Other interesting tidbits Bill dropped during the panel: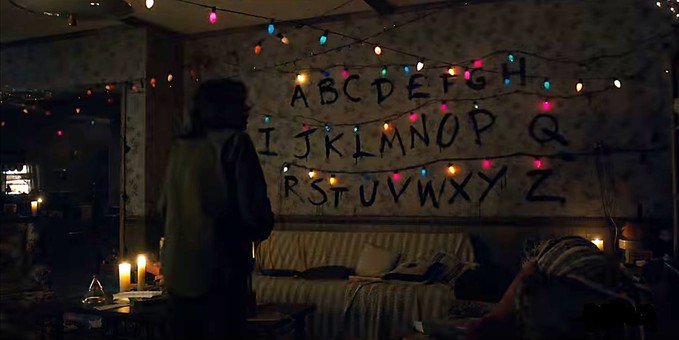 -The Christmas lights were vintage strings of lights that were completely rewired by their onset electricians so that each bulb could be activated by a motherboard in any sequence they needed them to be.
-The Upside Down was never really called that during prep. They called it "The Nether."
-While we know it as the Demogorgon, the crew never called it that. It was only known as "The Creature."
-The location Eleven goes to when projecting herself was called The Black Void during the making of it.
-They executed this Black Void stuff using the same filming techniques and set up that they used in Under the Skin. Bill would later tell me they actually shot a lot of these scenes in the (drained) swimming pool Barb was taken in.
-The Duffers insisted on some of the Star Wars toys making its way into the show and Lucasfilm agreed to it... for a price. It definitely cost them some real money to have the Millennium Falcon in there, but that was something The Duffers were set on doing.
-They shot all the Middle School and High School scenes in the same Atlanta school and just redressed the hallways. The mascot for Hawkins High School was The Tigers and the mascot for the Middle School was, appropriately enough, The Cubs.
-Another massive resource for the art department was the website BrandedInThe80s.com, which thoroughly catalogues props from '80s movies. It helped them track down a lot of very specific props, especially for the kids' rooms.
-The D&D stuff were definitely influenced by Bill personally, who is a big D&D player. He brought in his old character sheets and books from when he was growing up and the prop master based all of the kids' books and characters off of these. Bill also said that he's pretty sure that each of the kids drew their own characters on their book covers as well. None of the kids knew what the hell D&D was when they shot.
-The kids also needed lessons on how to ride bikes because they were all New York kids who never rode bikes before.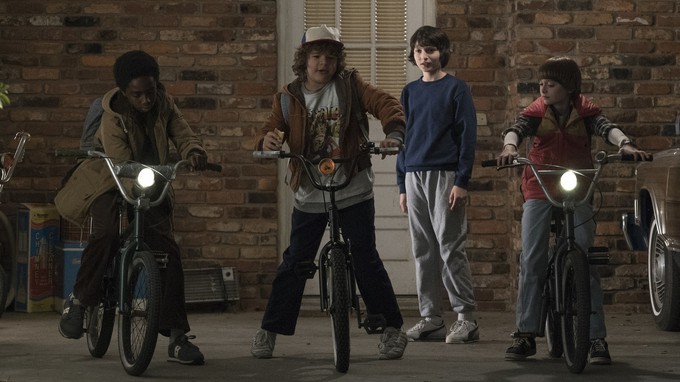 -The Duffers had a 25 page "manifesto" on the creature (aka Demogorgon), what it is, where it comes from, why it looks like it does and what exactly this Nether world is. Davis refrained from giving too much detail because he thinks a lot of this is being explored in Season 2. He did say "The Creature, the Demogorgon, didn't know that our world existed until Eleven touches him."
-The spores that float around the Upside Down were accomplished with small feathers. That's how they got that look.
-Much of the "infected" look of the Upside Down was achieved using burnt trash bags that formed into weird, Cronenbergian creepy tendril shape things.
There was a bunch more talked about, but I got to sit down with Davis for a very, very long chat between just the two of us the next day, so I'll save some of that for the big interview.
On the final night of the event I hosted a screening of Jaws on the deck of the ship, but I was also able to catch another panel before then, a comic book related panel that served as a live read of Charles Soule's new Image Comics title CURSE WORDS.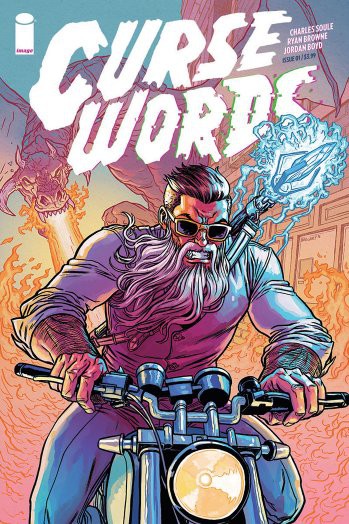 Soule's comic is about a powerful wizard who shows up to modern day New York in order to make preparations for world domination only to find himself falling in love with humanity (and hot dog carts), forsaking his powerful masters and becoming a wizard-for-hire.
The live read of this first issue was performed by Soule himself reading the descriptions and a cast that included Sean Gunn, Stranger Things alums Randy Havens and Catherine Dyer and Fan2Sea creative director Stefan Lawrence. It kinda came off like an old fashioned radio play, with the only image we had to go on being the cover image projected behind them.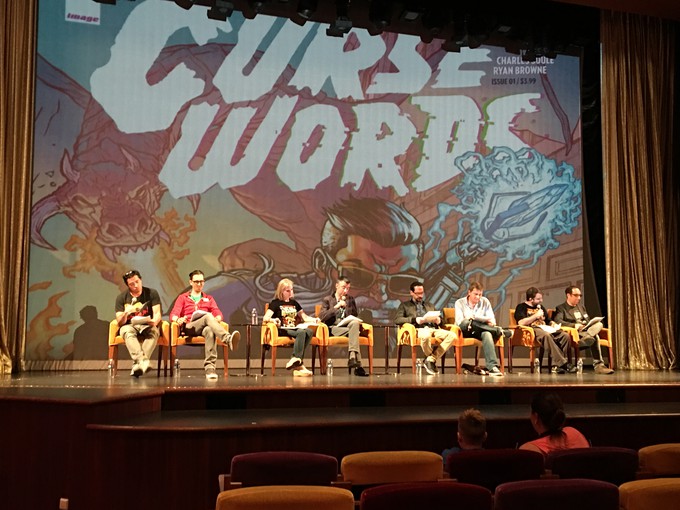 Every night on the boat there was a party or fourteen going on, sometimes spearheaded by DJ Elliot and sometimes by the Back to the Future themed cover band The Flux Capacitors. That's not typically my scene, but it was pretty amazing to see Spocks, Deadpools and even a Ruby Rhod boogieing down.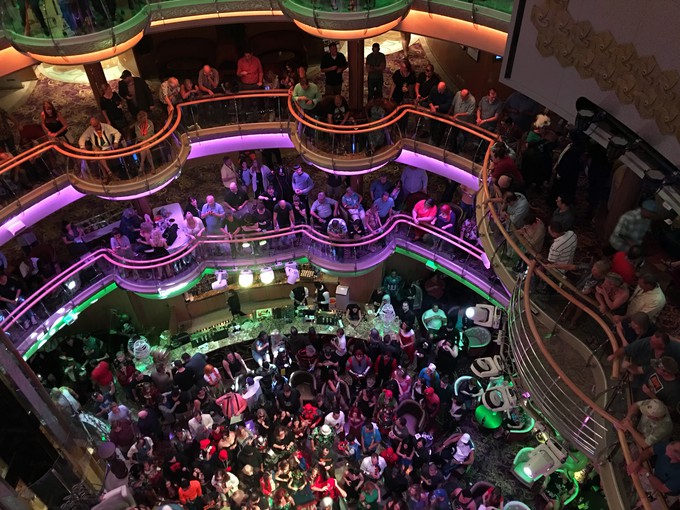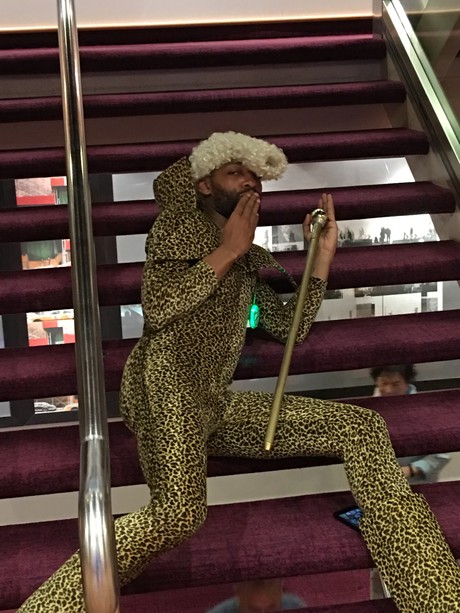 That brings us to the pool deck screening of Jaws. It wasn't very heavily attended (it was the big final party night afterall), but there were a few hardcores there, including a few kids who watched while swimming and that did my geek heart good. There might be hope for the next generation afterall!
For my intro I prepared a bit, stealing a gag Edgar Wright did once at a screening of his films. He took IMDb plot keywords that were... questionable at best and read them out. I did the same for Jaws, starting with the good ones, like shark, beach, fishing and then moving into the weirder ones, like "shark eating naked woman," "female slaps male," "part of a trilogy" (no, it isn't), "child eaten," and, my favorite, "reference to Jack the Ripper."
It was quite the trip to actually watch the movie on the ship. It was one of the rougher nights at sea and I took a spot behind the pool to watch the film, which got really weird when the roll of the pool water echoed the roll of the water as the Orca started to flood.
On the whole I had a blast at this event, met some new friends and even got to see some iguanas in trees while hiking through Mayan ruins in Cozumel. Can't say that last part ever happened in San Diego... I hope they keep doing these things and if they do maybe I'll see you on the boat for the next one.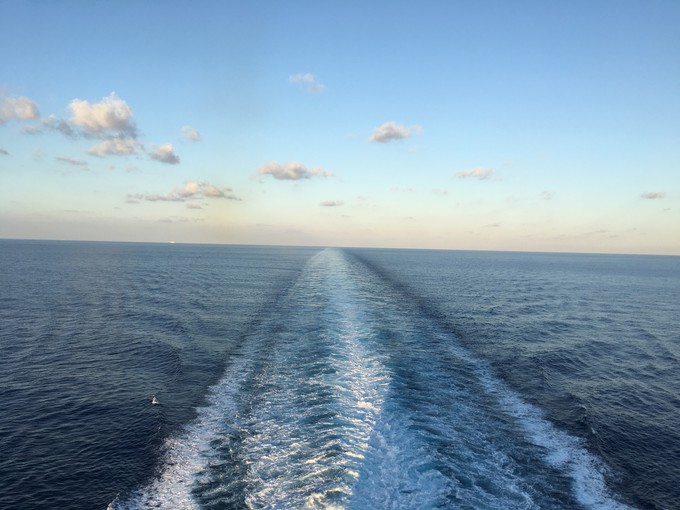 -Eric Vespe
"Quint"
quint@aintitcool.com
Follow Me On Twitter