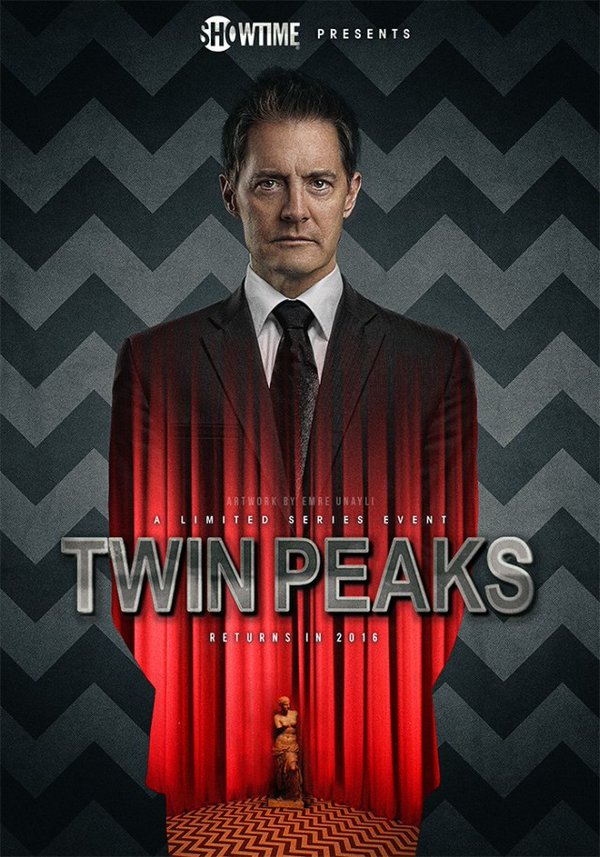 We're getting new "Star Trek" and new "Twin Peaks" the same month!
The third season of "Peaks" will launch May 21 and run 18 episodes, it was announced by TCA's Monday Showtime event in Pasadena.
The "18 episodes" figure was originally disclosed by original/returning cast members Sherilyn Fenn and Sheryl Lee at Seattle's Crypticon way back on May 24, 2015 – though Showtime would not confirm it until the Monday TCA event.
When Showtime originally announced the third season on Oct. 6, 2014 (!) channel execs indicated the season would run nine episodes.
Showtime subscribers with access to the Internet will be able to watch the first four hours of the season on that date.
(Still no word on what date this May "Star Trek: Discovery" is launching on CBS All Access.)
Returning from the ABC series and/or the New Line movie and/or other elements of the Peaksverse are Madchen Amick, Dana Ashbrook, Phoebe Augustine (Ronette Pulaski), Richard Beymer, Scott Coffey (?), Julee Cruise, Jan D'Arcy (Sylvia Horne), David Duchovny, Sherilyn Fenn, Miguel Ferrer, Warren Frost, Harry Goaz, Andrea Hays (Heidi the German waitress), Gary Hershberger, Michael Horse, David Patrick Kelly, Sheryl Lee, Peggy Lipton, Belina Martin Logan (?), David Lynch, Kyle McLachlan, James Marshall, Everett McGill, Walter Olkewicz, Kimmy Robertson, Wendy Robie, Marv Rosand (?), Carlton Lee Russell (?), Harry Dean Stanton, Charlotte Stewart (Betty Briggs), Al Strobel, Carel Struyken, Russ Tamblyn, Ray Wise, Alicia Witt and Grace Zabriskie.
Some of the series' more famous newcomers include Jane Adams ("Hung"), Alon Aboutboul ("London Has Fallen"), Stephanie Allynne ("The Birthday Boys"), Elizabeth Anweis ("Hung," "Parks and Recreation"), Matt Battaglia ("True Detective"), Monica Bellucci ("SPECTRE"), Jim Belushi ("Show Me A Hero"), John Billingsly ("Star Trek: Enterprise"), Ronnie Gene Blevins ("True Detective"), Brent Briscoe ("Mulholland Drive," "Parks and Recreation"), Robert Broski ("Pee-wee's Big Holiday"), Wes Brown ("True Blood'), Juan Carlos Cantu ("The Bridge," "Telenovela"), Vincent Castellanos ("Mulholland Drive"), Micheal Cera ("Juno"), Bailey Chase ("Buffy The Vampire Slayer"), Johnny Chavez ("Vice Principals"), Candy Clark ("American Graffiti"), Larry Clarke ("Contagion"), Richard Chamberlain ("The Towering Inferno"), Frank Collison ("The Village," "Pee-wee's Big Holiday"), Lisa Coronado ("Z Nation"), Grace Victoria Cox ("Under The Dome"), Jonny Coyne ("Alcatraz," "11.22.63"), David Dastmalchian ("Ant-Man"), Jeremy Davies ("Lost"), Owain Rhys Davies ("Alice Through The Looking Glass"), Ana de la Reguera ("Narcos," "Jane The Virgin"), Laura Dern ("Jurassic Park"), Neil Dickson ("Inland Empire," "Mad Men"), Hugh Dillon ("Flashpoint," "The Killing"), Cullen Douglas (Edison Po on "Agents of SHIELD"), Judith Drake ("Angie Tribeca"), Francesca Eastwood ("Heroes Reborn"), Eric Edelstein ("Jurassic World," "Complications"), John Ennis (Zodiac," "Studio 60"), Josh Fadem ("Dollhouse," Camera Guy on "Better Call Saul"), Eamon Farren ("The Pacific"), Jay R. Ferguson (Stan Rizzo on "Mad Men"), Sky Ferreira ("The Green Inferno," "Elvis & Nixon"), Rebecca Field ("Grey's Anatomy"), Brian Finney ("Turn: Washington's Spies"), Patrick Fischler (Jimmy Barrett on "Mad Men"), Robert Forster ("Jackie Brown"), Meg Foster ("They Live"), Balthazar Getty ("Lost Highway"), Pierce Gagnon ("Tomorrowland"), Hailey Gates ("Ricki and the Flash"), Brett Gelman ("Eagleheart," "Love"), Ivy George ("Agent Carter"), James Giordano ("Mad Men"), Grant Goodeve ("Eight Is Enough," "Northern Exposure"), George Griffith ("Cabin Fever"), Travis Hammer ("Manhattan"), Hank Harris ("The Man In The High Castle"), Stephen Heath ("90210"), Ernie Hudson ("Ghostbusters"), Jesse Johnson (Booth in "Killing Lincoln"), Luke Judy ("Angie Tribeca"), Caleb Landry Jones (Banshee in "X-Men: First Class"), Ashley Judd ("Allegiant"), Robert Knepper ("Mockingjay"), David Koechner ("Anchorman"), Jennifer Jason Leigh ("Fast Times At Ridgemont High"), Jane Levy ("Suburgatory"), Matthew Lillard ("Scooby Doo"), Josh McDermitt ("The Walking Dead"), Derek Mears ("Hansel & Gretel: Witch Hunters"), Don Murray ("Conquest of the Planet of the Apes"), Sara Paxton ("Liar Liar"), Max Perlich ("Homicide"), Trent Reznor ("Light of Day"), Tim Roth ("Pulp Fiction"), John Savage ("The Deer Hunter"), Amanda Seyfried ("Mamma Mia!"), Tom Sizemore ("Heat"), Ethan Suplee ("Mallrats"), Jessica Szohr ("Gossip Girl"), Lauren Tewes ("The Love Boat"), Jodee Thelen ("Duet"), Eddie Vedder ("Singles"), Naomi Watts ("Mulholland Drive"), Charlyne Yi ("This Is 40," "Love") and Madeline Zima ("The Nanny," "Heroes").
Michael J. Anderson, still going strong at 62, is not on this list. Neither is Heather Graham, Joan Chen, Lara Flynn Boyle or Moira Kelly. Or Chris Isaac, Kiefer Sutherland or David Bowie. But the late Catherine Coulson, who played the log lady, is in the cast, according to Lynch.
This third season of "Twin Peaks," set 25 years after season two, was directed entirely by David Lynch from a teleplay by series creators Lynch and Mark Frost.
ABC's "Twin Peaks" is one of the two best television series ever forged.

On Sale Now!!